Marley Spoon vs. Blue Apron 2021: Two Cheap Meal Kits Compete
When it comes to comparing meal kit services, things can get downright confusing. After all, you're considering factors like food preferences, pricing, and more. That's why I want to give you an in-depth analysis of two of our favorite meal box subscriptions: Marley Spoon vs. Blue Apron.
Marley Spoon and Blue Apron are, at first glance, entirely different – one's a high-end, Martha Stewart-backed operation, while the other is a middle-market, simple meal kit service. However, they do share some similarities as well.
While both Marley Spoon and Blue Apron have prices starting at the lower end in comparison to other vendors, we found Blue Apron to be the best value of the two.
Short on time? Take a look at the table below for a brief overview of the two companies.
At a Glance: Marley Spoon vs. Blue Apron
| | | |
| --- | --- | --- |
| | | |
| Dietary preferences | Health & Diet, Vegetarian & Vegan, Meat & Fish, Family-Friendly | Vegetarian, Family-Friendly, Carb-conscious, WeightWatchers approved, Diabetes-friendly |
| Menu variety | More than 29 options per menu | 12 options per menu |
| Starting price | $6.99 per serving | $7.49 per serving |
| Shipping costs | $8.99 per week | Free shipping on three recipes per week and up; $7.99 for two recipes per week |
| Prep time | 20 to 40 minutes | 20 to 50 minutes |
| Learn more | | |
Dietary Preferences
For a while, neither Marley Spoon nor Blue Apron had any specific dietary plan options. Thankfully, both have since expanded their menus to keep up with competitors.
Both Marley Spoon and Blue Apron now offer vegetarian, family-friendly, and healthy meal plans to choose from. Blue Apron also has handy tags that make it easy to identify the types of recipes on the menu.
In addition to vegetarian options, Marley Spoon has vegan options available each week.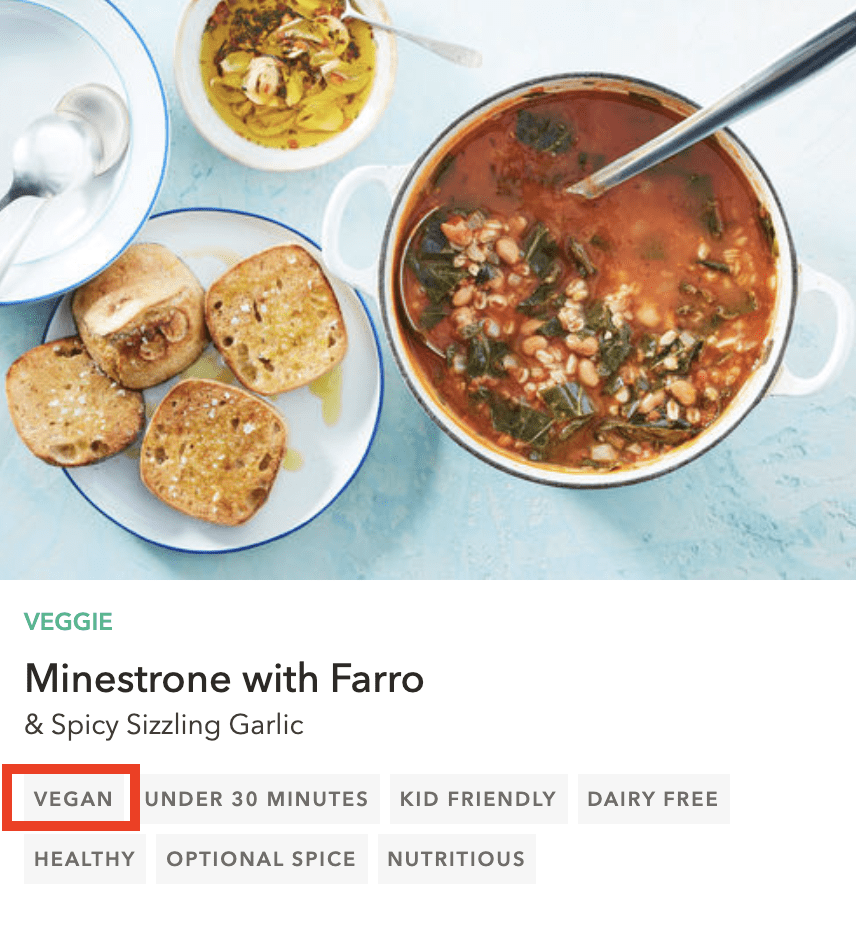 Blue Apron's inability to fulfill vegan requests at this time is a bit disappointing, but I'm hopeful that it'll expand its menu in the future.
Blue Apron recently added its Wellness for 2 meal plan, which offers recipes labeled with a range of nutritionist-approved dietary tags, including WW-Approved, Vegetarian, Carb Conscious, Mediterranean Diet, Plant Forward, and more. Its Diabetes-friendly recipes meet ADA's Nutrition Guidance. These recipes are a significant step up in diet-specific offerings compared to Marley Spoon.
It's also worth noting how each company sources its ingredients. Marley Spoon has some organic ingredients, but not all. Proteins for Marley Spoon meals are sourced from antibiotic-free vendors and local vendors are used whenever possible.
Similar to Marley Spoon, Blue Apron uses some organic ingredients, but not all. All animal proteins are sourced with high standards of animal welfare, including thorough audits conducted by third-party suppliers.
While neither meal plan service is renowned for its variety of plans or catering to a range of diets, Blue Apron just about cinches it here thanks to its Wellness plan.
Winner: Blue Apron
Menu Variety
I'll come right out and say it – Marley Spoon beats Blue Apron here, hands down. Marley Spoon has more than 29 meal options available to choose from every week, compared to Blue Apron's 12.
There are benefits to both – I get a little overwhelmed with so many choices, so having fewer options appeals to me, personally. Thankfully, with so many recipe options to choose from, Marley Spoon has some of the best filtering options I've seen from any meal kit service:
Otherwise, I enjoyed Marley Spoon's easy and clearly explained steps when it came to the actual cooking, with helpful images on the side. It was very easy to follow and produce a perfect meal.
On the other hand, Blue Apron was less easy to follow, and some of the instructions were even a little confusing for a novice in the kitchen like me.
For example, on this Mushroom Mazemen recipe card, when cooking the egg for the meal it tells you the allotted time for soft-boiled, but no other times are listed for other degrees of doneness.
Both Marley Spoon and Blue Apron have add-on features that are unique to meal delivery services.
Marley Spoon offers the option to purchase bulk proteins. In addition to your allotted weekly meals, you have the ability to add protein packs. Choose from:
bacon-swiss and sausage-cheddar egg bites

grass-fed ground beef, chicken, and salmon,

or scallops and salmon
While Blue Apron does not have this added feature, it does have a wine pairing option for all meals. You can even subscribe to the Blue Apron wine delivery service and receive six 500ml bottles of wine on a monthly basis for $65.99 per month, including shipping.
When it comes to gifting, Marley Spoon falls short. There are no gift voucher options available, although you do have the option to purchase a subscription on behalf of someone else.
Alternatively, Blue Apron has a gift voucher option for both its meal and wine delivery service. Choose from predetermined denominations of $60, $120, $240, or choose your own. You can print your voucher from home or mail it directly to your recipient.
Thanks to both its menu variety and clear recipe instructions, Marley Spoon is the winner this round.
Winner: Marley Spoon
Starting Prices
Both Marley Spoon and Blue Apron have a delivery charge – at Marley Spoon, it's $8.99 a week, and at Blue Apron, you're looking at $7.99 a week, unless you order over three meals a week, in which case there's free shipping.
When selecting your Blue Apron plan, you can easily see your shipping costs as well as the cost per serving to help you make the optimal selection.
At Blue Apron, meals for four people eating four times a week cost $7.49 per serving, with free shipping; for the same four people eating four times a week at Marley Spoon, you'll be paying $7.99 per serving with an $8.99 delivery fee. That works out to $136.83 at Marley Spoon and $119.84 at Blue Apron – a pretty significant difference.
For two-person plans, with two meals a week, at Marley Spoon, you'll be paying $10.99 per serving plus an $8.99 shipping fee, which comes to $52.95. At Blue Apron, this would cost you $9.99 per serving plus a $7.99 shipping fee, for a total of $47.95. It's not difficult to see who is the winner here.
Winner: Blue Apron
Delivery and Packaging
Deliveries are a little tricky to compare with meal kit delivery services because availability depends on your geographical location. Based in California, Marley Spoon gave me delivery options for Thursday or Friday only, and Blue Apron gave me Tuesday through Sunday options.
I guess it's a personal choice as to which delivery day works best for you. Still, I really enjoy having the option of a Saturday delivery, as it means I can cook my recipes over the weekend. However, selecting a Friday delivery would also work in this case, as you could get straight to cooking on Saturday morning after receiving your box on a Friday.
When it came to the packing, I'm happy to report that Marley Spoon did a great job organizing and separating menu items. The refrigerated items come separately packed in a cloth bag with proper ice to keep them cool (hooray!).
On the other hand, Blue Apron packages everything together, unlabeled, in one box. Small items, such as spices, are packed in a separate bag, but otherwise, all ingredients are entirely unsorted, which takes a fair amount of time to go through yourself.
Despite the added time for sorting, I do appreciate Blue Apron's minimal packaging in terms of environmental impact. The waste here is minimal, and the company is partnered with a recycling company to continue improving and adopting an industry-approved recycling program.
So, I'm giving this round to Blue Apron. In my eyes, offering six delivery days and being environmentally conscious makes the extra time to separate the ingredients worth it.
Winner: Blue Apron
Meal Prep
I don't like wasting time, so meal prep and cook time are a big consideration when choosing the best meal kit service for me.
All Marley Spoon meals are ready to eat in no more than 40 minutes, with the option to filter menu choices by less than 30 Minutes.
According to Blue Apron, all ingredients in your box can be prepped and cooked for the entire week in just 90 minutes. With a maximum of four meals per week (for a family of four), the average cook time would be less than 25 minutes per recipe.
Blue Apron has 20 to 25-minute recipes that can be prepared in as little as four steps, while all of Marley Spoon's recipes are prepared in six steps. This is a tough one to compare, considering both are so close, but Blue Apron just takes it.
Winner: Blue Apron
The Bottom Line
Marley Spoon and Blue Apron both have their pros and cons. It really comes down to how many people you want to feed and what type of dietary needs (if any) they have: as I demonstrated above, Blue Apron can be significantly cheaper than Marley Spoon.
Although Marley Spoon has more than 29 recipe options a week to Blue Apron's 12, it's a matter of individual preference if you like a range of options or find this overwhelming.
Winner: Blue Apron has done a better job of expanding its menu to cater to more dietary preferences. In fact, Blue Apron has even made it onto our list of the Best Meal Delivery Services of 2021.