Pros
24/7 support

Focus on healthy choices without restricting

Color-coded system makes it easy to track meals

Current deal – Get a free trial
Cons
Every meal requires input and tracking

Add-ons make the pricing structure confusing

Requires a lot of meal planning and cooking from scratch
Before you get started, you're required to pick a "track" based on your initial health goals. The program wants to help you change your relationship with food and be more mindful of your habits.
Once you've selected your plan and paid the subscription fee, you'll start receiving daily mini psychology lessons, motivational support from "goal coaches" and the peer group chat, and helpful tools to track your food, exercise, water intake, and more.
The app is similar to having a nutritionist, fitness instructor, and life coach at your fingertips. It aims to change the relationship you have with food and educate you on how to include more nutrient-dense meals into your diet.
Noom doesn't provide any meals or ingredients, so you'll be required to do any shopping and meal planning yourself. Noom is not a meal delivery service, but rather a tool to help hold you accountable during your health journey.
Cooking With Noom
Unlike many other diet plans, Noom doesn't rule out particular foods or food groups. Instead, it works by placing foods in three color-coded categories based on their calories: green, yellow, and orange.
According to Noom, the foods that fall into the green category are the least calorie-dense and contain the most nutrients. These can be eaten as much as you want and should make up the bulk of your diet. "Orange" foods should be eaten less frequently and in smaller portions, while "yellow" foods sit somewhere in between.
"Green" foods comprise mostly veggies and fruits, low-fat dairy items like yogurt and skimmed milk, and whole grains such as brown rice and oatmeal. "Yellow" foods include lean proteins like salmon and chicken breast, as well as other dairy, grains, and healthy fats like avocados. "Orange" foods include red meat, condiments, and anything processed.
The colors used to resemble the traffic light system – with red indicating foods you should avoid. But Noom recently changed the red color coding to orange to highlight the fact you don't have to cut these foods out of your life entirely: just enjoy them in moderation.
Having to log every meal and track every ingredient can become exhausting, though. It still requires a lot of thought and research at the grocery shopping and meal planning stage. Combining Noom with a healthy meal delivery service such as Factor could make it easy to stick to eating "green" foods.
While Noom's basic plan doesn't provide personalized meal recommendations, the app has plenty of recipes that aim to help you eat as much "green" food as possible.
I liked the sound of Noom's Mango Chicken Salad with Couscous, Grilled Buffalo Chicken Quesadillas, Roasted Orange Tilapia and Asparagus, and Sweet and Sour Shrimp. In fact, I was surprised by how many delicious-looking recipes there were! It proves that nutrient-dense meals don't have to be bland or boring.
You can get a week-long free trial of Noom. After that, you'll have to pay an auto-renewing subscription fee of up to $59 per month. However, the price depends on your personal weight loss and fitness goals – there are also discounts for longer-term subscriptions.
The basic plan includes mini lessons to help you learn about nutrition and mindset, as well as the tracking tools. There are also several add-ons available, including a custom meal plan or workout regimen. You'll see all of these offers during the checkout process, but you can add them at any point in the future.
However, all these add-ons can make Noom a pretty expensive service and one that's difficult to budget for – and that's without grocery shopping!
That's where a meal delivery service might be more affordable. Diet-focused options like BistroMD will offer a comprehensive weight-loss plan that includes all of your weekly meals from $8.24 per serving.
Subscription
When signing up for Noom, there are quite a few questions to answer beforehand to make sure the program is as personalized as possible.
How to Sign Up
For the first step, you'll be prompted to fill out a long questionnaire. It's the longest I've ever experienced when signing up for a service like this, and must have taken me about 10-15 minutes to complete.
While there's no doubt I could do with getting "fit for good", I decided to start out with the Lose Weight for Good option. I thought this might be a good way to start – first change my relationship with food then, maybe later, get more serious about exercising.
First up was a demographic profile, asking for things like my height, weight, gender, and ideal weight. After inputting that I wanted to drop 10kg, I got this cheerful message, which I liked:
First of all, I think it demonstrates Noom's method of rewarding and reaffirming positive choices. Developing better habits and a better mindset around eating is a process where you have to be able to track your progress every step of the way.
Beyond that, I liked that I could change things up and not be stuck with a particular goal. I could change my goals depending on whether I wanted to speed up or slow down my journey.
I then had to answer a series of questions on everything from whether or not I had good eating habits, to how active I am and what I usually eat. I was also asked things like whether I had a bad back, was at risk of diabetes or depression, and even if I'd taken antibiotics in the last two years!
To be honest, there were so many questions that I definitely got tired of answering them. Plus, in between the questions were motivational quotes and advice that just dragged out the time it took to sign up.
Eventually, I got through all the questions and had to enter my email and payment info to be able to see my specific plan.
But hitting the Let's Go button under this chart brought up a screen telling me I was only halfway there. The next sections were about further habits and behaviors and then activity and nutrition.
Once I eventually got to the end, I was taken to a page offering even more services that I was assured were only available for these prices during the initial sign-up.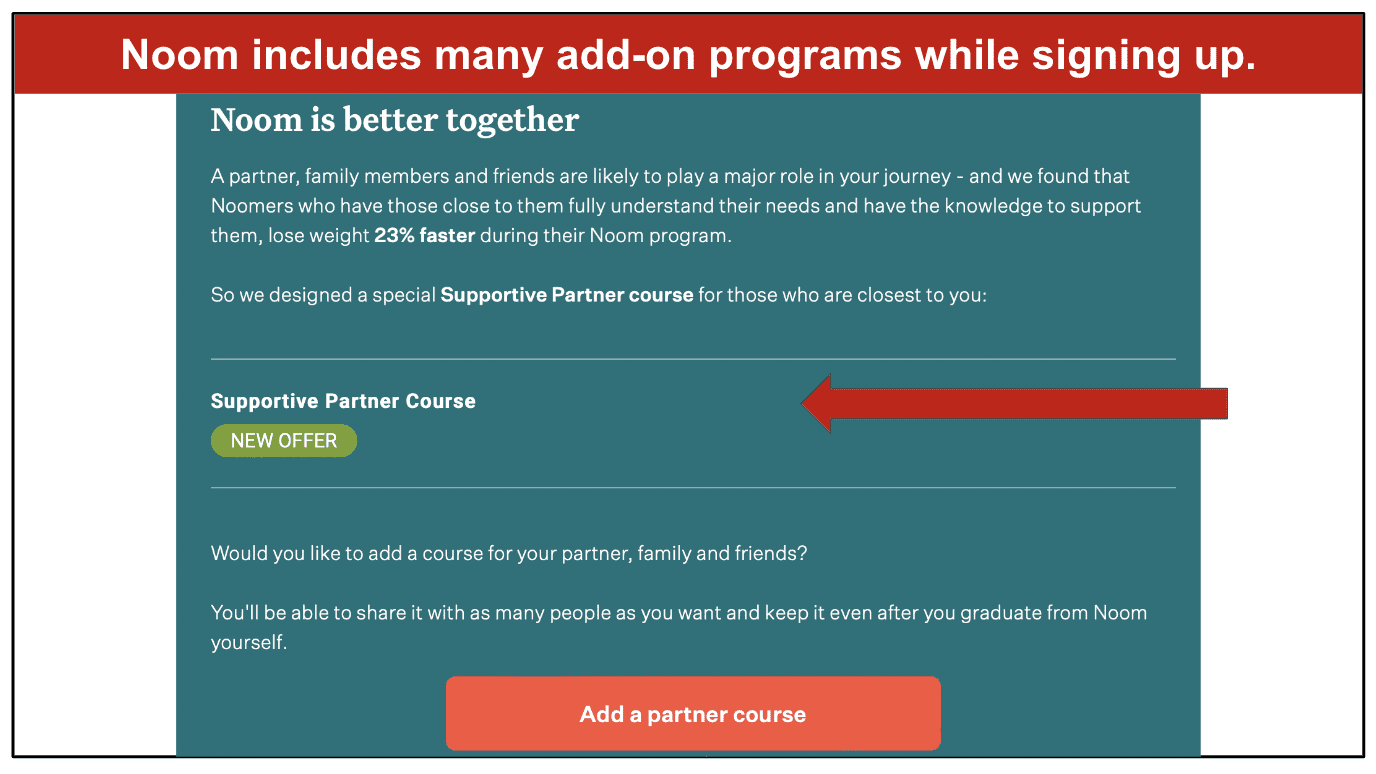 I decided to stick with the basic service, and told myself I could add anything else at a later date, should I want to. I'll admit I was intrigued about the custom meal plan because I'd initially thought that's what Noom was. You can add a meal plan, a custom workout plan, or a combination of both.
I then had to fill out yet more details to create a profile. Since I filled out all the info on my laptop, I had to download the app to my phone – which was easy – and I was finally good to go.
Managing Your Subscription
Once you've made it through the lengthy sign-up process, it's simple to amend your subscription. By logging into the Noom website, you can change the length of your subscription with one click.
If you want to cancel, you'll just have to answer a question letting the service know why, and your account will be canceled. Look for the buttons shown below when you log in:
Customer Service
Noom offers three ways to contact the customer service team. One of the options is very rare to see: you can send ideas or complaints directly to the CEO via email.
For regular questions about the program, you can use the chatbot feature or explore the website's FAQ page 24 hours a day, 7 days a week. The FAQ is pretty detailed but, once again, vague when it comes to questions on pricing – so I'd recommend speaking to an agent for price queries.
If you'd rather talk to a person, you can call the customer service team from 7 AM to 10 PM Eastern Time.
The Bottom Line: Is Noom Worth It?
Noom encourages you to think more mindfully about what you're eating and to be accountable for what goes into your body by logging your meals and exercise. Some will also appreciate the group chat and support that comes with a Noom subscription.
Having said that, the daily logging and tracking can be intense – and if you don't feel like you can commit to all the interaction with the app on top of meal planning and prep, it's probably not going to work for you. Plus, considering there's no food delivery included at all, Noom is expensive.
If you want to lose weight with a service that provides food as well as a meal plan, check out this list of our Top 10 Meal Delivery Services for Weight Loss. I'm personally a fan of Blue Apron's Wellness Plan, which you can also use with the WW Smartpoints program.