5 Nutritional Drinks To Shake Up Your Diet 2022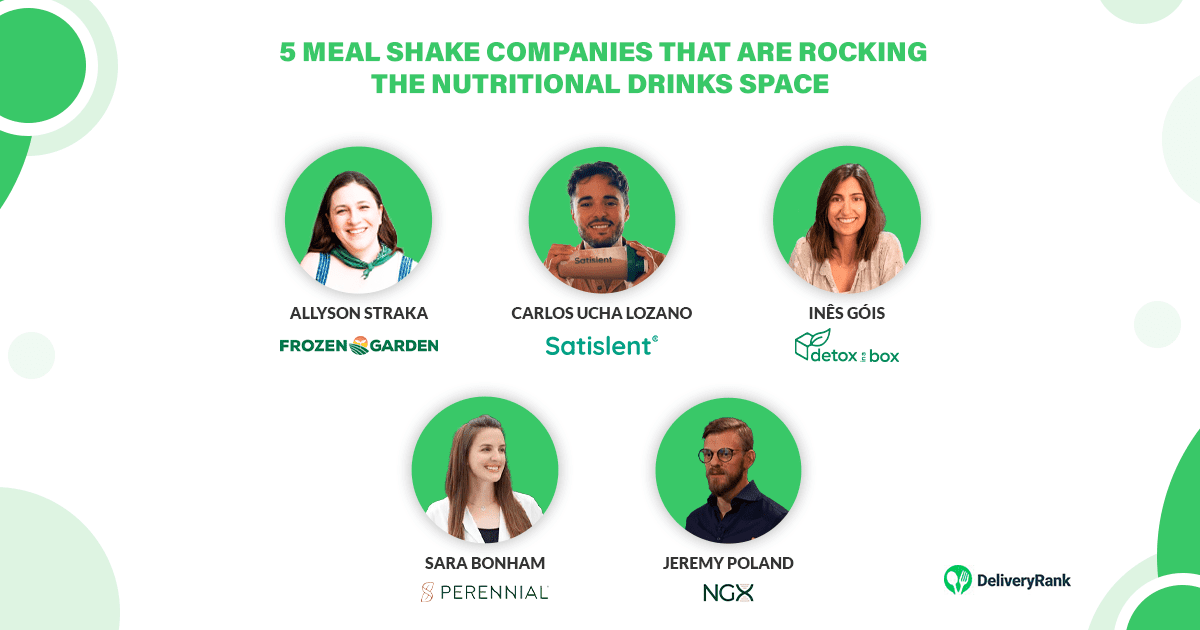 Shaking and blending is a great way to put together a healthy balanced meal while maintaining the freshness of the ingredients and the bioavailability of their nutrients.
If you've been trying to lose weight or gain muscles while maintaining adequate nutritional intake and need a convenient shaking solution that doesn't require daily grocery shopping, prepare to fall in love! We spoke to five companies in the meal-shake space to hear about their innovative products and the technologies behind them.
Leafy Green Shakes By Frozen Garden
Dark leafy greens are one of the most nutrient-dense ingredients missing from the American diet. Blending the leaves into a fine pulp could actually render them more digestible, therefore allowing for better absorption of the nutrients.
Our Smoothies are frozen, ready-to-blend whole fruits, vegetables, seeds, and spices. All you have to do is open the pouch and empty the contents into a blender. They often include a dark leafy green vegetable, such as spinach or kale, and perhaps basil, mint, or parsley. We've also launched fruit Smoothies for people on blood thinners who can't eat leafy greens.
Our Fusions are frozen, pureed fruit and herbs in a little cube which you drop into your water or liquid of choice for added flavor.
Our most recent launch is our Delites, designed to be blended with milk or a milk alternative. Once blended, it creates a spoonable "dessert", and when I say dessert, I mean 100% fruit, seeds, and vegetables – nothing more!
We're based in Indiana, and we try to source all our ingredients from the Midwest. We have several farmers that grow produce specifically for us. Produce that doesn't grow locally, such as pineapples and avocados, is sourced commercially.
Read our full interview with Allyson Straka, founder and CEO of Frozen Garden
Personalized Meal Shakes by NGX
Your DNA contains information concerning everything about you; your eye color, hair color, weight, height, etc. Similarly, there are certain genetic combinations that impact how well you process, metabolize and store different nutrients.
Our NGX BodyFuel meal-shake is a high-protein product that's personalized based on your DNA, containing approximately 150 calories. It can be taken as a breakfast or lunch replacement, and since it's a high-protein product, it's very filling, so it's ideal for muscle growth.
We use vegan-friendly ingredients, with pea protein being the main component. It's generally much better than whey protein from a taste point of view and also from a sustainability aspect.
Read our full interview with Jeremy Poland, co-founder and CEO of NGX
Complete Foods By Satislent
We manufacture a complete formula that provides your body with all the nutrients it needs from a meal. We source our ingredients locally, too, as much as we can.
Complete Foods are commonly mistaken for food supplements. While the latter provides additional nutrients that may be missing in your diet, Complete Foods provide full meals with a balanced nutritional profile, with the right amount of carbs, protein, fiber, fat, vitamins, and minerals.
Complete Foods could be considered the new way to good nutrition, because they're fast, affordable, and easy to prepare, with minimal impact on the environment.
The formulae of Complete Foods are regularly adjusted to the recommended intakes of all the nutrients according to international standards.
Read our full interview with Carlos Ucha Lozano, CEO of Satislent
Cleansing Smoothies by Detox in a Box
Detox in a Box is a healthy food solution for companies. Our goal is to make healthy food as accessible and convenient as possible. We decided to put particular focus on companies as they're a big part of people's everyday life.
We've created various solutions to provide healthy food both inside and outside of the office, and we also help companies promote healthy habits among their employees.
One of our first products was our smoothie solution. The adapted blender is easily set up in offices, and we deliver the smoothie cups with all the fresh fruit pre-portioned, ready to be blended. This makes it easy for people to have a healthy, delicious breakfast that can boost energy all from the comfort of the office.
In the meantime, we've expanded our solutions to include gift boxes delivered to employees' homes, nutrition workshops to boost healthy habits, and more recently the Healthy Station – a completely innovative solution to offer fresh meals throughout the day.
Read our full interview with Inês Góis, Founder and CEO of Detox in a Box
Gut and Brain Health Drinks by Perennial
Our nutrition beverage, Daily Gut & Brain, while being vegan, has the sensory appeal and the refreshing taste of dairy without the cholesterol or lactose.
We spent a lot of time looking at plant-based inputs and optimizing them for the nutritional requirements of today's active customers over 50 years of age. All the while, it was critical that we made the product taste like something they would want to have every day.
In terms of nutrition, some of the key things that we've focused on and feel are of value to our customers include absorption of nutrients, maintaining muscle health, and digestion. We lose 3-8% of our muscle mass each decade after age 30. Maintaining that strength and reducing frailty is of the essence.
Most plant-based products have only one protein, which is only 70% digestible. This needs to be taken into account, as people over 50 are likely to have less gastric acid to absorb all the nutrients anyway. Often vitamins such as B12 aren't taken or are unable to be absorbed in sufficient amounts.
Fiber is also something we've optimized with a blend to enhance digestive wellness and the microbiome. Interestingly, 97% of adults today don't consume the recommended daily intake, so having a simple nutrition drink like ours, with a satisfying vanilla or chocolate taste, is a great way to incorporate fiber into the diet.
There are many other factors that we take into account when catering specifically to the nutritional needs of the over 50s. Maintaining mental sharpness is of equally high priority.
Read our full interview with Sara Bonham, Co-Founder and Chief Science Officer at Perennial
Summary
While many dieting methods focus on eliminating harmful foods, not enough emphasis is placed on how to keep our bodies nourished over prolonged periods of time. If the difference between knowing what's good for you and actually doing it is too vast, then quick, easy solutions like these meal shakes might be just the game-changer you need!