Origin Meals 2023: Save Time, Eat Well
Investing in better and healthier eating habits is becoming a top priority for more and more people. Origin Meals helps achieve that goal by delivering fresh meals directly to their clients' homes. We interview Alan Harris, VP of Origin Meals, to find out more about the company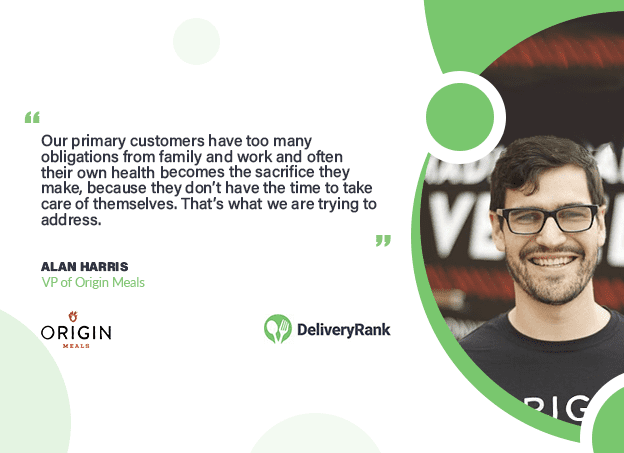 Can you tell us a bit about Origin Meals?
We are a freshly prepared meal delivery service based out of Minneapolis, Minnesota delivering direct to people's doorsteps in Minnesota, Wisconsin, and Illinois. We focus primarily on healthy living, which includes gluten-free, dairy-free, soy-free, and peanut-free options.
We want people to have a great food experience, while also limiting the things that aren't good for their bodies.
The food subscription business has exploded these last couple of years. How do you differentiate yourself from so many competitors?
We manage the entire customer process from our site, do all our meal preparation in-house, and have our own delivery fleet. You get a freshness and quality that can't be beaten through the mail.
We're a smaller team and serve a small subset of customers, which enables us to offer a more personalized customer experience.
The Midwest is a large region. With a commitment to deliver fresh items, how do you work out the logistics?
We run a very efficient but safe operation.
We have our own refrigerated delivery fleet and our own production facility. We're able to manage the quality from end to end – from our home-made sauces to a direct handoff to our customers at their door.
That's how we're able to manage the quality through a fairly large geography.
Your marketing campaign focuses on time-saving. Is that the main reason your clients choose Origin Meals? Who do you consider to be your main target group?
We allow our customers to invest their time in other things that are important to them.
Our belief is that food is one of the most important building blocks of a healthy lifestyle. However, because of time or access constraints, people don't eat the way they want to eat. What they need is the food to fuel the other parts of their lives. We emphasize the time-saving aspect because of that.
Between family and work, our primary customers have too many obligations. Often their own health becomes the sacrifice they make as they don't have time to take care of themselves. That's what we're trying to address.
Origin Meals focuses on serving healthy food in a sustainable way. What are the main challenges you face and how do you overcome them?
The most significant challenge we face – and this is universal in the fresh food space – is shelf life.
Without using some kind of stabilizer or modified air to extend shelf life, the biggest challenge is being able to get people the fresh food they like to eat as quickly as we can.
This is the core difficulty with our type of business – delivering at the speed customers want and that the food requires, but being able to do so in a way that is efficient enough to be profitable and that customers are willing to pay the premium for.
What can Origin Meals subscribers expect in the future from your deliveries?
Our menu changes weekly and we try to emphasize seasonal dishes. Right now, it's cold in the Midwest so we're focusing on comfort-style food. But it's a new batch every single week.
What we really emphasize is sustainability, not only from an environmental perspective but also from a customer perspective. We want to make it as easy as possible to incorporate healthy eating into their daily life. We focus on delivering very diverse meals week in and week out, so it's something they're not going to get tired of after only a week.
Last year was an interesting one and 2021 is an opportunity for a fresh start – mentally, physically, spiritually, and emotionally.
The start of a new year seems to be the time when people take a look back and address opportunities for improving their lives. We'd like to be a part of that journey for a new set of customers in 2021.