Paws For Reaction 2022: The Blog, The Dog and So Much More
Stacey Gonzalez from Paws For Reaction reveals how her once small blog has blossomed into a fund-raising, animal fanatic worldwide community. Stacey is currently celebrating her 10 years!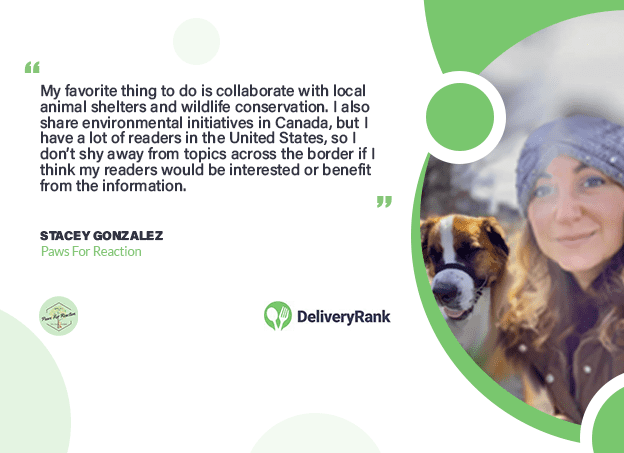 When was Paws For Reaction first 'launched' and what kind of growth has it seen since its inception?
Paws For Reaction launched in 2012 and I am very excited to be celebrating my 10 years! In the beginning I had a small readership of my mum and a few hundred people a month. The blog was mostly sharing pet food recalls, photos, and general pet owner information. Shortly after the launch I got my first dog Keira, a Saint Bernese, and the blog really evolved. In 2015 when I got Hazel, also a Saint Bernese, who has had a myriad of health problems, the blog evolved even more.
Now, 10 years later, Paws For Reaction reaches an average of 35,000 readers a month and is currently ranked #83 in the "Feedspot Top 100 Pet Blogs and Websites.' The blog has done some cool collaborations, like working with Pets Plus Us pet insurance and Northern Biscuit Dog Treats. I have tested products for PetSmart, BlueStem, and Nutrience Pet Food. I've interviewed celebrities like Maria Menounos and Dan Schachner. I've worked with many wildlife conservation including the Ottawa Valley Wild Bird Care Centre and animal rescues like the Renfrew County Ontario SPCA. It's been an incredible journey.
Is there a real sense of a Paws For Reaction community?
I think Paws For Reaction supports the people and pets community. In 2020 I moved from the Ottawa Valley into the city of Ottawa. It was a big change for the dogs - going from being country dogs to city dogs.
I had fun highlighting Hazel's experience in the city. Paws For Reaction features a lot of local businesses, products, artists, and events. My favorite thing to do is collaborate with local animal shelters and wildlife conservation.
I also share environmental initiatives in Canada, but I have a lot of readers in the United States, so I don't shy away from topics across the border if I think my readers would be interested or benefit from the information.
One of my affiliates is Etsy. I chose Etsy because it supports small businesses and handmade products, and because of their commitment to carbon offsetting. I believe that anyone can change the world with big and small actions, and I think my readers who may not be veterinarians or climate scientists feel welcomed and acknowledged in the Paws For Reaction community; my Paws-peeps! I hope I create a space that makes everyone feel they play an important role in our community - because they should!
Do you encourage support for noble causes using the love and passion people share for animals - if so can you elaborate?
I absolutely do! I volunteer with Girl Guides of Canada as a Brownies Leader and I have done stories about Girl Guides to encourage others to consider enrolling their girls. I'm a Social Media Ambassador for Ontario Nature, so I'll often create content to support their actions. I'm a Climate Reality Project Leader.
I'm very proud of this because I had to travel to Denver, Colorado to train over three very long days to earn my green pin and be certified. The training was conducted by former Vice President Al Gore, climate scientists, policy makers, and environmental activists.
This training gives me access to a wealth of environmental information and climate change data and connects me with a global network of like-minded people. To keep my leadership role, I commit to a minimum of 10 acts of leadership a year and many of these acts are documented on Paws For Reaction.
Since 2016 I've done more than 100 acts of leadership including participating in protests, volunteering, organizing events, and volunteering. I'm also on the Graphic Design Super Team for Future Ground Network and volunteer my graphic design services for grassroots environmental organizations across Canada.
I write content to support local wildlife conservation and animal welfare and work with them to fundraise for the centre. I have activism in my blood, and that bleeds onto the pages of Paws For Reaction. That is why it evolved from just a dog blog into a pets, environment, and lifestyle blog. Based on my experience, animal lovers also really care about the planet, so my readers seem to appreciate this content.
How do you engage guest bloggers and what kind of topics would you like them to contribute?
I think guest bloggers are wonderful! I'm working with one right now who has submitted a wonderful piece to help new puppy owners pet-proof their home. I invite guest bloggers to pitch via email to pawsforreaction@live.ca
The first rule of writing is "write what you know", so I allow my guest bloggers a lot of freedom. They can pitch stories about anything pet-related, especially stories about pet food, veterinary medicine, and personal pet owner stories.
Topics can also include: wildlife conservation, animal rescue, climate change, sustainable living, volunteering or activism related stories, outdoor adventure and hiking, local handmade, artisan, and green products, crafts and DIY, book reviews, and holiday content - especially Halloween.
I'm a sucker for Halloween. I've had guest bloggers contribute interesting stories, I'm so lucky to have connected with incredible folks across the globe. I will also take stories about events in Ottawa that fit with my brand. You can find out more on my website.
Do you have veterinarians who work specifically with you?
I do! I've worked in veterinary medicine since 2015 so I always have access to incredible teams of veterinarians and veterinary technicians. I've interviewed several veterinarians for stories, in fact I'm currently working on a story about an interview with a vet I did last week.
Dr. Carlie Paquette from the Pembroke Animal Hospital is my official 'Ask A Vet' doctor. During the pandemic I decided not to ask her to contribute content because I know how busy it is in clinics right now. She is an incredible veterinarian and an all-around awesome human. She's treated my pets and my family's pets.
I have learned so much from her and trust her wholeheartedly with the care of my pets. She is compassionate and knowledgeable and really cares about animals - and the humans that come with them! I did an interview with a veterinary technician Nicole for RVT Week and I may be a little biased, but she is the most compassionate and incredible RVT I've ever met. I was lucky to work with her.
What kind of readership follows you?
My demographic spans all over the world, which is so cool! The United States, Russia, France, Indonesia, and Canada are my top five readership locations. My stats show mostly female readers aged 25-34.
The Paws For Reaction Pinterest page is really popular. My readers tend to be animal lovers, obviously! A lot of folks who own mountain dogs read my blog. I get a lot of reads of my stories about pet food, ingredients, and the pet food industry.
People concerned about animal rights and interested in supporting animal shelters and nature and wildlife conservation are also keen followers. I also have a large veterinary medicine community who reads my blog. I'm always surprised and honored to discover that folks are reading. I'm very grateful.
How do you see the evolution of Paws for Reaction?
It's hard to say, but what I know from the past is that Paws For Reaction evolves along with me as I evolve as a pet owner. Hazel and I invite folks to experience the world with us. I'm thinking of naturally shifting my focus to aging dog content. Hazel is 7 years old now and entering her senior years as an already disabled giant-breed dog.
It's a journey I plan to share with my readers. After losing Keira so suddenly, at 13 years of age, I've added some content about pet loss and support. I'd like to continue supporting my readers as they navigate the difficulties of grief after losing a beloved pet.
During the pandemic my content creation slowed down, so my biggest goal is to ramp it up this summer. Of course, I plan to keep supporting local small business owners and creators. I already have a few things in the works.
I'm going to continue focusing on the ethical care of pets and the planet and see where that takes me. Truthfully, I don't always have a plan. My blog can be as clumsy as lop-sided Hazel, but I think it's important to share authentically. My only hope is that Hazel and I can leave our paw prints behind on our stories and that folks are left entertained by our journey and hopeful about the future.