Picnic 2023: The Automated Pizza Station
Clayton Wood, CEO of Seattle-based startup Picnic Works, Inc., gives us the lowdown on his nifty automated pizza station that has transformed the making of pizza on a large scale into a fine art.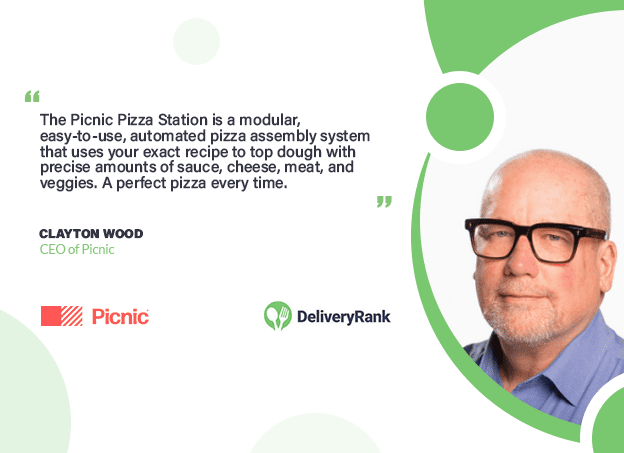 How and when did Picnic come about?
Picnic was founded in late 2016, premised on the idea that food service was a great place to apply automation. This is because jobs in the foodservice industry have a typically high turnover, can be unpleasant, and are often subject to difficult working conditions.
Food service businesses are typically low margin and struggle with maintaining production and quality, so automation is a perfect solution. However, it's also a tricky sector to apply automation to as food is a variable input and the goal is to try to produce consistent outputs.
What can you tell us about your Picnic Pizza Station?
The Picnic Pizza Station is called a 'station' because it automates the entire pizza production from assembly to end product. We start with a prepared dough (we're 'dough agnostic' – fresh, frozen, par-baked, hand-tossed, cauliflower base…) which you put in the system and the system applies sauce, cheese, sliced pepperoni, and any granular toppings desired, and it produces a ready-to-cook pizza.
The system can be integrated with an oven and produce a high number of consistent pizzas, although every pizza is customized in size, shape, and toppings. A single operator can produce about 100 pizzas an hour and this includes the entire production process – from loading the dough to boxing the finished pizza.
Of course, output can be increased with the use of more operators. Just to give you an idea, typically, a very efficient operator (of which there aren't many!) can manually make a pizza in about 45 seconds (around 80 an hour).
Usually, because this industry has high turnover, there are many employees who aren't fully trained so their performance is in no way close to the latter. Additionally, consistency is a big challenge and often ingredients are wasted because quantities are miscalculated.
How user-friendly is the Picnic Pizza Station?
Very! There's a touch screen where you choose what size and toppings you want. Then you pop the dough in the station and hey presto! Operators can be trained in literally a few minutes.
What happens if the software fails?
Because our system is our customers' business, we see it as mission critical that their system operates through a service period. Our reliability philosophy is no unplanned outages.
We've spent a lot of time researching what could possibly go wrong, and we either prevent those problems from happening and/or train the operator on how to work around a certain issue and be back up and running within a couple of minutes.
How easily is the pizza station cleaned and maintained to comply with hygiene regulations?
We've designed the station to be very simple to clean. We'll be receiving our NSF International certification shortly and this is really premised on food safety; cleanability and the ability to avoid food residue in the system.
The system comes apart very easily and doesn't require large amounts of time to clean. The different components can be washed in a commercial dishwasher and then reassembled. Anybody knows that too much time spent cleaning in a restaurant results in a loss of business.
Are there different models or sizes to cater for different needs?
Yes, because the system is modular and configurable. We have an ecommerce section on our website where you can select your system and specify your needs. We have two offerings at the moment: The Essentials, which offers just sauce, cheese, and pepperoni; and The Works, where you can add as many granular toppings as you want.
If you have an extensive menu in your restaurant, it doesn't make sense to automate every single ingredient as some ingredients are not used that often.
Our business model is based on a service. We don't sell the system but we sign a term contract – typically for three years. This contract gives the customer use of the hardware and software, installation, support, training, and service and system upgrades. Because of upgrades, the customer should end up with a better system at the end of the term than they started with.
Who is your target market?
We've recently launched our commercial release and our production version will be released early next year. We only have a handful of operators using our station currently and we'll be announcing who they are in the near future.
We've seen a lot of interest from across the industry though. Basically anybody who makes pizza on a large scale – pizza brands, restaurants, airports, stadiums, food trucks, ghost kitchens, retailers, and more.
We're seeing interest across the board, from the big players in multiple segments to small independents, and even people who are not yet in the industry but who've seen the video and see the potential.
How do your clients benefit most from integrating your product into their kitchens?
There are multiple forms of value – labor savings being one of them. Pizza making is labor-intensive and there is usually a manic rush hour. So, either the restaurant must employ more operators, or they make the pizza ahead of time and then warm them up, which degrades the product.
Because staff turnover is so high, management spends endless time interviewing and training. Many restaurants also have positions that they struggle to fill – it's a huge challenge.
Our product also helps save on food waste. This is another challenge, and restaurants find themselves wasting hundreds of dollars per week.
We're digitizing what was traditionally a manual process, and therefore have new data streams in ingredient consumption, etc. There is a wealth of data opportunities that open up once you have an automated pizza station.
How do you think Neapolitans feel about your innovation?
We're not trying to replace everyone's pizza, but we believe we can make as good a pizza as anyone else. Our system is designed to use the chef's ingredients and the chef's recipe. The dough, the fresh produce, the recipe, and the oven are all up to the chef. We just assemble the pizza to your recipe using your ingredients.
Does the pizza station cater to those who prefer to order their own concoction of toppings, or the half-and-half scenario?
Every pizza we make is customized – size, shape, and toppings – and that includes adding or omitting any ingredients. Our current release doesn't do half-and-half but we'll be releasing that soon, along with the possibility of making any shape.
Can you share what else is coming up for Picnic?
We're actively working on making our pizza system even more productive for the operator and researching how we can make that job better. We're also constantly looking to expand the list of ingredients we have on release, based on what customers' preferences are.
We're looking forward to a big 2022 and are incredibly excited to be in commercial release. We continue to learn from every customer. Bring it on!