Share Farm 2023: Buying Bulk from Minority Farmers Across the USA
DeliveryRank chats in an engaging discussion with Vince Peak, an innovative AgTech Founder. We delve into his passion for revolutionizing the food supply chain. Vince's creation, Share Farm, utilizes pioneering technology to cultivate a harmonious and sustainable marketplace, fundamentally redefining the traditional supply chain dynamics.
Our platform simplifies bulk purchasing, empowering buyers to support local minority producers, and source products that are regionally grown, ecologically conscious, and ethically created. Under Vince's guidance, Share Farm is championing a movement towards a transparent, inclusive, and responsible approach to agricultural practices and food distribution, bolstered by comprehensive social and environmental impact reporting.
What inspired the creation of Share Farm and its mission to revolutionize the supply chain?
As a devoted permaculture practitioner and operator of a small-scale farm, my primary focus lies in nurturing regenerative, circular economies with a net-zero approach. This encompasses intricacies such as planting guilds, energy exchanges between species, and more. However, I observed, while selling our farm products, that numerous producers did not have equitable access to larger market opportunities and producers were not calculating their ROI accurately and faced the predicament of high costs yet low sales volume. This realization propelled me to initiate an application in 2016, designed for facilitating online procurement of food items from local sources. Over time, we broadened our services to include next-day delivery of groceries, provisions for corporate dining, and federal contracting, establishing ourselves as a prime USDA contractor across multiple states.


The pandemic brought challenges, but it also opened opportunities. We became part of the USDA's farm to families distribution program and grew from 500 boxes a week to 30k Our forecasted demand model proved successful, and USDA adopted our methodology for last mile distribution logistics. This regional-based supply chain is the solution for future challenges, providing economic resilience and values-based buying for better social and environmental impact.
We negotiate premium pricing for producers and incentivize regenerative practices and climate-smart commodities, and have specific socio-demographic or ethnic connections to their communities. Our journey has been about pivoting and learning from real experiences, and demand-based forecasting is a game-changer for the food service industry, especially for small producers who can't compete with corporate monocultures and commodity pricing.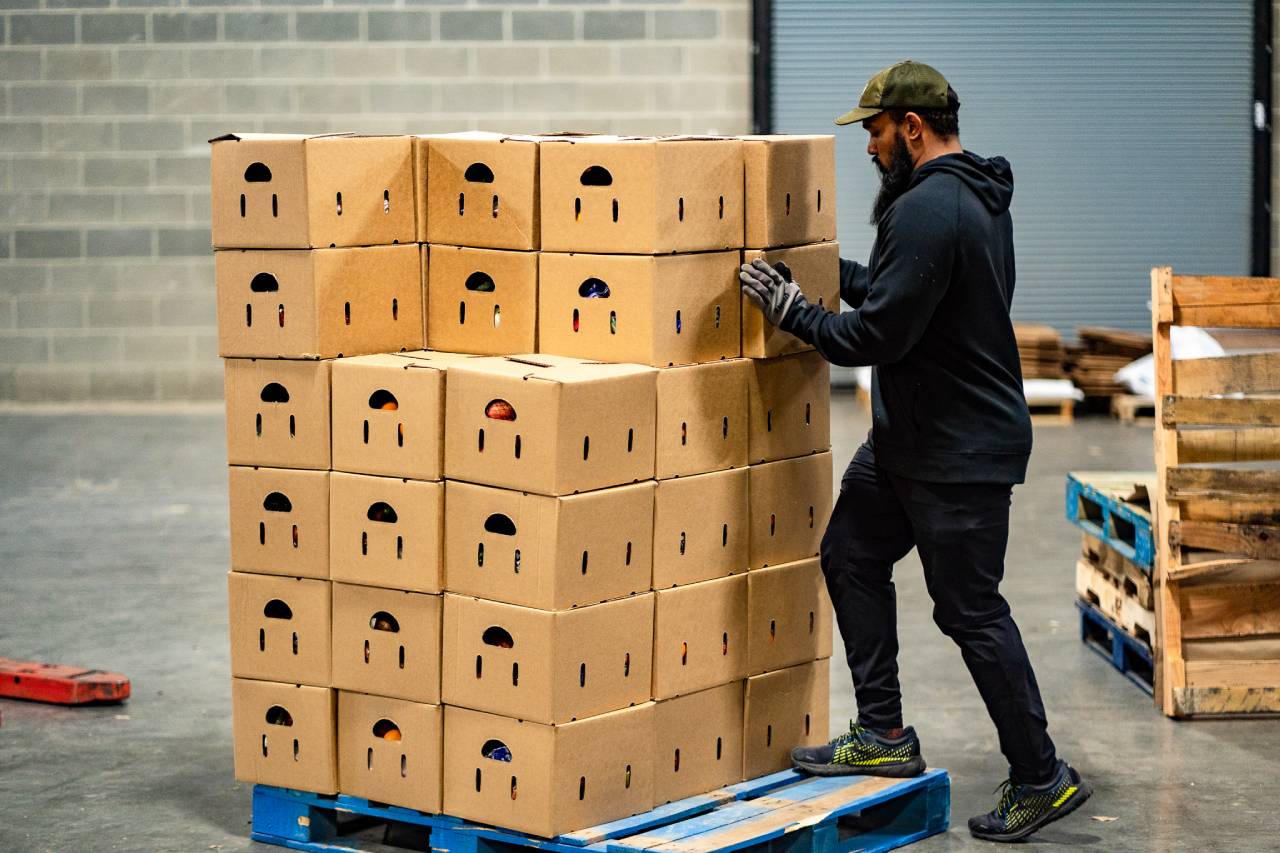 How does Share Farm utilize innovative technology to promote sustainability and equity within the supply chain?
Share Farm is a social enterprise with a mission to empower diverse farms and create a sustainable and equitable food system using technology. Our collaborative marketplace utilizes AI for data forecasting, predictive analytics, and supply and demand controls to connect diverse farmers, ranchers, and fisheries with institutional buyers.
Our core values revolve around promoting transparency, traceability, and encouraging regenerative and sustainable farming practices. Through comprehensive social and environmental impact reports, we align economic profitability with social responsibility. Share Farm embeds sustainability tools and cultural impact tools into the platform, empowering marginalized producers with technology to foster a more equitable and transparent food system.
Our focus is on access to diverse products from various socio-demographics and ethnicities, sourcing sustainably grown products, and using ag tech to create a sustainable food supply chain, promoting inclusive growth and fair trade.
Can you explain how Share Farm's streamlined bulk buying process works and how it benefits both buyers and producers?
Share Farm's bulk buying works through a model called the collaborative marketplace. We champion the values of products to buyers, negotiating a price based on their values, such as sourcing from regional diverse producers and to reduce road miles, food waste, and greenhouse gas emissions. Once the values-based price is set, buyers express interest in purchasing a certain product and specify the desired volume over a particular period, say nine weeks.
This forecasted demand opportunity is then displayed on the platform in the region where the products are sourced. Diverse producers in the region individually commit to supplying their volumes, and Share Farm organizes and deploys the total supply into a single procurement. This way, buyers can easily access a variety of products from different producers without having to deal with multiple suppliers, streamlining the process and fostering a more equitable and transparent food system.
How does ShareFarm ensure the freshness and quality of the farm crops sourced from minority farmers across the USA?
Championing diversity and values-based buying are at the core of Share Farm's mission. We prioritize transactions that have a wide and positive impact on the social and environmental aspects of the region. This includes sourcing products from producers who follow fresh, local, and sustainable growing practices that are better for the environment and the communities they serve.
We also emphasize fair trade practices, workforce development, and carbon net zero initiatives. All these factors play a significant role in determining the quality and value of the products we source. Our focus is on finding and supporting producers who are already committed to meeting these important needs, as they align perfectly with our vision for a more equitable and sustainable food system.
Could you explain how ShareFarm's geofenced product listings and direct delivery to the aggregation site contribute to a more stable and sustainable supply chain?
Traceability is a critical aspect of what we do at Share Farm. We utilize a traceable Ledger, specifically using Solana, and place QR codes on every product we source. This enables us to track each product at every checkpoint through the supply chain, providing detailed information about its point of origin and authenticity.
By using this traceable system, we can evaluate various data points, such as road miles, touch points, and time spent in transit, to demonstrate the freshness and reduced food waste of the products we bring to market.
The QR codes also allow buyers and end consumers to scan and access essential information about the product, such as how it was grown, its growing practices, and its environmental impact. This level of transparency builds trust among farmers, buyers, and end consumers, as they can make informed decisions based on the detailed information provided through our traceability initiatives.
Moreover, the data collected through traceability plays a significant role in producing comprehensive social and environmental impact reports. These reports validate our commitment to sustainability, reducing food waste, minimizing greenhouse gas emissions, and improving the supply chain for diverse producers. We use this actionable data to continually enhance our practices and ensure that we are making a positive impact on the planet and our communities. Ultimately, traceability and the detailed impact reports enable us to uphold our dedication to creating a more equitable and sustainable food system.
In what ways does ShareFarm leverage technology to provide a seamless and convenient bulk buying experience for customers, while also offering personalized recommendations for future orders?
It's clear that technology plays a pivotal role in Share Farm's operations. We are a demand-based aggregate procurement platform that utilizes AI to provide actionable insights to our producers. The core of our platform relies on data-driven forecasting, where we combine historical procurement data with forecasted demand using machine learning to predict buyer needs for future seasons. This approach minimizes risk for our producers and ensures that they can make informed decisions about what to grow and where.
Additionally, we leverage the power of technology through various tools and platforms. For traceability and accountability, we utilize the Ledger for Solana, which provides a transparent, secure, and immutable record of the products we source. This builds trust among all stakeholders, as the data is verifiable and reliable.
Our AI-driven pattern recognition and predictive analytics empower producers to understand what products are in demand and where, helping them optimize their yield and anticipate their return on investment. We offer dashboard tools that display relevant data to producers, allowing them to see the demand for their products and assess their ROI on the platform.
Moreover, we make use of fintech for instant online payments, streamlining transactions and ensuring convenience for both buyers and producers. Technology is at the heart of our platform, helping us champion sustainability, reduce food waste, and create a more equitable food system. Through the innovative use of AI, traceability, and fintech, we aim to revolutionize the agricultural industry and foster a transparent, inclusive, and sustainable supply chain.
If you would like to find out more about Share Farm, visit https://www.sharefarm.com/