Splendid Spoon vs. Daily Harvest 2022: One Clear Winner
Smoothie lovers are living in a Golden Age. Today several meal delivery services will deliver flash-frozen smoothies and soups to your door. Splendid Spoon and Daily Harvest are both soup and smoothie specialists, but which one is best?
After careful research into everything both services have to offer, I have to declare Daily Harvest the winner. While Splendid Spoon and Daily Harvest both offer superb smoothies, Daily Harvest's delightful desserts are hard to resist.
Splendid Spoon is no soup and smoothie slouch though. Our Splendid Spoon review praised its clean vegan cuisine. The Splendid Spoon vs. Daily Harvest battle was a close match between two worthy contenders. Read on for the blow-by-blow.
At a Glance: Splendid Spoon vs. Daily Harvest
| | | |
| --- | --- | --- |
| | | |
| Dietary preferences | Vegan, Gluten-Free, High-Protein, High-Fiber, Low-Calorie, Low-Fat, Low-Sugar, Low-Carb, Soy-Free | Gluten-Free, Keto, Low-Carb, Paleo, High Protein, Low-Calorie, Low-Sugar, Vegan |
| Menu variety | 5-33 options per menu | 3-27 options per menu |
| Starting price | Starting at $6.50 | Starting at $3.70 |
| Shipping cost | Free | Free |
| Special discount | | N/A |
Dietary Preferences
Daily Harvest allows you to filter by foods you like and dislike, and also offers a Dietary Needs tab that will select or deselect items based on your preferred diet. (For example, paleo dieters can avoid items made with oats.)
Splendid Spoon doesn't have a filter option for paleo or keto diets, but it does offer an "Allergies or Avoidances" list. It allows you to filter for Higher Fiber, Higher Protein, Lower Calorie, Lower Fat, Lower Sugar, and Lower Carb items and also has Lower Sodium and Blood-Sugar Friendly filters.
Winner: First round is a draw.
Menu Variety
Both Splendid Spoon and Daily Harvest offer smoothies and veggie bowls, along with some snacks, desserts, and extras. So let's take a closer look at both menus.
Splendid Spoon's smoothies come prepared in 16-oz bottles. You can choose from flavors like Pumpkin Spice, Dragon Fruit Berry, and Chocolate Cherry.
Daily Harvest's smoothies arrive frozen and you'll need to blend them with the dairy or vegan milk of your choice. Splendid Spoon scores points for convenience, while Daily Harvest gets the nod for variety, since it offers 27 different varieties of smoothie to Splendid Spoon's 19.
Splendid Spoon's Soup and Grain Bowls, like the Lemon Wild Rice with Navy Beans and Broccoli pictured above, are low in calories and high in nutrition. It also offers Noodle Bowls featuring rice noodles topped with a variety of sauces, vegetables and mushrooms, and light soups like Parsnip Apple Puree with celery root and cinnamon.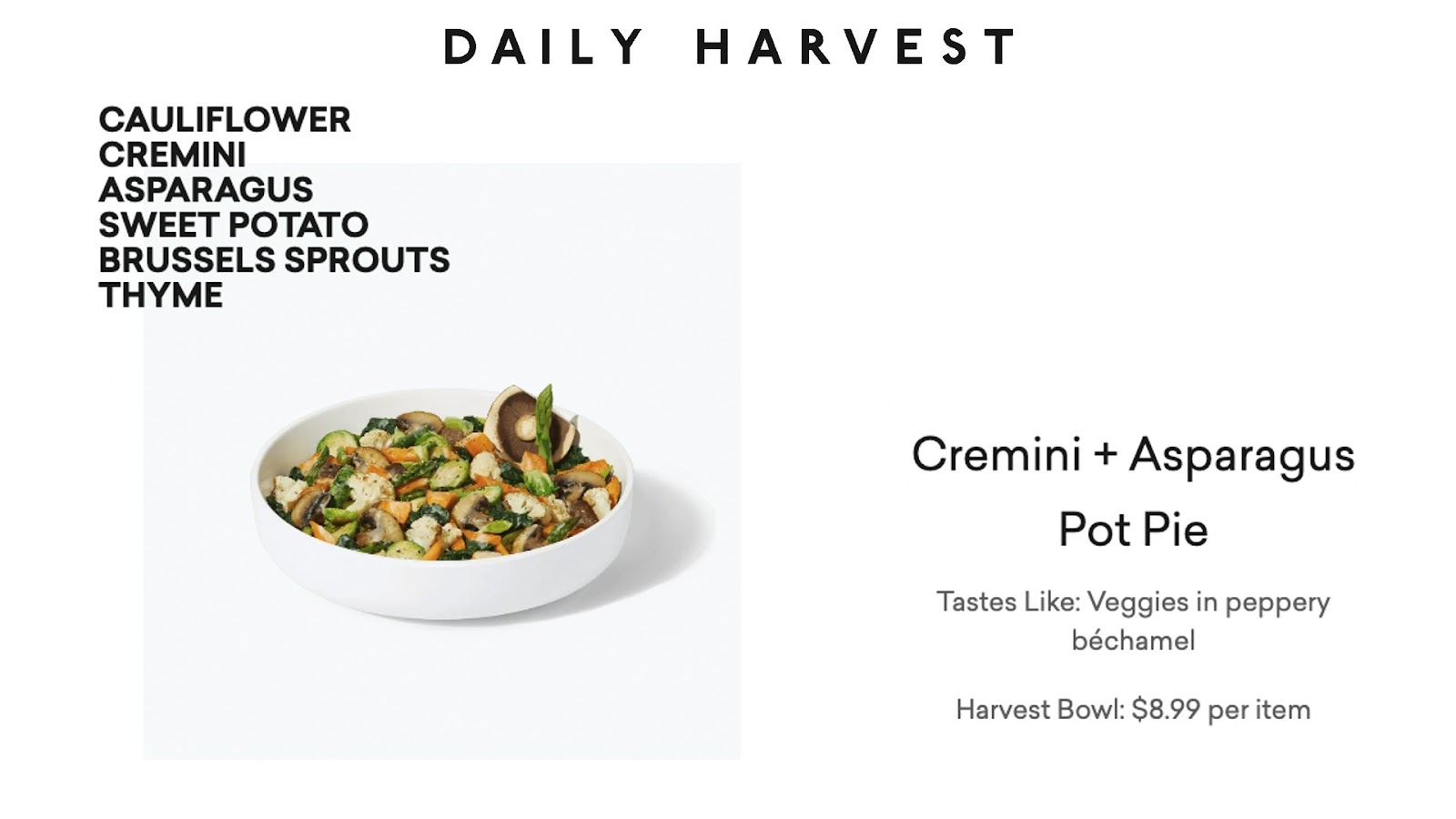 Daily Harvest's Harvest Bowls arrive ready to heat and eat. The Cremini + Asparagus Pot Pie bowl combines cremini mushrooms, asparagus, and thyme in a peppery coconut cream sauce.
While Splendid Spoon markets its smoothies as breakfast meals, Daily Harvest also offers breakfast Oat Bowls and Chia Bowls with fresh fruit and superfoods like maca and goji berries.
When it comes to dessert offerings, Daily Harvest really pulls ahead. Its Scoops deliver vegan ice cream in flavors like Mint + Dark, Melty Cacao Chips, while Bites offer a healthier take on macaron and cookie dough.
Splendid Spoon's protein bars can't match those tasty treats, but it offers Detox, Digestion, Wellness, and Recovery shots for those who like a quick burst of nutrition.
Winner: Daily Harvest.
Starting Prices
Splendid Spoon's plans start at $6.50 per serving for its Breakfast + Lunch + Reset program.
Daily Harvest offers Oatmeal, Chia, and Forager Bowls at $5.99 per serving, with smoothies and soups at $7.99 per serving, and other items at $8.99 per serving. Daily Harvest also gives you a discount based on how many items you purchase each week.
Splendid Spoon offers an On-Demand box for bulk purchases of smoothies, bowls, shots, and extras. You can select the items you want to order and Splendid Spoon will send them to you in addition to your subscription, or without any subscription at all.
Daily Harvest has no non-subscription options, so this added bit of flexibility may be worth Splendid Spoon's additional expense for commitment-phobic soup and smoothie lovers.
Winner: Daily Harvest.
Delivery and Packaging
Splendid Spoon offers deliveries on Wednesdays and Fridays, while Daily Harvest's delivery dates vary depending on your zip code. My New Jersey zip code can receive orders on Tuesday and Thursday.
Splendid Spoon's smoothies come ready-made in 16-oz recyclable plastic bottles, while its bowls and soups come in 100% recyclable plastic containers. Daily Harvest's meals and smoothies are packed entirely in paper, most of it recycled and all of it recyclable.
Winner: This round was another draw.
Meal Prep
Both Splendid Spoon and Delivery Harvest flash-freeze your meals, then ship them to you frozen. Splendid Spoon recommends that its Grain, Noodle, and Soup bowls be eaten within 1-2 weeks if stored in the refrigerator and 1-3 months if kept in the freezer.
Its smoothies and shots have a "Best By" date on the label. Splendid Spoon recommends you drink them before that date for maximum freshness.
Daily Harvest's smoothies come in a container. You pour the contents into a blender, add milk (vegan or dairy as you prefer), and you can pour them back into their package for drinking.
All Daily Harvest's items must be kept in the freezer. Daily Harvest advises its smoothies and bowls will stay good for at least one month. After that, your meals will still be safe, but you may run into freezer burn.
Winner: Splendid Spoon wins this one for its convenience.
The Bottom Line
As you can see, this was a close-run match. Both Splendid Spoon and Daily Harvest will send you healthy and tasty meals. You won't go wrong with either service.
I gave Daily Harvest the nod for its slightly lower prices and its wider selection of desserts. Those who prefer their smoothies ready-made or who want soups without subscriptions might want to go for Splendid Spoon.
Splendid Spoon and Daily Harvest both specialize in light meals. If you're looking for something a bit heartier, check out our list of the best meal delivery services of 2022. And if you're looking into Daily Harvest or Splendid Spoon as part of a diet plan, take a look at our best weight loss meal delivery services.
Overall winner: Daily Harvest.