Sunbasket vs. Green Chef 2023: Clash of the Organic Titans
Sunbasket and Green Chef are both great, healthy meal delivery services. Both are USDA-certified organic and eco-friendly, and both offer sophisticated entrees that foodies will love, including foodies on specialized diets. So which one is right for you?
I review meal delivery services for a living. It can be a spicy job, but somebody has to do it. I scanned ingredient lists, compared menus, weighed and measured prices, and put all the knowledge I've learned from years in the meal delivery review business to find the one that's right for you.
This was a hard-fought competition between two worthy contenders. But in the end, I gave Green Chef the victory thanks to its better customization options and clear pricing plan.
That being said, you can't go wrong with either service. I've provided a detailed write-up of what both Sunbasket and Green Chef offer so you can decide which one works best for you.
At a Glance: Who Won Each Category?
| | |
| --- | --- |
| ? Price: | Green Chef $5.99 per serving |
| ? Menu Variety: | |
| ⏰ Prep Time: | Sunbasket (15-30 minutes: 4-6 minutes for prepared meals) |
| ? Customization: | |
| ? Ordering and Delivery: | |
| ? Customer Support: | It's a tie |
Winner: Sunbasket
While I gave Sunbasket the nod thanks to its prepared meals and extras, both services offer an excellent selection that'll keep even the most demanding foodies satisfied. Each features East Asian, South Asian, Italian, Mexican, South American, and other recipes, as well as sophisticated twists on American meals.
You choose a meal plan when you sign up for Green Chef, and the meals in that plan will be at the top of your menu. But you can choose any of the 30 items on the menu when you order. Among those items are two "10 Minute Lunch" entrees if you want to bring something tasty to the office, or are short on time.
Green Chef's Pork with Cherry BBQ Sauce takes a classic, barbecue pork, and adds the tangy sweetness of dried cherries to the sauce. For a delicious, gluten-free meal, a wilted kale and cabbage salad with sunflower seeds complement the rich ancho-chili spiced pork.
While it only offers 20 meal kits to Green Chef's 30, Sunbasket also provides a selection of prepared meals that you simply heat and eat. In addition, Sunbasket has a selection of breakfast items, snacks, bulk proteins, juices, and other add-ons that Green Chef doesn't offer. These add-ons helped Sunbasket win our Menu Variety award by a nose.
Sunbasket's Spaghetti Alla Beef Bolognese is one of its Fresh & Ready meals. Pop the single-serving container in the microwave and 4-5 minutes later you're enjoying a plate of spaghetti made with antibiotic-free beef and organic vegetables. Tasty and family-friendly.
Meal Customization
Winner: Green Chef
Both Green Chef and Sunbasket have meal plans that cater to specialized diets. If you're a keto, paleo, or Mediterranean dieter, both services offer delicious, diet-compliant meals you'll love. But Green Chef lets you add or swap proteins on many meals.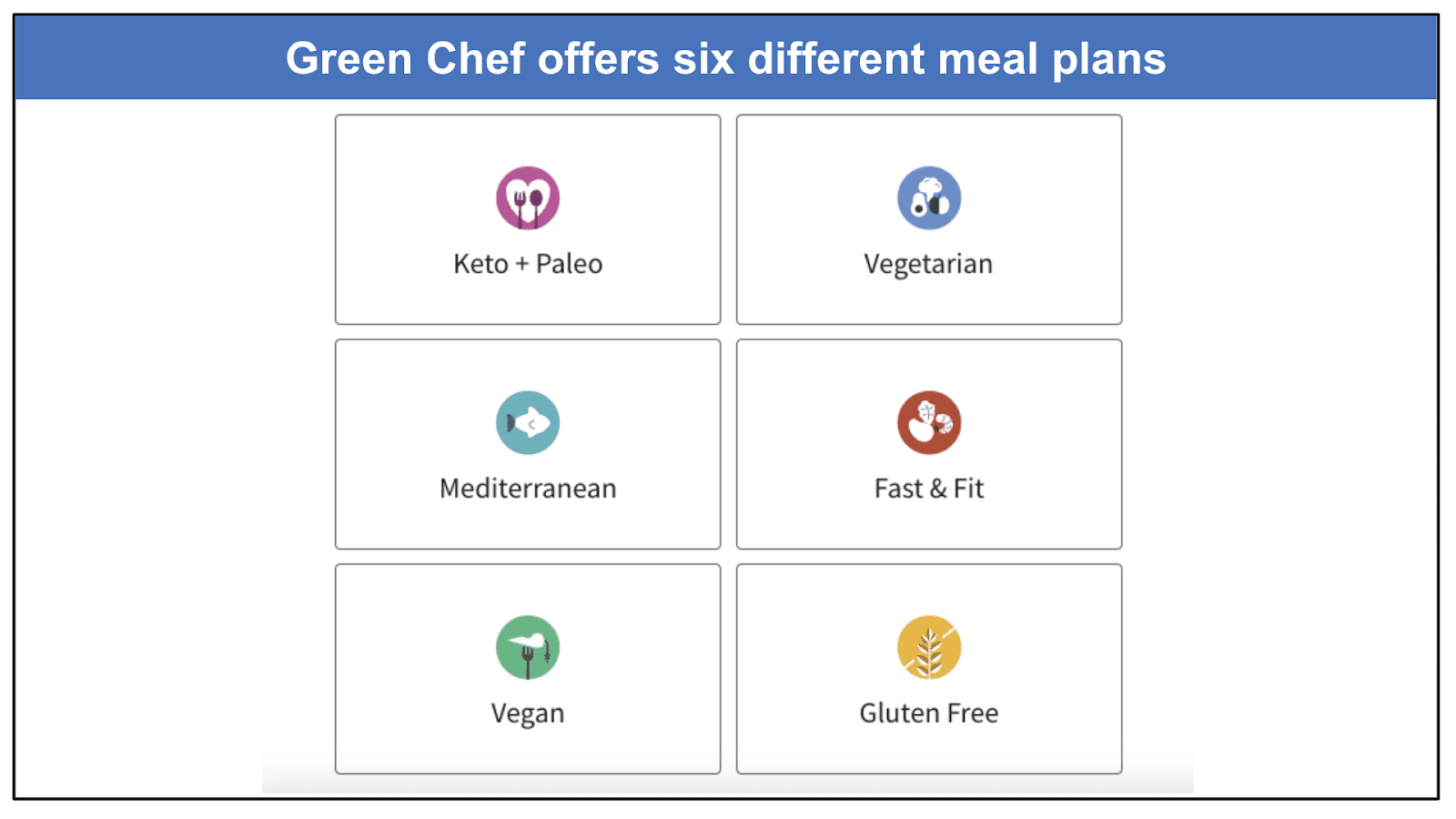 Green Chef offers six different plans, including a vegan menu. (Sunbasket has a vegetarian, but not a vegan plan). Fast & Fit meals are ready in 25 minutes or less, which makes them a great choice for time-strapped chefs.
Green Chef also has menus for keto, paleo, Mediterranean, and gluten-free diets. In addition to being the first USDA-Certified Organic meal delivery service, Green Chef is also the first meal delivery service to receive an official Gluten-Free Certification.
While it provides a complete ingredient list for all its recipes, Green Chef doesn't have filters that let you eliminate entrees containing problem ingredients or allergens.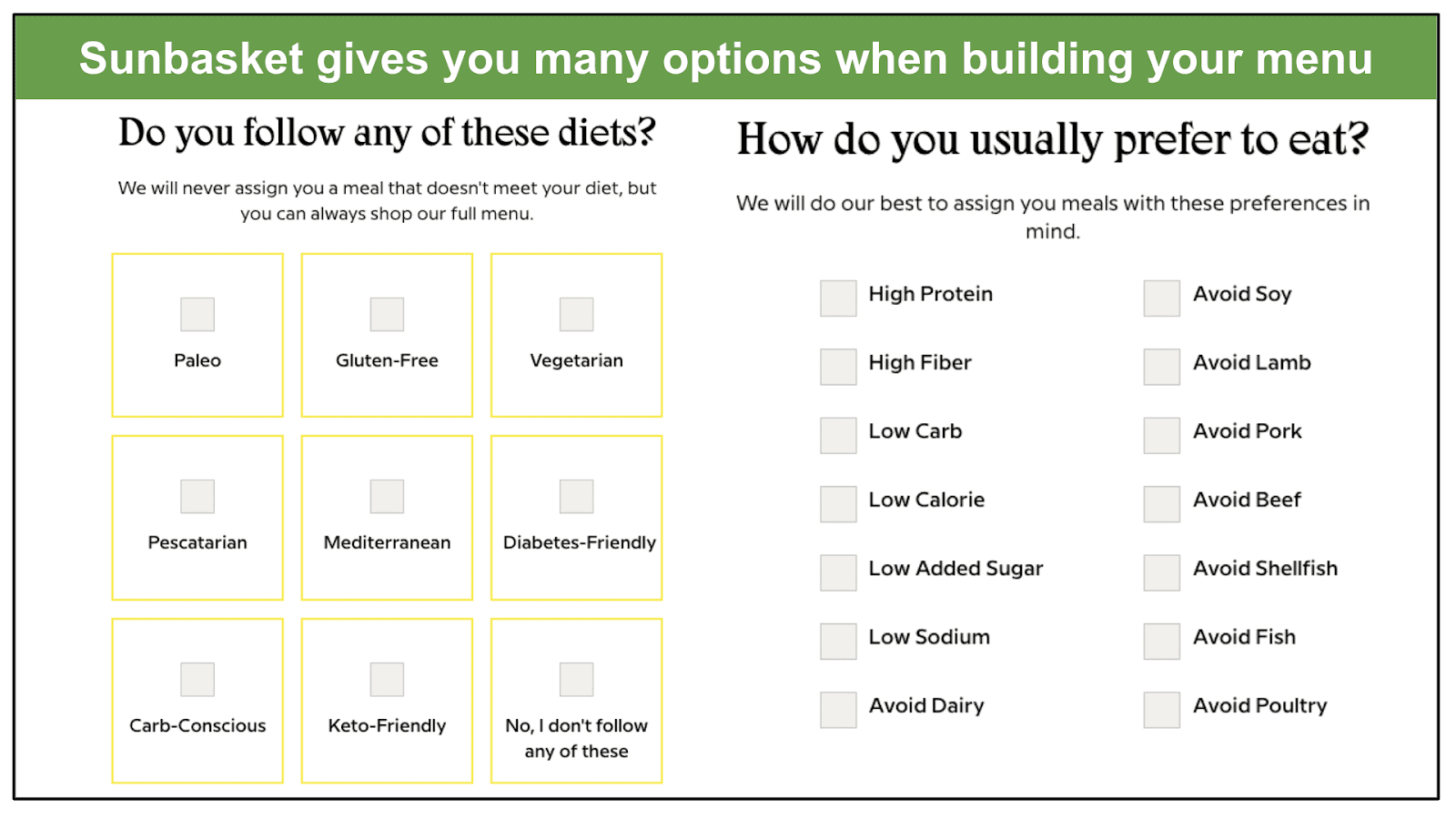 While Sunbasket offers many of the same menu choices as Green Chef, it also has Pescatarian, Diabetes-Friendly, and Carb-Conscious plans. If you love seafood, are counting carbs, or need to watch your blood sugar, Sunbasket might be the better choice.
Sunbasket's filters are more sophisticated than Green Chef's, and let you remove ingredients you dislike or need to avoid. But Sunbasket recipes are packed in a facility that handles gluten, milk, eggs, fish, crustacean shellfish, tree nuts, peanuts, wheat, and soybeans so if you're avoiding an ingredient for medical reasons, you should check with your medical practitioner before ordering.
If you're extremely sensitive to gluten you may want to go with Green Chef (remember, it has a Gluten-Free Certification), as Sunbasket warns that its recipes may not be suited to those with serious allergies or sensitivities.
Ordering, Delivery, Unboxing
Winner: Green Chef
While Green Chef wins this one thanks to the ability to order as many as 24 servings per week (six meals for four people) and a broader choice of delivery days, this was yet another close round.
Both Green Chef and Sunbasket make it easy to subscribe. You enter your information, choose a meal plan, decide how many weekly meals you want, and provide your payment info. Both services offer 2-serving and 4-serving kits, but Green Chef also offers a 6-serving meal plan that's great for larger households.
Sunbasket has a minimum order of two 2-serving meals per week, while Green Chef's minimum order is three 2-serving meals. Both Sunbasket and Green Chef allow you to order from the entire menu no matter what meal plan you choose.
If you need to change a Sunbasket order, you must do so by Noon PST / 3 pm ET on the Wednesday before your delivery. Green Chef's cutoff time is 11:59 pm ET, five days before your delivery day. Both services have apps that let you take care of any changes on your phone.
Sunbasket insulates its boxes with recycled paper and reclaimed denim and makes its food containers from upcycled sugar cane. It also provides a list of suggestions for reusing the packaging after it arrives. (For example, denim insulation plus an empty Sunbasket box can make a great bed for your cat!)
Green Chef doesn't offer tips on turning meal bags into book covers, but its recycling guide is straightforward and easy to follow. And Green Chef is the only meal delivery service that offsets 100% of its direct carbon emissions and plastic packaging in every box!
Sunbasket delivers five days a week, Sunday through Thursday. While most customers can choose their delivery day, your choice of available days may be limited depending on your zip code. Sunbasket delivers to most of the continental US except for Montana, North Dakota, and parts of New Mexico.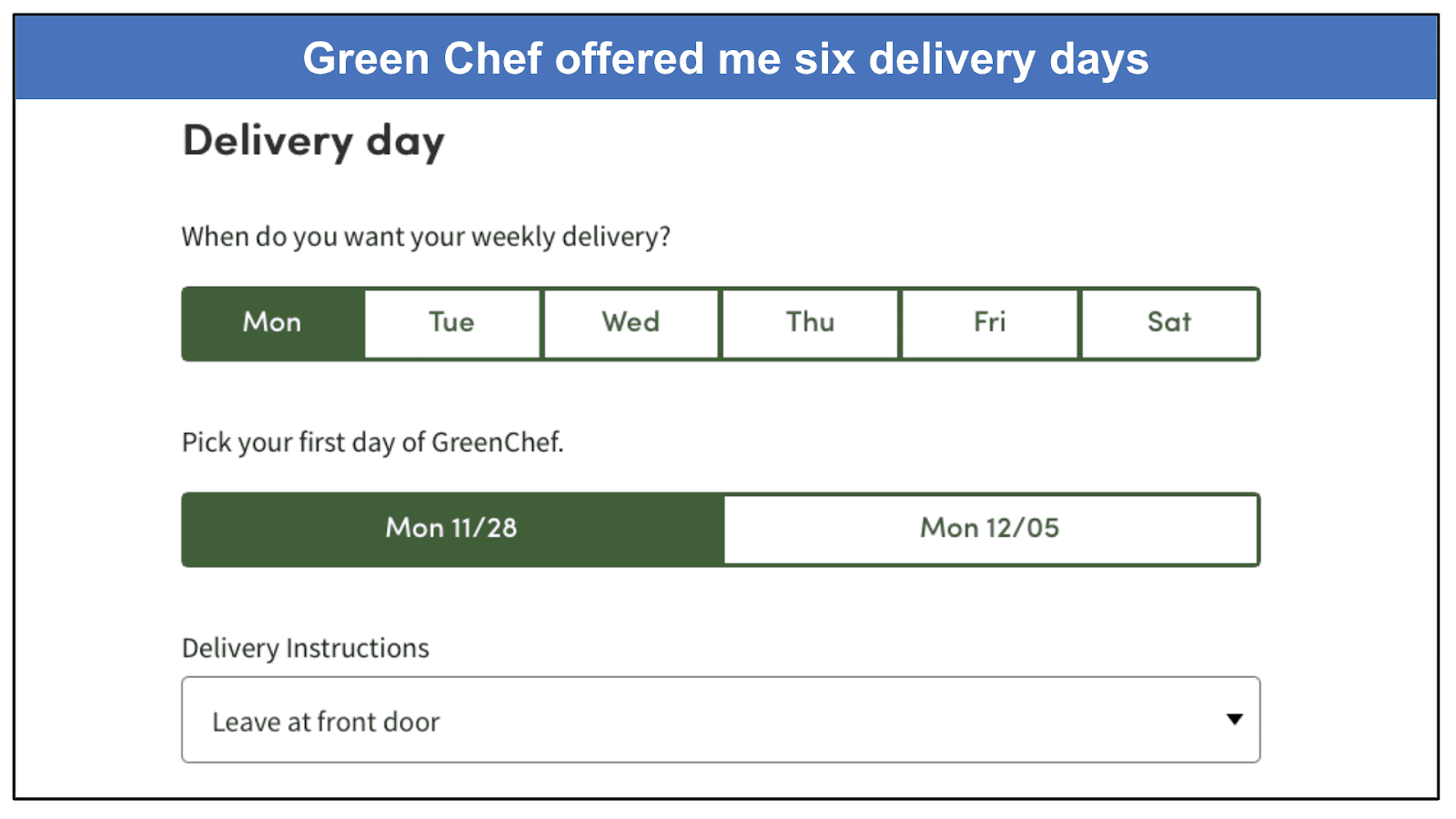 Green Chef ships six days a week, Monday through Saturday. You can choose which day you want your Green Chef box delivered. (Available days may vary depending on your zip code). Green Chef delivers throughout the continental United States except for some parts of Louisiana.
Both Green Chef and Sunbasket send their recipes fresh, not frozen. Your meals will need to be refrigerated as soon as you open your box. Both services say that their recipes will stay fresh in the refrigerator for up to five days after arrival and that kits containing seafood should be prepared within three days.
Many, but not all, Green Chef and Sunbasket recipes can be frozen. You'll find instructions on their websites as to which meals can be stored in the freezer and how long they'll remain fresh.
Meal Prep
Winner: Sunbasket
Sunbasket takes this round thanks to its prepared meals and a wider choice of fast meal kits. If you have to prepare supper on a busy night, Sunbasket gives you more choices.
Green Chef recipes come with premade sauces and pre-chopped vegetables. Most Sunbasket meal kit recipes expect you to chop your own vegetables and prepare your own sauces.
Sunbasket's Fresh & Ready prepared meals can be ready in 4-6 minutes in the microwave. While you may have to chop some vegetables when cooking its meal kits, most Sunbasket meals will be ready in 30 minutes or less. Green Chef also states that its meals can be prepared in 30 minutes although the range on the menu is 20-45 minutes.
Customer Support
Winner: It's a tie
Both Sunbasket and Green Chef have FAQ sections that'll answer many of your questions. I might give Green Chef a tiny edge because its site has a search function but both FAQ sections do an adequate job of answering questions.
Green Chef offers live chat support from 9 am to 7 pm ET. Phone support is available from 6 am to 11 pm Monday through Friday, and from 7 am to 7 pm on weekends.
Sunny B, Sunbasket's digital assistant, is available 24/7. If you want to talk to a live person by phone or text, agents are available Monday to Friday 6 am to 8 pm PT, and weekends from 6 am to 1 pm, excluding some public holidays.
Both Sunbasket and Green Chef let you cancel your subscriptions online in your account settings. You'll be asked why you want to cancel and offered some alternatives in an attempt to keep you subscribed but these are totally optional. Don't forget that the cutoff for canceling a Sunbasket order is 12 pm PT/ 3 pm ET and for Green Chef it's five days prior to the next delivery.
Winner: Green Chef scores a surprise victory
Green Chef scored an unexpected victory here. Sunbasket's meals start at Price: Missing Product sunbasket per serving, while Green Chef meals begin at $5.99 per serving. Based on starting price numbers alone, Sunbasket should win this round. But numbers can be deceptive, so I decided to dig a bit further.
I put together a box of three 2-serving meals from each service's Mediterranean menu as these plan sizes are very popular (a total of six servings). The results were enlightening.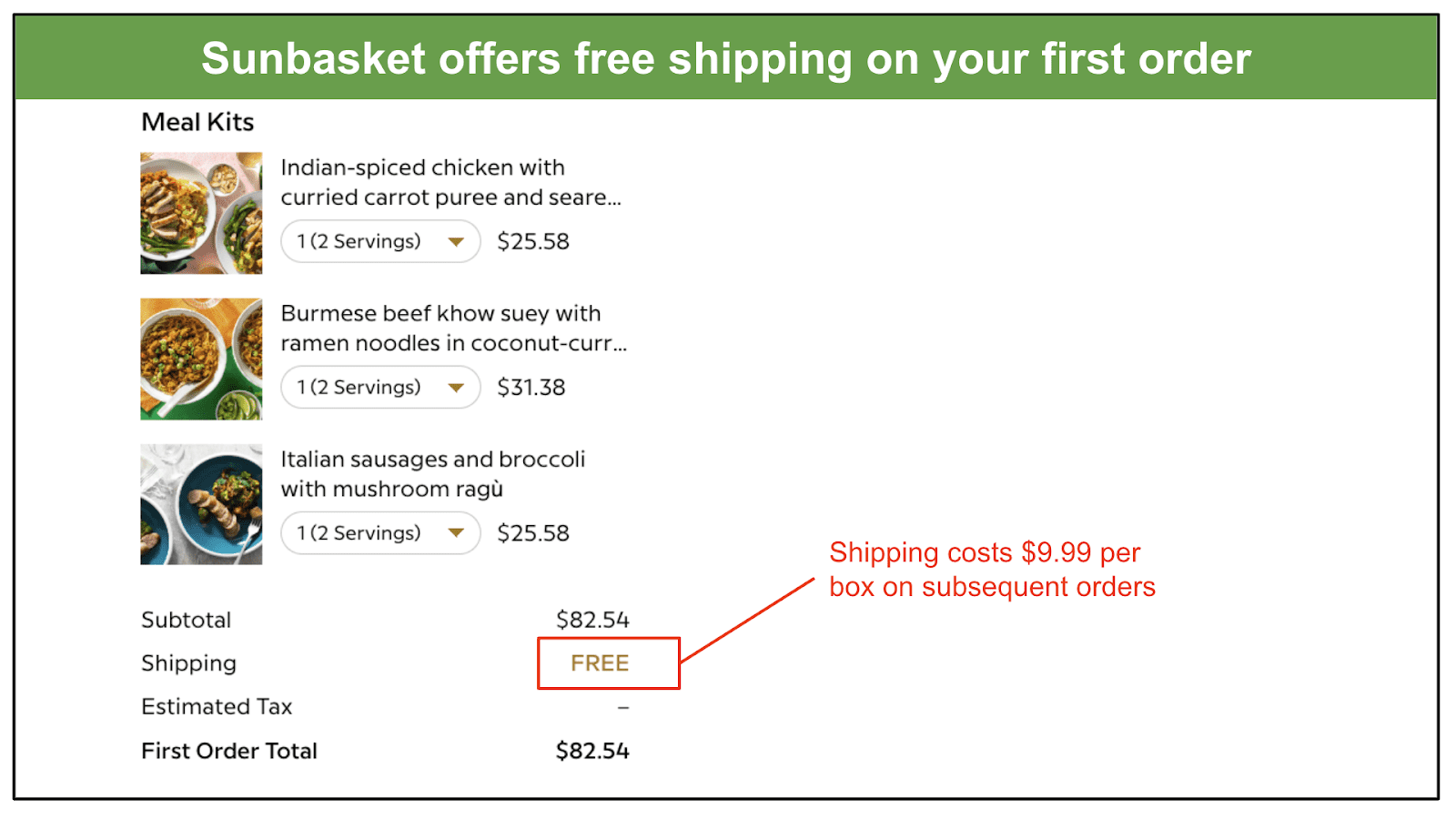 On the Sunbasket plan, prices start at $11.49/serving before applying any discount codes. But most of the Mediterranean meals listed came with an upcharge. Only three of Sunbasket's 20 meals were $11.49, and they were vegan and not to my taste.
My other Sunbasket selections ranged from $12.79 to $17.99. The Indian-Spiced Chicken and Italian Sausages and Broccoli that I chose were $12.79 per serving, and the Burmese Beef Khow Suey was $15.69 per serving.
Of its 30 menu items, Green Chef had three Chef Select entrees with upcharges ranging from $6.99 to $9.99 per serving. The other entrees on the Green Chef plan came in at $13.49/per serving (before applying a discount code). It was much easier for me to find three tasty meals for $80.94 – that's $1.60 less than I would pay for my Sunbasket choices.
With Green Chef, there's the option to order a more expensive meal as a special treat. With Sunbasket, I would have to order more expensive recipes to get the food I want. That's a very big point in Green Chef's favor.
Green Chef charges a flat shipping fee of $9.99 per order, while Sunbasket charges $9.99 per box. If you stock up on extras, you might get hit with an extra $9.99 fee if your order can't fit in one box.
Features Comparison: Sunbasket vs Green Chef



Best for

Menu Variety

Meal Kits

Starting price

Price: Missing Product sunbasket per serving

$5.99 per serving

Shipping cost

$9.99/box

$9.99/order

Minimum order

Two 2-serving
meals per week

Three 2-serving
meals per week

Menu variety

20 meal kits, 14 prepared meals

30 meal kits

Prep time

15 to 30 minutes
Prepared meals: 4-6 minutes

25 to 40 minutes

Low-prep options

Speedy meal kit (under 20 minutes)
Fresh & Ready prepared meals (4-6 minutes)

Fast & Fit (under 25 minutes)

Allergies catered to

Dairy, Soy, Gluten, Fish, Shellfish

Gluten

Special diets

Keto, Paleo, Mediterranean, Vegetarian, Gluten-Free, Diabetes-Friendly, Pescatarian, Carb-Conscious

Keto, Paleo, Mediterranean, Vegetarian, Vegan, Gluten-Free

Customer support

Phone, text, live chat

Phone, live chat

Promotions
And The Winner Is: Green Chef
While Green Chef wins this meal delivery slugfest, Sunbasket remains a strong contender. Of all the matches I've refereed, this was one of the closest. If you're looking for a healthy, organic meal delivery service you won't go wrong with either company.
Green Chef offers more menu customization and a wider range of delivery days. But Sunbasket offers a diabetic-friendly menu and prepared meals for nights when you're short on time and just want a hot, healthy meal – fast.
Both Sunbasket and Green Chef fall on the higher end of the meal delivery price spectrum. However, if you value organic produce, clean proteins, and a sophisticated menu, you'll find plenty to love with either company. They cater to specialized diets and offer a range of options that prioritize quality ingredients.