Sunbasket vs. Green Chef 2022: Similarities & Differences
Sunbasket and Green Chef sure are two very difficult-to-compare services. Both are great, healthy meal delivery services, both are USDA-certified organic brands, and both are eco-friendly – so they're similar in almost every aspect.
Despite it being a tough call, on balance Sunbasket comes out on top thanks to its great range of snacks, among other things. With that said, Green Chef has more entree options per menu so there are instances when it may be the better choice for you.
Here's the lowdown of my Sunbasket vs. Green Chef analysis so you can decide for yourself which one works best for you.
At a Glance: Sunbasket vs. Green Chef



Dietary preferences

Paleo, vegetarian, vegan, diabetes-friendly, carb-conscious, pescatarian, gluten-free, dairy-free, soy-free

Keto, paleo, plant-based, gluten-free

Menu variety

17 meal kits and 10 prepared meal options + add-ons

Nine options per menu giving a total of 27 options across three plans.

Starting price

$10.99 for meal kits and $8.99 for prepared meals

$5.99


Shipping cost

$7.99

From $8.99 to $26.97, depending on how many meals you order

Prep time

6-10 mins for prepared meals

15-45 mins for meal kits

20-40 mins

Special Deal

Learn more
Dietary Preferences
It can often be difficult to find meal plans that cater to strict dietary preferences. More and more brands, including Sunbasket and Green Chef, are now trying to accommodate popular lifestyles, at the very least, to serve a wider audience.
Green Chef, for example, offers a Keto + Paleo Plan and a Plant-Powered plan in addition to its standard Balanced Living Plan.
Sunbasket offers an extensive 10 meal plans, including Paleo, Vegetarian, Lean & Clean, Gluten-Free, and Carb-Conscious options. You can go for one of these plans, or mix and match from the weekly menu.
The menu even lets you filter out certain allergens – soy, dairy, and gluten. There are no additional filters with Green Chef.
Winner: Sunbasket triumphs over Green Chef in this department.
Menu Variety
It's difficult to do a direct comparison here. Although both offer 27 entrees, Sunbasket also has an interesting selection of breakfast items, snacks, juices, and other add-ons, which are missing from Green Chef.
Green Chef offers nine entrees in each of its plans making a total of 27. So, if you're a vegan, you'll get a better variety here as opposed to Sunbasket where you'll get about 4-5 options each week.
How many options you have each week really depends on your dietary restrictions and meal requirements.
Winner: It's a tie between the two, with more dietary options at Sunbasket and more meal options within specific plans at Green Chef.
Starting Prices
Before we get into the pricing, it's important to understand that both companies let you order two, three, or four recipes per week but the crucial difference is that Sunbasket lets you order for two and four people whereas Green Chef let you order for two, four, or six people. So if you have more mouths to feed, then Green Chef might be best for you.
Now, technically speaking, Green Chef's starting price at $5.99 is lower than that of Sunbasket at $4.27. However, this starting price is based on the Plant-Powered menu and is only offered if you're ordering three recipes for four people or more so a smaller order will have a higher starting price than Sunbasket.
You'll see here that Green Chef is pretty generous when it comes to first-time orders:
Sunbasket's lowest price, on the other hand, is $4.27 for four recipes for two people or more. When identical details are entered into Green Chef, the price goes up to $11.49 per meal which, I feel, is still justified given the quality, variety, and taste.
As you can see above, Sunbasket's discount on your first box is pretty significant, as well.
When it comes to shipping, Sunbasket charges a flat $6.99 while Green Chef starts at $8.99 and varies based on the size of your order.
Winner: Though a very close call, the winner is Sunbasket.
Delivery and Packaging
When it comes to delivery, Green Chef has an upper hand as it delivers six days a week from Monday to Saturday to most of the US except for Alaska, Hawaii, and parts of Louisiana. The exact delivery days will depend on your exact location. For example, in Kansas (where I'm based), it delivers from Wednesday to Saturday which is still pretty good and you can select your delivery day.
Another thing that I liked about it is that if the delivery is being made to a commercial address it tries to deliver before 5 pm.
Delivery with Sunbasket is not as accommodating. It delivers from Sunday to Thursday but it doesn't let you pick your delivery day and not all days are available for every zip code. Sunbasket, like Green Chef, doesn't deliver to Alaska and Hawaii but is also unable to deliver to Montana, North Dakota, and parts of New Mexico.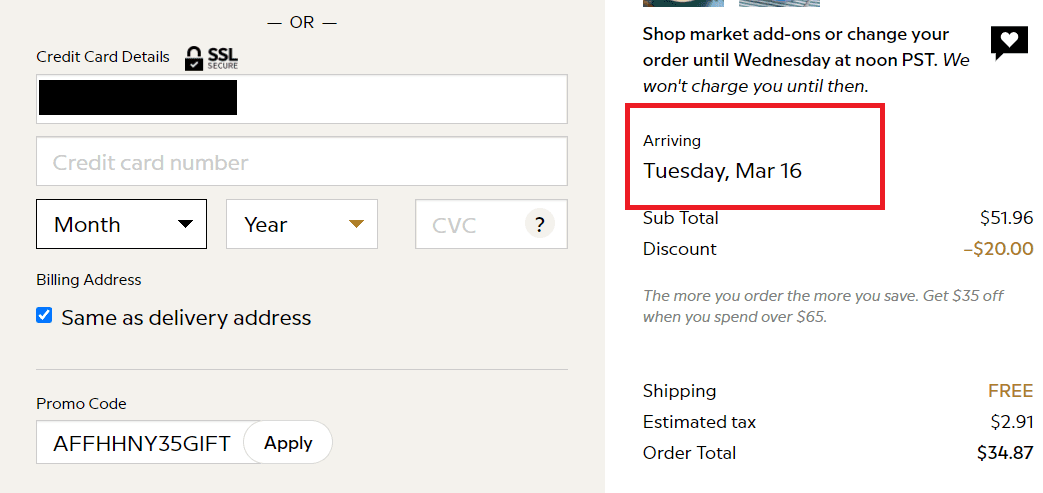 When it comes to packaging, both Green Chef and Sunbasket boast about their attempts towards reducing their carbon footprint. And truth be told, both do live up to their promise for the most part. Since I'm a champion of the eco-friendly movement and because I'm critically comparing the two, I closely scrutinized their packaging. Here's what I found:
The outer box, the insulation, the individual meal ingredients, the egg container, and any other jars and containers that come in the box are all recyclable at both Green Chef and Sunbasket.
An area where both meal delivery services could improve is the use of plastic bags for the ingredients. Many cities will recycle this plastic but not all so you'll need to check with your local plastic recycling collection to be sure.
Probably in an attempt to make up for this use of plastic, Sunbasket has inserted a link to the Plastic Recycling Directory on its packaging page to help you find the nearest drop-off location.
Winner: As far as packaging goes, Sunbasket and Green Chef are equal in their eco-friendly attempts. Green Chef, however, wins by letting me select the delivery day.
Meal Prep
Sunbasket offers prepared meals as well as meal kits, which take much less time to prepare – about 6-10 minutes.
When we compare just the meal kits, Sunbasket's dishes take slightly less time to prep and cook (15-45 minutes compared to Green Chef's 20-45), however, Green Chef makes up for it by doing much of the prep for you. So in the end, there's not much difference in the amount of time spent getting your meal ready.
One thing that I liked better about Green Chef is that the preparation time is visible in the thumbnail itself.
With Sunbasket, on the other hand, you have to open the recipe link to view the time required to prepare it.
Winner: That's yet another tie between Sunbasket and Green Chef.
The Bottom Line
If you're looking for clean, healthy, and easy-to-make meals made with fresh and organic ingredients, Sunbasket and Green Chef are both good choices and it ultimately depends on what factors matter to you the most.
If you're following a specific diet, you can't beat Sunbasket's 10 meal plans, which include uncommon options like Diabetes Friendly and Mediterranean, as well as prepared Fresh & Ready meals. However, if you're looking for organic, sustainable ingredients and specifically follow a keto, paleo, or vegan diet, then I'd recommend Green Chef.
Winner: With many areas tied, it was a close call, but ultimately, it's Sunbasket for the win!