Trifecta vs. Factor 75 2022: Which Has the Best Clean Meals?
Both Trifecta and Factor 75 claim to provide simple, balanced, and clean meals to their customers – but which one does it better?
When it comes to Trifecta vs Factor 75, I've done all the research for you. I've compared menu variety, prices, dietary preferences, delivery, and meal prep to help you decide which is the best option for you.
Trifecta came out on top due to its lower price per serving, a larger number of meals offered each week, and its unique app that tracks macros, workouts, calories, and of course, your Trifecta meal deliveries.
At a Glance: Who Won Each Category?
Menu Variety
Winner: Trifecta
When you're trying to eat healthy and clean, it can be easy to get stuck in a rut of eating the same thing over and over again. With a good meal delivery service, you can eliminate that struggle.
Trifecta has the best variety with about 23 meals per week, which will cover all three meals of the day. If you choose a meal plan, you'll have a set menu designed by the Trifecta chefs. You'll have options like the Korean beef bulgogi for dinner, and sausage and egg scramble with sweet potatoes for breakfast.
Trifecta has the best variety with five set meal plans and you can select from 7-28 meals per week made up of breakfast, lunch, dinner, and a third entree for either five or seven days per week.
The meals are chosen for you by Trifecta's experts but you can choose up to two preferences per week. You'll have options like Korean Beef Bulgogi for dinner, and Sausage and Egg Scramble with Sweet Potatoes for breakfast.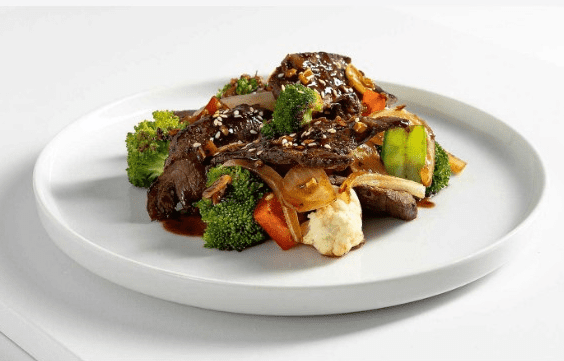 Still hungry? Trifecta's got you covered with their line of meal kits. These are boxes containing pre-portioned and pre-cooked protein packs like beef and chicken as well as carbs and veggies. There are also a small number of snacks to choose from. They can be a great way to practice your cooking skills while still eating healthy and limiting the time spent on prep.
When it comes to Factor 75, you're looking at 23+ meal options a week. Factor 75 does cover all three meals, but the options for breakfast are pretty slim, often with only one or two on the menu. Breakfast choices include the Potato, Bacon, and Egg Breakfast Skillet, and the Gingerbread Spiced Pancakes.
Meal Customization
Winner: Trifecta
Making sure a meal delivery service caters to your dietary needs is a make-or-break factor, so I'll go over it first. Let's dive in with Trifecta first since it has a few more options.
You'll get to choose from five meal plans, which cover a standard clean diet, keto, paleo, vegetarian, and vegan diets.
You can also get meals that are free of gluten, dairy, and soy, but customers with a strong allergy or celiacs are advised to be cautious.
Now, let's move on to Factor 75's options. To be honest, they're pretty similar to the options from Trifecta. Factor 75 covers four main diets: low-calorie, low-carb, ketogenic, and plant-based. Unlike Trifecta, Factor 75 doesn't cover the paleo diet specifically.

Since both of these companies offer prepared food, you won't get many custom options past the meal plan itself. However, Trifecta sells separate protein, carb, and veggie packs, which are pre-cooked but can be used to make your own custom meals.
Winner: Trifecta
Between the two, Trifecta is the only service that delivers to all 50 US states. Factor 75, on the other hand, only delivers to 48 states, missing out on Alaska and Hawaii.
Trifecta's packaging is almost entirely biodegradable (98%), making it easy to dispose of in the recycling. Its goal is to have 100% biodegradable packaging by 2022. You'll be able to get rid of all your packaging with curbside recycling.
Factor's packaging is mostly recyclable, but not biodegradable. For some components, like the film of ice packs, you'll have to take them to a recycling center to be recycled.
When it comes to shipping, Trifecta's the clear winner, with free shipping for all its meals. Factor 75, on the other hand, charges $9.99 per order for shipping.
Trifecta delivers on Friday and Saturday to make it easiest for you to be home. Factor 75 is slightly less convenient, with delivery between 8 am and 8 pm Monday through Wednesday.
Meal Prep
Winner: It's a tie!
When it comes to meal prep, there isn't much to compare between these two meal delivery services. They're both prepared meal services, so the meals are prepared and cooked before they ever reach your door.
They can then be kept in the fridge for around a week, or in the freezer for up to two months before you eat them. When it comes to the actual prep work you have to do, all you need is a microwave or an oven and you're ready to eat in just a few minutes.
Customer Support
Winner: It's a tie
Customer service is essential for a meal delivery service for when things go wrong. When it comes to these two companies, things are pretty neck and neck.
Both companies have four ways of answering questions: an FAQ page, an email address, a chat room, and a phone line.
Both the chat rooms and the phone lines are available during standard working hours. Trifecta is based in California and uses PST and Factor 75 is in Illinois, so it uses CT. Make sure to keep the time zones in mind when calling or chatting.
If you need to pause or cancel your order, both services make this process simple. Trifecta asks for seven days' notice for any changes so you'll need to let them know by Friday otherwise the order for the following week will already be processed. For Factor 75 it's 11:59 CT on Wednesday for the delivery the following week.
Pricing
Winner: Trifecta wins with a larger range and lower cost per serving.
Prices are normally tricky to compare, so I've crunched the numbers to find the cost per serving, (and per week) for both services.
Let's start with Trifecta. For a plan with one meal a day, seven days a week, the price starts at $99.99 per week for the vegetarian plan and goes up to $110.99 per week if you have a plan with meat. That evens out to about $14.28-$15.85 per serving.
Now, if you want to get more than one meal a day, the prices go up. For two meals, seven days a week it's $179.99-$219.99 per week. This works out as $12.85-$15.71 per serving.
For breakfast, lunch and dinner, it'll be $239.99-$310.99 per week ($11.43-$14.80 per serving), and for three entrees per day you can plan on spending $249.99-$319.99 per week or $11.90-$15.23 per meal.
For three entrees and breakfast, it will be $314.99-$414.99 per week, or $11.25-$14.82 per serving.
So, how does that compare to Factor 75's prices?
Factor 75's cost per serving ranges from $11-$15, depending on how many meals you get per week. All its pricing is the same, regardless of the meal plan. The fewest meals you can get are four, which will cost you about $70 per week, once you've added the shipping cost of $9.99.
For the largest plan, you get 18 meals a week for $11.00 each. That'll bring you to a weekly total of around $208, with shipping.
Features Comparison: Trifecta vs. Factor 75
| | | |
| --- | --- | --- |
| | | |
| Best for | Clean eating with niche diets | Tasty, nutritious, frozen meals |
| Starting price | $6.00 per serving | $5.50 per serving |
| Shipping cost | Free | $9.99 |
| Minimum order | 7 meals – $99.99 | 4 meals – $70 |
| Menu variety | 23 meals per week | 23+ choices per week |
| Prep time | 3 to 5 minutes | 3 to 5 minutes |
| Clean-up | None | None |
| Convenience | Microwave-ready meals, pre-cooked proteins | Microwave-ready meals |
| Allergy options | Gluten, dairy | Gluten |
| Special diets | Paleo, keto, vegan, vegetarian | |
| Customer support | Online Chat and phone available during business hours, email 24/7 | Online chat and phone available during business hours, email 24/7 |
| Promotions | | |
And The Winner Is: Trifecta

When it comes down to the nitty-gritty of which service is best between Trifecta and Factor 75, Trifecta is the clear winner. It beat out Factor 75 on price, delivery, menu variety, and dietary preferences.
Factor 75 is still a popular service, and it has a reputation for having some of the best-tasting frozen meals out there. It might be right for you if you don't mind paying a bit more per meal or if you want to order fewer than seven meals per week.
Not convinced either of these are the right service for you? Head over to our ranking of the best meal delivery services of the year for even more fantastic options.
FAQ
Where Does Trifecta Deliver?
Trifecta delivers to all 50 US states. While researching its delivery process, I discovered shipping is was completely free and deliveries take place on Friday or Saturday every week.
Can You Cancel Trifecta?
Trifecta is easy to cancel and its plans have no commitment, so you won't be stuck in a rolling order system that has fees to make any changes. Any changes to your order should be made by Friday the week before the delivery is scheduled otherwise they won't have time to go into effect.
Can Factor Meals be Frozen?
Factor recommends that you store its meals in the fridge, where they'll last for up to a week. However, you can also freeze them for up to two months before eating them.
Are Factor Meals Gluten Free?
Factor meals are gluten-free, but they're not recommended for people with a severe allergy or intolerance. Customers are encouraged to check the full ingredients list and make their own decision.