Urban Crop Solutions 2023: "Any Crop Under the Sun"
Maarten Vandecruys, Founder of Urban Crop Solutions, reveals why indoor vertical farming is the only way to go forward, and exactly what solutions his company has to offer.
How did the idea of Urban Crop Solutions first come about and how did it develop into a business?
I became interested in urban agriculture back in 2012. I come from a background in management, economics, and marketing. Before going to business school, I had a vision of rooftop greenhouses in city centers and supplying directly to the customer, cutting out the middlemen.
At business school, I had a chance to work on the financial model behind this concept and soon realized that without subsidies in Europe, there's a limited chance of any profitability. Many other challenges such as shortage of flat rooftops and space and city planning permission would hinder chances to scale up and have any impact on a global scale.
I started researching different options, and it was at this stage that I started getting into growing plants and LED lights and began to see the potential – we didn't need rooftops, we could use warehouses, basements, and even abandoned buildings.
Long story short – we built a prototype, grew some lettuce, sent it off for analysis along with samples of a similar lettuce from a retail store. The results that came back indicated that our lettuce had a much higher nutritional value than those sent from retail.
We then sought to help others find solutions to farming by offering our hardware, software, and biological know-how. We wanted to have a bigger impact on the world and decided to scale up this way. This is how it all began and Urban Crop Solutions was founded in November 2014. We have two main departments; the Engineering Department and the Biological Research Center.
What's your main focus?
Our main goal is Return on Investment for our clients from both an engineering and biological perspective. We offer flexibility and continuity.
Our R&D consists of two main components; electromechanical and software, and indoor biology.
Indoor biology focuses on improvement for our existing clients and the electromechanical and software deals with ongoing research.
Concerning crop application, we're currently more focused on the food industry, although we're shifting slowly towards biotech and phytopharmaceuticals. Because we can control the parameters involved with the growth of the crops, it can be used in such a way as to increase the vitamin content, active compounds, or antibodies of the plants which of course is of interest for pharmaceutical applications. The potential is huge.
Who's your target audience?
Commercial growers – from farmers who sell to local markets to larger commercial companies who have their own restaurants like IKEA for example, or who then sell on to retail. This is approximately 70% of our clientele and they're located anywhere from Tahiti to North Canada to Sweden. We're pretty global.
30% of our clientele are research institutions that want to do their own fundamental research on plants such as universities or private/public research institutes. The National University of Singapore is one of our clients.
How do you differ from your competitors?
We find that we're getting more and more competitors, which is a good sign. One direction that we took from the beginning, which is perhaps how we differ from our competitors, is offering an end-to-end service to our clients.
We want to be with our clients from the very beginning, right from when they have their business idea. We can help them to validate it financially, engineer the right solution for them, help them with the training, biological and technical support, and of course provide them with everything they need to grow; seeds, nutrients, and substrate.
We feel it's important to accompany our clients throughout their entire business journey. This is a very new industry and we can provide the know-how that's somewhat lacking elsewhere and the convenience and efficiency of providing an A-Z service.
Do you think you'll eventually replace traditional greenhouses?
Indoor farming has huge potential but it's only in the early stages of its development. There are many challenges to be faced, of economic, environmental, and legislative nature.
Economically, indoor farming is still an expensive technology because the scale is still small. Certain countries have legislative policies around indoor farming which make the industry expensive and sometimes complicated.
The biggest challenge involved is perhaps environmentally as indoor farming requires the use of electricity. Many people question why we use electricity when the sun is free. We control the parameters within the farm which promotes consistency and therefore superior produce. Relying on the sun opens the door to many variables, which is what we try to avoid.
Indoor farming is here to stay and will eventually complement farmers and traditional farming methods, allowing them to propagate their own plants. Environmental costs can be reduced as middlemen can be cut out. Profitability is, therefore, higher and increased sustainability is achieved.
What can you tell us about your ModuleX Plant Factory?
When we first launched the business, we started to build our vision of the future of indoor vertical farming. If we could carry it out as an industrial process with large facilities, ensuring high profitability and sustainability, then indoor farming would be here to stay.
We built our prototype in a fully automated warehouse. What we noticed was that a very large investment was needed but back then we had no references, the industry itself was in the very first stages of development, and investors were scared to be the first to involve themselves, although they could see the potential.
This is why we translated this industrial approach to smaller systems and we integrated them into 40ft containers. They can be shipped all over the world. Our clients can start small and as they attract more customers can scale up in a smart way. They can add Grow Modules as they need them and grow their business sensibly.
Each Grow Module has an independent ClimateZone and Nutrient system and the client can adapt their mix of crops to the needs of their customers. They will reduce labor costs and achieve maximum yield.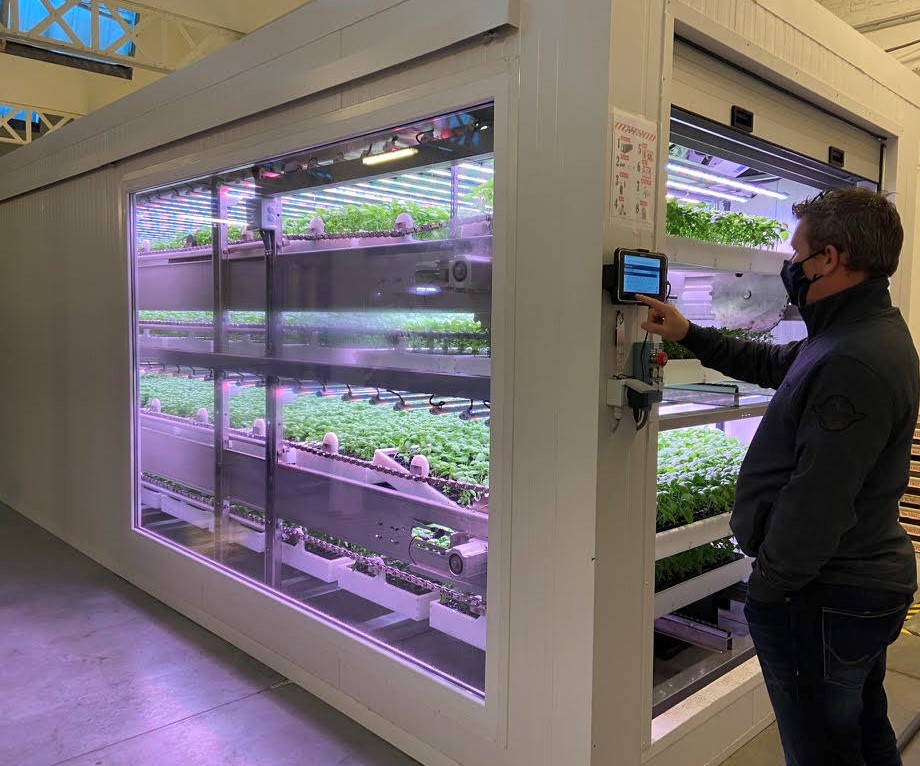 What's the story behind baking bread on Mars?
One of my very good colleagues worked as a business developer for a baking company his whole career. He set up baking facilities all over the world. A year ago, this baking company celebrated its 100th anniversary. This made him question what the scenario would be like 100 years from now – the answer was bread on Mars.
All the business tycoons of today are looking at ways of getting to Mars and will undoubtedly get there soon. These people have to be fed and bread has been a staple product for most since pretty much the beginning of time – what if we could make bread from crops grown on Mars?
We've created a consortium and are growing plants from lava stones similar to those found on Mars and using the bacteria necessary for these plants to grow. We've created drones for the automatic pollination of the plants and are helping AI algorithms to grow these plants as efficiently as possible.
This is a huge research project and the results will be available in November 2022. Whatever happens with the Mars project, what's important is the implication here on Planet Earth – eliminating the use of chemical fertilizers and minimizing the use of resources while resulting in a superior quality product. We intend to make this happen on a large scale.
What does the future hold for Urban Crop Solutions?
I'm very pleased to see that general acceptance amongst customers is taking off. People are understanding the technology behind indoor farming and realizing that there's no use of GMOs for example.
Over the last few decades, plants have been bred or crossbred, to be more resistant to drought, fungus, and disease. The advantage of this is that farmers had better yields, but this also means a decrease in nutritional value and shortening of shelf life for example.
With indoor farming, we have the opportunity of going back to our roots – to the original plants – and to really focus on quality and nutritional value. This is what breeders are starting to do right now. It's a very exciting time and we're very happy to be part of this journey.