Workout Meals 2023: Eat Right Before & After Your Workouts
Eating healthier food and exercising are two factors known to help improve quality of life. Tomislav Jurlina and Dean Deakin combined both when they created Workout Meals almost a decade ago in Australia.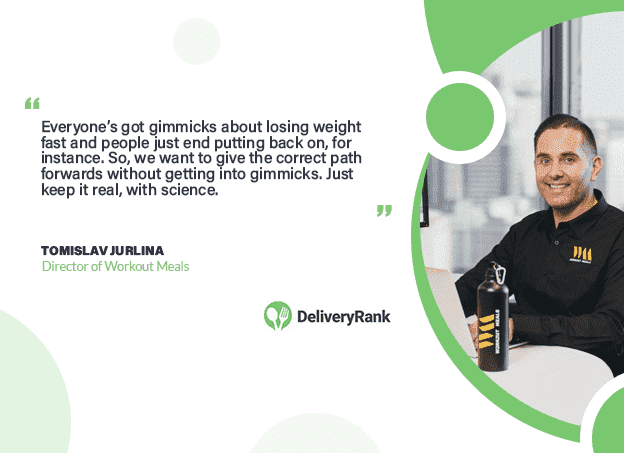 Tell us about your company. How did you come up with the idea?
My name is Tomi, from Workout Meals. I started the company with Dean Deakin back in 2012, when I was working a normal office job in Sydney's Central Business District. I signed up at the gym across the road and got a personal trainer as well as a program outlining the food I needed to eat.
This may seem weird coming from me, but I really hate cooking! So I started looking into how I could outsource this: a service or personal chef, for example. There was nothing like that out there, and I started thinking to myself this could be a good business idea.
Then I spoke to Dean. He has more cooking knowledge than me and also went to the gym – he thought it was a good idea as well. I've got a technology background and so we put together AUD 700 each and built a website, a Facebook page, and created some flyers.
We catered mostly to people going to the gym, and orders started coming in pretty organically. It was uncharted territory. Back then, logistics was an issue because there were fewer options. We also did absolutely everything ourselves – we cooked, packed, chilled, and delivered.
In the beginning, we thought people wanted plain food such as chicken, rice, and vegetables. We could write a book about the mistakes we made on every single front, from cooking to marketing...
Eventually, we learned that customers wanted more than just the ingredients: they wanted the flavor and to reach their nutritional goals at the same time. We expanded our horizons. Right now, we've got a nutritionist, an executive chef, and a bunch of other chefs working for us.
Every person has a different workout routine and goals: weight loss, muscle gain, resistance, flexibility, etc, and all of that demands different food consumption.
How do you address those challenges?
We've focused heavily on technology for a couple of reasons. Firstly, the scale of our business. Handling food is different from other products: it has to be handled in a specific way, chilled all the way through, and people expect the food to arrive on time.
In e-commerce, if a t-shirt gets to the customer a few days late or early – it doesn't matter. The same isn't true for the food industry.
So, we invested a lot in technology. On top of the handling, we try to make our Workout Meals suitable for everybody. For example, if you have a gluten intolerance, there are two ways to order: buying the gluten-free pack or filtering gluten-free meals on the menu.
There are certain questionnaires for customers to go through so we can recommend the right pack for them. For example, if you're a female trying to lose weight, we'd need to know whether you work out once, twice, or five days a week, or not at all.
Depending on their answers, we might recommend a high calorie, low calorie, or low carb option, or something else. They can adjust it, too, swapping ingredients they don't like for equivalent ones. We try to cater to everybody: there are vegan, gluten-free, low carb, keto, high calorie, and low-calorie options…
The food subscription market is growing exponentially all over the world. Besides the workout aspect, what differentiates your company?
We started with "gym-focused" workout meals, but a workout can be anything: tennis, soccer, going for walks, yoga… People generally aspire to be healthier, so we had a wider audience than I first thought.
Initially, when we were looking for investors, they were scared of it being a niche market. But turns out it's not! It's bigger than anyone anticipated – much bigger.
Freshness is important in this business. How do you manage the logistics so the food is always on point?
Initially, we were doing it ourselves. We would hire cooler vans, plan our routes, and… deliver! But since the business has expanded to include things like homemade meals, we now work with logistics companies.
All we have to do is to send them a manifest. They come, pick it up, put it on the truck, and deliver it for us. Customers get updates and time slots via SMS. For the first few years when we started, it was very expensive and quite difficult. Because since there's a growing demand for it, the process has become easier and prices have dropped.
When we fly our chilled meals to other states, we get a cooler van or truck to come to the kitchen. The chilled meals are checked with temperature guns. Everything is noted down.
Then, they're taken to the airport, where there is a chilled section. It flies to a different state by plane. On the other end, there's a cooler van to take it to another factory, which is also chilled. They split the orders up for that region into different chilled vans, and deliver them to the customer.
What's next for Workout Meals?
We've always had a lot of technology-based ideas, so we were the first to try a lot of new things. In fact, we'll be starting off the new year by releasing some of our most exciting innovations yet.
You see, for us, it's not just about selling as many meals as possible. It's about perfecting the process and maximizing the value of our products. Having shared kitchens with other business, I'm hyper aware of how our way of working is different from other meal delivery services. We're on an exciting path, and I invite your readers to follow along with our journey!
What can Workout Meals subscribers expect from your business?
Everyone has questions about what to eat. There's a lot of inaccurate and misleading information out there and it's very hard to find the real science behind something. There are always fads around about losing weight fast, for example, but these never last and people just end up putting it back on.
When people come to us, they're getting clarity and no gimmicks. Instead, we use science to set them on the right path.