Zego 2023: Cleaner Food Systems With Gluten-Free Snacks
Zego prides itself on being the first purity-transparent food brand, making delicious superfood products that meet all your dietary needs. In this interview, Founder and CEO Colleen Kavanagh discusses the relationship between customers, supply chains, and policymakers, and empowers customers to voice their demand for cleaner, healthier food.
What sparked the idea for Zego, and how did it evolve?
I started on this path when I was quite young. Back in my teenage years, I was diagnosed with celiac disease. I was old enough to see the massive difference that happened when I started eating the right foods for what my body needed. I grew six inches and gained 40 pounds in six months. It was pretty amazing because my brain fog lifted, I was able to do well in school, and got to do things I wanted like playing on the volleyball team.
As I got older, I wanted to do something that would help other children who weren't getting properly nourished to get the nutrition they needed, whether they had a disease or an allergy, were low income and didn't have access to healthy food, or just weren't eating right.
After college, I started going down the political path. I worked for a member of Congress and with nonprofit organizations for quite a number of years, to improve nutrition in public programs like school lunch, WIC, and food stamp programs.
At one point, we worked for about 5 years to pass a bill to improve the nutrition standards for food sold at snack bars and in vending machines in schools. The first product the big food companies came out with after the bill passed was a brown Rice Krispie treat. It was still a Rice Krispie treat, but it was made with brown rice instead of white rice. That clearly fell short of what we were hoping for.
At that point, I realized that no matter how much we do from a public policy standpoint, we have to be working directly with customers to change the food system. Customers should be demanding healthier and cleaner food. If they do, the supply chain will respond by not using as many pesticides and using cleaner processing agents.
I decided to start a company, Zego, that would not only meet the dietary needs of people like me who have gluten intolerances or severe food allergies but would also test its products for all of the agricultural toxins that can end up in your food. We test for pesticides like glyphosate and in crops with a history of heavy metal contamination, we test for lead, arsenic, cadmium, and mercury too. Although these metals are naturally occurring, there can be increased levels in the soil due to human intervention in various industries. All of our products are allergen-free and gluten-free, and most of them are diabetic friendly.
We're trying to change the industry standard. Right now, customers aren't assumed to have a right to know if there's potentially toxic residue in their food, and brands aren't even required to test for them.
Customers who want to know if their food is clean should be demanding the test results from the brands that they love and buy. Zego is the living evidence that it can be done. We're also your immediate solution in your search for clean food.
We educate customers through our packaging and social media on how they can advocate change in the industry.
Who are your typical customers?
Our customers fall into several groups. The underlying theme is that they're seeking clean food. They may have health issues, like allergies or celiac disease, or they may be recovering from cancer. Some have had heavy metal toxin buildup in their body that they're trying to get rid of. Others may be having fertility problems and are seeking a clean diet to help resolve them.
We also have people who generally just want to be well. They don't want to get COVID or they want to be able to fight COVID off easily. They want to be their best selves as they get older, or even improve their sports performance.
Whatever the goal is, clean nutrient-dense food is the answer for all of them.
What items do you currently have in your product line?
We have snacks and pantry items, mostly in the breakfast category. Our flagship product is our Double Protein Oats.
Our farmers grow a particular strain of oats that has much higher protein levels than most other oats. We cold-process them instead of heating them like other companies. That means the oats retain the nutrition Mother Nature gave them.
We also have muesli, a nut-free trail mix, and a single ingredient protein powder made from sacha inchi seeds grown on small organic family farms in Peru. We also offer a line of fruit bars, some with protein, and some with chia seeds. And we're introducing one with mushroom powder that's high in vitamin D.
What advice would you offer to people with food intolerances who want to have a clean and tasty diet?
I think the best thing to do is to start with pantry staples, vegetables, and fruits that you can eat rather than diving into gluten-free food that's highly processed.
Gluten-free processed foods may be safe for you in terms of celiac disease, but it's not necessarily healthy for you. Many of the foods have a lot of starches and gums and are high in carbohydrates, or they use fake sweeteners like monk fruit and stevia. They trick your brain into thinking that you're getting sugars when you're not, so you don't gain weight but metabolically it's not good for you in the long run.
When it comes to things that may be a bit more processed like a cupcake, a cookie, or a pizza crust, you should look at those ingredients and make sure they're wholesome. You don't want to be eating unhealthy gluten-free foods. So, I would stick with foods that meet your dietary needs and just have a few unprocessed ingredients.
Where can people purchase your products?
You can buy our products online at zegofoods.com and have them delivered to your doorstep. We also sell at about 1000 stores across the country. We have a retail locator map on our website where you can see if we're in your neighborhood.
We want to be both online and on the retail shelf. Online's important because people who need clean food are all over the country, and we need to be available to all of them. We also want to be on the retail shelves because we want more people to learn about what we call purity verification. Our packaging has a big circle on the front that says purity-verified. We want people to see this on the shelf and pick it up to learn what that means and why they should insist all their food be purity verified.
What are you hoping to achieve by advocating purity verification?
People tend to assume that all their food is purity-verified, but when they start reading our packages they realize that Zego is one of the only companies that do this. That means their other food could contain toxic chemical residue. We have a message on the back of all our packages that encourages customers to contact the other brands that they love and ask them to purity-verify their products as well.
Our mission, vision, and financial success are completely tied together. We need to be successful so that people are aware of what we're advocating for, which is nothing less than inspiring the customer to change the entire industry and in turn the planet.
The reason we focus on customers is that they're the most powerful change-makers of our food system. If they refuse to buy a product unless they know what the heavy metal content or pesticide content is, then all the food companies will start doing that.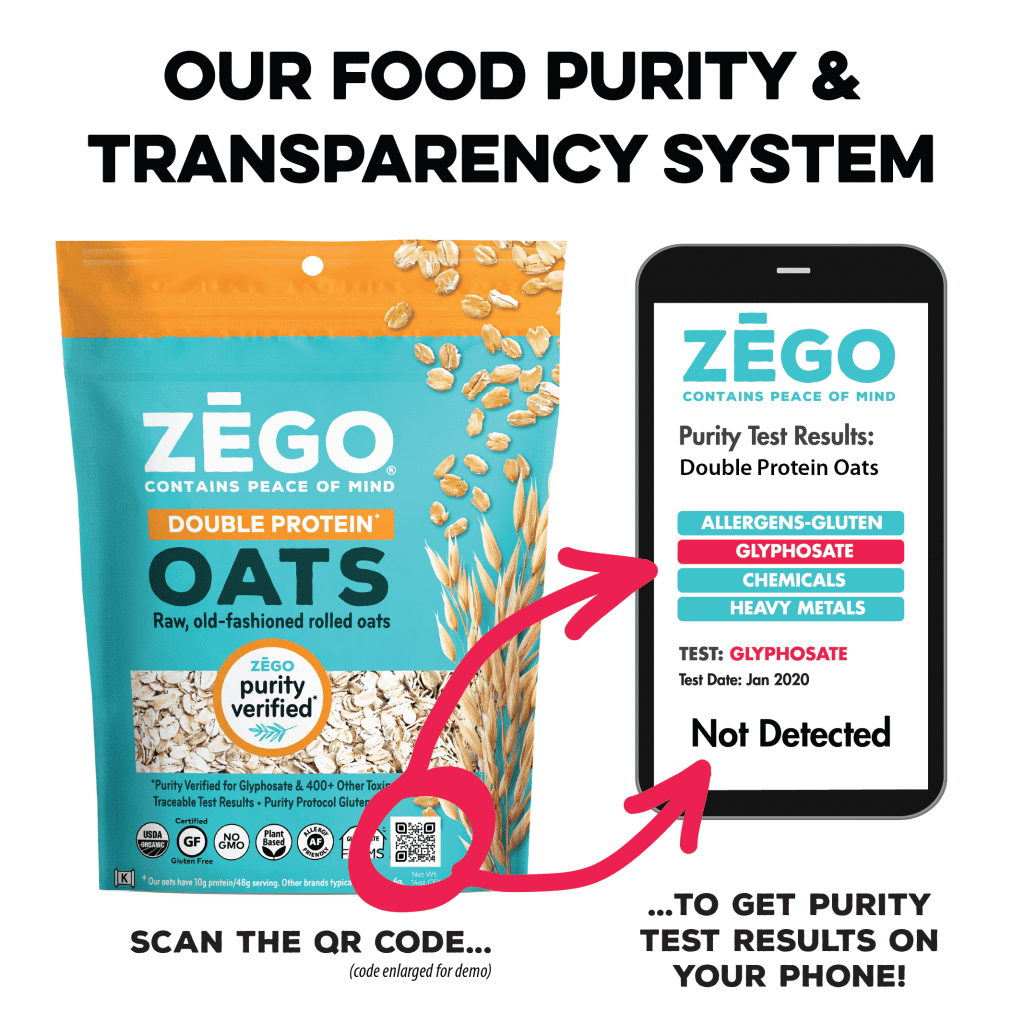 How do you think purity verification can be standardized?
Public policies don't create trends, they follow them. The US Congress isn't going to pass a law saying that we need to decrease the sugar content in our food, for several reasons. The sugar lobby is very powerful and there's a lot of money tied up in that industry. There are a lot of campaign donations that come from that industry as well. But if customers are already very concerned about sugar, and are demanding less sugar in their food, then often Congress comes back a decade later and passes laws about limiting the sugar content in areas like school lunch programs.
In other words, policies follow the trends, so you have to have the grassroots working first to push the policy forward. It's very hard to implement something that people don't believe in, so you have to have people believing in it first. Otherwise, it would only be done on paper.
How do you verify the purity of your products?
We send all of our products to third-party labs. Then we use our website and our packaging to connect the test results to the packaging QR code. We're not certifiers. We're actually looking at a post-certification world because there are so many certifications now that brands are really crumbling underneath them.
Some small brands spend so much money and time on getting certified that they can't even get their foot in the door to sell their product. We want to show brands how to do this cost-effectively.
In the long run, you don't have to be certified as organic to show someone that your product's clean. This is actually better because you're showing real-time data about specific product batches. We want to show brands how to do this and we want to show customers why they should be demanding it.
How do people react to your call to action?
Reaching out to the brands you buy from to ask for this information might sound like a lot, but it really isn't. If you're on Instagram or Facebook, just send them a direct message and ask them to verify their food as Zego does.
Then they'll check us out and see what we're doing. Whatever social media you're on, you can always send a quick DM, you don't even have to find their contact information.
It's really easy for customers to exercise their power, and they're much more powerful than they think. So, pick the three to five pantry items that you love the most, and DM those companies today.
How do you envision the future of your industry?
What I'm envisioning in the future is that every product you see in the store will have a QR code that you can scan to see whether there was any measurable allergen content in that batch of product, as well as heavy metals and the major pesticides that we're concerned about.
Even if you only had a dollar to spend on a can of soup, you would be able to pick up four different brands and scan those QR codes to pick the cleanest one. That's my vision of the future.
I love what people are doing around regenerative organic farming, and I do believe that's the future way of farming. That said, I want to make sure that we're not taking an elite category of organic and making it even more elite with regenerative organic. The cost is unattainable for most shoppers.
I want to work on the whole food system rather than just the very top of the pyramid. That's when we get a cleaner planet. That's when people across the country are going to be healthier and feel empowered by the information that they deserve.