Short on Time? Here Are the Best Prepared Meal Delivery Services
The Best Prepared Meal Delivery Services Reviewed
Factor delivers ready-to-eat meals requiring minimal cleanup. Moreover, the company's nutritionists formulate dishes, while seasoned chefs prepare them, providing eaters with tasty and nutritious food. And the service usually has attractive deals for new customers to sweeten the deal.
Factor's menu has 35 meals each week. Furthermore, you can check menu offerings and build your meal plan up to 3 weeks in advance. You may find grilled chicken, creamy tenderloin, stuffed vegetables, and cheesy sausages, among other options, on the menu.
The service has a big selection of add-ons featuring various appetizers and desserts. Among other options, you can pick egg bites, sausage links, pancakes, and desserts like cheesecakes and macaroons. Besides, you'll find packs of juices and smoothies among the extras.
Factor makes it easy for you to select suitable meals. It uses a tagging system, and each recipe comes with 1 or more tags that describe its main features. Some self-explanatory tags are Keto, Protein Plus, Calorie Smart, and Vegan.
Note that several recipes feature labels such as Top Rated and Gourmet Plus. These may come at a surcharge on top of what you already pay. Read our in-depth review to learn more about this.
You can personalize your meal plan when selecting preferences in Our Plans. As you can see, these tags largely correspond to the tags I mentioned:
Keto

Flexitarian

Protein Plus

Calorie Smart

Chef's Choice

Vegan & Veggie
Factor caters to keto, calorie-conscious, and high-protein dieters. It's among the best high-protein meal delivery services on the market. While it has vegan and vegetarian options, there usually aren't many of them available on the weekly menu. If you're vegan, I recommend checking Purple Carrot.
The service doesn't accommodate requests for ingredient changes to maintain the nutritional integrity of its dishes. Therefore, thoroughly review each meal to ensure it has no unwanted ingredients before ordering.
A free 20-minute nutrition coaching session is included with your subscription. During the session, a dietitian will provide meal guidance and share various tips with you. This is a great feature for people who want to change their eating habits.
The cost per meal depends on the number of single-serving meals you order. It all starts at $6.19 per serving for a maximum of 18 recipes. If you don't have many mouths to feed, you can order 6, 8, 10, 12, or 14 meals. But keep in mind that the fewer dishes you order, the higher the price per serving will be. In addition, the meal delivery service charges a flat-rate shipping fee of $9.99.
Key Features
Dozens of available options

Dishes are inspired by international cuisines

Options for omnivores, vegetarians, and carb-conscious eaters
Home Chef is a service dealing much more with meal kits than prepared meal delivery. However, its menu includes microwavable and speedy-prep meals that offer similar convenience. Look for the Extras menu as well as the Bundle and Save section.
The menu includes many dishes inspired by worldly flavors. In addition to typical American dishes, you'll find Italian, Mexican, Pan-Asian, and other cuisines.
Home Chef has menu filters you can use to narrow down suitable options. And these are Calorie-Conscious, Carb-Conscious, < 30min, and Vegetarian. If you wish to lower your calorie intake, you should find Home Chef 1 of the top-rated low-calorie meal delivery services in the USA.
You can choose to exclude certain ingredients from your meal selection. This way, you can narrow down your menu based on your tastes, allergies, and dietary needs. Home Chef can't guarantee against cross-contamination, so people with severe allergies may prefer Factor's allergy-friendly meals.
Keep an eye out for the "Customize It" button on selected dishes. This is where you can swap out ingredients to suit your preferences. This feature is generally only available on meal kits, however, as noted in our tried-and-tested review.
Home Chef's customization options are generally limited to proteins. For example, you can swap the ground beef in a burger dish for lean ground turkey or plant-based Impossible Burger. These options vary from recipe to recipe and come with a variable per-serving upcharge.
How long food remains fresh depends on its type and storage. Ground meat, poultry, and seafood should be consumed within 2 days if storing them in the fridge. Other items are typically safe for up to 5 days. Freeze the meals to extend their shelf life.
The maximum order is 6 portions for 6 people. The minimum purchase is 2 recipes for 2 people. The cost per meal starts at $7.99. The mandatory delivery fee is $10.99, regardless of the box size.
Fresh and Easy excels in quick prep and easy cleanup meals. The service is owned by Home Chef, and its menu is filled with shortcuts to get food on the table faster. Rather than fully-prepared meals, it has speedy meal kits to save you time.
You'll see time-saving techniques like one pot meals and oven-ready dishes. These also cut down on the energy you have to spend cleaning up. Other prep options include microwavable meals and other low- and no-prep options.
Most of Fresh and Easy's meals arrive at your door ready to cook. Some also come with pre-cooked proteins for speedier prep. There are even other dishes, like entrée salads, that don't require cooking at all.
The service also ships pre-prepped ingredients that will save you time and effort. More often than not, you won't need to slice, dice, grind, or chop the ingredients yourself. For this and other reasons, Fresh and Easy is among the simplest meal deliveries available, as our reviewer pointed out in our tried-and-tested review.
Despite these time-saving techniques, Fresh and Easy doesn't have prepared meals. If you prefer just taking out food from the fridge and popping it into the microwave or conventional oven for quick heating, Factor would make a better fit for you.
You can exclude certain ingredients when selecting your meal plan if you deal with dietary sensitivities or allergies. If you can't eat or simply dislike mushrooms, tree nuts, sesame, or certain types of meat, indicate your preferences during the registration process.
You won't have to worry about pots, pans, and other utensils most of the time. Oven-Ready dishes come with recyclable oven-safe trays, and Grill-Ready dishes come with grill-safe bags.
This service caters to various dietary preferences. Whether you're an omnivore, pescatarian, or vegetarian, you'll find options that suit your needs. Moreover, Fresh and Easy consistently ranks among the highest-ranking low-carb meal delivery services nationwide.
You can treat yourself to food inspired by various global cuisines with this service. Italian, Mexican, and Middle Eastern are some of them. But if you prefer local classics, opt for American cuisine specialties.
You can order no less than 2 dishes for 2 people. The maximum order is 6 servings for 6 individuals. The cost per meal begins at $7.99. Also, note that you'll have to pay the $10.99 delivery fee to have the package delivered to your doorstep.
Key Features
Prepared meals suitable for omnivores and vegetarians

Servings for 1, 2, and 4 eaters

Italian, Korean, and Mexican cuisine recipes are available
Though it's best known for its meal kits, Blue Apron has some great prepared meals. To find them, head to the Add-Ons section of the menu and look for the Heat & Eat tag. You'll also see desserts, breakfasts, and other options. In general, the menu contains 6 prepared meals a week.
The company publishes its upcoming meals 4 weeks in advance. That way, you can plan your mealtime well ahead and make adjustments if you change your mind.
Most of Blue Apron's prepared meals are ready in 5 minutes or less. In general, you should microwave thawed food for 3 minutes at a high temperature. If frozen, heat it for 5 minutes on high. Specific instructions are included with each recipe.
Many Heat & Eat meals are healthy and low-calorie. The majority contain 500 calories or less per portion. Check out our detailed Blue Apron review to learn more about quick heat-and-eat options.
Blue Apron's prepared meals will arrive frozen. The service doesn't recommend re-freezing them, so they should be stored in the refrigerator. Once thawed, it's best to enjoy the meals within 5 days.
This company has options for diabetic and pescatarian eaters. And if you're following a low-carb diet, you'll be happy to know that Blue Apron firmly ranks among the best low-carb meal delivery services out there.
The cost per individual Heat & Eat meal is between $8.99 and $10.99, and there are bundles available as well. Blue Apron's meal kits, however, start from $5.74 per serving. The flat-rate shipping fee for subscribers throughout the mainland US is $10.99.
Key Features
The service has 150+ weekly meals

Gender-specific plans are available

Options for vegans, diabetics, and keto eaters are available
BistroMD is a great choice if you want to lose weight. It specializes in weight-loss plans for various diets. The great thing about this meal delivery service is that you don't have to skip meals or reduce portion sizes to achieve your weight-loss goals.
The company has 7 plans in addition to packages for men and women. Check out our comprehensive review to learn more about them. And each dietary plan includes dozens, if not hundreds, of recipes. Refer to the following list to get the idea:
Signature (150+)

Gluten Free (100+ dishes)

Heart Healthy (100+ dishes)

Menopause (100+ dishes)

Diabetic (100+ dishes)

Keto Flex (85+ dishes)

Vegan (25+ dishes)
You can explore the menu options for each program. You'll notice that each plan includes selections for Breakfast, Lunch/Dinner, and Snacks except for the Vegan option.
The main ingredients may vary from pork to turkey to fish, depending on the plan. If you opt for the Vegan package, potatoes, mushrooms, and tofu may be among the key ingredients.
You'll discover many healthy snacks that can support your weight loss goals on the service's website. These snacks provide a combination of quality proteins and fiber that burn fat. Indulge yourself with options like cookies, cakes, pretzels, and juices.
Customize your weight-loss plan by choosing between 7-day or 5-day programs. The 7-day program includes 7 breakfasts, 7 lunches, and 6 dinners. For the 7th dinner, known as My Night, you can eat anything you crave. The 5-day plan provides breakfast, lunch, and dinner for 5 days, giving you a total of 15 meals per week.
Note that you can skip breakfasts with the Lunches & Dinners plan. With such a combination of flexibility and results, it's no wonder that many dieters consider BistroMD one of the best weight-loss meal delivery services.
You'll receive frozen meals from this weight-loss meal delivery service. Defrost them fully before heating them up. Once thawed, the food should remain fresh and safe for consumption for an extra 2 or 3 days. If you prefer fresh over frozen meals, check out Factor, 1 of the finest prepared meal delivery services.
The price per recipe depends on the number of meals you order. The rule of thumb is that the more dishes you purchase, the lower the price per serving you'll pay. That being said, the cost per meal starts at $8.24 for a 7-day program that includes all 3 main meals. Note that you'll also have to pay a shipping fee of $19.95 to have the order delivered to you.
Key Features
The menu features 8 prepared meals per week

The service schedules deliveries on Mondays, Tuesdays, and Wednesdays

Options for carb-conscious, low-calorie, and diabetic dieters are available
Purple Carrot specializes in plant-based dishes free from animal products. You won't find meat, eggs, dairy products, or anything related to animals in the service's recipes. Instead, expect various vegetables, like beans and cauliflower, and grains, such as rice and quinoa, in its dishes. For these reasons, this company is among the highest-rated vegan meal delivery services countrywide.
The service has 8 prepared meals available on its menu each week. If you're looking for more options, check the service's Less Prep section, which typically has 6 dishes that require a bit of involvement and typically take between 20 and 30 minutes to prepare. But if you prefer an even wider range of vegan options, consider subscribing to BistroMD, which has over 25 weekly recipes for plant-eaters.
You can get most of Purple Carrot's prepared meals ready in 2 minutes. All you need to do is pop them into the microwave. Note that the company strongly advises against heating its prepared meals in the oven or on the stove. The reason is that its quality team still hasn't tested the quality of meals heated by these appliances.
But you don't have to heat all the service's prepared meals. If you watch carefully while browsing the menu, you'll see that the prep time of some of them is 0 mins. In those cases, don't heat the meal, just remove the film, mix, and serve.
You can't customize the ingredients in your Purple Carrot meals. So, carefully check the ingredients to ensure they align with your dietary needs and preferences. Select a dish to find a list of allergens and nutritional information. However, if you prefer a bit more control over the ingredients in your meals, I recommend checking out Home Chef.
The service publishes recipes for the upcoming week only. And it caters to carb- and calorie-conscious eaters and diabetics, in particular.
This vegan meal delivery ships its food to customers in the continental US. Read our comprehensive review to get tips about the ordering and shipping process.
The price per meal depends on whether you choose prepared meals or meal kits (yes, this service has them, too). For prepared meals, you have the option of selecting 6, 8, or 10 single-serving meals per week. The price per individual serving starts from $8.50. But note that the cost per portion is typically higher for prepared meals than for meal kits.
You don't pay the delivery cost if your order exceeds $99. Otherwise, the shipping fee is $10.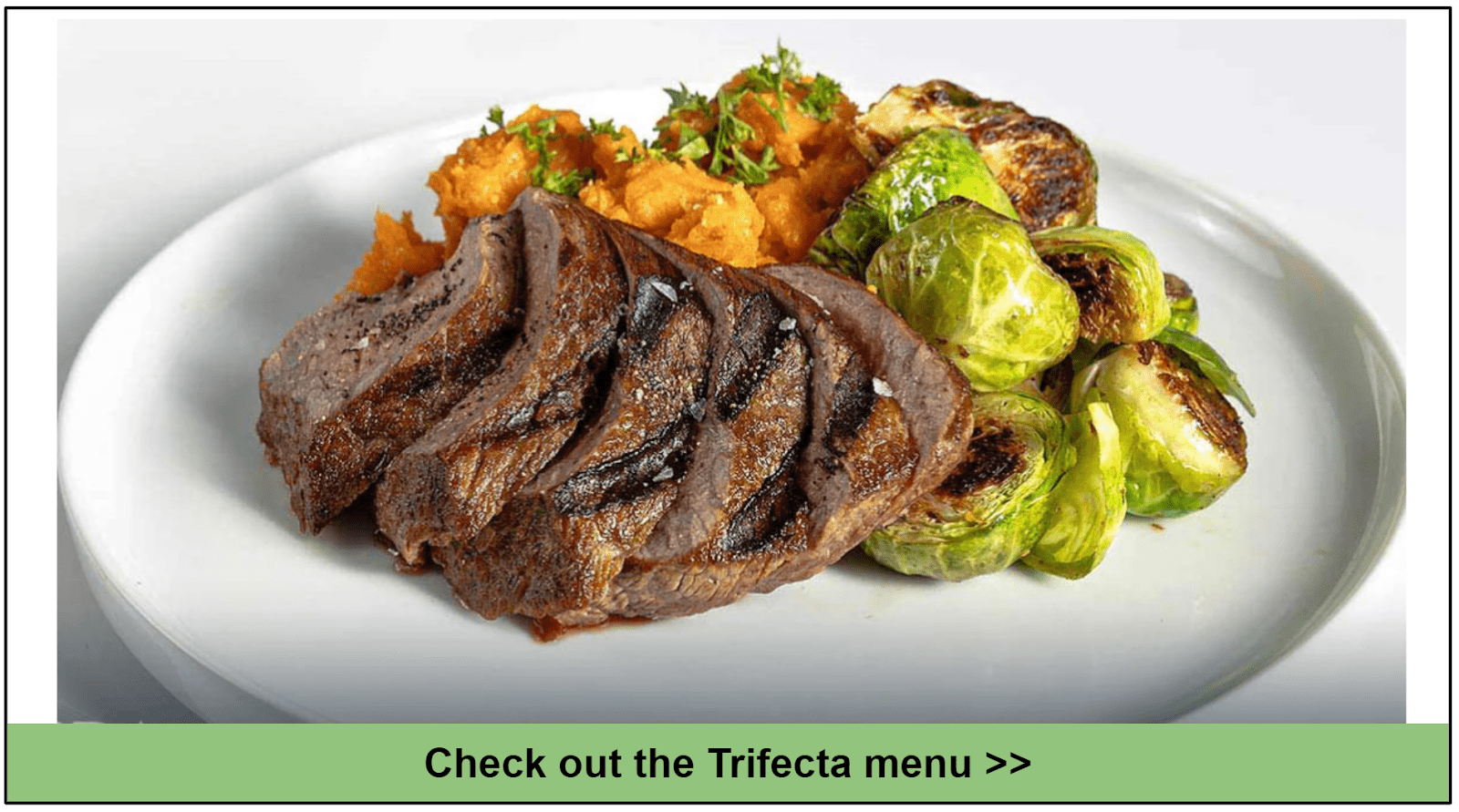 Key Features
Diet personalization quiz is available

The menu features low-calorie dishes

The service has options for keto, paleo, and vegetarian foodies
Trifecta is among the leading meal delivery services regarding meal plan personalization. No matter which plan you choose, you can tailor your dining experience. For example, you can select 5, 7, 10, or 14 main dishes. Also, you can exclude breakfasts, depending on the number of selected dishes.
This service allows you to exclude 1 of several ingredients from a predefined list. If you're a keto dieter, some available options for you can be Whole Mushrooms, Shellfish, Pork, and Tree Nuts. But if you're a vegan, you may choose between Vegan Chicken, Tofu, and Impossible Meat, among other ingredients.
The service caters to various dieters since it has the following 6 meal plans:
Keto – for fitness and losing weight

Paleo – dairy- and grain-free recipes

Clean – whole grains and organic vegetables

Whole30 Approved – humanely-raised proteins and organic produce

High Protein Vegan – proteins of plant origins

High Protein Vegetarian – healthy carbohydrates and plant-based proteins
Keto is the service's most popular plan, as it states on its website. But aside from this program, Trifecta is renowned for providing prepared paleo meals. In fact, it's been among the leading paleo meal delivery services for some time now.
You can't choose specific meals, let alone individual ingredients, from Meal Plans. So, Trifecta might not be the best fit if you have multiple ingredient intolerances or allergies. If you value more control over the meals you receive and a diverse menu assortment, Factor would be a better choice.
Opt for Meal Prep and Classics to customize the content of your box. The Meal Prep option includes Proteins, Carbs, and Vegetables. On the other hand, you'll find scrambled eggs and mixed veggies in the Classics section of the menu. Check out our dedicated Trifecta review to learn more about these meal categories.
Consume Trifecta's food within 7 days of delivery for optimal freshness and taste. If you want to extend its shelf life for up to 3 months, freeze it. But note that you'll have the best dining experience if you refrigerate meals instead of freezing them.
This prepared meal delivery service provides only American dishes. If you're up to Mexican-, Mediterranean-, Italian-, or Middle Eastern-inspired food, Fresh and Easy would be a better choice.
The cost per dish depends on various factors. Some of them are the plan you select, the number of entrées, and whether you include breakfasts. Remember that the cost per portion is lower the more servings you purchase. In general, the price per recipe starts from $6.00.
Additionally, customers from the contiguous US pay a $9.99 delivery fee. Subscribers from Hawaii and Alaska pay $49.99 per box for shipping.
Nutrisystem boasts many fresh and frozen meals it ships separately. And there's no guessing involved since it clearly labels the frozen dishes on its menu. With over 130 weekly options, you'll have plenty of alternatives to build your meal plan whether you're a fan of frozen or fresh food.
The service specializes in weight loss and tailors plans for various individuals. Whether you're a male or female, a diabetic, or a woman over 55, it has specific plans designed to meet your needs. And if you and your partner want to lose weight together, the company even has a weight-loss program for couples.
Nutrisystem has Breakfast, Lunch, Dinner, and Snacks options on its menu. For breakfast, you can enjoy waffles, oatmeal, pancakes, and muffins. For lunch, indulge in alternatives such as tomato soup, peanut butter bars (that's right), and grilled chicken sandwiches. As for dinner, the company offers pizzas and stuffed chicken breasts among other dishes.
Cakes, pretzels, and bars are some available snacks. For new products, check the top of the menu since the service introduces new meals there.
You can select between 3 or 4 programs, depending on the plan you choose. The most popular choices include Uniquely Yours, Uniquely Yours Max+, Complete 55, and the Partner plan. These programs provide balanced recipes while allowing you to supplement them with your favorite groceries. Find more details about the available programs in our full Nutrisystem review.
All plans give you the benefit of a dedicated app. It helps you personalize your meal plan based on your metabolism. What's more, pricier plans feature various recipes inspired by popular restaurants.
Nutrisystem's meals have a pretty long shelf life. You can store most of its dishes from 6 to 18 months. Just check the Best by date printed on the package once you receive your order. Even if you forget about the meals and rediscover them after their expiration date elapsed, they still may be safe to eat if you stored them properly.
The service has a limited range of cuisines on offer. Most of the food is typical American cuisine. If you want a more diverse menu, check out Blue Apron.
Nutrisystem delivers throughout the continental US and beyond, unlike many other services. If you live in Hawaii, Alaska, and Puerto Rico, you can get your food in 1 to 5 business days. Shipping to APO and PO Boxes and military addresses typically takes between 4 and 6 weeks.
The price you'll pay per day depends on the plan you choose. The Uniquely Yours plan is the most affordable, while the Uniquely Yours Max+ and the Complete 55 plans are more expensive. The starting price per day, however, is $8.54. You may also have to pay a delivery fee, depending on your location and whether the food is fresh or frozen.
Key Features
Choose between regular and large portions

Options for plant and meat eaters are available

The company supports paleo, keto, and traditional diets
Eat Clean lets you customize the size of your portions, which is a rarity among meal delivery services. After providing your zip code and email address, you can select a desired plan based on your dietary needs and preferences.
The service has 4 diets for you to choose from. These are Traditional, Plant Based, Paleo, and Keto. Check our dedicated Eat Clean review to learn more about these dietary plans.
If you prefer regular portions, you can select between 6, 8, 10, 12, or 14 weekly meals. But if you have a heartier appetite and prefer larger portions, you can go for 4, 6, 8, 10, or 12 meals per week.
You can check the ingredients and nutritional facts for each meal. I noticed that most meals on the menu have less than 500 calories. Also, I found some options that are under 200 calories. Information about carbohydrates, saturated fats, dietary fibers, and sugar is also available.
However, I couldn't find specific allergen information listed with the recipes. Also, the service doesn't accommodate requests for ingredient swapping. So, check each recipe before purchasing it to ensure it doesn't have undesirable ingredients. Alternatively, I think you should go for Home Chef, which lets you eliminate up to 9 common allergens, if you have any allergies or sensitivities.
You can heat Eat Clean meals in the microwave or the conventional oven. Microwave warming typically takes 2 or 3 minutes. If you take an oven-baked approach, heating can take up to 30 minutes.
The company has Italian-, Mexican-, and Caribbean-inspired dishes in addition to American. If you prefer Indian or Thai food, Factor would be your safe bet.
Eat Clean delivers food to subscribers throughout the continental US. Check Trifecta if you live in Hawaii, Alaska, Puerto Rico, or any other overseas territory or dependency.
The price per dish varies depending on the number of meals and the portion size. But the rule of thumb is the more meals you purchase, the lower the cost per recipe you pay. The price per serving starts at $8.60.
You'll also have to pay a shipping fee, which ranges from $9.99 to $17.99 per delivery. You'll learn the exact shipping cost at the checkout.
Key Features
The menu contains over 100 meals across 7 plans

Options for keto, paleo, and Mediterranean dieters are available

The service's meals don't contain artificial ingredients
Fresh N Lean focuses on sourcing organic ingredients. Still, it opts for conventional ingredients of high quality if raw organic materials fail to meet its high standards. However, rest assured that the service manages to use around 95% organic raw materials in its meals.
Besides being organic, the service's recipes are free of gluten. Also, they don't contain artificial preservatives or processed food. And whatever you order from this particular prepared meal delivery service, it's non-GMO.
Fresh N Lean has 7 plans catering to various dieters:
Keto

Paleo

Protein+

Standard Vegan

Low Carb Vegan

Whole30 Approved

Mediterranean Diet
Refer to our in-depth review to learn what each plan comprises. If you're a diabetic, check out Blue Apron instead.
The service also has Bulk as a separate plan, which features various proteins, such as beef, turkey, salmon, and cod. You'll receive 16 oz of each of these extras if you order them.
Choose the number of weekly meals when selecting the plan. You can leave out breakfast, lunch, or dinner if you wish. Also, you can choose whether to receive meals 5 or 7 days a week or 5, 7, or 10 entrees, depending on the plan.
While choosing preferences, you can exclude up to 3 ingredients. Some of the over 20 alternatives are chia, curry, mushroom, and nuts. Various types of meat, such as chicken, turkey, and red meat, are also among the options you can leave out. Also, specify if you suffer from an allergy caused by sesame, dairy products, and soy, among a few other options.
Each Fresh N Lean plan includes 2 menu sections – Entree and Breakfast. The Entree section typically has between 7 and 15 options. Some of them could be pasta with a mix of veggies, broccoli, or other superfood, with chicken, or crusted cod in a creamy sauce. Walnut Pancake, Italian Sausage, and Banana Cinnamon Chia may be some breakfast options.
The protein and carb amount info accompanies each dish on the menu. Click on the recipe to find other valuable information, such as the amount of fat, whether it includes any allergens, anfd the calorie count.
Fresh and Lean publishes its upcoming meals a week ahead. But, if you want to plan your meals up to 6 weeks in advance, I recommend checking out Home Chef.
Refrigerate food right away once your meal packs arrive. Fresh food is OK for consumption between 7 and 10 days after delivery. You can freeze meals to extend their shelf life for 6 or 8 weeks, but note that fresh food ensures the best dining experience. If you freeze it for later anyway, thaw food in your refrigerator for 36 to 48 hours before consuming it.
The price per meal depends on the plan you choose and the number of dishes. But it starts at $7.53. Shipping's free unless you live in Hawaii or Alaska. In that case, the delivery fee is $40.
Quick Comparison Table