It's great to see the availability of lots of special diets, even though Grassland Beef is primarily a meat supplier. When you think about it, the meat itself falls into lots of categories by default like gluten-free, low-carb, low-calorie, keto, paleo, ancestral, Whole30-Approved, AIP-friendly, and sugar-free.
Plus, you can get tons of different options, too, like:
I'd say that, for the most part, the meat will be your primary offering if you're looking at any of those diets. But that's not to say that meat is the only option.
Take a look at the below table to get a good idea of the diets available before I dive into how you can customize your order to your liking.
| Diet | Is Grassland Beef Good For This Diet? |
| --- | --- |
| Keto | Yes, there are tons of keto-friendly options |
| Paleo | Many menu items are paleo-specific |
| Low-Carb | Plenty of items match this description |
| Low-Calorie | Again, lots of items available here |
| Ancestral | Many different foods in this category |
| Whole30-Approved | Yes, lots of options here, too |
| AIP-Friendly | Plenty of items to choose from |
| Sugar-Free | More than 30 available at any given time |
Just because meat is the main staple here doesn't mean you can't get other great items. Meat is just 1 small aspect of the menu.
Overall, US Wellness Meats offers a wide range of high-quality, sustainably-raised meats and other healthy foods. Its products are sourced from small family farms across the United States and around the world and are free from added hormones, antibiotics, and GMOs. Here are some of the products that customers can purchase from Grassland Beef:
Grass-fed beef: Grassland Beef offers a variety of cuts of grass-fed beef, including steaks, roasts, ground beef, and beef sticks. Its beef is raised on pasture and free from added hormones and antibiotics, making it a healthier and more environmentally responsible choice than conventionally-raised beef.
Pasture-raised pork: In addition to beef, Grassland Beef also offers pasture-raised pork, including bacon, sausage, pork chops, and pork roasts. Its pigs are raised on pasture and fed a diet free from GMOs and other harmful additives, resulting in flavorful and nutrient-dense meat.
Bison: For those looking for a leaner and more sustainable alternative to beef, Grassland Beef offers grass-fed bison meat. Bison is lower in fat and higher in protein than beef and is also rich in iron and other essential nutrients.
Lamb: Grassland Beef offers a variety of cuts of grass-fed lamb, including chops, roasts, and ground lamb. Its lamb is raised on pasture and fed a diet free from GMOs and other harmful additives, resulting in tender and flavorful meat.
Wild-caught seafood: In addition to meats, Grassland Beef offers a variety of wild-caught seafood, including salmon, shrimp, and cod. Its seafood is sustainably sourced from around the world and is free from added preservatives and other harmful additives.
Bone broth: Grassland Beef offers a range of bone broths made from grass-fed beef and pastured chickens. Bone broth is a nutrient-dense food that is rich in collagen, amino acids, and other essential nutrients.
Organ meats: For those looking to incorporate more nutrient-dense foods into their diets, Grassland Beef offers a variety of organ meats, including liver, heart, and kidney. Organ meats are a rich source of vitamins, minerals, and other essential nutrients.
Pet food: Grassland Beef also offers a line of pet food made from high-quality meats and other healthy ingredients. Its pet food is free from artificial preservatives, flavors, and colors, and is a great choice for pet owners looking to provide their pets with a healthy and nutritious diet.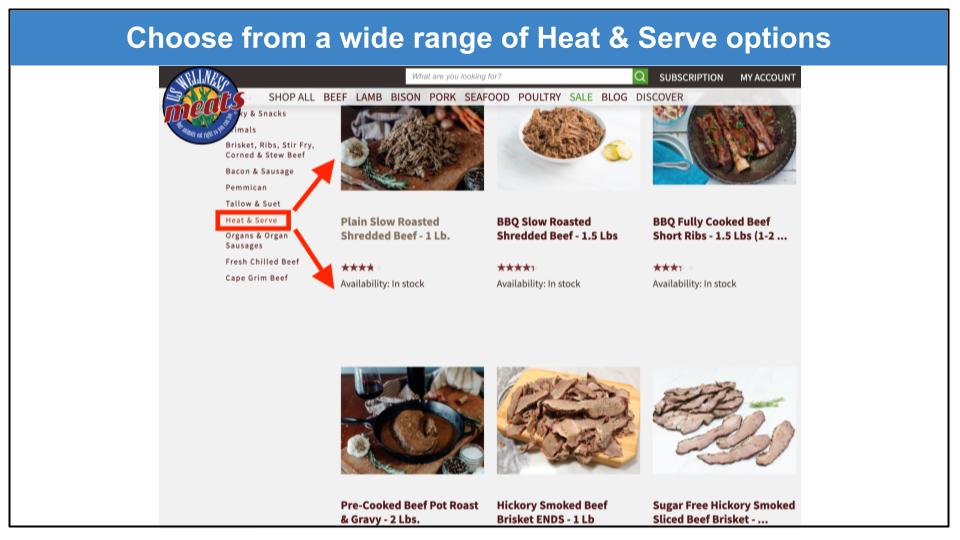 Heat-and-serve: There are tons of foods available if you don't want to bother cooking. There's slow-roasted shredded beef, BBQ fully cooked beef short ribs, smoked beef brisket, smoked sausages like franks, Adobo beef meatballs, stocks, broths, and pulled pork.
These items make feeding your family or entertaining guests a breeze. Just click the Heat & Serve button on the left side to see all those options. Just keep in mind that there's no heat and serve options for poultry or seafood.
Unboxing
Your unboxing experience will be unique to your specific order since there are so many different items you can order. For instance, the meat is flash-frozen and then placed in insulated packaging, along with dry ice, to ensure that it stays frozen during shipping. This means that your meat should arrive in excellent condition, with no freezer burn or other signs of damage.
The packaging is designed to keep the meat frozen and fresh during shipping, and each item is individually labeled and vacuum-sealed for convenience.
Meats are typically shipped in a cardboard box with the US Wellness Meats logo and branding on the outside. Inside the box, you'll find the insulated packaging, which will be tightly packed with your order. Again, depending on your order, you may find a variety of different products inside the insulated packaging.
When you open the insulated packaging, you'll find that the meat is still frozen solid. This is a good sign, as it means that the meat has been properly frozen and will be safe to consume. You may also notice that there's a small amount of dry ice left in the packaging. It's important to handle dry ice carefully and to allow it to evaporate in a well-ventilated area.
As you begin to unpack your order, you'll notice that each item is individually packaged and labeled. This makes it easy to keep track of what you have and to plan meals accordingly. The packaging is also very high quality, with each item vacuum-sealed to prevent freezer burn and maintain freshness.
One thing to note is that its products can appear different from conventional meat. Grass-fed and pasture-raised meat tends to be leaner and darker in color than conventionally-raised meat. You may also notice that the fat content is different, with grass-fed meat having a higher proportion of healthy fats such as omega-3 fatty acids.
Storage
US Wellness Meats states that there are different storage timeframes, depending on your order. But, on average, it recommends storing items in the fridge for at most 7 days. For frozen, vacuum-sealed goods, you can freeze these for up to several years – as long as the vacuum seal remains intact.
Recyclability of Packaging
As far as I can tell, your orders get shipped inside a recyclable cardboard box. Once you open that box, you'll find a styrofoam cooler that keeps everything at the right temperature. Most meats do come frozen, but you can also get never-frozen meats in your order, too. Depending on exactly what you order, the packaging could vary.
Everything is wrapped in a giant plastic bag within that cooler, so local recycling bylaws will determine whether you can recycle this in your area.
Cooking (and Eating) with Vendor Grassland Beef
You'll find lots of different products at Grassland Beef. So, let's first talk about the ready-to-eat items.
For example, there's a huge collection of jerky, smoked meats like ham, bacon, short ribs, beef brisket, smoked salmon, and much more. None of these products require any cooking and can be served as-is.
In terms of ready-to-eat foods, there's more than just smoked meats. For instance, you can also get a collection of raw, organic nuts like walnuts, pecans, cashews, and almonds. Plus, you can get different condensed nut milks like cashew, almond, chocolate, butter, ghee, honey, produce, nutraceuticals, sauces, and seasonings.
The rest of the items like all the meats and seafood must be cooked. It's completely up to you how you want to cook these items. For example, you could make stews, you could barbecue the meat, roast it, or do any number of other things.
If you're looking for inspiration and recipes, you're in luck. There's a section called Featured Recipes that will help you easily discover new ideas. Hover over the Discover area in the top menu navigation bar, and click on Featured Recipes from there.
Shortlist of My Favorite Meals
It's important to note that you'll need many ingredients on hand already before I tell you about some of my favorite recipes. These recipes simply serve as examples of what you could do with the meats you order.
For instance, I love the idea of the Slow-Simmered Bison Stew. I'm a real sucker for these types of hearty meals, so that's definitely one I'd be making for myself (and anyone else who dares to eat my cooking!) Or, you could also try the Herb Butter Pâté. If you like, you can view the Featured Recipes section here for inspiration.
Basically, you'd get the bison stew meat from Grassland Beef and purchase all the other ingredients at your favorite grocery store. You can order groceries online as well from services like Instacart. To me, Instacart is the ultimate convenience, according to our review. Plus, Instacart lets you order groceries from many places you probably already shop at.
But that's just 1 example of a recipe you could make using a combination of your own groceries and meats ordered from Grassland Beef. If you want more recipe ideas and inspiration, make sure to head over to the recipe page to see what you could do with the items you get.
In terms of heat-and-eat foods, there are a few I like. For example, the Plain Slow-Roasted Shredded Beef (shown above) is a great way to make amazing summer sandwiches for the whole family without having to cook.
Prices
Starting From

Order Size

Shipping Fee

Beef steaks: $9.45

Beef burgers: $8.47

Roast beef: $24.90




Top Sirloin - 6 oz

2 x 6-oz patties

Beef Tri-Tip Roast - 1.25 lbs

All orders get free shipping + a $9.50 handling fee

Lamb: $17.49

Spare ribs - 20 oz

Same as above

Bison: $13.15

Liver – 8 oz

Same as above

Pork: $2.39

Paleo Choice Original Sugar-Free Meat Stick – 1 oz

Same as above

Seafood: $7.25

Sardines in Spring Water – 4.4-oz container

Same as above

Poultry: $11.36

Pastured Chicken Tenders – 1/2-lb package

Same as above

Add-ons and extras: $7.95 / $11.95

Organic Tropical Love Bites (cashews, mango, papaya, pineapple, coconut, and spices) – 4-oz bag

Sunny Acres Raw Honey – 1 jar – 16 oz

Same as above
There's so much sheer variety on the website that it would be impossible for me to list all the individual prices. Beef products start at around $10-15 for basic steaks and burgers, lamb starts at around $18 for ribs, bison at around $13 for some liver, pork at around $2-3 for dried meat sticks, and poultry at around $12 for chicken tenders.
In terms of beef, prices can go as high as around $231 for the Ultimate Steak Bundle, which, for example, includes:
1 x 15 oz Beef Ribeye Steaks +$29.95

2 x 8 oz - Beef Petite Ribeye Steaks +$36.30

2 x 8 oz - Beef Petite NY Strip Steak +$35.10

2 x 3 oz - Beef Tenderloin Filet Mignon +$19.82

2 x 11 oz - Beef Petite Top Sirloin +$28.38

1 x 6 oz - Beef Top Sirloin Butt Steak +$9.45

1 x Beef Tri-Tip Steak +$12.49

1 x 16 oz - Ground Top Sirloin Beef Steak Patties +$15.49

1 x 6 oz - Beef Coulotte Steak +$10.70

1 x 16 oz - Beef T-Bone Steak +$29.95
I've focused mainly on the beef here, since that's the company's bread and butter, so to speak. Check out the massive website to see all the options for yourself. You can easily perform a search to find the exact product you want, and even sort by the lowest or highest price first.
Shipping & Delivery
Grassland Beef delivers to all 50 states in the US + Puerto Rico. However, the availability of delivery days may vary depending on the location. You can check the delivery schedule on the company's website by entering your zip code during checkout. Generally, orders are shipped on Mondays, Tuesdays, and Wednesdays to ensure timely delivery and avoid weekend delays.
Your packages will arrive the same week if you order before 10 am CST on Wednesday. If you order after that, your package will be dispatched the following week.
The minimum order is $75 (and must be 7 lbs), but shipping is always free… sort of. There's a $9.50 processing fee, which is still quite reasonable. You can subscribe for recurring shipments delivered weekly, bi‑weekly, monthly, or bi‑monthly.
If you need to reschedule a delivery, you can do so by contacting Grassland Beef's customer support team via email or phone. The company is responsive and accommodating when it comes to rescheduling deliveries, and it'll work with you to find a suitable delivery date that works better.
Sadly, though, Grassland Beef doesn't currently have a mobile app, but the company's website is designed to be user-friendly and easy to navigate. You can create an account on the website to track your orders, view your order history, and update your account information.
The website also provides helpful resources such as cooking tips, recipes, and nutritional information. Overall, while there's no app, Grassland Beef makes the delivery process as smooth as possible through the website and responsive customer support team.
How Grassland Beef/US Wellness Meats Works
It's just like shopping at Walmart or Amazon. Browse the products, add them to your cart, and checkout. Plus, you can even sign up for a recurring subscription – but more on that below.
How to Sign Up
Browse the menu: Check out the huge array of items available.
Add items to your cart: Once you find something you like, simply add it to your cart.
Head to your cart: Either continue shopping or head to the checkout. Remember that you'll need to buy at least $75 worth of product and the order weighs at least 7 lbs.
Enter your information: Enter your name, address, email address, etc., in order to complete the checkout process.
Optional step – sign up for a subscription: If you want any order to auto-ship to you, make sure to sign up for a subscription. Just click Create Subscription under the top heading Subscription.
Managing Your Subscription
Managing your subscription is easy-peasy. Simply log in to your account, and click on Manage Subscription underneath the Subscription heading at the top of the page.
Customer Service
Grassland Beef takes customer service seriously and strives to provide a positive shopping experience for all customers. The company's customer service team is knowledgeable, friendly, and responsive to customer needs.
One of the ways that it supports its customers is through its website. The website is designed to be user-friendly, with clear information on products, shipping, and delivery schedules. You can easily create an account, track your orders, and access helpful resources such as recipes, cooking tips, and nutritional information.
You can reach out to the support team not just on the website, but also through email or phone. They're ready to answer questions before you buy, give details about their products, and help with any problems or worries you might have.

I took it upon myself to test out the email support. The agent replied the following day and was super helpful, friendly, and knowledgeable. No better or worse than most other services I've tested out.
Lastly, the FAQ section is pretty extensive, too. You'll likely be able to get most of your questions answered without ever having to contact somebody.
How Grassland Beef/US Wellness Meats Compares to Other Meal Delivery Services
Grassland Beef vs. Snake River Farms: Snake River Farms specializes in high-end Wagyu beef, which is known for its exceptional marbling, tenderness, and flavor. While Grassland Beef and US Wellness Meats also offer high-quality, sustainably-raised beef products, Snake River Farms' focus on premium Wagyu beef sets them apart.
Additionally, Snake River Farms offers a wider variety of cuts and products, including dry-aged beef, pork, and lamb. For those willing to invest in the highest quality beef products, Snake River Farms may be the preferred choice.
Grassland Beef vs. Blue Apron: Blue Apron, unlike Grassland Beef, is a more traditional meal delivery service. It dispatches premium, gourmet-style meal kits, and prepared meals, and it offers a huge selection of extras like desserts, snacks, wine boxes, and even kitchen gadgets and tools.
Overall, Grassland Beef focuses mostly on meat while Blue Apron sends you complete meals including a carb, veggie, and meat. It also offers a large assortment of internationally inspired dishes, too.
Overall, Grassland Beef offers high-quality, sustainably-raised, grass-fed beef that are also free-range, and free of antibiotics and hormones. Though you might pay a bit more, you'll probably find that the quality and taste are well worth the extra money. Plus, grass-fed beef is leaner and more nutritionally dense.
You may appreciate its commitment to sustainability and eco-friendly practices. It supports small family farmers and ranchers who are dedicated to the ethical treatment of all its animals.
Ultimately, whether it's worth it depends on your personal priorities and lifestyle. If you value high-quality, sustainably-raised beef and are willing to pay a premium price for them, it could definitely be the right choice for you. However, if you prioritize convenience and affordability over sustainability and quality, other options may be more suitable like your local Walmart (which, by the way, also delivers).
FAQ
Is Grassland Beef legit?
Yes, Grassland Beef offers high-quality, sustainably-raised beef products, and more. It sources its beef from small family farmers and ranchers who practice ethical and humane animal husbandry. You can choose from a wide variety of options including beef, pork, poultry, seafood, and even a bunch of extras like nuts, chocolate, and honey.
Is grass-fed beef better than regular beef?
Grass-fed beef is generally considered to be healthier than conventional beef, as it's leaner and contains higher levels of nutrients such as omega-3 fatty acids, which are beneficial for heart health. Additionally, grass-fed beef is often raised without antibiotics and hormones, making it a more sustainable and eco-friendly choice. If you'd like to include this type of beef in your diet, look no further than Grassland Beef.
How does Grassland Beef compare to other meat delivery services?
Grassland Beef offers high-quality, sustainably-raised beef products that are grass-fed, free-range, and free of antibiotics and hormones. Compared to other meat delivery services, Grassland Beef's focus on sustainable and eco-friendly practices sets it apart.