Overview
OPTAVIA (formerly Medifast) states that it's clinically proven and developed by a physician. It also claims that its brand has been recommended by more than 20,000 doctors since it opened up shop in 1980. But does OPTAVIA live up to its promises?
I have several years of experience reviewing meal delivery services, including several that specialize in weight loss. I've studied OPTAVIA's plans, scanned its ingredient lists, and consulted colleagues to bring you a frank, unbiased opinion on OPTAVIA's strengths and weaknesses.
If you stick to your chosen OPTAVIA plan, you'll lose weight. OPTAVIA's plans cut your calories down to a bare minimum while making sure you get all the nutrition you require. That said, I have concerns about its long-term effectiveness and its Coaching program.
OPTAVIA is a good choice for losing weight quickly and safely, and it offers a plan to help you keep the weight off. But there are many other services that might better suit your needs. For example, BistroMD's prepared meals are a better-tasting choice for sustainable weight loss.
| | |
| --- | --- |
| Pros | Cons |
| Easy-to-use, all-in-one meal kits | Minimal substitutions for meals |
| Effective for weight loss | Meals are all processed |
| Coaching and community support | A very restrictive calorie deficit |
OPTAVIA plans are based around Fuelings – small servings of low-calorie nutrient-dense meals, shakes, and snacks. By eating several small portions throughout the day, you spend less time craving food, and OPTAVIA snacks give you healthy alternatives to unhealthy treats.
OPTAVIA offers 2 Optimal Weight plans for weight loss and an Optimal Health plan for weight maintenance and healthy eating. Across all 3 plans, you'll eat 6 times a day, made up of a mixture of snacks and meals.
Each OPTAVIA client gets an independent Coach to guide them toward better health and wellness. Since around 90% of all OPTAVIA Coaches are OPTAVIA clients themselves, they know exactly how you can use the OPTAVIA system to your best advantage.
Meal Options
OPTAVIA offers 2 weight-loss plans. The 5 & 1 PlanⓇ gives you five Fuelings each day, and recipes for 1 Lean & Green meal you cook yourself. The 4 & 2 & 1 PlanⓇ provides 4 fuelings, 2 Lean & Green recipes, and 1 healthy snack per day.
If you want to maintain weight or improve your diet, there's an Optimal Health 3 & 3 PlanⓇ. On this plan, you get 3 Fuelings and recipes for 3 balanced meals.
OPTAVIA recipes provide 5-7 ounces of cooked lean protein, 3 servings of non-starchy vegetables, and 0-2 servings of healthy fat.
| Diet | Is OPTAVIA Good For This Diet? |
| --- | --- |
| Diabetes | Yes, OPTAVIA offers a diabetic plan |
| Nursing mothers | Yes, OPTAVIA offers a plan for nursing mothers |
| Vegetarian | Yes, OPTAVIA offers many vegetarian Fuelings |
| Gluten-Free | Yes, OPTAVIA offers certified gluten-free Fuelings |
| Keto | No, OPTAVIA is not suited for keto dieters |
| Paleo | No, OPTAVIA is not suited for paleo dieters |
| Organic | No, OPTAVIA is not suited for organic dieters |
Customization
For the Optimal Weight plans, the box is already set up for you, but you can customize it by swapping the Fuelings if you wish. You can also select your own Fuelings for the Optimal Health 3 & 3 PlanⓇ.
It's not possible to add or remove any ingredients as all the food is pre-made and pre-packaged, but if you check out the Shop section of the website, you can browse all the Fuelings and see the individual nutritional facts, allergy information, and ingredients.
OPTAVIA offers plans for diabetes, gout, nursing mothers, seniors (65+), and teens (13+). If you have an underlying medical condition, speak with your physician before signing up for OPTAVIA or any other weight loss diet plan.
Nutrisystem is another great service offering tailored programs. You can enjoy Nutrisystem even if you're vegetarian or have diabetes. It also has different plans for men and women.
Unboxing
Unlike other meal kit delivery services, OPTAVIA sends all of your meals either in one consignment or once a month (if you sign up for automatic shipments). Everything is clearly labeled so you're not left wondering what each item is.
All the hot foods come in powdered form, so nothing needs to be refrigerated at all. That can be a relief, especially if the package arrives in the morning while you're at work. On the other hand, it's not ideal for anyone who wants to eat a more natural diet. But if you follow OPTAVIA's meal plan and coaching, you'll get plenty of vegetables and healthy proteins.
Back to the packaging – everything is packaged in either cardboard or plastic (like the shaker-jar for the shakes). That means it's even easier to recycle. Unlike some other meal kit delivery services, I could recycle pretty much everything in the OPTAVIA delivery box.
Cooking with OPTAVIA
OPTAVIA's meal plan mainly consists of powdered meals that you "cook" by adding hot water. Since I couldn't edit the meals, I was a little afraid of what I might get. Not only that, but I'm also not a big fan of eating mostly processed food for an entire month.
The plan does have clear instructions on how to prepare your dinners so you can add those fresh fruits and vegetables into your diet, and the professionals at OPTAVIA know what they're doing in terms of getting you the vitamins and minerals you need for the lowest amount of calories, but what about the added benefits of freshly cooked food?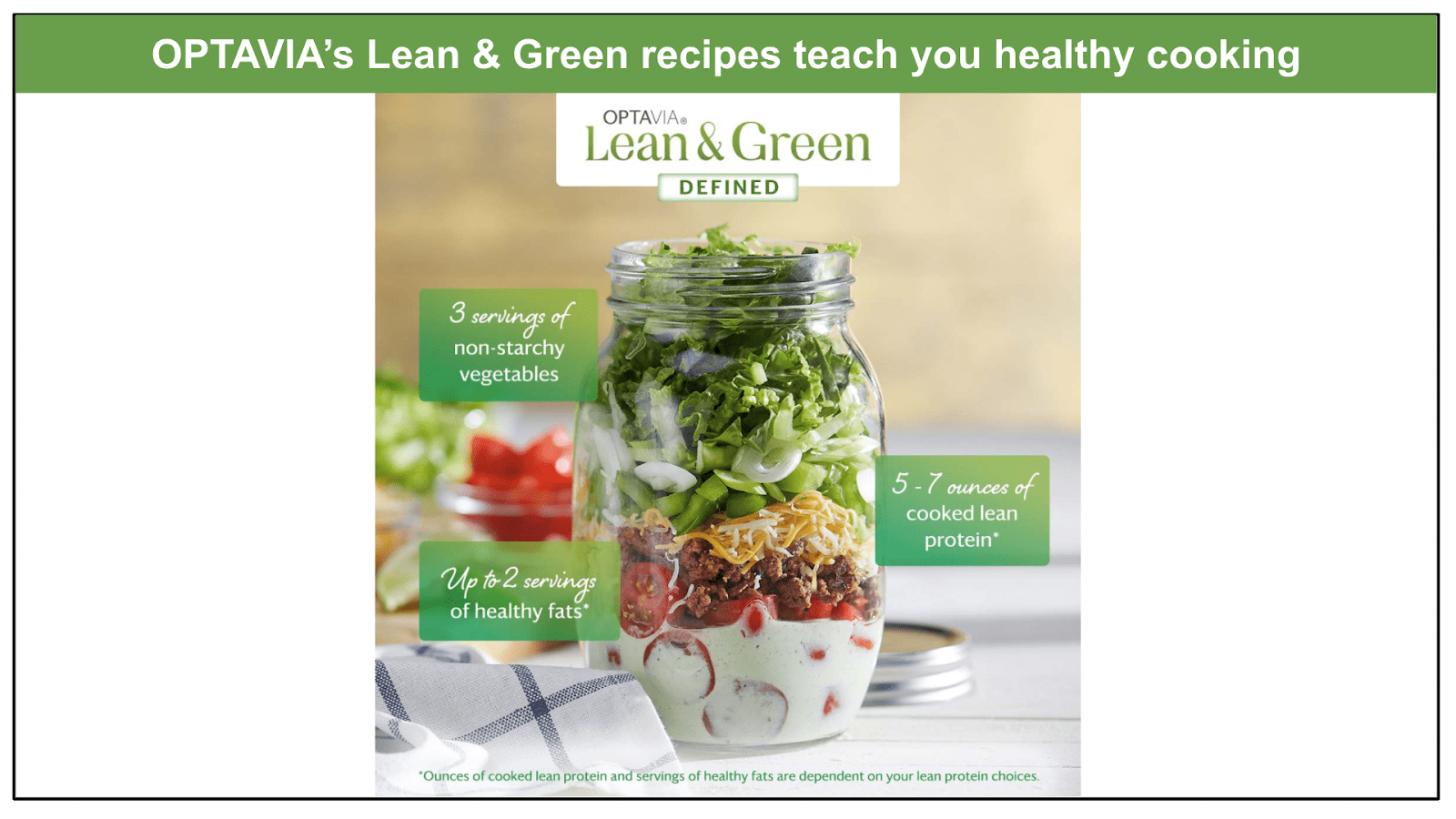 I was more impressed by OPTAVIA's Lean & Green recipes. These recipes teach you how to cook healthy, low-fat natural meals with lean proteins and non-starchy vegetables. Learning better cooking and eating habits is an important step in keeping off the weight you lose.
If you struggle with binge eating, this kind of no-guesswork dieting might be the best solution for you. OPTAVIA provides you with lessons in better eating and gives you a solid framework to build upon as you move from weight loss to weight maintenance mode.
I recommend BistroMD if you're looking for meals with fewer processed ingredients. BistroMD's food tastes better and BistroMD's EATS (Essential And Tasty Snacks) are more enjoyable between-meal treats.
Favorite OPTAVIA Meals
The breakfast shakes are a fun way to start the day, and I liked that the simple meal prep gave me more time to get ready for work. I could even sleep in a little, and enjoy the shake while driving to the office. Win!
Having quick access to these snacks in between meals kept my appetite in check and my blood sugar stable. The snacks (like the honey pretzels and granola bars) are all ready to eat. Just as you start to get hungry, it's time for a little treat.
Nutrisystem also offers a 6-serving daily plan which includes supplemental snacks, including Nutrisystem protein bars and low-glycemic shakes. Nutrisystem has been in business for almost 50 years and has a proven track record for weight loss.
Starting from

Order size

Shipping Fee

Optimal Health 3 & 3:
$3.10 per portion

84 servings/month: $261.00

$7.00 with Premier membership

5 & 1 Plan:

$3.32 per portion

119 servings/month: $395.25

Free with Premier membership

4 & 2 & 1 Plan:

$3.16 per portion

140 servings/month: $442.00

Free with Premier membership
The OPTAVIA Optimal Health 3 & 3 PlanⓇ involves 3 supplementary OPTAVIA fuelings per day or 3 7-serving boxes of Fuelings per week.
OPTAVIA's 5 & 1 PlanⓇ monthly package costs $395.25. With your first order, you get 5 free boxes of the Fuelings of your choice, a bonus of over $100. In future orders, you'll have to buy those extra 5 Fuelings yourself for the complete package.
The 4 & 2 & 1 PlanⓇ costs $423.00, and there's a 20% discount on your first order. The 4 & 2 & 1 PlanⓇ is complete and requires neither an extra purchase of Fuelings nor Fueling freebies.
Keep in mind that with each of these plans, you'll need to buy produce and lean proteins for 1 or more meals a day.
Nutrisystem's plans are comparably priced with OPTAVIA, and they also arrive in monthly packages. Our Nutrisystem reviewer was impressed by the meals she received and advised, "If you have a busy lifestyle, this is an extremely effective way of sticking to a weight-loss diet."
OPTAVIA works on a monthly basis, unlike other meal kit delivery services that typically ship weekly. All orders are processed and shipped within 2 business days of being received. OPTAVIA ships to all 50 states, as well as military bases and United States territories like American Samoa, Guam, and the US Virgin Islands.
OPTAVIA Premier members whose orders total more than $250 receive free shipping. Premier orders between $150 and $250 pay a flat $5 shipping fee, and orders under $150 pay the full UPS Ground shipping charge.
OPTAVIA also states that it can take 5-8 calendar days from your ship date for your delivery to arrive. Mine took 5 days. I ordered on a Monday, received a notification my order had shipped the next day and received my order on Friday.
How OPTAVIA Works
When you choose your plan and place your first order, OPTAVIA gives you the option of signing up for OPTAVIA Premier, its monthly auto-delivery program. With OPTAVIA Premier, your diet progress will never be interrupted. And if you want to change your monthly shipment, OPTAVIA makes modifying your order easy.
You can place one-time OPTAVIA orders without signing up for OPTAVIA Premier, but you'll have to pay full shipping charges (which can be over $20) and won't get 10% credit toward future deliveries on orders over $250. Optavia accepts Visa, Mastercard, American Express, and Discover.
You'll receive an email from OPTAVIA 7 days before your next Premier order is set to process and again 4 days before. This is your reminder to go into your account to make changes to your order or to change the processing date.
How to Sign Up
Choose 1 of OPTAVIA's 3 plans

Press the Add to Cart button for your chosen plan

Click the box at the top of the page

Click the Checkout button at the bottom of the page

Enter your email and phone number to be connected to an OPTAVIA Coach

Enter your shipping address

Enter your preferred shipping method

Enter your payment details and billing address

Wait for your first delivery
OPTAVIA's app gives OPTAVIA clients access to their large and ever-growing library of Lean & Green recipes and other resources. It also allows Optavia clients to manage their OPTAVIA Premier Orders and handle returns and tracking.
Within the OPTAVIA app, you can track the status of your On-demand/Premier order. To track the status of your order, you just:
Log in to the OPTAVIA App with the username and password used to login into OPTAVIA.com via the web.

Shipping tiles at the top of your dashboard provide updates on the status of your order(s).

If there are several orders, each order will have its own tile. Scroll from left to right to find the tile for a specific order.
You can also manage orders on your desktop or phone web browser.
Customer Service
OPTAVIA's Client and Coach Support team, which assists with questions and concerns related to ordering, Program Plans, Products, or other OPTAVIA-related questions, is available between 8 AM to 11 PM EST on weekdays, and 9 AM to 6 PM EST on weekends. There's also an email address where you should receive a response in up to 2 business days.
When I rang, I was pretty impressed with how quickly they answered my call. I spoke to a member of the customer support team, who dealt with my issue quickly and professionally.
OPTAVIA's live Coaches network helps clients and guides them on their weight-loss journey. Having a coach can be a huge help when you're trying to lose weight. About 90% of OPTAVIA Coaches were OPTAVIA clients. But these Coaches have paid hundreds of dollars to work with OPTAVIA and earn that money back by upselling customers.
I would feel more comfortable working with hired dietitians, or with an app feature that let OPTAVIA dieters socialize and offer each other encouragement and advice. As it is, OPTAVIA's Coach network looks uncomfortably close to multi-level marketing.
Unlike many other meal delivery services, OPTAVIA only takes cancellations by phone. If you end up trying out an OPTAVIA plan and find it's not right for you, feel free to refer to this short blog post on how to pause or cancel your orders.
How OPTAVIA Compares to Other Meal Delivery Services
OPTAVIA vs Nutrisystem: Like OPTAVIA, Nutrisystem also offers tailored programs with vegetarian and diabetic options. But Nutrisystem has plans that cover all your eating needs during the crucial early part of your diet, while OPTAVIA expects you to supplement all its plans with groceries.

OPTAVIA vs BistroMD: While both services are geared toward weight loss, BistroMD offers a selection of tasty fully prepared meals you just heat and eat. OPTAVIA's Fuelings aren't in the same league as BistroMD diet meals like Meatloaf with Honey Bourbon Glaze.

OPTAVIA vs Diet-to-Go: OPTAVIA and Diet-to-Go both have decades of experience in the diet industry, but Diet-to-Go also offers a ketogenic diet plan, while OPTAVIA's approach is geared strictly toward calorie restriction.
The Bottom Line
OPTAVIA's Optimal Weight plans can help you lose weight without skipping out on nutrition or starving yourself. The Optimal Health plan can provide you with healthy recipes and tasty low-calorie snacks. And while I have my misgivings about their Coach plan, I'm a big fan of personalized support for dieters.
But there's some stiff competition in the weight loss meal delivery service field. OPTAVIA's Fuelings are acceptable as diet food goes, but I think that many dieters would find it easier to stick with a plan that offered healthy prepared meals. Dieting is always going to be hard, but tasty meals make it easier.
Ultimately, the best meal delivery service is the one that works best for you. If you're trying to lose weight, check out our list of the 10 best weight loss meal delivery services. You're sure to find one that suits your needs.
FAQ
How much does OPTAVIA cost?
OPTAVIA has different pricing structures. For instance, an OPTAVIA Premier subscription to the Fuelings for the Optimal Health 3 & 3 PlanⓇ will cost around $260 per month, while the Optimal Weight 4 & 2 & 1 PlanⓇ and 5 & 1 PlanⓇ will cost you around $400 to $500 a month.
What is the OPTAVIA diet?
The OPTAVIA diet provides small servings of low-calorie nutrient-dense meals, shakes, and snacks to keep you feeling full all day. Each OPTAVIA plan also includes healthy recipes you cook yourself, to get you in the habit of healthy cooking and eating.
How do you cancel OPTAVIA?
Unlike many other meal delivery services, OPTAVIA only takes cancellations by phone. The OPTAVIA Client & Coach support team is available between 8 AM to 11 PM EST on weekdays, and 9 AM to 6 PM EST on weekends and can be reached at 1-888-OPTAVIA (1-888-678-2842) .
Is shipping free with OPTAVIA?
With an OPTAVIA Premier membership, shipping is free on all orders over $300. There's a $7.00 shipping fee on orders between $175 - $299.99, while orders under $175 pay the actual UPS Ground shipping fees. Premier members outside the continental US pay $25 shipping on orders between $175 - $299.99 and $35 on orders over $300.
Do you gain weight back after OPTAVIA?
OPTAVIA, like other restricted-calorie diet plans, is better for immediate weight loss than long-term results. Check out BistroMD if you're looking for sustainable weight loss using healthy and satisfying low-calorie meals.