How Medifast Works
Medifast's entire philosophy is to help you lose weight while learning how to eat healthier.
Medifast meals contain low-fat, 5-7oz of protein, and fiber-rich ingredients, as well as 24 vitamins and minerals. The idea is to pack in as many nutrients as possible while maintaining strict portions so that you get the most out of the least amount of calories. These sorts of meals help your body burn fat, without affecting muscle mass.
All of the meals are low-glycemic, too. In fact, they have a dedicated diabetic plan for Type 1 and Type 2 diabetes to maintain steady blood sugar levels effectively. Other dedicated plans for special diets include gluten-free, vegetarian, and plans suitable for nursing mothers and seniors. If you have dietary restrictions beyond these five choices, you might get a little stuck.
On the Go plan, you receive five Medifast meal replacements and snacks each day, with instructions on creating your own, home-cooked "lean & green" dinner. That means you're eating steadily throughout the day, and getting your dose of fresh food, too.
Before you officially sign up, Medifast lets you see what's on the menu first.
Once you're ready to get started, click any of the buttons below: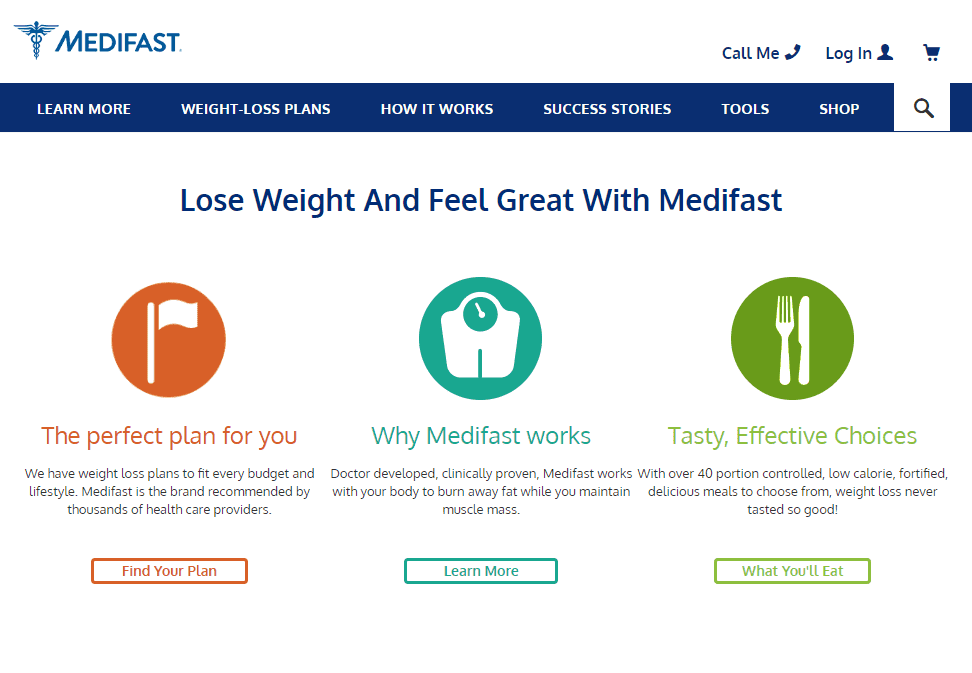 You'll choose either Medifast Go, which is best for busy people in need of an easy-to-follow program with fast results, or Medifast Achieve, a more flexible, steady, and gradual weight loss plan.
I preferred the Medifast Achieve plan. It looks like the best choice if you're looking for a more sustainable, long-term option.
Once you've selected your plan, you can have a look at the kit details and a sample menu. Choose between the standard kit or the upgraded kit with extra supplements. Pick your preferred option, and click "order now."
'
You'll be taken to a pretty overwhelming checkout page showcasing all of the freebies and sample meals that Medifast gives you. Check the amount at the bottom, then click "Checkout."
At this point, you'll have to create an account. You'll fill in a few personal details and create a password, then confirm your address and choose your preferred shipping method:
Next, you'll need to add your payment information. You can only pay by credit card.
You'll then have a chance to review your order before you finalize it.
I was a little bit confused at this stage. With a weight loss meal kit, I'd expected to have been asked a few things about my lifestyle, like what I currently eat, my food preferences, or allergies.
I think not asking these questions could end pretty badly. Especially if you have an allergy or don't like the meals you end up with, because you can't really edit what you get in your plan that much. You do have the opportunity to change your proteins, which is hidden away on the checkout page, but if you don't like some of the limited options, you might be a bit stuck.
Medifast Prices
As I mentioned earlier, Medifast offers two plans, depending on your lifestyle.
Medifast Go is the weight-loss plan for busy people, looking for an easy-to-follow program that burns fat quickly. This plan starts from $341 a month.
There's also the Medifast Achieve plan, which is a better option if you want greater flexibility while meal planning for steady, gradual weight loss. This plan starts from $323 a month.
Across both plans, you'll eat six times a day, made up of three snacks and three meals.
It's kind of hard to compare to Medifast to other meal kit delivery services since it's an all-encompassing plan, rather than one where you choose how many meals you want a week per diner.
However, compared to other weight-loss meal kit delivery services, like Diet-to-Go, it seems pretty reasonable. The cheapest plan on Diet-to-Go comes in at $179.99 a week (for three meals a day). With Medifast, you'll receive a 30-day set of six meals a day, for $323 for your first order. It goes up to $413.55 after, but that's still more meals for less money.
Medifast Menu
I have to admit, I'm not the most excited about diet food. I associate dieting with a load of restrictions and avoiding certain foods, which I find difficult.
However, I found myself salivating at some of the Medifast meals on offer. These included brownie soft bakes, s'mores crunch bars, chocolate pudding, honey mustard pretzels, sour cream and chive mashed potatoes, beef stews, and a whole load of other meals and snacks I would never have associated with dieting!
Medifast seems like it's worked out how to offer you any type of food without really limiting you. Even though these are diet options, you'll still be eating comfort food and tasty treats! The meals incorporate soy (for a more sustainable protein), as well as extensive allergen and ingredient information. And for all of you kosher foodies, a lot of the meals are kosher-certified!
Here's a quick summary of Medifast's pricing and the dietary needs it best accommodates:
| | |
| --- | --- |
| Pricing | From $2.32 per portion for 147 meals |
| Meal plan options available | Vegetarian, weight loss, diabetic-friendly, carb-conscious |
| Shipping costs | Free |
Medifast Delivery
Unlike other meal kit delivery services, which usually have one or two days a week that they deliver to your specific area, Medifast works on a monthly basis. All orders are processed and shipped within two business days of being received.
If you order more than $250 worth of food (and most customers will), you receive free shipping. Otherwise, you'll pay a flat $5 shipping rate. That's pretty generous. Other providers, such as Sun Basket, charge more for shipping, and that's for weekly deliveries.
Medifast also states that it can take up to seven business days from your ship date for your delivery to arrive. Mine took five days. I ordered on a Monday, received a notification my order had shipped the next day and received my order on Friday.
Medifast Unboxing
Unlike other meal kit delivery services, you get all of your meals either in one consignment or once a month (if you sign up for automatic shipments).
On the one hand, all the hot foods come in powdered form, so nothing needs to be refrigerated at all. That can be a relief, especially if the package is shipped to your door in the morning while you're at work. On the other hand, it's not ideal for anyone who wants to eat a more natural diet. More on that later.
Back to the packaging – everything is packaged in either cardboard or plastic (like the shaker-jar for the shakes). That means it's even easier to recycle. Unlike some other meal kit delivery services, I could recycle pretty much everything in the Medifast delivery box.
Favorite Medifast Meals
Since I couldn't edit the meals, I was a little afraid of what I might get. Not only that, but I'm also not a big fan of eating mostly processed food for an entire month. The plan does have clear instructions on how to prepare your dinners so you can add those fresh fruits and vegetables into your diet, but the meal plan mainly consists of powdered meals that you add hot water to.
The professionals at Medifast know what they're doing in terms of getting you the vitamins and minerals you need for the lowest amount of calories, but what about the added benefits of freshly cooked food? On the other hand, everyone has their preferences and priorities. If you struggle with binge eating, this kind of no-guesswork dieting might be the best solution for you.
Back to the food.
The breakfast shakes were, on the whole, delicious. They were a fun way to start the day, and I liked that the simple meal-prep gave me more time to get ready for work. I could even sleep in a little, and enjoy the shake while driving to the office. Win!
The snacks (like the honey pretzels and granola bars) are all ready to eat. I liked these grab-and-go options. Having quick access to these snacks in between meals kept my appetite in check and my blood sugar stable. Just as I got the tiniest bit hungry, I saw that it was time to enjoy a little treat anyway.
The snacks looked appetizing, but as you're getting reduced sugar and other unhealthy ingredients, they do leave a little to be desired taste-wise.
Medifast Customer Service
Medifast has customer support available between 8 am-11 pm EST on weekdays, and 9 am-6 pm EST on weekends. There's also an email address where you should receive a response in up to two business days.
When I rang, I was pretty impressed with how quickly they answered my call. I spoke to a member of the customer support team, who dealt with my issue quickly and professionally.
Alternatives to Medifast
Medifast is a great meal-replacement plan for weight loss, but only for people who aren't too fussy, and don't have any particular dietary needs beyond the five specialty menus provided. If you have any kind of allergy or food aversions, this might not be the best weight-loss meal plan for you. I'd suggest something like Diet-to-Go instead. Nutrisystem, on the other hand, is a great option that offers similar meal plans at a slightly cheaper rate.
The Bottom Line
Medifast is a proven system for weight loss, with more than 40 years of experience and millions of happy customers.
With its most basic plan, Medifast works out cheaper than many other similar plans on the market. Its method of fortifying meals and snacks is effective in lowering the number of calories you'll have to eat to get your body what it needs.
On the other hand, the carefully constructed ingredients of each meal come at the expense of being able to customize your meal options and eat fresh food throughout the day, aside from dinner.
The bottom line? If you're looking to get significant results fast, it's worth checking out Medifast GO . For a slower, less-regimented plan, Medifast Achieve can help you see results over a longer period. If you're looking for more customizable weight-loss meal plans, with more long-term effects, and a diet that includes fresh foods, check out the other slightly more expensive meal plans available.