How to Cancel your OPTAVIA Plan 2023 + 3 Diet Alternatives
OPTAVIA makes it really easy to pause your future orders in the account settings, without having to call customer support. That's the case even if you signed up for OPTAVIA's cheapest plan.
OPTAVIA (formerly Medifast) is popular because it's worked for so many. But it's also one of the most difficult diets to stick to. Even with the most popular OPTAVIA plan, I found the meal replacement system to be less than ideal for my lifestyle and taste buds.
Diet-to-Go's chef-prepared meals looked more appealing than OPTAVIA's meal replacement powders and bars. BistroMD is also a good choice - its freshly cooked and doctor-planned meals look way more appetizing.
If you're in the mood for something completely different, HelloFresh provides calorie-smart meal kits with dietitian-approved recipes. Its meal kits let you have fun in the kitchen while still saving you the hassle of meal planning.

Jump to see more alternatives.
To cancel your OPTAVIA Premier membership:

Go to your OPTAVIA Account page on your app or browser.

Select "MY OPTAVIA Premier" in Your Next Premier Order (app) or My Optavia Premier (browser).

Click "Cancel Premier Membership" at the bottom of the screen.

Confirm cancelation. Cancel no later than 6PM ET on the day before your processing date to avoid an extra delivery.

Look for a new delivery service on our list of the best weight loss meal delivery services.
Step 1: On the My Account page, select "My OPTAVIA Premier" (Your Next Premier Order on the app) from the menu.
Step 2: Click "Cancel Premier Membership" to proceed.
A confirmation window will open letting you know that canceling a Premier membership will result in a loss of the benefits associated with Premier. You can then either click "Nevermind" (or "Keep Premier" in the app) to keep your membership or click "Cancel Membership" to confirm that's what you want to do.
Step 3: After confirming the cancelation, you'll be taken back to the Premier Details page. A green banner will let you know your membership was canceled.
You'll also see that the "Edit Premier Schedule" and "Process Now" buttons are grayed out indicating they can't be used.
If you return to your My Account page, you'll find that the "Change Next Order Date" box is grayed out, and the "Cancel Premier Membership" link has changed to "Reinstate Premier Membership."
HelloFresh has a vast menu that offers many reduced-calorie options. Using tags like Veggie, Seasonal, and Vegan, you can easily find meals that align with your preferences. HelloFresh's Calorie Smart tag highlights meals that are 600 calories or less per serving, which makes it a great choice for those who want to lose weight.
Its recipes are designed to suit all skill levels, from novices to experienced chefs. Tags like Easy Prep and Easy Cleanup help you find recipes you can prepare in 15-35 minutes. Tags like Premium Picks, Brunch, or Hall of Fame offer a bit of culinary adventure. Regardless of your cooking expertise, you can enjoy delicious and healthy meals at home.
The Sweet 'n' Spicy Apricot Pork Chops pictured above is a Calorie Smart meal with just 490 calories. Apricot jam combines with ponzu and Sriracha sauces to spice up a lean pork chop. Combined with roasted carrots and green beans, this is a low-calorie meal your whole family will love.
HelloFresh's Fit & Wholesome plan is ideal for those looking to shed pounds, as its dietitian-approved meals ensure that weight loss doesn't mean compromising on taste or nutrition. The Veggie and Pescatarian meal plans provide plant-based and fish-focused options. These plans offer healthy fats, protein, vitamins, and fiber to keep you feeling full and satisfied.
With the HelloFresh Market, you can add high-quality produce and bulk proteins to your orders. This saves you time on grocery shopping and ensures you have a steady supply of quality ingredients to cook your own meals. Use this code for a discount on new orders: 18 free meals + first box ships free + 3 surprise gifts with code DR18HF
As America's #1 meal kit delivery service, HelloFresh has meal delivery down to a science. Its website is easy to follow, and if you have any issues with your delivery, the HelloFresh support team is one of the best in the business. Our reviewer tried HelloFresh at home and spoke very highly of its customer service.
HelloFresh's minimum weekly order is 2 meals for 2, with a maximum of 6 weekly meals for 4. Prices start at $3.32 per serving.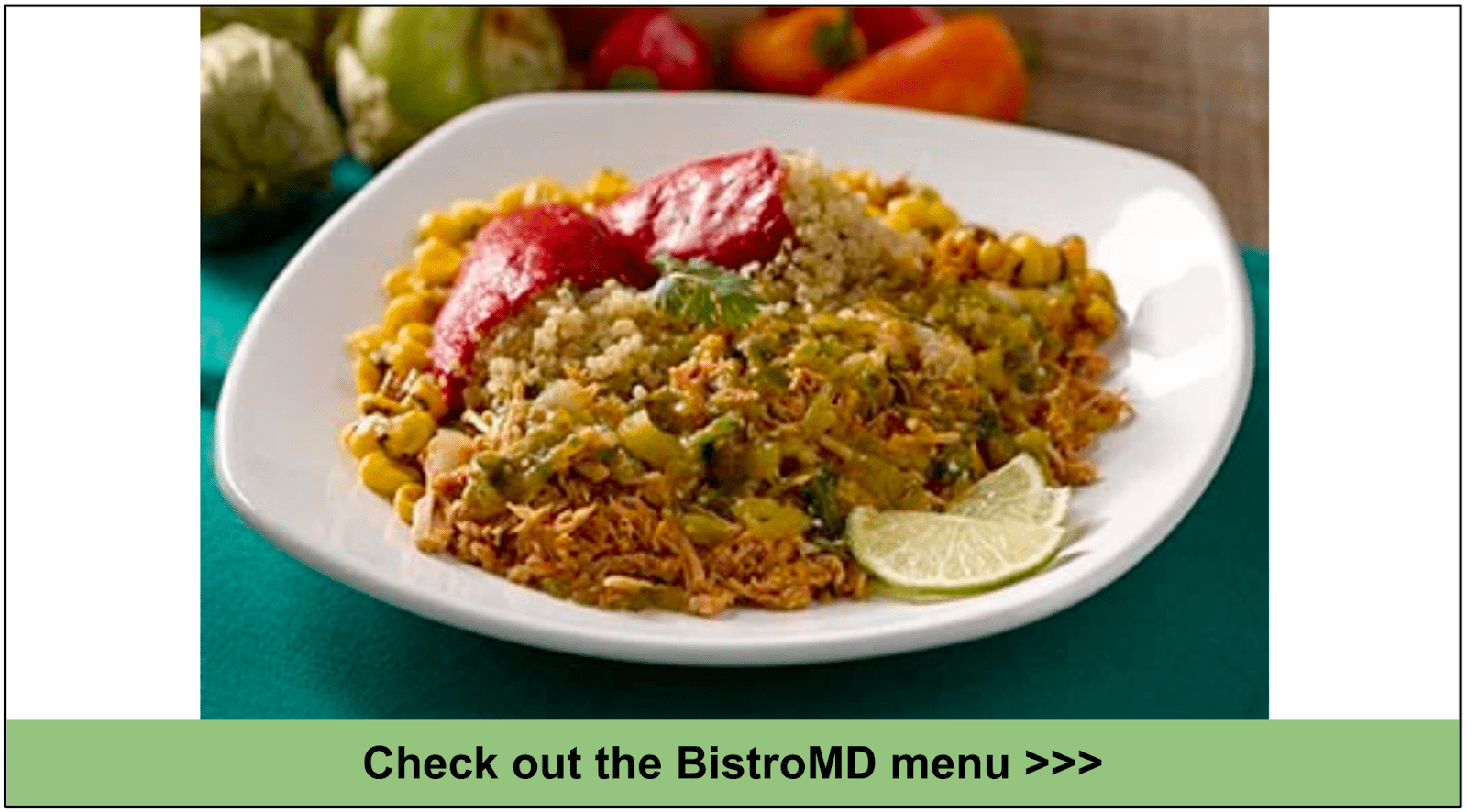 BistroMD offers an array of over 150 appetizing low-calorie prepared meals that can be easily reheated using either a microwave or oven. The Smoked Chipotle Pork with Salsa Verde (above) is a tasty treat that comes in at just 300 calories, and is available on several of BistroMD's specialized meals for different health conditions.
With the support of in-house dietitians and customizable programs, BistroMD offers 5- or 7-day subscriptions that include up to 3 meals per day, making it an attractive option for individuals seeking a convenient and effective approach to improving their well-being.
BistroMD eliminates the need to weigh food, count calories, or track meals with food apps. The prepared meals are delivered directly to your door, completely eliminating the hassle of meal preparation and cleanup. Each dish contains 450 calories or less, which makes it easy for you to adhere to your daily calorie limits.
Meals on the Heart Healthy plan adhere to guidelines for calories, sodium, and saturated fat set by the American Heart Association. BistroMD programs cater to the specific needs of both women and men, including a dedicated Menopause menu. And plant-loving dieters will be happy to know that BistroMD also has a vegan plan.
Our expert BistroMD reviewer was especially impressed by the EATS (Essential and Tasty Snacks) program. With EATS, you get high-protein, high-fiber snacks like Chewy Chocolate Peanut Butter Bars and Cookie Dough that provide an extra layer of support to resist the temptation of high-calorie junk food.
BistroMD prices start at $8.24 per serving, with a 15% discount for couples or roommates who want to lose weight together. Your minimum BistroMD order is 10 meals (lunch and dinner 5 days a week), with a maximum complete plan of 3 meals a day for 7 days a week. EATS are highly recommended and will cost an additional $30 to $40 weekly.
Diet-to-Go makes maintaining a strict diet regimen easier and more convenient. With its freshly prepared meals, customizable options, and dedicated weight loss plans, Diet-to-Go is an excellent choice for those seeking a structured approach to shedding pounds.
You get freshly prepared low-calorie meals delivered to your door, complete with sides, condiments, and heating instructions. Each meal is conveniently packaged and ready to eat after just 2 or 3 minutes in the microwave. The Cheese & Veggie Egg Bites are a tasty breakfast with just 300 calories.
The service offers a variety of meal plans on a rotating 5-week cycle. Whether you opt for a 5-day or 7-day plan with 2 or 3 meals per day, Diet-to-Go provides flexibility in meal selection. If there are specific meals that do not align with your preferences, you have the option to swap them out for other choices.
Plans are tailored by gender, ensuring that calorie intake is appropriate for your needs. The women's plan offers around 1,200 calories per day, while men receive 1,600 calories. In addition to the standard Balance menu, Diet-to-Go provides specialized programs for those with diabetes, a Keto-Carb30 option, a Vegetarian plan, and a heart-healthy Mediterranean plan.
Diet-to-Go's Mediterranean plan is a great option for weight-loss dieters seeking a menu that incorporates vegetables, fruits, nuts, grains, fish, and lean meats. The Balance-Diabetes plan focuses on low sodium, fat, and cholesterol, with carb intake limited to less than 45g per serving.
Our expert reviewer found that Diet-to-Go was a great choice for strict weight loss-diets. Diet-to-Go also offers support from registered dietitians, nutritionists, and health coaches who can assist customers in reaching their weight loss goals.
Diet-to-Go prices start at $4.60 per serving. Your minimum weekly order is 10 meals (lunch and dinner for 5 days per week), with a maximum order of 3 meals per day for 7 days.
$3.32 Per Serving

$8.24 Per Serving

$4.60 Per Serving

2 meals for 2 people

10 prepared meals

10 prepared meals

Meal kits, speedy kits, prepared meals

Prepared meals

Prepared meals

5-50 min

2-3 min

2-3 min
Provider
Our Score
Meal price starting at
Active Deal
Visit Website