5 Best Blue Apron Mediterranean Diet Recipes 2023
Blue Apron's meal kits focus on supporting a healthy lifestyle while delivering a fine dining experience. However, if you follow a Mediterranean diet, you may be disappointed to find out the company doesn't currently have a specific Mediterranean plan (it had one in the past).
But that doesn't mean you won't find meals that fit your chosen diet. Both the Wellness and the Signature meal plans include a variety of Mediterranean-inspired recipes – around three to four each week. And if you're a non-meat-eater, the Vegetarian menu has dishes that fit the bill, too.
I also discovered the Blue Apron Cookbook where you can find inspiration and access past recipes. Choose Mediterranean from the Cuisine drop-down menu and you'll find loads of Blue Apron's past Mediterranean dishes. I've chosen five of the best recipes that will whet your appetite with healthy ingredients straight from Italy, Spain, Greece, and more!
Short on Time? Here Are the Best Blue Apron Mediterranean Diet Recipes
The Best Blue Apron Mediterranean Diet Recipes Reviewed
Key Features
The dish combines a series of flavors and textures specific to the freshness and heartiness of the Mediterranean diet. The crispy-skin salmon fillets combine nicely with the farro and veggies, while the salsa verde brings everything together with its bright flavor.
This recipe's on Blue Apron's WW Recommended options, which means it packs in valuable nutrients for anyone looking to lose or maintain weight. It's also marked as carb-conscious and part of the Wellness meal plan, where all recipes are designed with holistic health in mind.
I also like that it's fairly easy to cook, but if you're a beginner, it's best to reserve more than the recommended 30 minutes. You'll be working with both the fish and the side dish, and it can be difficult to keep everything going at once.
Key Features
While Mediterranean food is healthier than other cuisines, it doesn't mean there aren't any hearty comfort foods on the list! This Gnocchi and Tuscan pork recipe is the very embodiment of a flavorful meal that goes straight to your soul.
In fact, this recipe brings together all the best bits of Italian cuisine. The gnocchi (which you'll have to boil) combines well with the ground pork mixed with scallions, garlic, and sweet peppers. Plus, the Romesco sauce and tomato paste bring a nice tanginess to the dish.
In the end, everything is brought together with a bit of Mascarpone cheese and grated Parmesan. Believe me, when you'll serve this, there won't be any need to clean the dishes – everyone will lick their plates clean!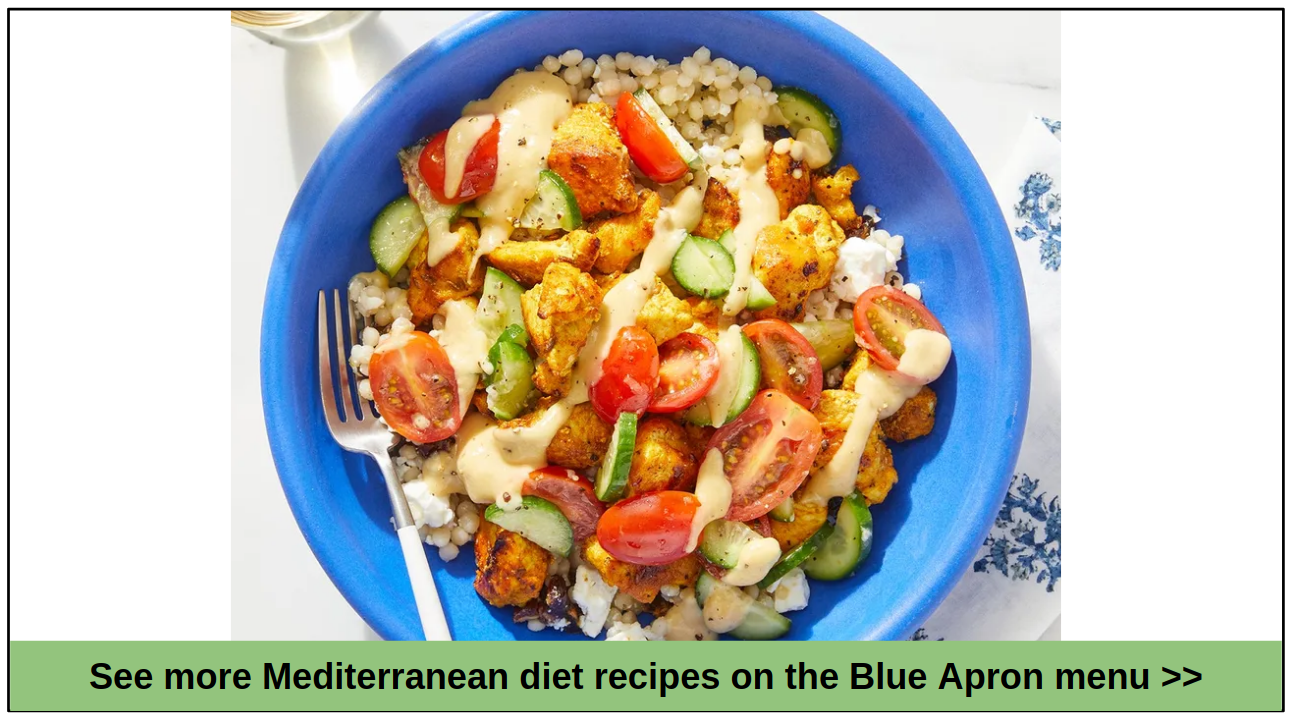 Key Features
Blue Apron's chefs managed to turn what's usually quite a heavy traditional Levantine dish into a light Mediterranean meal that works for both lunch and dinner. Plus, due to the shawarma spice blend that covers the cooked chicken, this dish is quite appealing to the kids. This way, you can get them to eat a healthy meal and love it!
I loved the combination of sweet dates and feta cheese, especially when paired with fluffy couscous. Also, the veggies and chicken are even better with the dressing made from tahini, honey, mustard, and vinegar. I'd never have thought of trying out this combination myself!
Key Features
With this recipe, Blue Apron makes it easy to put together a healthy dinner that looks like it's been cooked by a pro. The meal combines beautiful colors and flavors specific to the Mediterranean diet such as capers, currants, and creamy basil pesto.
Plus, everything is well-balanced due to the orzo pasta with veggies and nicely sautéed chicken. The combination is absolutely divine and you don't have to worry about consuming too many calories since all the ingredients are selected to keep everything on the healthy side.
Key Features
The salad is the go-to meal when you're trying to lose weight. However, it's not easy to feel satisfied with just a few leafy greens. That's why Blue Apron's chefs created a salad that can be served as the main dish for lunch as it contains feta cheese and whole wheat pita chips.
Plus, to keep things interesting, the salad also includes red cerignola olives and cubanelle pepper. The resulting dish is a mixture of freshness, crunchiness, and flavors that complement each other extremely well.
However, if you don't find it fulfilling as a stand-alone meal, you can add some protein (grilled chicken works best in this case) to amp the calorie count. It also works nicely as a side dish to accompany salmon or pork.



Prep/Cook time

Calories

Suitable For

Difficulty Level

30 mins

720 calories

WW Recommended, Carb-conscious

Medium

25 mins

900 calories

Family dinners

Easy

25 mins

760 calories

WW Recommended,

Family dinners

Medium

30 mins

750 calories

Family dinners

Easy

15-20 mins

575 calories

WW Recommended, Carb-conscious,

Vegetarian

Easy
Bottom Line: Does Blue Apron Offer Mediterranean Diet Recipes?

Yes! Even though Blue Apron doesn't have a specific meal plan for Mediterranean cuisine, the Wellness, Signature, and Vegetarian meal plans include several recipes that follow the principles of this diet.
Also, according to my colleague's detailed Blue Apron review, the meal kits are perfectly portioned for two or four people, to avoid any food waste and keep the prices at an affordable level.
So if you're looking for healthy, delicious, and interesting meals that follow the Mediterranean diet, Blue Apron will deliver!
FAQ
Is Blue Apron good for weight loss?
Blue Apron doesn't have a weight loss-specific plan, but recipes like the Greek Salad are low in calories and bring lots of nutrients to the table. Also, there are lots of recipes marked as being carb-conscious or low-calorie so you can build a healthier, more diet-oriented menu.
Is Blue Apron part of Weight Watchers?
Blue Apron is partnered with WW (formerly Weight Watchers), to create nutrient-rich recipes like Crispy Skin Salmon. These recipes were designed in collaboration with WW nutritionists and focus on healthy ingredients that are low in calories and carbs but also full of flavor.
How many meals per week does Blue Apron send?
The Signature meal plan allows you to choose two, three, or four recipes per week for two or four people. This meal plan includes healthy, family-friendly recipes like Shawarma Chicken & Couscous Bowl and all the ingredients are usually pre-portioned and prepared.