Short on Time? Here Are the Best Low-Carb Vegetarian Meal Delivery
The Best Low-Carb Vegetarian Meal Delivery Reviewed
Key Features
A certified organic company

45+ unique recipes per week

8 meal plans including Protein-Packed, Plant-Based, and Gluten Free

Current deal: Get $250 off + free shipping
Green Chef's Plant-Based menu has about 7 veggie and 5 vegan recipes weekly. The add-ons menu has some additional vegan and veggie dishes every week, including 10-minute lunches, several oatmeal flavors, and other breakfast options.
Most vegan and veggie meals have around 80 g of carbs per serving, so you can have one of these meals as your lunch or dinner, even if you're on a low-carb diet. There are also several options at around 35 g of carbs per serving, in case you'd like to add a second Green Chef meal for the day.
Green Chef has colorful dietary tags, including Veggie and Vegan, but there's no tag for low-carb. This means you'll have to open each recipe and see if the amount of carbs fit your dietary needs. There are also tags for all the other diet-based plans offered by Green Chef: Mediterranean, Keto, Calorie Smart, Gluten-Free, Mediterranean, and Protein Packed.
Unlike some other services, Green Chef doesn't allow for customization. Since you cook meal kits yourself, though, you have some wiggle room to change up the elements of any dish.
Our reviewer found that you can easily make any vegetarian entree vegan by leaving out things like cheese or certain sauces. This expands the menu for plant-based dieters, but it can also be wasteful if you don't use all the items in a shipment.
The eggs and most fresh produce used by Green Chef are organic, so vegetarians and vegans will have the chance to enjoy better-tasting and healthier meals. The company supports local farmland, family farms, and craft economies, so buying your meals from Green Chef also helps the local economic environment.
If you're not the most skilled cook, you don't have to worry. Green Chef's meal kits come with well-designed recipe cards and usually take just 30 minutes to prep and cook. Most sauces and marinades come prepped, so you just need to add them to the pot or pan.
Green Chef is a premium meal kit with prices to match. Plans start at $9.99 per serving for the maximum order of 4 meals for 6 people per week. The minimum order is 3 meals for 2 people, and the most popular size is 4 meals for 2 people.
HelloFresh offers one of the widest selections of meal kit recipes on the market. The company caters to a wide range of tastes and dietary needs, including vegetarians and people on a low-carb diet. Its range of offerings makes it a great fit for families and couples.
For vegetarians, HelloFresh has between 10 and 19 easy-to-prepare recipes per week, out of which most include around 80 g of carbs. Most ingredients are pre-portioned, and the sauces and marinades come ready-made. As a result, most meal kits will take between 20 and 35 minutes to prep and cook. Also, there are several 10-min lunch options and Fast & Fresh meals that only take around 15 minutes to prepare.
Even if you choose a more complex dish, the cooking instructions are easy to follow. In fact, while working on their tried-and-tested HelloFresh review, my colleague learned to be more adventurous in the kitchen despite their lack of cooking skills. This is due to the easy-to-understand recipe cards that come with every meal.
The HelloFresh menu includes meals from several world-famous cuisines, such as Pan-Asian, Mediterranean, and Mexican. Most of the recipes, though, are based on American cuisine. The whole menu is designed to please almost any palate.
I like that HelloFresh uses tags to help you navigate such an extensive menu. You can search for vegetarian and low-carb meals with the Veggie and Carb Smart tags, respectively. Unfortunately, it's not as easy to find meals that fall under both tags.
HelloFresh sources high-quality, fresh ingredients from trusted suppliers. It doesn't focus on organic ingredients like Green Chef, but the quality is still impressive. This is especially true when you consider how much cheaper HelloFresh is than Green Chef.
This service is a great value for people who want help making tasty meals at home. While the menu isn't exclusively healthy, there are definitely some low-carb vegetarian dishes on offer.
The maximum box size of 6 meals for 4 people starts at $3.32 per serving. The minimum order of 2 meals for 2 people is still affordable compared to most of the other services on my list.
Key Features
Meal kits and oven-ready recipes

30+ unique recipes per week plus extras

Dietary options include low-calorie and low-carb
Home Chef's menu includes both Carb-Conscious and Vegetarian meals. These are 2 of the 4 available menu filters, but you can only activate one at a time. That means you'll have to do a little extra work to narrow down the menu for low-carb veggie options.
The core menu offers 6 or 7 vegetarian options per week, and most of them contain between 50 and 90 g of carbs per serving. Though Home Chef's veggie menu used to be pretty meager, the selection now includes plant-based proteins like tofu, beans, and Impossible Meat.
I like that Home Chef's menu has recipes inspired by international cuisines, so you can try new flavors without having to go to a restaurant. For vegetarians, dishes like the Huli Huli Tofu Rice Bowl or the Fiesta Corn and Guacamole Flatbread make the culinary experience adventurous and exciting.
If the core menu doesn't have enough options, there are plenty of add-ons available. The Extras menu has breakfasts, salads, desserts, snacks, bread, and more. There's also a Bundle and Save menu that lets you order curated pairings like Lobster Bisque & Garlic Bread.
Home Chef also has the Customize It feature, which allows you to swap out proteins and change meals to suit your dietary preferences and needs. However, as our Home Chef reviewer discovered, this feature isn't as useful for vegetarians. Several dishes offer Impossible products, but the other swaps mostly include meat or fish.
Most of Home Chef's meal kits are rated Easy and Medium difficulty and will take between 20 and 35 minutes to put together. However, if you want something fast and easy, look for the Express and Express Plus tags. These meals will be ready in between 15 and 25 minutes.
The maximum box size is 6 weekly meals per person for 6 people. Meals start at $7.99 per serving, but all items are individually priced. That means there's no price advantage for larger-sized orders.
Key Features
Meal kits and prepared meals

16+ unique weekly recipes (meal kits and prepared) + add-ons

6 dietary options including gluten-free, soy-free, and vegan
Purple Carrot is a completely vegan meal delivery service with a wide range of meals. The weekly-changing menu has a good selection of entrees, breakfast, and lunch options. There's also a Plantry with add-ons like plant-based desserts and snacks.
I was impressed by the service's mission to offer meals made from whole foods. The dishes celebrate plans rather than rely on processed meat substitutes. As a result, even meat-eaters find this service attractive for those times when they need a bit more veggies in their diet.
The menu features plant-based takes on old classics as well as more exotic options. That means you can get things like Mushroom Cheddar Black Bean Burgers as well as Korean Bibimbap and the pictured Vegetable Fried Rice. My colleague's tried-and-tested Purple Carrot review has more info on the menu.
Purple Carrot is devoted to providing customers with quality produce sourced from trusted farms all around the US. It doesn't guarantee that organic produce will always be available. Non-produce items like beans and tofu, however, are usually organic and non-GMO.
The company caters to various dietary needs, such as high-protein, soy-free, nut-free, low-calorie (under 600 calories per serving), and gluten-free diets. To help you find the meals you want, the menu features tags that let you know a meal's category before clicking on it. However, there is no tag for low-carb, so you have to do a bit of work on this one.
Most entrees have between 60 and 80 g of carbs per serving, but you'll also find dishes that go over 100 g of carbs per serving (especially in the ready-made meals section). I prefer the meal kits for a low-carb diet because you can make small changes to the recipe to adjust the nutritional content.
Purple Carrot starts at $8.50 per serving when you sign up for the largest meal kit plan of 3 meals for 4 people each week. The per-serving cost is higher on smaller plans, and the prepared meals have a fixed price of $13 no matter the order size.
Key Features
Portion-controlled meal plans

60+ recipes per week

6 dietary options, including vegetarian, diabetes-friendly, and keto
Diet-to-Go features healthy meal plans that focus on weight loss through portion control and recipes formulated by nutritionists. All the meals on the Low-Carb Diet-to-Go plan are designed with carb restriction in mind while also considering other diets such as keto, diabetes-friendly, and vegetarian.
There are 4 main meal plans (Keto-Carb30, Balance, Balance-Diabetes, and Vegetarian), but you can't mix and match between them. The Keto-Carb30 is low-carb and high-protein, but not necessarily veggie-friendly. Likewise, the Vegetarian plan isn't exclusively low-carb.
The menus feature a fair amount of cuisines, though the emphasis is on nutritional content rather than flavor. Still, the Vegetarian menu features some enticing recipes like Moroccan Lentil Salad, Black Bean & Feta Cheese Wrap, and Armenian Stew.
If you have a dairy or soy sensitivity, the Vegetarian meal plan may not work for you. To make sure the meals have enough protein, Diet-to-Go uses eggs, beans, dairy products, and soy in most of these meals. I recommend Purple Carrot if you'd prefer a fully-vegan menu.
Low-Carb Diet-to-Go makes dieting easier because you get ready-made meals designed by nutritionists to fulfill your needs. All the meals contain limited amounts of sodium and are low in fat and cholesterol, so they're also good for your heart. Most meals call for just 2 to 3 minutes in the microwave.
While there aren't any customization options, you can choose what meals go in your box. The menu rotates every 5 weeks, so you may go a month or longer without repeating any recipes.
Diet-to-Go's pricing system is designed for 5- or 7-day menus. You can choose between 2 and 3 meals per day (depending on whether you want breakfast). Prices for the Vegetarian menu start at $10.76 per serving with the 7-day week, 3-daily meals plan.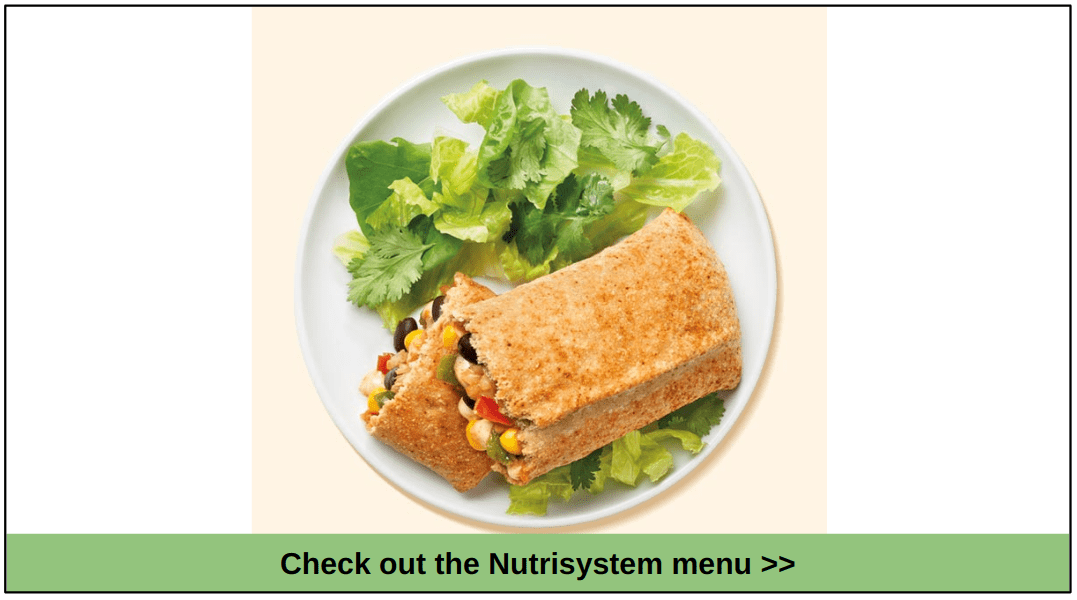 Key Features
Menu includes meal replacements like bars

130+ unique recipes

Dietary options include low-calorie, high-protein, diabetes, and vegetarian
Nutrisystem's mission is to provide balanced nutrition for everybody, whether you want to lose weight or simply improve your eating habits. The company does this by providing almost all of your daily meals, including breakfasts, lunches, dinners, and snacks.
All the meals are ready-made and easy to reheat and enjoy, so you don't have to spend any time in the kitchen. You'll also get access to the NuMi app, which helps you track your meals and provides extremely valuable tips and guidance for your specific weight loss journey.
However, I have to admit that I wasn't too impressed by the meal options. The menu is extensive, but most of the dishes are either pre-packaged meals or frozen entrees that feature pasta, some type of bread, soups, and noodles. A service like Green Chef has a much more interesting and varied menu.
The good news is that there are plenty of options for vegetarians. The not-so-good news is that there's little variety. Also, Nutrisystem tends to focus more on the caloric deficit part of weight loss than on balanced nutrition. As our reviewer puts it, Nutrisystem's calorie-controlled meals aren't the tastiest, but they can help you achieve your weight-loss goals.
I like the advanced filtering system that allows you to narrow down your search based on preferences, dietary needs, allergens, and more. However, you don't have the option to look for low-carb meals. Also, the carb content is not immediately visible when you open a recipe – you have to click on nutrition facts.
Sadly, there isn't a meal plan that includes only low-carb vegetarian meals (or even a vegetarian-only plan, for that matter), so your only option is to order using the A la Carte system. I think this is a good option if you don't want to get a month of Nutrisystem meals.
If you choose a subscription, the prices start at $8.54 per day and vary depending on your options. The minimum box size for any meal plan is a month's worth of breakfasts, lunches, dinners, and snacks.
Key Features
Healthy home-cooked meals

40+ meals per week

Dietary options include traditional, paleo, keto, and plant-based
Eat Clean To Go promotes healthy eating with ready-made, chef-cooked meals delivered fresh to your doorstep. All the meals are available in single-serving, which is why I think the service fits busy professionals a little better than families. But you can order for more people if you want to.
The service features 4 meal plans (Traditional, Plant-Based, Keto, and Paleo), and you can mix and match recipes between them. For vegetarians, there are 10+ plant-based options each week that feature tofu, meat substitutes like Chick'N or Beyond Sausage, and vegan cheese. Also, all the meals on the Eat Clean To Go menu are low in sodium (300-500mg).
The menu is quite diverse and features international cuisine influences, such as Asian, Latin American, Italian, Caribbean, Hawaiian, and a few more. Of course, there are plenty of classic American meals as well, so even the pickiest of eaters will find something to enjoy. For more on meals, check out our in-depth review on Eat Clean To Go.
Eat Clean To Go is the only service on my list that allows you to choose between regular and large portions when placing an order. So, even if the meals come in single-servings, if you're a big eater, you can just increase the size of the serving.
While there are no filters or tags, the menu is easy to browse. However, to see the nutrition facts, you have to open each recipe and check the list. I can save you a bit of time and tell you that most vegetarian meals contain between 25 and 70 g of carbs per serving. There are also a few exceptions that have 100 g or more of carbs.
In terms of costs, I think Eat Clean To Go is a rather affordable service. With prices starting at $8.60 per serving for the maximum box size (14 meals per week) and a flat shipping fee of $9.99, you get quite a good deal. But even with a small box size (6 meals per week), you still get a bang for your buck.
Key Features
100% gluten-free

25+ unique recipes each week

Dietary options include Whole30, paleo, keto, and vegan/vegetarian
Trifecta is a meal delivery service for active people who want to maximize energy intake through well-balanced nutrition. The service is focused on macro-based and nutritious eating, which is why it fits most low-carb diets. It has 2 plant-based meal plans (Vegan and Vegetarian).
If you're not on a plant-based diet, you have 4 other meal plans (Whole30, Clean, Paleo, and Keto) from which to choose. They all fit the requirements of a low-carb diet, but the content per meal is different. For instance, most entree recipes on the Vegan and Vegetarian plans contain around 55 g carbs, 20 g protein, and 430 calories.
All the dishes are formulated by dietitians, prepared by chefs, and portion-controlled to fit your fitness goals. You can choose a chef-curated plan when you sign up. But for those who prefer choosing their own meals, Trifecta also gives you the option to choose your own meals from the 100+ options available.

Our reviewer found Trifecta's meal plans to be helpful for sticking to a diet. Besides the balanced meals, you also get access to the Trifecta app. This is where you can track your food intake and exercise.
Trifecta also offers a Meal Prep section, where you can choose between a number of individually packed cooked animal proteins, carbs, and veggies. You can use this section to make your own meals, but you also have to do your own macro calculations, which can be a bit of a pain.

The Vegan and Vegetarian meal plans are the most affordable since there's no meat. As such, prices start at $6.00 per serving with the maximum order (14 entrees and 7 breakfasts per week). This is still pretty steep, and the price per serving is even higher for smaller orders.
Quick Comparison Table