The Best Meal Delivery Services in Austin Reviewed
Factor is a great service that delivers fully prepared meals to Austin residents. That's right, you don't need to cook anything – you simply microwave or heat the meals in the oven. You'll find all the instructions on the packaging for best results, but one important thing to note is that you don't have to thaw anything as everything arrives fresh.
What makes Factor special is how diet-friendly and healthy the meals are. First, let's take the premium ingredients. You won't find any unwanted additives on the list, from GMOs to antibiotics to gluten to hormones.
In fact, much of the produce is organic, which further shows the great care Factor puts into sourcing the ingredients. Even the meat is pasture-raised or grass-fed, or, in the case of fish, sustainably caught.
The full ingredient lists and detailed macronutrients are available for each dish, both on the website and on the meal packaging. So, even though the meals come ready-made, you'll feel like you're in control of everything you put in your body.
The menu is also designed and approved by registered dietitians. Together with the professional cooks that make your Factor meals, they find the perfect balance of a nutritious meal and a tasty, well-seasoned recipe.
You can choose from 35 entrees each week. You can eat these meals as either lunches or dinners and cater to various diets from keto and high-protein to vegan and vegetarian.
Another category on the menu is Calorie Smart. You can easily see which meals fit into which categories thanks to the colorful tags under each recipe on the menu. The Mujadara (Lentils and Rice) with Tahini Roasted Carrots and Spicy Cilantro Schug dish pictured above, for example, is labeled Calorie Smart and Vegan.
When you subscribe to Factor you get a free 20-minute consultation with a nutritionist. You can find out more about the diet and weight-loss support offered in my colleague's in-depth Factor review.
All of the meals are single-serving, so Factor is especially great if you're single or a couple with different dietary requirements. However, that doesn't mean you can't order Factor meals for the whole family, as many of the dishes are perfectly fine for picky eaters as well.
Plus, you can mix and match across all of Factor's dietary categories and add extras to your order to get complete nutrition for the whole week (or for all family members). The add-ons range from breakfast bowls to vegan smoothies and juices to keto-friendly snacks. The cheesecake, for instance, is both vegetarian and keto.
Factor starts at $6.19 per serving and you can order 6, 8, 10, 12, 14, or 18 single-serving meals per week.
Key Features
Most meal kits are ready in 30 minutes

45+ unique recipes on the weekly menu


Dietary needs include keto, plant based, gluten-free, and more


Current deal:

Get $250 off

+ free shipping

Green Chef is the best meal kit delivery service in Austin that's 100% certified organic. It even holds a USDA certification as an organic handler, so all ingredients that can obtain such a certification do. All animal ingredients come from trusted farms and suppliers with high animal welfare standards, including sustainably-caught wild salmon.
This service offers excellence in the recipe department, too. The meals are nutritionally balanced and crafted by chefs, ensuring interesting flavors that are never boring and will take you out of your comfort zone.
Green Chef also sends you its own spice blends, sauces, and marinades. Those are created in-house to ensure they follow the (sometimes) strict guidelines of a certain diet, like keto or plant based. That's great news since, in my experience, some meal plans that focus on more restrictive diets tend to be a bit bland. With Green Chef, that's never the case.
The menu consists of diet plans including Keto, Gluten-Free, Plant Based, Mediterranean, and more. Some meals are dubbed Protein Packed, while others are Calorie Smart. The Quick & Easy category includes meals that are lower in calories. When my colleague tried Green Chef, they mixed and matched between categories in one order.
Some dishes suit multiple diets. For instance, the Southwest-Spiced Beef Taco Salad with Chipotle Dressing, Bell Pepper, Cheddar, and Pepitas (pictured), is keto and gluten-free and also under the Quick & Easy tag.
The Chef Select tag on the menu features premium meals that cost a bit extra. Honestly, even Green Chef's standard meals seemed premium enough to me, but in the case of the Chef Select meals, it's taken to an even higher level. They always seem to be a steak or seafood-based dish, just like HelloFresh.
You can also buy numerous add-ons from Green Chef's website, where you can find a la carte protein like organic ground beef or pork chops. There are also salads, wraps, and breakfast options, scattered under Keto and Plant Based tags.
Green Chef has some 10-minute lunches on the menu if you want something that's not as light as a breakfast wrap but still not quite a dinner. These are perfect for extra busy days or when you want to grab something quick after hitting the gym.
Green Chef starts at $9.99 per serving. You can order 2, 3, or 4 meals per week for 2, 4, or 6 people, which is very accommodating for singles, couples, and families alike.
Key Features
A wide-ranging menu with farm-fresh ingredients

30+ meals per week, plus customizations

Meal plans include Meat, Veggie, Pescatarian, and Fit & Wholesome

Current deal: Free Breakfast For Life + 16 Free Meals
HelloFresh is one of the most popular meal kit delivery services on the market, and it's one of my favorites. If you want to make home-cooked meals without the hassle and at a very good price, HelloFresh might be the service for you.
HelloFresh is a versatile service suitable for just about anyone, from couples to families with 2 or even 3 kids (since the portions are rather big and can accommodate larger families with younger children). Singles that don't mind heating leftovers can also benefit from the 2-serving plans.
Speaking of families, the menu is extremely family-friendly. There are many kid-friendly options, like pasta, tacos, or burgers like the BBQ Cheddar Pork Burgers with Chipotle Aioli and Roasted Broccoli pictured above. The recipes are all tried and tested, and the ones most popular with past customers make comebacks to the menu under the Hall of Fame tag.
Many of the recipes are great for busy people, like one-pan bakes, Fast & Fresh bowls, or the 5- or 10-minute lunches. You can get dinner ready in just half an hour, while some meals are under the Easy Prep or Easy Cleanup tags, ensuring less work and less washing up.
The ingredients are well-organized, so you won't lose time sorting through the fridge. My colleague's straightforward review of HelloFresh gives plenty of details on how easy it is to cook with HelloFresh from start to finish.
When it comes to dietary needs, HelloFresh has plenty of vegan and vegetarian meals on the menu. This is because most of the recipes have 2 or 3 variations available with different proteins, including plant-based proteins. For example, in the same week, you can order shrimp chowder, chicken chowder, or vegetarian chowder. Same recipe, different diet.
There are also Carb Smart, Protein Smart, and Calorie Smart recipes if you want to indulge in comfort food without compromising your diet. In fact, there are 6 meal categories you can choose from, including a Fit & Wholesome plan for more health-focused meals. However, these are more like guidelines, as you can mix and match meals from all of them in your order.
For fancier nights, HelloFresh also has Premium Picks that are more elevated, like steaks or premium seafood. These meals cost a bit extra and take more than half an hour to make, but they're made to make you feel like a restaurant chef from the comfort of your own home.
HelloFresh's meals start at just $3.32 per serving, making it especially great if you have a small crowd to feed. You can order meals from 2 to 6 recipes every week, each one serving 2 or 4 people.
Key Features
You can customize the protein in almost all meals

25+ meals per weekly menu

Dietary options include carb-conscious, calorie-conscious, and more
Home Chef is an amazing option if you want full control over your meals. The Customize It feature makes it easy to change the protein in almost every meal. You can upgrade it to a premium version, change it altogether, or double the portion with a single click.
The protein swaps greatly extend the menu. These include meat, fish, and even Impossible burgers. This helps increase the vegetarian recipes to around 6 each week. My colleague goes into the menu options when she wrote about her experience choosing and cooking Home Chef meals.
Home Chef's menu is ideal for vegetarians and families. Many meal kits and oven-ready dishes are even labeled "Family". Thanks to the diversity of the recipes, you can also customize them to fit the preferences of every family member. If one wants turkey but another craves shrimp, you can arrange that easily. However, if you have any dietary restrictions or allergies, this might not be the service for you.
The menu includes carb-conscious and calorie-conscious meals, making it very welcoming if you're looking to stay (or get) fit. The add-ons are also very useful if you want to bulk up, as Home Chef, similarly to Green Chef, offers a la carte protein options (although not organic).
On the add-on menu, you can also find breakfast, dessert, pizza, mac & cheese, salad, soup, snacks like pretzels or cheese spreads, bread, and even coffee or smoothies. With all these extras available, you can cut down your trips to the grocery store significantly with a Home Chef order.
You can also save a few bucks with Home Chef's bundles, which include 2 or more add-ons that go together, like bread and spread, cake and coffee, or pizza and salad. This makes the add-ons even more accessible and it offers great snack combo ideas.
The Culinary Collection features fancy recipes with premium and sometimes unusual proteins (how many times have you had Mahi Mahi?) as well as elevated sides. I was impressed to see truffle aioli in one recipe, as that's something quite rare even for a more gourmet service.
Home Chef starts at $7.99 per serving. You can order from 2 to 6 recipes each week for 2, 4, or 6 people.
Key Features
Easy-prep meals from Home Chef

17+ recipes per week

Dietary options include carb-conscious and calorie-conscious
Fresh and Easy is a special plan made by Home Chef. The main difference is that all of the Fresh and Easy meals are made to be ultra-convenient, so even though they're technically meal kits, you won't feel like you're cooking.
You'll find all of the Fresh and Easy collection on Home Chef's menu, right under the Easy Prep Meal Kits collection, so you can spot the meals quickly. But since they're in the same place as Home Chef's meals, you can combine meals from both menus to your order, as well as the add-ons I talked about before.
There's a range of easy meal kits, depending on what you're looking for. These include oven-ready meals, like the Zesty Italian Sausage and Mushroom Penne Bolognese (pictured) under the Oven-Ready Family tag. These are so convenient that they even come with a single-use aluminum tray, which means less prep and cleanup.
The Fast & Fresh meals, on the other hand, can be heated in the microwave. These are ready in no time and feel more like prepared meals. Usually, all you have to do is rinse the fresh produce and put the ingredients in the microwave-safe trays provided.
Similarly, the meals in the Express category meals have work already done for you. For example, the pasta comes cooked, and you only need to fry the toppings and heat the pasta, which can take as little as 10 minutes. It's more assembling than cooking, really, but you're still going to enjoy a warm meal that feels home-cooked.
My colleague was impressed by both flavor and convenience in their detailed review of Fresh and Easy. I would also add that since you can add Home Chef's extras, like breakfast and dessert, you can easily feed up to 6 people with minimum effort.
Just like Home Chef, Fresh and Easy lets you customize the protein in most of the meals. Unfortunately, you won't find any special diets on the menu, like keto or gluten-free, and like Home Chef, there aren't a lot of choices for veggies or vegans.
Fresh and Easy starts at $7.99 per portion. You can order from 2 to 6 recipes each week that serve 2, 4, or 6 people.
Key Features
A range of American and international cuisines

20+ new meals each week

Dietary options include vegetarian, low-calorie, and low-carb
Blue Apron provides high-quality ingredients and well-thought-out recipes with interesting flavors. Its meals let you explore Italian and American fare, as well as more exotic recipes, including Asian-style dishes.

The point is, there's something for everyone on the menu. The Signature for 4 plan is created to feed a small family, so the recipes are kid-friendly as well. The Signature for 2 plan can feed a couple or a single person with some leftovers, just like the Wellness and Vegetarian plans. You can read more about the plans in my colleague's in-depth review.
The menu features not only meal kits but also several prepared meals each week. The meal kits have easy-to-follow instructions that come printed on the recipe cards for extra convenience in the kitchen and usually take around 30 minutes to whip up. In some cases, like the gourmet craft burgers or the oven-ready meals, it might take a bit longer.
For the super busy (or, let's face it, lazy) evenings, Fast & Easy prepared meals can help. They're microwavable, and you simply heat them for 2 minutes to get yourself a nice meal without compromising on the health aspect.
Apart from meals, Blue Apron also offers a huge number of add-ons. These include a la carte protein, salads, desserts, soups, breakfast and brunches, or even charcuterie boards for when you want to host.
In the Market section, you can get your hands on quality kitchenware at very good prices, actual blue aprons, or own-brand spice blends that complete any pantry. You can also order meal bundles, as well as festive bundles for special occasions, from Valentine's Day to Thanksgiving and Christmas.
Blue Apron starts at $5.74 per serving. You can order plans for 2 or 4 people with 2, 3, 4, or 5 meal kits per week. The good thing is that the prepared meals count as add-ons, so you can actually have more than 5 meals in the same order.
Key Features
150+ breakfast, lunch, and dinner options

Designed by a medical doctor specializing in weight loss

Different plans for men and women
BistroMD is the perfect meal delivery service if you're looking to lose weight without having to cook anything yourself. The plans have been created by a medical doctor and take into account sex and several different medical issues. This means you don't have to count calories or keep track of anything – BistroMD takes care of that part.
You can order meals for every day of the week, covering breakfast, lunch, and dinner (minus one "cheat" dinner night to treat yourself to whatever you like). If you want to transform your habits gradually or just cut down on unhealthy food, you can choose to order meals for 5 days or just 2 meals per day.
BistroMD offers several weight-loss meal plans. These include Signature, Heart Healthy, Gluten-Free, Menopause, Keto Flex (which isn't keto, but rather a flexible low-carb diet), Vegan and Diabetic, all with a Men's and a Women's option. I think it's great that this service supports a range of health issues as I pointed out in my detailed BistroMD review.
I was especially impressed to see a plan dedicated to menopausal women, which is a category with special dietary needs that are often overlooked. The Signature plan, on the other hand, encompasses a diet that should work for anyone without particular health issues.
The meals are designed to have the optimal amount of macros. For example, the Southwest Bison Meatloaf with Smoky Tomato Glaze pictured above has only 350 calories but packs a total of 27 g of protein and only 34 g of carbs. You can choose this dish from every plan since it checks the boxes for all meal plans, including the gluten-free one.
I do find that the portions seem rather small at under 400 calories each, even for a weight-loss service. If you're not used to a strict regimen it might take a while to get accustomed to eating so little for a meal. But the meals themselves might help you stick to the diet, as they don't particularly sound like diet food – I mean, when was the last time you ate bison?
BistroMD starts at $8.24 per serving. An order feeds a single person for 5 or 7 days and you can choose from a full program of breakfasts, lunches, and dinners, or a partial program of only lunches and dinners.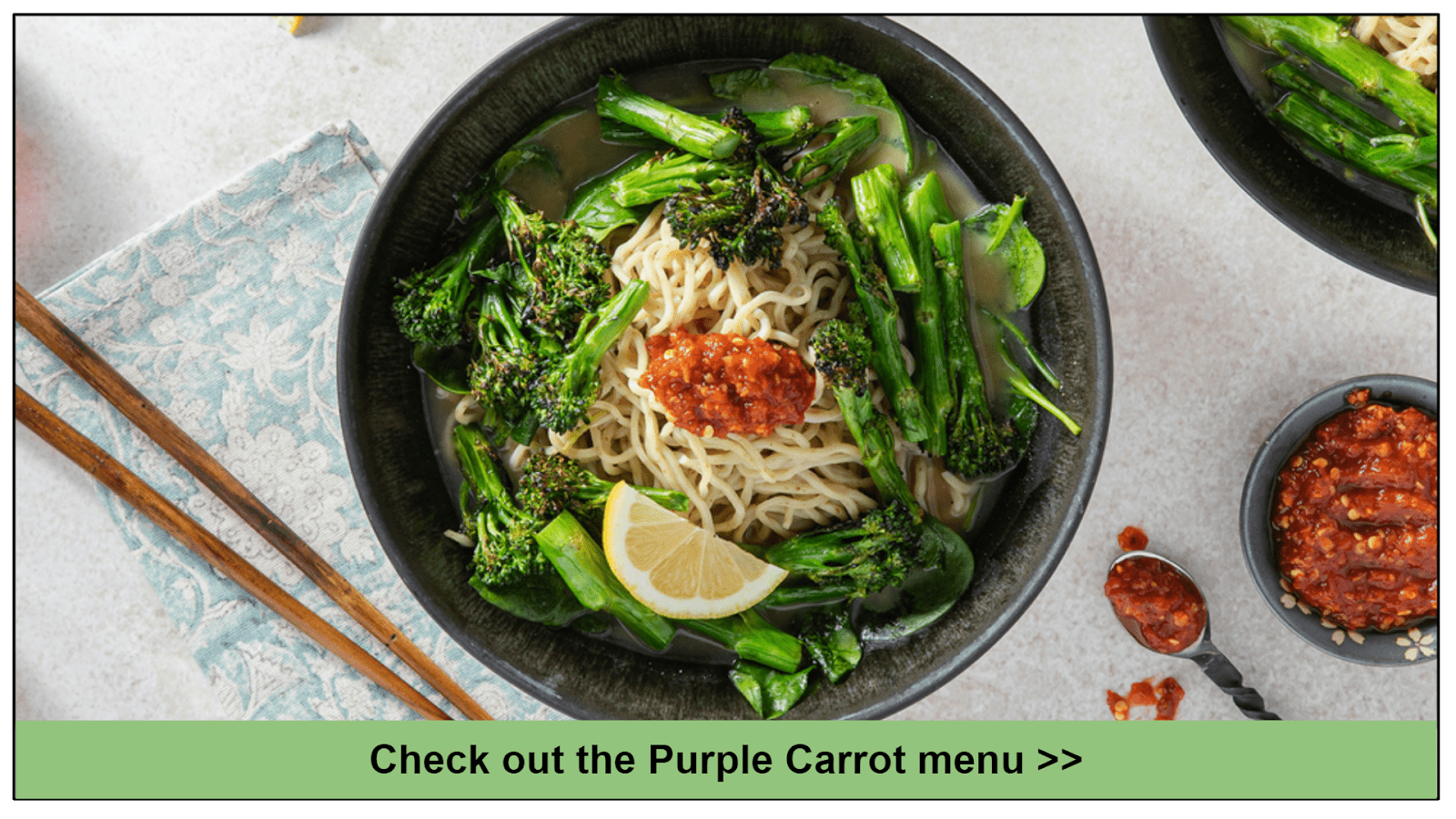 Key Features
Plant-based meals

12 meal kits per week, including 2 breakfast and 2 lunch options

Dietary options include low-calorie, high-protein, nut-free, and more
Purple Carrot offers 2 menus, one with meal kits and one with prepared meals. This isn't so different from Home Chef, except for the nature of those meals – Purple Carrot is fully vegan. This means you won't find any meat, dairy, eggs, or honey on the menu.
What you'll find are protein-rich, vegetable-packed meals. Purple Carrot uses tofu, tempeh, seitan, beans, and legumes as main protein sources, but you'll see the occasional plant-based burger, too.
Usually, the veggies are the stars of the show, especially seasonal and green veggies, like in the Miso Coconut Ramen Bowls with Charred Broccolini and Lemon pictured above. This meal is tagged high-protein and clocks under 600 calories per portion. You can get it ready in just 25 minutes, which is even better.
My colleague found Purple Carrot a very beginner-friendly service. He goes into more detail about the menu in his tried-and-tested Purple Carrot review.
The meal kits also feature a convenient Less Prep option. These are quicker as they require no chopping or prepping and the sauces come pre-made. You'll also have less to clean up afterward, as you won't dirty as many pots and pans. Having said that, the normal meal kits only take around 30 minutes anyway.
The prepared meals only need 2-3 minutes in the microwave, so if you want ultimate convenience, that's the menu you should be ordering from.
Purple Carrot starts at $8.50 per serving. The minimum order is 3 recipes for 2 people per week, as opposed to 2 recipes for 2 people which is Green Chef's minimum. It's not a big difference, but if you're only ordering for yourself, you need to be ready to eat 6 portions throughout the week. The maximum is 4 recipes for 4 people, and the menu goes down to 6 options instead of 8 for the 4-serving menu.
For the prepared meals, you can order from 6 to 10 single-serving meals. In this case, you have 8 recipes to choose from, so if you're ordering the max amount, you'll have to double up on a couple of dishes.
Key Features
Special meals available for holidays and occasions

Over 45+ different recipes each week

Different dietary options including vegetarian, dairy-free, low-calorie, and low-carb
Dinnerly is the most affordable meal delivery service in Austin. If what you want is to keep your budget in check in the food department and still benefit from the convenience of a meal delivery service, Dinnerly is my top choice.
The meals aren't fancy by any means, but they still manage to pack flavor and look appetizing. Each dish only has a few ingredients, but it still includes spices and sauces to add depth. Plus, since there aren't many ingredients to chop or prep, the cooking process often takes less time and effort.
Because of this, the meal kits are very easy to cook. Dinnerly offers 5 (or fewer) steps for each recipe for you to follow, which our reviewer confirms are very simple. Most of the time, you won't dirty many pots and pans either, so less cleanup is also a plus.
Dinnerly offers meal kits as well as prepared meals and tons of add-ons. This makes the menu extremely vast – I'm talking about 100 options total when you count every item you can add to your cart.
Over 45 of the items on the menu are meal kits, but I found it hard to sort through the menu options as there are no filters, which is a shame. However, every meal on the menu has several tags attached, which at least makes them easy to distinguish visually.
Around a third of the menu is tagged PremiYUM, which are meals that cost a bit extra and are a notch more sophisticated than the normal meal kits. This category includes microwavable prepared meals, so the price for them starts a bit higher.
But don't expect some Michelin-star-level dishes with the PremiYUM options. They're more premium than Dinnerly's basic meal kits, sure, but realistically they compare to the level of HelloFresh's standard meal kits.
Other dietary tags include vegetarian, dairy-free, low-carb, and low-calorie. Many of the meals are tagged kid-friendly, and that's true: the meals are so simple and unfussy that even picky eaters will be satisfied. I'd say Dinnerly is a great option for families, especially larger ones on a budget since it's easy to keep everyone satisfied without breaking the bank.
The add-ons include desserts, breakfasts, snacks, proteins, and sides, all in the same uncomplicated style.
Dinnerly prices start at just $2.12 per serving. You can order from 3 to 6 meals per week for either 2 or 4 people.
Key Features
Curated by Martha Stewart

45+ meal kits to choose from each week

Dietary options include vegan, vegetarian, and no added gluten
Marley Spoon is known as Martha Stewart's meal delivery service. But that doesn't mean its fame is entirely due to its founder. Instead, Marley Spoon earned its popularity because it offers quality and diversity for people who want to have fun in the kitchen and eat better.
Marley Spoon's website is similar in style to Dinnerly's. Both offer a scroll-down menu of over 100 dishes each week and both offer meal kits as well as prepared meals and add-ons. This is because they have the same parent company, however, they have two very different markets.
Basically, Marley Spoon is perfect if you want a more elevated version of Dinnerly. The difference stands in the quantity and quality of Marley Spoon's ingredients. The meal kits are still easy to cook and you won't have trouble recreating the recipes in 6 simple steps, like our reviewer found out.
Marley Spoon offers 3 prepared meals each week, which you can heat in the microwave for extra convenience. Some of the meal kits also have prepared sides, such as ready-to-heat rice. Others are ultra-fast and only require one pot. Whichever the case, Marley Spoon is definitely a great help in the kitchen.
The menu is very family-friendly, with lots of Italian, Mexican, and classic American dishes. But there are also Asian-inspired dishes like the Shrimp Pad Thai with Carrots, Peanuts & Lime pictured above, so there will be something for everyone and I don't think you'll get bored with the options.
When you're craving gourmet meals, Marley Spoon has a Premium category as well. These meals cost extra, but you'll feel the quality in the ingredients and the chef-crafted recipes – and it's still cheaper than ordering in from a fancy restaurant!
What impressed me the most about Marley Spoon is that it's very eco-conscious. The company takes carbon neutrality very seriously and spends on projects that offset its carbon footprint. This interest in the environment reflects in its packaging as well, as it's very easy to recycle.
Marley Spoon starts at $2.99 per serving. You can order 2 to 6 recipes for 2 or 4 people, so it's easy to feed yourself or your whole family.
Key Features
Meal prep is quick at 20 to 50 minutes
25+ meals on the menu every week
Dietary accommodations include omnivore and veggie
EveryPlate's main advantage is its very low pricing, similar to Dinnerly. Each week, the company presents a set of 25+ recipes for customers to choose from. Find out more about all the options in our review. It's actually impressive how many options you get for such a low price, especially considering the number of add-ons as well.
There are 5 plans – Meat & Veggie, Veggie, Family Faves, Quick & Easy, and Nutrish & Delish. You're also able to mix and match across any plan as you wish. Though not the most extensive selection of special dietary considerations, I do like the inclusion of veggie meals.
You get plenty of cuisines like Mexican, classic American, Italian, Japanese, Thai, and more. Some meal options include the Southwest Pork Flautas (pictured), Sweet Thai Chili Lettuce Wraps, or Bacon & Caramelized Onion Risotto with scallions.
There are also plenty of add-ons and extras, like breakfast items, salads, soups and more. You can also get a variety of meat and protein add-ons like salmon, ranch steak, chicken breast strips, and plenty others. One thing I found a bit disheartening was the lack of any dessert items.
I'd say that most of the foods and meals are kid-friendly and not too over-the-top or fancy. EveryPlate is a service that's definitely geared toward families. If you have picky eaters in your household (or kids), the meals won't feel super adventurous – and the price definitely reflects this fact, too.
The minimum EveryPlate order is 3 meals for 2 people per week, up to 6 meals for 4 people. And, the more you order at a time, the cheaper your price will be per serving. For instance, for the largest order, you'll pay a mere $1.49 per serving.
Quick Comparison Table