Short on Time? Here Are the Best Meal Delivery Services in Detroit in 2023:
Our Best Meal Delivery Services Reviewed
Factor offers quick and healthy prepared meals for individuals with busy schedules. Whether you're following a keto diet, seeking more plant-based options, or simply looking for balanced meals, Factor provides a great starting point.
Preparing Factor meals is incredibly easy. Customers simply remove the plastic tray from its sleeve, puncture the film cover, and heat the fully cooked meal in the microwave. Factor is a great choice for people trying to avoid greasy takeout at work. Pop a Factor meal in the office microwave and in minutes you have a nutritious, filling lunch.
This service places a strong emphasis on quality ingredients, ensuring that all items are GMO-free. The meats are sourced from pasture-raised and grass-fed animals, reflecting the company's commitment to responsible food practices. In our expert review, my colleague noted that Factor's meals balance flavor and health.
Factor's Calorie Smart meals come in at 650 calories or less. The Asian Chili Shrimp & Fried Rice pictured above has just 510 calories, but it has 30 g of protein and just 4 g of saturated fat. It's a healthy and delicious alternative to high-calorie Chinese takeout.
The Keto menu offers healthy fats, lean proteins, and low-carbs. It replaces starchy rice with riced broccoli or cauliflower to help your body stay in a state of ketosis for optimal fat burning.
The menu has vegetarian and vegan recipes, but the weekly selection may not be big enough for strictly plant-based diets. Nevertheless, these meals are an excellent way to incorporate meat-free days into your routine.
Factor also has add-ons like protein packs, smoothies, soups, and snacks. These are great ways to round out your weekly order. The high-protein breakfast options and keto-friendly treats are particularly suitable for post-workout consumption.
Your subscription comes with a free 20-minute consultation with an in-house dietitian. If you find the session helpful, you can subscribe to additional nutrition coaching support for a personalized and professional approach to healthier eating.
Prices start at $6.19 per serving, making Factor 1 of the more expensive meal delivery services. However, those seeking convenient and balanced meals may find the cost worthwhile. You can order a minimum of 6 and a maximum of 18 single-serving meals per week.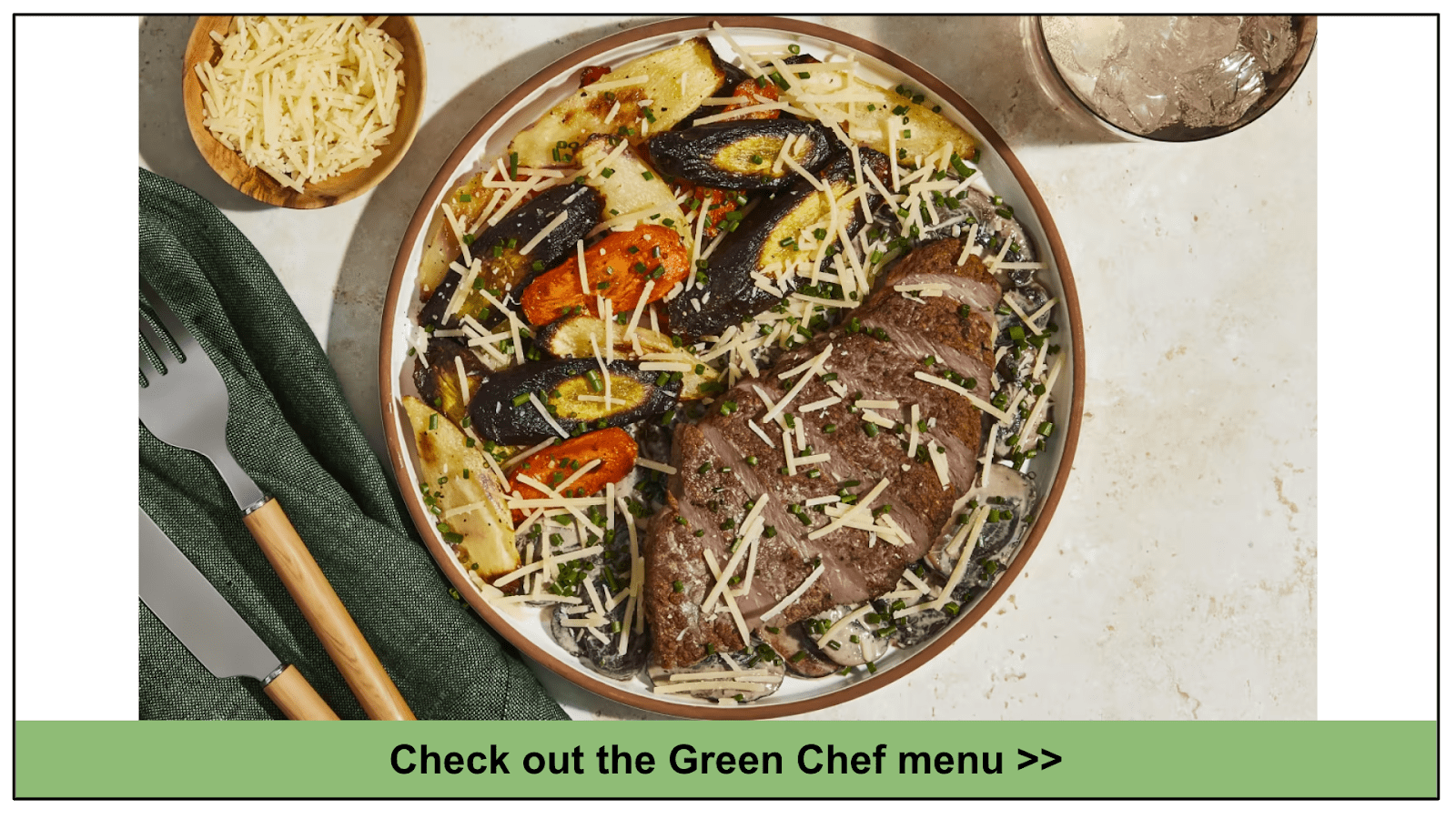 Key Features
Recipe shortcuts like premade sauces and marinades

45+ recipes plus Green Market add-ons each week

Mediterranean, Keto, Vegan, and other options available

Current deal: Get $250 off + free shipping
Green Chef is the first USDA-certified organic service, and it also has gluten-free certification. With its emphasis on healthy and balanced dishes, Green Chef offers an impressive range of options to accommodate specific dietary needs.
It's a great choice for families and individuals focused on maintaining a healthy lifestyle. With the option to order up to 4 recipes for 6 people each week, it provides convenient and nutritious meals for everyone. In our tried-and-tested Green Chef review, our reviewer found the meals to be top-notch.
Green Chef has plans for Keto, Mediterranean, Plant-Based, Gluten-Free, and more diets. You can sign up for whichever menus suit your preferences, but you're always free to order any item on the menu no matter what plan you choose.
Green Chef's produce and eggs meet USDA organic standards, and all meat is sourced from animals raised without antibiotics and hormones. Additionally, the fish and seafood used in Green Chef meals are wild-caught and sustainably harvested, further emphasizing their commitment to responsible sourcing. And Green Chef prioritizes eco-friendly packaging by utilizing recyclable materials whenever possible.
Green Chef's recipe cards make it easy to cook restaurant-quality meals at home. The Ranch Steak with Truffle Sauce takes just 25 minutes to prepare and cook. In less than a half hour you and your family can be eating steakhouse-quality meals at home. And those high-quality ingredients aren't just healthier, they taste a lot better, too!
You'll also find an array of convenient add-ons at the Green Market, including breakfast entrees, 10-minute salads, wraps, and additional proteins like chicken cutlets and salmon filets. These extras not only enhance convenience but also support individuals in adhering to their healthy eating goals while avoiding the temptations of grocery store aisles.
While Green Chef may have a higher price point compared to other options, the quality and organic, sustainably sourced ingredients justify the cost. Each Green Chef recipe comes with detailed instructions, photos, and tips, making it easy for even those with limited cooking skills to prepare wholesome and delicious meals.
Green Chef prices start at $9.99 per serving. Your minimum weekly order is 3 meals for 2, but you can order up to 4 meals for 6.
HelloFresh offers a massive selection of recipes using fresh, seasonal produce. Whether you're a fan of American classics or a foodie looking for international flavors, HelloFresh has something to satisfy every palate. Its vast selection of recipes ensures that subscribers are spoiled for choice every week.
All recipes are labeled by difficulty, with most falling into the "Easy" or "Medium" category, making it easy to choose meals that match your culinary skill level. However, if you're an experienced cook or up for a challenge, there are options available to test your skills. Keep an eye out for the Hall of Fame recipes, which make a comeback based on popular demand from HelloFresh subscribers.
HelloFresh divides its large menu into 6 plans, including Veggie, Pescatarian, Fit & Wholesome, and Family Friendly. These plans allow you to narrow down your choices based on your specific dietary preferences and needs. But whatever plan you choose, you can still order any item from the extensive HelloFresh menu.
Fit & Wholesome meals have 650 calories or less per serving. The Greek Diner Spaghetti above is a vegetarian delight that has just 550 calories. Additionally, there are options labeled as carb- and calorie-smart for those looking for healthier choices.
On busy nights, you can opt for Easy Prep meals that are ready in just 15 minutes. HelloCustom lets you personalize over 12 recipes each week by swapping out sides or protein choices. And HelloFresh's Premium Picks let you cook meals like Filet Mignon and Maple-Glazed Salmon in your own home. Our reviewer found that trying HelloFresh at home helped them become more adventurous in the kitchen.
HelloFresh also provides a wealth of resources on its website. With over 2,500 recipes and a collection of blog posts on different ingredients and cooking techniques, HelloFresh serves as a valuable culinary guide. Whether you're seeking cooking tips or inspiration for weeknight dinners, HelloFresh has you covered.
HelloFresh's dedication to customer service is another reason why it stands out. The website is user-friendly, and its exceptional 24/7 customer support ensures a hassle-free experience. Detroit students, military personnel, or veterans can enjoy a 15% discount on HelloFresh orders.
You can order 2 to 6 HelloFresh meal kits for 2 or 4 people per week. Prices start at $3.32 per serving.
Key Features
Healthy family-friendly entrees the whole household will love

30+ weekly recipes and 18 extras

Calorie-conscious, carb-conscious and vegetarian options
Home Chef's Customize It feature sets it apart from its competitors. While some services give you a few customizable options on their weekly menus, almost every entree on Home Chef's menu lets you swap or double up on protein. You can order the Turkey Meatballs above with ground pork, ground beef, or even vegetarian Impossible Burger.
Home Chef has everything from quick prep dishes to premium, restaurant-quality meals. My colleague enjoyed all the dishes they tried in their tested, in-depth Home Chef review.
The Culinary Collection offers complex dishes that showcase premium ingredients and are perfect for special occasions. With prices starting at around $15 per portion, it's still a more affordable option than dining out at a fancy restaurant.
The 15-Minute Meal Kits and Fast & Fresh microwaveable meals provide easy-prep recipes for busy nights. For minimal assembly and hands-off cooking, the Oven-Ready meals are a great choice. Additionally, Home Chef offers add-ons such as protein packs, salads, desserts, breakfast items, and beverages, allowing you to enhance your meals or create your own culinary creations.
Home Chef's wide selection of meal kits includes many health-focused options, making it a great choice for individuals who want to enjoy nutritious meals without compromising on taste. (Look for the green Fresh Start logo). But while Home Chef has a lot to offer omnivores and vegetarians, it is not really suited for those on specialized diets like keto or paleo.
Home Chef also accommodates dietary restrictions and lets you exclude specific items like sesame, tree nuts, pork, shellfish, mushrooms, beef, poultry, peanuts, or fish. However, Home Chef kits are prepared in facilities where these ingredients are used. This means individuals with severe allergies should check our list of the best allergy-friendly meal delivery services instead.
Ordering from Home Chef is a simple and intuitive process. The menu provides difficulty ratings and spice levels for each meal, enabling you to select recipes that align with your culinary skills and heat tolerance. Home Chef offers Calorie-Conscious and Carb-Conscious meals for those looking for lower-calorie or lower-carb options.
Home Chef's minimum order is 2 meals of 2 servings per week, with a maximum of 6 meals for 6. This makes Home Chef a great choice for those feeding large households. Prices start at $7.99 per serving.
Key Features
Home Chef's fastest and easiest meals

16+ weekly choices plus access to the full Home Chef menu

Calorie-conscious, carb-conscious, and vegetarian options
Fresh and Easy, a subsidiary of Home Chef, is perfect for busy cooks who need to get dinner on the table quickly and without much hassle. With its easy-to-cook dishes, Fresh and Easy provides convenience and time-saving options for those with long working hours or limited time for meal preparation.
Meals from Fresh and Easy come pre-portioned, chopped, and ready to cook. With microwave- and oven-ready options, all you need to do is some minor assembling. Our reviewer noted that Fresh and Easy can save you loads of time and hassle!
Not only are Fresh and Easy entrees easier to cook, they save you time on cleanup. Oven-ready and Grill-ready dishes arrive with a recyclable oven-safe tray or a grill-safe bag. You get dinner on the table faster, and you have fewer dishes to wash.
Fresh and Easy offers Express Plus and Oven-Ready Plus entrees for special occasions. These dishes, such as Almond-Crusted Salmon with Garlic Edamame Rice, provide top-quality food in less time than it takes to drive to a restaurant. The convenience comes at only a few dollars more per serving, making it a worthwhile investment.
Subscribers to Fresh and Easy also gain access to Home Chef's full menu for occasions when they want to engage in some hands-on cooking. You can even explore the Home Chef market and order various add-ons in addition to your quick meals.
Fresh and Easy also lets you use Home Chef's Customize It feature to switch up protein in many dishes. You can order the Maple Mustard-Glazed Pork Medallions pictured above with chicken breasts, salmon filets, sirloin steaks, or even filet mignon!
Fresh and Easy also uses Home Chef's top-notch customer service team. If you run into any issues with your Fresh and Easy order, you can contact Home Chef customer service or consult its excellent and easy-to-use Help Center.
Vegetarians and omnivores will find many easy home-cooked meals at Fresh and Easy. But as with its parent company, Fresh and Easy's vegan options are limited. Those looking for fast vegan meals should check out the Less Prep and prepared meal options at Purple Carrot.
Fresh and Easy prices start at $7.99 per serving. You can order between 2 and 6 meals per week, with 2-serving, 4-serving, and 6-serving options available.
Key Features
Doctor-approved meals and support from dietitians

150+ meal items and snacks

Diabetes, menopause, heart-healthy, vegan, and other options
​​BistroMD offers prepared meals designed for weight loss and overall health management. Founded by a weight loss physician, BistroMD aims to provide balanced meals that meet the nutritional needs of its customers. BistroMD also specializes in weight loss plans for people who have underlying health conditions to ensure they lose weight and manage their other medical issues safely.
You get a variety of BistroMD meal plans to choose from, including Gluten-Free, Heart-Healthy, Diabetic, Menopause-Friendly, and Vegan programs. Each plan is created by certified nutritionists and dietitians to ensure well-balanced and nutritious meals without added MSG, trans fat, or aspartame.
BistroMD's menu features a wide variety of breakfast, lunch, and dinner options. From omelets and frittatas to meatloaf and salmon, the meals are prepared by trained chefs using fresh ingredients. To preserve the nutrients and flavor, the meals are flash-frozen and delivered to your door. All you need to do is heat them in the microwave, and you're ready to enjoy a delicious and balanced meal.
BistroMD subscribers gain access to registered dietitians and fitness experts who can provide support and guidance throughout their weight loss journey. This assistance helps individuals develop healthier lifestyle habits and maintain their ideal weight once they reach it.
The convenience factor of BistroMD is undeniable. With fully prepared meals delivered directly to your door, there's no need to worry about meal planning, prepping, or counting calories. Each entrée contains less than 450 calories per serving (the Chicken Rice Cheddar Casserole above has just 290). But the generous portion sizes ensure you can stay on track with your weight loss goals without feeling deprived.
Our reviewer was especially impressed by BistroMD's EATS. The optional but highly recommended Essential And Tasty Snacks help you avoid unhealthy cravings. These high-protein and high-fiber snacks include items like strawberry cheesecake, cookie dough protein bars, and shakes as a satisfying alternative to high-calorie junk food.
BistroMD's minimum order is 10 meals per week (5 lunches and 5 dinners). You can order up to 21 weekly meals (3 meals per day), plus EATS. Prices start at $8.24 per serving, and BistroMD offers a 15% discount for couples who want to lose weight together.
Key Features
100% vegan meal kits, prepared meals, and extras

25+ entrees, lunches, breakfasts, and vegan staples each week

Options include Soy-Free, Under 600 Calories, and Gluten-Free

Purple Carrot is perfect for seasoned vegans and those who want more plants in their diet. Purple Carrot is the perfect meal delivery service for you. With a selection of 8 prepared meals and 8 meal kits each week, along with easy-prep breakfast and lunch options, Purple Carrot offers a diverse range of delicious plant-based dishes.
Instead of relying on meat substitutes, Purple Carrot meals celebrate the flavors of vegetables. Its menu showcases seasonal produce and introduces customers to unique plant-based ingredients. With dishes like the vegan Eggplant Parmesan pictured above, Purple Carrot proves that you don't need meat to create a flavorful and satisfying meal.
Even if you're not vegan, Purple Carrot is a great way to increase your vegetable intake and try new and exciting plant-based ingredients. Our omnivorous reviewer found Purple Carrot meals to be enjoyable and satisfying, even for dedicated meat-eaters.
Purple Carrot offers Less Prep recipes in addition to its standard meal kits (which typically take 30-40 minutes to cook). These kits come with prepared sauces and pre-chopped vegetables for those who prefer minimal cooking and clean-up. You can order plant-based breakfasts, lunches, pantry staples, snacks, and desserts through the Plantry, making it easy to access vegan options conveniently.
For those with busy lifestyles, Purple Carrot's prepared meals are a game-changer. With just 2-3 minutes in the microwave, you can enjoy a healthy and delicious lunch at the office or wherever you may be. It's a hassle-free way to enjoy plant-based meals.
Purple Carrot's user-friendly website makes it easy to order and customize meals. Each weekly box includes a recipe booklet with clear instructions to assist you while cooking. The menu is conveniently organized with tags like High-Protein, Soy-Free, Gluten-Free, Nut-Free, and <600 Calories, making it easy to find meals that align with your dietary preferences and requirements.
At Purple Carrot, organic ingredients are prioritized whenever possible, particularly in non-produce items like beans, non-dairy milks, tofu, and plant-based cheeses. This dedication to quality and sustainability has earned Purple Carrot a well-deserved high place on our list of the best vegan meal delivery services.
Purple Carrot's prepared meals come in bundles of 6, 8, or 10. Your minimum weekly meal kit order is 3 meals for 2, and your maximum is 4 meals for 4. Prices start at $8.50 per serving.
Key Features
Ingredient Hub gives you allergen information for every item

100+ weekly entrees and add-ons including desserts

Vegetarian, Pescatarian, Health & Diet, and more options
Marley Spoon is a great choice if you want to learn more advanced cooking techniques. Its recipes introduce techniques like browning butter and reducing sauces, allowing you to expand your culinary skills. Each recipe comes with step-by-step instructions that include photos, making it easy to follow along and create gourmet meals with confidence.
The service also offers many family-friendly dishes alongside its sophisticated recipes curated by renowned TV host and cookbook author Martha Stewart. Meals like the Classic Beef Stroganoff pictured above will keep your family warm and well-fed through a Detroit winter.
The step-by-step instructions Marley Spoon provides are easy to follow, with many recipes consisting of 6 or fewer steps. Your kits come with ready-made sauces and perfectly portioned produce, minimizing the prep time. While the recipes may seem daunting at first, our reviewer found them easy to follow.
Meal kits use seasonal, high-quality ingredients from local producers and family farms. All chicken used is raised antibiotic-free throughout its lifetime, and all other proteins are antibiotic and hormone-free at the time of harvesting.
Marley Spoon also offers a range of sides and add-ons, including delectable desserts like brownies, cupcakes, and oat bars, as well as dinner sides like roasted fingerling potatoes. Meal bundles are also available to enhance your dining experience.
The extensive Marley Spoon menu is easy to navigate, thanks to key tags like Kid Friendly, Low Calorie, and One Pot Meal,which indicate dietary preferences and requirements. Whether you're a vegan, vegetarian, or have specific dietary needs, Marley Spoon has plenty of choices each week to cater to your preferences.
This is also the first meal delivery service to achieve a 100% carbon-neutral status. Recycling instructions for all packaging materials on their website and its "Climatarian" label helps you find meals made with ingredients whose production required less than 1.1 pounds of CO2 emissions per serving. Marley Spoon is serious about sustainability and as Martha would say: "That's a good thing."
Marley Spoon meals start at just $2.99 per serving. You might expect to pay extra for a Martha Stewart-endorsed service, but Marley Spoon prices are very reasonable given the quality of the ingredients and recipes. You can order between 2 and 6 meals of 2 or 4 servings each week.
Key Features
Meals ready in under 40 minutes

Choose from over 100 weekly recipes and add-ons

Vegetarian, One Pot, No Added Gluten, and other options
Dinnerly is Detroit's most affordable meal delivery service. But despite its modest price tag, Dinnerly gives you over 100 recipes to choose from each week. It's no wonder that Dinnerly regularly scores highly on our list of the best cheapest meal delivery services.
Dinnerly meal kits typically feature only a few high-quality ingredients, simplifying the cooking process and reducing costs. The No Chop! Baked Spaghetti with Meat Sauce pictured above uses spaghetti, ground beef, tomato paste, Fontina and Parmesan cheeses, and a Tuscan spice blend for a quick, easy meal your family will love.
You also get an impressive selection of vegetarian and pescatarian meals, with approximately 10 vegetarian and 3-4 seafood dishes on each weekly menu. Dinnerly even includes 1 or 2 vegan entrees, which is rare among other low-cost meal delivery services. You can even customize your box as vegetarian by simply ticking a box.
Dinnerly's enormous menu impressed our reviewer, who noted that Dinnerly offered more choices than many more expensive meal delivery services.
The Market offers grocery items, breakfast options, and even some prepared meals. Dinnerly also offers a few customizable entrees that let you swap proteins, change sides, or replace regular pasta with gluten-free noodles.
Dinnerly minimizes paper and plastic usage in its packaging. While many services wrap every ingredient separately in wasteful plastic, Dinnerly bundles its ingredients together. This not only saves money and keeps prices down but also helps the environment.
Your Dinnerly kits also arrive without paper recipe cards, so you must view the recipes on your smartphone or computer. This can be a bit of an inconvenience, especially since Dinnerly's online recipes have no pictures. If you're a cook who relies on visual cues, you might do better with a service like Blue Apron that offers both recipe cards and online instructional videos.
Whether you're a beginner cook or a seasoned foodie, Dinnerly is a fantastic choice if you are seeking quick, easy, and delicious meals. Dinnerly strikes the perfect balance between affordability and taste, and it's a great choice if you want to feed your family nutritious meals they'll love without breaking the bank.
Dinnerly's minimum weekly order is 2 meals of 2 servings. You can order up to 6 meals for 4. Prices start at $2.12 per serving.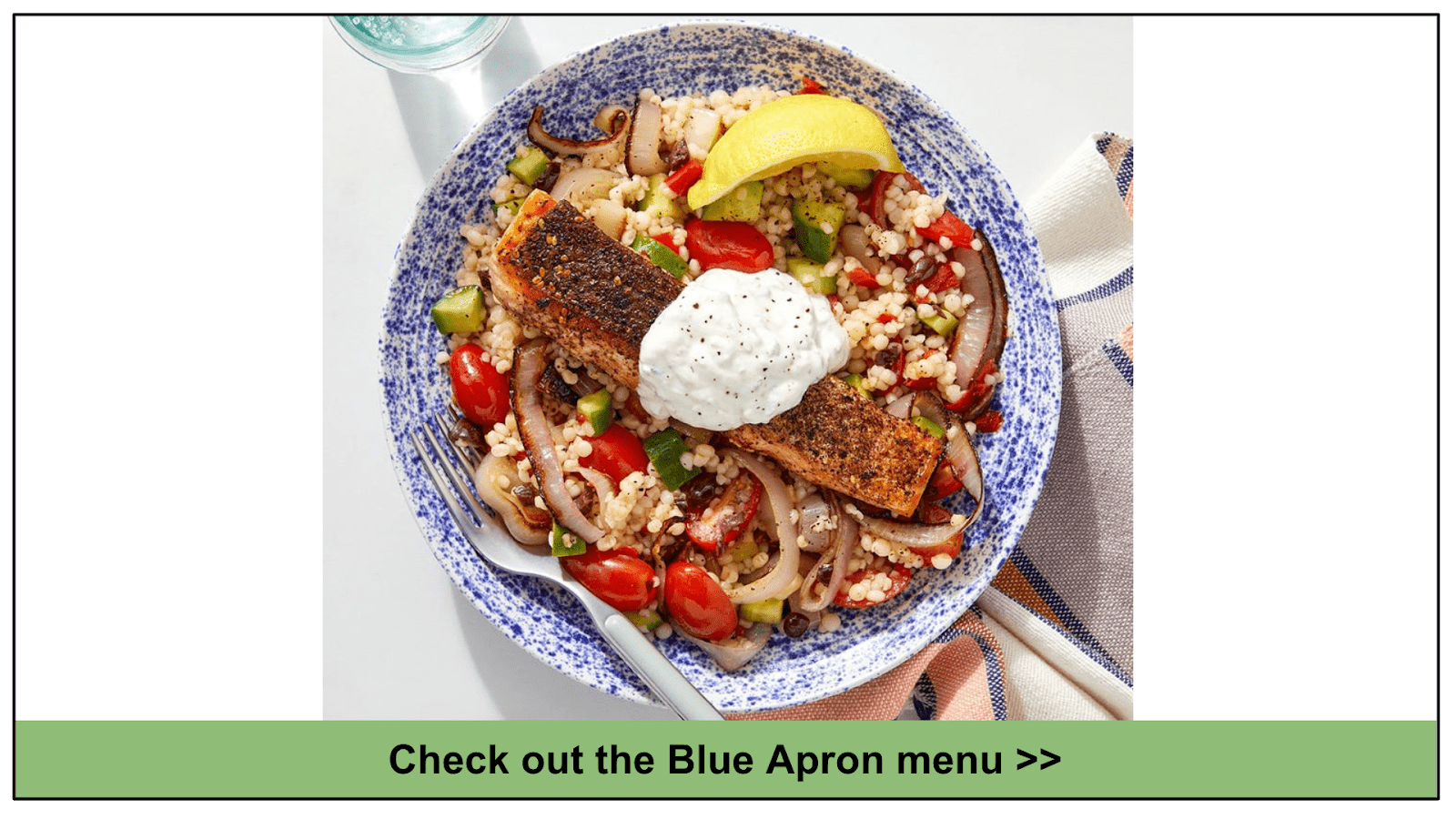 Key Features
Customizable recipes available


Over 70 weekly choices, including add-ons

Vegetarian and low-calorie options
Blue Apron is a great choice for eco-conscious people. With its commitment to fresh, sustainably sourced ingredients and a wide range of delicious recipes, Blue Apron operates as a carbon-neutral company and offers a great dining experience for hungry Detroiters who appreciate fresh ingredients, delicious recipes, and culinary exploration.
If you love trying out new recipes and flavors, Blue Apron is the perfect fit for you. Each week, you'll have the opportunity to choose from 5 different menu preferences: Chef Favorites, Family Friendly, Wellness, Veggies, and Fast & Easy. But no matter what preference you choose, you still have the flexibility to order anything on the menu.
Blue Apron's Wellness menu offers healthy and flavorful meals. Many of these dishes are inspired by the Mediterranean diet. The Crispy Skin Salmon with Couscous, Tomatoes, and Labneh (above) is a restaurant-quality meal that is ready in just 25 minutes.
The Veggie menu is solid for vegetarian eaters, featuring meals packed with fresh vegetables, fruits, grains, legumes, and artisan cheeses. Blue Apron's customization options also let you personalize your entrees with different proteins like plant-based Beyond Burger.
All ingredients are responsibly sourced, non-GMO, and of the highest quality. The company supports local and seasonal ingredients by partnering with over 100 family-run farms. Blue Apron's seafood and meat is free of antibiotics and hormones. Our expert reviewer praised Blue Apron for its dedication to variety and quality.
Preparing Blue Apron meals is a breeze, even for inexperienced cooks. The easy-to-follow recipe cards and step-by-step instructions ensure that you can create restaurant-quality dishes right in your own kitchen. If you ever need extra guidance, the Blue Apron website and mobile app offer additional cooking resources and videos to help you along the way.
Blue Apron goes beyond just meal kits. The Blue Apron Market offers a variety of add-ons, including breakfast dishes, desserts, kitchen utensils, and even prepared meals for those busy nights.

Blue Apron's pricing starts at $5.74 per serving. The minimum weekly order is 2 meals of 2 servings, with a maximum of 5 meals for 4.

Key Features
Organic, macro-balanced meals for athletic lifestyles

14 different weekly meal options per plan

6 dietary options, including Keto, Paleo, Vegetarian, and Clean
Trifecta offers dietitian-designed prepared meals. It's a great choice for Detroit fitness buffs who want to get in or stay in peak physical condition. Its meals are meticulously planned and prepared to fuel your workouts and aid in muscle recovery, ensuring you're always at your best.
Choose between 4 meal plans: Clean Eating, Keto, Paleo Whole30, and Plant Based. Vegan athletes often struggle to meet macros, so having a weekly selection of prepared plant-based meals is a great way to stay in shape without consuming animal products.
Clean Eating dieters will enjoy meals like Salmon, Brown Rice, and Mixed Vegetables (pictured above), which has 26 g of protein and just 341 calories. And Paleo Whole 30 dieters will enjoy meals free of grains and dairy products but full of healthy grass-fed beef and sustainably-sourced proteins.
Whatever menu you choose, all ingredients are sourced from family-run suppliers. You get lean, humanely raised proteins and seasonal vegetables. From sourcing ingredients responsibly to using eco-friendly packaging, Trifecta takes sustainability and environmental consciousness seriously.
You can let the Trifecta chefs choose for you or choose your own meals from your plan. There is also an option to build your own meals, using Trifecta's Meal Prep section. Meal Prep lets you choose your favorite proteins, vegetables, and carbs and then prepare them yourself.
Trifecta's mobile app is a great fitness help. You can track macros, view nutritional information, and communicate with other Trifecta subscribers for encouragement and advice. And you can also use it to manage your subscription and track orders. Learn more in our detailed Trifecta review.
You can order a minimum of 7 to a maximum of 21 single-serving Trifecta meals. Prices start at $6.00 per serving.

Quick Comparison Table