The Best Meal Delivery Services in Oakland Reviewed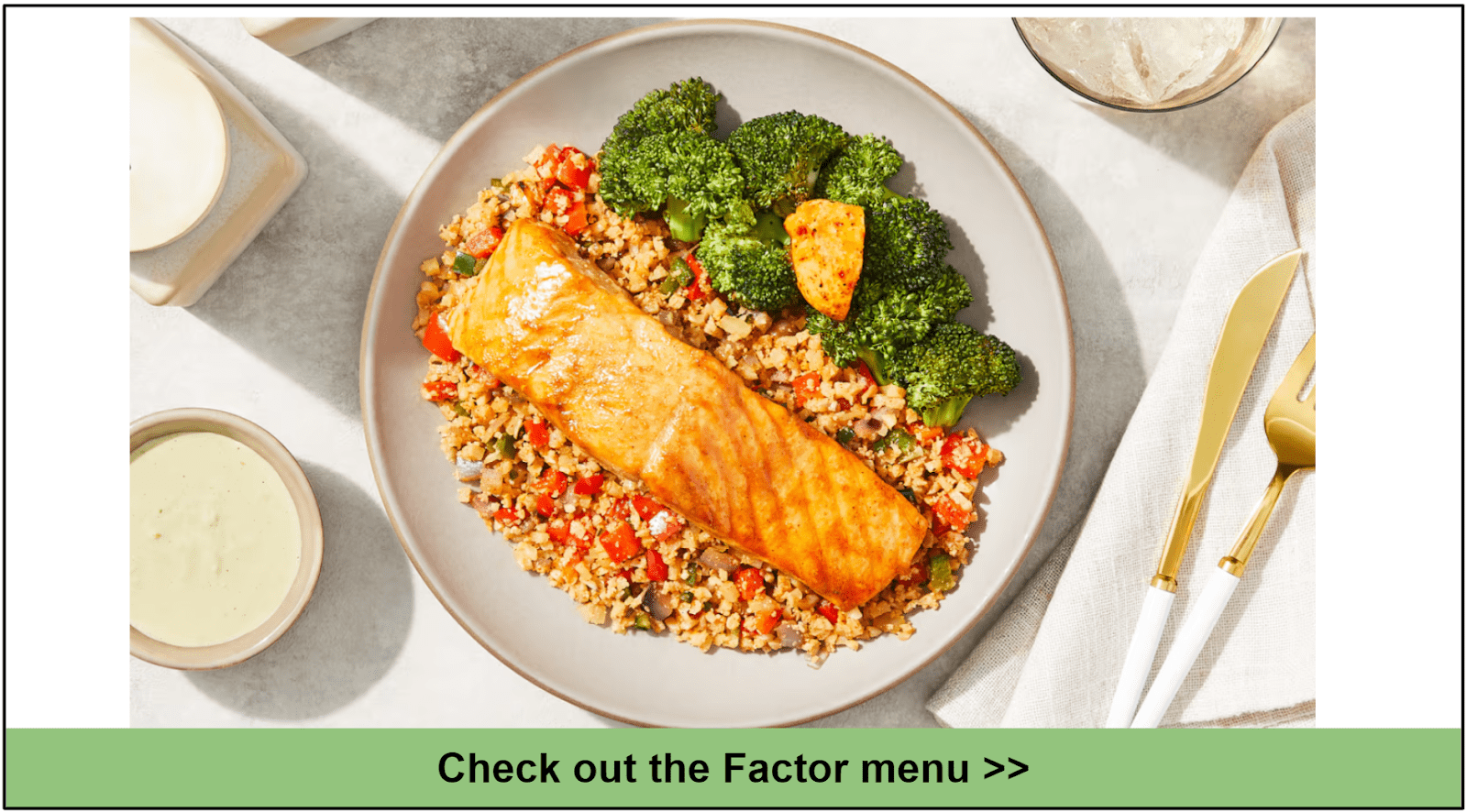 Factor sets itself apart as the best prepared meal delivery service in Oakland, in my opinion. Dietitians design the recipes, while experienced chefs prepare the meals. For that reason, you can enjoy restaurant-quality dishes in a few minutes. And besides saving time on meal prep, you won't have to spend a lot of time on cleanup.
The menu is made up of around 35 weekly meals. Among other options, you could find Filet Mignon, Pork in Creamy Sauce, and roasted vegetables. Bowls, pasta, and casseroles are regularly seen on the menu, too.
The Add-Ons feature various desserts, breakfasts, and beverages. And this section typically has around 50 weekly options. Juices, smoothies, pancakes, bites, chips, and protein packs are some of the options you'll choose from.
You can use the colored tags to help you find the dishes most suitable for your needs. Some common tags are Keto, Protein Plus, Calorie Smart, and Vegetarian. Additionally, take note of recipes labeled as Top-Rated and Gourmet Plus, which, as stressed in our comprehensive review, do cost a little more.
Choose up to 6 of the following meal plans to tailor your mealtime:
Keto

Flexitarian

Protein Plus

Calorie Smart

Chef's Choice

Vegan & Veggie
One thing to note is that customization of meal ingredients isn't possible with Factor. It gives utmost priority to keeping its meals' nutritional value. If there are any foods you wish to avoid, you can only skip the recipe containing an unwanted ingredient.
This meal delivery service sources organic ingredients whenever possible. But it may prove difficult at times due to complications in the supply chain. I suggest you consider Green Chef, which has quick-prep meal kits, if you prefer to eat only organic food.
Factor provides fresh meals that you should consume relatively quickly. Typically, meals will last 7 days if stored in the fridge. Keep in mind that the service recommends against freezing meals. So make enough room in your refrigerator to accommodate them.
You'll find a range of cuisines to choose from. This includes Mexican, Indian, Italian, and Thai cuisines, among others. Furthermore, the company publishes 4 weeks of menus at a time so that you can build your meal plan ahead of time.

Don't forget to take advantage of a free nutrition coaching session. Factor has around a dozen dietitians, and you can choose to speak with any of them. The session lasts 20 minutes, during which you'll get dietary tips and guidelines.
The cost of your order depends on the number of meals you buy. Pricing per serving starts at $6.19 for the largest order of 18 meals. You can also select 6, 8, 10, 12, or 14 recipes per week. Note that all meals are designed to serve 1 person. For Oakland residents, the flat-rate shipping fee is $10.99.
Key Features
Green Chef is a USDA-certified meal delivery service

You can choose from over 45 meals per week

The service has vegan, high-protein, and weight-loss options

Current deal: Get $250 off + free shipping
Green Chef is the first meal kit service to get the CCOF (California Certified Organic Farmers) certification. Also, it's a USDA-certified (United States Department of Agriculture) company that collaborates with farmers to create both sustainable and delicious food. As a result, many family-owned farms supply this meal delivery service with organic ingredients.
Green Chef delivers high-quality, responsibly-sourced food. When it comes to ingredients, you can expect to receive organic produce, eggs, beef, chicken, and wild-caught seafood.
The company may not secure organic food at times for various reasons. If it comes to that, you'll be informed with a note in the ingredient box and clear labeling. Rest assured that you'll receive ingredients of the highest quality nonetheless.
Green Chef has over 45 weekly meals on its menu. Most of these are lunch and dinner options, as well as bowls, salads, sandwiches, and flatbreads. Check out Add-Ons for breakfasts, desserts, and individual proteins. You'll likely find pancakes, oatmeal, bites, muffins, fish filets, and even Breakfast and Lunch Bundles, among other alternatives.
You'll notice various tags as you explore the recipes. You can use these to determine which meals suit your needs without checking each individual recipe. Some tags you'll see are 10-Min Lunches, Daytime Bundle, and Ready to Heat. If you're in the mood for more rewarding dining, go for Chef Select dishes. But note that these meals come at an extra cost that's typically between $6.99 and $9.99.
This organic meal kit delivery service has 8 dietary plans. And you can select as many of them as you wish, allowing you to mix and match the full menu. The available programs are:

Keto

Plant Based

Quick & Easy

Mediterranean

Delicious Discoveries

Calorie Smart

Gluten Free

Protein Packed
Note that Green Chef sometimes adds paleo dishes to its menu, but there's no dedicated plan. You can find various insightful details about available programs in our comprehensive review.

In general, requesting ingredient swaps isn't available with Green Chef. But you can easily omit or replace an unwanted ingredient during meal prep, so you don't have to skip the dish.
You can find recipes inspired by many international cuisines on the service's menu. Mexican, Chinese, Italian, and Korean are some examples. And many of them suit weight-loss and low-carb dieters.
Green Chef's meals usually last 5 days. Seafood, which you should eat within 3 days of delivery, is the only exception. Freeze food you wish to save for later use before its expiration date.
You get a lower cost per dish by ordering more meals. The price starts at $9.99 per serving if you buy 4 meals for 6 people. The highest price per recipe is for orders of 3 meals for 2 people. Note that Green Chef charges $10.99 to ship items to Oakland.
HelloFresh boasts a diverse selection of approximately 70 dishes that rotate weekly. The company publishes its menu 5 or 6 weeks in advance, letting you plan your meals ahead of time.

At first glance, it appears that this service prioritizes main dishes. While browsing the menu as a guest, you'll notice burgers, tacos, bowls, spaghetti, and other typical lunch and dinner options. But many of those can suffice as a hearty breakfast, too.
You can access add-ons once you subscribe. And many of them qualify for desserts and snacks, to mention a few alternatives.
Don't miss the tags accompanying many recipes to help you choose suitable meals. Some are Protein Smart, Veggie, Spicy, and Easy Prep. There are also labels such as Best Recipe 2023 and Hall of Fame. These popular recipes are the only ones you'll find reappearing. I also find Premium Picks- and Better Than Takeout-labeled meals interesting.
The company categorizes recipes as Easy, Medium, and Hard. That way, it lets you choose dishes that align with your culinary skills. Click on a specific dish to check out its difficulty level.
HelloFresh's Our Plans section features 6 programs:
Veggie

Pescatarian

Quick & Easy

Family Friendly

Meat & Veggies

Fit & Wholesome
You can buy meals from any other category, not just the ones you initially select. Meal plans are there merely for recommendation purposes. Check our in-depth HelloFresh review to better understand how this works.
What you won't see from these meal plans is that the company has spicy meals, too. If you're passionate about flavorful food, you should find no less than 15 such dishes every week.
HelloCustom lets you substitute over 12 proteins and sides in your meal selection. Some available swap options are chicken for shrimp, crispy potatoes for broccoli, and steak for chicken. Of course, you can do it the other way around, too.
The company advises against freezing its recipes. The shelf life of most of its meals is 5 days. Remember that seafood is unlikely to remain fresh for more than 2 days. So if you buy pescatarian food, eat that first.
This service offers food inspired by American and international cuisines. You'll find examples of Chinese, Thai, Caribbean, and Mediterranean meals on the menu. Explore the on-site cookbook with over 2,500 recipes from different renowned cuisines. Check out tacos, meatballs, noodles, fajitas, and skewers recipes, among others.
HelloFresh is among the most affordable Oakland meal delivery services. The price tag per serving starts at $3.32 for orders consisting of 6 portions for 4 people. The cost per meal rises the fewer recipes you buy, reaching its maximum for 2 dishes for 2 people. The service also charges a shipping fee, which you'll find out at checkout.
Key Features
The company has various customization options


Choose from meal kits and prepared meals

Options are available for omnivores, vegetarians, and pescatarians
Home Chef has a remarkable allergen-filtering system. It lets you exclude up to 9 common allergens from your meals while personalizing the meal plan. Click on Pick Your Meals, and the selected allergens will await you in Step 3. Ingredients you can leave out of your dishes are pork, beef, poultry, fish, shellfish, sesame, tree nuts, peanuts, and mushrooms.
This service also offers recommendations based on its customers' lifestyle preferences. You can find out which meals from its menu align with your goals best by completing a quick 4-question What kind of chef are you? quiz.
There are several self-explanatory labels on the main menu. These vary per meal category, and some of them are Oven-Ready, Fast & Fresh, and Express. I recommend you check our full review to learn more about Culinary Collection-labeled dishes, which provide a particularly rewarding dining experience.
There are 5 main categories on the menu: Meal Kits, Easy Prep Meal Kits, Lunch, Bundle and Save, and Extras, including protein packs, drinks, and more.

Check out Meal Kits and Easy Prep Meal Kits no matter what your skill level in the kitchen. Typically, you can prepare and serve recipes from these 2 categories within 10 to 45 minutes. Quesadillas, sandwiches, bowls, burgers, and penne are some meal kit options.
Bundle and Save recipes are ideal for people with little time to cook. Some examples are a soup and salad bundle or a breakfast frittata and latte bundle. Go for these options if you need a lighter meal served in 5 to 10 minutes. If you prefer even quicker meals, I think that subscribing to Factor would be a good idea as all meals arrive fully prepared.
Extras can also be prepared very quickly. Here you'll find items like pizza, soup, salad, and desserts. You can serve most of them in 5 or 10 minutes. The most demanding add-ons require 15 minutes of your time.
Don't forget to click on the View Customize It tool accompanying selected recipes. It lets you choose a preferred ingredient from a selection of options. For example, in the Cheddar & Apple Beef Burger, you can choose between Ground Turkey, Ground Beef, and the Impossible Burger. In Chickpea Gyros, choose between Chicken Thighs, Steak Strips, and a few other options.
Some customizable dishes have organic ingredients. But if you're a hard-core fan of organic food, you'd be better off giving Green Chef a try.
Home Chef suits people following various diets. Omnivores, pescatarians, and high-protein dieters are sure to find suitable options. Also, the company prepares meals inspired by various acclaimed cuisines, including Mexican, Italian, and Asian.
Eat poultry, ground meat, and seafood first. These ingredients are fresh 2 days after delivery. Other refrigerated foods may last up to 5 days. You can freeze ingredients before their Best by date to prolong their shelf life.
Home Chef prices its meals individually. It means that you won't get a discount for larger purchases. The service's most affordable recipes cost $7.99. When ordering, you can buy no less than 2 dishes for 2 people and no more than 6 portions for 6 people. To get your food in Oakland, you have to pay a delivery fee of $10.99.
Key Features
The service's specialty is Express meal kits

You won't need pans and pots to prepare many dishes

Find options for pescatarians, vegetarians, and omnivores
Fresh and Easy is Home Chef's line of speedy meals. You can prepare most of them in 15 minutes or less. And the secret of quick-prep meal kits lies in the fact that you get pre-portioned ingredients. But if you have little to no time for meal prep, the service has entree salads that require only mixing ingredients before serving.
It goes without saying that you'll get fresh food, as the service's name suggests. And many ingredients will be diced, chopped, ground, and sliced. Additionally, there may be instances where you receive pre-washed ingredients, saving you more time. On certain occasions, you may get pre-cooked food besides fresh food, which you can prepare in no time.
Note that you can substitute proteins in selected dishes. Some options could include swapping chicken breasts for organic chicken breasts or shrimp. And you can choose to leave out animal proteins if you follow a plant-based diet. You can only customize meal kits, not prepared meals. Check our comprehensive review to learn more about ingredient swaps.
Exclude up to 9 common allergens when customizing your mealtime. Pork, beef, tree nuts, and mushrooms are some ingredients you can leave out. But keep in mind that the service doesn't guarantee that cross-contamination can't occur in its facilities.
Fresh and Easy has some options for vegans. But it isn't on our list of the most vegan-friendly meal delivery services. So, if you follow a vegan diet and are looking for quick prep meals, I believe that Factor would be a better fit for you.
Oven-safe trays go with many Fresh and Easy recipes. Thus, you can prepare them in an oven or in a microwave. Also, the grill-safe bags you get with other recipes make the cleanup quick and hassle-free. And you won't need pans, pots, and other common kitchen utensils to wrap up many meals.
This service accommodates a wide range of dietary preferences. You should find plentiful options whether you're an omnivore, pescatarian, vegetarian, or calorie-conscious dieter. Additionally, you can indulge in globally inspired meals besides American. Among other cuisines, the service has Middle Eastern, Italian, and Mexican meals on its menu.
The cost per meal doesn't vary depending on the number of dishes you buy. Each recipe has a fixed price. The least expensive Fresh and Easy dish costs $7.99. The smallest order from this service is 2 portions for 2 individuals, while the largest is 6 servings for 6 people. A flat-rate delivery fee of $10.99 is applicable for all deliveries to Oakland.
Key Features
The company has doctor-designed weight-loss recipes

There are over 150 dishes on the menu

You can choose a keto, vegan, or diabetes-friendly plan
BistroMD is among the leading weight-loss meal delivery services in the USA. And its gender-specific plans catering to people with different calorie requirements are what sets it apart from its direct competitors. And you can choose your preferred weight loss approach. From what I learned, many individuals achieved great weight loss success, measured in hundreds of pounds.
BistroMD has an effective strategy for those who consider skipping meals to lose weight. It lets you have 3 main meals a day, supplemented with snacks in between. This approach is effective because expert nutritionists design this company's meals, ensuring a healthy balance of nutrients. The targeted daily calorie intake for females is 1,200 calories and 1,400 calories for males.
You may see results in as little as a few days with this weight-loss service. Some customers managed to start losing weight within 10 days of starting a diet. And flavorful dishes make BistroMD stand out among many meal deliveries specializing in shedding pounds.
The company has 7 meal plans catering to people with different dietary needs. These may feature a different number of available dishes depending on your choice. Available plans are:
Signature, boasting over 150 dishes

Gluten Free, having 100+ meals

Heart Healthy, including more than 100 recipes

Diabetic, containing no less than 100 options

Menopause, encompassing over 100 alternatives

Keto Flex, featuring around 85 meals

Vegan, consisting of 25+ dishes
You have 2 ways to explore meal plan options. The first is by selecting the Programs button in the header and choosing your desired plan. The other way is to navigate to the Menu section and select a program. I recommend checking out our expert review, in which you can find useful insights and details to make an informed decision.
All plans except Vegan have Breakfast, Lunch/Dinner, and Snacks options. This plant-based plan currently focuses on lunches and dinners. Consider subscribing to Factor to find recipes for all 3 main meals if you follow a vegan diet.
You can have 3 meals a day for 5 or 7 days a week, plus snacks. Opt for Lunches & Dinners when personalizing your mealtime if you're not a breakfast person. The Full Week plan provides you with 7 breakfasts, 7 lunches, and 6 dinners. For the remaining dinner, called My Night, you can enjoy a meal of your choice guilt-free.
You'll get frozen prepared meals in your delivery box. Thaw food in the refrigerator before heating, and consume defrosted recipes in 2 or 3 days.
You can save money by purchasing a larger box. The price per serving starts from $8.24 for the Full Week plan, including 20 meals. The shipping fee for Oaklanders is $19.95.
Key Features
The company has a weight-loss plan for couples

You can choose between 3 or 4 programs per plan

The service has a dedicated plan for people with diabetes
Nutrisystem is an excellent choice if you're seeking effective hunger control. Its team creates hearty meals formulated to keep you satiated for up to 5 hours. The service's dishes are low-calorie and protein-rich. Translated into numbers, most recipes count between 150 and 400 calories and up to 30 grams of protein.
The company offers various Breakfast, Lunch, and Dinner alternatives. Each meal features a drop-down list that indicates the dietary plans the recipe caters to. And you'll find many satisfying dishes, including burritos, soups, pizzas, and spaghetti on the menu.
Besides main meals, the menu contains healthy snacks, too. You can choose between items like mini sandwiches, bars, cookies, cupcakes, and popcorn.
Use a series of menu filters to narrow down your choices. These let you shortlist options based on your dietary needs, specific allergens to avoid, and desired storing condition, among other things.
Nutrisystem has gender-specific plans. The company introduced these programs because males and females have different dietary needs. Check our in-depth review of this weight-loss service to learn more about these plans.
Whichever plan you opt for, you'll have to choose between 3 or 4 programs. These may be Uniquely Yours, Uniquely Yours Max+, or Complete 55. You can even opt for a Partner plan. In general, you can combine balanced dishes from each plan with your favorite groceries. Only during the first week will you have to eat only the service's food to prepare your body for fat burning.
All of the plans grant you access to a dedicated weight-loss app. It helps you personalize your meal plan and enjoy restaurant-inspired dishes. Use the NuMi app to fine-tune your selected dietary plan while monitoring your weight-loss progress.
Nutrisystem has fresh and frozen meals on offer. It labels all frozen dishes, so you can tell them apart with ease. And the company's food has a long shelf life, typically from 6 to 18 months.
This Oakland meal delivery service suits people following different diets. You should find plentiful options if you're a calorie-conscious or carb-conscious dieter. People with diabetes have a dedicated plan. But if you're after prepared vegetarian food, you would be better checking out Factor.
You can enjoy meals from various celebrated international cuisines with Nutrisystem. If you subscribe to this service, you can lose weight by eating Italian, Mediterranean, Asian, and Mexican food. Or you can mix these with American recipes.
This company is among the most budget-friendly meal delivery services. The cost per day varies depending on the specific plan you choose, with prices starting from $8.54. As for shipping, your membership and the value of your box determine the delivery cost.
Key Features
Choose your meals in 2 portion sizes

The company prepares around 10 recipes per plan

The menu features keto, paleo, and vegetarian options
Eat Clean has a Regular Portion and a Large Portion for each of its meal plans. The larger portion comes at a slightly higher price, as you would expect. But I believe it offers a better value for people who appreciate generous servings. To customize your portion size, simply click on the Plans tab in the header and enter your email and Oakland zip code first.
The serving size determines the number of available servings in your meal plan. If you opt for regular portions, you can select from 6, 8, 10, 12, or 14 weekly recipes. Or, you can buy 4, 6, 8, 10, or 12 servings if you prefer larger portions.
Eat Clean features 4 dietary plans. These are Traditional, Keto, Paleo, and Plant Based. You'll have to choose the plan that most closely aligns with your dietary preferences and goals. That's because you can't mix and match recipes from different plans. If you wish to avoid getting stuck with a single program, consider trying Factor.
Select a meal category from the menu to see the options. If you opt for the Traditional menu, you'll see meals like Turkey Sausage Breakfast Pizza and General Tso Chicken With Basmati Rice. But if you go for the Paleo plan, Cookie Crumble Pancakes may await you there. Each plan typically has at least 10 choices.
You can serve the company's ready-to-eat meals in a matter of minutes. But you can't customize their ingredients. In cases where you find allergens or ingredients you don't enjoy, you can only skip that recipe. If meal customization is a priority for you, I recommend checking out Home Chef.
Eat Clean cooks dishes from various international cuisines. You should consider this prepared meal delivery service if you relish Italian, Mexican, or Caribbean flavors. The company also has many American dishes on its menu. Read our dedicated review to see the full range of culinary options and learn more about the service.
You can heat the meals in a microwave or a conventional oven. If you choose the microwave, you can serve food in as little as 3 minutes. Warming in the oven typically takes between 25 to 35 minutes. Either way, make sure that the internal temperature of your meal is 165°F before serving.
The portion size and the number of servings determine the cost of your order. As a general guideline, the more recipes you buy, the lower the price per dish. Pricing for meals starts at $8.60. Also note that the shipping fee to Oakland varies based on the size of your order, ranging from $9.99 to $17.99.
Key Features
Choose from a menu of 100+ dishes

You can personalize the ingredients of selected recipes

The service has options for pescatarians and vegetarians
Dinnerly is a safe bet if you're searching for an affordable meal delivery service. It has competitive pricing and the option to personalize selected meals, which is a rare quality among low-cost meal providers. This unique combination of affordability and flexibility has propelled the service among the leading budget-friendly meal delivery services nationwide.
I found that Dinnerly primarily offers lunch and dinner options. But some of its meals may suffice for breakfast, too. What made my browsing complicated was the lack of meal categorization. However, you can add extras in Dinnerly's Market. Add items, including proteins, prepared meals, and snacks, to your delivery in your account.

The service accompanies its meals with tags that highlight their main features. These include the key ingredients, dietary options, and estimated serving times. When browsing the menu, you can expect to come across tags like Under 30 Minutes, Climate Hero, Dairy Free, and Nutritious, among others. Read our complete Dinnerly review to learn more.
Pay attention to recipes labeled as Customizable while checking out the menu. You can substitute ingredients in these dishes. Depending on the recipe, you may replace ground turkey with ground beef or switch to gluten-free pasta, for example. Note, though, that some replacements may incur a surcharge, ranging from a few to several bucks.
Dinnerly provides allergy-friendly recipes. But you won't find plans dedicated to individuals with allergies. So, carefully check the ingredients of each dish to ensure they don't include any foods you may be sensitive to. If an allergy-triggering ingredient is present, you can either omit it or replace it with something else during cooking.
This service doesn't have meal categories, unlike most others. So, you'll have to browse the menu to find suitable options. If you're a vegetarian, however, you can tick the Make my box vegetarian box to narrow down suitable recipes. HelloFresh has 6 dietary plans you can choose from to tailor your mealtime, making it easier than Dinnerly.
Besides omnivores and vegetarians, Dinnerly supports carb-conscious individuals. But you can also find recipes suitable for gluten-free, spicy, and dairy-free dieters. Just check the tags accompanying most meals for these options. Also, the service provides meals inspired by Mexican, Italian, Indian, Mediterranean, and American cuisines.
Most meats and veggies are fresh for up to 5 days from delivery. If you're a pescatarian, you better eat seafood within 2 days of receipt. Chicken and ground meat generally have a shelf life of 3 days.
The cost per portion depends on the number of servings you buy. The price per dish starts at $2.12 for 6 recipes for 4 people. The highest cost per recipe is for 2 dishes for 2 individuals. Also, the meal delivery service charges $11.99 to ship products to Oakland.
Key Features
The company is a carbon-neutral service

You can make meat-containing meals vegetarian and vice versa

Options are available for weight-loss, carb-conscious, and seafood dieters
You'll find meal kits and ready-to-eat dishes on Blue Apron's menu. Meal kits cater to couples and families of 4, while prepared meals are single-serving portions. I was pleasantly surprised to find that some ingredients in the service's meals come straight from the farms. And it strictly maintains eco-friendly techniques, operating as a carbon-neutral company.
You can follow any of the recipes, regardless of your cooking skills. And the company sends you pre-portioned ingredients, so you don't have to brainstorm quantities and deal with food waste. As a result, you'll have well-balanced meals while minimizing prep time. In that regard, you can prepare most meals in up to 40 minutes.
Find up to 16 weekly meal kits available on the full menu. Vegetarians will find around 4 weekly options. But the possibilities expand with the service's customization features. You'll always find upcoming options published 4 weeks in advance. Available plans are:
Signature, for 2 people

Vegetarian, for 2 individuals

Wellness, for 2 persons

Signature for 4, for families and gatherings
Read the dedicated review to learn more about these meal plans. Note that some recipes overlap between different categories. Soy-Glazed Shrimp and Brown Rice is available in Signature and Wellness programs, for example. Tacos, risotto, salads, meatloaves, and cheeseburgers are some of the meals present on the menu most often.
You'll find the heat-and-eat options in the Add-Ons section. There are generally 6 weekly dishes labeled as Heat & Eat. I recommend trying out Factor for a larger selection of ready-made dishes. As for other extras, you can opt for various desserts, proteins, and soups, among other options.
You can switch ingredients in various Blue Apron dishes. Choose your type of steak in the Calabrian Chile Butter Steaks. Make Crispy Prosciutto Lettuce Cups vegetarian-friendly by replacing prosciutto with pasture-raised eggs and avocado. You can even add Hot Italian Pork Sausage or Pancetta to Whole Grain Romesco Pasta to turn this veggie meal into a meat-containing meal.
Individuals with diabetes, pescatarians, and carb-conscious dieters will find many suitable recipes. And you can find meals inspired by Italian, Mexican, and Middle Eastern cuisines, among others, on offer.
Blue Apron covers its customers with the 7-Day Freshness Guarantee. Contact its customer service for a replacement or reimbursement if you find any ingredient unsatisfactory within a week after delivery.
Consider buying big to pay less per meal and save on shipping costs. You can have 5 weekly meals with 4 portions for $5.74 per serving. The smallest purchase from Blue Apron is 2 meals with 2 portions. The fixed-rate shipping fee for Oaklanders is $10.99.
Key Features
Carbon-neutral focus aligns with eco-conscious goals

Over 100 recipes available each week

Multiple dietary options including vegetarian, low-calorie, and gluten-free
Marley Spoon is an affordable, family-friendly meal delivery service available in Oakland. Its budget-friendly pricing and large menu selection make it accessible to families looking for a convenient and cost-effective way to dine at home. The service aligns well with the cost of living in Oakland, providing an option that won't break the bank.
Like Dinnerly, it offers a vast range of over 100 recipes each week. This vast selection means you're unlikely to get bored with the offerings. Each week presents a new opportunity to explore diverse meals, providing choices that suit the taste preferences of everyone in the household.
Meals are designed to be ready in just 30 minutes and take only 6 steps to prepare. Time-saving is a significant asset for busy Oakland residents. You can whip up a quick dinner after work or between activities without the need for complex culinary skills.
It offers a range of global cuisines. I like the look of the Polish Pickle & Chicken Soup and the Turkish Pilau recipe. Oakland is a city rich in cultural diversity, and Marley Spoon reflects that in its menu. You can explore international flavors right from your own kitchen.
Its menu caters to various dietary needs. These include vegetarians, low-calorie dieters, and those looking for gluten-free options. This flexibility is invaluable if you or your family members have specific dietary restrictions. The menu clearly indicates these options, making it easy to select meals that align with your health goals.
The recipes are customizable, and the menu lists every available option. The transparency and flexibility in customizing meals let you tailor the experience to your needs. Check out our full Marley Spoon review to find out more.
The service is carbon neutral and focuses on sustainability. However, if you prioritize organic ingredients you might prefer to check out Green Chef. Marley Spoon takes steps to be eco-friendly, but if organic produce is non-negotiable for you, other services might be a better fit.
Prices start at $2.99 per serving. You can order between 2 and 6 meals per week for 2 or 4 people. The pricing structure is straightforward, offering flexibility to fit different household sizes and dining frequencies. You can opt for a plan that suits your lifestyle without any hidden costs.
Quick Comparison Table