Short on Time? Here Are the Best Meal Delivery Services in Salt Lake City
The Best Meal Delivery Services in Salt Lake City Reviewed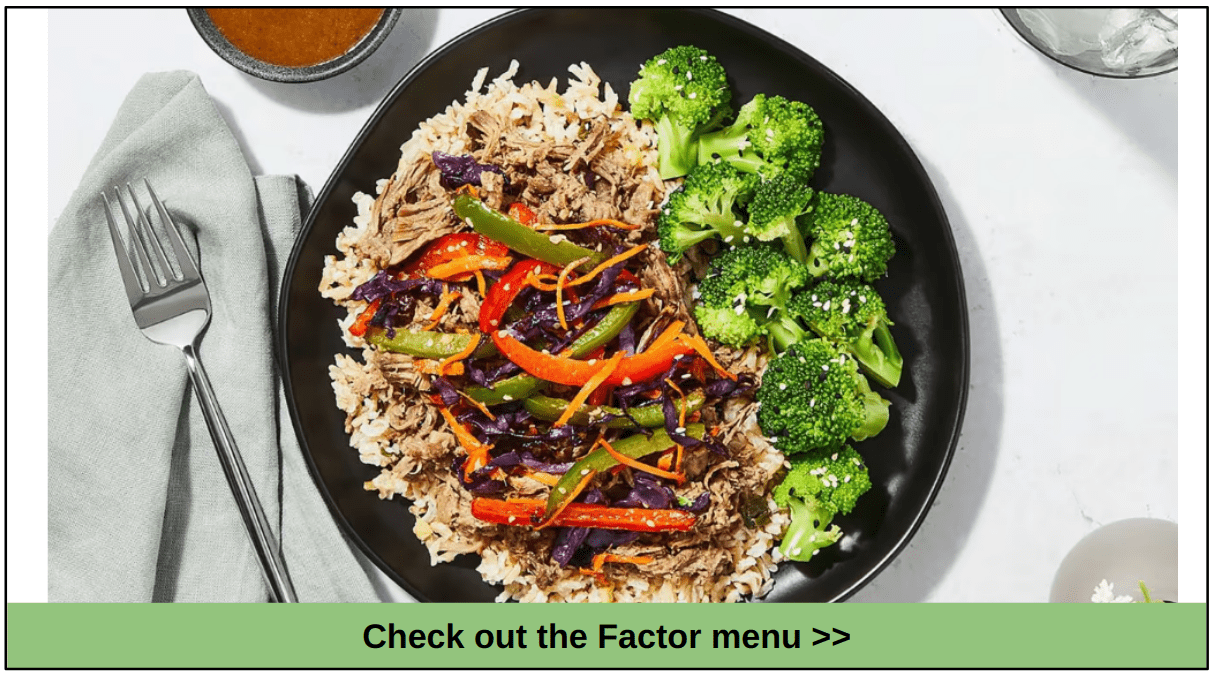 As someone who values eating healthy and not having to cook all of my meals, I love Factor. The service offers fresh and flavorful meals that cater to different dietary needs, such as keto, high-protein, carb- and calorie-smart, and vegetarian/vegan. The new Flexitarian plan provides you with veggie-centered meals with purposeful proteins (meat and fish).
Factor provides freshly prepared meals that fit your specific dietary needs to your door. This is possible due to an entire team of chefs and dietitians who understand how each diet on the menu works. In addition, the company is a great option for busy people who don't want to turn to fast food when they don't have the time to shop or cook.
I like Factor's extensive weekly main offer, but I think the add-ons section truly makes the menu shine. This section includes smoothies, juices, shakes, desserts, breakfast items, and cooked proteins (salmon, pork chops, chicken, and more). According to my colleague's well-researched Factor review, this is a great way to expand the core menu.
Factor's mission is to provide fresh and healthy meals using high-quality ingredients sourced directly from farmers. The company believes in sustainable farming practices that ensure fresh produce is picked at the peak of ripeness with no preservatives or hormones added.
Since the menu only offers single-serving ready-made meals, there aren't that many customization options. But you can choose any of the available dishes based on your dietary preferences or taste. Also, you can mix and match between meal plans and spice things up with items on the Add-ons menu. Keep in mind that these are charged separately, though.
The more meals you order each week, the lower the cost per meal will be. For instance, prices start at $6.19 per serving for the maximum box size (18 meals per week), but you can also order 6, 8, 10, 12, or 14 meals per week. Overall, the service is a bit pricey, but I think the convenience and the quality of the meals are worth it.
Key Features
Plenty of dietary-specific options

45+ unique recipes per week

8 dietary options, like Keto, Plant Based, Protein Packed, and more


Current deal: Get $250 off + free shipping
Green Chef provides USDA-certified organic meals across a range of diets. This means that all the fresh produce and eggs used to create the meal kits on the menu are organic. Plus, Green Chef only works with farmers that practice high animal welfare standards. The menu also includes options like wild-caught seafood or organic beef and chicken.
It has options for keto, gluten-free, plant-based, protein-packed, and more. I also like how the tags tell you more about each recipe before you open it. For instance, the Sockeye Salmon with Spicy Apricot Pan Sauce recipe fits under the Gluten Free and Chef Select tags.
There are also options like 10-minute Lunch, Chef's Brunch, or Daytime Bundle. These options provide nutritious and tasty meals for lunch and breakfast and also help you save time. Our full-length Green Chef review talks more about what you can find on the menu.
Besides the interesting core menu, Green Chef also has a well-stocked Add-ons section. Here, you'll find a wide range of options, like cooked proteins, breakfasts, brunches, lunches, healthy desserts, and more. It's best to keep in mind that the Add-ons are separate from the main menu, so each item comes with an added cost to the main subscription.
Green Chef also focuses on its impact on the environment. The company has a thorough recycling/reusing program and practices a 100% carbon/plastic emissions offset for every ounce of plastic used. So, if you want an environmentally conscious meal delivery company, this one's a great option.
Prices start at $9.99 per serving for the largest order (4 meals for 6 people per week). This is already a little steep without any discounts, but Green Chef offers all kinds of price incentives, like Get $250 off + free shipping.
HelloFresh is a great choice for families of all sizes thanks to its abundance of family-friendly recipes. You'll find plenty of crowd-pleasing recipes, like One-Pan Santa Fe Turkey Tacos or Cranberry Thyme Chicken, that both the adults and the kids enjoy. Plus, the menu changes every week, so there's no time to get bored.
While most of the recipes are based on American cuisine, there are several international recipes. So if you're feeling a bit adventurous, you can try recipes like Szechuan Pork Ramen Stir-Fry or Tunisian-Spiced Tilapia with Chermoula. If you don't know what to choose, look out for the Hall of Fame tag – this is applied to all the users' favorite recipes.
One of the reasons I like HelloFresh is the company's dedication to sustainability. Not only does it offer a variety of menus and meal plans at a reasonable price (see the full list in our tried and tested HelloFresh review), but it's also set up several initiatives geared toward social responsibility goals.
Besides its extensive menu (over 60 recipes each week), HelloFresh also has a Cookbook section. Here, you can find a collection of recipes and cooking tips that can serve as inspiration whenever your culinary ideas feel stuck.
Most of HelloFresh's meal kits take 30 to 35 minutes to prep and cook, so it's a great way to have speedy home-cooked meals. But if you want to try the more elaborate kits (40 to 50 minutes), the recipe cards are extremely easy to understand and follow.
HelloFresh is truly a great option for families at $3.32 per serving for the 6 meals for 4 people per week plan. But even if you order as a couple, you can get a great deal for the 3 meals for 2 people per week, which is the most popular option.
Key Features
A wide variety of meal kits and prep times

30+ impressive recipes per week + extras

3 dietary options: carb-conscious, calorie-conscious, and vegetarian
Home Chef offers delicious meal kits with a variety of cooking techniques and prep times. Each meal kit contains pre-portioned fresh ingredients and premade sauces and seasonings, which makes it easy to cook and assemble the meals, even if the recipe is quite elaborate.
The meal options include comfort classic dishes as well as modern chef-inspired offerings. Plus, the menu caters to several different dietary preferences, such as plant-based, low-carb, and low-calorie.
There is also a family-dedicated menu with 4-serving meal kits designed to appeal even to the pickiest of eaters. See my colleague's Home Chef review for more details on the type of meals and menu options.
You can choose your meals up to 5 weeks in advance, and the menu changes every week. I like the flexibility of choosing between multiple types of meal kits, including 15-minute kits for those in a hurry and Culinary Collection kits for special occasions. And don't forget the extras like cooked proteins, lunches, beverages, desserts, and more.
You can also use the 'Customize It' feature to re-design meals according to your preferences. The feature allows you to swap the default protein in a recipe with several available options from a pre-defined list.
Price-wise, Home Chef is great for big families. Prices start at $7.99 per serving for the large box size (6 weekly meals for 6 people), and you can order for 2, 4, and 6 people each week.
Key Features
Home Chef's sub-brand for quick and easy meal kits

20+ recipes each week + access to Extras

3 dietary options – vegetarian, calorie-conscious,carb-conscious
Fresh and Easy is the brand child of Home Chef and features speedy meal kits that fit a busy lifestyle. But the menu isn't boring, especially considering the fact that you'll still have access to the 'Customize It' feature.
You can choose from classic favorites or modern twists on recipes and even find kits that fit your dietary restrictions. As my colleague points out in their in-depth review, Fresh and Easy has low-calorie and low-carb options, and there are several plant-based meals.
The meal kits on this menu feature prepped, portioned, and (almost) ready-to-cook meals that take 15 minutes or less. In fact, the recipes marked with Oven-ready or Grill-ready are as close to ready-to-cook as a meal kit can get. These even come with disposable oven-safe trays, so you don't have to do any cleanup!
I think of Fresh and Easy as a meal delivery service that offers convenience without sacrificing taste. I like that, even though the main idea is to get a meal on the table asap, you have the option to choose recipes influenced by international cuisines, such as Asian or Mexican.
Fresh ingredients are used to ensure every meal tastes delicious while also providing adequate nutrition. You can easily access the nutritional values for each recipe both online and on your recipe card. Moreover, the ingredients used by Fresh and Eay come from Home Chef's suppliers. And we all know that Home Chef only partners with trustworthy suppliers to ensure the highest quality ingredients are used in its meals.
Fresh and Easy uses Home Chef's ordering and pricing system, so it's affordable for most budgets. This also means that prices start at $7.99 per serving, and you can order for 2, 4, or 6 people, between 2 and 6 meals per week.
Key Features
The company has meal kits and prepared meals


16+ unique recipes per week plus add-ons

Dietary options include carb-conscious and vegetarian
Blue Apron has a wide range of delicious, high-quality meal options. Its recipes are clearly written and easy to follow, which is great for people who love to cook but don't always have the time or energy to plan out meals.
The broad menu offers a wide range of chef-designed recipes for 2 or 4 people, so it fits couples and families alike. Whether you're a vegetarian, searching for carb-conscious options, or just looking for something new and healthy to try, Blue Apron has a variety of meals that will suit your tastes and needs.
The meals are divided into categories, so it's easy to find what you want. My favorite Blue Apron menu sections are Chef Favorites and Ready to Cook – this is the perfect combination of gourmet meals and speedy recipes. My colleague's deep dive into Blue Apron's meals and menus can provide more information on this.
Blue Apron prioritizes sustainability and ethical farming practices for its meals. All ingredients come from responsible suppliers known for their commitment to best practices. The company provides detailed information about where its products come from, so customers can learn more about the origin of their food.
Blue Apron allows you to customize some of the recipes by changing the protein. This way, you can even turn a few of the recipes vegetarian and extend the number of plant-based recipes. There is also a variety of add-ons that allow you to supplement your kit with additional proteins, desserts, and Heat & Eat meals.
Prices vary depending on the number of meals and servings per meal you want. The largest order (5 meals per week for 4 people) will bring the price per serving to $5.74, and if you choose the smallest order (2 meals per week for 2 people), the price gets to $11.99 per serving. Overall, I find it affordable for most Salt Lake City citizens.
Key Features
Diet-specific weight-loss programs

150 meals each week, with options for breakfast, lunch, and dinner

7 dietary options, including vegan, gluten-free, menopause, and more
BistroMD focuses on weight loss using nutrient-rich and dietitian-designed recipes. The service provides a complete meal plan that includes breakfast, lunch, dinner, and snacks to help you build and maintain healthy eating habits that lead to weight loss.
As an added bonus, BistroMD offers support from the registered dietitians in its team. So, if you have questions about the meals or your dietary needs, you can get in touch with one of BistroMd's specialists via chat.
You also have access to the company's Health Library blog and its extensive FAQ section, so it's easy to stay informed. Or you can read my colleague's well-researched BistroMD review for more details on meals and plans.
All of BistroMD's recipes are science-based and optimized to be low-calorie but still satisfying and balanced in nutrients. Plus, there are several different programs such as men's, women's, diabetes, heart health, menopause, vegan, and even gluten-free programs to accommodate your specific dietary needs.
The only downside could be that these meals come frozen, which some people might not prefer over fresh foods. Another possible downside is the lack of dietary accommodations besides the ones already available. Since the meals are ready-made and carefully designed to fit specific nutritional needs, it's easy to see why customizations aren't available. If you want more control over your menu, check out Factor or Home Chef.
BistroMD follows a high protein, low-calorie profile as the daily plans are designed to be around 1200/1400 calories. I also like that men's and women's daily plans are different (women get 1200 calories/day, and men get 1400 calories/day). Most recipes' macronutrient profile includes about 25% of fat, 35% carbohydrate, and between 40 and 50% protein.
With BistroMD, prices start at $8.24 per serving, and you can choose between 2 meal plans. You can have either the Full Plan or the Lunches & Dinners plan, and each is available for 7 or 5 days.
Key Features
Menu rich in kid-friendly options

100+ recipes to choose from every week

Dietary options include vegetarian, dairy-free, low-calorie, and more
Marley Spoon offers a huge 100+ meals every week across a range of categories. While it doesn't cater to niche diets (check Green Chef for this), it has plenty of useful categories to help you find meals that suit your taste and lifestyle. There are options for families (kid-friendly meals), vegetarians, vegans, people with dairy sensitivity, and more.
One of the most striking features of Marley Spoon is its partnership with TV cooking legend Martha Stewart. And this is not just for marketing purposes. Marthe Stewart uses her hands-on expert knowledge to help Marley Spoon experts choose the best and freshest ingredients, and her exclusive, signature spice blends make these recipes more flavorful.
Half of Marley Spoon's menu is customizable, so you can adjust these recipes to your own preferences. Just like with Home Chef's Customize It feature, you can choose different proteins and side dishes from a predefined list. And, more often than not, one of the options is the organic version of the default protein or side dish.
The cuisine is varied and features a combination of American and international cuisines. There are also several one-pot or one-pan recipes, ready-made meals (4 each week), and plenty of Under 30 Minutes kits. As my colleague points out in their dedicated Marley Spoon review, the menu is incredibly varied.
Marley Spoon lets you order for 2 and 4 people, between 2 and 6 recipes each week. Prices start at $2.99 per serving, which is affordable for most Salt Lake City denizens. I think the service fits both families and couples, but make sure to keep an eye on your customizations. If you upgrade your recipe to include organic products, the change comes with an upcharge. This may bring up the total amount, especially if you like customizing every meal.
Key Features
Internationally inspired vegan meals

16+ recipes each week (meal kits and prepared) and add-ons

Dietary options include soy-free, gluten-free, vegan, and more
The entire Purple Carrot menu is devoted to plant-based food, with both meal kits and oven-ready prepared meals. The meal kits section includes recipes that range from breakfast to dinner, while the ready-made section only includes entrees. Also, you can't mix and match the 2 menu sections in the same order.
Purple Carrot also has a small collection of plant-based pantry items, referred to as the Plantry. This is only available in the Meal Kits section and offers snacks to complement Purple Carrot's meals, with items like Chocolate Tahini and Sea Salt Cauliflower Snacking Crackers.
While there aren't any customizations available, the rotating menu ensures that you'll never get bored with your meal options. Also, it's important to mention that Purple Carrot is not an organic-certified service. So, while most of the non-produce items are organic, the company doesn't promise each meal kit or ready-made recipe will include organic ingredients.
Purple Carrot only works with trustworthy suppliers to make sure all the ingredients are at peak nutrition and freshness. If you prefer a service that can offer full organic produce, you should check out Green Chef's offer.
It's also highly-focused on protecting the environment. For this, the company tries to use less plastic in its packaging and make sure the materials are eco-friendly. Our expert Purple Carrot review goes into more detail on the company's environmental impact.
Prices with Purple Carrot start at $8.50 per serving for meal kits and $13 per serving for ready-made meals. Now, the price per serving for meal kits changes depending on how much you order. As such, you can order for 2 or 4 people, between 2 and 4 meals per week. Ready-made meals have a fixed price per serving, and you can order 6, 8, or 10 single-serving meals each week.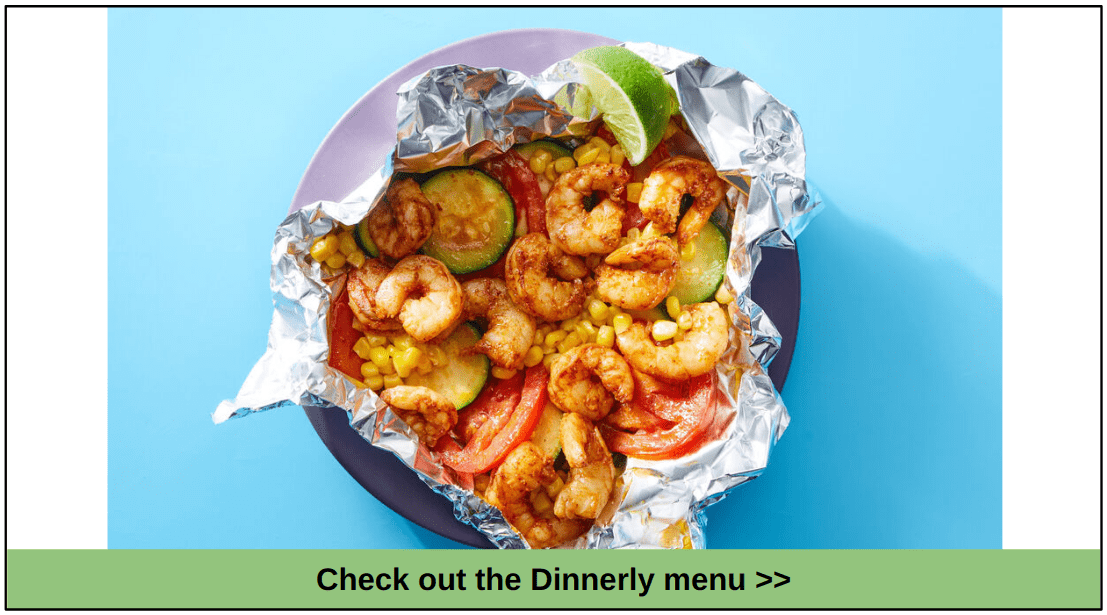 Key Features
Simple and tasty recipes

100+ recipes each week

Dietary options include low-carb, low-calorie, vegetarian, and more
Dinnerly is one of the most affordable meal delivery services in the Salt Lake City market. But despite offering low-cost meals, the company manages to maintain high standards of ingredient quality and offers tons of recipe options each week.
The extensive menu includes over 100 recipes each week and offers meal kits and 4 to 5 ready-made meals. Most of the recipes are simple (usually 6 ingredients or fewer) and easy to make. However, this doesn't mean the meals lack flavor or imagination. The kits are put together by professional chefs and feature a combination of American and international cuisine.
This way, you can easily prepare plenty of interesting and quick home-cooked meals for the entire family. There are even recipes that respect certain dietary restrictions, such as dairy-free or vegetarian. But most dishes are designed to appeal to a general palate and range from classic comfort foods like pasta and pot pie to inventive dishes like chorizo and broccoli quesadillas.
Dinnerly only works with trustworthy suppliers that provide the freshest fruits and veggies and high-quality proteins. Plus, some meals include organic ingredients from local suppliers, but these come with an upcharge. To learn more about Dinnerly's ingredients and menu content, make sure to check our in-depth Dinnerly review.
To keep overall costs down, Dinnerly keeps packaging simple, and all the ingredients are loose inside the box. The ingredients arrive fresh with separate compartments for meats and fish to avoid cross-contamination. You also won't receive paper recipe cards, but the digital versions are user-friendly and helpful.
One notable advantage of Dinnerly is its affordability. The service is much cheaper than takeout, with prices starting from $2.12 per serving for the maximum box size (6 meals for 4 people each week). Besides helping you save money on your grocery bill, Dinnerly also helps minimize food waste.
Quick Comparison Table