Short on Time? Here Are the Best Meal Delivery Services in Scottsdale
The Best Meal Delivery Services in Scottsdale Reviewed
Factor understands that meal planning and cooking can be incredibly time-consuming. This is why it features an extended offer of nutritious and delicious microwave-ready meals. Furthermore, all these meals are dietitian-designed to provide the perfect balance of nutrients for an adult individual. This makes it easy for you to maintain a healthy diet.
Factor caters to several diets, such as keto, vegan, high-protein, and low-calorie. You'll find 25+ high-protein meals each week, around 20 keto meals, and 20+ calorie smart dishes. There are also several carb-smart meals and around 5 vegan and vegetarian recipes.
The company only works with suppliers who use sustainable and healthy farming practices. Therefore, all the produce is fresh and rich in nutrients, and the animal products are free of extra hormones and antibiotics. According to my colleague's in-depth Factor review, the freshness and quality of ingredients help create the high-end taste and texture of the meals.
While Factor isn't a weight-loss meal delivery service, most meals contain around 600 calories per serving. Each recipe comes with a complete list of ingredients and nutritional information. Also, if you have questions regarding your diet, Factor offers a free 20-minute session with a registered dietitian.
Factor's menu is diverse, with options for almost everyone. It includes top-rated recipes like Ground Pork & Cheddar Chili Mac with Broccoli & Garlic-Chive Corn and classic recipes like Roasted Garlic Chicken with Green Beans & Sour Cream & Onion Mashed Potatoes.
In addition to the core regular menu, Factor also offers a well-stocked add-ons section. Here, you can purchase nutritious snacks, high-quality proteins (ready-cooked), and healthy smoothies, juices, or shakes. But these items are priced separately, so each will add to the final amount.
Factor's pricing is based on the number of meals you order each week. Prices start at $6.19 per serving for the 18 meals per week plan and go as high as $13+ for the 6 meals plan. Since the meals are single-serving, you can order 6, 8, 10, 12, 14, and 18 meals per week.
Key Features
Plenty of diet-specific options

45+ healthy recipes per week + add-ons

8 meal plans, including Mediterranean, Gluten Free, Keto, and more


Current deal: Get $250 off + free shipping
Green Chef is the perfect service for foodies who want premium ingredients. Green Chef was the first CCOF-certified organic meal kit company on the market and continues to be among the best organic meal kit services out there.
This service uses organic, non-GMO produce and eggs in all of its meal kits. The meat is also organic, when possible, and always responsibly sourced. Green Chef only works with farmers and suppliers who use eco-friendly and ethical farming practices, ensuring that all the ingredients you receive are sustainably sourced.
In my research, I discovered that Green Chef has a wide range of meal plans available. As someone who enjoys the many benefits of a plant-based diet, I appreciate Green Chef's large offer of creative and flavorful plant-based meals. Each week, there are around 16 plant-based meals to try.
The menu consists of several plans, but you can mix and match between them. There are around 26 gluten-free meals and around 11 keto meals per week. Also, many dishes are marked as Calorie Smart or Protein Packed. Also, many dishes are marked as good for the Gut & Brain or Protein Packed. You can learn more about this in our tried-and-tested Green Chef review.
Green Chef also has internationally-inspired recipes, featured in the new Delicious Discoveries plan. Recipes like French Onion Mushroom Melts or Pork with Balsamic Fig Sauce let you expand your culinary horizons and take you on a worldwide nutritionist-approved journey.
One of the best things about Green Chef's meal kits is how easy they are to make. Even if you are not familiar with the ingredients, you shouldn't spend more than 25 to 40 minutes on a meal. Each recipe comes with clear and concise instructions that guide you through every step of the cooking process.
Prices start at $9.99 per serving, putting Green Chef on the higher end of the meal kit market. Still, the premium ingredients and recipes are worth the cost if you can afford it.
HelloFresh's crowd-pleasing recipes make it a great meal delivery service for families. It has an extensive menu that changes each week, so it'll be pretty difficult to get bored. Also, the meal kits are so easy to put together that you'll never want to go back to traditional meal planning!
There is something for everyone, from vegetarian options to family-friendly meals. You can mix and match between the 6 meal plans, and many of the recipes will be ready to enjoy in under 30 minutes. My colleague loved all the meals they got to try while working on our thoroughly tested HelloFresh review.
HelloFresh has a wide range of kid-approved meals for fussy eaters. The options range from Quesadillas in different flavors to different types of meatloaf to burgers with different fillings. And for the more adventurous eaters, there are recipes like Tuscan Chicken & Mushroom Risotto and Sesame Soy Pork Bowls.
HelloFresh prioritizes taste and freshness in all its meals. You will find some meals that contain organic ingredients, but it's not a focus of this service. Green Chef, owned by HelloFresh, offers a certified organic meal delivery experience.
I love this service's commitment to sustainability. HelloFresh only works with partners that have a proven track record of delivering high-quality, seasonal farm-sourced produce at peak freshness. This is better for the planet and results in better-tasting ingredients, too.
Given its advantages, I was surprised to learn that HelloFresh is quite affordable. You can order for 2 or 4 people, between 2 and 6 meals per person per week. And if you order 6 meals for 4 people per week (the maximum box size), prices start at $3.32 per serving. You'll also have to pay a shipping fee with each new order.
Key Features
Allows you to swap, upgrade, or double-up on protein

30+ diverse recipes per week + lots of extras

3 dietary options – carb-conscious, calorie-conscious, and vegetarian
Home Chef's claim to fame is its superior customization options. Its "Customize It" feature gives you the power to select ingredients and swap out proteins. There are many protein options available, although these same options aren't available for sides.
The menu changes weekly, offering an impressive variety in meals. Plus, you don't have only traditional meal kits on the menu. The service also offers easy-prep kits that are divided into 2 categories – Express for 10 to 15 minutes kits and Express Plus for kits that need 20 to 30 minutes for prep and cooking.
Home Chef has Family Meal Kits, which feature crowd-pleasing recipes in larger servings. These kits can be Express, Oven-Ready, Fast & Fresh, or traditional meal kits. According to our in-depth Home Chef review, each meal kit comes with easy-to-follow recipe cards, so even if you're a beginner, you can handle a more complex meal.
The company works with many different suppliers to ensure fresh seasonal ingredients at peak flavor throughout the year. While Home Chef doesn't focus on using organic ingredients, you can find organic protein options through the "Customize It" feature.
I like that Home Chef caters to several dietary preferences and needs. There are ample options for low-carb meals to support your fitness goals and calorie-conscious options for weight management. There's a healthy selection of vegetarian (but not vegan) dishes, too.
Home Chef is a great option for large families, as you can order for 2, 4, and 6 people between 2 and 6 meals per person. Prices start at $7.99 per serving, but each item is individually priced.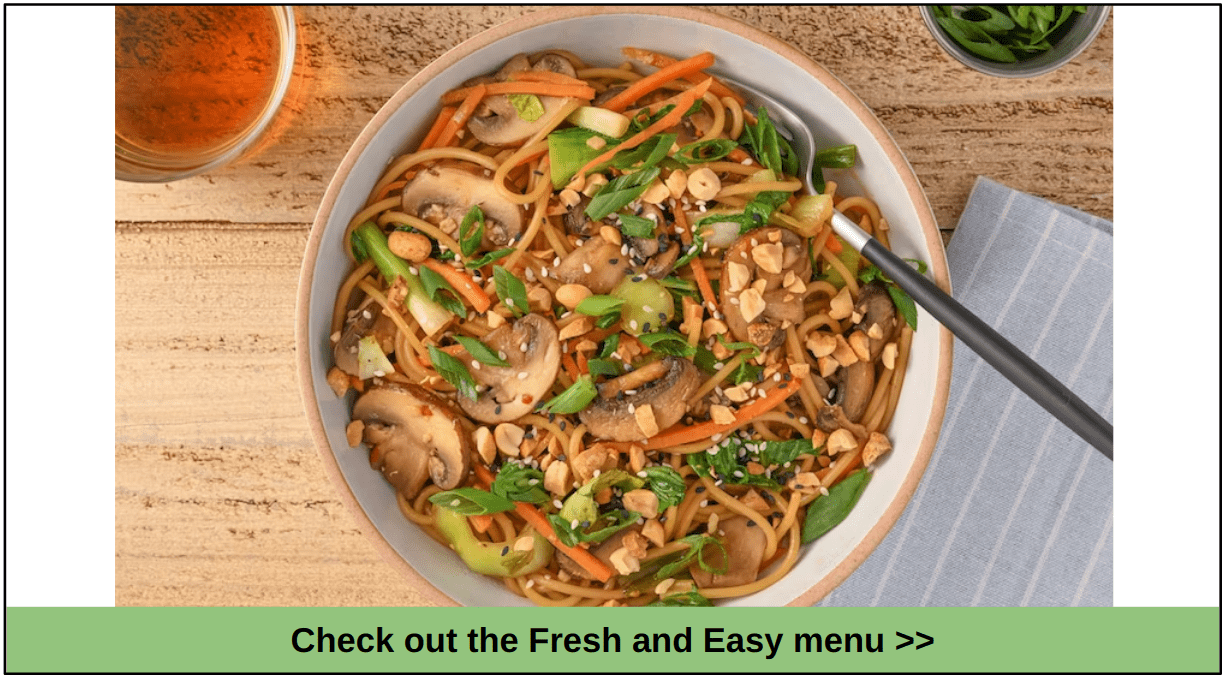 Key Features
Little to no cleanup

20+ flavorful recipes each week + add-ons

3 main dietary options – calorie-conscious, carb-conscious, vegetarian
Fresh and Easy is for busy individuals who don't have time for meal prep or cleanup. The service is an extension of Home Chef's core menu that offers quick, prepped, and portioned meals that take 15 minutes or less to prep.
I think this service is a game-changer because it doesn't just offer ready-made meals. Its menu offers simple recipes that come with built-in shortcuts and tips that shorten the time you should spend prepping the ingredients. This way, you still get a flavorful home-cooked meal.
Your ingredients come portioned, chopped, and ready to pop in the oven or on the grill. This means less time spent with the ingredients and cleaning the dishes. The Oven- and Grill-ready meals even come with a container that you can use to cook everything in.
The menu includes categories like Express, Fast & Fresh, and Oven-Ready meals. There are also some entree salads that come with pre-cooked and pre-portioned ingredients, so you only have to combine everything and add the sauces.
Fresh and Easy has the same dietary categories as Home Chef. This means basic diets like low-carb and vegetarian are represented. While exploring the service for our well-researched Fresh and Easy review, my colleague discovered that there are fewer plant-based dishes to choose from. The menu is also not designed for those with allergies.
Each recipe comes with information on common allergens it may contain, but you have to check them individually. But if you're an omnivore who needs speedy meals, Fresh and Easy is a great option. Plus, it has access to Home Chef's Customize It feature, which allows you to choose your preferred protein for almost every dish.
Just like Home Chef, you can order a maximum of 6 recipes for 6 people per week. Prices start at $7.99 per serving, which is quite low compared to services like Factor that deliver ready-made meals.
Key Features
Dedicated Wellness plan with healthy recipes

16+ gourmet recipes each week and add-ons

Dietary options include health-conscious, vegetarian, and more
Blue Apron offers a fine dining experience at home without breaking the bank. The service features several menu categories, such as Chef Favorites, Ready to Cook, Premium Craft, Family Friendly, and Fast & Easy, under which you can find a wide range of impressive recipes.
The menu is suitable for all dietary needs and preferences, including both vegetarian and meat options. The recipes include a mix of classic dishes like Chicken Parmesan, as well as more unique and globally-inspired offerings like Kung Pao Tofu or Cumin-Sichuan Salmon with Scallion Rice & Broccoli.
The Blue Apron menu changes weekly, so there's no shortage of interesting recipes. Also, as my colleague discovered while trying the service for our in-depth review, many of the meal kits start from traditional cuisine but are elevated through unique spice blends or cooking techniques to create a more refined dining experience.
This service lets you experience new flavors in the comfort of your own home. The Blue Apron menu offers a wide range of cuisines from around the world, such as American, Italian, Mexican, Vietnamese, Moroccan, Japanese, Indian, and more.
Blue Apron ranks highly on my list thanks to its commitment to high-quality ingredients. The company prioritizes seasonal produce and works with more than 100 family­-run farms that focus on sustainable farming practices. Additionally, all the animals are humanely-raised and free of antibiotics.
Blue Apron also has a well-stocked marketplace. There, you can see meal kits and prepared meals you don't have to be a member to buy on offer.
Blue Apron's pricing is based on the number of servings and meals per week. The starting price is $5.74 per serving for 5 meals per week on the 4-serving plan. There is also a 2-serving plan, which works great for couples. You can order between 2 and 5 meals per week with both plans.
Key Features
Dietitian-designed recipes

150 meals on a rotating menu, plus snacks

7 dietary options, like menopause, vegan, diabetes-friendly, and more
BistroMD is a weight loss diet service designed by doctors and dietitians. While there are other services that offer weight loss-oriented plans, like Blue Apron's Wellness Plan, BistroMD takes things a step further by providing completely personalized meal plans for specific dietary needs.
The service's goal is to provide meals that help you lose weight without sacrificing flavor. The menu boasts 150+ breakfasts, lunches, dinners, and snacks specifically designed to meet your caloric daily goals. Each meal contains 350 to 500 calories, and the daily recipes add up to 1,200 (for women) or 1,400 calories (for men).
Each meal is prepared by a chef and flash-frozen to keep it fresh and retain nutrients. Freezing them makes it easier to store the meals, but there's a trade-off with taste and texture. As my colleague discusses in their BistroMD review, though, this service is about weight loss more than flavor.
Even though the menu rotates and repeats, it's varied enough to keep things interesting. You'll find a wide variety of dishes from various cuisines, ranging from Jerk Spiced Tilapia to Stuffed Grape Leaves. Plus, the breakfast options are diverse, like omelets and waffles, and you get healthy snacks like bars and crackers.
BistroMD offers 7 meal plans based on specific dietary needs. These include Gluten-Free, Heart-Healthy, Diabetic-Friendly, Menopause, Keto, Vegan, and Weight Loss for men and women (separate programs for each). Since each program is designed to satisfy certain needs, you can't mix and match, but you can choose the meals that go into your weekly box.
You can order the Full Program (includes 3 daily meals + snacks) or Lunches & Dinners. You can also choose between getting a 5- or 7-day subscription. As usual, pricing varies depending on how many meals per week you choose. Still, at $8.24 per serving, BistroMD is a bit on the steep end.
Key Features
Meals for breakfast, lunch, and dinner, plus snacks

130+ recipes on the menu

Dietary options include low-calorie, high-protein, high-fiber, and more
Nutrisystem offers ready-made meals that cater to weight loss and healthy eating goals. The service is designed to make it easy for customers to lose weight by providing balanced, portion-controlled meals.
The extensive menu includes breakfast, lunch, dinner, snacks, and dessert options. The company also caters to several different dietary needs, such as people with diabetes and those over 55. Besides this, all the Nutrisystem meal plans are designed to keep you in a caloric deficit which boosts weight loss.
Most of the ingredients used are non-GMO, and the meats follow the current industry standards for quality. In our in-depth Nutrisystem review, my colleague notes that most of the menu is shelf-stable meal replacements.
Nutrisystem's diet plan is all-inclusive, so you'll definitely get to know the menu well. The most intensive plans only let you eat Nutrisystem products. You'll be able to choose your meals, but if you're a beginner, I recommend choosing the Chef's Choice option to get a mix of items.
You can also combine Nutrisystem's meals with meals you prepare at home, but you may not lose weight as easily this way. The service designs its portions with careful consideration for nutrient and calorie content. This is why the portions are smaller in size than with other ready-made meal delivery services, like Factor.
At $8.54 per day, Nutrisystem is not a budget-friendly meal delivery service. However, given the care that goes into planning each meal plan and the tools that support your weight loss journey, I see why the price tag is on the steep side. Also, you can order your meals in bulk, which saves some money on shipping.
Key Features
A 100% gluten-free service

25+ carefully-designed recipes each week

Dietary options include Whole30, paleo, keto, vegan/vegetarian, and more
Trifecta is a premium service offering up chef-prepared, organic, and ready-to-eat meals. The service offers 6 different meal plans – Clean Eating, Paleo, Vegan, Vegetarian, Whole30 Approved, and Keto. Each plan is specifically designed to meet specific dietary requirements.
You can accept a chef-selected menu or choose meals. If you go with chef-curated meals, you won't know what goes in your box until you open it at home. Check my colleague's Trifecta review to learn more.

Look for the Meal Prep and Classics menus if you want to pick your own dishes. The Classics menu has a small selection of entrees, while the Meal Prep section includes cooked proteins, carbs, and vegetables. Mix and match these items to create the meals you want.
Trifecta's menu doesn't change every week, unlike Factor's. The company uses fresh seasonal ingredients, so new meals may be integrated into the system as the seasons change. All the meals are entirely gluten-free, and all the ingredients are sustainably farmed from trustworthy providers who practice regenerative agriculture.
Trifecta uses organic ingredients when possible, but it doesn't have USDA certification. The company cannot ensure a continuous stream of organic ingredients all the time, so not all ingredients are organic. They are all still high quality and responsibly sourced.
This meal plan's cost is around $6.00 per serving, making it a premium service. You can order 5, 7, 10, or 14 single-serving entrees and 7 breakfasts for a single week, and the price per serving can vary between meal plans.
Key Features
Chef-cooked meals with all-natural ingredients

40+ home-cooked meals per week

4 dietary options – traditional, paleo, keto, and plant-based
EatClean is a great no-fuss, ready-made meal delivery service. It provides healthy and fresh meals made following crowd-pleasing recipes, so it feels like you've received a package from your mother or grandmother.
Unlike familiar comfort dishes, though, these meals are designed to meet your health goals. The goal is to combine tasty, comforting recipes with nutritionally-complete ingredients. If you want tasty meals without a diet plan, check out HelloFresh's popular menu.
The EatClean menu features meals for 3 distinct diet plans: keto, paleo, and plant-based. There is also a traditional section where you can find meals like BBQ Crusted Chicken Breast with Mac N Cheese or Chipotle Chicken with Organic Brown Rice. You can learn more about meals from our well-researched EatClean review.
EatClean sources its ingredients from local farms and suppliers whenever possible. Also, the company uses free-range chicken eggs and some high-quality ingredients, like organic rice and cheese or grass-fed beef.
The menu features mostly entrees, but there are a few options for breakfast and dessert. While there aren't any customization options available, you can choose your meals each week. Also, you can mix and match between the menu categories, so you have lots of options.
You can also choose to increase your portion size, which is a feature you don't see with many services. If the Regular portion isn't enough food for you, you can pay a small upcharge for a Large portion of most items.
EatClean lets you order 6, 8, 10, or 12 single-serving meals each week, and prices start at $8.60 per serving. This is quite affordable, but the price is only available for the maximum box size (14 Regular-sized meals per week). If you choose the minimum order (6 meals per week), the cost can be quite steep.
Quick Comparison Table