Short on Time? Here Are the Best Plant-Based Meal Delivery Services
The Best Plant-Based Meal Delivery Services Reviewed
Key Features
CCOF-organic and USDA-certified organic meal kits

45+ recipes available each week

8 dietary options include plant-based, keto, and gluten free


Current deal: Get $250 off + free shipping
You can be sure 100% of the plants in your plant-based meals are organic with Green Chef. All produce is certified organic and non-GMO, so you can rest assured that there are no contents artificially preserving these ingredients.
Recipes aren't customizable, but plant-based recipes are tagged as Vegan or Veggie so you can see which weekly options are available. You can even find flavor-packed 10-minute lunches, such as the Hot Honey Edamame Salad with Pineapple pictured above.
Proteins in Green Chef's veggie-based plan derive ingredients from whole sources like beans and grains. In fact, the entire menu provides recipes of balanced complex carbs, proteins, and fat. You might find a few non-whole foods in sauces, but those findings are rare.
The main menu and non-veggie plans are great for omnivores wanting to eat more plants since each meal includes a hearty serving of Green Chef's organic produce. For more on Green Chef's other meal plans – check out my colleague's in-depth review!
Choose from 8 weekly plans, including Plant-Based, Keto, Gluten Free, Protein-Packed, Mediterranean, Quick & Easy (ready in under 25 minutes), Calorie Smart (650 calories per serving), and Delicious Discoveries. All plan menus are posted for 3 weeks at a time, so you can easily plan your personal plant-based menu.

I like that choosing a meal plan from Green Chef is flexible since the service allows you to mix and match multiple plans. For example, you can combine the Plant-Based plan and add the Gluten-Free plan to ensure you receive gluten-free, plant-based meals.
All Green Chef recipes feature mostly American and Mediterranean cuisines. You can even check out the Delicious Discoveries for more exotic fare. Regardless of the cuisine, all recipes are easy-to-follow meal kits with prepared sauces and seasonings, and pre-portioned produce. Meal kit prep takes an average of 30 to 45 minutes per meal.
There's an extensive Add-Ons section, but those items are best for keto dieters. While you'll find a few flavored oatmeals each week, most extras are fish or meat protein sides and non-plant-based breakfasts.
Prices start at $9.99 per serving, which is much more affordable than organic salad takeout, but a bit more expensive than grocery shopping and prepping on your own. You can order 6 to 24 servings per week.
Factor's meals are all designed and approved by registered dietitians who ensure recipes have balanced macronutrients. Plant-based meals include fully prepared vegan meals that arrive ready to heat-and-eat or grab-and-go juices and smoothies in the add-ons section.
You only need a few minutes to heat and eat Factor's super healthy meals, so all you busy plant-based eaters can rest easy eating Factor's meals on those on-the-go days. For an expert take on the menu, cost, and more, my colleague wrote a full review of Factor's meal delivery service.
The menu changes weekly and includes 35 recipes and 40+ add-ons each week. Cuisine is primarily American and Mediterranean, with some Asian and Southeast Asian-inspired dishes like the Peanut Buddha Bowl with cilantro quinoa, gochugaru-spiced peanuts and sesame broccoli pictured above.
Factor prioritizes sourcing high-quality, humane, and sustainably grown ingredients. Each recipe includes non-GMO and mostly organic produce. All poultry and eggs are cage- and antibiotic-free, all meats are pasture-raised or grass-fed, and the salmon is sustainably sourced.
This service offers a complimentary session with a registered dietitian so that you can ensure Factor's meals are right for your diet. While most meal delivery services require ordering first, Factor doesn't. You can speak with an RD before you order to ensure you're getting the right plants for your plant-based diet.
Plus, Factor recipes are integrated into the most popular calorie-tracking apps: MyFitnessPal, LoseIt, and Carb Manager, so you can track all your macronutrients and vitamin intake. All you have to do is find the meals you ordered in the app, and add them to your daily food log.
Factor's meal plans are so convenient because they cover a wide range of diets. The 6 plans include Vegan & Veggie, High Protein, Keto, Calorie Smart, Flexitarian, and Protein Plus, all of which you can mix and match as you prefer. So you can select Vegan & Veggie and Calorie Smart if you'd like to eat a mix of low-calorie plant-based meals.
Like Green Chef, add-ons are best for keto dieters and not great for plant-based eaters since many of Factor's extras are keto-friendly desserts, meal bundles, and smoothies with milk bases. Vegans are better off choosing from the main menu.
Ordering and managing your Factor subscription is super easy, too. You can download the iOS and Android-compatible mobile App from the App Store or Google Play, or sign up via the desktop website. The FAQ is simple to navigate, the chatbot provides accurate responses, and the 24/7 live chat is very convenient for last-minute questions or order change requests.
For ultimate plant-based convenience, you can even order up to 18 meals per week and round those out with protein smoothies for a complete week of fully prepared plant-based meals. Pricing starts at $6.19 per serving for the maximum order, with a minimum order requirement of 6 meals.
Key Features
Fully prepared and 100% plant-based smoothies, soups, grain bowls, and more

Filter to avoid 10 different ingredients including tree nuts, beets, and spice

7 dietary accommodations including high protein and low sodium

Current deal – Get $120 off your first 4 deliveries!
Splendid Spoon is an excellent option for 100% plant-based vegan meals. You'll also find gluten-free grab-and-go and microwave-ready meals. Each smoothie, soup, grain or noodle bowl, juice, and power shot contains zero artificial sweeteners and 100% non-GMO produce.
Soups and bowls are microwave-ready, while smoothies and juices are grab-and-go. For more on Splendid Spoon's complete service and its clean, vegan, prepared meals, check out our in-depth review.
Ordering from Splendid Spoon is super easy. All you have to do is choose the box size you want according to how many items you'll order, then fill your box with any item on the menu. You can change your order each week to try different meals or continue ordering found favorites.
This is the easiest option for plant-based eating since meals arrive packaged in about 2 portions per recipe and in packages that allow for easy refrigeration. If you don't finish a meal, you can put the lid back on your meal and save it for later.
What's great about Splendid Spoon is that it has 1 of the easiest menus to filter. On the left side of the desktop or mobile site, you'll see a long menu of dietary and ingredient filters. You can easily filter all items for most dietary needs, like high protein, low calorie, and carb-conscious, and ingredients like spice, caffeine, or bananas.
All meals are naturally gluten-free and calorie-conscious, with counts of around 220-300 calories per serving. You'll only find whole ingredients in each recipe that are as close to their original form as possible.
While calories are low, portions are still sizable. Each 16 oz bowl or smoothie is meant for 1 meal or 2 snacks for one person, so listen to how you feel after finishing 1 serving rather than aiming to finish the whole meal.
For soups and bowls, the cuisine is primarily Mediterranean with hints of Mexican, Indian, Thai, and Asian-inspired flavors for the soups and bowls. Each week you can choose from 20 to 25 soup or grain bowls and 9 noodle bowls. You'll find plant-based versions of traditional dishes like the above-pictured Vegan Shepherd's Pie with sweet potato mash and brussels sprouts.
For smoothies and juices, flavors are mostly fruity with some spice and chocolate. You can choose from 20 to 25 smoothies, 4 fresh-squeezed juices, and 5 power shots. Smoothie recipe flavor categories can be likened to tropical, berry-based, greens-based, and mixes of each.
Splendid Spoon has one of the pricier menus per serving since prices start at $9.99 per serving when you order 21 meals. You can order box sizes of 7, 14, or 21 meals, with free shipping for the latter 2.
Key Features
Menu includes vegan breakfasts, lunch, dinner, desserts, and snacks

12 meal kits, 8 – 9 prepared meals

Dietary accommodations include gluten-free, soy-free, and high protein
Purple Carrot is another excellent meal delivery service option for plant-based dieters with its meal kits and 8 or 9 microwave-ready meal options per week! While Purple Carrot offers excellent meals ready in 2 to 3 minutes, it loses out to Splendid Spoon because it doesn't have grab-and-go meals like smoothies and juices.
However, its plants are almost all organic, and the company sources as much organic produce as it can from organic farms while keeping prices affordable and recipes flavor-packed. Sometimes supply chain issues arise, but you'll be notified when a normally organic piece of produce isn't available for your next order.
Our reviewer tested Purple Carrot's service and meals and said "It's guaranteed to please even the fussiest of omnivores and anyone else like me who wants to learn how to turn veggies into delicious and satisfying meals." Check out his in-depth review of his experience with Purple Carrot.
The menu is smaller than most meal kit delivery services, but all recipes rotate each week, so you still get fresh weekly recipe options. There are 12+ meal kits and 8 prepared meal recipes.
The Less Prep menu includes all the low prep options from the whole weekly menu so you can easily view which meals will be 30 minutes or less. You'll find 5-minute breakfasts, easy 15-minute lunches, and dinners that are ready in just 30 minutes.
I find the cuisine options varied and more for adventurous palates despite the small weekly menu. You'll find a mix of Mediterranean, Indian, Asian, and Southeast Asian-inspired recipes every week. Each meal kit features veggies as the star flavors of each dish and is packed with veggies, herbs, and spices.
Purple Carrot focuses on offering nutrient-dense meals highlighting natural plant flavors. While many other meal services substitute meats for highly processed protein alternatives, Purple Carrot's recipes use nutrient-dense proteins like beans and quinoa.
I like that you can choose for all your meals to be High Protein or Gluten-Free. The High Protein option is great for plant-based eaters since consuming only plant-based recipes can leave you protein deficient, and Purple Carrot has your back. The High Protein option ensures that each meal has at least 20 g of protein.
What I appreciate about Purple Carrot's menu are its microwave-ready recipe options. Each week, you'll find 8 recipes, meaning you can try a different prepared recipe each day of the week, every week. You'll also find snacks and pantry staples in the Plantry, like cashew cream cheese and the Actual Black Burger that's 100% and 0% filler.
Purple Carrot doesn't skimp on flavor with its microwave-ready meals, as they include the same variety of cuisines as its meal kit menu. You'll find options like the Italian-inspired vegan Portobello Tortelloni with Cacciatore Sauce and Tofu Ricotta (pictured above). Fully prepared meals come in microwave-ready, recyclable trays – all you have to do is heat them for 2 to 5 minutes.
The convenience of Purple Carrot comes at a cost. Pricing for the maximum order of 12 meal kits per week starts at $8.50 per serving, while the prepared meals are $13, regardless of the number you order.
You must order a minimum of 3 meal kits for 2 people (6 servings) and can order a maximum of 3 meal kits for 4 people per week (12 servings). Prepared meals come as single portions and can be ordered in bundles of 6, 8, or 10 meals per week.
Key Features
Nutrient-dense, carefully prepped and sustainably sourced ingredients

Recipes rotated according to the seasonal freshness of ingredients

7 meal plans including Vegan, Vegetarian, and build-your-own
Trifecta offers a Vegan and Vegetarian plan of fully prepped plant-based meals with ingredients that are sourced for optimal quality and rotated for seasonal freshness.
You won't find any preservatives or artificial, processed, or refined ingredients in Trifecta meals. Ingredients arrive fully prepped and fresh – ready for consumption, refrigeration, or freezing. Read more about unboxing with Trifecta here.
Trifecta sends you individually and conveniently portioned meals in microwave-ready trays. I like when meals arrive in microwave-ready trays because you can easily save food for later and reuse the trays for storing other foods.
You can also order extra sides or build your own plant-based meals of veggies and complex carbs with Trifecta's build-your-own meal plan. This plan offers super clean, fully but minimally prepped ingredients that can fit your plant-based diet. All you have to do is plate which ingredients you want, heat for a few minutes, and enjoy.
Vegan-friendly ingredients include complex carbs like brown rice, and veggies like broccoli and asparagus, which arrive fully prepped using simple ingredients like olive oil, garlic, onion, thyme, and rosemary.
Trifecta now also lets you choose your own meals, or have a chef pick them for you. This wasn't available in the past, so I love seeing this change on the site. Now, you can see the meals you want to order and place them in your cart accordingly. No more mystery!

So, Trifecta is best if you have zero food allergies or sensitivities since you can't see the weekly menu. You can check out the Classics meal plan for an idea of what Trifecta meals typically look like, but those aren't plant-based.
However, you can talk to a registered dietitian (RD) before ordering to determine whether Trifecta is the right plant-based service for you. Trifecta markets itself as a meal delivery service for athletes, so its RDs are available to answer questions about your weight and exercise goals. If you have a serious health concern, speaking to a medical professional before you order is best.
Trifecta offers a nutrition-tracking app, which you're eating plant-based to achieve certain nutrient intake levels. All recipes are integrated into the app for easy nutrient tracking, and you can scan barcodes of other products you might add to your meals.
This is an expensive service for those of you on a budget. For a full week of 7 breakfasts and 14 entrees, you'll pay over $300 per week. Price per serving at the largest amount of meals per week starts at $6.00.
Key Features
Microwave-ready meals for on-the-go plant-based dieters

15 plant-based recipes each week

4 plans you can mix and match including Plant-Based
Eat Clean offers fresh, never frozen, and fully prepared plant-based meals. All you have to do is heat your meals for 2 to 3 minutes in the microwave. Meals arrive individually portioned, so heating and eating is even easier for individuals ordering from this menu.
The menu rotates weekly, so you'll get a different selection of 15 plant-based meals each week. This is great if you like variety or are trying plant-based eating for the first time. You can check out our reviewers complete assessment of Eat Clean's service here.
You can choose from the Traditional, Plant-Based, Paleo, or Keto meal plans, but you aren't required to only order from each plan. Plans serve more as menu filters when you're picking your meals for the week, and you're welcome to mix and match between each plan. This is great if you're keto or paleo and want to try fitting in more plant-based meals each week.
Meals are super simple but cuisine influences are cosmopolitan. You'll find a very American breakfast like the Shrimp and Beyond Sausage Jambalaya and Organic Rice (pictured above), or a plant-based version of a vegan version of a classic Indian dish like Cauliflower Curry Chickpeas with Basmati Rice.
You'll find a lot of plant-based meat alternatives on the menu. If you're eating plant-based to avoid processed foods, plant-based meat alternatives aren't the best option. You might want to check out Green Chef's menu instead.
All Eat Clean meals are low sodium and average 300 to 500 mg of salt per serving. You can see the basic ingredient and nutrition labels on the website, but I find them to be lacking detail. You won't find any allergen notifications or details about ingredients like "yellow curry," which could be unwelcome for gluten-free eaters depending on what's in the curry.
Ingredients quality is noted in the recipe title or nutrient facts. Most are standard quality, but the Shrimp and Beyond Sausage includes organic rice and this is noted in the ingredient information. Eat Clean isn't an organic-focused service but uses organic ingredients where supply line and price allow.
Eat Clean is one of the more affordable services on this list, with prices starting at $8.60 per serving. You can order 4, 6, 10, or 12 meals each week from any plan on the menu.
Key Features
Vegetarian meal kits and prepared meals

4 vegetarian recipes each week

Dietary options include vegetarian, diabetes-friendly, and low-calorie
Blue Apron provides gourmet recipes at an affordable price. Its Vegetarian plan is best for plant-based eaters. The Vegetarian plan only includes 4 recipes each week, but flavors are guaranteed restaurant-quality with custom Blue Apron seasoning. You'll find tasty recipes like the Whole Grain Pasta and Cauliflower with Creamy Romesco Sauce and Capers (pictured above).
As someone who has frequently reviewed Blue Apron, I can say it's an excellent service for beginners. The website provides complete recipes, and you can either read through each step in advance or use the Cook Along button for a slideshow version of your recipe, complete with pictures. There are even videos available.
Most recipes require around 25 to 30 minutes of preparation time. If you're in a rush, you can select from 3 microwave-ready meals each week that only take 5 minutes to heat. Find out more about Blue Apron's gourmet recipes and vegetarian options in this full review of its service.
These prepared meals feature the same high-quality ingredients as the meal kits, with recipes like Miso-Sesame Chicken with Brown Rice and Vegetables. You'll usually find 3 microwave-ready meals on the menu each week, 1 or 2 of which will be vegetarian.
What I appreciate about Blue Apron is that they offer custom spice mixes, wine pairings, and even kitchen utensils for sale. The company is famous for its seasonings, which range from Cajun to Togarashi. If a recipe you just ordered requires a utensil you don't own, you can purchase it from Blue Apron's Market.
Blue Apron places a high priority on ingredient quality. They ensure that proteins are humanely sourced, and the produce is sustainably farmed. As a result, you can enjoy high-quality recipes without worrying about added hormones or antibiotics in your food.
Although some customization options are available, they could be improved. Typically, you can only swap a protein. Customizing recipes for allergies or other diets like paleo, keto, or gluten-free isn't possible unless you choose to make substitutions from your pantry.
Shipping materials are only about 85% recyclable, but you'll have minimal food waste since ingredients are pre-portioned for each recipe. However, if you frequently order meal delivery, that 15% can accumulate. While the website provides clear guidelines on how to recycle each packaging piece, the recyclability level doesn't compare to other services such as Marley Spoon, which is a 100% carbon-neutral service.
Finally, Blue Apron's minimum order is 2 meals of 2 servings each per week, but you may order up to 5 meals of 4 servings each week. Pricing starts at approximately $5.74 per serving for the maximum order. If you don't have any food allergies and don't mind spending about 30 minutes preparing a home-cooked meal, Blue Apron is an excellent option.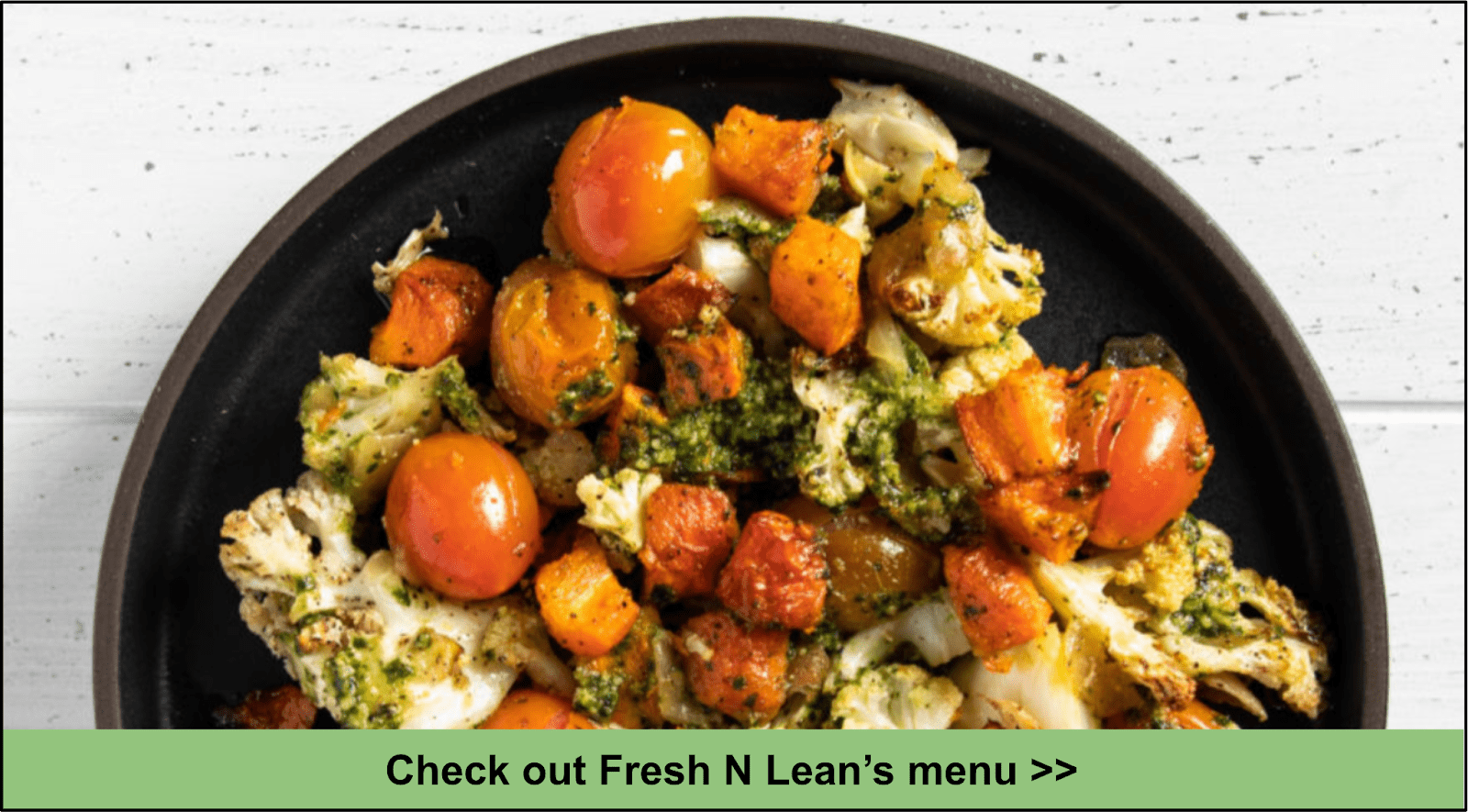 Key Features
All veggies are organic, food is Non-GMO

100+ unique fully prepared meals recipes across various diet plans

7 dietary options including Vegan and Low-Carb Vegan
Fresh N Lean stands out to me because of the premium quality of its ingredients. The meat is grass-fed and never given antibiotics or hormones, the vegetables are organic, and all of the food is non-GMO. These minimally processed, whole ingredients are perfect for post-op recovery.
Check out my colleague's in-depth review of Fresh N Lean if you'd like to know more about its complete service, including customer support.
What's great about Fresh N Lean is its variety of plans. With 7 different diet plans, you can mix and match to find the best fit for you. They offer options such as Keto, Paleo, High Protein Vegan, Mediterranean, Whole30, and Low Carb Vegan and a Bulk plan for buying proteins and sides separately.
Fresh N Lean has all meals covered, with 10 to 12 lunch and dinner recipes and 3 to 4 breakfast recipes for each plan. You can rest assured knowing that each meal is gluten-free and can be accommodated for any allergies or dietary restrictions. Note that you can't mix and match between meal plans.
A plan Fresh N Lean has that I haven't seen elsewhere is the Low Carb Vegan plan. This is a convenient plan because eating vegan or plant-based typically means eating high carbs since most protein sources come from high-carb foods like beans and quinoa.
Low Carb Vegan meals have 10 to 25 g of protein per plant-based meal and net carbs of around 10 to 20 g. So, you can eat low-carb, medium-protein, plant-based, fully prepared meals with this plan.
Fresh N Lean also accommodates dietary restrictions and allergies, with the ability to exclude over 10 different ingredients like dairy and spice, and accommodations for sesame, soy, and shellfish allergies. Additionally, all of their meals are certified gluten-free.
Meals arrive in microwave-ready trays which is so convenient. While the single-serving containers may not be ideal for larger families, they're perfect for post-op meal planning.
Another impressive feature of Fresh N Lean is its focus on macro tracking. For those of you eating a plant-based diet in order to consume specific amounts of nutrients each day, Fresh N Lean makes viewing nutrients and macros super easy. I can instantly view the calorie and macro count of each meal by clicking on the recipe card, making it easy to ensure I'm meeting my nutritional needs.
Lastly, Fresh N Lean ships its meals fresh, meaning they arrive ready to eat within minutes of heating in the microwave. While the single-serving containers may not be ideal for large families, they're perfect for your meal planning needs.
When it comes to ordering, Fresh N Lean requires a minimum of 5 meals per week, but you can order up to 21 meals with snacks included. This means you won't have to worry about meal prep for the week, and the cost per portion for 21 meals is $7.53.
Key Features
Easy prep and family-friendly recipes that are tasty and simple

30+ unique recipes per week with customizable sides and proteins

Several dietary accommodations including plant-based
HelloFresh is the largest meal delivery service in the world and has perfected the art of meal delivery. Customers can select from 6 meal plans, including Meat & Veggies, Veggie, Family Friendly, Fit & Wholesome, Quick & Easy, and Pescatarian, and even mix and match plans for a wider range of options.
With over 60 meal kit recipes available each week, the menu primarily features American classics, with some Mediterranean and Mexican-inspired meals on the menu too. The recipes range from popular favorites like the Crunchy Curried Chickpea Bowl with Kale, Golden Raisins, and Pickled Cabbage (pictured above).
You can choose the Veggie plan as an easy way to ensure each recipe is plant-based. HelloFresh is also relatively flexible with its meal plans and recipes by allowing you to swap proteins for vegetarian options. Find out more about my colleague's review after testing HelloFresh's complete delivery service!
Prep times ranging from 10 to 50 minutes, with most recipes hitting the 30-minute mark. There are also the One-Pot Wonders and Quick & Easy meals that only take 10 to 15 minutes to prep – perfect for those nights when you just want to prep something quick.
Every week, you can find 4 or 5 recipes with the tag "10-minute lunches". These are usually salads and sandwiches. For example, the Falafel Power Bowl only takes 10 minutes to prepare, making it a perfect time-friendly option for busy families and a crowd-pleaser for kids wanting to eat more easy-prep plant-based foods.
Ingredients arrive pre-portioned and separated according to each recipe. This is great for minimizing food waste and decreasing prep time. However, you'll still need to do some basic prep such as chopping, trimming, washing, patting dry, seasoning, and frying. HelloFresh sends a binder in the first order, and 3-hole punches each recipe card for future reference.
HelloFresh identifies its most popular recipes with a yellow Hall of Fame tag, listing them at the beginning of each weekly menu. For those unsure of what to order on their 1st purchase, they can fill their order with these top-rated options after creating an account.
What I find inconvenient about HelloFresh's service is that you can't filter the main menu. For one of the best services on the market, this seems quite an oversight. If you want to find your plant-based meals, you have to ctrl + F and search the page for "veggie".
If an issue arises, HelloFresh's customer support team is available to assist. In a review, the service was found to have "hands-down outstanding" customer support.
HelloFresh has a minimum order requirement of 2 recipes for 2 people per week, with up to 6 recipes for 4 people per week. As customers order more meals, per-serving prices decrease. The largest order starts at a per-serving price of $3.32.
Quick Comparison Table