EveryPlate vs. Dinnerly 2022: Affordable Meal Kits Compete
What are the main differences between EveryPlate vs. Dinnerly? We'll get into them all here.
I've researched and reviewed over a dozen different meal delivery services, so I consider myself a bit of an expert when it comes to food that's delivered to your doorstep. This comparison will explore dietary preferences, menu variety, prices, delivery & packaging, and meal prep and I'll share my overall winner between EveryPlate and Dinnerly.
These two companies are amongst the most affordable on the market and offer a selection of meals that are great for general diets. EveryPlate claims to be America's "Best Value Meal Kit" and Dinnerly claims to be the "Most Affordable Meal Kit'. So which is it? Well, both could be considered accurate, but EveryPlate is the winner for us.
Here's a brief overview before we dive in:
At a Glance: EveryPlate vs. Dinnerly
| | | |
| --- | --- | --- |
| | | |
| Dietary preferences | Vegetarian, dairy-free options | Vegetarian option |
| Menu variety | 14 options per menu | 18 options per menu |
| Starting price | $1.49 per serving | $2.12 per serving |
| Shipping cost | $8.99 | $8.99 |
| Prep time | 30-45 minutes | 15-45 minutes |
| Special Deal | | |
| Learn more | | |
Dietary Preferences
With so many different diets, allergens, and food intolerances, looking for a meal delivery kit that ticks all the boxes can be a minefield. So which of these services – EveryPlate vs. Dinnerly – does better?
EveryPlate keeps the process as simple as possible. Part of that simplicity is offering just 14 recipes each week. There's no way to filter out ingredients, but the nutritional details are available in the recipe information. It just takes a little bit of work, as you'll have to check through each recipe to see what's suitable.
If you have no specific dietary needs, you can just choose which recipes look best for you and proceed.
Dinnerly uses a selection of tags on its recipes to help customers identify common allergens or diets without having to open each choice. A little bit of a time saver here.
The only menu filter available is for vegetarian meals, but using the tags, you can also identify options that are low calorie (less than 650 calories per serving), low carb (less than 40 grams of carbs per serving), or even keto-friendly (less than 20 grams of carbs and higher in fat and protein).
This round is tough because neither option offers much choice, but Dinnerly is the winner thanks to those additional tags and labels included on its menu page.
Winner: Dinnerly
Menu Variety
Variety is the spice of life, so having a range of meals on offer is important.
EveryPlate offers a selection of 14 different meal options each week along with two add-on protein packs. You will usually find at least one burger, a few chicken meals, a stir fry with different vegetables, a soup option, a unique flatbread, and some tacos or tostadas.
In addition to these staples, there is always a rotating selection of different seafood, pork, and beef options. Plus, you can choose to add the premium option offered each week, like this shrimp dish pictured below.
The premium recipes serve up a fancier restaurant-style meal that you make yourself at home. Risotto takes a little more attention, that's why it falls under the premium category.
Dinnerly provides a selection of 16-18 recipes each week including a fun dessert option and a few different protein add-on packs. The week I checked, the dessert was a delicious Chocolate Cheesecake Pie with a Homemade Cookie Crumb Crust. You'll also find a selection of pasta, meat, potatoes, and other family favorites.
The dish pictured above is a good example of a one-pot comfort meal that is simple to clean up.
Dinnerly works to keep its meals as affordable as possible. One of the ways to keep prices low is to minimize the number of ingredients included in each meal. That means that the meals are simple and you have less prep work, but it can also leave something to be desired in the flavors.
Dinnerly takes the win in this category, based on the number of meal choices it provides.
Winner: Dinnerly
Starting Prices
As both of these services claim to be the most affordable, let's look at the details surrounding each one's pricing.
EveryPlate is simple. It's $1.49 per serving no matter how many dishes you get or how many servings of those meals. Many services offer a cheaper price if you order for four people instead of two people, but not EveryPlate, so it's a great option for couples.
Let's look at two different scenarios. Three dinners for two people will cost $38.93 (including shipping, which is a flat fee). If you want five meals for four people – something for every weeknight – that would cost $108.79 (including shipping).
Now, let's compare that to Dinnerly. There is a pricing scale for this service, meaning the price goes down the more you order. The single-serving prices range from $4.69 to $5.29 per portion. Like EveryPlate, the shipping cost stays the same at $8.99.
The price for three meals for two people including shipping is $40.73, which is a little higher than EveryPlate. For the family box (five meals for four people), the price is $106.79, which is a little lower.
The differences are pretty minimal, but it's usually cheaper to choose EveryPlate unless you're ordering large family boxes.
Winner: EveryPlate
Delivery and Packaging
Now let's look at the details around the arrival of the food to your home. If you've never used a meal delivery service, you may have some concerns about timing and if you have to be home. The good news is that most companies will leave your box at your door with no signature and it is packaged to stay cool for hours until you get home.
These two services follow the industry standards there. So, what's different between the two?
EveryPlate offers deliveries Tuesday to Saturday through the majority of the United States. Once you place your order, you'll receive tracking information so you know exactly when your box will arrive.
The box EveryPlate uses is recyclable. The rest of the packaging is plastic and can be recycled in some places – you'll have to check with your city. The ice packs need to have the gel drained out in the trash before going into the recycling bin. You can also reuse them. It's a good start, but ideally, more of the packaging would be in paper or cardboard where recycling is available more widely.
Now let's compare that to Dinnerly.
Dinnerly offers different shipping options depending on where you live. With three different distribution centers around the United States, it doesn't all come from one location, which helps save on the shipping costs. If you want to see your available delivery times, you can enter your zip code and email address and it will show you the options. For Seattle, WA – it offers Tuesday or Wednesday delivery.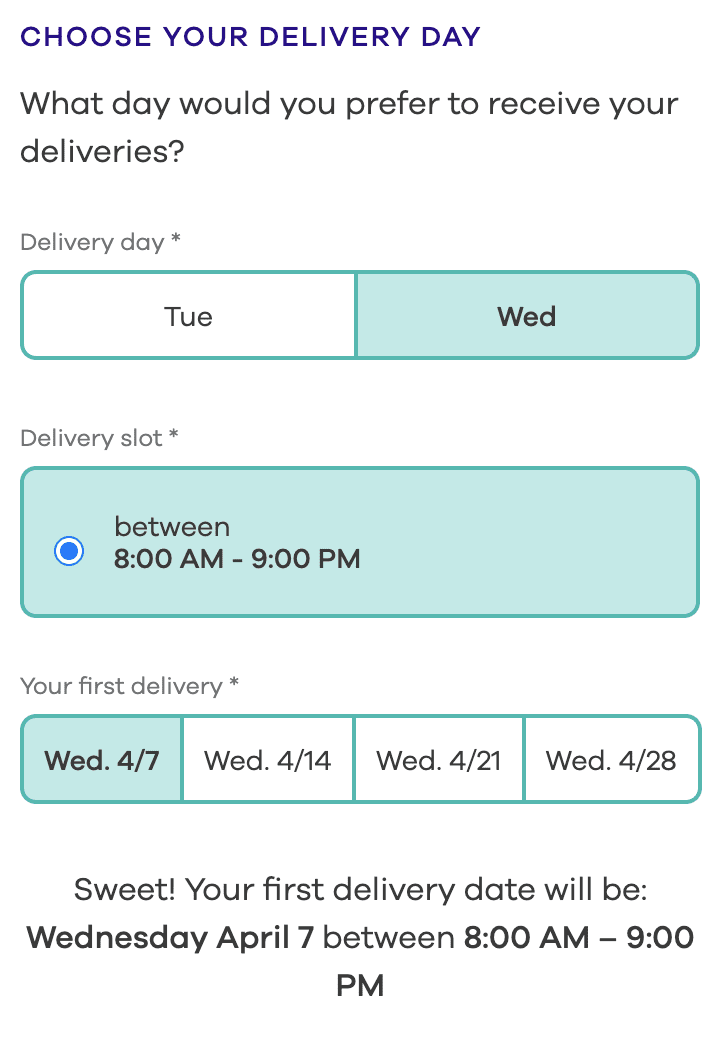 The packaging for Dinnerly is similar to EveryPlate with the majority being plastic of some kind. Because not all plastic is accepted in a lot of municipalities' recycling programs, it might leave you with more waste than you'd like.
Delivery and packaging are pretty similar between these two services with pros and cons to both. I'd call this a tie.
Tied: EveryPlate and Dinnerly
Meal Prep
So you've done all the leg work and selected your meals, received your delivery, and now it's time to actually make the meals. Let's take a closer look at what comes with the box and what you have to do to get your meals ready.
EveryPlate sends all the recipe information right in the box with the ingredients. Simply unpack all the items and put them in the refrigerator until it's time to eat. The recipe cards will clearly show which ingredients you need for each recipe so you can pull it all together when it's time.
With just a few steps to follow, EveryPlate is great for any level of kitchen knowledge. If you have minimal cooking experience, you might learn a thing or two, but the recipe is easy to put together.
Dinnerly does things a little differently. You'll still receive the ingredients in your box, but recipe cards aren't provided – they are online only. This is a cost-saving for the service to help keep the price low, but it can be a downside if you don't want to have your computer or phone in the kitchen with you.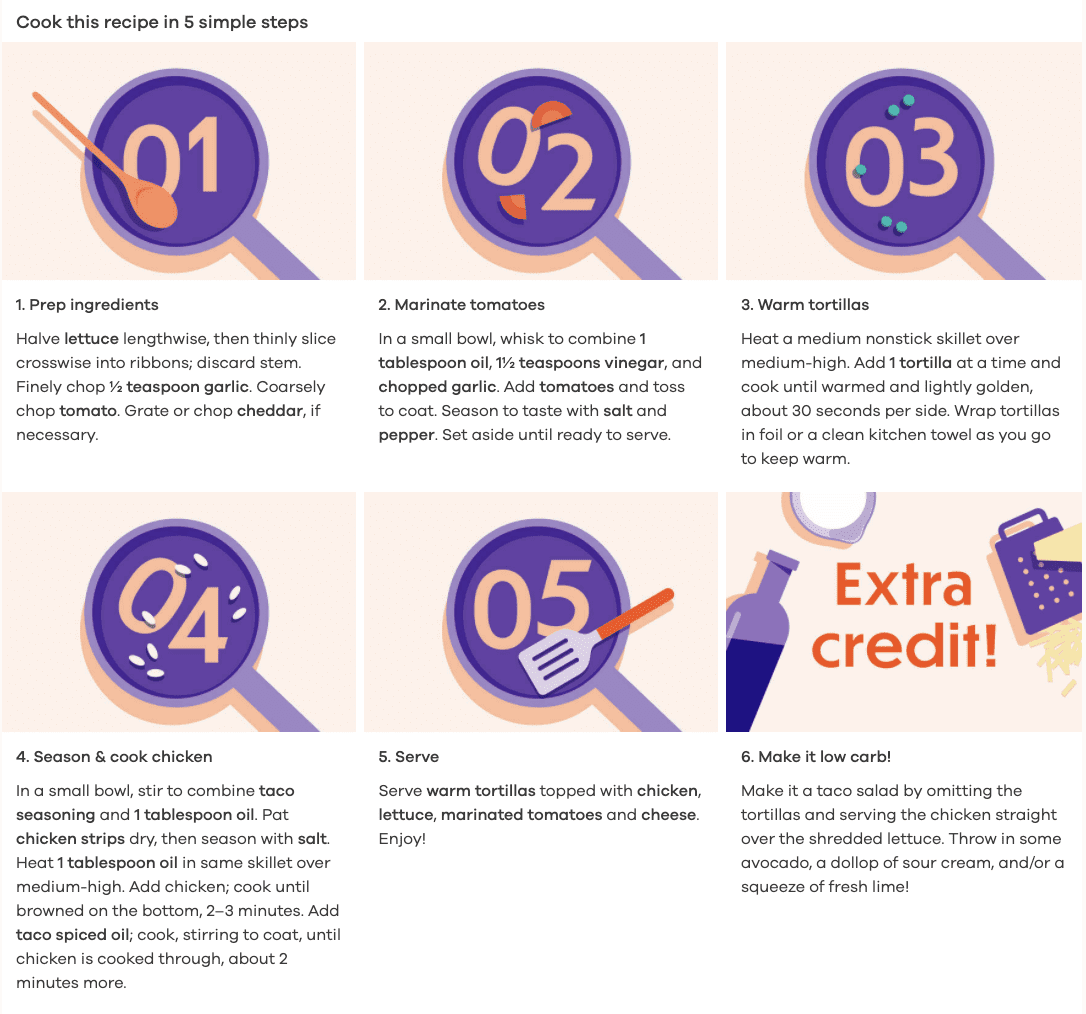 The other thing that caught my attention was the lack of photos in the instructions on the website. As a beginner in the kitchen, I like to have something to reference to make sure my meal prep resembles the intended outcome.
I prefer the recipe cards with photos. While the time required and skill levels are pretty even for both brands, EveryPlate wins for sending better instructions.
Winner: EveryPlate
The Bottom Line
Both Dinnerly and EveryPlate are priced at the lower range of meal delivery services, but when you look at the categories outlined above, it's clear they have different strengths. With EveryPlate, you get clear instructions, a simple price structure, and more flavor in the recipes. With Dinnerly, you get a little more variety and options if you have specific food preferences.
Read our full expert review of EveryPlate if you want to dive even deeper into the recipe options and process. But at the end of the day, we would say EveryPlate is the winner.
If you are dead set on the absolute cheapest, remember that Dinnerly does have lower costs if you max out the number of meals you order each week. That might be the winning combination for some, but it doesn't work for me.
If you want other options and are willing to spend a little more for higher quality, make sure to check out our round-up of the best meal delivery services.
Overall winner: EveryPlate