At a Glance: Who Won Each Category?
💲 Price:

It's a tie

🍔 Menu Variety:

Dinnerly
(100+ recipes and extras)


⏰ Prep Time:

It's a tie

🍴 Customization:

It's a tie

👍 Ordering and Delivery

Dinnerly

🙋 Customer Support:

Dinnerly

👑 Overall Winner:

Dinnerly

Menu Variety
Winner: Dinnerly
Dinnerly is the clear winner in the meal variety category. While EveryPlate offers a decent selection of 26 weekly meals and 17 add-ons, Dinnerly has around 100 recipes and extras on its weekly menu. If you like a lot of choices, Dinnerly is the clear winner.
Plus, Dinnerly's recipes are highlighted with many helpful tags, making it easier for you to find suitable meals. EveryPlate's menu also has tags, but its tags are more general and less helpful than Dinnerly's.
Under 30 Minutes, Low-Calorie, and No Added Gluten are a few of the tags Dinnerly uses. Some other self-explanatory tags you'll find useful when browsing its menu are Low Carb, Kid Friendly, Dairy Free, and One Pot Meal. EveryPlate uses fewer tags, but they are still useful. These include 30 Min or Less, Easy Cleanup, and Veggie.
Both Dinnerly and EveryPlate give you a few weeks' notice for upcoming menu items. Dinnerly publishes its upcoming dishes a full 4 weeks in advance. EveryPlate also gives you a decent amount of time to plan ahead, releasing its menu 3 weeks in advance.
Both services offer extras beyond standard dinner meal kits. EveryPlate has items like salads, desserts, and protein packs in a separate Add-Ons menu. Dinnerly has a similar selection, but its extras are simply incorporated as options on the main menu.
Both services provide detailed nutritional information for every dish. In addition to calories, proteins, carbs, and other values, you'll find lists of ingredients and allergens. Recipes also include an estimated prep time and a list of additional ingredients you may need to provide, like butter or cooking oil.
You can also find step-by-step information on how to prepare each meal. Dinnerly has the added advantage of including a difficulty rating for each recipe. Most dishes, though, are rated as easy to prepare.
Dinnerly and EveryPlate have meals inspired by various international cuisines. Among other options, the former has Chinese, Mediterranean, Italian, Indian, and Mexican recipes. The latter boasts Korean, Middle Eastern, and Caribbean recipes, among others.
Meal Customization
Winner: It's a tie
It's hard to pick a clear winner between Dinnerly and EveryPlate in this category. That's because both services offer unique features that can prove valuable to most dieters. This round is ultimately a tie.
Dinnerly provides customization options in selected dishes, which can be helpful if you need to replace ingredients or try new flavor combinations. However, it doesn't organize its dishes into different meal plans.
EveryPlate clearly distinguishes its meal plans, making it easy for you to select menus that best fit your dietary needs and preferences. Unlike Dinnerly, however, it doesn't offer extensive customization options for its dishes.
Dinnerly's meal plans are based on the number of servings you want to order. Depending on your family size or appetite, you can choose a 2-serving or 4-serving plan. On either plan, you can order 2 to 6 meals per week. You can also easily view a vegetarian-only menu.
EveryPlate lets you order 3 to 6 meals for 2 or 4 people, making it slightly less flexible than Dinnerly. However, EveryPlate's meal plans are more clearly divided, allowing you to personalize your dining experience.
Veggie – meals for vegetarians

Meat & Veggie – meat, vegetables, and seafood

Quick & Easy – quick prep and easy cleanup

Family Faves – kid-friendly dishes

Nutrish & Delish – tasty, low-calorie meals
You can select as many categories as you wish. EveryPlate will show you dishes meeting your preferences first, but you'll still have access to every recipe.
Dinnerly's ingredient customization feature is available on selected dishes. Look for the Customizable label to swap the ingredients in selected meals. For example, you can boost the protein in the vegetarian Peanut Noodles by adding chicken breast, steak, or salmon. Just note that these swaps usually come with a small per-serving upcharge.
Neither service is particularly allergy-friendly, as they focus on providing low-cost meals. Ingredients and allergens are clearly listed for your convenience, but there's always a risk of cross-contamination. If you have a severe food allergy, you may want to consider a more specialized allergy-friendly service.
You can't filter meals by dietary or ingredient preferences, since neither website has dedicated filters. Both menus are easy enough to navigate, however, thanks to Dinnerly's tags and EveryPlate's different menus.
Ordering, Delivery, Unboxing
Winner: Dinnerly
Ordering meals is simple with both companies, and so is receiving and unboxing them. Both have websites and apps where you can easily track your orders. If you need assistance or have difficulties, reach out to customer support via phone or live chat.
Ordering
You'll find the ordering process intuitive and straightforward with both companies. Regardless of which service you choose, you'll begin by selecting a plan and providing your email address, location, and payment details. Once you've completed these initial steps, you'll have access to the weekly menu to select the meals.
The minimum order amount for Dinnerly is 4 meals (2 recipes for 2 persons). EveryPlate has a slightly higher order minimum of 6 dishes (3 servings for 2 people).
You can modify your order via your account with either service. Go to Orders on Dinnerly or Edit Meals on EveryPlate via the website or app to update your purchase. The deadline for making changes is 5 days before delivery with EveryPlate or 6-7 days with Dinnerly.
Dinnerly and EveryPlate provide delivery to most locations within the contiguous USA, though neither ships to Alaska or Hawaii. If in doubt about whether you're eligible for delivery, simply enter your zip code during the sign-up process. You'll get a notification if you don't qualify for shipping.
Delivery days vary depending on your location with both low-cost meal delivery services. In some cases, you may even get to choose the day that works best for you to receive an order. For instance, if you live in New York City, you can choose any day between Monday and Saturday. However, if your address is in Boise, Idaho, you can only receive your box on Wednesday.
In general, delivery times are between 8 am and 9 pm. You can leave a message instructing the driver what to do in case you're not at home with Dinnerly. It can be leaving the box at the front door, at your neighbor's, or something else. If you order from EveryPlate, select one of the options available in the Delivery Instructions box and optionally leave an additional message.
You can reschedule delivery with ease regardless of your chosen meal delivery service. The cutoff date for changes on EveryPlate orders is 5 days before the scheduled delivery. Dinnerly doesn't specifically mention the cutoff date on its website. Both companies charge fixed shipping costs, regardless of your location.
Unboxing
Both services pack refrigerated items at the bottom of the box under ice packs, while other ingredients come at the top. Ingredients are clearly labeled, though neither service organizes them by meal.
Dinnerly's packaging has a few extra features that give it an edge over EveryPlate. Most notably, it includes an insulated bag to keep ingredients extra fresh. Dinnerly also prints its customer support number and a checklist on the box's flaps.
Both companies send ingredients in recyclable packages. You can recycle their boxes and separators in the curbside paper recycling bin.
Meal Prep
Winner: It's a tie
You'll need some time and basic cooking skills to prepare both services' meals. EveryPlate and Dinnerly both brag about recipes that have no more than 6 steps. In practice, however, each step includes several actions like chopping, grating, simmering, and stirring.
The image below is from EveryPlate, though both services share this drawback. The cooking instructions are easy enough to follow, but it's easy to miss something when so much is packed into a single step. Personally, I'd prefer seeing more steps with clearer instructions.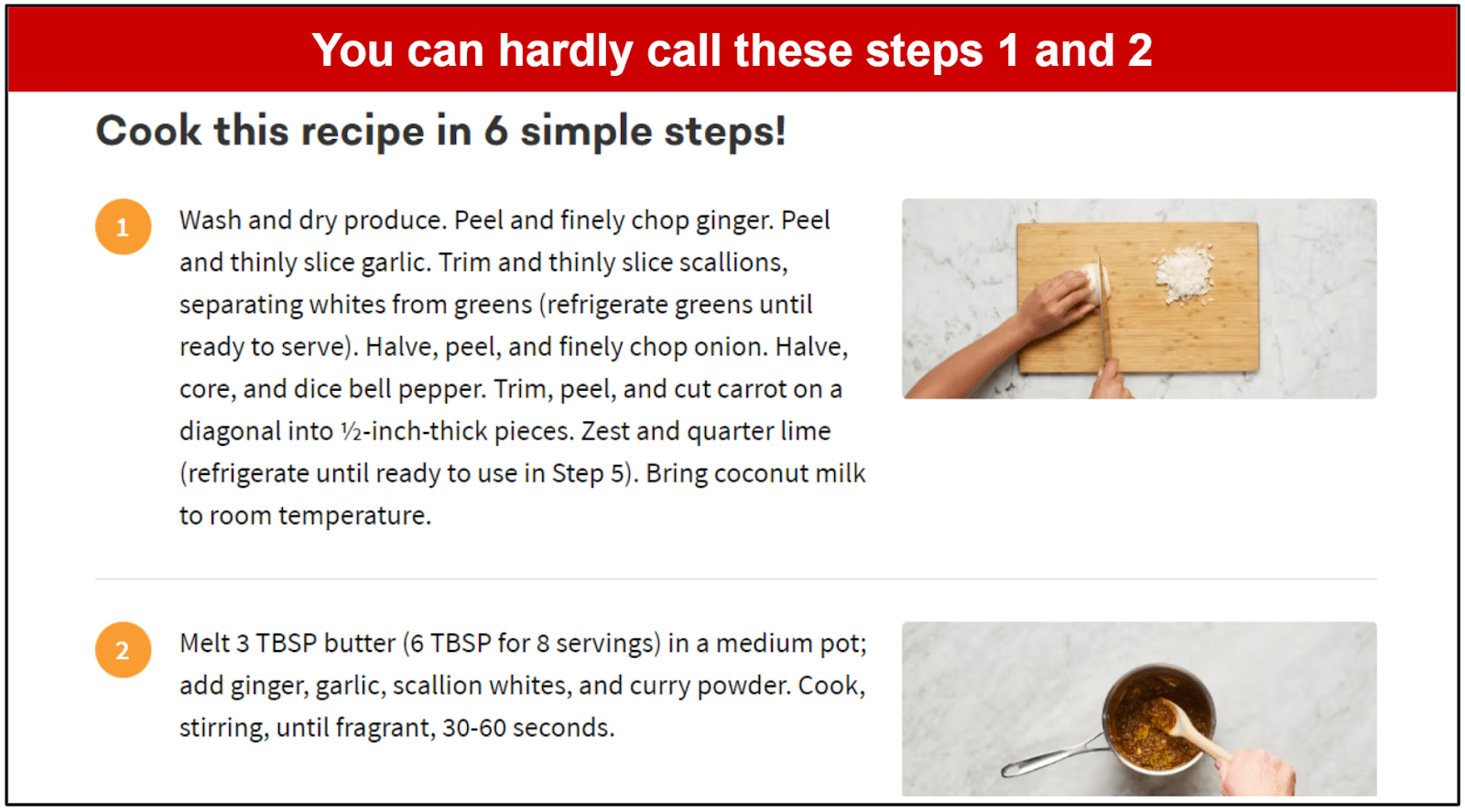 You'll typically need basic kitchen staple ingredients to prepare your meals. Luckily, both services point out what you need. After selecting a recipe, look for the "What you'll need" (Dinnerly) or "What You'll Need & Use" (EveryPlate) sections to see the necessary ingredients. Examples include kosher salt, olive oil, butter, and sugar.
Dinnerly also has a list of cooking equipment for each recipe under "What you'll use." EveryPlate doesn't list the required utensils for its recipes. However, unlike Dinnerly, EveryPlate's recipes include photos of each step.
Both services ship ingredients fresh. This gives you better flavor than freezing them, but it means you have less time to make your meals. It's recommended that you prepare fresh seafood within 2 days, ground meat within 3 days, and all other items within 5 days of delivery.
Customer Support
Winner: Dinnerly
I found it easy to contact both services' customer support. You can get in touch with their agents via phone or live chat. However, Dinnerly has a slight advantage over EveryPlate thanks to a convenient chat bulb located in the lower right corner of each page. In contrast, contacting EveryPlate's customer support requires you to click on the FAQ in the header and scroll down to find the CONTACT US button.
The agents I spoke to from both companies were polite and helpful, but I had to speak with a less-helpful chatbot before I was able to get transferred to a live person.
The customer service agents were quick to respond and were able to provide me with the information. Overall, I found both companies offer quick assistance, unlike some others that get back to you in a day or 2. It would have been better, though, if I didn't have to deal with the chatbot as much.
Both services allow you to cancel your subscription at any time. However, you need to cancel it at least 5 or 6 days before the scheduled delivery to avoid being charged. Dinnerly will send you a confirmation email confirming that you successfully canceled your account.
Winner: It's a tie
Dinnerly and EveryPlate have similar pricing. They both advertise the same minimum price point. Both also cost more per serving on smaller order sizes, so you have to subscribe to the largest plan to get the best deal.
Dinnerly's plans are usually cheaper than EveryPlate's, but the difference is pennies. If you're trying to decide between the 2, I recommend basing your decision on the menu or other features.
Dinnerly also gets kudos for being more transparent in its pricing. Unlike EveryPlate, Dinnerly displays the shipping fee and total cost for any plan before you sign up. EveryPlate doesn't confirm your shipping fee until you check out, so the total cost is less clear.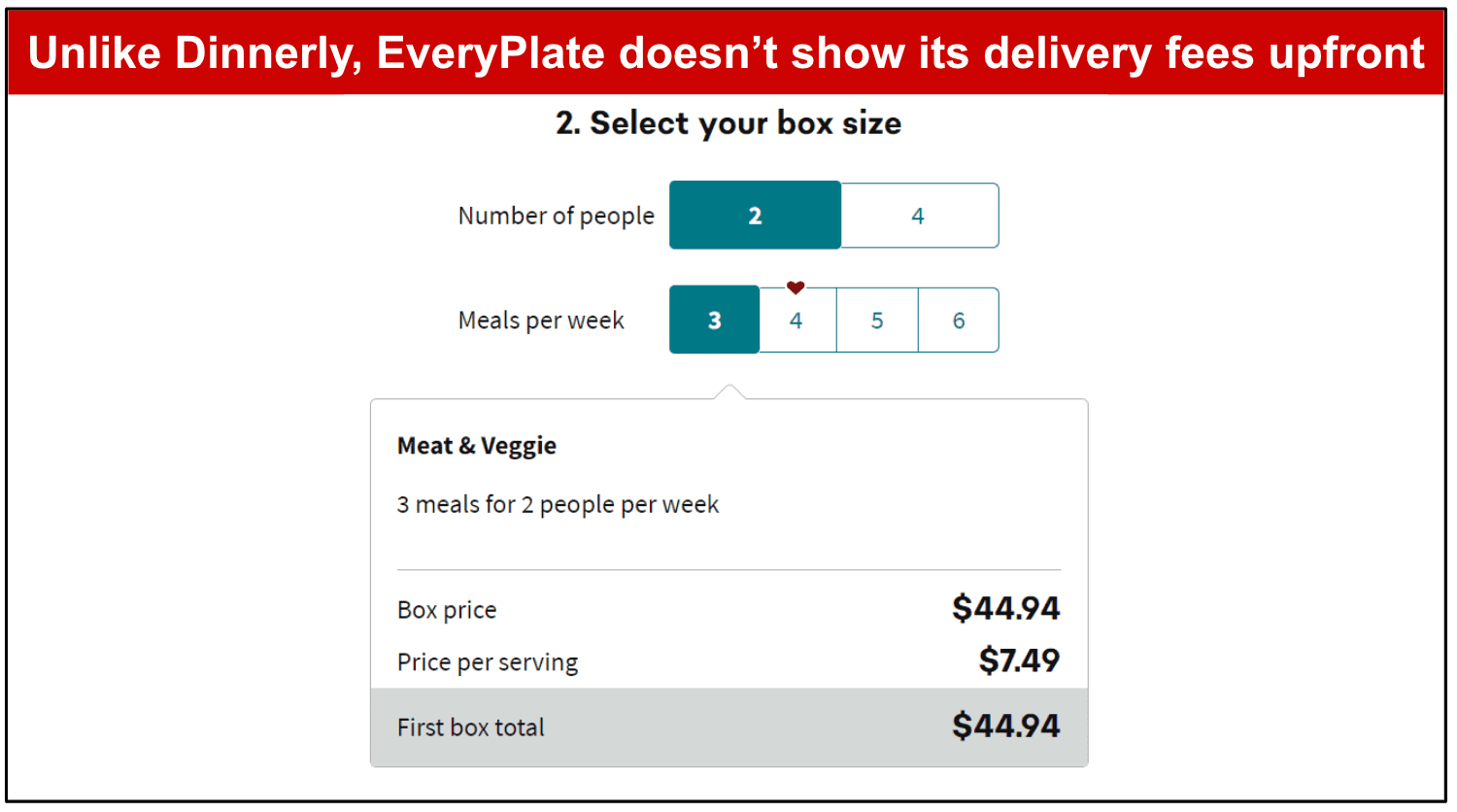 You'll pay an $11.99 shipping fee if ordering from Dinnerly. EveryPlate's delivery cost is $9.99. Just like with the meals themselves, the pricing here is similar.
Once you select meals, you'll be able to see the prices for add-ons. In general, I've found that these vary between a few and several USD with both services.
EveryPlate vs. Dinnerly – Quick Overview
| | | |
| --- | --- | --- |
| | | |
| Best for | Busy individuals who like to cook, families, and chefs-to-be | Families, busy professionals, and beginner chefs |
| Starting price | $1.49 per serving | $2.12 per serving |
| Shipping cost | $9.99 | $11.99 |
| Minimum order | 3 meals for 2 people per week | 2 servings for 2 people per week |
| Menu variety | 26 meals + 17 add-ons | Around 100 meals and add-ons |
| Prep time | 20 to 270 minutes | 20 to 30 minutes |
| Low-prep options | Quick & Easy plan of recipes taking less than 30 minutes | One pot/pan meals, microwave-ready |
| Allergies catered to | None | None |
| Special diets | Balanced, vegetarian | Vegetarian, low-calorie, balanced |
| Customer support | 24/7 live chat, phone line (+1 (973) 210-4915) from Mon to Fri from 6 am to 11 pm EST | 24/7 live chat, phone line (888 267 2850) |
| Promotions | | |
And The Winner Is: Dinnerly
Dinnerly is the frontrunner in this competition against EveryPlate. I found that both services offer a variety of advantages that can cater to different preferences. However, Dinnerly stands out with its broader meal choices and superior food protection during delivery.
EveryPlate shines as a top budget meal delivery service. Despite Dinnerly's slight edge in certain areas, EveryPlate is still among the best budget meal delivery services out there. The minor distinctions, such as transparency in pricing, make Dinnerly more appealing to me.
Transparency is a valued aspect when selecting a meal plan. Dinnerly openly communicates its costs, which helped me make an informed decision. This level of clarity helped remove any of my potential confusion.
Regardless of your choice, both are great options. If Dinnerly's additional perks weren't in the picture, I'd have a tough time choosing a clear winner. So, if you lean toward EveryPlate, you're still making a solid decision.

FAQ
Is EveryPlate and Dinnerly the same company?
Nope, they are budget meal delivery services owned by different companies. Martha Stewart & Marley Spoon owns Dinnerly, while HelloFresh is EveryPlate's parent company.
What carrier does Dinnerly use?
FedEx, UPS, UDS, and Lasership are a few couriers Dinnerly uses to ship its meal kits. This low-cost meal delivery service also hires Line-Hauls, Veho, Ontrac, and AxleHire. Which carrier will deliver your box primarily depends on your location.
What's cheaper than EveryPlate?
Dinnerly tends to be more affordable than EveryPlate, depending on your chosen plan. You should pay less with Dinnerly for smaller orders for 2 people. The price per portion for the largest orders is equal.