At a Glance: Who Won Each Category?
| | |
| --- | --- |
| 💲 Price: | Blue Apron ($5.74 per serving) |
| 🍔 Menu Variety: | FreshDirect (100+ choices per week) |
| 🥦Ingredient Quality and Nutrition | FreshDirect |
| ⏰ Prep Time: | Blue Apron |
| 🍴 Customization: | It's a tie |
| 👍 Ordering and Delivery | Blue Apron |
| 🙋 Customer Support: | Blue Apron |
| 👑 Overall Winner: | |
Menu Variety
Winner: FreshDirect
FreshDirect takes the lead in menu variety. It operates much like an online grocery store, categorizing foods by type for easy navigation. Alongside meal kits, you'll also find prepared meals, starters, and frozen products.
FreshDirect also sells a selection of prepared meals. These include pizzas, kebabs, salads, sandwiches, quick-cook proteins, and more. You can shop a variety of meal kits, like the Chicken Souvlaki, too.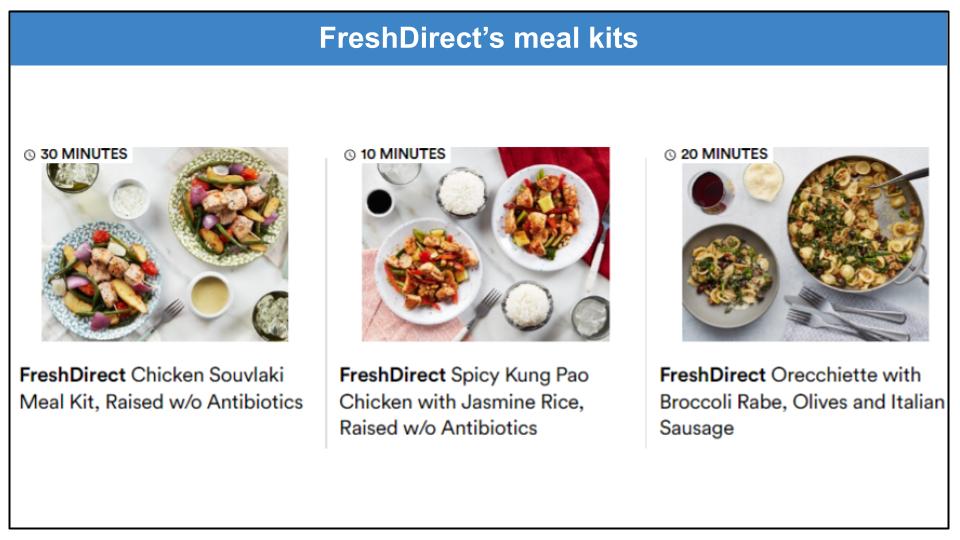 FreshDirect offers an extensive range of quick-cook meals. Boasting over 70 4-minute meals, options range from pizzas and kebabs to salads and sandwiches. There are kid-friendly and oven-ready options to satisfy the whole family like the Chicken Nuggets with Cauliflower Tots and the family-sized Eggplant Parmesan that serves 8 people.
Blue Apron offers a more limited but focused menu. It usually provides around 16+ meal options per week on its Signature menu. While the menu is more constrained, it does include meal kits, heat-and-eat prepared meals, desserts, and more.
Blue Apron's offerings are culturally diverse despite the smaller number. You'll find both classic American comfort foods and internationally-inspired dishes. I like the look of the Miso Buttered Steaks served with bok choy and carrot rice, as well as the BBQ Cheeseburgers and the low-carb Italian Chicken & Pepper Pan Sauce recipe.
The menu options differ depending on which menu you look at. The Signature, Wellness, and Vegetarian meals serve 2 or you can opt for the Signature for Four meals. However, it's worth noting that the number of available meals may be fewer if you opt for specialized plans like Wellness or Vegetarian.
Blue Apron also offers add-ons and Market items for extra convenience. Alongside its weekly meal kits, you can shop for pantry staples, spices, and utensils through its Market section. This allows you to not only prepare your meals but also to stock up on essential kitchen items, all in one place.
FreshDirect offers extensive filtering options for easier navigation. You can sort through the vast array of dishes based on various criteria, making it simpler to find what suits your needs. Additionally, the platform features a search bar where you can look for specific ingredients or dishes, streamlining your shopping experience.
Best fast-prep meal: Balsamic Chicken with Broccoli Rabe and Quinoa

Best kid-friendly option: Butternut Squash Mac 'n' Cheese with Broccoli

Best low-calorie dish: Shrimp and Vegetable Biryani

Best veggie option: Sweet Potato Shepherd's Pie

Best family dish: Cheese Manicotti with Beef Bolognese
Navigating Blue Apron's menu is straightforward due to its more limited offerings. The fewer options make the selection process less overwhelming compared to FreshDirect. Additionally, the service allows for customization right from the get-go, letting you tailor your choices according to the plan you select during sign-up.
Best fast-prep meal: Spicy Chicken Stir-Fry

Best kid-friendly option: Gnocchi Mac & Cheese

Best low-calorie dish: One-Pan Chickpea & Curry Shakshuka

Best veggie option: Paneer & Chickpea Curry

Best family dish: Cheesy Baked Pizza Beans & Arugula Salad
Winner: It's a tie
FreshDirect and Blue Apron offer strong customization options, making this round a tie. FreshDirect's extensive menu means you're in control, with no automated meal recommendations.
FreshDirect's vast array of options can accommodate nearly every diet. There are options for vegetarian and vegan to gluten-free, paleo, and keto. The platform also allows you to filter by these dietary needs for easier selection.
FreshDirect provides full transparency with complete ingredient lists. Before placing an order, you can thoroughly examine each meal's ingredients. This is particularly useful for those with specific dietary restrictions or preferences.
Blue Apron offers customization right from the moment you sign up. It features 5 different plans: Chef Favorites, Wellness, Family Friendly, Fast & Easy, and Veggies. Each plan targets a different need, whether that's weight loss or a preference for meat-free meals.
Blue Apron's Wellness and Vegetarian plans are particularly tailored for specialized diets. You'll find low-calorie and carb-conscious options here, making it a good choice for those seeking weight-loss or diabetes-friendly meals. Additionally, you can customize ingredients each week on certain plans, such as replacing, adding, or upgrading proteins.
Neither service guarantees an allergen-free environment. While both services offer a range of dietary options, it's crucial to note that their facilities are not strictly allergen-free. If you have severe sensitivities, these services may not be suitable for you and I recommend checking out our full list of the best allergy-friendly meal delivery services for more details.
Ingredient Quality and Nutrition
Winner: FreshDirect
FreshDirect excels in offering local, seasonal, and organic ingredients. The service prioritizes delivering the freshest quality ingredients in its meals. It makes a concerted effort to source locally, shortening the time from field to plate and enhancing freshness.
Transparency is key with FreshDirect. It goes the extra mile by listing its suppliers on the platform. This allows you to find out more about where your food is coming from, adding an extra layer of trust to the service.
Blue Apron also focuses on quality but with an emphasis on sustainability. The company works directly with reputable suppliers, many of whom employ sustainable practices. Family-run farms even contribute some of the specialty ingredients used in the meal kits.
Organic and hormone-free options are less visible on Blue Apron. Information on organic ingredients or meats with no added hormones is only available upon clicking individual recipes and going through the customization options.
Both services excel in providing comprehensive nutritional data. They offer clear and detailed nutritional information for each menu item. This feature makes it straightforward to find meals that align with your specific dietary requirements.
Winner: Blue Apron
Blue Apron takes the lead due to its user-friendly system and broader delivery reach. Once you've chosen a plan, editing your weekly menu is simple, especially with the aid of the Blue Apron app. You can even add on Market items effortlessly.
Blue Apron's mobile app is a great asset. It simplifies the meal planning process even further by allowing you to easily update your menu choices and make add-on selections right from your smartphone. The app is user-friendly and makes it convenient to manage your account and deliveries, enhancing the overall customer experience.
Geographical coverage gives Blue Apron an edge. The service delivers throughout the contiguous United States, making it accessible to a larger audience compared to FreshDirect.
FreshDirect operates differently, focusing more on a la carte shopping. There are no set plans to select; you simply need to order over $30 worth of items. However, its delivery is limited to areas like New York and New Jersey, with some seasonal exceptions.
Blue Apron stands out in its commitment to recycling. The company has a detailed recycling page that instructs you on how to dispose of each packaging element, ensuring minimal waste.
FreshDirect's recycling policies are less clear. There's no readily available information in its FAQs about recycling, though it does deliver items in a reusable tote bag that you can return.
Both services offer different delivery timeframes that suit various needs. FreshDirect can deliver as soon as the next day if you book a 2-hour window, while Blue Apron's weekly delivery schedule depends on your location.
Packaging quality is a priority for Blue Apron. Ingredients are kept fresh with thermal liners, and although some plastics are used, the website offers detailed recycling information.
Winner: Blue Apron
Blue Apron outshines FreshDirect when it comes to meal preparation. It offers a more organized and time-saving experience. All the ingredients you need arrive individually packaged and portioned. This not only saves you time but also conserves fridge space.
Step-by-step guidance is a strong suit for Blue Apron. Each meal kit comes with a detailed recipe card that features photos, making the cooking process straightforward and easy to follow.
FreshDirect leaves most of the meal planning and preparation up to you. Unlike Blue Apron, you won't receive pre-portioned ingredients, unless you opt for the service's prepared meals which require just a microwave to heat up.
Both services offer quick meal options. FreshDirect has prepared meals that are microwave-ready. Blue Apron also features Heat & Eat meals for added convenience. These meals take as little as 5 minutes to heat in the microwave, providing a speedy option for those pressed for time.
Customer Support
Winner: Blue Apron
Blue Apron's customer support outpaces FreshDirect with its quick and efficient live chat. I was connected to an agent within minutes, and they promptly answered my queries about allergens. This adds an extra layer of convenience and trust in the service.
The FAQ section is another area where Blue Apron excels. It features a highly searchable and well-organized FAQ page that makes finding answers to common questions a breeze.
FreshDirect's FAQ page is less user-friendly. Unlike Blue Apron, navigating through FreshDirect's FAQ can be confusing and cumbersome, requiring more effort to locate the information you're seeking.
FreshDirect offers customer support most of the day but leaves room for improvement. The support team is available from 6:30 AM to 12:30 AM. However, if you need help outside these hours, the only option is to send a message, which requires inputting all your personal details. This is a process that doesn't sit well with me.
Pricing
Winner: Blue Apron
Blue Apron takes the win for overall value when you consider the convenience factor. With its meal kits, you're getting portioned ingredients and step-by-step recipes, eliminating the need for additional grocery shopping for each meal. This level of convenience can add substantial value to Blue Apron's slightly higher starting price.
FreshDirect initially appears cheaper with its lower minimum order value. The service requires a minimum spend of $30 and shipping fees start at $5.99. This brings your starting weekly cost to $35.99.
Blue Apron has a higher entry-level cost, but the value proposition is different. Its least expensive plan starts at $60.95 per week, which covers 2 meals for 2 people, including shipping fees. Plus you can use our discount code for extra savings: Enjoy $180 off across your first 6 orders.
Digging deeper into costs reveals a complex picture for both services. While FreshDirect has a lower starting point, the average weekly grocery spend and its somewhat inflated prices for staples like milk and bread make Blue Apron's plans look more value-packed in comparison.
Blue Apron's Signature For 4 plan presents strong value. For $170.79, you receive 5 recipes a week for 4 people, including shipping, which could be competitive when compared to a week's worth of groceries plus the cost of delivery on FreshDirect.
FreshDirect vs. Blue Apron – Quick Overview
| | | |
| --- | --- | --- |
| | | |
| Best for | Groceries, prepared meals | Meal kits, prepared meals |
| Starting price | $8.99 per serving | $5.74 per serving |
| Shipping cost | From $5.99 | $10.99 |
| Minimum order | $30 of groceries | 2 meals for 2 people per week |
| Menu variety | 100+ choices per week | 16+ choices per week |
| Prep time | 4 to 120 minutes | 5 to 55 minutes |
| Low-prep options | Microwave-ready, oven-ready | Oven-ready, microwave-ready |
| Allergies catered to | Lists 8 major allergens, risk of cross contamination | All allergens listed, risk of cross contamination |
| Special diets | Dairy-free, paleo, vegan, high-fiber, low-calorie, low-fat | Vegetarian, low-calorie, low-carb |
| Customer support | Live chat, phone, contact form | Live chat, phone, email |
| Promotions | Free Delivery on your first order! Use code FDFREE23 at checkout. | |
Blue Apron edges out FreshDirect in this head-to-head comparison. Both companies have strong points, but Blue Apron takes the win with its nationwide availability, customized meal kits, and efficiency in meal preparation. The convenience of having a meal kit with all ingredients portioned and ready to cook can't be overstated.
FreshDirect is a formidable contender with its impressive variety. The service wowed me with its extensive menu that spans from groceries to prepared meals and even wine. It also offers a wealth of options for various dietary needs, making it a strong choice for those with specific requirements.
Blue Apron's advantage lies in its streamlined experience. From ordering to unboxing and meal prep, Blue Apron has designed its service with user experience in mind. This was particularly evident in its customer support and easy to navigate website, areas where FreshDirect could see some improvement.
Don't limit yourself to these 2 options if you're still undecided. If neither FreshDirect nor Blue Apron seem to meet your needs perfectly, don't worry. There are numerous other meal delivery services available that might be a better fit. For more options, you can check out our list of the best meal delivery services.
The choice between Blue Apron and FreshDirect comes down to what you value most. If you prioritize convenience and a smooth user experience, Blue Apron is likely your best bet. However, if a wide range of options and dietary flexibility are your top priorities, FreshDirect could be the service for you.
FAQ
Which is better, Blue Apron or FreshDirect?
Blue Apron is better for meal kit delivery, while FreshDirect excels as an online grocery service. Blue Apron offers convenience with pre-portioned ingredients and easy-to-follow recipes, making it a one-stop solution for meal planning. FreshDirect provides a broad inventory of grocery items, but you'll need to do your own meal planning and preparation.
Does Blue Apron have an app?
Yes, Blue Apron has a mobile app. The app allows you to manage your account, update your menu selections, and even add on special items from the add-ons menu or the Market. It's designed to make your meal planning process more streamlined.
What makes FreshDirect different?
FreshDirect stands out for its extensive range of grocery items. Unlike meal kit services, FreshDirect operates like an online supermarket, offering everything from fresh produce to household items. It also provides options for various diets including vegan, gluten-free, and organic.
Is FreshDirect only in NYC?
No, FreshDirect is not limited to NYC. It also delivers to New Jersey, Fairfield Connecticut, and other locations. However, delivery locations vary. For some areas like the Jersey Shore and the Hamptons it is seasonal. You can check the website for complete details.
Is Blue Apron healthy?
Yes, Blue Apron offers healthy meal options. You can find recipes that cater to weight-loss or diabetes-friendly diets among its menu choices. Nutritional information is provided for each dish, enabling you to make informed decisions.