Gobble vs. Home Chef 2023: Does the Little Guy Win?
Introduction
Home Chef is one of America's biggest and best-loved meal delivery services. Gobble is a small but growing service that provides busy cooks with restaurant-quality 15-minute meal kits. In this battle between two unequally matched contenders, does a scrappy upstart like Gobble stand a chance?
I'm a professional meal delivery service reviewer. It's a spicy job, but somebody has to do it. I've examined their menus. I've pored over their ingredient lists. I've studied shipping fees, compared costs, and consulted my colleagues. And, in my professional capacity, I'm here to proclaim the winner of this meal delivery rumble.
While it was a close match and Gobble was a worthy opponent, Home Chef ultimately won the match. Home Chef's lower prices and wider menu variety overtook Gobble's speedy meal kits with high-quality ingredients. And you can save even more on Home Chef with our coupon that lets you Get 18 Free Meals (50% off your first 4 boxes)!.
Read on for a blow-by-blow account of this kitchen slugfest.
At a Glance: Who Won Each Category?
Menu Variety
Winner: Home Chef
Home Chef's menu variety is tough to beat, and so it wins this round. Gobble has a very good selection, but they're a smaller service up against a meal delivery titan.
Both services offer menus that feature American classics along with familiar recipes from Chinese, Mexican, and Indian cuisine. Gobble's menu is a bit more adventurous than Home Chef's, but it offers a good selection of family-friendly Specialty Kits for Four like Chicken Pot Pie and Sausage Rigatoni.
Home Chef requires all suppliers to follow industry best practices for the humane treatment of animals. It also offers organic meats (with an upcharge) on some recipes. Gobble provides cage-free eggs, hormone and antibiotic-free chicken and pork, and sustainably wild-caught and farm-raised seafood.
You can enjoy a Culinary Collection meal like Steakhouse Filet Mignon on a special occasion. But Home Chef also offers family-friendly meal kits like burgers and pasta for picky eaters. And for busy nights, Home Chef has Express Meal Kits that are ready in 15 minutes, as well as Oven-Ready and Grill-Ready items.
Home Chef labels its regular meal kits by difficulty level, with Easy, Intermediate, and Hard recipes available. Each week Home Chef offers 30 meals, as well as market items like proteins, meal bundles, sides, and desserts.
All Gobble meals arrive fully prepared and need just 15 minutes of cooking. The Homestyle Roasted Chicken pictured above is a good example of Gobble's culinary style – high-quality ingredients put together in familiar ways with a final result that looks like it took hours, not minutes.
Gobble's meal selection is smaller than Home Chef's, with 14 meals and a more modest selection of extras. Along with its Specialty Kits for Four, Gobble offers breakfasts, sides, salads, and ready-to-bake cookie dough that the kids will be sure to love.
Winner: Home Chef
This round goes to Home Chef thanks to its Customize It feature. Home Chef lets you double up or swap proteins on most meals. Customize-It is available for most Home Chef entrees, so it's easy to get exactly the supper you want. Gobble also offers customization options on several of its meals and salads, but on a smaller scale.
Gobble offers a modest Vegetarian menu and a high-protein, low-fat Lean & Clean plan. Home Chef offers Carb-Conscious and Calorie-Conscious entrees, but veggie entrees are scarce on its menu. Neither service offers specific plans for those on specialized diets like keto or paleo, or vegan entrees.
Both Gobble and Home Chef make it easy to avoid proteins you don't like. Gobble lets you uncheck boxes for poultry, beef, lamb, pork, fish, and shellfish. Home Chef let's you exclude the same proteins but doesn't include lamb (as it doesn't have lamb on its menu), but also lets you filter out mushrooms, peanuts, tree nuts, and sesame.
Gobble includes a full list of ingredients on its website and recipe cards. Ingredients containing dairy, nuts, or wheat are packed separately in the kit so you can avoid them. A similar situation applies at Home Chef. All ingredients are individually packaged and labeled, but produced in facilities that also process eggs, milk, fish, shellfish, tree nuts, peanuts, wheat, and soy.
This doesn't protect against cross-contamination and so neither service is suited for those with serious food allergies or intolerances.
Winner: Home Chef by a nose
Home Chef wins it thanks to its app and its wider selection of delivery days, but it was a close round.
Home Chef delivers to 98% of the continental US. When you enter your zip code upon signup, Home Chef will let you know if you're in one of its blackout areas.
Gobble delivers to the continental United States with the exception of Montana and parts of Nebraska, New Mexico, and Kansas.
Gobble gave me a choice of three delivery dates (Tuesday, Wednesday, and Thursday) while Home Chef offered delivery on any weekday.
Gobble provides two-serving or four-serving meal kits, while Home Chef has a six-serving option that's great for large families. Both have a minimum order of two 2-serving meals per week.
Home Chef has an app you can use to change orders or reschedule deliveries. Gobble doesn't presently have an app, but its website is optimized for mobile users and you can make changes on your phone simply by opening your browser.
The deadline to skip or customize your Gobble box is Wednesday at 11:59 PM Pacific Time the week before your meals are scheduled to arrive. All changes to your Home Chef order must be made by Friday 12 PM Central Time of the week preceding your delivery.
Both Home Chef and Gobble send you individually wrapped ingredients that make it easy to sort things out when cooking. The bad news is that both services use a lot of plastic, which isn't optimal. Fortunately, both provide information on recycling their packaging on their websites.
Gobble dinner kits should be refrigerated as soon as you open your box and prepared within seven days. Gobble recommends you cook items with fish or seafood first, as they have a shorter shelf life.
Some Gobble items like proteins, pastas, soups, and sauces can be frozen for up to three months. Meals with leafy greens or produce may not thaw as well and Gobble recommends using your best judgment on choosing what to freeze.
While Home Chef advises against freezing dairy or produce ingredients, you can freeze meat and seafood for a later time. Steak, chops, and poultry can be frozen for 4-6 months, while ground meat can be frozen for 3-4 months, and fish and seafood for 2-3 months.
Winner: Gobble
Gobble wins thanks to its easy meal kits. Every Gobble recipe is prepped by sous chefs and designed to be table ready in just 15 minutes. Gobble's laser focus on pre-prepped fast meal kits makes it tough to beat. Home Chef does many things remarkably well, but Gobble does gourmet easy-prep meals better. In this round, David triumphs against Goliath.
Gobble meals arrive with pre-marinated ingredients, prepared sauces, and prepped vegetables. (You may have to do some minimal chopping and cutting). All you need is a knife, an oven-safe skillet, cooking oil, and salt and pepper. Because these are one-pan meals, you save time not only on cooking but clean up!
Home Chef has a great selection of easy-cook, one-pot, and quick meals. Fast and Fresh meals are fully assembled and ready to cook in the microwave or oven. It even has a subsidiary that specializes in fast meals, Fresh and Easy.
Home Chef provides a list of all tools and utensils required on its website and recipe cards. Regular meal kits take between 30 and 50 minutes to prepare, while their Express meal kits require between 15-30 minutes of preparation. But even Home Chef's speedy meal kits require more preparation and cleanup than Gobble kits.
Customer Support
Winner: Gobble
In a surprise turn of events, Gobble beat Home Chef handily in this round thanks to its lightning-quick response time. Home Chef always scores high marks for its customer service, but Gobble rose above and beyond the call of duty while Home Chef, well, didn't.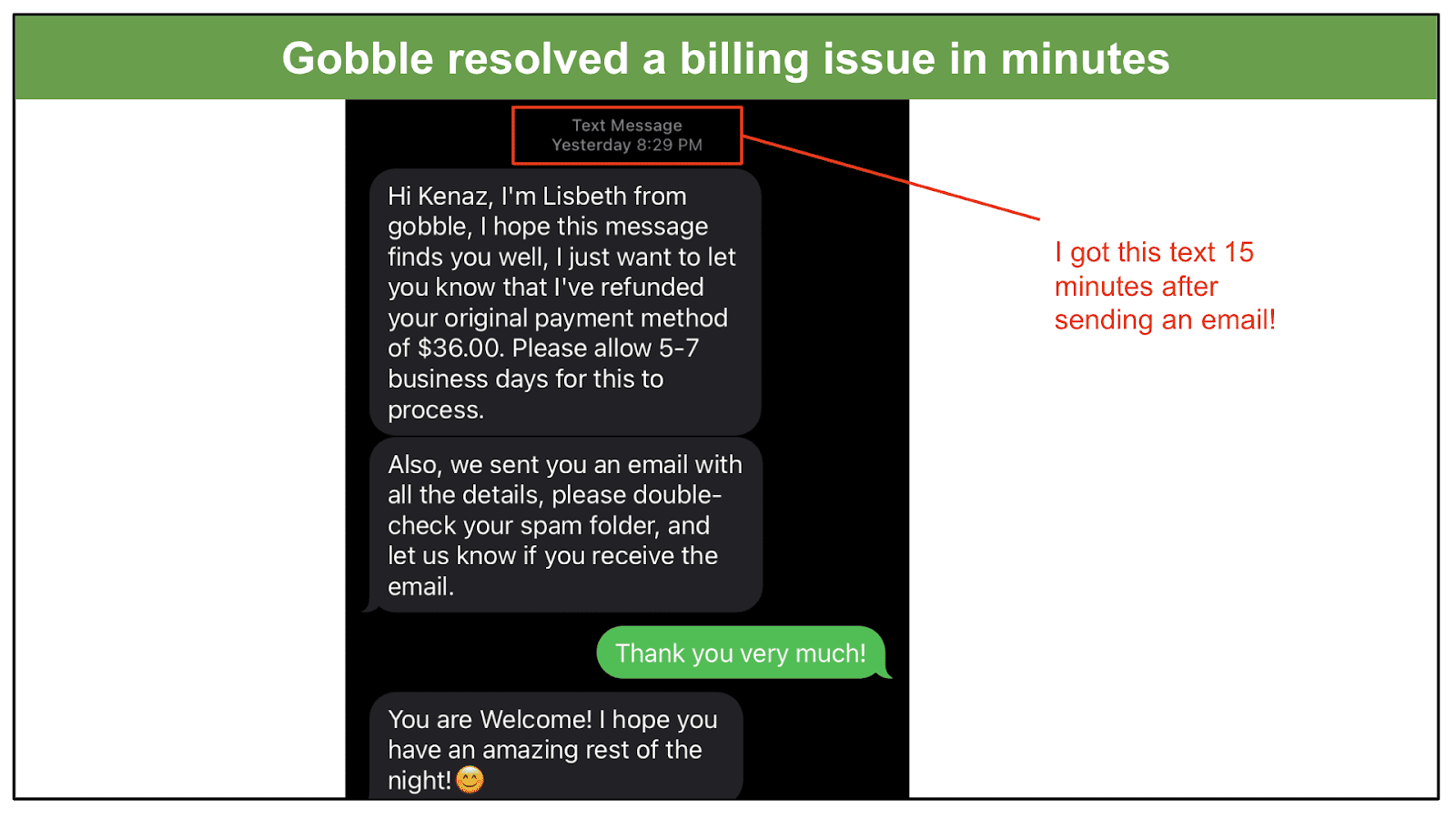 I contacted Gobble via email concerning a billing issue. Within 15 minutes I received a text from Lisbeth at Gobble offering a quick resolution. That's some weapons-grade customer support, probably the best I've yet seen from any meal delivery company.
Gobble's Customer Success team is available from 5 am to 8 pm PT Mon to Fri and 5 am to 1 pm PT Sat and Sun. You can reach their team via email or at (888) 405-7481. Gobble also has a Help Center with answers to many frequently asked questions.
Several hours after I left a note on Home Chef's webform asking how much more Culinary Collection meals cost, I received a reply from Joi at Home Chef. She repeated information I could've found in the FAQ, informing me that Culinary Collection meals are sold at a higher price and that the upcharge will vary between meals.
I knew all this information already, so the answer she provided left me no more enlightened as to how much more a Culinary Collection meal will cost on average.
I don't blame Joi for this. Home Chef is a large company and, like most customer service reps at large companies, she's expected to follow a script. But this is a case where smaller is better. Gobble's customer support team was able to act faster and take care of my problem immediately.
Pricing
Winner: Home Chef
At $7.99 per serving, Home Chef's starting price is considerably lower than the Price: Missing Product gobble per serving starting price charged by Gobble. Gobble offers pre-prepped, fast, and convenient meals, but speed and convenience come at a price.
Home Chef's Culinary Collection and premium entrees can cost as much as $10 extra per serving. But while Home Chef's Filet Mignon will set you back $19.99 a serving, Gobble's Pan-Seared Ribeye Steak costs nearly twice as much at $38.99 a serving!
Prices for desserts, proteins, and extras are comparable between the two services and Gobble charges a flat shipping fee of $8.99 per order, which is lower than Home Chef's $10.99. But the higher overall prices mean that you'll be paying a good bit more for Gobble than Home Chef.
Features Comparison: Gobble vs. Home Chef
| | | |
| --- | --- | --- |
| | | |
| Best for | Fast meals | Meal variety |
| Starting price | Price: Missing Product gobble per serving | $7.99 per serving |
| Shipping cost | $8.99 | $10.99 |
| Minimum order | 2 meals for 2 people | 2 meals for 2 people |
| Menu variety | 14 meal choices plus bundles and extras | 30 meal choices plus bundles and extras |
| Prep time | 15 minutes | 5 to 60 minutes |
| Low-prep options | 15-minute meal kits | Easy Prep, Easy Prep Express, Fast and Fresh, Oven-Ready, Grill-Ready |
| Allergies catered to | None | None |
| Special diets | Vegetarian, Lean & Clean | Calorie-conscious, carb-conscious |
| Customer support | Text, phone, webform, chat, FAQ | Phone, webform, FAQ |
| Promotions | | |
And The Winner Is: Home Chef
Home Chef wins this match thanks to its lower prices and greater variety. But Gobble did remarkably well when matched against a much bigger opponent.
Most people will find Home Chef offers everything they're looking for in a meal delivery service and Home Chef topped our list of the best meal delivery services of 2023. But busy professionals pressed for time and people who don't mind paying extra for fast, pre-prepped meal kits might find a lot to love about Gobble.
This is the kind of competition I like best. No matter which service you choose, you win.
FAQ
Does Gobble offer gluten-free meals?
Gobble isn't a good choice for those with serious gluten sensitivities, as it makes its meals in facilities that also handle wheat products. Gobble packs all wheat-based ingredients separately so you can avoid wheat, and also labels entrees as wheat-free.
What's the difference between Home Chef and Fresh and Easy?
Fresh and Easy is a subsidiary of Home Chef that focuses on fast meals. All Fresh and Easy meals can be prepared in 30 minutes or less and are designed to minimize the amount of labor and cleanup required to bring your meal to the table.
Does Home Chef deliver to my area?
Home Chef delivers to 98% of the continental United States. (Sorry, Alaska and Hawaii, but you're out of luck). If you're in a remote location and are unsure if Home Chef delivers to you, enter your zip code on the first signup page. Home Chef will let you know if delivery is available.