Home Chef vs. EveryPlate 2023: Is Price Everything?
Home Chef and EveryPlate are both popular meal delivery services, so I dug a little deeper to determine which was the better option. After a lot of research,Home Chef wins in this comparison. There's great variety in the meals, and options to help you stick to different diets, plus lots of choices for quick meals too.
Don't completely discount EveryPlate though. It's the more budget-friendly option, so it's great for anyone trying to save some money on food if you don't mind making some compromises.
Read on to find out all the information you need on both services including pricing, delivery options, and so much more.
At a Glance: Who Won Each Category?
| | |
| --- | --- |
| 💲 Price: | EveryPlate ($1.49 per serving) |
| 🍔 Menu Variety: | Home Chef (20+ choices per week) |
| ⏰ Prep Time: | Home Chef (5 to 40 minutes) |
| 🍴 Customization: | Home Chef (3 dietary options) |
| 👍 Ordering and Delivery | It's a tie |
| 🙋 Customer Support: | It's a tie |
Winner: Home Chef
Home Chef is the clear winner here, with multiple options for different schedules and dietary needs. EveryPlate keeps its food simple and affordable, but it doesn't always offer options that work for everyone. Let's look at some examples.
Home Chef offers traditional meal kits, split into a few different categories. The meal pictured above falls into the 15 minute meal kits category. Home Chef also offers oven-ready meals that are prepped and ready to cook. Plus, there are different salad and bread bundles to choose from as well.
Pick from a selection of globally inspired cuisines, including Asian, Mexican, and more, that changes each week. There are also great add-ons, like different dessert choices, breakfast options, and select appetizers. You could easily put together a three-course meal using Home Chef's offerings each week.
EveryPlate keeps its choices simple with 17 different meal options to choose from each week. It also offers options that include premium ingredients and cost just a bit extra.
The EveryPlate menu is made up of classic American favorites, like the Pot Pie pictured above, and sticks to simple and recognizable ingredients. You'll usually see at least one Mexican-inspired dish, like tacos or quesadillas, one Asian dish, and sometimes different Mediterranean dishes will be sprinkled in as well.
There's also a FamilyPlate plan with kid-approved meals as well if you're feeding picky eaters.
Meal Customization
Winner: Home Chef
Home Chef offers incredible Customize It options on most of its meals, which makes it incredibly simple to swap ingredients to better fit your diet.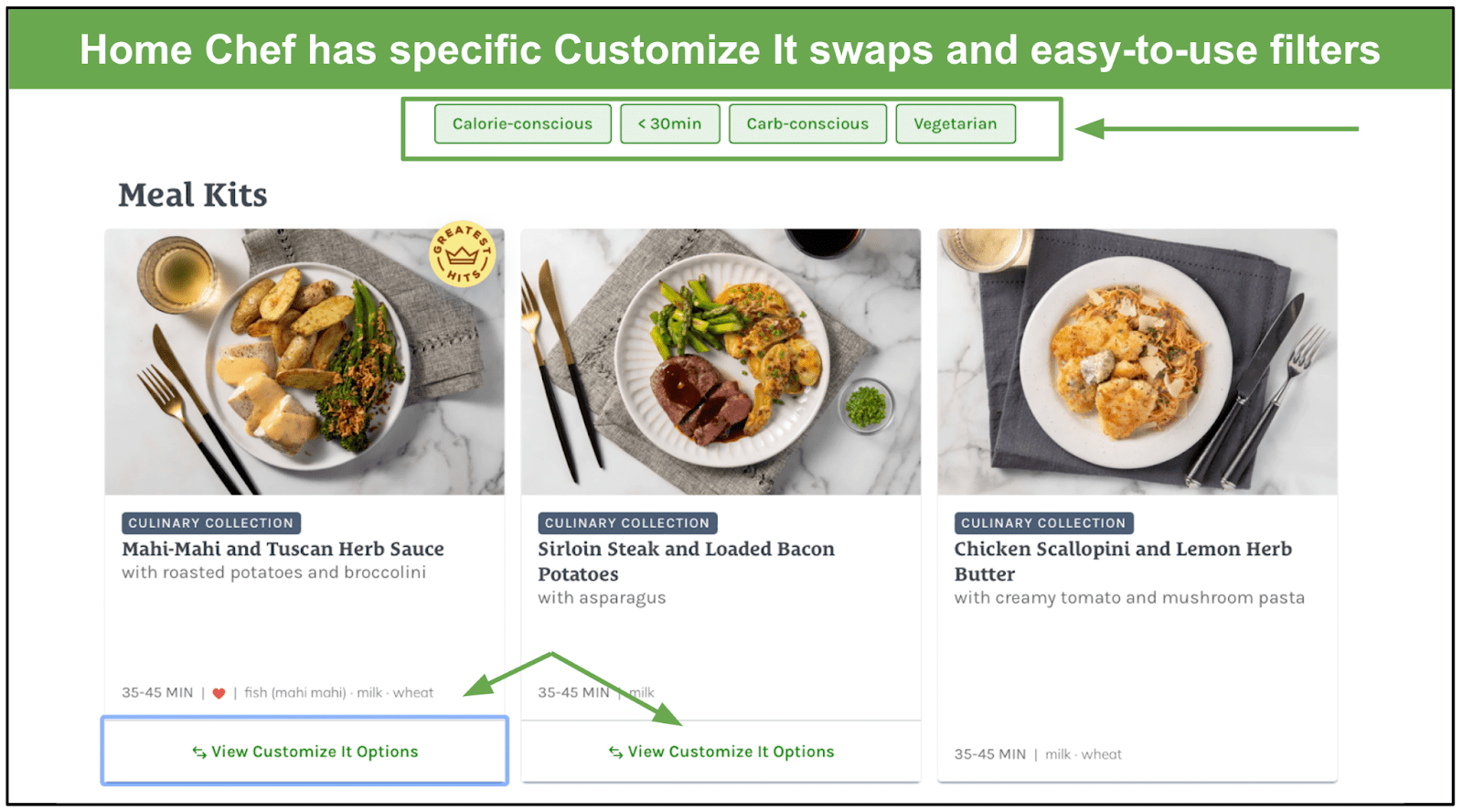 Home Chef features four different filters on the menu page. This will help you find recipes that are calorie-conscious, carb-conscious, less than 30 minutes to prepare, and vegetarian, quickly and easily.
In addition, the Customize It feature allows you to swap out the different proteins based on your dietary needs. Most options include a plant-based protein for vegetarians and different types of red or white meat depending on your diet.
EveryPlate has four different plans. The ClassicPlate shows you the full menu with all types of food. VeggiePlate includes vegetable-forward meals and is the option to choose if you don't eat meat. FamilyPlate has kid-approved meals that are easy to make and perfect for selective eaters. And EasyPlate is a collection of meals ready in less than 30 minutes with minimal cleanup required.
Once you've selected your plan, you can't customize the specific meals. It's important to check the ingredients list for any allergens or things you need to avoid in your food.
Ordering, Delivery, Unboxing
Winner: It's a tie!
Both meal delivery services utilize recyclable packaging and make sure you receive email updates on your shipping and delivery. The boxes will have everything you need inside and all you have to do is store them until you're ready to cook. Because you're receiving fresh ingredients with both services, it's important to make the meals within a week to use everything while it's fresh.
Home Chef makes ordering each week simple. You can even download the app and manage your deliveries that way. You'll select a delivery date when you order, and that day can be changed in the future if your schedule shifts. The minimum order is four servings, so it's a great option for singles as well as families.
Once your delivery arrives, you'll find all the ingredients labeled so you can put them away in the fridge in one spot. Just grab what you need when it's time to prepare. Recipe cards will give you all the information necessary. Everything's recyclable, so you can dispose of the packaging easily with your curbside pick-up.
EveryPlate delivers seven days a week, but your delivery day will depend on your zip code. If you need to update your delivery date, you can easily do that via your account. Boxes range from three to five meals each week, with two or four servings each, so you can select the option that's best for your household.
You'll receive tracking information in your email and once the box arrives, the ingredients should be moved to the fridge. All the packaging can go into the recycling, so make sure to empty the contents and break down the box.
Meal Prep
Winner: Home Chef
As Home Chef offers meal kits with a wide variety of prep options, it wins this category. When choosing meals, you'll find both traditional meal kits and options like Oven-Ready or 15 Minute Meal Kits, where the prep work is a bit simpler.
Its line of Fast & Fresh meals just need a few minutes in the microwave, so especially if you're short on time, it's nice to have these on hand.
Each Home Chef recipe includes the time it will take to cook and prep and the skill level rating, so you'll know all the important information before you add it to your weekly menu.
EveryPlate sends a box of ingredients and recipe cards. The meals take an average of 30 minutes to prep and cook by following the simple recipe cards that come with the box. One of the advantages of this service is that it's easy to follow and perfect if you don't have a lot of prior cooking experience.
As you can see above, the steps are pretty simple and suitable for beginners. However, while there are never more than six steps to follow, there are never only six things to do. Each step usually contains multiple tasks.
The recipes are available online, so you can browse them to choose the right ability level, just like with Home Chef.
Customer Support
Winner: It's a tie!
Both companies offer a customer support line and an extensive customer support site, so it's easy to find answers to many frequently asked questions.
Home Chef has a customer support line that you can call and speak with a live agent six days a week. You can also fill out a form online with your information and your question and an agent will get back to you with an answer.
You don't have to be a current customer to reach out, so you can get any answers you need before ordering. If you're a customer and need to pause or cancel your subscription, it's can be done right on the website without having to reach out to customer service at all.
EveryPlate is similar. Instead of a contact form, you can use the live chat, which has an automated system to help customers find the answers to common questions. If your question isn't covered by the automated answers, you'll be connected with an agent. The customer service line is available as well if you want to speak with a live customer service agent.
EveryPlate customers are able to easily update their accounts via the website and there's no need to call the customer service team to pause or cancel orders.
Winner: EveryPlate
EveryPlate is best known for its affordable pricing. By keeping its options simple and streamlined, prices are able to stay low and budget-friendly at just $1.49.
In comparison, Home Chef meals start at Price: Missing price for Product undefined per serving. This price point covers the basic meals, but there are plenty of add-ons that can impact the price, like the Customize It option or choosing the Culinary Collection recipes.
All the price increases are easy to see, so you can decide if different options are worth it. One example is the protein upgrades that are available. In the example above, you can see the different options available for chicken in a certain recipe. It gives you the breakdown of the additional cost per serving.
Shipping fees for Home Chef range from $7.99 to $13.99 depending on the amount you spend each week. For bigger boxes, you'll actually save on shipping fees.
EveryPlate keeps the selection process simple and that allows it to keep the pricing structure simple too. It's a great service for families on a budget or if you just want easy options each week without having to grocery shop.
Each week, EveryPlate adds a shipping fee of $9.99 and that doesn't change, regardless of the size of the box or the delivery location. Even with the shipping fee, EveryPlate still beats the competition on overall price.
Features Comparison: Home Chef vs. EveryPlate
| | | |
| --- | --- | --- |
| | | |
| Best for | Households that need a variety of options | Households on a budget |
| Starting price | $6.99 per serving | $1.49 per serving |
| Shipping cost | $7.99 to $13.99 | $9.99 |
| Minimum order | 2 meals for 2 people per week | 3 meals for 2 people per week |
| Menu Variety | 20+ choices per week | 17+ choices per week |
| Prep Time | 5 to 40 minutes | 20 to 35 minutes |
| Clean-Up | 2 to 10 minutes | 2 to 10 minutes |
| Convenient Options | Express Plus, Fast & Fresh, Oven-Ready, 15 minute meal kits | EasyPlate plan |
| Allergy Options | No specific plans, but ingredients are listed | No specific plans, but ingredients are listed |
| Special Dietary Options | Calorie-conscious, Carb-conscious, Vegetarian | Vegetarian, Kid-Friendly |
| Customer support | Phone and email | Live chat and phone |
| Promotions | | |
And The Winner Is: Home Chef
Home Chef has more variety and options for busy households, so it takes the top spot in this comparison. There are plans if you're looking to cut back on carbs or calories, cut out meat, or even if you just want to have dinner on the table in 15 minutes or less.
However, if you're looking for something affordable, EveryPlate does offer a lower price point than Home Chef. You can also check out our full list of the best meal delivery services.
Check out the Home Chef menu for this week and see which meals you're most excited to try.
FAQ
What is the best meal delivery service to try?
Home Chef is one of the best meal delivery services available on the market. It provides great meal variety and convenient options, along with traditional meal kits using high quality ingredients.
Is Home Chef cheaper than eating out?
Home Chef meals start at $6.99 which is more affordable than the average price of a meal out at a sit-down restaurant. It also gives you the opportunity to cook as much as you want and enjoy the comforts of being in your own home.
Is EveryPlate the cheapest meal delivery service?
EveryPlate meals start at $1.49 making it one of the most affordable meal delivery services out there.