How to Cancel EveryPlate Subscriptions 2023 (Quick & Easy!)
EveryPlate makes it really easy to pause your future orders in your account settings, without having to call customer support. That's even the case if you purchased your meal box using EveryPlate's special discount.
EveryPlate is one of the most popular meal delivery services out there thanks to its low prices, but those low prices do come at a cost. Maybe you signed up only to find there wasn't enough variety, or perhaps the meals don't quite cater to your dietary needs.
If you're looking for another affordable option, I highly recommend Fresh and Easy. The current new customer offer of Get 16 Free Meals! brings the price down even further. The meals are easier to make than EveryPlate and it offers more types of meal kits – including prepared meals and oven-ready dishes.

Log in. Enter your account details on the EveryPlate website.

Open Settings. Then scroll down to Deactivate Account.

Confirm your deactivation. Select the reason you've decided to cancel, then click Deactivate Plan.
Canceling your EveryPlate subscription is really easy. Unlike some other meal delivery services, it doesn't involve having to speak to anyone, either on the phone or over email (though the option is there to do that, too). To cancel via the website, all you need to do is:
Log in. Enter your account details on the EveryPlate website.
Open up Settings. You'll find this in the menu in the top-right corner. Then scroll down to Deactivate Account.
Click Cancel Anyway. On the next screen, EveryPlate will try and get you to stay. It will remind you of any offers available to you on your account or maybe even offer you an incentive. If it's not enough to get you to change your mind, click Cancel Anyway to proceed.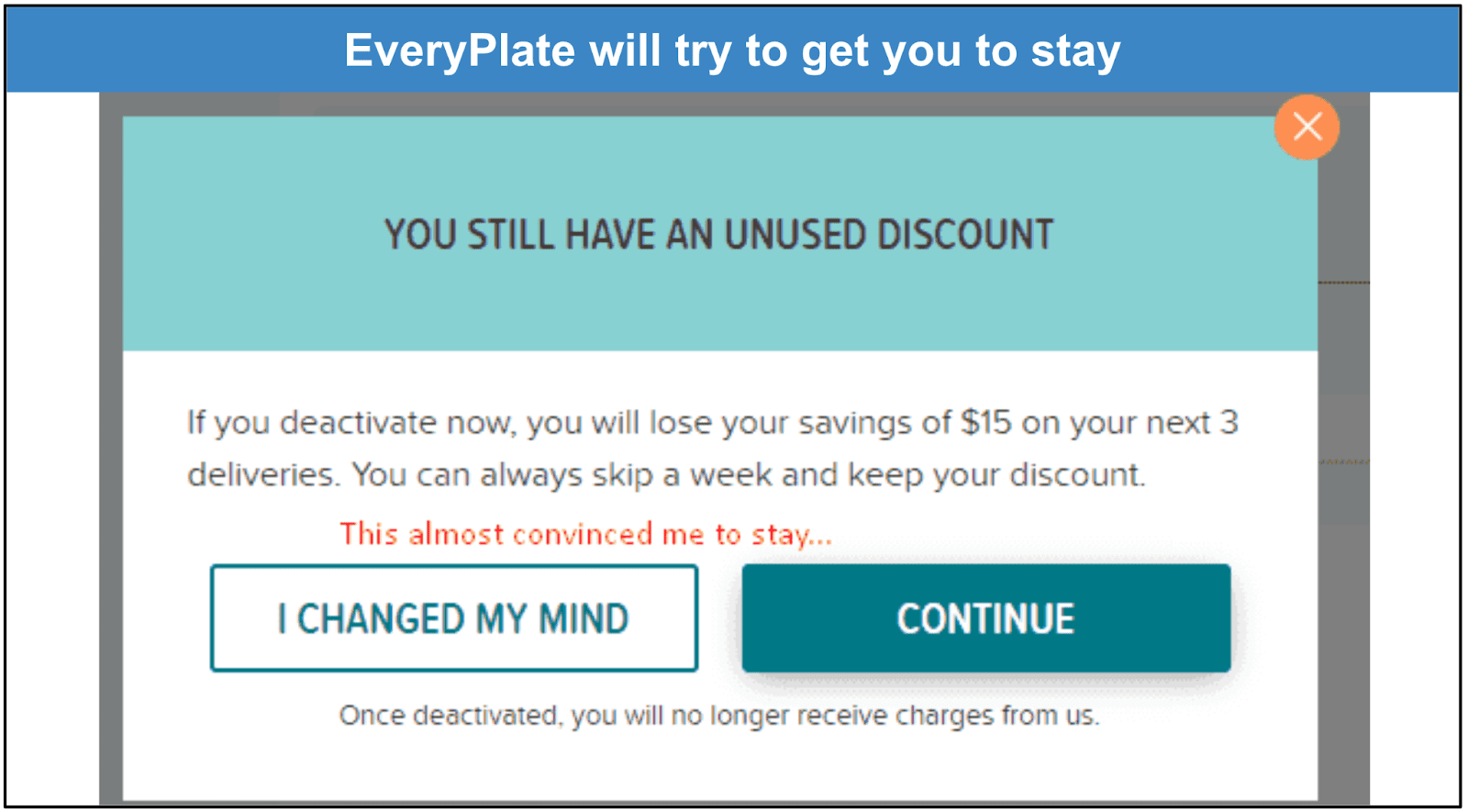 Confirm your deactivation. Select the reason you've decided to cancel, then click Deactivate Plan.
Double-check dates. Remember, if you've canceled less than five days prior to your next delivery, you'll still be charged for that order and will get one last box from EveryPlate. To make sure this doesn't happen, be sure to cancel before 11.59 pm PST at least five days before your next delivery.
If you'd rather cancel your EveryPlate account on the phone, call the customer care line at (973) 210-4915. Before you call, ensure you have all your account information to hand, including the email address on file.
You can also use the live chat to terminate your subscription – again, you will need to confirm your full name and email address to do so. Simply type in "Cancel my account" and the chatbot will transfer you to a live agent.
Currently, EveryPlate doesn't allow you to cancel through its mobile app.
There's a reason why Home Chef's Fresh and Easy plan calls itself "the easiest meal plan ever."
Fresh and Easy provides you with a whole menu of little-to-no-prep meals. They're even more convenient than EveryPlate's straightforward meal kits. The ingredients come portioned, peeled, sliced, and ready to cook – all that's left to do is assemble them.
Choose from Fast & Fresh prepared meals ready to assemble and pop into the microwave to oven-ready dishes and speedy 15-Minute Meal Kits that can be quickly thrown together.
With prices starting from $6.99, it's not much more expensive than EveryPlate and you have far more customization options, as our expert found when she reviewed Fresh and Easy.
And if you want to try it out for even less, you can take advantage of our current deal, too – Get 16 Free Meals!.
HelloFresh's Meat & Veggies, Veggie, Family-Friendly, and Quick & Easy plans are somewhat comparable to EveryPlate's, but it has two more to boot – Fit & Wholesome and Pescatarian.
It also has one of the biggest menus on the market with 50+ recipes per week (compared to EveryPlate's 18).
The Easy Prep, Easy Cleanup, and One-Pot recipes are great for new or time-pressed cooks as they require minimal skill or time in the kitchen, and there are more complex dishes to try once you've been cooking for a while. My colleague goes through the menu in detail in this HelloFresh review.
When using our current deal (Get 25 free meals + free shipping + 3 surprise gifts), the starting price on your first order is just $1.49 per serving, which is much cheaper than EveryPlate's standard price.
Despite the good value, you get more choice and a broader range of cuisines and diets. You also have more flexibility with how many meals you can order per week. EveryPlate requires a minimum of three and a maximum of five – with HelloFresh you can order between two and six meals each week.

If one of the things you liked about EveryPlate was the low price, then you'll love Dinnerly. Its meals start at just $2.12 per portion when you order six meals on the Family Plan and take advantage of our current live deal – Get up to $142.75 off 3 orders, from $1.29 per portion!.
The menu is much bigger though, with 45+ new recipes each week, including some vegetarian, low-carb, and low-calorie meals. There are also a few sweet treats on the menu like cakes and pie, which EveryPlate doesn't have.
When my colleague reviewed Dinnerly, they found that it focuses on simple dishes with fewer ingredients per recipe to keep prices down.

One thing's for sure: Dinnerly is a great family-friendly choice and you get a lot of variety for such an affordable meal delivery service.
Bottom Line
If you decide EveryPlate isn't for you, canceling your subscription is among the easiest of any meal delivery service I've tried. Just make sure you plan ahead (at least five days) so you aren't charged for a delivery you don't want.
And luckily, it's easy to switch to another affordable company like Fresh & Easy – and as a bonus you get to take advantage of the new customer discount for switching!

Here's a Quick Summary of the Best Alternatives to EveryPlate:



Starting Price

Special Discount

Meal Types

Our Rating




$6.99 per serving

Meal kits and prepared meals

Read the full review

$3.32 per serving

Meal kits

9.8 Stars

Read the full review

$2.12 per serving

Meal kits

Read the full review
FAQ
Is it easy to cancel an EveryPlate subscription?
Canceling EveryPlate is super easy to do – I've got it down to three quick steps – and it doesn't require you to contact customer support at all. You just log-in to your account, open Plan Settings, scroll down and click Deactivate Account – that's it!
How to cancel EveryPlate on the app?
There's currently no way to cancel EveryPlate on the app. But don't worry, it's easy to do it from the website. I walk you through the whole process, including how to speak to an actual person if you want to cancel via live chat.
Are there healthier alternatives to EveryPlate?
Yes. While EveryPlate is a convenient and affordable service, it doesn't exactly focus on healthy eating. My top choice for a healthier alternative is Fresh and Easy, where you can choose from a range of low-carb and/or low-calorie meals, according to your health goals.
What's the cut-off for canceling an EveryPlate order?
You need to make any changes to your order, including canceling your subscription, at least five days before your next scheduled delivery, by 11:59 PM PST.
If you try to cancel your order after this time, you'll still receive your next box, and the cancellation will only take effect the following week.
Is EveryPlate owned by HelloFresh?
Yes. EveryPlate was actually launched by HelloFresh as a lower-cost alternative for at-home meal kits in 2018. However, with our code, HelloFresh comes down to a similar price to EveryPlate. It offers much more variety than EveryPlate, with more recipes each week and a more colorful, global-inspired menu.
How do I skip a week on EveryPlate?
Skipping a week with EveryPlate is just as simple as canceling. Log-in to your account and you should be able to find the Skip this week button.