How to Cancel Hungryroot Subscriptions 2023: Quick and Easy
Hungryroot makes it easy to pause your future orders in the account settings without having to call customer support. That's even the case if you purchased your meal box using Hungryroot's special discount.
Hungryroot is a great source of ready-made ingredients for quick and healthy dinners, but it's not for everybody. Some find Hungryroot's simple recipes and precooked ingredients offer no cooking challenge, while others prefer fully prepared meals they simply heat and eat.
If you're looking for a more traditional meal delivery service with a family-friendly menu, then I'm here to help. You might prefer Green Chef, a meal delivery service that always scores highly in our rankings. It uses organic ingredients and is certified gluten-free.
Whatever your reasons, canceling your Hungryroot subscription is easy. All you have to do is follow my illustrated, step-by-step instructions, and you're free.
Click to see more great alternatives
Sign in to your account on the Hungryroot website or iOS app.

Select and confirm Cancel Your Account by answering questions on several screens.

Wait for the email confirmation that will arrive within a few minutes.

Your subscription is now canceled

Look for your next meal delivery service – I think Green Chef is the best choice for dietary specific meal kits.
Hungryroot lets you cancel your subscription online. There's no need to make a phone call and no extended commitment.
Cancel your Hungryroot subscription by the Monday or Thursday before your order ships; otherwise, you'll get an extra delivery. Check your My Hungryroot for the day on which your order finalizes.
To cancel your Hungryroot subscription, follow these instructions:
Sign in to your Account Settings – sign in to your My Hungryroot account on your app or browser. If you're using the app, click Profile at the bottom of the screen, then Settings. If you're using a desktop or mobile browser, click Settings at the top right corner of your screen.
Click Cancel Account, then select Continue to Cancel – From Settings, scroll down until you see Account Details, then click to expand. Among the options is Cancel Account. Hungryroot will ask if you want to cancel or just take a break. You'll have the option to pause deliveries for 4, 6, or 8 weeks.

If you decide to take a break, Hungryroot will send you an email reminder a week before your deliveries start up again. If you want to cancel your subscription, select Continue to Cancel. You might think this is the end, but there are still 2 more steps.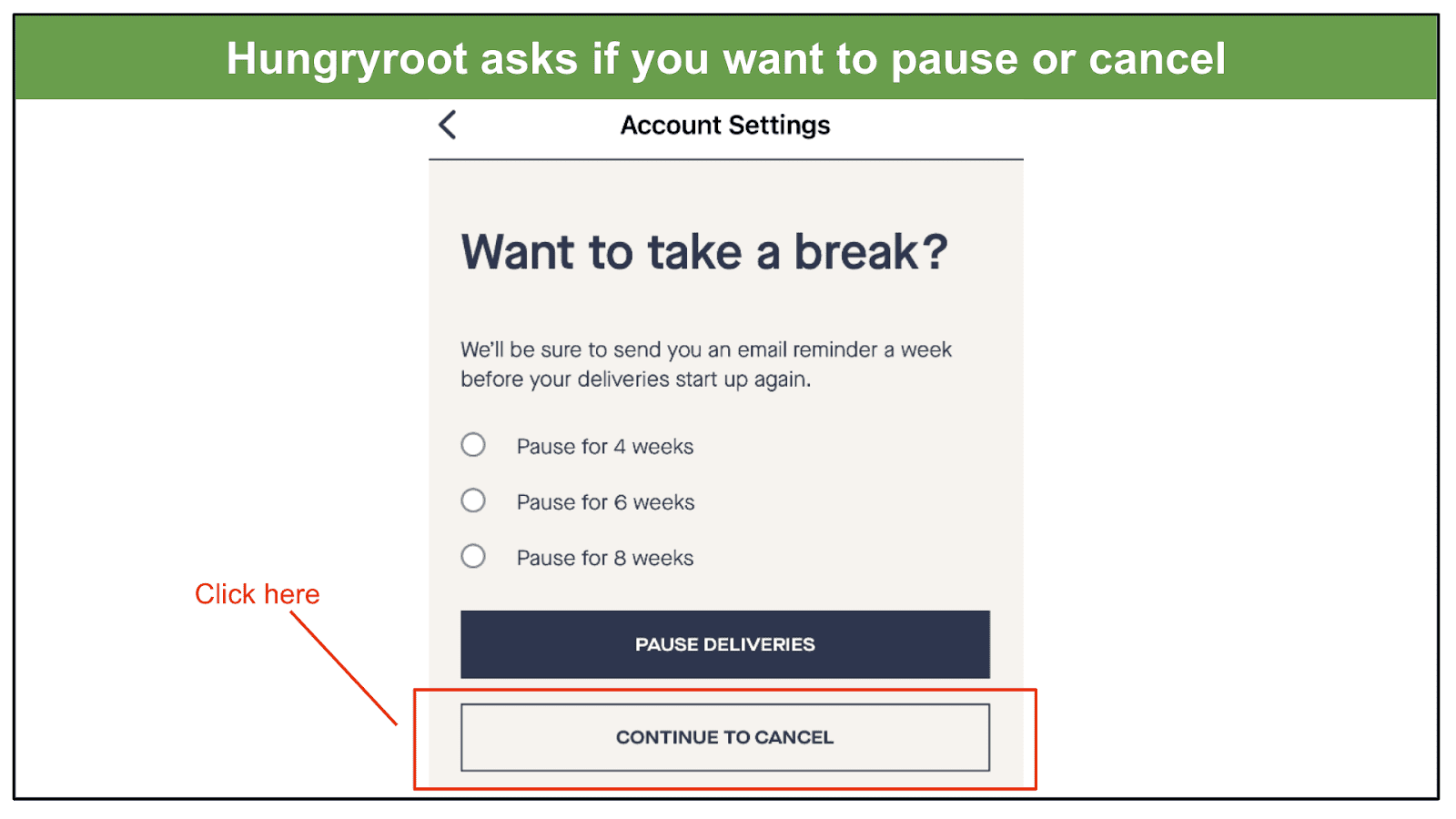 Answer some questions – Before canceling your subscription, Hungryroot asks why you're canceling and then asks for further clarification. Some may find this annoying, and I must admit that I prefer clean breaks without many questions. But you can answer with a couple of clicks, and nobody is grading you on this test, so you can choose whatever answers you like.
Cancel your subscription – Now you're at the finish line, but before you go, Hungryroot wants to make absolutely sure you don't just want to skip a couple of deliveries or change your address. You can provide more information about your cancelation here, or you can simply press the Continue to Cancel button for the third time.
Within a few minutes of submitting your cancelation request, you should receive a confirmation email from Hungryroot. If you decide to come back, you simply log in to your account and click Resume Deliveries.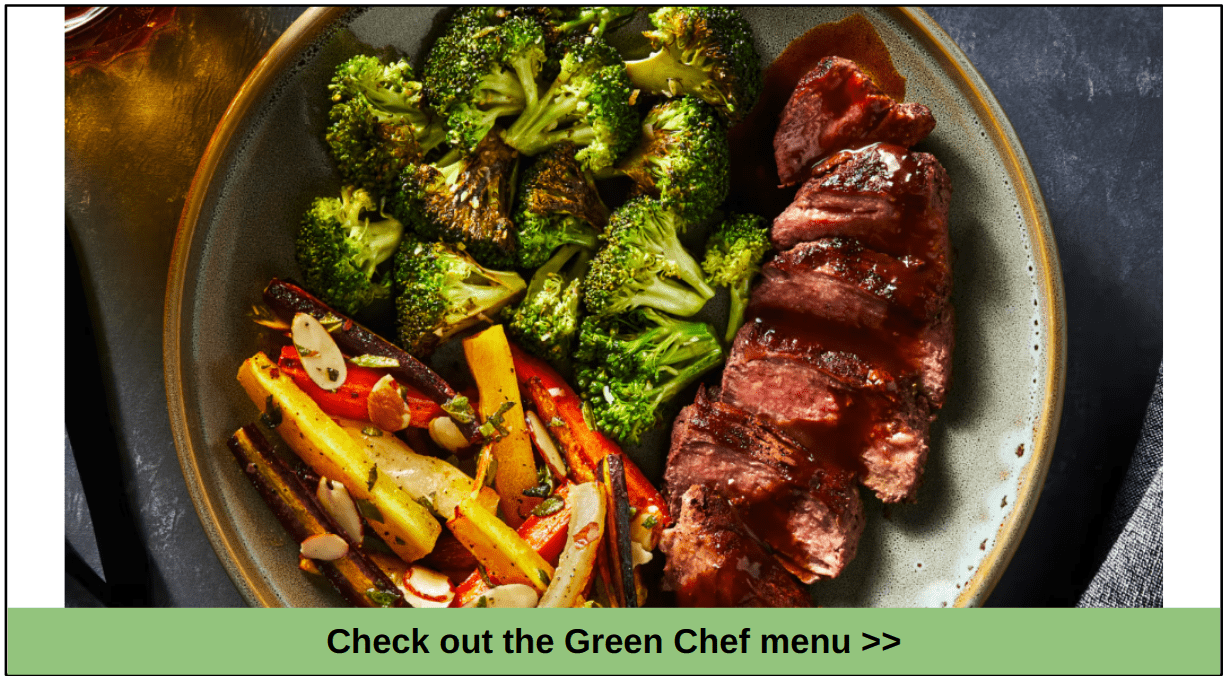 Green Chef focuses on using ethically sourced, organic ingredients and sustainable practices. By choosing organic produce, customers can avoid consuming synthetic chemicals, while organic beef and chicken are raised with high animal welfare standards. Green Chef maintains a high standard of quality in all of its organic products.
For those seeking cleaner and healthier eating habits, Green Chef is an excellent meal kit option. The menu includes 30+ weekly recipes, with categories based on dietary preferences such as Fast & Fit, Gluten-Free, and Vegetarian. All the menu items are accessible to customers each week, so you can choose whichever meals you like.
Green Chef doesn't currently provide prepared meals in the core menu, but there are options for 10-minute lunches. The add-ons menu includes cooked proteins and more lunches, among other items. But, according to my colleague's in-depth Green Chef review, the meal kits cater to all skill levels and are easier to prepare compared to other services.
Green Chef is a great choice for larger households, offering meal plans for 2, 4, and 6 people per week (between 2 and 4 meals per person per week). However, at $5.99 per serving for the largest order, Green Chef is one of the more expensive meal delivery services available.
Our current deal can help bring the price down for new customers if you want to try Green Chef out for less – Get $250 off + free shipping.
HelloFresh features a massive core menu with over 60 items per week. There are options for omnivores, pescatarians, and plant-based dieters. While half of the recipes are inspired by American cuisine, you'll also find plenty of international dishes from Italian, Asian, and Mexican cuisines.
Most of the meal kits on offer take between 20 and 35 minutes to prep and cook. However, even novice chefs can step out of their comfort zone with more complex recipes since the recipe cards are easy to follow, according to our reviewer's experience with the service.
HelloFresh's labeling system makes it easy to choose recipes suitable for your cooking experience. Most recipes are either at the Easy or Medium level, although a small number are at the Difficult level. Other labels are Easy Prep, Spicy, and Easy Cleanup.
For those watching their weight, HelloFresh's Fit & Wholesome meal plan is an excellent choice. You can also look for tags like Carb Smart or Calorie Smart available on some recipes. While HelloFresh offers a good selection of vegetarian meals, it may not be suitable for vegans or those on specialized diets.
HelloFresh's HelloCustom feature allows for protein swaps on 12+ entrees each week. This feature is great for meal personalization as you can make replacements such as crispy potatoes with broccoli for carb-watchers or add meat to a veggie meal.
HelloFresh lets you order between 2 and 6 recipes per week for 2 or 4 people, which makes it a great fit for couples and families. Prices start at $3.32 per serving for the largest order (6 meals per week for 4 people), but you can still get a good deal for the most popular plan, which is 3 meals per week for 2 people.
Home Chef features a varied menu with plenty of options in terms of cuisine and meal type. You can make gourmet meals from the Culinary Collection or rely on an Express meal kit or Oven-Ready meal for busy nights. Our Home Chef reviewer found it to be a versatile meal delivery service.
Home Chef's secret weapon is its Customize It feature that allows you to swap proteins. Due to this feature, you can make your Parisian Bistro Chicken with salmon, pork chops, or New York strip steak. Plus, you can replace the ground beef in many hamburger recipes with a vegetarian Impossible Burger, which extends the plant-based options available on the menu.
All the recipes are categorized by difficulty, with the majority rated as Easy or Intermediate. For instance, the BBQ Beef Meatloaf dish is classified as Intermediate and needs 45 to 55 minutes to prep and cook. But if you want something faster, you can try the Greek-Style Beef and Rice Bowl, which is ready in 10 to 15 minutes.
There are also a few more challenging meals, classified as Expert (typically found in the Culinary Collection). These feature premium ingredients that come at an additional cost per serving.
Home Chef's starting price of $7.99 per serving is quite affordable. You can order for 2, 4, and 6 people between 2 and 6 meals each week, so Home Chef is a great option for families (large or medium-sized) and couples.
$5.99 Per Serving

$3.32 Per Serving

$7.99 Per Serving

3 meals for 2 people

2 meals for 2 people

2 meals for 2 people

30-minute meal kits

20 - 30 min. meal kits

Kits, speedy kits, oven-ready, prepared

25-40 min

15-40 min

5-50 min
FAQ
Is it easy to cancel a Hungryroot subscription?
If you decide Hungryroot isn't right out for you, canceling your subscription is really simple! The entire process can be completed on the website or app with a few clicks, and you won't even have to call customer support.
Are there healthier alternatives to Hungryroot?
For a healthier alternative, try Green Chef, which is an organic-certified company. It focuses on using as much organic produce, eggs, and meat as possible. Plus, the core menu is varied, and there are lots of options for vegetarians and vegans.
Until when can you cancel a subscription?
You must cancel your Hungryroot subscription by the Monday or Thursday before your order ships to avoid being charged for extra delivery. Check your My Hungryroot to determine on which day your next order will be finalized and be sure you cancel before that date.
Best Hungryroot Alternatives in 2023 — Final Score
Provider
Our Score
Meal price starting at
Active Deal
Visit Website