Jenny Craig vs. Nutrisystem 2022: Is One Really Better?
I have to admit, Jenny Craig vs. Nutrisystem is, by far, the most interesting comparison I've done to date. Since both services offer weight loss programs with their own set of advantages, it was a tough call, but Nutrisystem managed to bag more wins than Jenny Craig to be crowned the overall winner in the end.
In this review, I compare several aspects of these popular weight loss meal delivery services including dietary preferences, menu variety, pricing, and more.
At a Glance: Jenny Craig vs. Nutrisystem
| | | |
| --- | --- | --- |
| | | |
| Dietary preferences | Standard, Diabetic-friendly, Vegetarian | Standard, Diabetic-friendly, Vegetarian |
| Menu variety | 88 options | 100+ options |
| Starting price | $4.10 per meal | $8.54 per meal |
| Shipping cost | $7.99 | Free shipping on subscription and Success a la carte unfrozen orders and frozen orders over $75. For all other orders, the shipping charge is $7.99-$20 |
| Prep time | 5-7 minutes | 5-7 minutes |
| Special Deals | None available | |
| Learn more | | |
Dietary Preferences
I want to start with a note to followers of keto, paleo, or any other specific diets – neither Jenny Craig nor Nutrisystem are for you. Instead, you might have better luck with one of Sunbasket's menus or Green Chef's Keto + Paleo plan.
Jenny Craig and Nutrisystem are complete weight loss programs that offer a pre-designed diet plan along with meals. The plans are designed differently for men and women based on the caloric requirements of each.
Jenny Craig has three basic plans – Rapid Results Max, Essential Meal Plan (breakfast, lunch, dinner), and Simple Meal Plan (breakfast and lunch). Within each plan, you'll find separate vegetarian and diabetes-friendly menus. These aren't available if you're just browsing online, but can be emailed to you upon request.
The online menu also lacks tags and filtering options. So if you want to cut out certain allergens like egg, soy, etc., you'll either have to open the individual meal page and check the ingredients or call one of the Jenny Craig centers for help.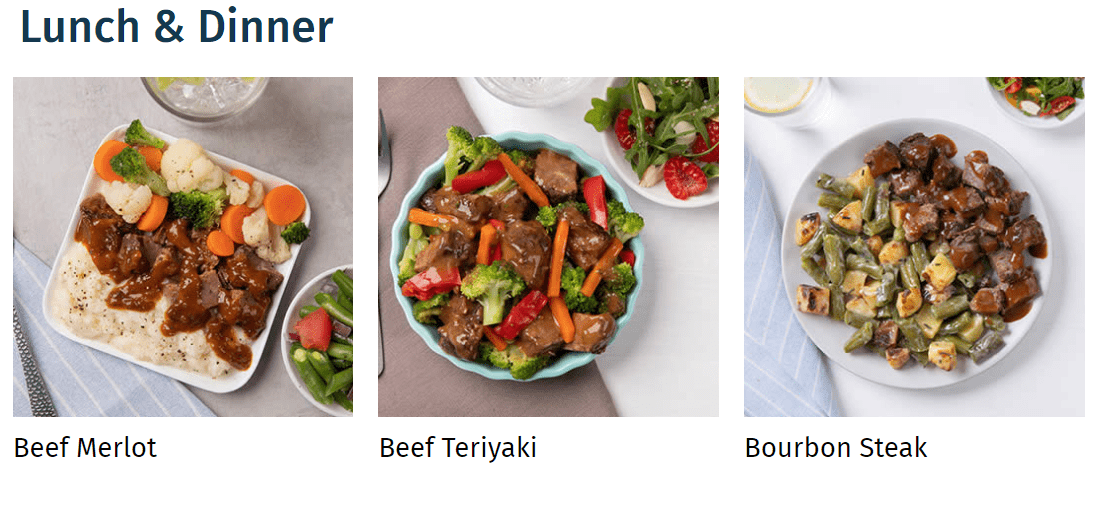 Jenny Craig Menu
The ordering process is relatively easy if you're on the Rapid Results Max plan, as you get a dedicated coach assigned to you. You're expected to get in touch with your coach every week and they'll help you design your weekly meal plan based on your requirements and preferences.
Nutrisystem's dietary options are the same as Jenny Craig's: standard, diabetes-friendly, and vegetarian. However, unlike Jenny Craig, Nutrisystem makes it easy to find all plan-related information on the website itself.
Nutrisystem has three plans based on the number of meals you get each week: Basic, Uniquely Yours, and Uniquely Yours Ultimate, and when searching the menu, you can easily filter out meals that contain specific allergens.
As far as customization is concerned, you can pick your own meals from both Jenny Craig and Nutrisystem. However, you won't be able to make changes to the recipes.
Winner: Nutrisystem has the upper hand with more filtering options.
Menu Variety
When it comes to menu variety, Nutrisystem offers more options across lunch, dinner, breakfast, and snacks – 117 in total. However, not all of these options are available on all plans. The Basic Plan has fewer options, as do the vegetarian and diabetes-friendly plans.
You'll also find that many of these options are not what most people would consider a complete meal. For example, there are five different bars on the lunch menu. While a bar works well for breakfast (you'll find many in the breakfast menu as well), I'm not sure how satisfied you'll be with a bar for lunch. The same goes for the soups, which come in less-than-generous portion sizes.
When it comes to dinner, however, Nutrisystem has a separate menu that includes more substantial meals like pizzas, pastas, and bowls.
The daily meal plan that's sent along with the meals recommends that the lunches are lighter, which explains why the menus are structured this way. If you're anything like me and prefer to go easy on the dinners instead, you can obviously swap the lunch and dinner meals.
Nutrisystem meals are lower-calorie, healthier versions of popular comfort foods like mac and cheese, burgers, and a variety of melts. The inclusion of comfort foods ensures that your cravings are kept in check.
Jenny Craig has a total of 88 items on its current menu – 44 lunches/dinners, 21 breakfast items, 19 snacks and desserts, and four bars. If you're vegetarian, there will be fewer options for you. You'll find varied cuisine and a mix of popular foods like pasta, fish and chips, and pizza but also some fancier items like Beef Merlot and Broccoli and Cheese Stuffed Potatoes.
With both services, your customization choices are limited to selecting meals for your weekly plan. Neither lets you add, remove, or replace ingredients in any of the recipes.
Winner: It's a tie – Nutrisystem has a wider menu while Jenny Craig has a fancier menu.
Starting Prices
Both services offer multiple plans, all with different price tags. Nutrisystem further complicates this by offering different plan prices based on your delivery preference. Confused? Don't worry, I'll break it down for you.
Let's start with Jenny Craig because it's simpler.
The cheapest plan on Jenny Craig is the Simple Meal Plan at $12.99 a day ($389.70/month). However, this plan only offers breakfast and lunch, making your price per meal $6.49. Pretty reasonable, right? This, however, is not the lowest price per meal. The Rapid Results Max Weight Loss Plan is $25.99 per day.
This plan includes five meals each day – breakfast, lunch, dinner, snack/dessert, and bars. So the price per meal on this plan comes to $5.20. You'll also have to factor in shipping costs unless you do a pick-up, but more on that later.
For Nutrisystem, the cheapest plan is the 5-day Basic Plan for women.
Like all Nutrisystem plans, this plan comes with four different price points depending on your delivery (see the screengrab below). The most expensive price is $16.88 per day for a one-time shipment and the least expensive is $7.93 per day (if you pay for three months upfront where each shipment arrives monthly). If you go with the latter, the price per meal comes to a super-affordable $1.98.
Contrary to most meal delivery services, opting for more meals per week with Nutrisystem does not bring down the price per day, it increases it. So if you opt for the 7-day Basic Plan, your per meal cost will be higher. Also, if you go for the men's plan, the cost increases, as the portion sizes are larger.
Winner: Nutrisystem
Delivery and Packaging
There are two ways you can get Jenny Craig meals – from the store (currently only curb-side pickup available) or via delivery. Since many of the meals are freshly prepared and flash-frozen, you'll only receive a week's worth of meals at a time. A flat rate of $7.99 is levied on each delivery.
While the food delivery is quick and easy, ordering it is a different story. The website is hard to navigate and the online menu gives no ingredient, nutrition, or allergen information. You're better off calling your nearest Jenny Craig center to place an order, although you'll have to repeat this call every week to get your weekly supplies.
If you call, your first order will arrive within 1-2 days (when I called the Maryland center at 11 am, they told me they could ship that same day!). However, if you order online, your first order can take anywhere between 1 to 10 business days to arrive and you can't choose the day. If you're on auto-delivery, you'll receive a package a few days before you run out of meals.
Nutrisystem offers free shipping on all its programs. For Success members, unfrozen à la carte orders are shipped free, however, you'll be charged a $20 shipping fee for frozen orders under $75. For non-members, all à la carte orders come with a shipping fee ranging between $7.99 - $19.99.
Now let's talk packaging. Jenny Craig meals come packed in a partitioned box. The upper half contains your shelf-stable meals while the bottom half is dedicated to frozen items. All meals are packed in color-coded wrappers. For example, all the snacks/desserts are in white and pink wrappers while lunches and dinners come in white and green.
Jenny Craig has recently jumped on the sustainability bandwagon and now almost all of its packaging is recyclable or compostable. You'll find loads of #4 plastic, which is recyclable in most communities.
Nutrisystem has also switched to more eco packaging, with almost all of its packaging material being environmentally friendly, including recyclable and biodegradable coolers. Again, plenty of plastic but it's recyclable.
The Nutrisystem meals are also clearly marked as lunch, dinner, breakfast, and snacks so they are easy to sort.
Winner: It's a tie.
Meal Prep
Both Nutrisystem and Jenny Craig offer similar pre-packaged meals so I already know that the services are going to finish in a dead heat.
The snacks, bars, and desserts are ready to eat as is. The frozen meals require heating and some meals need to be mixed with boiling water. For both services, the only kitchen skill you need to master is heating. There's no other prepping or cooking required.
Winner: Another tie.
The Bottom Line
Both services have their pros and cons. Nutrisystem has a well-established and convenient set-up for ordering online and you can also personalize your plans, keep food and activity logs, and track your overall progress through the NuMi app. Then there are the registered dietitians, certified diabetes educators, and trained coaches that you can contact any time you need help.
With Jenny Craig, meanwhile, you'll have to call to find out detailed allergen information and to place an order. On the Rapid Results Max plan, you'll get a dedicated coach assigned to you for weekly updates, something you won't get with Nutrisystem.
So if you prefer a tech-savvy service, wider menu, and certified experts, Nutrisystem is the way to go. However, if you prefer a more personalized approach and fewer processed and more flash-frozen meals, Jenny Craig might be the right fit for you.
Overall winner: Nutrisystem.
If neither of these weight-loss services is a good fit for you, there are plenty of options on our list of the best weight loss meal delivery services of 2022.