Jenny Craig vs. Nutrisystem 2023: Which is Really Better?
Jenny Craig and Nutrisystem are both well-known diet services with a long track record. Both offer pre-packaged meals delivered right to your door, but there are some key differences between the two that are worth considering when deciding which one is right for you.
Jenny Craig vs. Nutrisystem is, by far, the most interesting comparison I've done to date. Both are very different from more generalized meal delivery services, and each has a different approach to cost, meal planning, and the level of support on offer.
Ultimately, Nutrisystem bagged more wins than Jenny Craig. But Jenny Craig's coaching and storefront services make it a great choice for people looking for a more personalized weight loss plan. If you're looking for a healthy way to lose a few pounds, read on and see which of these services is right for you!
At a Glance: Who Won Each Category?
| | |
| --- | --- |
| 💲 Price: | Nutrisystem ($8.54/day) |
| 🍔 Menu Variety: | Nutrisystem (150+ menu items) |
| ⏰ Prep Time: | It's a tie |
| 🍴 Customization: | It's a tie |
| 👍 Ordering and Delivery: | |
| 🙋 Customer Support: | Jenny Craig |
Winner: Nutrisystem
Nutrisystem takes this first round thanks to its wider variety and better filtering options. Sticking to a diet is tough, so you want as many choices on the menu as possible.
Jenny Craig and Nutrisystem are complete weight loss programs that offer a pre-designed diet plan along with meals. The plans are designed differently for men and women based on the caloric requirements of each.
Both services provide single-serving, portion-controlled prepared meals with supplemental snacks and shakes. With either Jenny Craig or Nutrisystem, most of your food intake will come from your weekly shipment.
Jenny Craig offers 38 lunch/dinner items, 18 breakfast items, and 28 desserts, plus snacks, bars, and shakes. You'll find varied cuisine and a mix of popular foods like pasta, fish and chips, and pizza but also some fancier items like Beef Merlot and Broccoli and Cheese Stuffed Potatoes.
Each Jenny Craig plan also offers separate vegetarian and diabetes-friendly menus. These aren't available if you're just browsing online, but can be emailed to you upon request.
Jenny Craig's menu might be a tad more sophisticated than Nutrisystem, but neither is especially adventurous. Both offer lots of lower-calorie takes on American favorites, with an occasional Italian, Mexican, or Chinese meal thrown into the mix.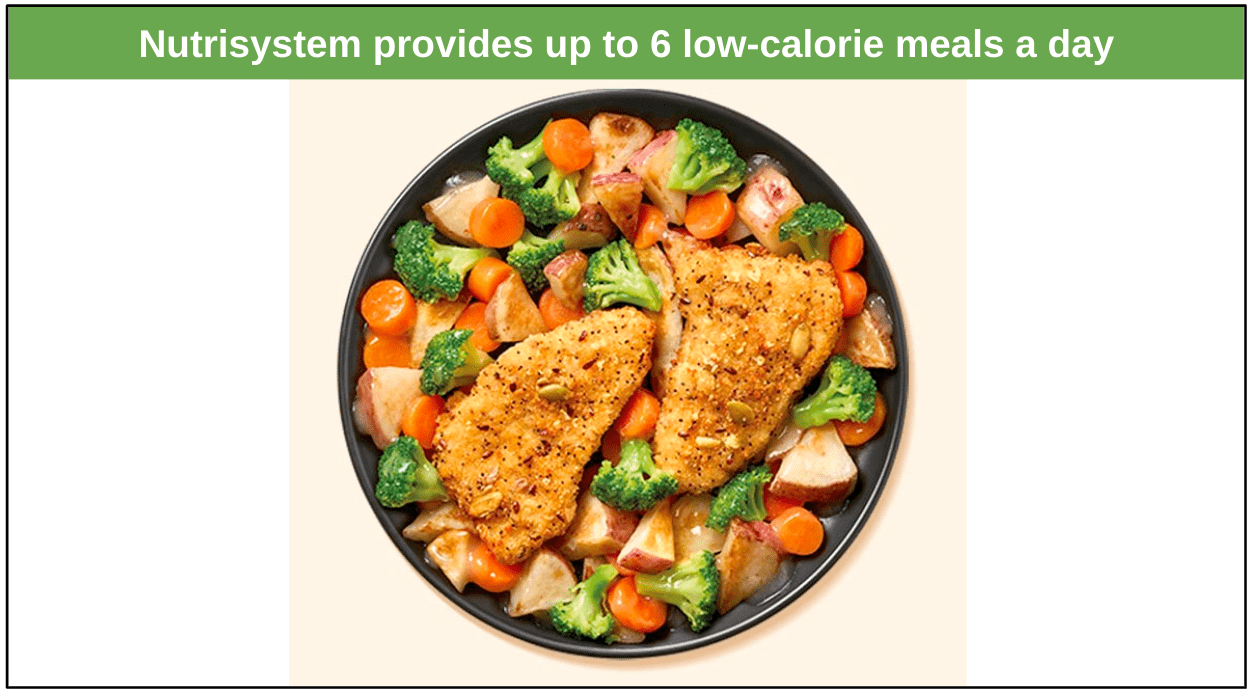 Nutrisystem offers over 150 options across lunch, dinner, breakfast, and snacks. You can filter the menu for dietary restrictions like vegetarian or diabetes-friendly, but these will limit your choices.
Nutrisystem meals are lower-calorie, healthier versions of popular comfort foods like mac and cheese, burgers, and a variety of sandwiches. The inclusion of comfort foods ensures that your cravings are kept in check.
Many of Nutrisystem's offerings aren't what most would consider a complete meal. For example, there are five different bars on the lunch menu. While a bar works well for breakfast, I'm not sure how satisfied you'll be with a bar for lunch. Its dinner menu includes more substantial meals like pizzas, pastas, and bowls.
Overall, Nutrisystem's larger menu gets my vote. You'll have to pay for one of the more premium plans to get the full selection (its smaller, cheaper, "Basic" plans omit frozen meals), but doing so unlocks much more variety than you'll find with Jenny Craig.
Winner: It's a tie
Nutrisystem offers the following plans:
Quick 9: Biweekly deliveries

Uniquely Yours: All meals for seven days a week

Uniquely Yours Max: Also provides access to Hearty Inspirations meals

Complete 55: Meals tailored for 55+ dieters

Partner: For two dieters sharing the same household

Diabetes: Meals to help you lose weight and control blood sugar
Our expert reviewer was impressed by Nutrisystem's Diabetes plans. They noted that having several small meals throughout the day is a helpful way to limit blood sugar spikes for people with type 2 diabetes.
Jenny Craig's Simple Meal Plan provides breakfast and lunch, while the Essential Meal Plan adds dinner. The Rapid Results Max Plan gives you all that plus snacks, desserts, Recharge energy bars, personal coaching, activity plans, and a quality of life assessment.
Jenny Craig's online menu also lacks tags and filtering options. So if you want to cut out certain allergens like egg, soy, etc., you'll either have to open the individual meal page and check the ingredients or call one of the Jenny Craig centers for help.
You can pick your own meals from both Jenny Craig and Nutrisystem. But your customization choices are limited to selecting the meals for your weekly plan. You won't be able to make changes to the recipes.
Nutrisystem's filters let you easily exclude problem foods and find just the entrees you're looking for. Not only can you avoid common allergens like tree nuts and wheat but you can also filter out entrees with tomato sauce, pork, spicy foods, and many other troublesome ingredients.
However, filtering out allergens may significantly cut down your menu options. Since you can't exclude or replace individual meal ingredients, filtering out an ingredient like chicken will mean every menu item containing chicken is removed for you.
Both plans are geared specifically toward weight loss, and their low-calorie meals are carefully designed to ensure dieters get all the nutrients they need. Keeping that balance is a big challenge, and letting customers mix and match ingredients would make it much harder still.
Ordering, Delivery, Unboxing
Winner: Nutrisystem
Nutrisystem wins this round thanks to its superior website and ease of ordering. But let's take a look at Jenny Craig first.
There are 2 ways you can get Jenny Craig meals: from the store or via delivery. Since many of the meals are freshly prepared and flash-frozen, you'll only receive a week's worth of meals at a time.
While Jenny Craig's food delivery is quick and easy, ordering it is a different story. The website is hard to navigate and the online menu gives no ingredient, nutrition, or allergen information. You're better off calling your nearest Jenny Craig center to place an order, although you'd have to repeat this call every week to get your weekly supplies.
Jenny Craig's minimum order, the Simple Plan, provides 7 breakfasts and 7 lunches. Jenny Craig ships using FedEx and can deliver to most of the continental US and much of Canada. You can cancel or reschedule any order up to 48 hours before its scheduled shipment date by calling or sending an email request.
If you call, your first order will arrive within 1-2 days (when I called the Maryland center at 11 am, they told me they could ship that same day!). However, if you order online, your first order can take anywhere between 1 to 10 business days to arrive and you can't choose the day. If you're on auto-delivery, you'll receive a package a few days before you run out of meals.
Jenny Craig meals come packed in a partitioned box. The upper half contains your shelf-stable meals while the bottom half is dedicated to frozen items. All meals are packed in color-coded wrappers. For example, all the snacks/desserts are in white and pink wrappers while lunches and dinners come in white and green.
Almost all of Jenny Craig's packaging is recyclable or compostable. You'll find loads of #4 plastic, which is recyclable in most communities.
Nutrisystem's processing and delivery time ranges between 1-5 business days within the continental US from when the order is placed. Orders placed outside the continental US will take a further 2 days by air.
You can also get deliveries to Canada, but these will take 4-10 business days. Frozen Nutrisystem meals are shipped separately and may arrive on a different day than non-frozen items.
Nutrisystem has also switched to more eco-friendly packaging, with almost all of its packaging material being environmentally friendly, including recyclable and biodegradable coolers. Again, plenty of plastic, but it's recyclable. Nutrisystem's meals are also clearly color-coded as lunch, dinner, breakfast, and snacks so they're easy to sort.
You can make changes to upcoming orders by phone or email. You can also go to your Nutrisystem account and click My Account then Edit Next Order.
Meal Prep
Winner: It's a tie
Both Nutrisystem and Jenny Craig offer similar pre-packaged meals, so I already know that the services are going to finish in a dead heat.
Nutrisystem and Jenny Craig meals are heated from frozen, so you don't even have to thaw them beforehand. The snacks, bars, and desserts are ready to eat or you just need to add milk or hot water. For both services, the only kitchen skill you need to master is heating. There's no other prepping or cooking required.
Both Jenny Craig and Nutrisystem encourage you to supplement their meal plan with fresh fruits and vegetables. While both plans provide the majority of calories, you'll need to make occasional visits to the grocery store.
Customer Support
Winner: Jenny Craig
Jenny Craig wins here due to its personalized diet counseling and support.
Both Jenny Craig and Nutrisystem offer email and telephone support, and both have FAQ sections on their websites. Jenny Craig has a contact form while Nutrisystem offers live chat from 8 am to 8 pm Eastern Time Monday-Friday and from 9 am to 5:30 pm on weekends.
Jenny Craig and Nutrisystem also both have apps that let you track orders, make changes, or cancel your subscription. Both apps help you track your weight loss progress and provide you with inspirational messages.
Customer support is where Jenny Craig really shines. With more than 600 brick-and-mortar locations, Jenny Craig can provide you with personalized diet counseling as well as online support. The service even guarantees that if you don't like your first week of food, you can simply cancel your order and Jenny Craig will refund your money.
Jenny Craig's Rapid Results Max plan assigns you a dedicated coach. You're expected to get in touch with your coach every week and they'll help you design your weekly meal plan based on your requirements and preferences.
Nutrisystem attempts to compete with its own weight-loss counselors. They can help you find the right menu items for your specific needs, but this still doesn't quite beat the comprehensive service from Jenny Craig.
Winner: Nutrisystem
Both services offer multiple plans, all with different price tags. Nutrisystem further complicates this by offering different plan prices based on your delivery preference. Confused? Don't worry, I'll break it down for you.
The cheapest plan on Jenny Craig is the Simple Meal Plan at $13.99 a day ($419.70/month). However, this plan only offers breakfast and lunch, making your price per meal $6.99. Pretty reasonable, right? This, however, isn't the lowest price per meal.
The Max Up Weight Loss Plan is approximately $29.00 per day and includes 5 meals: breakfast, lunch, dinner, snack/dessert, and bars. So the price on this plan comes to $5.80 per meal, not including shipping costs. If you replace your dinners with Jenny Fresh meals, you'll be spending around $34/day, or $6.80 per meal.
Jenny Craig also offers Jenny Fresh, a service that sends you 7 fresh (not frozen) dinners of under 350 calories each week. You can order Jenny Fresh separately for $99.99/week ($14.28/day) or incorporate it into another of Jenny Craig's weight loss plans.
Both Jenny Craig and Nutrisystem ship frozen meals, which is considerably more difficult and expensive than sending chilled packages of fresh food. Jenny Craig's flat shipping fee of $29 per package is the highest I've come across in my meal delivery reviewing career.
For Nutrisystem, the cheapest 5-day Basic Plan for women starts at $9.99 per day. (The Basic Plan for men costs $11.64 per day). If you pay for 3 months of monthly shipments upfront, that cost drops to $8.64 per day for women and $9.95 per day for men or $1.44/$1.66 per serving, respectively. But that Basic option is only available on the Diabetes or Partner Plans.
You pay a hefty penalty for 1-time Nutrisystem orders, so subscriptions are encouraged. The price per-day on a 1-time, 30-day order is $18.71 – more than double the cost of a 3-month prepaid subscription!
Quick 9 starts at $14.28/day for women or $15.71 per day for men. If you pay in advance for 3 biweekly shipments, the lowest price drops to $12.21 per day. If you place a 1-time order, it jumps to $25.97 per day.
Nutrisystem offers members free shipping on all its programs. For non-members, all à la carte orders come with a shipping fee ranging from $7.99 to $19.99. That's not cheap, but it feels like a bargain next to Jenny Craig's shipping prices.
Losing weight with Nutrisystem will cost you a lot less than with Jenny Craig. While the other wins were close, this round was an uncontested win for Nutrisystem.
Jenny Craig vs. Nutrisystem — Quick Overview



Jenny Craig

Best for

Personalized diet coaching

Complete diet plans delivered

Starting price

$13.99 per day

$8.54 per day

Shipping cost

$29.00

Free for members,
$7.99 - 19.99 for 1-time orders

Minimum order

14 meals (7-day Basic plan)

28 meals (7-Day Reboot)

Menu variety

85+ choices per week

150+ choices per week

Prep time

0 to 5 minutes

0 to 15 minutes

Low-prep options

All items fully prepared and can be heated in microwave

Microwave-ready, some items require added hot water or fat-free milk

Allergies catered to

None: you must check ingredients list yourself and avoid problem ingredients

Filters for wheat, tree nuts, fish, eggs, onions, tomatoes, sugar alcohols, chocolate, pork

Special diets

Diabetes-friendly, vegetarian

Diabetes-friendly, over 55

Customer support

Email, phone, contact form

Email, phone online chat

Promotions

–
If your goal is weight loss, Nutrisystem is the superior choice. While Jenny Craig's physical locations are highly regarded, Nutrisystem offers a better-organized website and a wider range of meal options to cater to your needs.
Ultimately, though, both these services can help you lose weight and guide you toward a lifetime of better eating habits.
Both these services are good for short-term weight loss, and both provide counseling and advice on making long-term lifestyle changes. But in time you might want to move on from these specialized plans to a more generalized meal delivery plan.
When that time comes, or if neither of these weight-loss services is a good fit for you, there are plenty of options on our list of the best weight-loss meal delivery services.
FAQ
Who is cheaper, Jenny Craig or Nutrisystem?
With its Basic Meal Plan for Women starting at just $8.54 per day, Nutrisystem is the cheaper of the 2 services. Jenny Craig's plans start at $13.99 per day. But be advised that Nutrisystem meals are considerably more expensive if you buy them a la carte rather than signing up for a subscription.
Can you customize meals on a Nutrisystem plan?
Nutrisystem doesn't allow you to swap out proteins or other ingredients from entrees, but you can choose from a menu with over 150 options. Most weight loss meal delivery services carefully plan their menus to ensure your nutritional needs are met on a low-calorie diet.
Which plan has more variety, Jenny Craig or Nutrisystem?
While Jenny Craig has over 85 entrees on its menu, Nutrisystem has over 150. Variety is important with weight loss meal services. You'll be getting almost all your calories from Nutrisystem or Jenny Craig, so you want as many menu choices as you can get.