Local Choice Spirits 2023: Make It, Sip It, Share It!
Raise your glass to a company that's redefining the spirits industry, where every sip is a toast to giving back. Meet Pixie Paula Dezzutti, the Founder & CEO at Local Choice Spirits, a visionary with a passion for celebrating good times and making a positive impact on the communities around us. Local Choice Spirits isn't just about crafting award-winning boutique spirits and celebrity brands; it's a brand with a purpose. Their unique business model, aptly named "Sip & Share," is all about fusing philanthropy with the joy of everyday celebration. In this Delivery Rank's article, we'll delve into the story of how Paula's commitment to quality and community has transformed Local Choice Spirits into an innovative premium brand building platform. It's a place where creators and consumers alike come together to enjoy exceptional spirits while simultaneously pouring it forward to community causes. Get ready to be inspired by the extraordinary journey of Local Choice Spirits and its CEO, Paula Dezzutti, as they prove that making a difference and raising a glass can go hand in hand.
Can you share the story behind the inception of Local Choice Spirits and how you came up with the idea to combine philanthropy with spirits through the "Sip & Share" concept?
It actually came to me in a dream. On January 1st, 2011, I woke up having witnessed the whole platform laid out for me in my dreams. I saw the end game of how I could truly change the world by capturing the wasted dollars of the current inefficient and redundant beverage branding model and shift those dollars back to consumers in exchange for their brand loyalty. I thought to myself wow that was some bad Chinese food I ate for dinner last night. But then I went and looked up Local Choice thinking I must have surely seen this somewhere before and the idea planted itself somewhere in my subconscious. But there was no such thing as Local Choice! I thought how could there be no focus on this when you often hear slogans about buying local, supporting local, shopping local, staying local. Yet no one was really leveraging the most lucrative industry on the planet as a direct give back initiative to the consumer. With $2 per bottle going back to the non-profits or community education programs, we could leverage the bar doing what these volunteer fundraisers were already doing anyway. We became the 401k matching program for their fundraising efforts and they could share the opportunity amongst their entire communities, not just at the black tie affairs they were hosting. I created the "SIP & SHARE" project as a pour it forward initiative to help communities prosper through their celebration. Most community organizations, whether they are nonprofits or for- profit typically receive part of their funding from an annual campaign or gala. Often, they throw a large black-tie affair where people will purchase a ticket in excess of $200 in the hopes of raising money and awareness for their company. As community supporters we will attend these events to support our friends and dance the night away at an open bar. I watched people over and over again get out of the car and head for the bar, yet no one was leveraging the bar as an ongoing fund-raising mechanism for the organization after the evening was over. And what about all the people who couldn't attend that night? And all of their extended family in other states could be making online purchases too. The Internet knows no state lines and cause-marketing today happens as a result of a digital platform. Because the distribution of alcohol is governed through highly regulated channels it's a challenge to get the consumers to work in conjunction with the liquor stores and the distributors to make the platform work. But just think if a liquor store offered the opportunity to drive sales of Local Choice Spirits in their local liquor section. Not only would consumers be enjoying super premium award-winning local spirits, but their hearts would be filled with inspiration knowing that $2 of their purchase was going back to local causes while they were enjoying a martini!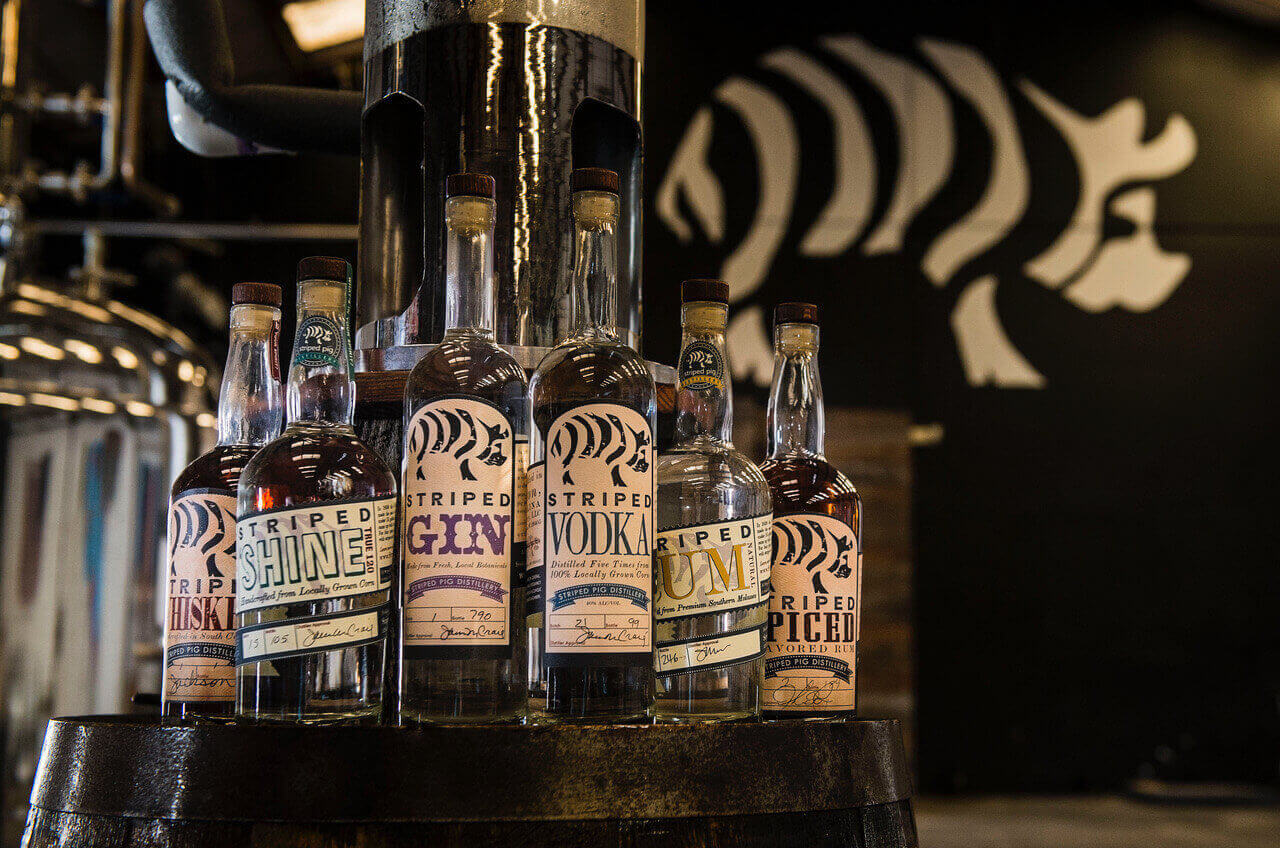 Local Choice Spirits is known for its commitment to both quality and community. How do you maintain a balance between producing award-winning boutique spirits and ensuring a positive impact on the community?
In the philanthropy arena it's been an accepted practice to overpay for inferior products in the name of charity. I knew that if I was going to make this behavior shift of Sip & Share attractive, I would have to have a superior product with a value price. I would have to provide consumers with the best products available to them and not ask them to do anything differently than what they were already doing. If you're going to talk about a big game, you're going to have to have an unsuspecting wow factor. We will never compromise on quality. We don't have to. We use all natural ingredients, sourced locally when possible, and sourced from women owned businesses as a priority through our entire supply chain. We are a small family-run business with a just-in-time manufacturing model that allows my family to put their Heart and souls into producing one of a kind unique experience for our consumers. That love and commitment is felt in our finished products. We're not selling Spirits, we're selling Inspiration!
"Pour It Forward" is a unique and catchy concept. Can you elaborate on how this approach has resonated with your customers and the causes it has supported?
People are familiar with paying it forward. It became popularized over the last few decades. pour it forward is a play on that concept. We all throw extra change into a piggy bank or an old bottle and save up for a rainy day. Pouring it forward through our Sip and share initiative is a give back business model, combining three of my passions: Community Celebration, Spirits, and Philanthropy. Local Choice Spirits donates back to the corresponding entity $2/ bottle of any of our award-winning brands, across all spirit categories, purchased by an independent retailer, club, golf resort, restaurant, management company, event, or tournament. Bottles in the program are identified on the bars with a distinctive sticker and supported by table tents that encourages patrons to imbibe in the premium spirits to maximize their charitable contribution to their causes, fostering a platform through which everyday celebration and community fundraisers could give more dollars back into those communities and charities by choosing Local spirits for their events.
Our microbrewery, Ghost Monkey Brewery (GMB), known and loved for its variety of local craft beers since 2016, will onboard Sip & Share as well. Expanding on GMB's community focus, since its inception, to donate tips to charity, Sip & Share gives participants greater opportunity to help lift up local community organizations and charities simply with their patronage to the brewery.
The SIP & SHARE platform has raised over many thousands of dollars for local charities over the past few years. It gives the organizers of the event the opportunity to be the best person in the room! Over the years we have sponsored many events and raised dollars for March of Dimes, Special Olympics, Big Brothers Big Sisters, Ronald McDonald House, Anita Zucker's Oxygen Ball, Tri-County Veterans Homeless, She's The Veteran, Hootie and The Blowfish Foundation, and many many more.
In the world of spirits and beverages, what challenges did you face initially in getting your philanthropic vision across to consumers, and how did you overcome them?
This industry is so challenging to begin with. Fueling that by having a disruptive vision that people need to learn to embrace has been one of my greatest challenges in life. Along the way, my choice to remain committed to the partnership and loyalty model has cost me a lot financially and emotionally. It took all the bravery I could muster to stay committed to my values and my vision when others around me were threatened by my passion or frustrated and judgmental when they couldn't see what I saw. I am Tom's Shoes or the Newman's Own of the beverage business. Some people are skeptical and think you can't operate an alcohol company this way. Or they are too afraid to tie alcoholic beverages to non-profit initiatives. I just put it in action and hope that more people start to catch on and take advantage of what I offer. Because if Sip & Share became the standard behind giving people a voice that counted based on their consumption choices, then the big boys would be compelled to do the same. Do the math. In a multi-trillion-dollar industry with billions of dollars wasted in advertising, imagine if that was just redirected back to consumers for the causes they care about. You could still have the bake sales and car washes and sell overpriced wrapping paper and candles.... but then you could just go have a margarita with your friends afterwards and raise your glass to ongoing fundraising!
Looking ahead, what are your aspirations for the future of Local Choice Spirits? How do you envision the brand's growth and continued impact on both the spirits industry and philanthropic endeavors?
For a while now I've been playing in industries that have historically been a man's playground, capitalist driven, with bottom line dollar as the focus. I have been edging my nose forward delicately to assuage the fears of those who feel challenged by the contemporary viewpoints of cause marketing. The time is ripe to add greater dimension to intellectual business standards, to the quality of reasoning, and to critical thinking that unites products and services with the people. It's impossible for authentic innovation to go unnoticed and I for one am tired of being hushed, so I invite everyone to bring on their 'Pixie Power' and celebrate Sip & Share. When marketing turns into commerce, you get prosperity through celebration.
If you would like to find out more about Local Choice Spirits, visit https://www.localchoicespirits.com/