Manna Foods Solutions 2023: Visionary Foods, Changing World - How Innovation Can Transform the Way We Eat Tomorrow
Welcome to a captivating conversation with a true pioneer in the world of food innovation. Today, Delivery Rank has the distinct honor of interviewing the visionary mind behind Manna Foods Solutions, a groundbreaking company that is reshaping the very nature of our culinary experiences. With their innovative use of 3D printing technology, this extraordinary founder has unlocked a world of possibilities, offering us tantalizing glimpses into a future where food is not just nourishment, but a work of art. So fasten your seatbelts and prepare to embark on a journey of taste, imagination, and extraordinary creativity as we delve into the mind of the genius behind Manna Foods Solutions.

What inspired you to pursue a career in sustainable food innovation and 3D food printing, and how did you get started in this field?
Food is a family story for me that started with my maternal grandfather; he used to work in the food industry, most part of his career and I learned a lot from him. He was my "guide" in this direction and I have always seen this domain as something special, interesting and full of potential.
Around the year of 2015, there was a context through which I met our team's engineer and at that point he showed me a small white tablet that proved to be his experimental prototype of tableted honey as natural sweetener for coffee, teas and isolated destinations for trips and this is how the story of Manna Foods Solutions started.
At that time, the sustainable component was not a "highlight" for us. We have started to take this element into consideration only after lots of working hours in research and development. Manna has a portfolio of food innovation projects and I have to say that we like to explore a lot in this field and on this "highway" of continuous research, experiments, tests, we have realized the potential of sustainability as integrated part in our projects, also the global applications, the social impact and new perspectives of how the food of today and tomorrow can be.
3D food printing started with two of my colleagues, Minodora Stoica and Dan Lungu. They have made a 3D printing course in 2018 as I remember and after this course, Dan came to us and he presented the many technological limits that 3D food printing has and how we could overcome many of them, for example: the speed, the cartridges capacity and the multiple injection heads that can be automatically interchangeable all these could obtain the possibility to put in one printer many flavors (8-10 / printer) from where the consumers can choose thus covering many tastes and the list continues. This is how Reebo was "born" – the first 3D food printer designed as a vending machine. With a touch of a button, serves ready-to-eat, customized and calorie adjusted, fresh cakes and sandwiches, anytime, anywhere, in a matter of 1-3 minutes.
Reebo is in the experimental prototype phase; we have managed to create it in order to proof the idea and concept but still are several steps until it can get to markets considering the fact that experiments with various ingredients (meat, cheese, vegetables, fruits) takes a lot of time because through this phase, the research phase, we collect and analyze a lot of data.
Though currently this technology is still in incubator phase, it must be said that through continuous research, this area can revolutionize the food industry in the matter of how the food of tomorrow can be consumed, I think in ways that we still cannot even fully imagine.
Back to Reebo, it prints ready-to-eat, personalized cakes and sandwiches, as multilayer food printing, made of meat, vegetables, fruit, nuts but also alternative protein and veggie, to which consumers can choose ingredients, control calories and much more.
How do you think 3D food printing technology can help address some of the challenges facing the food industry, such as food waste and resource depletion?
First, as I said before, 3D food printing is in an early stage thus there are lots of things that are waiting to be discovered. Though our tests, with various ingredients, from peaches to chocolate, to beef and tomatoes, learned us a lot in matter of how each single ingredient used behaves, the production of the pasta ("foodink) which means, simply said, mixed ingredients, have a total different behavior thus the recipes must be perfectly adapted for the injection head that actually deposits the layers.
In matters of food waste and resource depletion there is a lot to be taken into consideration so I will try to keep it brief.
When we started Reebo, we started with the idea: How can we bring a solution to the massive food waste that exists globally every day using 3D food printing technology? And, maybe it sounds strange, our first thought was that going to the market, cooking at home, preserving food in the pantry or refrigerator, will overcome concerns in the near future. The people of tomorrow, the new generations, will prefer to use their time for more efficient, more productive, more pleasant and more oriented actions towards easy access and convenience rather than spending hours in front of ovens. And at that point, we said what about a 3D food printer but designed as a vending machine so that it can be placed anywhere, from office buildings, to street corners, to clinics, practically, anywhere a coffee vending machine is, a Reebo can be placed, the perfect couple of a sandwich or cake with coffee. This concept can also be extended to medical use but this is another story to be said.
When we started the tests with ingredients: meat, fruits, vegetables, etc, we have created a process through which we can use every nutritious, body-friendly part of each selected ingredient, we do not use any preservatives, excess of salt and sugar, additives or artificial flavors in the recipes because what we want is to have a clean, nutritious and nutritionally balanced final product that even children can enjoy.
So, using the most part of every selected raw material for the printer's pasta, we call it food ink because it is easier for people to make an association between the printers and food printers, as strange as this sounds, it brings a huge solution in the matter of less food waste.
Secondly, the process of production these pastas on a large scale, on a food production line, automatically means a better use of food raw materials, with minimal waste, low energy consumption due to the industrial, modern, tech advanced equipments, so it can be said that we have two major aspects covered on the checklist.
And remember, this is in a very, very early age phase of 3D food printers. Regarding Reebo, first, our main concern was to build it from the technological point of view and only after, we have started the experiments of its consumables, choosing ingredients, make recipes, test their "behavior", especially the part of flowing the food pasta through the injection head of each cartridge, the speed of layer deposition with no mess around the final product, in our case, cake and sandwich and many other alike aspects.
Can you tell us more about ODA?
Yes, definitely I can, the question is how much time do you have?
In very short, ODA is what we like to call the next level of MREs (meals ready-to-eat). Ingenious, tasty, nutritionally controlled, ergonomic packed, cooked food as tablet food. ODA concept, tableted cooked food is an innovative food concept that totally changes the paradigms of food intended for special situations / social emergencies (earthquakes, floods, calamities, refugee camps, isolated areas, submarines, etc), bringing multiple value-added features on the farmer-end consumer value chain.
ODA meets exactly our motto, "Visionary Foods, Changing World", now more than ever before, we believe that foods of the future will have to be customized taking into account the age, gender, occupation, special needs and perhaps even environmental conditions. A better dosage of calories and a better balance of carbohydrates, lipids, proteins, minerals and trace elements, as well as an efficient preparation of these food products to obtain relatively small volumes and a longer shelf life, will be just a few of the elements that will define tomorrow's food.
To be honest, at Manna we are very intriguing and curious people and we like to make experiments that, on their way, bring lots of failures but through these failures we learn a lot and ODA is the perfect example. Exploring new food options that weren't possible before, I believe, will help us respond on time to the changes and challenges that come with global population growth, food quality, sustainability and new technologies.
I think we have to embrace new possibilities in how food will be consumed tomorrow because technologies will definitely allow new and better ways, on the whole value chain, to consume food.
Back to ODA, ODA is not a solution to replace the daily diet, the family dinners or the pleasure of eating a great steak. It is an emergency food concept, effective food if you want and transitional.
Imagine a steak but compressed as a tablet, the same taste but a different shape, for special situations, as efficient food on sites.
Of course, the impact is a major one, both locally and internationally, having the potential to revolutionize the way state institutions, non-governmental organizations, ultimately people, will be able to manage food in special situations, anywhere in the world. Moreover, it should also be mentioned that the menus and tablets can be customized according to the nutritional needs and caloric intake, the level of activity per day, the state of health, the gender or the cultural environment of different groups of people, generally customized according to their destination.
Also, the use of cooked food as tablet food has multiple purposes, by extension the medical area, especially people suffering from diabetes, obesity or overweight, people who have undergone bariatric surgery and need to correctly dose their daily protein intake, for at least 3 months after surgery. There would be a lot more to discuss here, then to space missions, sports or talking about everyday life, the context of the busy modern man with little or no time available to manage his eating habits.
Since the tablets do not need water or anything else to be consumed, they have a shelf life of 10 years, individual tablet packaging completely insulated and a resistance from -50C to +50C - even under water - they also represent a efficient solution for a better and less waste use of food raw materials, have a sustainable production process also means significant costs and energy savings.
ODA "one-bite ready-to-eat meal-in-a-tablet" is a partial or total meal replacement, including savory coffee and desserts.
Practically with just one little box like this (6 meal tablets - usually meat and vegetables or just veggie recipes, 2 protein sweets and 2 coffees) people can replace a main meal but the segments are many and diverse and everything can be customized.
Currently, the stage of this project is in experimental prototype in the sense that we can give them to be seen and tasted. The next phase is making the industrial prototype which means we have to establish all the products' segments, recipes, tests, certifications, etc and prepare the setting of the production line by taking into consideration all the parameters from the industrial prototype phase. Of course, for these next phases, we need investments, up to this moment, all the costs were made by us, with no extern funds or investments.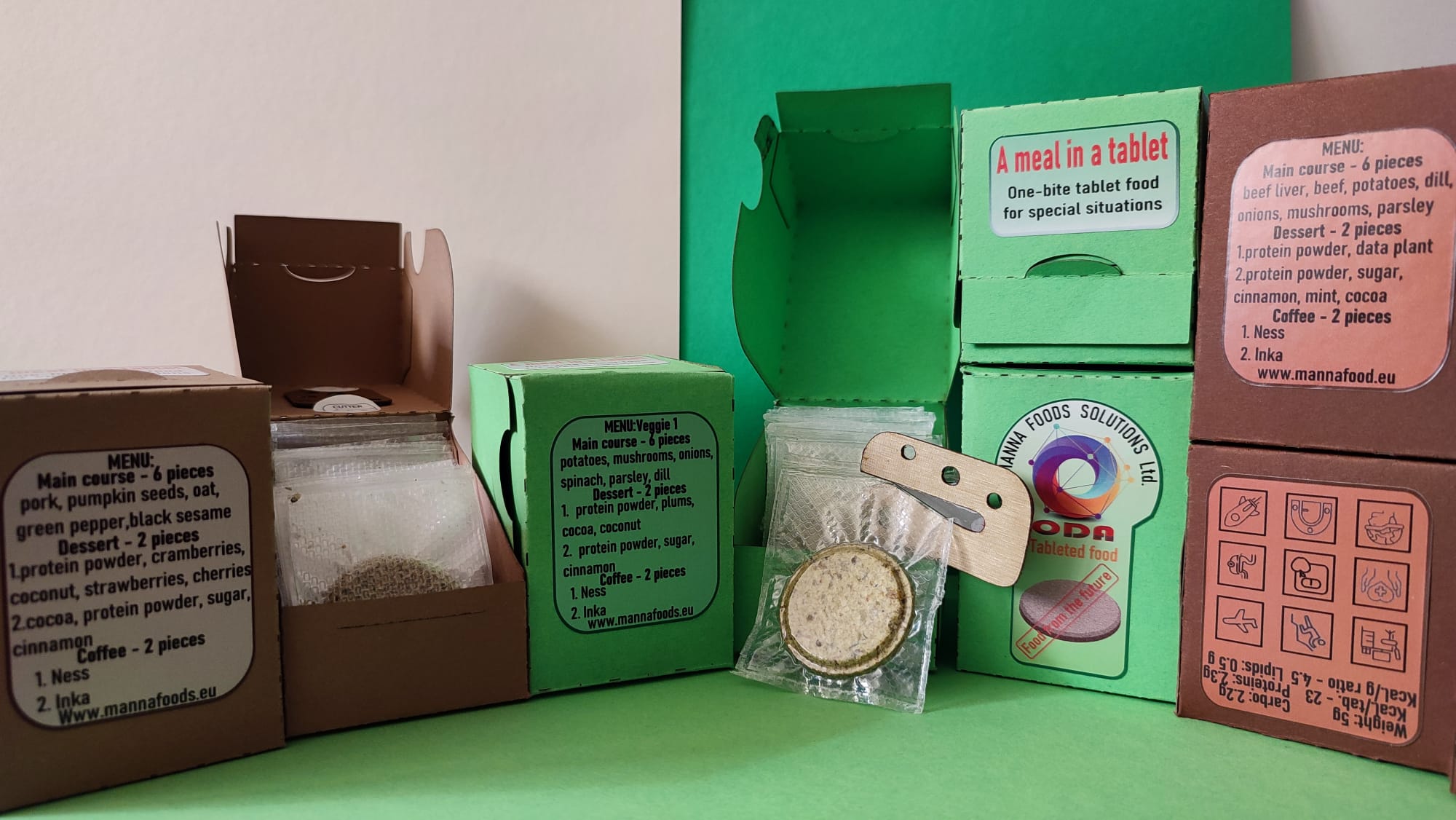 What are some of the biggest hurdles that need to be overcome in order for 3D food printing to become more widely adopted and accessible?
People' perception regarding this technology, much more testing/experiments in the matter of food consumables / food inks, create more recipes and more types of food, not just sandwiches and cakes. This part is a true challenge that requires further serious investments in the research and development zone, perhaps alongside even with institutes that actively participate in the development of food tech innovations at the global level.
To conclude, there are still many "baby steps" to be done, a lot of hard work and significant funds for research and development until Reebo can be placed on the international market. But probably the most important will be the reaction of people, our job is to show them and demonstrate to them that this could be a solution for the future, from many angles.
What advice do you have for aspiring entrepreneurs and innovators who are interested in pursuing sustainable food solutions and 3D food printing technology?
To have the courage to explore no matter how hard or crazy sounds the idea. Because, most of the times, when we talk about innovation, not just in the food field, there are lots of experiments and tests, we face hundreds maybe, of failures but this does not have to stop them, on the contrary, should be an imbold to continue because from each failure, a lesson appears and this can only make us better.
Sustainable food solutions and 3D food printing technology are very interesting but they still require a lot of work until new products can be placed on markets, especially globally, that is why perseverance, patience and hard work must have requirements. You have this and there is a chance of success.
If you would like to find out more about Manna Foods Solutions, visit https://www.mannafoods.eu/