South Beach Diet vs. Nutrisystem 2023: Ultimate Diet Battle
Although I'm comparing South Beach Diet vs. Nutrisystem, you should know one important thing – South Beach Diet no longer exists as a company. As a matter of fact, it was absorbed by Nutrisystem itself several years ago.
That said, it's interesting to see how the two options differed. Is Nutrisystem a decent replacement for the once-loved weight-loss meal delivery service? This comparison will tell you everything you need to know.
My expert team and I have analyzed all the information and have come up with a comprehensive comparison between the two services. We've also determined whether Nutrisystem will be able to help you lose weight as easily as South Beach Diet once could. Overall, I've found that Nutrisystem makes it super easy to lose weight with pre-portioned, prepared meals that you can simply heat up in your microwave (or oven) and eat.
At a Glance: Who Won Each Category?
Winner: Nutrisystem
Nutrisystem wins here since it has absorbed South Beach Diet, which is no longer in business. South Beach Diet once offered a wide range of items to choose from, including breakfasts, lunches, dinners, snacks, sampler packs, shakes and supplements, and bars.
There were around 100+ different options across all menus, which was an excellent variety. But since the company is no longer around, it's a moot point.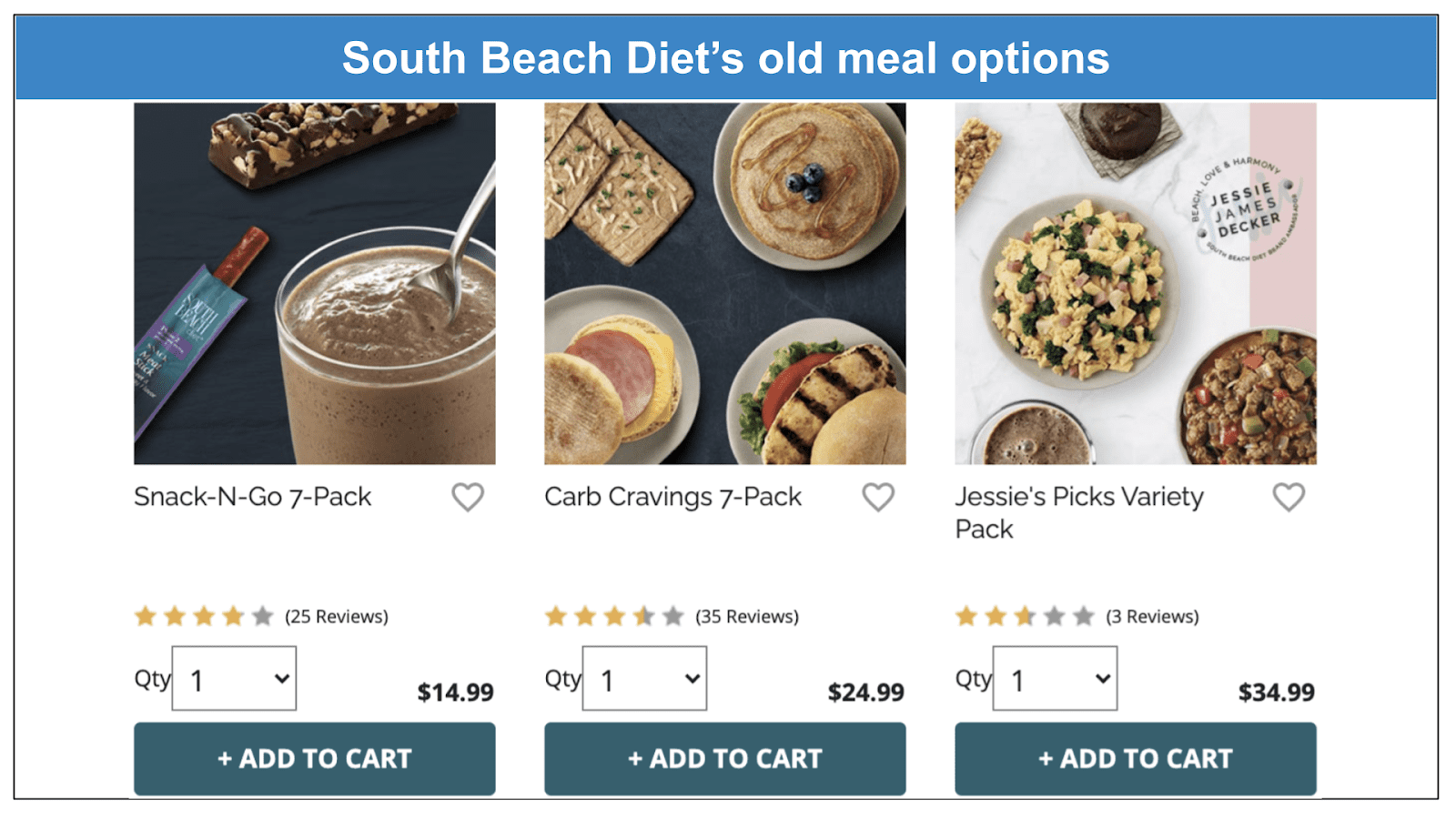 With Nutrisystem, you'll get the choice of several meal plans including Men's, Women's, Partner, Diabetes, Vegetarian, and Complete55 (which is a specific plan for women over 55 years of age). No matter who you are (with the exception of children), you'll be able to utilize Nutrisystem to lose weight effortlessly.
It also offers two further options: I'll Pick My Meals and Chef's Choice. You can hand-select every item that goes into your order or have someone pick it for you – the choice is entirely up to you. However, if you have particular dietary requirements, allergies, or just strong dislikes, I'd recommend picking your own meals.
If you opt for Chef's Choice, all of your meals and snacks will be chosen for you, based on the most popular meals at the time. Selecting I'll Pick My Meals will let you choose from around 150+ menu options. Overall, when it comes to menu variety, Nutrisystem takes the lead, offering around 50+ more choices than South Beach Diet did. To me, it's unequivocally a win here.
Cuisines on offer from Nutrisystem include Italian, French, classic American, Japanese, Cajun/Creole, Latin American, and several more. Keep in mind that most of these will be heavily Americanized to suit a broader palate. If you're expecting super exotic, Michelin-star- quality-dishes, that's not what's going to happen here.
You can also snap yourself up a bunch of snacks if you like. Snacks include desserts like ice cream sandwiches, nut squares, cakes, ice cream bars, chocolate-flavored pretzels, popcorn, truffle, cupcakes, cookies, Cheetos, and a lot more.
This all sounds great, but seeing this much processed food is something that didn't sit quite right with me. I'd always recommend keeping your intake of processed foods to a maximum of 10-20% of your daily caloric intake. If you're eating 2500 calories per day, make sure you're not consuming more than 500 calories in processed foods.
But don't get discouraged. Nutrisystem still offers a huge selection of whole foods-based meals that promote good health. You don't have to only rely on its processed offerings. For example, you can get something super nutritious like the Roasted Turkey Medallions (with mashed potato), pictured below.
Though a lot of the meals are kid-friendly, Nutrisystem is a specific weight-loss diet program not suitable for children, or anyone other than you or your partner. If your children need to lose weight, always consult with your pediatrician first.
Overall, Nutrisystem is a great alternative to South Beach Diet. However, its emphasis isn't really on cutting out carbs as much as it's about consuming fewer calories than your body burns on a daily basis.
If that's something that you're comfortable with, Nutrisystem will be a great South Beach Diet alternative for you. But if you're specifically looking for a low-carb way to lose weight, Nutrisystem won't be good for you as it doesn't villainize carbs like South Beach Diet did.
Winner: Nutrisystem
South Beach Diet once offered a wide range of dishes but, unfortunately, was limited in terms of dietary preferences. There were no diet-specific menus, but you could use the Special Dietary Needs filters on the breakfast, lunch, and dinner menus to find diabetes-friendly and vegetarian options. There's something to be said for how Nutrisystem goes about offering some impressive dietary preferences.
Nutrisystem has done an excellent job by offering lots of specific dietary accommodations. Obviously, compared to South Beach Diet's original customization options, Nutrisystem offers way more choice. The menu filtering system is super advanced, and lets you get extremely granular with your choices.
For example, you can filter the menu down by meal type, food type, storage conditions (frozen or non-frozen), special dietary needs, nutrition, preparation, or if you would rather avoid certain ingredients like milk, wheat, lactose, and a bunch more.
Ordering, Delivery, Unboxing
Winner: Nutrisystem
South Beach Diet was definitely easier to order from for the simple reason that it offered far less choice. Nutrisystem feels like a maze of a website with there being seemingly hundreds of redundant choices, and upsell attempts at every corner. This definitely makes the ordering experience pretty bad compared to South Beach Diet's old ordering system.
I get why it does this, but at the end of the day, a calorie is a calorie, and the only goal with weight loss is to simply consume fewer than you burn. It's not rocket science, and you don't need a thousand different ways to slice and dice that simple concept.
Aside from its plans for Men, Women, Diabetics (etcetera), Nutrisystem offers three main "plans" which changes up the number of meals you get in your order. There's a Basic, Uniquely Yours, and Uniquely Yours Plus meal plan, depending on how many meals you want.
Each of these plans comes with five days' worth of breakfasts, lunches, dinners, and snacks, but the Uniquely Yours Plus lets you choose seven days' worth of food as well. You also get free shipping, an app, and one-on-one coaching with each of these plans as well.
In terms of shipping, Nutrisystem is available in all 48 contiguous states, which doesn't include areas like Puerto Rico, Alaska, or Hawaii. Also, you can't seem to select your specific delivery dates. It promises a delivery time of one to five business days from when your order is placed. However, your shipment may take up to 10 business days if the carrier experiences any delays.
If you need to cancel, change, or otherwise edit your order, make sure to do so by the cutoff date. Your cutoff date for any changes to your order is 6 pm EST the night before your order's processed. If you have any specific questions about that, the live chat support feature offers great service, so feel free to use that to ask anything you want.
In terms of packaging, back in the day, South Beach Diet delivered its meals in an environmentally friendly way. The eco-friendly coolers that your South Beach Diet meals arrived in were reusable, recyclable, and even biodegradable. The exact same thing can be said for Nutrisystem. If you're looking for an environmentally-friendly South Beach Diet alternative, Nutrisystem fits the bill perfectly.
Similarly, Nutrisystem has a heightened awareness of its environmental impact and aims to go green with seven steps. These steps include biodegradable cooler boxes, seasonal ingredients to minimize shipping, and utilizing eco-friendly ingredients in as many meals as possible.
It's clear that both South Beach Diet and Nutrisystem have taken strides to reduce their carbon footprints, so I think they're pretty similar in terms of delivery and packaging. But since South Beach Diet no longer exists, you can feel good about your decision to go with Nutrisystem if reducing your environmental impact is one of your objectives.
Meal Prep
Winner: Nutrisystem
South Beach Diet offered a wide range of meals, snacks, and smoothies, making sticking to the diet pretty simple. When ordering products online, you could quickly identify frozen items by the snowflake symbol next to them. Meals or items without the symbol never required freezing.
Nutrisystem is very much the same, as it offers a range of meals and snacks – some of which require refrigeration or freezing. The frozen ones simply require a slightly lengthier heating time. You can see each item's prep method online before selecting it for your box, so you can dodge the lengthier ones if needed.
Keep in mind that Nutrisystem offers prepared meals, so everything is either ready to eat right away, or can be heated up within three minutes in your microwave. This makes the service not only super convenient, since you don't have to track calories, but you also don't have to spend any time prepping, cooking, or cleaning either. For example, the Teriyaki Chicken and Noodles is a frozen meal and requires only five minutes' total prep and cook time.
Both South Beach Diet and Nutrisystem offered meals ready in a matter of moments, making following either diet a breeze. But since you can only buy Nutrisystem moving forward, I think it's a worthy replacement and alternative to South Beach Diet
Customer Support
Winner: Nutrisystem
In terms of customer support, South Beach Diet once had its own method of communication which included contacting the team through the website and a phone number. Nutrisystem offers support in a bunch of different ways. You can contact the Nutrisystem support team via live chat, a phone number, or a couple of different email addresses.
For example, if you have any pre-sales questions, you can contact the live chat team Monday to Sunday from 8 am to 11 pm EST, or call the phone number Monday to Sunday from 8 am to 10 pm EST. If you're already a customer, you can chat or call Monday to Friday between 8 am and 8 pm EST, and on weekends from 9 am to 5:30 pm EST.
There are also two email addresses you can message, depending on your question. You can email customer service any time at customerservice@nutrisystem.com. If you're looking for help with your weight-loss journey, you can contact the weight-loss support email as well at weightlosssupport@nutrisystem.com.
For the purpose of this article, I tried out the live chat feature. The live chat agent was super friendly, helpful, and responded very quickly. Overall, I was impressed with the service and would always recommend using the live chat feature as your first point of contact.
Winner: Nutrisystem
With South Beach Diet, you were able to choose items à la carte or subscribe to the Beach Pass membership, where you'd pay monthly or quarterly membership fees and also receive a 25% discount on many of the à la carte items. Even without the Beach Pass membership, you could enjoy meals from as little as $10.
The cost of à la carte ordering could add up over time, so adding the membership was the better way to go. When you included all of the charges, South Beach Diet came out to about roughly $20 (or less) per day.
The cost of Nutrisystem can be broken down to around $8.54 per serving. This is taking into account our current live discount – 50% off all plans + free shipping!.
It's roughly $279.79 per month for the Basic Plan for Women with auto-shipment enabled. However, for one-off orders, you're looking at substantially more at around $500, give or take few dollars.
This lowest-priced plan includes five breakfasts, lunches, dinners, and snacks each week. Choose from over 150 different ready-made menu options and also get Nutrisystem-inspired recipes for meals of your own.
Just be careful with all the upsell attempts. I recommend avoiding any and all of the upsells as they're expensive, add unnecessary liquid calories to your daily intake (which doesn't satisfy hunger as well as solid food), and overall doesn't benefit your weight loss journey. But by all means, if you want them, add them in.
Overall, Nutrisystem is far more expensive than South Beach Diet was, but you do get tons more choice here. It can also be as convenient as you please, since you're able to order meals for every day of the week, and every meal of the day. In terms of shipping costs, Nutrisystem always offers free shipping.
Features Comparison: South Beach Diet vs. Nutrisystem



South Beach Diet

Best for

Weight loss

Weight loss

Starting price

No longer in business

$8.54

Shipping cost

Free

Free

Minimum order

N/A

"Basic Plan" – five days' worth of breakfasts, lunches, and dinners

Menu variety

100+ options per menu

150+ options per menu

Prep time

0-3 minutes

0-3 minutes

Low-prep options

Ready to eat, microwave-, and oven-ready

Read to eat, microwave-, and oven-ready

Allergies catered to

N/A

Wheat, milk, lactose, tree nuts, fish, shellfish, eggs, tomatoes, pork, pork gelatin, chocolate, sugar alcohols, onions, seeds, nuts, corn

Special diets

Diabetes-friendly and vegetarian

Balanced, gender-specific, diabetes-friendly, vegetarian

Customer support

No longer available

Pre-sales support: Live chat or phone Monday to Sunday from 8 am to 11 pm EST, or call the phone number Monday to Sunday from 8 am to 10 pm EST

Support for existing customers: Live chat or phone Monday to Friday between 8 am and 8 pm EST, and on weekends from 9 am 5:30 pm EST

24/7 customer service and weight loss assistance via email

Promotions

N/A
And The Winner Is: Nutrisystem
Historically, South Beach Diet and Nutrisystem were popular, long-running weight-loss programs and were truly on a par with one another. That being said, my number one pick is Nutrisystem, not only because South Beach Diet is no longer around, but because it truly deserves the win.
While both programs simplify adherence to these diets, Nutrisystem offers more variety and customization features than South Beach Diet. Nutrisystem also caters to a broader range of dietary preferences and gives you the choice between a pre-selected menu or choosing meals yourself.
FAQ
Is South Beach Diet going out of business?
South Beach Diet isn't "going" out of business – the company was absorbed by Nutrisystem in 2015. That said, Nutrisystem offers a similar weight-loss dieting program that's convenient and super easy to follow.
How much weight can you lose in a month on Nutrisystem?
This really depends on the individual. The more extra weight you're carrying, the more weight you can safely lose per week (and month). For those with up to 50 lbs to lose, you can expect to lose around 2-5 lbs per month safely. For those with 50+ lbs to lose, it's safe to assume that you can lose around 5-8 lbs per month. Check out Nutrisystem's weight-loss plans to help determine how much you, personally, can expect to lose.
How long can you stay on Nutrisystem?
Since Nutrisystem is a weight-loss program, I recommend staying on it only as long as it takes you to lose your desired amount of weight. Nutrisystem offers several affordable plans for men and women that you can order for one month at a time. After that, you can re-analyze where you're at.
Once you've hit your weight-loss goal, it's best to stop eating in a caloric deficit (eating fewer calories than you're burning). From there, you can switch to eating to maintain your new weight. I always recommend consulting with your primary physician before embarking on any weight-loss journey.