At a Glance: Veestro vs. Purple Carrot
| | | |
| --- | --- | --- |
| | | |
| Meal type | Prepared meals | Meal kits, Prepared meals |
| Dietary preferences | Vegan, gluten-free, non-GMO, weight loss | Vegan, gluten-free, soy-free, high-protein, nut-free |
| Menu variety | 60+ dishes with options for breakfast, lunch, and dinner | 10+ meal kits per week with opinions for breakfast, lunch, and dinner. Around 15 prepared dinners per week plus 2-4 "plantry" items |
| Starting price | $9.90 for prepared meals | $9.99 for meal kits, $12.99 for prepared meals |
| Shipping cost | $9.99 per one-time order, free for the weight loss plan or if you subscribe for auto-delivery | Free |
| Prep time | 3-5 minutes | 5-40 minutes for meal kits, 3-5 minutes fo prepared meals |
| Special discount | | |
Dietary Preferences
Both meal delivery services are fully plant-based, so you won't be seeing any meat, dairy, eggs, or honey on the menu. Other than that, Purple Carrot has a dedicated gluten-free plan suitable for people with celiac disease as well as some soy-free and nut-free options but doesn't let you exclude any other ingredients.
Veestro also has many gluten-free and soy-free options, but can't guarantee that no cross-contamination occurred. All ingredients, including wheat, nuts, and seeds, are processed in the same facility. If you have a serious allergy, you should check with your doctor before signing up.
Both Veestro and Purple Carrot feature plant protein in all of their dishes, but both also have the option of selecting high-protein meals if you want to increase your protein intake whilst sticking to a plant-based diet. You can find these meals by using the filters on the menu page.
However, there's a difference between the type of protein each company offers. You'll find a lot of meat replacements in the Veestro menu, such as the popular Chick'n Nuggets, while Purple Carrot focuses on plant protein like tofu and tempeh.
Another thing about Veestro's meals is that the majority of them are kosher, so that's good news for anyone following Jewish dietary regulations and is a feature not seen with many other meal delivery services.
Winner: Veestro takes the win thanks to its greater number of filters.
Menu Variety
Let's start with the meal types. While Veestro only offers prepared, fresh-to-frozen meals, Purple Carrot also has a meal kit menu. This means that if you want to cook the meals yourself, you have the freedom to do so using pre-portioned ingredients and easy-to-follow recipes.
The meal kit menu consists of 10+ choices per week of internationally inspired dishes such as the Miso Coconut Ramen Bowls with Charred Broccolini and Radishes. The prepared meals menu adds around another 15 dinner recipes to your options, and there are also a small number of "plantry" items (2-4 plant-based snacks) you can add to your cart each week.
Veestro has as many as 60 meals on the menu. This is double what Purple Carrot offers. However, the key difference is that the meals don't change every week. Although new items are added from time to time, you're more likely to get bored if you're ordering on a long-term basis.
About half of the meals from Veestro are part of the weight loss plan, meaning that a combination of lunch, dinner, and breakfast will clock around 1,200 calories. The recipes are also from different cuisines, from Tuscan Calzone to Moroccan Melange.
Winner: Purple Carrot
Starting Prices
The price per portion for a Purple Carrot meal kit is $9.99 if you order for four people, and $11.99 if you order for two. When you choose prepared meals, the cost is $12.99 per single-serving meal, no matter the size of your order.
Veestro's prices start at $9.90 per portion if you order 30 à la carte meals per week, and it rises to $11.70 for the minimum order of 10 meals. If you go for the weight loss plan, there are two options available: a 21-meals, 7-day plan with $10.80 per meal, and a 15-meal, 5-day plan that costs $11.70 per meal.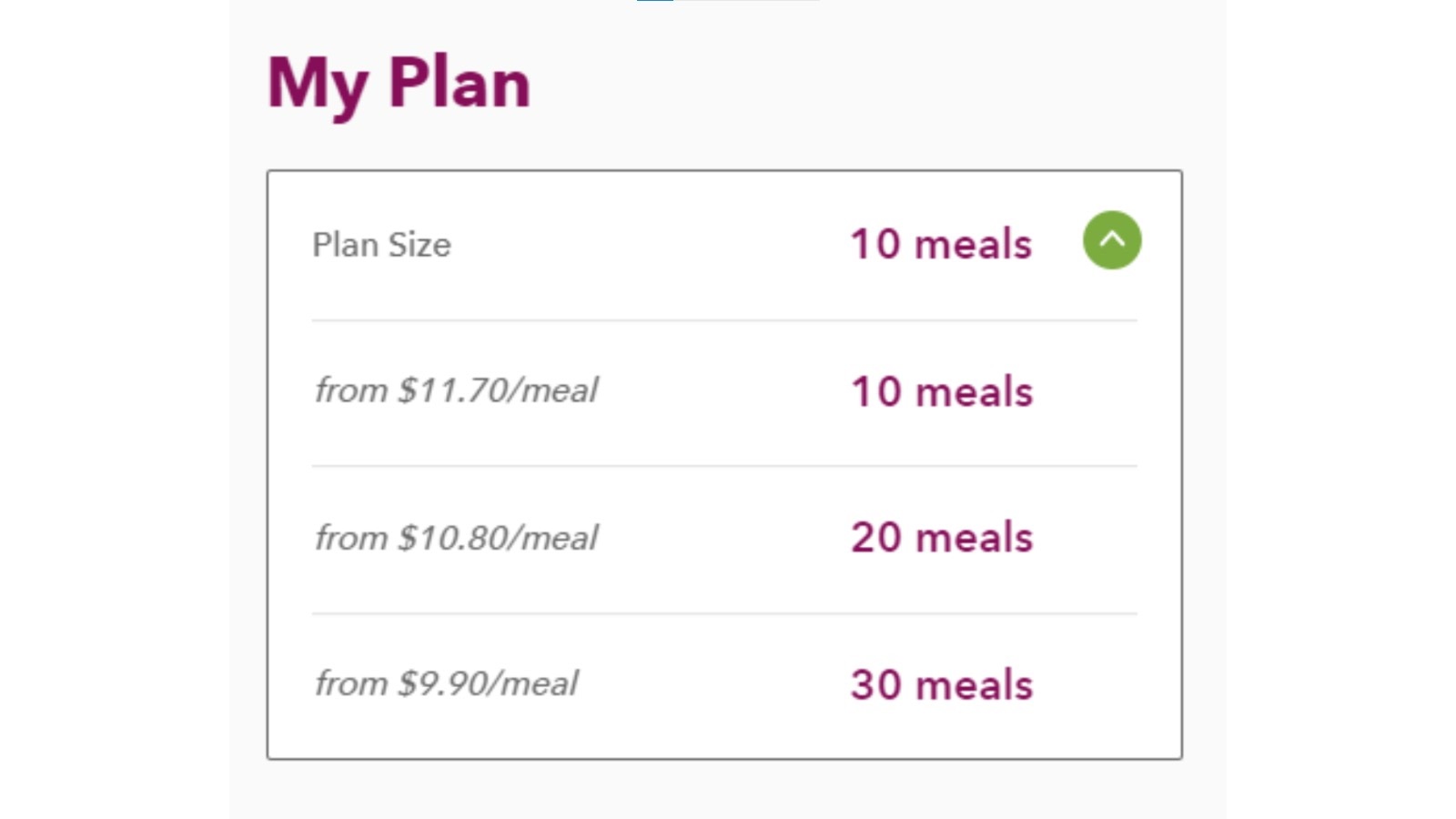 So even the priciest option from Veestro – 10 meals for $117.00 – is cheaper than Purple Carrot's prepared meals – 10 meals for $129.90. But if you like having a little fun in the kitchen and cooking your own meals, the quick and easy meal kits from Purple Carrot may be a better choice for you.
Plus, Purple Carrot's shipping is always free on any order. Veestro has a $9.99 fee for one-time orders, which is removed if you subscribe for auto-delivery or if you only order meals from the weight loss plan.
Winner: Veestro.
Delivery and Packaging
Both Veestro and Purple Carrot ship to all contiguous US states. Veestro has a comprehensive color-coded map on the website where you can see the day you'll receive your meals based on your location and the time you placed your order.
Purple Carrot delivers on Mondays, Tuesdays, or Wednesdays, but the date is automatically assigned to you based on your region, so you can't change it.
Both companies use recyclable packaging, including compostable cardboard, but Purple Carrot has an entire page on its website dedicated to how to dispose of every item. Depending on your local facilities, you may be able to recycle everything.
When it comes to the type of packaging used, I like that Purple Carrot goes the extra mile to provide the best quality items. While Veestro has simple carton trays and BPA-free plastic pouches, Purple Carrot uses TemperPack's ClimaCell technology to ensure freshness.
Winner: Purple Carrot.
Meal Prep
When it comes to meal kits, Purple Carrot has some breakfast options that take as little as five minutes to prep, lunches take 15 minutes, and dinners average 30 minutes. You'll get pre-packaged and portioned ingredients, together with the printed, comprehensive recipes, making the whole process simple and stress-free.
The prepared meals from both Veestro and Purple Carrot arrive frozen, and you can heat and enjoy them in a matter of minutes. After you receive the package, Veestro recommends keeping the meals for up to 3-5 days in the fridge, or 8-10 weeks in the freezer so no need to worry about having to order in bulk provided you have the storage space.
And speaking of cold, a cool thing about Purple Carrot is that you can buy a selection of its frozen, ready-to-eat meals directly from your local supermarkets.
Winner: It's a tie.
The Bottom Line
Both companies are passionate about creating fun, plant-powered food that people can enjoy, so they're pretty similar in their missions.
The starting prices are also pretty close, but Veestro may be cheaper overall if you prefer prepared meals. Its menu is also significantly larger, but it doesn't change weekly, which could be a problem if you're ordering long term.
Purple Carrot, on the other hand, has a different menu every week that can keep things more interesting. It can also be a better choice if you're not necessarily interested in low-calorie meal plans, which are Veestro's main focus. And if you like the idea of cooking for yourself, Purple Carrot's meal kits may offer you the perfect context for being more active in the kitchen while sticking to a plant-based diet.
If you want to read about even more options before you make up your mind, check out our list of the best vegan meal delivery services of today.
Overall winner: It's a tie.