W-Cycle 2023: No-Compromise Solution To Food Grade Compostable Packaging - We Created and Patented a Compostable, Non-Coated Food Packaging Solution From a New Material Called SupraPulp™.
In a world grappling with the environmental repercussions of plastic waste, the urgent need for sustainable alternatives has never been more evident. Enter W-Cycle, an innovative company committed to revolutionizing the way we replace plastic with eco-friendly solutions. At the forefront of this groundbreaking initiative is Isaac Rome, CEO at W-Cycle. With a passion for environmental stewardship and a relentless drive to make a difference, Isaac spearheads the development and commercialization of a remarkable new material known as SupraPulp. In this exclusive Delivery Rank's interview, we delve into the origins, properties, and promising potential of this groundbreaking solution poised to transform industries and tackle the global plastic crisis head-on.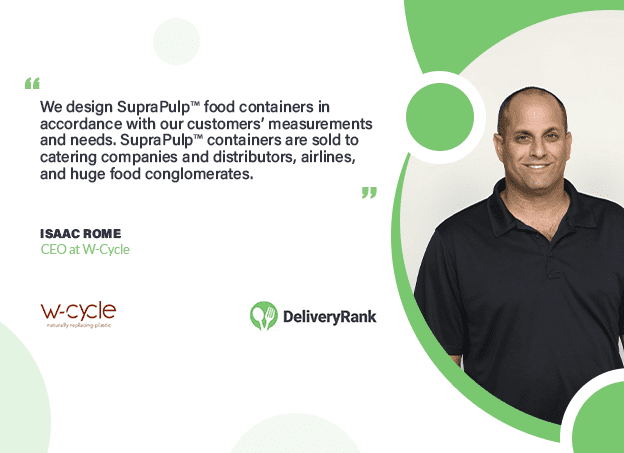 How did the idea for SupraPulp™ packaging come about, and what inspired you to develop a compostable and non-coated solution for food packaging?
SupraPulp™ was developed following a growing need in the ready-to-eat-meal industry, for an approved food contact material that can be utilized in extreme temperatures of freezing and heating in an industrial oven while being safe and compostable. Exploring options to find that solution, we tried sugarcane agasse, and after a thorough R&D research, we came up with SupraPulp ™ that can withstand -40°C to 220°C, complies with food contact regulations of the EU and FDA and is compostable. Since then, we have tried with other sources of pulp\cellulose and have succeeded in using a myriad of different raw aterials.
In what ways does SupraPulp™ packaging differ from traditional food packaging materials in terms of sustainability and environmental impact?
SupraPulp™ has all traditional food packaging approvals and yet, it is a biodegradable material that can be composted within 74 days in a home compost or can disassemble in the landfill, while keeping the environment clean and unharmed.
What challenges did you face during the development and patenting process of SupraPulp™? How did you overcome these challenges?
The main challenge was the natural characteristic of sugar cane, which is the transfer of liquids. This feature contradicts the need in food packaging to hold liquids and not to enable them to go through the package. This challenged us to find additives that will prevent transferring of oil and water liquids while keeping the ability of the raw material to decompose in the ground.
Could you provide examples of successful applications of SupraPulp™ packaging in the food industry? How have businesses and consumers responded to this innovative solution?
We design SupraPulp™ food containers in accordance with our customers' measurements and needs. SupraPulp™ containers are sold to catering companies and distributors, airlines, and huge food conglomerates. In addition to that, we currently have over 45 potential customers who are testing our SupraPulp™ material in different conditions and are eager to start using it.
Looking ahead, what are your future plans for W-Cycle? Are there any potential developments or expansions in the pipeline that you can share with us?
Our current SupraPulp™ has barriers for oil and water. In the short term, we are planning to replace the oil barrier with a different oil barrier additive which will be PFAS-Free and will be able to hold water and oil for up to 2 hours. This material will be a perfect fit for the QSR industry.
Two years of R&D investment to develop this will be finalized in the next few weeks. In addition to that, we are developing a biodegradable coating that will prevent oxygen and humidity from going through the material, while keeping it biodegradable and compostable. All these next gen materials will be PFAS-Free.
If you would like to find out more about W-Cycle, visit https://w-cycle.com/