Factor is a premium source of prepared lunches and dinners, and it ranks top on my list thanks to its convenience and ability to accommodate different dietary needs. This service offers healthy microwaveable meals that can be on the table in as little as 2 minutes. It doesn't, however, offer meal kits. If you want those, consider a service like Green Chef.
Factor has multiple plans including Keto, Vegan & Veggie, and Flexitarian. Though these all have meals suitable for a high protein diet, it's Factor's Protein Plus menu that makes it easy for you to see only the most protein-packed dishes. The Pimento Cheese Chicken Breast (pictured), for example, has a whopping 46g of protein per serving.
The service sources its animal proteins from a network of trusted suppliers. Factor only uses humanely-raised meats like cage-free chicken, alongside high-quality produce that includes organic fruits and vegetables where possible. Its meals are also free from preservatives and artificial flavors for a true clean-eating experience.
The meals are always delivered fresh for maximum flavor and nutrition, something my colleague appreciated when they tried Factor for themselves at home. Simply store them in the refrigerator as soon as they're delivered, and you'll always have an easy, high-protein meal to see you through a working lunch or as a snack post-workout.
For extra guidance, you can sign up for Factor's nutrition coaching service. Your subscription includes a free 20-minute virtual consultation with a registered dietitian to help you set goals and work out which of Factor's plans might be best for you, with additional support if you need it later down the line.
Look out for a variety of add-ons each week, too. There are breakfasts like keto-friendly egg bites and pancakes, pre-cooked proteins such as roasted chicken wings and pan-seared salmon, and even some dessert and snack items, like keto cookies. You can add these items à la carte to any shipment.
Factor's meals start at $6.19 per serving, based on the largest order size of 18 meals per week. The minimum order is 6 meals per week.
Key Features
Shortcuts, including ready-made sauces and prepped veggies
45+ recipes on the menu per week
Other dietary options include vegan, keto, gluten-free, and more
Current deal:

Get $250 off

+ free shipping
Green Chef is one of the few certified organic meal delivery services on the market. This distinction means it's a little pricier than many other services, but it also means it has extremely high-quality ingredients across all its plans, and prioritizes only local, family-run farms to source its meats and produce.
It has a dedicated Protein Packed plan, alongside Keto, Plant Based, and Mediterranean options. On this menu, you'll find around 10 recipes each week, though you'll always have access to the wider menu and many of the meals do crossover, which means they could be both gluten-free and high in protein, for example.
You'll find that most of the recipes are high in protein, however, even if they aren't tagged as such. Look out for tasty-sounding meals like the Organic Chicken with Goat Cheese, Pesto, Sauteed Mushrooms, Kale, Cabbage, Tomato, and Almonds, which has a whopping 44g of protein per serving.
The rest of the menu is colorful and varied, making this service a great service for anyone who wants to eat fresh, healthier meals at home. When my colleague gave Green Chef a go, they were blown away by the taste and quality of the finished dishes.
Green Chef doesn't offer prepared meals, like Factor, but its meal kits often feature shortcuts to reduce time spent in the kitchen. Many of the sauces and spice blends come mixed and ready to use, and you'll sometimes even get chopped and washed veggies.
You can pick up extras, too. Each week you can add meals such as breakfasts (think oatmeal, eggs, and cinnamon-crumb muffins), plus additional chilled proteins like wild-caught salmon, organic chicken, and ranch steak. There's also a limited selection of 10-minute lunches, like salads and pita pizzas, if you're looking for easy, quick-fix meals after the gym.
Green Chef prices start at $9.99 per serving, based on the largest plan size of 4 recipes for 6 people per week. Your options are 3 or 4 recipes per week for either 2, 4, or 6 people – though you can also order just 2 meals per week on the 4-person plan.
HelloFresh has a huge menu of crowd-pleasing favorites, so it's easy to see why this service is one of the most popular across the US. The varied meal kits include something for everyone, making it a great option for those who want high-protein meals, but who also need to feed a family with varying tastes.
I ranked this service highly because of how accessible it is. There's no dedicated high protein plan, but the menu is filled with protein-packed dishes, like the Bang Bang Chicken (pictured), which has 35g of protein per serving. You'll also find a wide variety of kid-friendly fajita bowls, pasta dishes, salads, burgers, flatbreads, and more.
HelloFresh has 6 plans, including Meat & Veggies, Fit & Wholesome, and Pescatarian. You can also browse the menu for specific tags like Protein Smart, Carb Smart, or Plant-Based Protein to find what you're looking for. You'll always have access to the full menu regardless of your plan – these are designed simply to streamline your recommendations.
The HelloCustom feature lets you swap ingredients in some recipes, which can be useful for those on a high protein diet. For example, you may add meat to an otherwise-veggie dish to boost the protein content, or you may want to substitute chicken breast in a beef dish for a leaner option. You can make side swaps, too, like switching potatoes for broccoli.
HelloFresh doesn't have prepared meals, but you will find quick-cook options. Look out for those labeled Easy Prep, Easy Cleanup, and Quick. When my colleague tried and tested the service at home, they found the recipes to be clear and accessible. The step-by-step methods include photos, and each dish has a difficulty rating to guide you.
This service starts at just $3.32 per serving, making HelloFresh one of the most affordable as well as family-friendly meal kit options out there. You can order 2, 3, 4, 5, or 6 recipes per week for households of either 2 or 4. Though even if you live alone, the 2-serving plan could be just what you're looking for if you're bulking up.
Key Features
Swap, upgrade, or double-up on protein

30+ recipes to choose from per week

Other dietary options include low-carb and low-calorie

Home Chef is one of the most customizable meal delivery services out there. Most dishes on the menu come with the option to swap out the protein for a number of alternatives, as well as doubling-up on the portion size and upgrading to organic versions. This gives you the power to personalize the menu to cater to a high protein diet.
It also allows you to make healthier swaps. High protein diets often call for lean meats, so if you like the look of a recipe but it has a little too much saturated fat for your liking, you can make balanced swaps like switching ground beef for ground turkey, for example.
There's no dedicated high protein menu, however, so you'll have to sort through each recipe and calculate macros for yourself. If you're looking for a service that does have a specialized high-protein menu, Green Chef could be a better option.
Yet Home Chef's meals are guaranteed to please. With dishes like Fried Sesame Shrimp and Souvlaki Greek-Style Chicken with Lemon-Feta Potatoes, there's something to cater for most tastes. The service delivers on flavor, too – my colleague was more than impressed with the way their Home Chef meals turned out.
Look out for add-ons to round out your weekly order, too. Home Chef offers loads of snacks, breakfasts, desserts, juices, a la carte proteins, and more. Many of these come in nifty combos, like the Creamy Chicken and Wild Rice Soup, which can be bundled with Three Cheese Demi Loaf for a comforting meal.
Home Chef offers ingredient filters to help you avoid foods you don't like, such as mushrooms or spicy food. You can filter out allergens from a limited list, too, but Home Chef can't promise zero cross-contamination since all the meals are prepared in the same facility.
Home Chef prices start at $7.99 per serving, but this is just a guide as each dish is marked up individually. Your total order will depend on any customizations you make, too. You can order anywhere from 2-6 meals per week for 2, 4, or 6 people – making it great for families.
Key Features
Doctor-designed plans for men and women

150+ meals on weekly rotation

Other dietary options include gluten-free, diabetes-friendly, and more
BistroMD is primarily geared towards weight loss and managing health conditions. A high protein diet can be a great way to lose weight, and BistroMD's prepared meal offerings are designed to take the work out of dieting, with zero calorie-counting or macro-tracking on your part.
The prepared meals are portion-controlled and can be heated in minutes. As well as Signature programs for both men and women, there are plans such as Diabetes-Friendly, Menopause, Vegan, Gluten-Free, and Keto Flex, all of which offer up to 3 meals per day – plus snacks – so you don't even have to set foot in a grocery store.
The Keto Flex plan may be the best option for high protein dieters; it follows a less-strict version of the low-carb, high-protein/high-fat keto diet. This plan is designed to support weight loss and control blood sugar levels without restricting you as much as the standard keto diet does. It's also higher in protein rather than fat, making it more sustainable and healthier in the long term.
BistroMD's rotating menu often includes typical American fare, like meatloaf, roasted chicken, and grilled salmon. There are a few meals with bolder flavors, like the Southwest Taco Bowl or Jerk Spiced Tilapia, but this service emphasizes nutrition and portion-control over flavor – though our reviewer found the meals to be tastier than expected.
The BistroMD EATS (essential and tasty snacks) are great if snacking is your diet downfall, with filling, high-protein options like nut mixes, whey protein bars and shakes, and even keto-friendly cheesecakes. These bites also make the perfect post-gym treat.
Alongside your daily meals, you'll get weight loss support from the BistroMD team. Registered in-house dietitians are on board to help you create a custom program, which you'll be able to access online when you log in. The only other services on my list that offer something similar are Factor and Green Chef.
BistroMD prices start at $8.24 per serving, based on the largest plan size of 3 meals per day, 7 days a week. However, you can order 2 or 3 meals a day, 5 or 7 days per week. The 2-meal option omits breakfast.
Key Features
Prepared meals ready in 3 minutes

12+ entrees on the menu each week

Other dietary options include keto, paleo, plant-based, and more
EatClean is one of the only services on my list to offer a paleo menu. The service also has plans for keto and plant-based diets, as well as a Traditional plan that offers healthy and balanced meals that are often high in protein.
The Keto and Paleo plans are the best fit for high protein diets. Both offer high-quality meats, and meals that average between 30 and 40g of protein per serving. The Keto plan also emphasizes high-fat, low-carb options, while the Paleo plan is less restrictive. Some of the meals are even inspired by classic takeout dishes, such as the Turkey Bacon Pita Pizza or the Jumbo Shrimp Jambalaya.
You'll also find some sweet options on the menu that comply with a high protein diet – think Almond-Strawberry Protein Scones or Vegan Pancakes. These could work well as a breakfast option, snack, or dessert. Everything is delivered fresh and ready to eat (or heat and eat in minutes).
EatClean doesn't offer any customizations, but since there are around 12+ dishes on each menu per week, you'll have a solid range of options to choose from. The meals make great fridge fillers for when you need something quick and easy. Unfortunately, though, you can't mix and match between the plans.
The service promises only quality ingredients, including organic produce. However, in their review of EatClean, my colleague felt that it didn't quite stack up to the competition. They found the service to be convenient for people on a strict paleo diet, but not much else. Factor's larger menu and extra features make it a better fit for most high-protein dieters.
EatClean prices start at $8.60 per serving. You can sign up for 6, 10, 12, or 14 meals per week.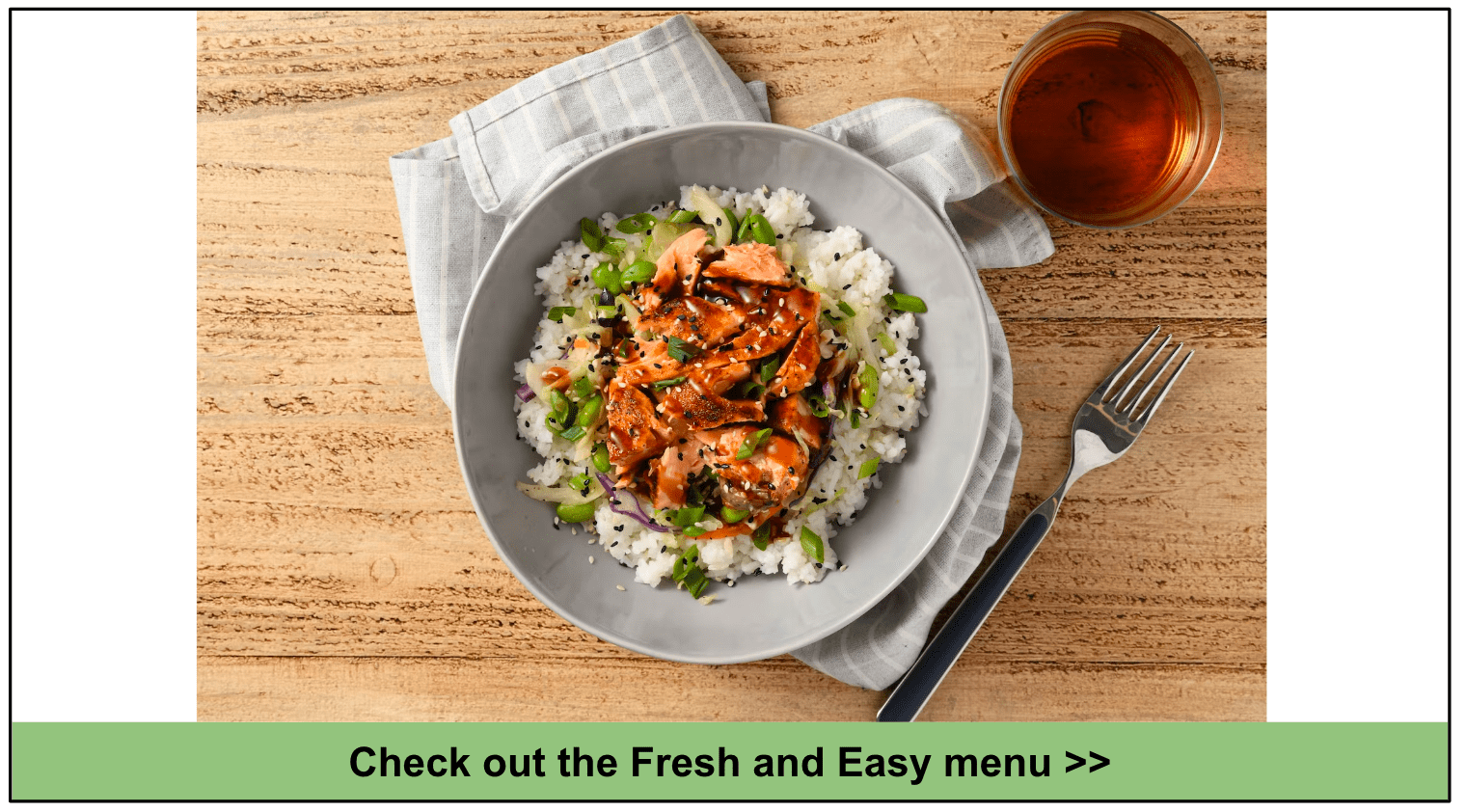 Key Features
Customize the protein in almost every dish

17+ recipes to choose from per week

Other dietary options include low-carb and low-calorie
Fresh and Easy is an exclusive plan from Home Chef, and made my list thanks to its simple, next-to-no-prep meals and protein customization options. The idea is that Fresh and Easy is a collection of all the quickest and most convenient dishes on the Home Chef menu.
The service's meals come with a variety of time-saving hacks. You'll find Express meal kits that take just 15 minutes to put together, Fast & Fresh meals that can be heated in the microwave, plus Oven- and Grill-Ready options that just call for some minor assembling of ingredients in the oven-safe dish or grill-safe bag provided. You can also pick up fresh entree salads which come with pre-cooked proteins, so all you need to do is assemble and enjoy.
Some of the meals come with additional tags, too. Plus identifies meals that have been made with higher-quality ingredients like scallops, shrimp, and sweet potatoes, while the Family tag indicates those meals that come in handy group-sized portions. These are great if you live alone but want leftovers!
Like its parent company, Fresh and Easy doesn't have a specific high protein menu. But the nutrition information is easy to spot, so you can pick out protein-packed options like the Teriyaki Rice Bowl (pictured), which has 37g of protein per serving.
You can also customize the meat in many dishes to up the protein content, including upgrading to organic versions and doubling up on portions, since you'll always have access to the wider Home Chef menu.
In fact, Fresh and Easy shares many of the same pros and cons as Home Chef. These include things like ingredient filters, the extensive choice of add-ons, and more. I was impressed by the sheer convenience of this service, even if the link to Home Chef is a little confusing.
Fresh and Easy prices start from $7.99 per serving. You can order between 2 and 6 meals per week for 2, 4, or 6 people.
Key Features
Breakfast, lunch, and dinner options available

100+ meals on the rotating weekly menu

Other dietary options include keto, paleo, low-carb vegan, and more
Fresh N Lean markets its prepared meals to athletes and fitness enthusiasts. Its mission is to provide organic whole foods to fuel athletic performance and support a healthy lifestyle. Of course, you don't have to be an athlete to enjoy and appreciate the service's premium meals, however.
The service has 7 different plans, many of which are suitable for a protein-rich diet. These include Protein+, Keto, and Paleo. Each of these plans offers a minimum of 30g of protein per serving with varying proportions of fat and carbs. On the vegan plans, you'll find that many of the meals incorporate Beyond Meat as a plant-based protein substitute.
Since the plans are tailored to suit your needs, you can't mix and match between them. However, you will get to choose your own meals. You'll generally have the option to choose from around 16+ entrees per week, as well as high-protein breakfasts such as Turkey Bacon Scramble and Sunnyside Eggs with Asparagus.
You can also add snacks to keep you fueled – these include items such as Cinnamon Maple Almonds, Breakfast Muffins, and Peanut Butter Cups. On some plans, there is also the option to include extra proteins and sides if you're bulking, but if you'd rather purchase these a la carte and calculate your own macros, the dedicated Bulk menu allows you to fill your fridge with things like chicken, beef, fish, oatmeal, vegetables, and tofu.
Fresh N Lean also promises nothing less than top-quality ingredients. Everything on the menu is non-GMO and gluten-free as standard, with organic produce and hormone- and antibiotic-free meats. And, as our reviewer discovered, these high-quality ingredients add tons of flavor.
Fresh N Lean prices start at $7.53 per serving, though expect the plans rich in animal protein to be more expensive than others. You can order up to 3 meals per day, 5 or 7 days per week. A la carte options vary.
Key Features
Plant-based meal kits and prepared meals

16+ entrees each week, plus extras

Other dietary options include soy-free, nut-free, gluten-free, and more
Purple Carrot is great for plant-based dieters who want high-protein meals. Such a diet can be challenging if you live a vegan or vegetarian lifestyle, and while most meal delivery services rely on processed meat substitutes for their vegan offerings, Purple Carrot focuses more on naturally high-protein wholefoods like beans, pulses, quinoa, tofu, nuts and seeds.

The high-quality, nutrient-dense ingredients ensure the meals taste great. If you take a look at my personal review of Purple Carrot, you'll see why I'm regularly a repeat customer! Many of the meals on the menu have 30g or more of protein per serving – just look for the dedicated High-Protein tag when browsing.
This service also caters well to other dietary needs, with soy-free, nut-free, and gluten-free options. You can also find lighter offerings that promise to come in at less than 600 calories per serving.
The menu is varied and exciting, with dishes like Spring Vegetable Gnocchi with White Beans and Lemon-Basil Butter, and Punjabi Kadhi with Spinach Dumplings and Mango Chutney. You'll also find quick breakfast and lunch options every week – think Farmer's Market Tofu Scramble with Mushrooms and Spinach, or Smoky Tempeh BLTs with Garlic Aioli.
You have to choose between prepared meals or meal kits when signing up, but you can mix and match within an order. The Less Prep options offer a middle ground, with shortcuts like pre-chopped veggies and prepared marinades, and fewer cooking steps. In my experience, the meal kits are the better option for high-protein diets.
There's also the "Plantry" for high protein add-ons like black bean burgers and plant-based cheeses and meats, plus snacks like crackers and cookies. These add-ons can round out your weekly groceries, especially if you have trouble finding vegan products locally.
Purple Carrot prices start at $8.50 per serving. You can sign up for 3 or 4 meal kits per week for either 2 or 4 people, or you can order 6, 8, or 10 single-serving prepared meals per week.
Key Features
Meal kits, prepared meals, and oven-ready options

16+ recipes to choose from per week, plus tons of extras

Other dietary options include vegetarian, low-calorie, and more
Blue Apron offers a great range of gourmet-inspired dishes, which feature complex flavors and exciting ingredients. The diverse and regularly-changing menu is often inspired by global cuisines and tends to prioritize flavor over all else. That said, it also accommodates some dietary needs well.
Alongside the Signature menu, there's a Wellness and a Vegetarian plan. The Wellness plan is largely inspired by the Mediterranean diet, with lean proteins, colorful veggies, and healthy fats. It's also lower in carbs and calories compared to many of the meals on the main menu. The Vegetarian plan, meanwhile, relies on ingredients such as beans, cheese, and tofu as sources of protein.
Blue Apron's menu can suit the needs of a high protein diet, despite not having a dedicated plan. The Oven-Baked Chicken Thighs (pictured), for example, have a whopping 45g of protein per serving, and all the meats used are free from antibiotics and hormones, while being sourced from family-run farms and fisheries.
The add-ons give you even more weekly options. As well as prepared meals, brunch items, salads, and desserts, you can pick up extra proteins such as scallops, pork chorizo, shrimp, chicken, and more. Blue Apron's wine delivery service is a particular favorite, since it includes pairing suggestions for every dish on the menu.
Blue Apron's recipes are accessible to all, with clear instructions that are easy to follow. Each step includes a photo, so there's no room for error. There are even online demos. You'll be amazed at how easily you can create restaurant-quality meals for yourself, as my colleague explains in their Blue Apron review.
The service's Ready to Cook options are even easier, and sit somewhere between a meal kit and a prepared dish. All you need to do is assemble the ingredients in the recyclable oven-safe pan that comes in your box for a low-effort meal. The nutritional information for each dish is easy to spot when you click through to the recipe online.
Blue Apron's meals start at $5.74 per serving. There are plans for households of either 2 or 4 people, with the option to order 2, 3, 4, or 5 meals per week.
Key Features
Breakfast, lunch, and dinner options available
100+ available high protein weekly entrees
Dietary options include keto, paleo, vegan, Whole30, and more
Trifecta is in the business of sending out clean, high protein prepared meals to aid individuals on their health and fitness journey. Every single dish from Trifecta is gluten-free, balanced in terms of macros, and has the nod of approval from dietitians. So, if hitting the gym is part of your routine, I recommend giving Trifecta a shot.
I'm personally a big fan of the keto plan, which serves up dishes rich in protein and healthy fats and keeps net carbs to just 10 g per dish. But the menu doesn't stop there. Options like paleo, vegan, vegetarian, Whole30, and Clean are up for grabs, ensuring there's something for every diet. Have an in-depth look at Trifecta's plans in my colleague's review.
If you're the kind who likes surprises, you can opt for a weekly chef-curated menu as well. This lets you receive up to 3 meals daily and even have the choice to leave out a couple of ingredients from a set list. But if you'd rather take the reins, it allows for that as well, giving you the freedom to pick your meals.
For those who fancy playing chef, Trifecta has a treat for you. Order standalone ingredients and whip up your own culinary masterpiece. From top-notch proteins to carbs like quinoa, brown rice, sweet potatoes, and even an array of veggie sides, the choices are plentiful. Mix and match different proteins and sides to tailor your meals to your exact protein requirement.
Being a Trifecta subscriber also unlocks the door to the Trifecta community through the app. This space is brimming with articles, fun mini-challenges, and tools for tracking weight and macros. You also get support from fellow members, which can make your dieting journey feel more inclusive and as if you're part of a family.
When it comes to costs, dishes start at $6.00 per meal. Options range from 5, 7, 10, or 14 main courses each week for your lunch or dinner meals. And if breakfast is what you're after, you can also add a few breakfast dishes into your order as well!