Key Features
Swap, upgrade, or double-up on protein

30+ meal kits and prepared meals per week

Dietary options include calorie-conscious and carb-conscious
Home Chef offers a wide range of low-prep meals. These include microwave-ready prepared meals and super-speedy Express meal kits. The menu contains many other time-saving options as well, like oven-ready meals that come with recyclable aluminum baking trays for zero cleanup, and ready-to-mix salads.
Home Chef also offers more traditional meal kits that take around 25-30 minutes to get on the table. The Culinary Collection tag marks dishes with gourmet ingredients that are especially complex and best avoided if you want to keep things simple. They also cost a bit more and take as long as 60 minutes.
You'll also spot that Home Chef separates its easiest meals into their own service. This is known as the Fresh and Easy line, and you can sign up for this if you aren't interested in the more labor-intensive menu items. There's no difference in price – it's just a way to streamline your menu options.
You can also filter the menu for the best family-friendly options each week. The main menu has the option to switch to Home Chef's Family Menu, which highlights the easiest, kid-friendly recipes that serve 4.
Each recipe on the menu includes a list of required pantry items and cooking utensils – if any are needed. There's also a Before You Cook section with things to get out of the way before you get knee-deep in prep, and you can filter the menu for dishes ready in less than 30 minutes.
Meal prep is usually done in up to 5 steps – and sometimes just 1! Many of the dishes come with oven-safe trays and require nothing more than some minor assembling. The recipe cards have good photos and clear instructions, though sometimes they pack a lot of work into one "step."
My colleague tested out Home Chef and was pleased with its easy options. More veggie options are appearing on the menu again, too, with its Impossible Meat replacements – however, it's still not great for vegans. If you want easy-to-cook plant-based meals, check out Purple Carrot instead.
Home Chef's meals are individually priced but start as low as $7.99 per serving. You can order between 2 and 6 meals per week for 2, 4, or 6 people.
HelloFresh is perfect for busy families and kids. It features a menu filled with crowd-pleasing recipes like pizza, pasta, burgers, tacos, and more. And, it has one of the broadest menus on my list, making it ideal for picky eaters.
Every recipe is thoroughly tested to make sure it's easy to prepare. This is why HelloFresh's meal kits are some of the simplest and most fun to put together. You'll also find a difficulty rating on each dish, but most are rated as Easy or Medium.
HelloFresh's menu also has many ultra-easy prep options. Look out for tags that identify special recipes like one-pot, one-pan, and sheet-pan dishes. These help minimize your cooking time and also make cleanup a lot simpler. And, if you want the fastest meal kits, look for the Express or Express Plus tags on the menu.
Other menu tags identify HelloFresh's most popular Hall of Fame dishes as well as the different diets you can get. In their full HelloFresh review, our reviewer found the tags super useful. And, since they tried it out for themselves at home, they felt the cook times and difficulty levels were pretty accurate.
The Quick & Easy plan will only show meals that can be made in 30 minutes or less. This includes many easy-prep options as well as light lunches, brunches, and standard meal kits that are simple to put together.
There are 6 plans to choose from in total. Your other options include Veggie, Pescatarian, Fit & Wholesome, and Family Friendly. Don't stress too much about this choice, though. You can mix and match any of the 50+ weekly recipes no matter which plan you subscribe to, with some customizations also available.
HelloFresh's meal kits start at $3.32 per serving, though you'll need to sign up for the largest plan to get the best possible value. You can order between 2 and 6 recipes per week for either 2 or 4 people.
Factor offers fresh, prepared meals that are as convenient as it gets. The company's mission is to make eating a balanced diet as easy as possible, offering healthy, diet-friendly meals that don't require any cooking (or effort!) to enjoy.
Enjoying a Factor meal is as easy as popping it in the microwave. Most of the dishes take no more than 2-3 minutes to reheat. You can also reheat your meals in the oven, which usually takes just 7-10 minutes. Factor's meals come in plastic trays that are both microwave- and oven-safe.
The meals are a great option for busy, on-the-go lifestyles. They're perfect to grab and take to work or school for a filling and nutritious lunch or dinner. If you often find yourself eating at your desk or looking for a quick post-gym lunch, these dietitian-approved dishes could be the solution.
My colleague noted that you can even schedule coaching sessions with registered dietitians in their official Factor review. Your first 20-minute virtual session is free with your subscription and is designed to help you form healthier eating habits.
Factor caters to many different specialized diets, too, with plenty of keto and high-protein choices on the menu. Vegan and veggie options are limited to about 5 per week, which I found somewhat restricting compared to the 15 keto meals that are available. They're a great way to add some meat-free days to an omnivorous diet, but Green Chef, which has the same parent company as Factor, covers many of the same diets and has a more balanced menu for dedicated veggies and vegans.
In addition to meals, you can also pick up lots of add-ons. For instance, there are things like prepared breakfast dishes, smoothies, juices, and keto-friendly desserts.
Factor's prepared meals start at $6.19 per serving, but the price you pay depends on the size of your order. Your subscription options range from 6-18 meals per week – great for when you want to stock up the fridge or freezer.
Key Features
Pick up breakfasts, salads, and other add-ons

45+ recipes on the menu each week

Dietary options include gluten-free, keto, plant-based, and more
Green Chef serves up easy, organic meal kits. Choose from 45+ recipes each week, many of which come with pre-prepped ingredients. Chopped veggies, ready-to-use marinades, and pre-made seasonings all help to streamline your cooking experience.
The recipe cards are thorough and detailed. There are photos to guide you through every step and helpful tips to expand your cooking knowledge and abilities. My colleague tested Green Chef for themselves, and found the recipe times to be mostly accurate – though there was sometimes more prep time than expected.
Green Chef's biggest strength is its diet-friendly menus. It offers plans for a number of specialized nutritional needs including Keto, Plant Based, Protein Packed, and even the rare Mediterranean plan. Plus, its Quick & Easy plan includes recipes that are ready in 25 minutes or less.
The plan you choose when you subscribe doesn't limit your menu options, however. It's just designed to streamline the meal recommendations you get from Green Chef. Each week, you can choose from the full list of over 45 recipes no matter which plan you sign up for.
Green Chef doesn't offer microwaveable prepared meals. This means that even its speediest recipes require some cooking on your part. If you really want the convenience of heat-and-eat meals, consider Factor, which has the same parent company as Green Chef and covers many of the same diets.
The menu has a fun variety of add-ons to round out your weekly delivery. These include protein packs, easy lunches like sandwiches and salads, and ready-to-eat breakfasts. These extra items come with an upcharge, and many are appropriate for diets like keto and vegetarian.
Green Chef is definitely one of the more premium services on the meal delivery scene, with prices starting at $9.99 per serving. You can order 3-4 meals per week for 2, 4, or 6 people, giving you a variety of ordering options.
Key Features
Purchase extras like bread, salads, and side dishes

20+ meals on the menu each week

Dietary options include calorie- and carb-conscious
Fresh and Easy markets itself as its own service, but it's actually part of Home Chef. When you sign up for Fresh and Easy, you're signing up to see all the easy-prep dishes on Home Chef's menu. When it comes to just how easy these meals are to cook, Fresh and Easy certainly lived up to its speedy reputation in our in-depth review.
Despite its emphasis on convenience, Fresh and Easy doesn't rely on prepared meals. It does offer some microwaveable options, but it mostly offers up meal kits that are streamlined to reduce prep and cleanup time. This way, you're saving time while still enjoying freshly home-cooked dishes.
Fresh and Easy's menu features tags for different time-saving cooking methods. The Express recipes are easy meal kits that take just 10-15 minutes to make. Fast & Fresh recipes utilize the microwave to heat up individual components that you then assemble into a complete dish, while Oven-Ready meals come with a recyclable baking tray for low-effort dinners.
Every week, the menu includes 5-7 choices in each of these categories. You may also see "Plus" or "Family" added to any one of the tags. "Plus" identifies premium dishes, which come with gourmet ingredients for an added cost. "Family" marks the meals that are ideal for larger households.
Fresh and Easy shares many of Home Chef's features. This includes extensive customization options, which let you swap, double-up, or upgrade the protein in most meals. Fast & Fresh meals don't always allow for customizations, but Express meals often do.
Naturally, Fresh and Easy also has the same drawbacks as Home Chef. Options for vegans are few and far between – to the point that I wouldn't recommend this service for plant-based eaters. Similarly, Fresh and Easy's support for allergies is limited.
Fresh and Easy's pricing is identical to Home Chef. That means meals starting at $7.99, though they are all individually priced. You can order 2-6 meals for 2, 4, or 6 people.
Key Features
Recipe videos in the Blue Apron app


60+ items like meal kits, prepared meals and add-ons

Dietary options include veggie and health conscious
Blue Apron has tons of easy, gourmet meals that foodies and families will love. Recipes come with pre-portioned ingredients for your convenience, saving you time on prep. Meal kits take anywhere between 20 to 50 minutes to get on the table.
Its recipe cards are especially detailed and useful. There are clear instructions and photos of each step. Many recipes even include extra guidance via the Cook Along videos in the Blue Apron app. This is one of the only services I've seen to offer recipe videos.
Alongside Blue Apron's easy kits, you'll find Ready-to-Cook meals that come with a recyclable oven-proof pan. All you need to do is assemble and go. In addition, Blue Apron also has microwavable Heat & Eat dinners for sale in the Market. These prepared meals are ready to eat in a matter of minutes.
You'll find Blue Apron's low-prep dishes marked with a Fast & Easy tag. Some Fast & Easy recipes are simple meal kits ready in as few as 20 minutes. Other recipes have longer cook times but require very little prep before you let the oven do the rest of the work.
The menu is easy to navigate, as my colleague discovered when they put Blue Apron to the test. Speaking of which, when crafting your weekly order, don't forget to check out the add-ons.
Blue Apron offers a great range of add-ons and extras. These include desserts, breakfasts, fresh proteins, and ready-to-mix salads. If you're specifically looking for microwave-ready meals, you'll find those in the add-ons menu.
The Wellness menu offers lower-carb and lower-calorie options. There's also a 2-serving Vegetarian menu category, which is full of meat-free recipes.
Blue Apron's meal kits start at $5.74 per serving, but you'll pay more on smaller orders. There are plans for 2 to 5 meals per week for 2 to 4 people.
Key Features
Calorie-controlled meals and dietitian support

150+ dishes on a rotating 6-week menu

Dietary options like keto, gluten-free, and more
BistroMD is ideal for anyone looking for an easier way to lose weight or manage a specific health concern. Unlike most other services on my list, all of BistroMD's plans are designed with weight loss in mind.
BistroMD's plans cater to specific lifestyles and dietary needs. You'll find 2 versions of the signature plan to accommodate the different caloric needs of men and women, while the other plans, which include Heart-Healthy, Menopause, and Diabetic-Friendly, are designed for people who want to target certain medical concerns.
The service has a rotating weekly menu that draws from a collection of 150+ dishes. All the meals are prepared and flash-frozen to preserve the nutrients and take just a few minutes to heat in the microwave. A typical breakfast dish might be a Cheese Omelet with Turkey Sausage, or a sweet option such as Blueberry Waffles with Compote, while lunch and dinner offer meals like Turkey Breast with Herbed Brown Gravy.
The idea is to replace all or most of your weekly meals. BistroMD even provides high-protein, high-fiber snacks to make it as easy as possible for you to stick to your diet. Look out for whey protein bars, granola and nut mixes, protein shakes – and even cheesecake!
While the snacks are shelf-stable, the meals are easy and convenient to reheat. The company recommends thawing the meals overnight in the refrigerator for best results. When my colleague reviewed BistroMD, they were pleased with the clarity of the instructions provided.
BistroMD's pricing depends on the plan you sign up for, but meals start at $8.24 per serving. The largest plan provides 3 meals per day, 7 days per week. You can also sign up for just lunch and dinner, 5 or 7 days per week.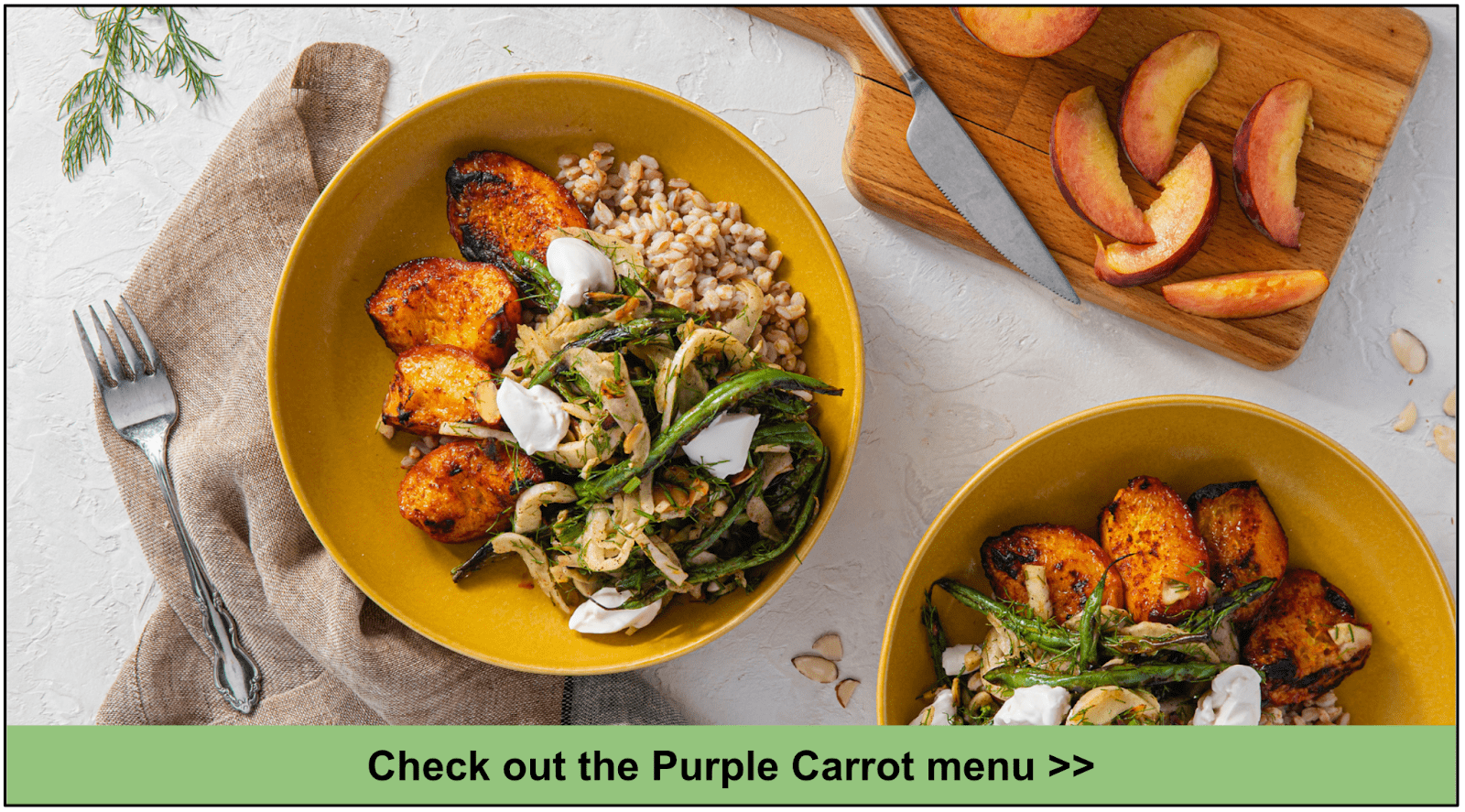 Key Features
Pick up meal kits, prepared meals, and extras

16+ dishes on the menu per week

Dietary options gluten-free, high-protein, and more
If you're looking for quick and easy vegan recipes, Purple Carrot is the service for you. The menu is 100% plant-based, which means you'll find tons of inspiration – whether you're a fully committed vegan or you just want to get more veggies into your diet.
I tested Purple Carrot's meal kits for myself and found the recipes easy to follow. As with most meal kits, the prep time can vary quite a bit, depending on your speed and skill in the kitchen.
Purple Carrot also offers a menu of prepared meals, which require much less time than the meal kits and practically no effort on your part. These single-serving dishes take as little as 2 minutes to heat in the microwave. When you sign up, you have to pick one or the other, but you can mix and match when you edit your order.

There's also a growing selection of Less Prep meal kits, which provide a nice middle ground. They include shortcuts like prepared sauces and washed and chopped veggies, plus methods that require fewer pots and pans for easy cleanup.
Purple Carrot also offers breakfast and lunch kits, including those Less Prep options. These can be included in any weekly shipment and include dishes like Avocado Toast and Grape Leaf Mezze Bowls. For now, these options are only for meal kit subscribers.
Whichever plan you sign up for, you'll always have access to the Plantry for extras. This marketplace includes vegan snacks (like cookies and donuts), sides, sauces, proteins, and more for you to add to any weekly delivery.
Purple Carrot prices start from $8.50 per serving when you sign up for the largest meal kit plan of 3 recipes per week for 4 people. Or you can order 6, 8, or 10 single-serving prepared meals each week.
Key Features
Recipes from the mind of Martha Stewart

100+ weekly options including desserts and meal kits

Dietary options include gluten-free, low-calorie, and more
Martha Stewart's Marley Spoon is a surprisingly great source of easy to prep meals. You might have expected recipes from the renowned homemaking guru to be complex and beyond the reach of an amateur cook – but this isn't the case!
The menu is so large, you could limit yourself to only the easiest, time-saving recipes and still have 48+ dishes available to you that are ready in less than 30 minutes thanks to their pre-portioned ingredients, prepared spice blends, and more.
Marley Spoon's meals feature many different cuisines and cater well to different diets. The Vegan Tomato Paella, for example, is a plant-based take on a classic Spanish dish. This is just one example of the many internationally-inspired flavors on the menu.
Also keep your eyes peeled for the 25+ One Pot Meals each week, for recipes that are super simple to make and clean up. You'll also find tons of extras on the menu, which make this service a one-stop-shop for families. Think desserts, seasonal bundles, breakfast dishes, and even a limited number of microwaveable prepared meals.
Marley Spoon is also well-loved for its dedication to sustainability. Not only was it the first meal delivery service to be certified carbon-neutral, but it also works closely with suppliers to deliver recyclable and reusable packaging, with detailed information on the website about how to do this yourself at home. The ingredients are also sustainably sourced.
My colleague loved the recipes they tried when testing out Marley Spoon's service, the only thing to note is that some more unusual pantry staples are expected on some, including balsamic vinegar and particular utensils.
Marley Spoon's prices start at $2.99 per serving. You can order 2-6 meals for either 2 or 4 people, with larger orders offering the best possible value.
Key Features
Wide variety of meals and plans offered

130+ meals and snacks to choose from

Dietary options include high-fiber, high-protein, and low-calorie
Nutrisystem delivers calorie-controlled packaged meals to your door. For anyone trying to lose weight, there's no denying the convenience factor of this service. Many of the foods come in shelf-stable pouches or cartons, with some frozen entrees available on the higher-priced plans.
Unlike BistroMD, Nutrisystem's menu focuses more on on-the-go snacks and meal replacements like bars and shakes. You have to subscribe to one of the more expensive plans to get access to Nutrisystem's frozen meals, though the service also provides suggested shopping lists for when you start to introduce your own foods.
The snacks and meals are ready to eat, with little to no cooking or prep. Frozen meals can go straight into the oven, microwave, or skillet. Shakes just need to be combined with water or nonfat milk, and many items, like the shelf-stable snacks, can simply be unwrapped and eaten.
My colleague was impressed with the variety on Nutrisystem's menu when they reviewed the service. It has filters that let you exclude ingredients like shellfish, tree nuts, and more to accommodate your taste preferences or any allergies you may have.
They also mention, however, that the service isn't suitable for vegans. Plus, the highly processed options may be a turn-off for some.
All of Nutrisystem's plans are built around weight loss, with different plans for men and women, as well as Partner Plans, which provide double the meals for 2 people dieting together. You'll also find a diabetes plan and a senior-friendly Complete 55 plan.
Regardless of which plan you subscribe to, you'll choose from several pricing tiers depending on how much food you want and whether you want access to the frozen meals.
The programs start at $8.54 per day, and unlike most services, Nutrisystem's plans are monthly rather than weekly. The Basic plan provides enough shelf-stable breakfasts, lunches, dinners, and snacks for 5 days a week for a month. The largest plan includes meals and snacks for every day of the week and includes frozen meals.
Key Features
Lots of easy, 20 to 50-minute meal kits
25+ weekly options
Diets include omnivore and veggie
EveryPlate shines when it comes to offering affordable, easy-to-cook meal kits. The kits take, at most, 20 to 50 minutes to prepare.
Every week, you get to pick from more than 25 recipes, which is impressive given the price tag. Our review provides more details about all these options. Aside from that, there are several extras you can choose from.
EveryPlate has a Quick & Easy plan for its no-fuss meals. This plan includes dishes that are ready in less than 30 minutes or that are quick to clean up. You can mix and match this plan with the others – Meat & Veggie, Veggie, Family Faves, and Nutrish & Delish. There might not be a huge range of special diet options beyond vegetarian, but having a simple way to filter out the easiest dishes is useful.
You can embark on a global culinary journey as well. Meals are inspired by various cuisines like Mexican, classic American, Italian, Japanese, Thai, and others. For instance, you can try the Southwest Pork Flautas, Sweet Thai Chili Lettuce Wraps, or the rich Bacon & Caramelized Onion Risotto with scallions.

In addition to the main dishes, EveryPlate offers a range of add-ons and extras. From breakfast items and salads to soups, there's something for everyone. Plus, you can add different types of meat and proteins to your order, like salmon, ranch steak, and chicken breast strips. However, you might be slightly disappointed to find out that it don't offer desserts.
Most of EveryPlate's meals are simple and kid-friendly as well. Meals aren't too extravagant, making them a great choice if you're looking for something everyone in the family, including picky eaters.
With EveryPlate, the smallest order you can place is for 3 meals for 2 people per week. But you can get up to 6 meals for 4 people. And, the more you order at once, the less you pay per serving. For example, for the largest order, your cost will be only $1.49 per serving.
Quick Comparison Table