Short on Time? Here Are the Best Utah Meal Delivery Services:
The Best Meal Delivery Services for Utah Reviewed
Factor is great for healthy, high-protein meals. As you go through its weekly offerings, you'll see that most of its meals feature a "Protein Plus" label. Consider ordering these meals if you're an active person training heavily. Dishes arrive fully prepared, and you can heat them in minutes.
Factor also has keto, calorie-smart, vegetarian, and flexitarian dishes on its menu. Every meal features tags for identifying specific diets. When you select a meal, you'll also see an ingredients list, nutritional information, and heating (preparation) instructions as you scroll down.
Factor's chefs prepare many international specialties beyond American staples. If you're a fan of Mexican, Italian, Thai, Mediterranean, or Indian food, you'll be happy with the service's offerings. Factor adds 2 or 3 new dishes each week, and you'll recognize them by the "New" label while scrolling down the weekly menu.
A "Top-Rated" label highlights dishes that are popular among Factor's customers and tend to sell out, so be quick to secure those if they meet your dietary needs. "Gourmet Plus" dishes offer a premium dining experience, but the surcharge tends to be high, so keep your budget in mind when ordering them.
You can also order add-ons to accompany your main dishes. These span desserts, smoothies, and sides, among other categories. You can skip or cancel your add-on subscription without canceling your meal subscription anytime.
Factor publishes its menu 2 weeks ahead, allowing you to plan accordingly. This can help you decide which nights you know you won't have time to cook and decide which dishes to have ready.
Factor has over 30 weekly meals falling into 6 different categories. These are Chef's Choice, Keto, Calorie Smart, Vegan & Veggie, Protein Plus, and Flexitarian. Our reviewer found that the price stays the same regardless of how many categories you select, so you can mix and match across meal plans.
I found Factor's website easy to navigate on a computer and a phone. You might like to download its app from the App Store or Google Play for extra convenience.
The company has an efficient and friendly customer service. You can live chat with them 24/7 or call them during business hours. I found the FAQ section helpful, too.
Factor allows you to choose between 6 and 18 weekly meals. The more meals you order, the less the cost per serving will be. Prepared meals are usually more expensive than meal kits, and this is true here, but Factor prides itself in competitive pricing – the cost per serving starts from $6.19.
HelloFresh is the best option for customers who want to plan dinners well in advance. The meal delivery service publishes weekly menus for the next 6 weeks. The menu is easy to browse and tags under each meal image help you decide whether the meal is suitable for you. Tags include spicy, carb-smart, and veggie-friendly.
While browsing the menu, pay attention to the "Hall of Fame" recipes. These top-performing dishes are brought back to the menu by popular demand from customers. They're a great place to start for your first order.
HelloFresh has several dietary categories for you to choose from. These are Meat & Veggies, Veggie, Family Friendly, Fit & Wholesome, Quick & Easy, and Pescatarian. You'll get personalized recommendations from the wider menu based on your choice.
It's easy to use the HelloFresh website and find info about each meal. However, the lack of filters makes it difficult to narrow down the recipes, and you'll have to browse the entire menu to find exactly what you're looking for, which can take a while.
It's easy to see a dish's main qualities, like prep time, at a glance. Most of them take anywhere from 15 to 50 minutes in total. You can find ingredients and nutritional and allergen info by clicking on a meal image. Our reviewer found it really easy to follow the recipe when they tried HelloFresh at home in our tested review.
HelloFresh offers various international cuisines besides American. You'll find Mexican, Mediterranean, Korean, French, Indian, African, and Middle Eastern recipes, among others. Check its cookbook to find a collection of over 2,500 previous recipes.
Since I'm a bit picky, I was happy to find that HelloFresh has lots of classic dishes I love, like tacos, burgers, pasta, meatballs, noodles, and many other recipes. If you're a fan of Latino specialties, take a look at tostada, burrito, and enchilada recipes.
The service has a helpful FAQ section, which you can consult to find the information you need quickly. It answered various questions I had relating to delivery, billing, order placement, ingredients, and more.
HelloFresh's customer service operates 24/7 and is very helpful. You can get in touch with the agents via chat option or phone. The company has a highly-rated app that you can download from Google Play or the App Store.
You can order from 2-6 recipes per week for 2 or 4 people. Prices start at $3.32 per serving but if you order a small number of meals then you'll pay more per serving.
Key Features
All eggs and produce are organic

45+ weekly meals across 8 plans


Gluten-free and plant-based dishes available


Current deal: Get $250 off + free shipping
Green Chef is a popular meal delivery service for organic food. It's a USDA-certified organic company that cooperates with farmers who grow sustainable ingredients by adhering to strict standards.
Green Chef's food stays fresh in the fridge for up to 5 days, which our reviewer found when they tried its meals at home. But if you're a pescatarian, be sure to eat seafood within 3 days from delivery at the latest.
Not all Green Chef's ingredients are organic-certified, just its produce and eggs. However, it has high standards for sourcing animal-based proteins. All ingredients must go through extensive screening to satisfy the company's strict quality standards.
You can narrow down options by selecting up to 8 diet categories. These are:
Keto

Plant Based

Quick & Easy

Gluten Free

Mediterranean

Protein Packed

Delicious Discoveries

Calorie Smart
The price won't change regardless of how many categories you mix. The number of servings is the only parameter affecting the plan's cost.
It's worth noting that Green Chef is a certified gluten-free company. If you're a keto dieter intolerant to gluten, you'll be glad to see that some keto meals have a gluten-free tag. All other gluten-free meals are certified gluten-free.
The website shows all menus and add-ons for the next few weeks. You'll see basic info such as the diet type and preparation time accompanying the image of the cooked meal. Click on it to get an in-depth insight into the ingredients and the nutritional values.
Green Chef has a varied selection of add-ons such as snacks, breakfasts, and desserts. The preparation time for some add-ons can be as little as 1 minute.
You'll find a Help Center with an extensive FAQ section on Green Chef's website. You can also download the dedicated app from App Store or Google Play to manage your orders on the go.
Besides being healthy, Green Chef delivers top-quality meals. For that reason, the price per serving tends to be a bit higher compared to some other providers. But I think it's good value considering you get tasty, organic meals comprising ingredients with proven origins.
The price per serving starts at $9.99. For this price, you get 4 meals for 6 people per week. If you opt for 3 meals for 2 people, the price will be higher, but not much. The flat shipping fee is $9.99 per box.
Key Features
Extensive protein swaps

Grill- and oven-ready options

Easy-prep, low-calorie, and family-friendly meals
Most of the meals on Home Chef's menu can be customized. Its unique Customize It tool allows you to swap or upgrade the protein for a range of options. Look below the meal's image on the menu to find out if it's customizable.
You can prepare most meals in a short time, starting from as little as 10 minutes. Check our dedicated review to see how our expert reviewer got on cooking with Home Chef.
Home Chef prioritizes recipes with fresh, pre-portioned ingredients and has suitable options for many dieters. You'll find balanced, pescatarian, vegetarian, and high-protein meals. These span various international cuisines, such as Italian and Mediterranean.
Look out for the selection of common allergens during plan customization. You can eliminate specific ingredients such as nuts, sesame, and mushrooms. However, pay attention to individual packaging as Home Chef's central facility isn't allergen-free and cross-contamination may occur. Green Chef is a better option for many allergies.
Dishes fall into the following categories:
Meal Kits

Easy Prep Meal Kits

Bundle and Save

Extras
Each meal features cooking guidelines and a checklist to help you prepare them. It also has an informative section about calories, carbohydrates, and other nutritional values. You can check the full ingredients list before ordering, too.
You can choose the delivery day from a few options. These will vary depending on your location in Utah. Home Chef sends you a tracking number on the selected day, so you can track the shipping. The flat-rate shipping fee is $10.99 nationwide.
Home Chef meal prices depend on the number of selected dishes and start at $7.99 per serving. The fewer recipes you order, the higher price per serving you'll pay. You can order between 2 and 6 meals for 2, 4, or 6 people.
Key Features
Home Chef's line of quick meals

Quick meal kits and salads

Carb- and calorie-conscious options
Fresh and Easy is a great option for foodies with little time. This line of meals involves near-zero preparation with quick meal kits, oven-ready dishes, and salads.
Besides low-prep time, you'll benefit from little to no cleanup after you finish your meal. Orders contain pre-portioned and prepped ingredients, so you won't have to slice, dice, or peel. Check our in-depth review for more on the simple prep process.
The major con of Fresh and Easy is the number of plastic food containers. This may present a problem if you don't have a suitable recycling facility nearby and you have to throw them away.
You can prepare Fresh and Easy food in a microwave, conventional oven, or grill. Oven-Ready meals come in oven-safe trays, allowing you to cook a simple meal that doesn't require cleaning messy oven trays afterward. You'll have even less prep work if you order salads. These comprise pre-cooked components you can combine any way you wish.
You can combine Fresh and Easy and Home Chef dishes. You don't lose access to one by choosing another. So you're free to mix and match any meals you can find on the Home Chef menu without restrictions.
Fresh and Easy is a sub-brand so it shares a customer service team with Home Chef. Don't feel confused if you don't find a dedicated FAQ section related to this particular line of kits. Home Chef's customer support is perfectly capable of addressing all your questions or concerns.
The cost per serving matches Home Chef's basic line of meals. The price starts at $7.99 per serving. You'll pay the lower price per meal the more servings you order. You can order between 2 and 6 weekly recipes for 2, 4, or 6 dieters. The shipping cost is $10.99 per delivery to Utah, regardless of the number of servings.
Key Features
Programs for men and women

Heart-healthy, gluten-free, vegan, and menopause programs


Nutritionally-balanced breakfasts, lunches, and dinners
BistroMD is among the top meal delivery services offering prepared weight-loss meals. It features meals low in calories, fat, proteins, and carbs. You can find all the ingredient- and nutrition-related info by clicking on the meal image on the menu.
You can order weight-loss snacks from BistroMD, too. Among other options, you'll find juices (i.e., orange and lemonade), cheesecakes, and chocolate desserts.
If you're unsure how to start, take the on-site quiz to find the right program for you. BistroMD's meals cater to omnivores, diabetics, and vegetarians. If you're a vegan, it also offers a Vegan plan that focuses on high-protein plant-based meals. Factor is another alternative for prepared healthy meals for vegans.
BistroMD has around 150 chef-prepared and nutritionally-balanced dishes to choose from. It only takes 5 minutes to prepare each dietitian-approved meal.
You can contact BistroMD's certified dietitians or customer service via phone or email if you have any concerns or doubts. Customer support agents work from 8 am to 8 pm ET on workdays and from 9 am to 6 pm ET on weekends. Our expert reviewer tested BistroMD's customer support, and shared their experiences in our in-depth review.
There's a range of weight-loss programs available. You can choose a full-week program comprising 7 breakfasts, 7 lunches, and 6 dinners (with one night to cook for yourself). But if you prefer having weekends on your own, a 5-day program is a good option.
I like that you can customize which meals you get. BistroMD selects the meals initially, but you can make changes if you wish. Despite being a weight-loss service, each dish comes with a good portion size so you won't be left feeling hungry, either.
The price you pay per meal starts at $8.24. The more dishes the plan has, the lower the price per serving you'll pay. The full 7-day program comprising 20 dishes is the most affordable in this regard, while the cost per serving is the highest with the 5-day lunch and dinner program. The standard shipping fee for all Utah residents is $19.95.
Nutrisystem is a long-established service preparing weight-loss meals. It has programs catering to various people, such as the over 55s, those with serious appetites, and even partners living together. The company prepares meals its customers can eat several times a day and still lose weight. There are weight loss plans for men, women, or couples, diabetics, and those over 55.
You can order breakfasts, lunches, dinners, and snacks from Nutrisystem. The ready-made options include burgers, soups, and pasta. Narrow down your options by selecting nutritional values such as low cholesterol and lower sodium. Most meals are fairly basic, like the Broccoli and Chicken Stuffed Breast pictured above. Our detailed review goes into more detail on the taste and cooking process.
Nutrisystem weight-loss coaches are available to help you learn more about smart carbs, healthy fats, and other diet information. They also provide encouragement and share their weight loss stories with you. Most Nutrisystem coaches got their start as clients, so they know the struggle firsthand.
It depends on your order whether you'll have to pay a shipping fee. Customers placing 4-week auto-delivery plan orders and Success A La Carte members ordering non-frozen dishes don't pay shipping fees. But a la carte frozen-food orders worth less than $75 cost $20. A la carte orders and non-plan orders incur shipping and handling costs.
The Uniquely Yours plan is the most affordable, while the Uniquely Yours Max+ and the Complete 55 programs are pricier. Price per day starts from $8.54 and depends on the plan you choose. You get breakfasts, lunches, and dinners for 5 days with the Uniquely Yours plan. Uniquely Yours Max+ allows you to choose whether you'll get dishes and add-ons for 5 or 7 days a week.
Key Features
Most non-produce ingredients are organic

Meal kits and prepared options

Bi-weekly meal rotations
Purple Carrot specializes in plant-based dishes suitable for vegetarians, vegans, and carb-conscious dieters, among others. No meals feature meat or any other animal-derived ingredient. For that reason, you won't find many common allergens in the dishes, which our seasoned reviewer confirmed in their review.
You can order meal kits or prepared meals, and Purple Carrot's Flex plan lets you mix and match. Available options cover breakfasts, lunches, dinners, and Plantry extras (plant-based snacks). You'll typically find several dinners but only 2 or 3 breakfast and lunch options.
Most of Purple Carrot's non-produce items, like nut milk, beans, tofu, and tempeh, are organic. Purple Carrot strives to provide organic and non-GMO produce whenever possible, but those options are not always available. If you don't want to compromise on that, Green Chef specializes in organic dishes, so check out its Vegan plan.
You can prepare most Purple Carrot meals in less than half an hour, starting from as little as a few minutes. Only occasionally you may need more time but even this isn't usually more than 45 minutes. Prepared Purple Carrot meals are typically ready in 2-3 minutes. Recipe instructions are clear and easy to follow, so you'll have no trouble turning your meal kit into a delicious plant-based dinner.
The service uses FedEx, OnTrack, and a few other couriers to deliver its meals. Shipping is $10 on orders under $99, and free otherwise.
The minimum order for meal kits is 3 meals of 2 servings each and the maximum order is 3 meals of 4 servings each. If you opt for prepared meals, you can order 6, 8, or 10 meals. All prepared meals are a single serving. The price per serving starts from $8.50.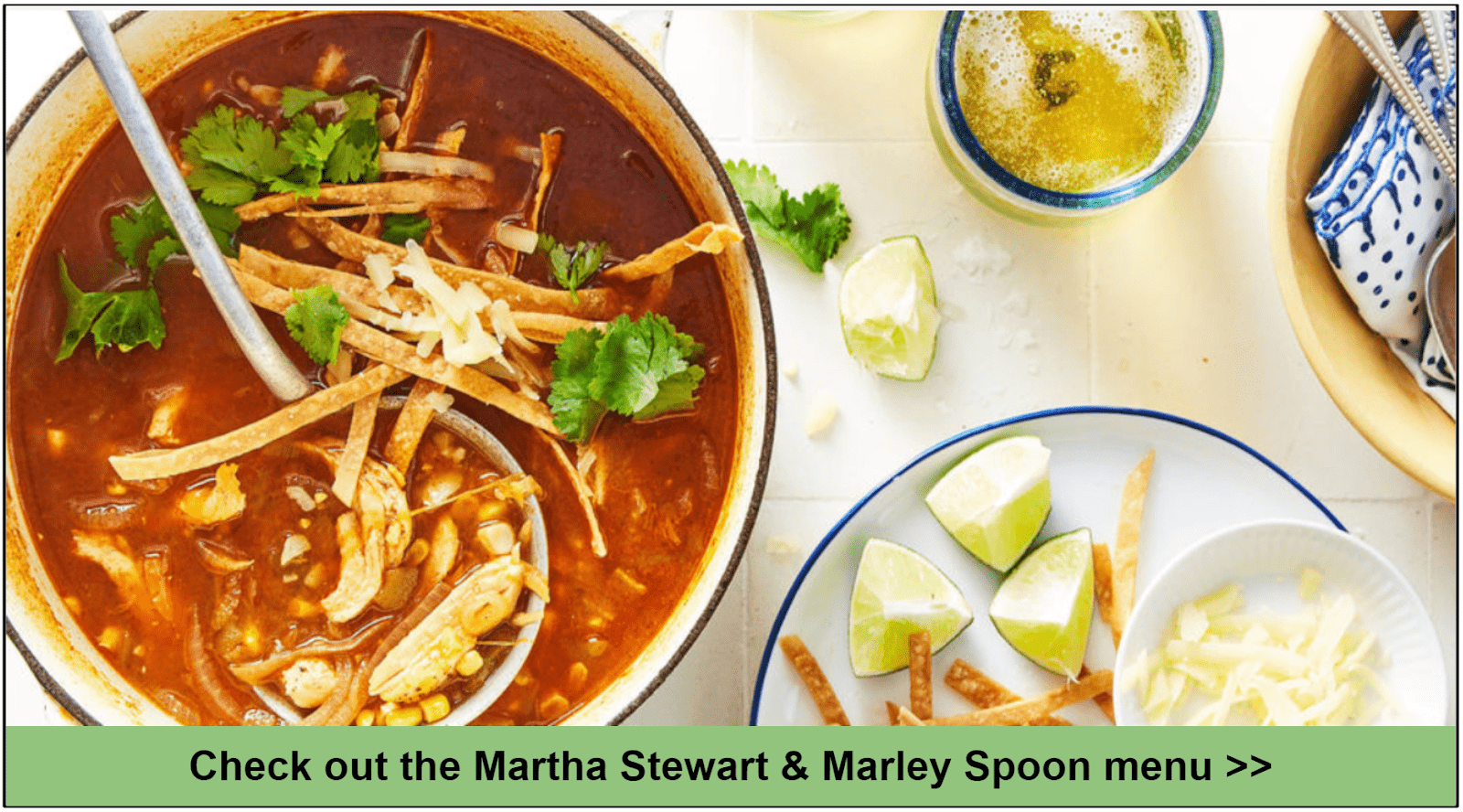 Martha Stewart & Marley Spoon is a great eco-friendly choice, and it even goes as far as sourcing ingredients with low greenhouse gas emissions. You may think that such an approach limits available ingredients a great deal, but Martha Stewart has a huge and varied weekly menu.
The service has over 100 meals on its weekly menu. Most of the recipes are meal kits, but our reviewer found some prepared meals, too. You can get dishes to satisfy diets such as omnivore, pescatarian, and carb-conscious. You can't filter dishes by diet but can refer to useful tags, such as Low Carb, Low-Calorie, and others to shortlist suitable options.
You'll find the allergen info by selecting the meal. As well as main dishes, you can also order from a selection of sides, desserts, and soups. Unfortunately, you won't find any filters that let you sort out dishes with problem ingredients, so you'll have to check each recipe individually if you have serious allergies or sensitivities. (You might do better checking out our list of the best allergy friendly meal delivery services.)
Martha Stewart & Marley Spoon doesn't offer single portions, so it's best for couples and families. If you're after single-serving options, check out Factor instead. But since Marley Spoon meals are generally excellent, singles might want to consider getting a 2-serving meal and enjoying leftovers for lunch at home or the office.
You'll pay a lower price per serving if you order more dishes. The price per meal starts at $2.99. The minimum order is 2 recipes per 2 people. The maximum order is 6 meals for 4 people. The shipping fee is $11.99, regardless of your order size.
Key Features
Weekly new recipes

Easy-to-follow instructions

Dietary options include vegetarian, pescatarian, and carb-conscious
Blue Apron specializes in gourmet meal kits for 2 or 4 people at home. You can choose between 19+ or so mains per week that meet various dietary requirements. There's a range of kit types, too. For example, you can opt for Ready to Cook, Fast & Easy, and Family-Friendly options.
I like that you can view the menu for the next 4 weeks. The menu changes weekly, and you can evaluate options and plan weeks in advance. You'll find Mexican, Thai, Italian, and Greek specialties, among other cuisines. Our in-depth review goes into more detail on Blue Apron's menu.
Blue Apron has 4 different meal plans on offer. These are Signature for 4 and Signature for 2, Vegetarian for 2, and Wellness for 2. You'll also find extras to add to your meals, including side dishes, appetizers, breakfasts, and desserts.
Both Signature for 4 and Signature for 2 meal plans suit a mainstream diet. They consist of meat, fish, Beyond Meat™ (a vegan meat alternative), and low-calorie dishes. Wellness servings typically include specialties with calorie-conscious and carb-conscious recommendations approved by nutritionists. Vegetarian meals comprise seasonal produce.

Personalize your meal kit by choosing your dietary preferences when you sign up. Pick between Chef Favorites, Wellness, Veggies, Family Friendly, and Fast & Easy options. You can choose as little as 1 or as many as all 5 categories.
You can choose from 60+ weekly meals falling into the above categories. The Chef Favorites category includes top picks from the test kitchen, while Fast & Easy meals are quick to prepare. The price won't change regardless of the number of categories you opt for.
You can also buy kitchen tools and pantry items from Blue Apron's Market section. Utensils for sale include frying pans, grill pans, aprons, spatulas, spoons, ovens, and various measuring tools. You can use E-Gift Cards to buy those.
You can buy Meal E-Gift Cards and use them toward any subscription plan. You can choose between 3 amounts. These don't expire and you won't pay any fees.
You can order between 2 and 5 weekly portions for 2 or 4 people. The cost per meal starts at $5.74 for 4 servings for 4 people. Note that the lower the number of servings, the higher the price per serving is. You'll also need to pay an additional $10.99 shipping fee.
Key Features
Easy meal kits ready in under 40 minutes

100+ weekly recipes

Vegetarian, low-calorie, and dairy-free options available

Dinnerly offers budget-friendly dinners for Utah families and couples. But despite its affordability, Dinnerly provides over 100 meal choices weekly. You might wonder how it manages to offer such variety at its price point. Dinnerly ensures you never run out of options, from hearty meals for those cold winters to lighter options perfect for a summer evening.
The Caramel Chicken Stir Fry pictured above is a delightful Chinese-inspired dish. While it's easy to whip this stir fry up in your kitchen, you'll learn to craft a savory and spicy caramel sauce while you make it. Our expert reviewer found that Dinnerly offered a great selection of hearty and simple meals.
Dinnerly also boasts a wide range of vegetarian options. If you're leaning toward a plant-based diet, simply tick a box during signup, and all your recommended meals will be vegetarian. You can also find vegetarian (and even a few vegan) meals by checking the tags on each recipe.
In addition to its selection of meals, Dinnerly offers add-ons at its Market, like snacks, desserts, and breakfast options. Dinnerly even offers some customization options. For example, if you're pressed for time, you can order the Caramel Chicken Stir Fry kit with precooked rice and get dinner on the table faster.
Ingredients come packed together in a single box, unsorted by recipe. Unlike other services that meticulously sort every ingredient per recipe, Dinnerly sends everything in one box. You'll also need to access recipes online instead of receiving printed cards. While these are small and environmentally friendly tradeoffs, you may find it challenging to cook while reading recipes from your laptop or smartphone.
Dinnerly prices start at $2.12 per serving. You can order 3 to 6 meals serving 2 or 4 people every week.

Quick Comparison Table