Short on Time? Here Are the Best Meal Delivery Services in Houston for 2023:
Factor offers a hassle-free way to improve your eating habits. Perfect for fitness-conscious Houstonians. Working professionals with little time to prep a meal at work can bring a Factor meal to the office for a healthy lunch.
What's on the Menu?
Factor's pre-cooked meals are ready after just 3 minutes in the microwave. But convenience doesn't come at the cost of flavor! Our expert reviewer tried Factors meals and found them to be "of high quality and really tasty".
Factor offers 5 plans, but you can always choose any item on the menu:
Chef's Choice: Meals to fit any lifestyle

Keto: Meals low in carbs and high in fat

Calorie Smart: Meals under 550 calories

Vegan & Veggie: Plant-based prepared meals

Protein Plus: 30+ grams of protein in each meal
Factor's Protein Plus Factor meals are ideal if you're looking to build lean muscle. With at least 30 g of protein per serving, these meals are great fuel for workouts and recovery. The Calorie Smart menu is also a great choice for those who are looking to lose a few pounds.
Keto dieters will love Factor's keto menu. In place of carb-heavy ingredients like rice, Factor uses riced cauliflower, and swaps out noodles for zucchini zoodles. See the Sun-Dried Tomato Chicken with Zucchini Noodles pictured above for an example.
What Makes It Special?
Every Factor subscription includes a free 20-minute consultation with a dietitian, and Factor is linked with numerous fitness apps to let you track your meals and macros. If you find your free consultation helps, you can sign up for additional sessions at an added fee.
Add-ons include Factor protein packs, smoothies, soups, and more. I particularly like Factor's smoothies as a healthier alternative to my usual breakfast pastry.
Is It Good Value?
While Factor offers a variety of vegetarian and vegan meals, those on a strict vegan diet may find Factor's vegan selection of 3 meals a week is somewhat limited and do better with a purely plant-based meal delivery service like Purple Carrot.
Factor prices start at $6.19 per serving, making it one of our more expensive services. But if you live a particularly active lifestyle or are trying to stick to a keto diet, you may find Factor's prepared meals a worthwhile investment. You can choose between 6 and 18 single-serving Factor meals every week.
HelloFresh is America's most popular meal delivery service, thanks to its huge variety and affordable prices. You can find popular menu items by looking for the Hall of Fame tag. HelloFresh awards this tag to recipes that get a lot of positive feedback from your fellow subscribers. The Firecracker Meatballs pictured above is a Hall of Fame recipe.
What's on the Menu?
HelloFresh divides its large menu into 6 categories:
Meat & Veggies

Veggie

Family Friendly

Fit & Wholesome

Quick and Easy

Pescatarian
Recipes are categorized by their difficulty level, making it easy to select dishes that match your cooking expertise. Most HelloFresh recipes fall under the Easy or Medium category. If you're short on kitchen space, culinary skill, or cooking equipment, look for Easy Cleanup and Easy Prep recipes for added convenience.
Don't be afraid to stretch your cooking skills with HelloFresh. Our reviewer is a novice chef, but when they tried HelloFresh at home they found that everything "turned out looking and tasting delicious." Just follow the directions and you'll be amazed at what you cook.
What Makes It Special?
HelloCustom lets you change some sides and proteins in selected HelloFresh dishes. HelloFresh advertises more than 30 meals on the menu each week, but there are often many more options when you take into account HelloCustom options and Market offerings.
Calorie-counting Houstonians will love the Fit & Wholesome plan and find a good selection of recipes tagged as Carb Smart and Calorie Smart. HelloFresh also has a good selection of vegetarian meals, though people on specialized diets like vegan or keto may not find HelloFresh meets their needs for a varied diet.
Is It Good Value?
HelloFresh scores points for its sustainability initiatives. Its website includes complete instructions on how to recycle every part of your meal box packaging. HelloFresh teams also work to reduce its carbon footprint with responsible sourcing and efficient packaging that lets the company send more packages per delivery vehicle.
HelloFresh offers a variety of serving sizes suitable for families and couples. You can order 2 to 6 recipes of 2 or 4 servings per week, or between 4 and 24 weekly servings. Prices start at $3.32 per serving.
Key Features
The first USDA-certified organic meal service

47 recipes available each week

Mediterranean, Keto, Calorie Smart, and more options
Green Chef offers high-quality, organic ingredients for a variety of dietary needs. With meal kits starting at $5.99 per serving, Green Chef is a bit more expensive than other meal kit companies, but its prices are justified by the quality of its ingredients and the wide range of dietary options.
What's on the Menu?
Green Chef offers 8 plans to fit every dietary need, but it lets you order from the complete menu:
Keto

Plant Based

Gluten Free

Quick & Easy

Mediterranean

Protein Packed

Calorie Smart

Delicious Discoveries
Green Chef's eco-friendly packaging keeps everything organized, and the prepared sauces and seasonings make cooking healthy meals easier than you might expect. (The Moroccan Turkey Tagine pictured above is ready in just 30 minutes). And Green Chef's Green Market lets you add salads, protein packs, and breakfast entrees to your order.
I tried Green Chef at home and was highly impressed by the taste and quality of Green Chef's meals.
What Makes It Special?
Green Chef was the first meal delivery service to be certified organic by the USDA. All of Green Chef's produce is certified organic and free of pesticides and chemical fertilizers, while its meat and seafood proteins are responsibly sourced and free of antibiotics, hormones, and steroids.
Green Chef is also the first meal kit company with an official Gluten-Free certification. Most meals are gluten-free. Those that contain gluten like pasta or bread are prepared in separate facilities to avoid cross-contamination. Green Chef is great for those with celiac disease or a serious gluten sensitivity.
Is It Good Value?
Green Chef is one of the more expensive meal delivery services on our list. But if eating organic is important to you, or if you want an adventurous menu that will introduce you to new flavors and cuisines, Green Chef may well be worth it to you.
You can order between 4 and 24 weekly servings at Green Chef. The minimum order is 3 meals for 2 people per week, and a maximum of 4 meals for 6 people, so Green Chef is a great choice for big households. Prices start at $5.99 per serving.
Key Features
Order up to 6 servings per meal

30+ weekly meals and 18 extras

Carb-conscious, calorie-conscious, and vegetarian options
Home Chef's well-organized website makes it easy to find the meals you want. You can exclude meals containing ingredients like pork, tree nuts, shellfish, or mushrooms with Home Chef's filters, and look for vegetarian meals or meals requiring under 30 minutes of prep and cooking time.
What's on the Menu?
Home Chef offers a broad selection of recipes from family-friendly favorites to international options. It rates recipes by difficulty, with most rated "Easy" or "Intermediate." The Sticky Orange-Teriyaki Chicken pictured above, a Rachael Ray recipe, is ranked "Intermediate." Most "Expert" meals appear in Home Chef's premium Culinary Collection.
My colleague cooked 1 of Home Chef's Expert Culinary Collection meals at home – Salmon and Lemon Herb Beurre Blanc. They reported that the results were flaky, moist, and delicate.
Home Chef's Fresh Start meals are healthier versions of classic favorites, designed by dietitians and identified with a green tomato icon. The Fresh Start icon and Calorie-Conscious tag are a great help for dieting Houstonians.
What Makes It Special?
Home Chef's real winning feature is its Customize It option. While many services offer a few customizable meals each week, Home Chef lets you swap, upgrade, or double up on proteins in most of its recipes. If you want shrimp rather than chicken or are in the mood for sirloin steak, Home Chef gives you what you are looking for.
It also includes a helpful label indicating how spicy the recipe is. While Texans are famous for loving spicy food, not everybody enjoys the heat. If you've got spice-intolerant household members or picky eaters, you'll be able to choose meals they enjoy.
Is It Good Value?
While omnivores will find that Home Chef has a lot to love, it may not be the best option for those with specialized dietary needs. Vegans and keto dieters will have a hard time finding suitable meals on the Home Chef menu, and while you can filter for certain allergens Home Chef prepares all meal kits in the same facility, so those with serious allergies may be at risk of cross-contamination.If you have more specialized needs check out Green Chef.
You can order 2, 4, or 6 servings of each recipe, making Home Chef extra appealing to larger families. Your minimum order is 3 meals of 2 servings per week and your maximum order is 6 meals of 6 servings. Prices for Home Chef meals start at $7.99 per serving.
Key Features
Meals ready in 15-30 minutes

16+ weekly recipes

Calorie- and carb-conscious options
Home Chef now has a dedicated Fresh and Easy line that caters to busy individuals and families looking for quick dinner solutions. Fresh and Easy meals arrive pre-prepped and portioned. You can get supper on the table without washing, weighing, peeling, or chopping.
What's on the Menu?
Some of Fresh and Easy's quick meal types include:
Fast & Fresh: microwave and oven-ready meals

Oven-Ready: dishes you assemble and bake

Express: meal kits ready in 15 minutes or less

Salads: toss the ingredients and enjoy a fresh salad

Extras: desserts, protein bundles, bread, and more
For working couples celebrating a special occasion, there's Fresh and Easy Plus. For a few dollars extra, you get a restaurant-quality meal that uses premium ingredients from Home Chef's Culinary Collection, but which is ready in 20-30 minutes.
Fresh and Easy offers prepared microwaveable Fast & Fresh dishes for maximum convenience on busy nights. And while most prepared meals come in single-serving sizes, Fresh and Easy offers a few 4-serving Fast & Fresh Family Meals.
What Makes It Special?
My colleague's expert review felt that Fresh and Easy makes dinnertime faster and easier for busy families. And Fresh and Easy not only gives you the convenience of fast meals, but it also gives you the flexibility that makes Home Chef such a great meal delivery choice.
You can use Home Chef's Customize-It feature with Fresh and Easy. The Chipotle Beef Meatballs Albóndigas pictured above can be ordered with ground turkey or pork if you prefer.
In fact, your Fresh and Easy subscription lets you order from the Home Chef menu. You get a selection of fast and easy meals, but you're also free to order a meal kit for evenings when you have a bit more time or when you feel like doing some more hands-on cooking.
Is It Good Value?
Fresh and Easy is great for families and individuals pressed for time, but the line doesn't have a lot for niche dieters and contains wheat and dairy in most of its dishes. If you're looking for fully prepared meals that have more diet options, and you don't mind paying a little extra, you may want to take a look at Factor.
Fresh and Easy's minimum order is 3 meals of 2 servings, with a maximum order of 6 meals of 6 servings each. Prices start at $7.99 per serving.
Key Features
Add-Ons and Market items also available

19 weekly choices

Vegetarian, Wellness, low-calorie, and other diet options
Blue Apron is designed by pro chefs and perfect for those who like to host. Its meal kits offer gourmet recipes and international flavors, combined with classic dishes we know and love. The Chicken in Blueberry Thyme Pan Sauce above is a great example of the way Blue Apron adds a sophisticated twist to a classic chicken breast with carrots and mashed potatoes.
What's on the Menu?
Blue Apron's meal kits come with easy-to-follow recipes and simple-to-prep ingredients. Our reviewer had high praise for Blue Apron's variety of cuisines and ease of cooking. And if you feel overwhelmed with a recipe, Blue Apron's how-to videos and online demos can walk you through the steps.
You can choose between 5 different preferences to help Blue Apron recommend meals. But no matter what your choice, you can always order any recipe on the weekly menu:
Chef Favorites: Top picks from the Test Kitchen

Wellness: Healthy recipes approved by nutritionists

Family Friendly: Meals kids and parents will love

Fast & Easy: Fast Heat & Eat and Quick Prep meals

Veggies: Meals for herbivores
Blue Apron's Veggie menu is great for Houstonians who prefer meat-free options. The Make it Vegetarian label lets you find meat-based recipes that you can transform into vegetarian meals. If you like a little meat with your plants, with Blue Apron's Customized feature you can swap proteins or add meat to a vegetarian meal.
What Makes It Special?
For busy nights, Blue Apron offers a selection of Fast & Easy meal kits that are easier to prepare. And for extremely busy nights, you can choose one of Blue Apron's Heat & Eat prepared meal options that you simply heat in the microwave or oven. For those who have picky eaters in your household, Blue Apron has Family Friendly meal kits.
Blue Apron's Market offers its signature spice blends, so you can add a Blue Apron touch to your home cooking. You can also get meal bundles, as well as items like kitchen tools.
Is It Good Value?
Blue Apron offers gourmet meals at very reasonable prices. While the menu selection isn't as large as some other services, the ingredient quality is high and the recipes offer choices between family-friendly meals and more adventurous fare.
Blue Apron's weekly menu lets you choose 2, 3, 4, or 5 meals for 2 or 4 people. Pricing starts at $5.74 per serving.
Key Features
Physician-designed meals and diet counseling

150+ meals plus snacks

Gluten-free, heart-healthy, menopause, and more
Dieting is hard, but BistroMD's prepared meals make it easier. Many weight loss meal delivery services send you tasteless processed food that leaves you tempted to cheat. BistroMD's healthy low-calorie meals leave you satisfied and teach you healthier eating habits to make sure you keep the weight off after you lose it.
What's on the Menu?
BistroMD offers 7 plans:
Signature

Heart-Healthy

Gluten-Free

Keto Flex

Menopause

Diabetic

Vegan
BistroMD meals have under 450 calories each, but they are dietitian-designed to make sure you get the nutrients you need. The Meatloaf with Honey Bourbon Glaze (above) has only 340 calories but tastes like it has more. BistroMD's women's plan offers 1,200 calories a day, and the men's plan averages 1,400 calories.
BistroMD provides a suggested weekly menu to its customers, with an option to swap out any unwanted meals. You also get Essential and Tasty Snacks, or "EATS," to prevent the cravings that lead to cheating. These snacks include protein snacks and diet bars but also offer delectable desserts like cheesecake.
What Makes It Special?
In 2005 bariatric physician Caroline Cedarquist founded BistroMD as an alternative to unappetizing diet meals. Since then BistroMD's team of dietitians and nutritionists, with advice from Dr. Cedarquist's foodie husband Ed, have expanded the menus to cover other health conditions.
With all plans, you get consultations with a dietitian who advises you on weight loss and lifestyle choices. Your dietitian can help you with suggestions on stress management, exercise, and menu planning after you've reached your desired weight goal.
Is It Good Value?
Our expert reviewer found BistroMD was a solid service for those serious about weight loss.
BistroMD's minimum weekly order is 5 days of lunches and dinners (10 meals) and its maximum is breakfast, lunch, and dinner throughout the week (21 meals). Prices start at $8.24 per serving.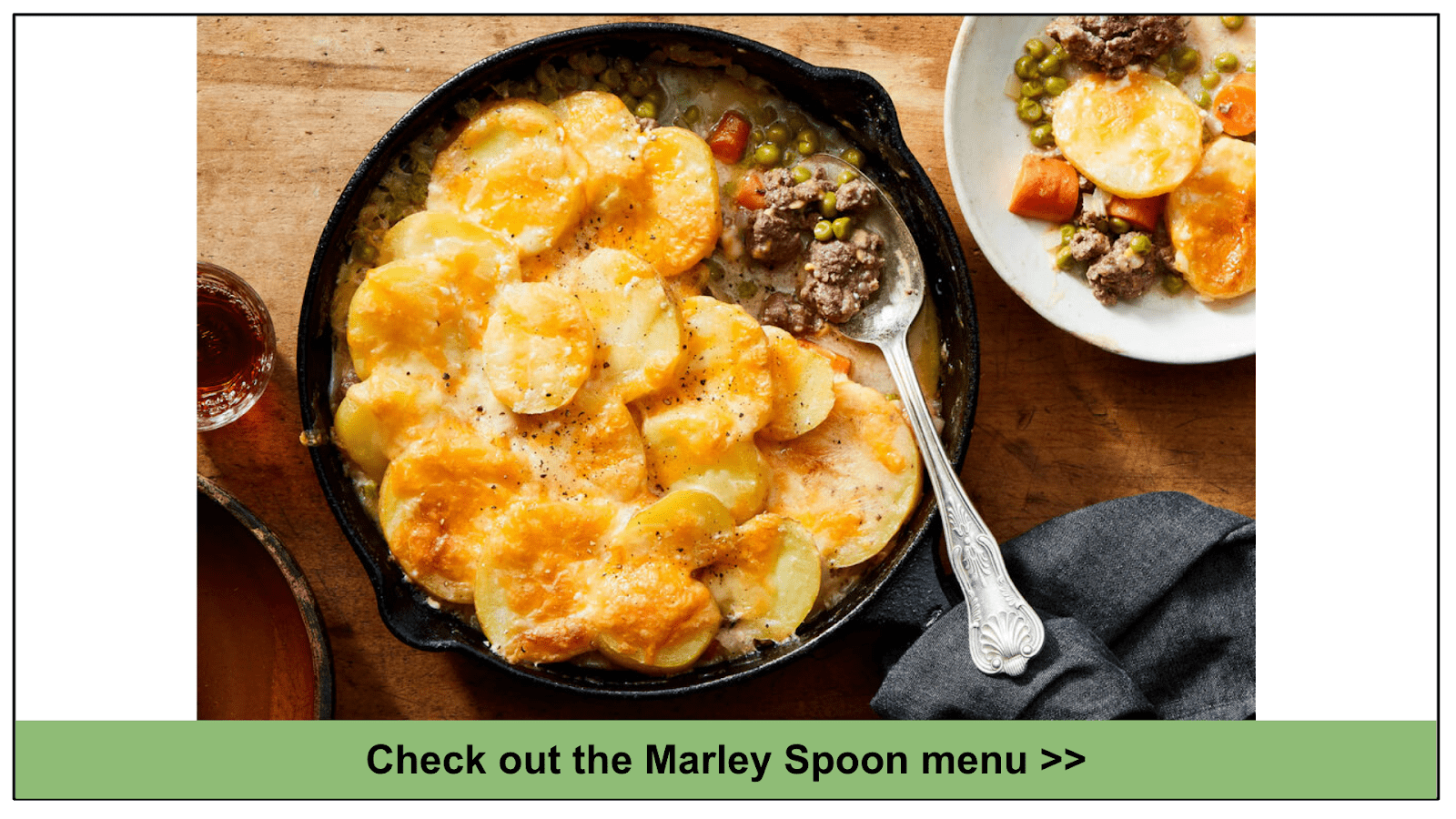 Key Features
Wide selection of Martha Stewart-curated recipes

45+ meal kits to choose from per week

Dietary options include vegetarian, vegan, no-added-gluten, and more
If you're an aspiring home cook, Marley Spoon is a great choice. With meal kits curated by Martha Stewart, you'll get an introduction to a number of new cuisines and cooking techniques, as well as access to Martha Stewart's Signature spice blends and sauces.
What's on the Menu?
Labels on the menu help you find meals, with choices like:
Kid Friendly

Beef

Pork

Healthy

No Added Gluten

Low Calorie

Dairy Free

Under 30 Minutes

One Pot Meals
Our reviewer found that the step-by-step methods made it easy to create Martha Stewart-level dishes at home. But Marley Spoon also offers family-friendly meals along with sophisticated fare like Seared Steak with Gremolata and Lemon and Dill Salmon.
The Cottage Pie with Grass-Fed Ground Beef pictured above will please even picky eaters. Whether you're looking to improve your culinary game or feed your hungry family, you'll find a lot to love at Marley Spoon!
What Makes It Special?
The Ingredient Hub lets you easily identify any allergens or unwanted ingredients. This is useful, but it's not as convenient as filters that let you exclude entrees. And Marley Spoon prepares and stores all meals together, so there's a cross-contamination risk. Those with severe sensitivities may want to check with their physician before subscribing.
Marley Spoon was the first fully carbon-neutral meal delivery service and is an industry leader in sustainability practices. Its website features comprehensive guidelines on recycling or repurposing each packaging element. And its Climatarian tag helps you spot meals that produced no more than 1.1 pounds (500 g) of atmospheric carbon per serving.
Is It Good Value?
Be advised that Marley Spoon assumes its customers have a well-equipped pantry, as the recipes often call for specialty items like balsamic vinegar, kosher salt, or a microplane grater. Before placing an order, it's wise to review the recipes and double-check that you have all tools and ingredients on hand to avoid last-minute trips to the store.
For everything it offers, Marley Spoon is very reasonably priced, with meals starting at just $2.99 per serving. You can order 2 to 6 weekly 2-serving or 4-serving meals.
Key Features
Vegan meal kits and prepared meals

16 weekly dishes plus Plantry extras

Nut-free, gluten-free, and high protein options
Everything on the Purple Carrot menu is vegan. Sourcing plant-based meals can be a challenge in meat-loving Houston, but thanks to the likes of Purple Carrot, you can enjoy 100% plant-based meals without worrying about unwanted eggs or dairy products.
What's on the Menu?
Customers can choose from meal kits, prepared meals, and quick "Less Prep" meals that require 25 minutes or less cooking time. Purple Carrot's labels let you find meals that are:
Under 600 Calories

Soy Free

Gluten Free

High Protein

Nut Free
Purple Carrot focuses on nutrient-dense ingredients, with recipes that showcase vegetables and their natural flavor. Dishes like Mango-Glazed Brussels and Chickpeas (pictured) are a delicious way to add more vegetables to your diet and a fantastic alternative to soy burgers and fake meats.
I have 1 (vegan) bone to pick with Purple Carrot: it only shows this week's menu. Looking at upcoming menus helps you decide if a meal delivery service offers enough variety for your needs. It would be great if Purple Carrot provided a look at the next several weeks' meals like Blue Apron does.
That being said, Purple Carrot's menus are fairly consistent and offer a good variety of plant-based food that regularly puts them high on our list of the best vegan meal delivery services.
What Makes It Special?
For even more plant-based options, check out Purple Carrot's Plantry, where you can get a selection of hand-picked staples like cashew cream cheese, snacks, and vegan breakfast and lunch entrees.
Purple Carrot also donates to The Farmlink Project. This organization helps deliver excess produce to those in need, which reduces waste and feeds hungry families with vegetables that would otherwise rot in the fields.
Is It Good Value?
Even if you're not strictly vegan, you'll still find a lot to love about Purple Carrot. Purple Carrot's motto is "Eat what you love, but eat more plants." Our omnivore reviewer tried Purple Carrot for themselves and praised its "delightfully diverse collection of recipes."
Prices start at $8.50 per serving. You can order a minimum of 3 meal kits for 2 and a maximum order of 3 kits for 4 people per week. Purple Carrot's prepared meal plan offers 6, 8, or 10 meals per week.
Key Features
Meal kits ready in 40 minutes or less

100+ weekly recipe choices

Vegetarian, dairy-free, and low-calorie options
Dinnerly is Houston's cheapest meal delivery service, with prices starting at just $2.12 per serving. But Dinnerly doesn't skimp on variety or quality, with a large menu and even occasional kits with organic fruits and vegetables.
What's on the Menu?
You get over 100 meals to choose from every week with Dinnerly. Our reviewer found that Dinnerly's selection is larger than many higher-priced meal delivery services.
Dinnerly meals include vegetarian, pescatarian, and even a few vegan meals. The recipes are simple and use a few basic but high-quality ingredients. And Dinnerly's Market section also offers seasonal desserts, snacks, and breakfast options like Chocolate Cupcakes or Oat and Chia Pancakes.
You even have the option to customize some Dinnerly entrees. If you're in a big hurry, you can order the Caramel Chicken Stir-Fr above with pre-cooked rice, which you simply heat in the microwave or on the stovetop. Since many pricier meal delivery services don't offer this option, Dinnerly once again comes out punching above its budget price class.
What Makes It Special?
While Dinnerly offers budget prices, it doesn't skimp on ingredients. You'll find fresh produce, high-quality meat, and even a few organic swap options on the menu.
Dinnerly and Marley Spoon are owned by the same company, so you'll find many Marley Spoon ingredients in Dinnerly kits. Dinnerly also lets you check meals on the Ingredient Hub, but since all meals are prepped in the same facility cross-contamination risks may make them unsuitable for people with serious allergies.
One way Dinnerly saves money is by avoiding wasteful plastic. While a lot of meal delivery services wrap each ingredient separately, Dinnerly sends all ingredients bundled together. And instead of paper recipe cards, Dinnerly keeps its recipes on its website so you'll need your computer or mobile device handy while cooking.
Is It Good Value?
These cost-cutting Dinnerly measures also help save the environment, which is well worth the minor inconvenience of sorting out ingredients for yourself. Though I do wish that Dinnerly's website offered pictures with its recipes, which are otherwise very easy to follow. I find images are very helpful in guiding me through cooking unfamiliar recipes.
Dinnerly offers 3 to 6 meals serving 2 or 4 people every week, with a tick box on the sign-up page to easily make your box vegetarian. Prices start at $2.12 per serving.
Key Features
Organic, minimally processed meals
12-15 meals per meal plan
Menus for Keto, Paleo, and Plant-Based diets
Eat Clean to Go helps you maintain a healthy lifestyle in bustling Houston. Its menu offers a convenient, varied, and nutritious selection of meals for fitness-focused individuals with busy schedules.
What's on the Menu?
You can choose between a number of cuisines including Indian, Latin American, Hawaiian, Chinese, along with classic American recipes. Eat Clean to Go meals are relatively basic, with a focus on clean proteins and organic vegetables. They are suitable for picky eaters yet provide enough variety to keep you from getting bored.
Eat Clean to Go offers 4 menu plans:
Keto

Paleo

Plant-Based

Traditional
Eat Clean to Go's Paleo and Keto plans are grain-free, and the Paleo and Plant-Based plans are also dairy-free. Eat Clean to Go does not recommend its meals to people with allergies or sensitivities so if you have serious gluten intolerance you may want to check out our list of the best gluten-free meal delivery services.
What Makes It Special?
While you can't customize individual meals or order outside your meal plan, you can choose any meal on your menu. You can also order larger portions for an additional fee if you are trying to bulk up. (Eat Clean to Go recommends you pick your menu early, as its most popular dishes sometimes sell out).
Most meals are between 250 and 500 calories. (The General Tso Chicken pictured above has just 359). Large portion orders will have more calories, but Eat Clean to Go is still a good choice for those trying to lose weight. You may also be interested in our list of the best weight loss meal delivery services.
Is It Good Value?
Whichever menu you choose, your meals arrive fully prepared. All you have to do is heat them in the microwave and in a few minutes they are ready to eat. There's no chopping vegetables or cleaning dishes, and no calculating macros since each Eat Clean to Go meal has protein, carb, and calorie info displayed prominently.
You can order between 6 and 14 single-serving Eat Clean to Go meals per week. Prices start at $8.60 per serving.
Quick Comparison Table