Short on time? Here Are the Best Meal Delivery Services in Los Angeles
The Best Meal Delivery Services in LA Reviewed
Factor's menu has a wide range of special diet plans, including keto, low-carb, low-calorie, vegetarian, vegan, flexitarian, and high-protein meals. Each recipe is designed by a team of dietitians to ensure it supports a healthy lifestyle and that it has the right amount of calories and macronutrients.
I think Factor is one of the most convenient meal delivery services out there since the meals arrive at your door ready-made. Plus, the food isn't frozen for transit and will stay fresh for a full 7 days in the fridge, so you won't need to waste any time defrosting meals before heating.
The recipes are mostly American and Mexican cuisine, but there are a few more exotic options each week. Still, for a service focused on dieting, the meals are appealing. You'll find entrees like the Keto Poblano Bowl with Roasted Broccoli "Rice" and Scallion Sour Cream or Sweet Mustard Glazed Chicken with Browned Butter Mashed Potatoes and Leek Cream Green Beans.
Plus, you can top things off with a few items from Factor's extensive add-ons menu. Here, you'll find smoothies, juices, snacks, and healthy desserts. Overall, Factor offers a selection of high-quality tasty meals. For more details, check our expert's review on Factor's offerings.
Fitness-focused Angelenos will love the free 20-minute consultation with a dietitian. If you feel stuck in your progress or don't know which diet works best for your needs, they'll be able to help you out.
I think Factor is a great fit for LA singles and couples who follow different diets (the meals are single-serving), especially those who don't have time to cook and want restaurant-worthy, healthy meals that fit their diet.
You can order between 6 to 18 single-serving meals, and you can mix and match between plans. The price per serving ($6.19) isn't too steep for the convenience you get, especially if you place a larger order.
Key Features
Certified organic and environmentally friendly


40+ recipes available each week

Dietary options include keto, vegan, and gluten-free

Current deal: Get $250 off + free shipping
Green Chef's meal kits make it possible to enjoy high-quality, organic meals at home. The quality of the ingredients matches what you'd find at a nice farmers' market, making Green Chef perfect for LA residents who want the finest ingredients but don't have time to scour local markets and butcher shops.
The menu includes several different meal plans (Keto, Calorie Smart, Mediterranean, Gluten-Free, Protein-Packed, Plant-Based, Quick & Easy, and Delicious Discoveries), but you can mix and match if you don't follow a specific diet.
Also, the menu rotates weekly, so you'll never get bored. To learn more about the menu and cooking methods, check out our expert reviewer's experience cooking Green Chef at home.
Besides quality ingredients, the meal kits include premade sauces and spice blends, so even the more complicated-sounding recipes, like Za'atar-Spiced Pork Chops, are easy to make. Plus, the recipe cards include both text and pictures, and the step-by-step instructions are easy to follow.
Some meal kits can be made in as little as 20 or 25 minutes on those busier nights. Plus, you can spice things up by ordering from the Add-ons menu, where you'll find plenty of breakfast and snack options that only take 5 minutes or less.
Green Chef tries to reduce its carbon footprint and use recyclable packaging materials. However, most ingredients, spices, and sauces are wrapped in plastic, which balances out the positives of using curb recycling insulation liners and cardboard boxes.
The best value at Green Chef is $9.99 per serving, and to get this, you have to order 4 servings for 4 or 6 people per week. But if you don't have that many people to feed, the minimum order is 2 servings for 2 people each week.
HelloFresh is the biggest meal kit delivery service in the business. It has maintained this position by offering stellar customer service and meal kits for people of all culinary skills. The menu includes many family-friendly dishes that are ready in around 20 minutes, like the Gouda Vibes Burger, as well as Quick & Easy recipes for busy nights.
You can now customize your meals with the HelloCustom feature. With HelloCustom, you can change, swap, or upgrade 12+ sides and proteins each week. Overall, I like the big menu, but I find it lacks diversity sometimes. Around half of the dishes are inspired by North American cuisine, and the other half are mostly Asian and Mediterranean dishes.
This service suits small LA families and couples who are happy with simple recipes that are easy to turn into a tasty midweek dinner. There's an entire meal plan dedicated to families (the Family Friendly plan), where you'll find lots of kid-approved recipes designed for picky eaters.
HelloFresh doesn't use many organic ingredients in an effort to keep the price down. However, this doesn't mean the ingredients aren't high-quality or responsibly sourced, as my colleague discovered in their tried-and-tested review.
HelloFresh aims to reduce food waste and minimize its carbon footprint. For this, the service uses sustainable packaging and recyclable materials. Also, the ingredients are neatly organized in the box, so it's easy to store them in the fridge.
The good news is that you can choose up to 6 weekly recipes for 2 or 4 people, so if you have a big family to feed, HelloFresh is a great option. Plus, if you order big, your price per serving will go down (up to $3.32 per serving), which makes it a great value service for families who want regular meals.
Key Features
Easy-to-prepare meal kits

25+ recipes on the menu per week

Dietary options include carb-conscious and calorie-conscious
Home Chef's Customize It option makes it easy to change your recipes to fit your taste. With this feature, you can replace the chicken thighs in the Cajun Chicken Thigh Cornbread Pie (pictured above) with ground beef or ground turkey. My colleague tried Home Chef and found it one of the most versatile meal delivery services out there.
The menu is varied, and you'll find something to suit every skill level and every kitchen. Unlike HelloFresh, Home Chef offers a range of meal kit styles, from classic 30-minute kits to oven-ready kits and prepared meals, too. Keep in mind that prices vary depending on which dishes you pick and what customization options you choose.
There's also an add-on menu where you can buy extras, such as Quiche Lorraine, Banana Nut Sliced Bread, or Breakfast Skillet with Sausage Crunch Rolls. And, if you need something sweet, Home Chef has several home-cooked desserts for you.
Home Chef may not be the best choice for those on specialized diets like keto or paleo, or those with severe allergies – since the menu doesn't differentiate between dietary needs. However, each recipe has detailed nutritional facts and an ingredient list, so if you don't mind doing the legwork, you can search through to find dishes that might suit you.
I like that Home Chef is serious about reducing packaging waste as much as possible. While there are some plastic bags, containers, and wrappers (most ingredients arrived packed individually), the rest of the packaging materials are recyclable. The cardboard box, the ice packs (reusable), the liner, and other paper or cardboard packaging are all recyclable or reusable.
Lastly, Home Chef is one of the most flexible services when it comes to order size. You can order for 2, 4, and 6 people, and you can choose between 2 to 6 recipes per person. Meals are priced individually and start from $7.99.
Key Features
Home Chef's line of easy-prep meals

20+ easy-prep meals per week

Dietary options include carb-conscious and calorie-conscious

Fresh and Easy meals are Home Chef's easiest recipes and come proportioned, chopped, and ready to cook. This is quite a convenient way of enjoying your Home Chef meals, and as our reviewer found – "you'll save loads of time and hassle!".
While Fresh and Easy's meal kits are easy to prepare, they're not lacking in taste. The Spicy Gochujang Honey Shrimp pictured above is a delicious Chinese supper that's ready in 15-20 minutes – faster than takeout! Some meals even come with their own oven-safe tray, so you have nothing left to do besides pop the food in the oven.
Even though you're ordering from Fresh and Easy, you can still use the Customize It tool available for Home Chef's menu. With this tool, you can swap the protein in your meals and personalize each recipe. Keep in mind that not all recipes allow you to use this tool – the availability of swaps is clearly flagged on the menu.
Fresh and Easy also lets you avoid certain ingredients from a predefined list. You can't remove them from a dish, but it will filter the menu, so you see the most relevant meals. Still, its meal kits aren't processed in an allergen-free facility – those with severe allergies will be better off with a service like Green Chef.
Fresh and Easy makes home cooking as easy as it can be. It even has salads on the menu and a couple of extras, such as prepared desserts, bread, and protein bundles. And if you ever feel like cooking something more complicated, the Fresh and Easy plan lets you order regular Home Chef meal kits as well.
Fresh and Easy use the same packaging as Home Chef, so most materials are recyclable. The only difference is that you'll probably have more oven-proof trays or plastic containers in your boxes (since many items are ready-made for your convenience).
Just like Home Chef, Fresh and Easy allows you to order for 2, 4, and 6 people. The minimum order is for 2 meals per person, and the maximum is 6. The price is also similar, starting at $7.99.
Key Features
Choose from meal kits and prepared meals

19+ meals per week, plus add-ons

Dietary options include vegetarian, diabetes-friendly, and low-calorie
Blue Apron offers a varied menu with international cuisines, without being too pricey. As a well-rounded meal kit delivery service, you'll get all the joys of cooking and none of the pains of shopping.
The menu includes lots of gourmet recipes like Basil-Pesto Gnocchi or Miso Butter and Panko-Crusted Cod, which is why it fits the LA culinary scene so well. However, with Blue Apron, you skip the fancy restaurant and learn how to cook the recipe at home. Even our expert reviewer was impressed by the quality and variety of Blue Apron's menu.
Blue Apron provides all the ingredients you need to prepare great-tasting meals. And, if you're not the kind of person to go to fancy restaurants or gourmet shops, Blue Apron expands your culinary horizons without breaking your budget.
Blue Apron has some options for vegetarians, and the overall menu includes wellness and health-conscious meals. In most cases, it takes around 40 minutes to prepare a meal.

There's also an a la carte menu, where you can buy ready-made meals, meal kits, spices, and kitchen tools. The prepared meals are only available as a 4 single-serve bundle, and you can store them in the fridge for up to 5 days.
Blue Apron also offers gourmet pre-defined menus for special occasions that'll feed 4 to 6 guests. However, there aren't many options, and you can't customize the menu. But if you ever lack inspiration and want to impress guests at a dinner party, this will definitely help.
With regular orders, you can feed 2 or 4 people between 2 and 5 meals each week. The Signature meal plan is available in 2-serving meals and 4-serving meals to make it a bit easier.
The 5-serving meal plan brings the best bang for your buck, with prices starting at $5.74 per serving. However, if you don't add any extras to your order, the 2-serving meal plans are also pretty affordable.
Key Features
Special weight loss meal plans for men and women

150 meals per week, plus snacks

7 dietary options, including heart-healthy, gluten-free, and diabetes-friendly
BistroMD offers prepared foods for weight loss and people with specific dietary needs. Designed by a physician, all the meals are nutritionally balanced, and you have easy access to all the nutritional facts and ingredients.
Each program is carefully crafted to fit the health regulations established by experts. For instance, the meals on the Heart Healthy program respect the US Dietary Guidelines for sodium, while the Diabetic-Friendly menu only includes recipes designed for diabetics and pre-diabetics. My colleague lists all the plans in their in-depth BistroMD review.
I like that you can cover every meal of the day, including breakfast, lunch, and dinner. And, BistroMD encourages snacking! Well, the snacking only happens with the BistroMD EATS program (Essential and Tasty Snacks), where you can have 2 or 3 snacks each day, as long as it's the snacks that come in the box.
The EATS are small treats loaded with nutrients to help you keep cravings under control and avoid unhealthy food decisions. You can also add a few extras, such as non-starchy vegetables, a serving of fruit per day, or 8oz of low-fat milk.
BistroMD flash freezes its meals. This makes it safer to transport and extends the shelf-life of the food to up to one year (if kept in the freezer).
The meal plans are available for 5 or 7 days, and you can order the Full Program meal plan or the Lunches & Dinners meal plan. To each of these, you can add extras, and the 7-day Full Program comes with an extra dinner that's just about your preferences.
BistroMD is a bit pricey, even when placing a large order ($8.24 per serving), but considering that the menus are designed by registered dietitians and you won't have to think about cooking, you might find it well worth it for the results.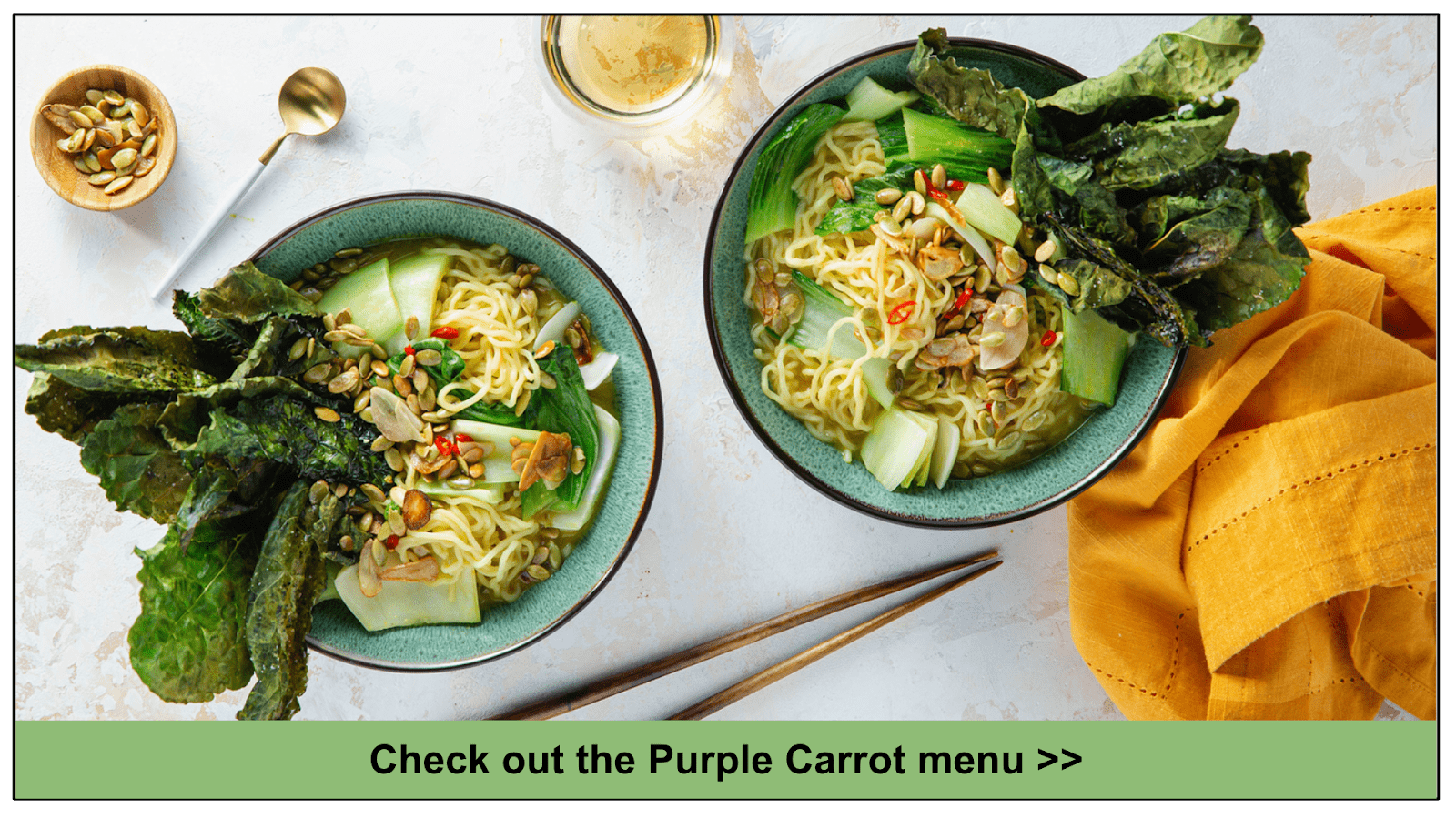 Key Features
Purely plant-based

16+ unique weekly recipes (meal kits and prepared)

Dietary options include gluten-free, nut-free, and high protein
Purple Carrot is a fully vegan meal delivery service. If you're among Los Angeles's many vegans and vegetarians, you'll be pleased to hear that Purple Carrot is one of the most affordable plant-based meal delivery services on the market.
It's also a great choice for non-vegans who want to add more plants to their diet. Our expert reviewer tried Purple Carrot and raved about the food, saying it was "guaranteed to please even the fussiest of omnivores.". That's because Purple Carrot puts a plant-based spin on classic meals, which results in original and tasty recipes, such as Mac n' Cheese, Cauliflower Shawarma, or the Quinoa Burrito Bowl.
You can choose between meal kits and prepared meals. You'll have to pick one plan or the other when you sign-up but you can edit later orders to mix and match. The menu changes every week, and the recipes are varied enough to keep you interested. And, if you want to add even more plants to your diet, check out Purple Carrot's vegan breakfast, lunch, and snack offerings (all available on the meal kits menu).
The meal kits take around 30 to 40 minutes of prep time. But, if you're in a hurry, there are "Less Prep" options that only take about 20 minutes. On the other hand, vegans who lack culinary skills (or kitchen space!) will love the heat-and-eat entrees available on the Prepared Meals menu.
The prepared meals only need 2 minutes in the microwave, and you don't even have to remove the food from its tray. This way, there's not much to clean up after your meal.
I was disappointed with Purple Carrot's packaging materials. Given that Purple Carrot is all about plants, I hoped the service would use some more eco-friendly practices. But many ingredients arrive individually wrapped in plastic, and there are lots of plastic containers and bottles. Some can be recycled, and most can be reused, but things can pile up if you're subscribed to the service for a long time.
Prices and order size vary depending on which type of meal you go for. For meal kits, you can order 3 or 4 meals per week for 2 or 4 people. Prices start at $8.50 per serving for the maximum order. For ready-made meals, the price per serving is fixed, and you can order between 6, 8, or 10 single-serving meals per week.
Key Features
Add extras, such as dessert, breakfast, and protein platters

100+ meal kits to choose from per week

Dietary options include vegetarian, vegan, low-cal, and low-carb
The much-loved homemaking guru behind Marley Spoon curates the recipes and offers her flavorful signature sauces and spice blends, but Marley Spoon has more to offer beyond its affiliation with Martha Stewart.
Marley Spoon is not just about fancy foods – its large menu has many family-friendly entrees for picky eaters, too. Our reviewer said that Marley Spoon is "one of the best all-rounder meal delivery services out there right now", and I fully agree.
Each recipe has detailed information on nutrition facts and allergens, as well as the type of tools you'll need to cook it. Also, each step is explained with text and photos, and no recipe takes more than 6 steps!
It scores points with me for its environmentally friendly approach to meal delivery. The service uses sustainably sourced packaging as part of its plan to achieve total carbon neutrality. So, even though there will still be some plastic, most of the packaging materials are recyclable or reusable.
Marley Spoon also uses locally-sourced ingredients whenever possible to make sure all the ingredients are at their peak taste and nutritional growth.
Marley Spoon is great for couples and families as you can order 2 to 6 meals every week for 2 or 4 people, However, as a couple, you'll pay more per serving than a family of 4 ordering 6 servings each would ($2.99 per serving).
Key Features
100% gluten-free meals

25+ unique recipes each week

Dietary options include Whole30, paleo, keto, and vegan/vegetarian
Trifecta is a weight loss program that delivers prepared meals. It takes your goals into account and helps you create a personalized plan. For this, you first have to answer a few lifestyle questions and specify your goal weight when you first create your account.
Your meal plan will be designed for you by a professional chef, so all you have to do is select the diet that best suits your needs. You can opt for the Chef's selection or pick your own meals. You also have the option to exclude certain ingredients, choose the number of entrées, and decide if you want to add breakfast. Our expert reviewer goes into more detail on Trifecta's plans.
The Trifecta app is free to use with a subscription and helps you track your diet. In the app, you'll have access to exercises, tips and tricks from trainers, and advice from nutritionists. You can also connect with the Trifecta community and use the app to track your daily calorie and macro intake to make sure you're eating right for your goals.
You can order between 7 and 21 single-serving meals per week. To place an order, you have to decide on the number of entrées (5, 7, 10, or 14), whether or not you want breakfast (5 or 7 breakfasts per order), and choose the diet you want to follow.
The price varies according to the type of diet you chose and the number of meals, but you do get a better deal for larger orders (starting at $6.00 per serving). Also, the Plant Based meal plan is a bit cheaper since it doesn't include meat.
Dinnerly stands out as a budget-friendly option with a huge weekly menu of over 100 meal kits. It's one of the largest weekly menus I've seen, especially when you consider its cheap price tag. The ability to customize most of the recipes gives you even more choices each week.
Dinnerly is great for families with young children. It offers a wide range of kid-friendly meals that ensure your little ones are well-catered to, appeasing even the pickiest of eaters. These meals combine nutritional balance with familiar tastes, so there's something for everyone.
It's easy to browse the menu thanks to the handy tags. Dinnerly caters to various needs, including vegetarian, dairy-free, and low-calorie choices. However, it may not be the best fit for those adhering to stricter diets like keto or paleo. Its primary focus is on delivering affordable, tasty meals rather than catering to specific dietary restrictions.
Despite being the cheapest service on my list, it doesn't compromise on quality or taste. Instead, Dinnerly keeps costs down by featuring pared-back dishes. Each recipe is broken down into just 5 steps, making the cooking process manageable even for cooking novices, although our reviewer noted that the lack of pictures makes things a bit harder.
The affordability of Dinnerly comes with a trade-off, though. You'll only receive digital recipe cards, and with limited ingredients, the flavors can be a bit basic. This might not be your first choice if you're seeking a gourmet experience (I'd try Green Chef, instead), but if you're after wholesome, uncomplicated meals that are easy on the wallet, Dinnerly fits the bill.
Most of Dinnerly's meal kits take around 30 minutes to prepare. It even has a special "under 30 minutes" tab for those pressed for time. It doesn't have a whole low-prep range like Fresh and Easy, but you'll find some "no chop" and easy clean-up meals to simplify your cooking routine even further.
Dinnerly now offers a Market for add-ons. Here, you can buy extras like ready-to-heat meals, desserts, and breakfasts to complement your weekly meal kits. This is great when you want the occasional prepared meal – and can cut down on extra trips to the grocery store.
Dinnerly's pricing is a game-changer, starting at just $2.12 per serving when you order the maximum number of meals (this includes our current coupon code). In an expensive city like Los Angeles, it's a great choice for budget-conscious couples and families.