Short on Time? Here Are the Best Meal Delivery Services in Miami
Factor earns the top spot on my list due to its fantastic flavors and convenience. While microwavable meals can be hit or miss, Factor demonstrates that you can indeed savor restaurant-quality dishes in just minutes.
Your meals will always arrive fresh and never frozen, setting Factor apart from most other prepared meal delivery services. It recommends consuming the meals fresh, but you can easily refrigerate or freeze meals in the trays they arrive in to extend their shelf life. My colleague tested Factor's service and meals and said if "healthy, prepared dinners are your goal – then Factor is up there with some of the best".
Catering to various dietary needs, Factor also offers 6 meal plans. Plans include Chef's Choice, Keto, Calorie Smart, Vegan & Veggie, Flexitarian, and Protein Plus. The balanced Chef's Choice plan suits the hectic lifestyles of busy Miamians, and their keto menu stands out with around 15 high-protein, moderate-fat, low-carb options each week.
Factor includes vegan and vegetarian dishes in its menu, with about 5 options available each week. Add-ons include juices, smoothies, and snacks. These are a convenient way to incorporate meat-free days into your meal plan and for nutrition on-the-go.
The colored labels beneath the pictures of the dishes will guide your selection. Protein Plus, Keto, Vegetarian, and Calorie Smart are some of these. Also, check out meals tagged as Top-Rated, Gourmet Plus, or New. These options offer a more upscale culinary experience but may come with an additional charge.
Factor prides itself on using high-quality ingredients from humane, sustainable sources for its produce and proteins. While it's not an organic service (and lacks detailed information about ingredient sourcing), you'll still find high-quality meals that taste great.
You can see a complete list of ingredients for each recipe on the website. It also notes which common allergens might be present in the dish and which cross-contaminations might have happened during meal prep. Note that no customization is available for any meal as they all come fully prepared.
Your Factor subscription includes a complimentary 20-minute nutrition coaching session with an in-house dietitian. This feature makes it an ideal choice for those looking to lose weight, boost fitness levels, or revamp their eating habits. What's unique about Factor's free consultation is that you can take it before you subscribe, which allows you to determine more certainly whether Factor meals optimize your diet and fitness lifestyle.
Factor's meal pricing starts at $6.19 per serving, but costs increase for smaller orders. With a minimum order of 6 single-serving meals per week and the option to purchase up to 18, it's perfect for stocking up your fridge.
Key Features
Conveniently prepped ingredients and marinades

45+ recipes each week


8 dietary options include keto, gluten free, plant-based, and more


Current deal: Get $250 off + free shipping
Green Chef's primary appeal lies in its organic ingredients and its ability to cater to various dietary needs. Green Chef is the first primarily organic meal delivery service and uses only USDA-certified and CCOF-certified organic produce in its recipes. This means all produce is hormone and antibiotic-free.
Each week, the menu features over 45 recipes and 8 plans, including Keto, Gluten-Free, Calorie Smart, Plant Based, Protein-Packed, Quick & Easy, Mediterranean, and Delicious Discoveries.
Each recipe on the weekly menu is labeled according to which diet plan it's part of. For example, the Creamy Ancho Turkey Soup with cabbage, roasted peppers, tomato, cotija, and toasted pepitas (pictured above) is part of the Keto and Gluten-Free menus.
Meal plans are flexible in that you can mix and match meals from any plan, meaning you have continuous access to the complete menu. Personally, I enjoy incorporating mostly Mediterranean meals into my diet, but I also like to eat Keto meals. So, I appreciate the opportunity to order a meal like the Salmon With Creamy Dill Sauce kale salad with tomato, cabbage, olives, and dates that's on the Keto and Mediterranean menus.
To simplify the cooking process, Green Chef preps meal kits with ready-made sauces and spice blends, and certain vegetables arrive washed and chopped. This reduces your time spent in the kitchen. However, you won't find any pre-cooked meals here. For that, consider Factor as an alternative.
The service also provides a variety of add-ons to enhance your weekly delivery. Like the main menu, the selection varies from week to week, but you can generally expect a nice assortment of proteins, breakfast items, and side dishes for an additional fee, including vibrant salads, sandwiches, and oatmeal.
These premium ingredients come with a heftier price tag, but I believe it's a worthwhile investment for those who prioritize eating organic as their version of healthy. When a colleague of mine sampled Green Chef at home, they discovered that the top-notch ingredients resulted in more flavorful meals.
Green Chef meals generally stay good for around 5 days. But seafood remains fresh for 3 days at most, so eat these meals first. If you prefer to keep some recipes for later use, pop them in the freezer before their expiration date.
Order big to save per dish. Prices start at $9.99 per serving if you order 4 meals for 6 people per week. The ability to order for groups of 6 makes this an excellent option for larger families, provided you can manage the expense. The minimum order size consists of 3 meals for 2 people.
Key Features
Family-friendly meals made with farm-fresh ingredients

60+ recipes and tons of market items every week

Dietary options include vegetarian, pescatarian, and low-calorie

Current deal: Free Breakfast For Life + 16 Free Meals
HelloFresh stands out as a fantastic family-oriented menu, providing top-notch, fresh ingredients at an attractive price point. You can select from over 60 recipes each week, which include a blend of Hall of Fame favorites and internationally-inspired meals.
It offers 6 versatile meal plans. These are Meat & Veggies, Veggie, Family-Friendly, Fit & Wholesome (under 25-minute prep and calorie-conscious meals), Quick & Easy (recipes under 25 minutes), and Pescatarian. While HelloFresh initially chooses your recipes based on your selected plan, you have the freedom to swap recipes and mix and match between plans.

Every HelloFresh meal kit includes clearly labeled recipe cards in your box that are a breeze to follow, even for novices. It didn't astonish me that our expert reviewer, after trying it out, stated "the recipes were well structured and yielded incredibly delicious meals.".
The cuisine primarily features American and Mediterranean inspiration, with a touch of Asian influence. Take, for instance, the Japanese-inspired Sweet Heat Shrimp Tempura Bowls with Sesame-Roasted Broccoli and Quick Pickles (pictured above) – it showcases a fusion of Japanese elements with its sesame, tempura, seafood, and rice combination.
HelloFresh's HelloCustom feature offers excellent customization options, expanding the variety of dishes available. This feature enables you to swap or remove proteins in some entrees. It's worth noting that customization comes with a cost of $0.99 – $3.49 per serving, depending on the proteins you exchange.
Ingredient availability affects swapping possibilities, so in 1 week you might be able to exchange salmon for beef in a particular recipe, but the next week you might not have that option for the the same dish.
Don't freeze the meals since the company advises against that. Also, plan to consume food within 5 days from delivery.
Moreover, you can stock up on essential groceries from the HelloFresh Market, including produce, spices, and desserts. If you're new to meal delivery services, HelloFresh is an excellent starting point.
One drawback of using HelloFresh is the lack of diet filters on the main menu. You need to manually browse the menu and recipe cards to determine which recipes best suit your needs. This can be time-consuming if you have specific dietary restrictions or need to avoid certain ingredients.
Check HelloFresh's on-site cookbook, which contains over 2,500 dishes, if you're looking for cooking inspiration. You'll find meals grouped by Dishes, like Meatball Recipes and Soup Recipes, and World Cuisines, including French Recipes and Cuban Recipes.
HelloFresh allows you to order between 2 and 6 recipes per week for either 2 or 4 people across all meal plans. Prices per serving begin at $3.32.
Key Features
Customize It feature lets you swap or double-up on protein

Dozens of meal kits and easy prep meals each week, plus add-ons

Dietary options include carb- and calorie-conscious and vegetarian
Home Chef's vast customization options truly set it apart. The already impressive weekly menu of over 30 meals expands even further when considering the numerous additional protein choices available. Be aware, though, that protein substitutions typically come with an extra cost.
You can customize recipes that have a Customize It button on the recipe card, whether that means upgrading from chicken to steak or replacing pork with shrimp. For example, Customize It protein swap options in the Argentinian-Style Steak Flautas include chicken breasts, ground beef, or ground pork. Interestingly, there's no option to modify side dishes, unlike what you'd find with HelloFresh.
My colleague tested Home Chef and described their experience as "practically flawless," praising the meal quality and the added bonus of leftovers. You can check out their review of Home Chef's complete service for the details.
Another advantage of Home Chef is its variety of cooking and prep choices. These range from standard meal kits to more elaborate Culinary Collection meals, which come at a higher price due to the premium ingredients utilized.
For those who prefer simplicity, Home Chef also offers quick, 15-minute meal kits and oven-ready selections that merely require assembly in the provided pan. In fact, Home Chef has an entire sub-menu called Fresh and Easy dedicated to low-effort recipes, which has earned its own spot on my list.
Home Chef lets you filter the menu to suit your needs. You can shortlist options by < 30min, Carb-conscious, Calorie-conscious, and Vegetarian filters. While creating your meal plan, you can opt for the Keto-Friendly option, too. But there aren't any other accommodations, like gluten-free or dairy-free. To make recipes vegan-friendly, you can easily substitute ingredients at home.

And the extras menu is extensive enough for you to create your own meals. Imagine a Breakfast Frittata with cheese, sausage, and bacon, with a Mediterranean Crunch salad and La Colombe Mocha Latte for breakfast.
Home Chef makes a great choice for people with food intolerances. With it, you can exclude up to 9 common allergens while tailoring your meal plan. To do that, click on Pick Your Meals, and in Step 3, you can omit mushrooms, sesame, tree nuts, peanuts, poultry, pork, beef, fish, and shellfish from your meal plan.
Eat ground meat, poultry, and seafood first since they have a shelf life of 2 days post-delivery. Other refrigerated ingredients usually last around 5 days. If you want to store food for later, freeze them before their end date.
You can order between 2 and 6 meals per week for 2, 4, or 6 people. And the starting price is $7.99 per serving. Additionally, for an extra fee, you can include extras in your box, such as snacks, salads, soups, and more.
Key Features
Home Chef's line of easy-prep meals

20+ dishes to choose from each week

Dietary options include calorie-conscious, carb-conscious, and vegetarian
Fresh and Easy is owned by Home Chef but only offers easy-prep meals, perfect for those with hectic schedules. Although its menu isn't as extensive as its parent company's, the meal kits maintain the same high-quality ingredients and flavor profiles.
Fresh and Easy is a more convenient service, as all meals are ready in under 30 minutes. Its menu consists of low-prep meals with portioned, chopped, diced, ground, and nearly ready-to-cook ingredients. You may even get pre-washed ingredients occasionally.
The available options include microwaveable meals and oven-ready or grill-ready dishes. You'll receive oven-ready meals in oven-safe trays, while grill-ready food comes in grill-safe bags. That way, Fresh and Easy reduces prep and cleanup times.
Beyond the main courses, you can supplement your order with some fully prepared menu options like salads and breads. If you'd like more information about ordering, my colleague wrote an extensive review of Fresh and Easy.
I appreciate that the Customize It feature by Home Chef is still available and that you can find a lot of the same easy prep recipes as you can find on the Home Chef menu. For example, the Crispy Chicken and Black Garlic Crema with Rockefeller Mashed Potatoes (pictured above) includes options to swap the chicken for boneless pork chops or antibiotic-free boneless skinless chicken breasts.
Like Home Chef, Fresh and Easy offers veggie, calorie- and carb-conscious meals, with most recipes drawing from American cuisine. However, you'll also encounter occasional dishes like Greek Zucchini Tostadas and Spicy Plantain Black Bean Tacos. When placing your order, you can opt to exclude specific ingredients, such as sesame seeds, shellfish, beef, and so forth.
It's important to note that Fresh and Easy doesn't prepare food in a certified allergen-free facility. As a result, even though ingredients are individually packaged, there remains a risk of cross-contamination. Those with allergies should carefully review each recipe's ingredient list.
Fresh and Easy isn't the most environmentally friendly service in terms of recyclability. I appreciate that all ingredients are carefully packaged to protect delicate items like herbs from being damaged in transit. However, the amount of plastic used is somewhat excessive. On a positive note, I do like how oven-ready meals come in oven-safe aluminum pans.
As with Home Chef, you can order between 2 and 6 recipes, with up to 6 servings per week. Prices start at $7.99 per serving, and meals are individually priced.
Key Features
Dietitian-designed meals and dietary support

150+ recipes across 7 plans

7 dietary options including diabetic-friendly and menopause-friendly
The convenience of BistroMD's prepared meals is hard to overlook. Delivering low-calorie, fully prepared, microwave-ready breakfasts, lunches, and dinners to your door, this service simplifies tracking your food, losing weight, and managing specific health conditions.
BistroMD was founded by Dr. Cederquist, a bariatric physician who specializes in helping people lose weight. She created the service to give her patients more accessible, well-balanced, and nutritious meals. Dr. Cederquist collaborates with a team of registered dietitians and weight loss professionals to ensure BistroMD's recipes promote healthy weight loss.
You might notice weight loss just a few days into your new diet plan with this service. Some users have reported shedding pounds in under 10 days. Unlike some low-calorie services that get flak for bland meals, I've read accounts of people who subscribed to BistroMD that its recipes are tasty and satisfying.
You'll find 7 plans available, each designed for 1200-1600 calorie-per-day diets. These plans include Signature, Gluten-Free, Heart-Healthy, Diabetic, Menopause-Friendly, Vegan, and Keto-Flex. For example, the Tilapia with Orange Parsley Sauce (pictured above) has only 320 calories and is part of the Keto-Flex menu.
Additionally, you'll get access to BistroMD's registered dietitians and fitness experts after signing up. These professionals can help you optimize your BistroMD diet plan and fitness journey.
Each serving contains approximately 300-450 kcal, helping you stay on track with portion and macronutrient counts. Meals are prepared with fresh ingredients, which are then flash-frozen to preserve nutrients. Once delivered, just microwave and enjoy. If you like fresh, ready-to-eat meals better, I recommend checking out Factor.
One downside to BistroMD's service is the lack of customization options. Meals are designed to meet specific macronutrient counts based on your chosen plan and are meant to be consumed as is. While this isn't ideal if you want to avoid certain ingredients, it's convenient for those who prefer minimal meal planning and preparation.
You can choose to order 2 or 3 meals per day for 5 or 7 days per week, giving you the flexibility to select up to 20 meals a week for the ultimate diet-adherence convenience. If you wonder how 3 times 7 equals 20, the secret is My Night, which lets you eat anything you want guilt-free.
One reviewer was particularly impressed with BistroMD's dessert and snack options. For more information, check out the complete review of the BistroMD meal delivery service.
The price per meal varies depending on the number of dishes you buy. The maximum plan for 20 meals costs $8.24 per serving. Overall, BistroMD provides a convenient and personalized service for individuals looking to transition to a low-calorie diet. BistroMD even offers a 15% discount for couples if you and your partner want to diet together.
Key Features
Both meal kits and prepared meals available

28 entrees each week, including breakfast and lunch picks


Dietary options include high-protein, gluten-free, soy-free, and more
It can be very easy to fall into a routine of soy burgers and imitation "meats" when following a vegan diet. Thankfully, Purple Carrot simplifies the process of incorporating 3 plant-based meals per day with its meal kits and microwave-ready vegan meals.
The menu at Purple Carrot is modest in size, but it completely rotates every week. You can choose from a selection of breakfasts, lunches, and dinners, with the simpler-to-prepare recipes highlighted in the Less Prep menu.
The cuisine is international, showcasing flavors from Asia, Southeast Asia, the Mediterranean, and West Africa each week. For example, you'll find meal kit recipes like Japanese Gnocchi with Miso Tomato Butter and Bok Choy (pictured above), which is a mix of Japanese and Italian foods.
The food quality is exceptional, as it primarily consists of organic ingredients and avoids artificial flavors or preservatives to maintain freshness and enhance the taste. My colleague tried Purple Carrot at home and proclaimed it well-balanced enough for anyone who wants to learn how to turn veggies into delicious and satisfying meals.
Moreover, Purple Carrot recipes seldom rely on processed meat substitutes. Instead, vegetables take center stage in each recipe, acting as the primary source of flavor. For instance, the Sesame Orange Tofu with Roasted Green Beans and Sticky Rice highlights sesame seeds, orange, and green beans as the stars of this dish.
Out of the 28 recipes offered each week, 20 are meal kits and 8 are microwave-ready meals. These heat-and-eat dishes are ideal for busy plant-based vegan eaters who want to bring a meal to work for an easy prep, vegan-friendly lunch or dinner.

In addition to the meal kit and prepared meal menus, you'll find Purple Carrot's Plantry. The Plantry offers about 8 plant-based snacks and a few pantry staples like vegan cream cheeses, crackers, dressings, and healthy meat replacement alternatives like Pumfu Chorizo. While the main menu completely rotates each week, the Plantry menu doesn't rotate as frequently, so you might see the same Plantry items several weeks in a row.
It's great that you can combine meal kits and prepared meals. You can edit your menu after selecting either prepared meals or meal kits during the signup process. This gives you more flexibility in terms of cooking your meals or simply heating them up.

The cost per dish depends on the type of meals you select and their quantity. Purple Carrot's convenience comes at a premium, as prepared meals start at $13, regardless of how many meals you order each week. Prepared meals are single portions and can be ordered in bundles of 6, 8, or 10 meals per week.
The minimum order for meal kits is 3 recipes for 2 people, and the maximum is 3 meal kits for 4 people per week. For the maximum order, per serving prices are $8.50.
Key Features
The service has fresh and frozen meals

The company has plans for men and women

You can choose between 3 or 4 programs per plan
Nutrisystem is a top pick for partners aiming to slim down together. The meal delivery service has a Partner Plan that can help couples lose 20% more weight than going it alone, as stated on its website. Stick with this business, and you both could say goodbye to dozens of pounds.
Nutrisystem offers more than just the Partner Plan. It has Women's Plan, Men's Plan, Diabetes, Complete 55, and Under 50. Depending on your pick, you can further tailor your experience by selecting 1 from various programs like Basic, Max Vitality, Uniquely Yours, and Uniquely Yours Max.
Opting for 1 of the more expensive programs gives you various perks. For example, you may get savory and sweet snacks between meals or restaurant-style meals. Pricier programs also come with the NuMi app you can use to personalize your meal options. Check out our in-depth review to learn more about this app.
Whichever plan or program you pick, you'll benefit from effective hunger control. The team formulates satisfying meals that will keep you going for up to 5 hours straight. That's because Nutrisystem's meals are protein-rich besides being calorie-smart. While I researched the service, I found that many dishes feature around 30 grams of protein and between 150 and 400 calories.
Browse the service's menu by meal type – Breakfast, Lunch, Dinner, and Snacks. Each category features dishes designed to keep you full. For breakfast, think about waffles, oatmeal, and pancakes. Regarding lunch and dinner, expect options like soups, hamburgers, pizzas, sandwiches, and salads. Some snacks typically on the menu are bars, popcorn, and cookies.
Nutrisystem provides both fresh and frozen meal options. You'll find frozen dishes and snacks labeled as such, so you won't have difficulty distinguishing them. Plus, the service's food has a lengthy shelf life, usually ranging from 6 to 18 months. If you're into fresh ready-made meals only, I think that Factor would be a better fit for you.
You're free to mix and match Nutrisystem meals with your favorite groceries. Stick to its meals only during the first week to prepare your body for fat burning.
Expect delivery between 1 and 5 business days once you place an order. But note that you'll receive separate shipments if you order fresh and frozen dishes. Also, your frozen food should remain such for 4 to 6 hours post-delivery, in case you aren't home.
Nutrisystem is 1 of the most cost-effective meal delivery options out there. Your daily cost fluctuates based on the plan you pick, starting from $8.54. Regarding delivery, your membership level and the cost of the package determine the price of your order.
Key Features
Budget-friendly option with some customization options

100+ recipes per week

Recipe tags like low-carb, no added gluten, dairy-free, and under 30 minutes
As Miami's most affordable meal delivery service, Dinnerly offers incredible value for money. Remarkably, it provides an extensive menu of 100+ recipes per week, and despite the low prices, some proteins are sustainably-sourced and there's even some organic produce used.
Owned by Marley Spoon, you'll notice numerous similarities between the 2 in terms of recipe options, service features, and menu tags.

It's important to mention that Dinnerly's recipes usually consist of only a few ingredients. Most recipes use just 4-6 ingredients and can be prepared in 5 steps.
For vegetarians and pescatarians, Dinnerly offers a surprising dietary variety, with 10+ dishes marked vegetarian and 8-10 pescatarian dishes every week. Furthermore, the weekly menu includes 25+ "no added gluten" entrees – a rare find among budget-conscious meal delivery services.
Each meal from the service comes labeled with tags that spotlight its key traits. Some emphasize main ingredients, dietary choices, and estimated prep time, for example. While scrolling through the menu, you'll see tags like Under 30 Minutes, Climate Hero, Kid Friendly, and Poultry, to name a few.
Once you sign up, you can also order from Dinnerly's market. Market by Dinnerly provides a selection of pantry staples, sides, desserts, and proteins. You'll also find microwave-ready meals like Beef Bolognese and Truffle Butter Alfredo.
Keep an eye out for dishes marked as Customizable when browsing the menu. These let you swap out ingredients, like exchanging ground turkey for ground beef or opting for gluten-free pasta. Note that some substitutions could come with an extra charge, which can vary depending on the substitution.
Our reviewer observed minimal plastic and paper waste in Dinnerly's packaging relative to the typical meal delivery service. Dinnerly doesn't separate it's ingredients by recipe. It takes a few extra minutes to sort through the box, but this approach is cost-effective and eco-friendly.
To minimize waste even more, Dinnerly doesn't include paper recipe cards in your delivery. While having paper recipe cards is easy – saves you from scrolling through mobile screens or typing on keyboards with sticky fingers – you can view recipes online.
However, recipes also lack step-by-step images, which may be challenging for newer cooks. Personally, I value visual guidance while cooking. Green Chef excels in this area, offering detailed pictures of the cooking process in its online recipe cards.
The minimum order is 2 meals for 2 people each week, and the maximum order is 6 meals for 4 people each week. Prices per serving begin at $2.12 when you order the maximum number of meals.
Key Features
Easy to follow recipes with custom seasoning mixes

Several ready-made meals


2 dietary options including Vegetarian and Wellness
Blue Apron caters to individuals, couples, or small families by offering menus for 2 and 4 people. The majority of its dishes draw inspiration from Mediterranean cuisine, intertwined with classic American and Asian touches. To make your meals truly distinctive, they even feature bespoke seasoning blends. You'll find internationally-inspired dishes like the Oven-Baked Spanish Chorizo Rice with Peppers and Creamy Fig Sauce (pictured above).
Each week, the menu offers 16 meal kits tailored to 4 plans, including Wellness, Vegetarian, and Signature for 4. The Wellness plan features carb- and calorie-conscious recipes that have been nutritionist-approved, and the Signature for 4 features easy-prep meals that are great for families of 4.
Some recipes even have a customization option to swap proteins or Make it Vegetarian. For example, the Shrimp and Spicy Sesame Sauce Make it Vegetarian option allows you to swap the sustainably-sourced shrimp for 2 pasture-raised eggs. Each week, about 9 or 10 recipes on the Signature menu allow customizations.
You can add extras such as breakfasts, sides, and desserts to your weekly order. Think Smoked Gouda and Egg Biscuits with Red Peppers and Chives, and a Roasted Brussels Sprout Salad with Arugula and Creamy Feta Dressing.
Blue Apron has a small selection of microwave-ready Heat & Eat meals as well. These are single-serving meals best for those days when you just want the most convenient meal prep solution. You can purchase extra proteins, too, like shrimp, scallops, chorizo, chicken, and more. My colleague's in-depth review looks at the menu in greater detail.
The more meals you order, the lower the cost per dish will be. Blue Apron's meal kits start at $5.74 per serving when you order the maximum of 5 recipes for 4 people per week. The minimum order is 2 meals of 2 servings each per week. Overall, Blue Apron is an excellent option for those willing to spend about 30 minutes prepping ingredients for a home-cooked meal.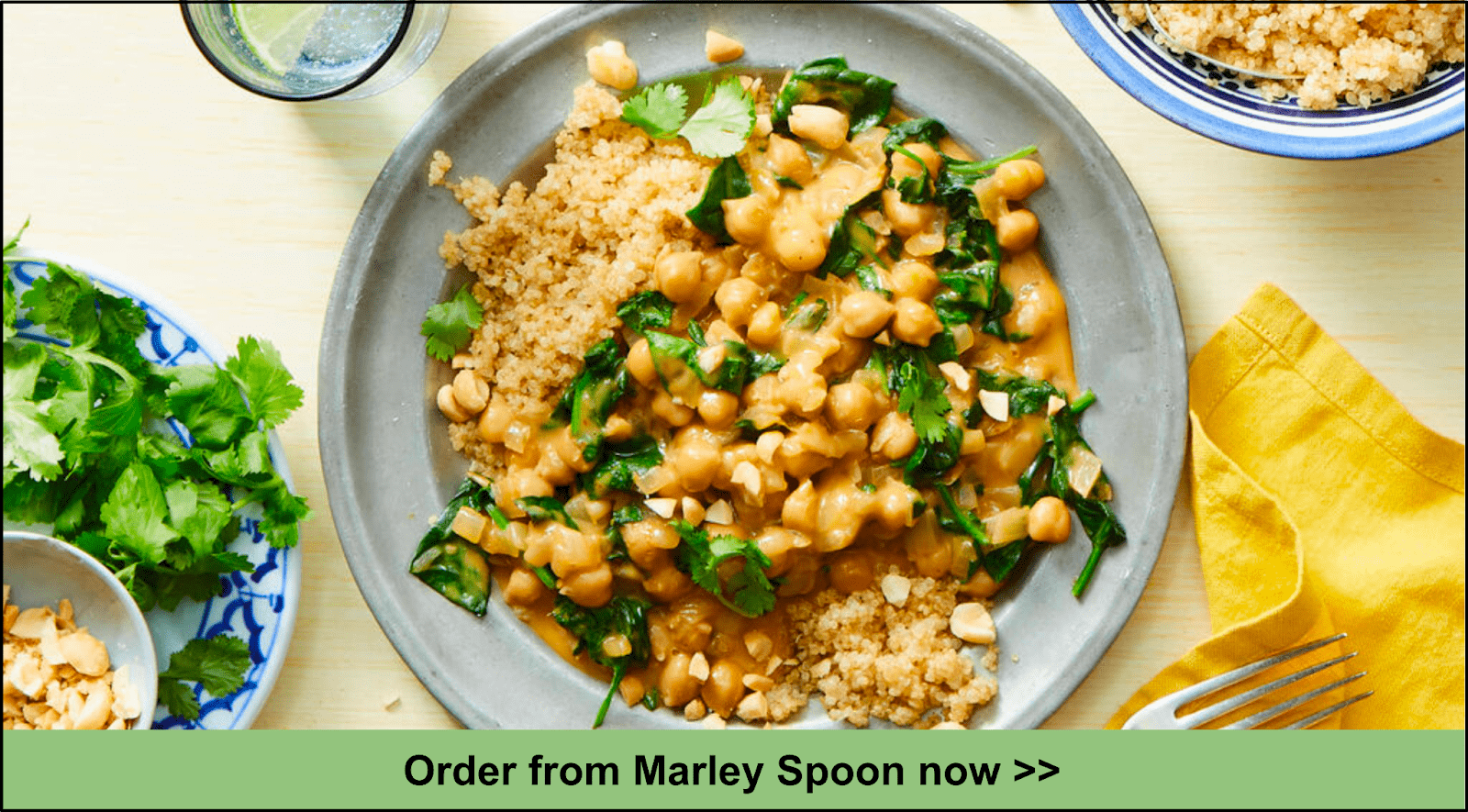 Key Features
Recipes curated by kitchen guru Martha Stewart

100+ dishes on the menu per week

Dietary options include vegetarian, vegan, gluten-free, and more
Marley Spoon sets itself apart with an extensive and varied 100+ recipe selection. You'll find something for everyone on this menu. The service caters to a wide range of dietary needs, offering recipes tagged as dairy-free, gluten-free, and low-calorie. However, you can't filter the menu by your diet or allergen – you'll have to scroll and scan.
The menu primarily features classic American comfort foods, but there's an abundance of internationally-inspired options for those seeking more adventurous flavors. You'll discover familiar favorites such as tacos and pasta dishes, as well as more globally-inspired recipes like the Thai Red Curry (pictured above). This makes it perfect for families with picky eaters or anyone who likes to mix up their weekly cuisine.
Marley Spoon aims to be affordable, so there are no diet-specific plans available. This menu is best suited for individuals who don't follow a vegan, keto, or low-calorie diet. While you might come across a few options catering to a specific diet, you'll need to scrutinize recipe cards and nutritional information.
Consider Factor or Green Chef if you're looking for more diet-specific plan options. Factor has Protein Plus and Calorie Smart plans, among others. Green Chef features Gluten Free and Mediterranean programs, to mention some.
For such an affordable service, Marley Spoon offers great customization options. Recipes with personalization options have a Customizable icon on the recipe card. For instance, you can add chicken strips or shrimp to the vegetarian Fast! Spinach Thai Red Curry and Chicken Strips with Quinoa and Peanuts (pictured above).
Do note that the entire menu is subject to allergen cross-contamination. So, if you require better accommodations for common allergies, you might want to explore Green Chef.
A drawback of this service is that it assumes you have uncommon utensils and pantry staples that most other services don't require. However, it compensates for this by listing all the extra ingredients, utensils, and cookware needed to prepare each recipe.
Our reviewer was very impressed when they tried Marley Spoon at home. They said that anyone who wants to start cooking at home more often will love what Martha Stewart & Marley Spoon has to offer.
This service is also recognized for being 100% carbon neutral. Moreover, the meals are designed to minimize food waste, with kits containing only the exact amount of ingredients needed for each recipe. This leads to reduced packaging, less waste production, and minimized food waste.
You can choose between 2 and 6 recipes per week for 2 or 4 people, making it an ideal service for couples or small families. The minimum order is 4 recipes, and the maximum is 24. Once you've signed up, you can add desserts and sides to your order. Per serving prices start at $2.99.
Quick Comparison Table