Short on Time? Here Are the Best Meal Delivery Services in Tulsa for 2023
The Best Meal Delivery Services in Tulsa Reviewed
If you're pressed for time, Factor can help you put supper on the table in 3 minutes. Factor meals come fully-cooked and just need heating in a conventional oven or microwave.
Factor is a great alternative to greasy fast food for busy Tulsa professionals who have limited kitchen equipment and space at the office. Our expert reviewer gave the service high marks for its large menu, which includes healthy riffs on takeout favorites.
Factor offers 5 plans and allows you to choose one or more. Your choices help Factor recommend meals and influence the order in which items show up on your menu. But whatever choices you make, you can always order any item on Factor's menu. The plans include:
Chef's Choice

Vegan & Veggie

Calorie Smart

Keto

Protein Plus

Flexitarian
Factor's Keto menu features meals that are low in carbs and high in healthy fats. The Keto Turkey Chili pictured above is topped with pepper jack cheese and seasoned with ancho chili powder for spicy warmth, then cooled with a dollop of lime crema on the side. With 34 g of fat and 25 g of protein, this dish leaves you feeling full with just 11 g of carbohydrates.
Tulsa dieters will also appreciate Factor's Calorie Smart selections. These meals come in at 550 calories or less but have plenty of flavor. The Keto Turkey Chili is also a Calorie Smart selection that comes in at just 440 calories. Factor also has some vegan and vegetarian meals, though strict vegans will probably do better with a 100% plant-based service like Purple Carrot.
With your Factor subscription, you also get a free 20-minute consultation with a dietitian who can provide you with healthy eating tips. You can book further consultations at an additional fee if you find the sessions helpful.
Factor offers Gourmet Plus options for those who crave convenient, restaurant-quality meals. Gourmet Plus entrees cost a bit more but are crafted using premium ingredients like filet mignon, wild mushrooms, and mahi-mahi. You can also order add-ons including breakfast items, smoothies, wheatgrass juices, and healthy desserts like low-carb keto cheesecake.
The minimum Factor order is 6 single-serving meals per week, with a maximum of 18 meals. Factor prices start at $6.19 per serving.
Key Features
Premade sauces and easy instructions

45+ weekly recipes

Keto, high-protein, plant-based, and other menus available

Current deal: Get $250 off + free shipping
Green Chef is famous for its high-quality organic ingredients and is the first USDA-certified organic meal delivery service. It remains popular with keto dieters, vegans, vegetarians, and anybody looking for healthy organic meals with fresh, seasonal produce and responsibly-sourced proteins.
You get a choice of 8 plans with Green Chef, but you can order any recipe on the menu:
Keto

Vegetarian

Vegan

Gluten-Free

Mediterranean

Calorie Smart

Quick & Easy

Protein-Packed

Delicious Discoveries
The Keto plan is one of Green Chef's most popular options. The Cumin-Spiced Shrimp (pictured) is a keto-friendly meal that you can prepare in just 25 minutes. Like many Green Chef recipes, this entree is certified gluten-free. While the whole Keto plan isn't gluten-free, most recipes have little-to-no gluten added. It's no wonder Green Chef consistently scores highly on our best keto meal delivery services list.
Each serving of a Protein-Packed meal contains an average 40 g of protein, making them a fantastic option for athletic Tulsa residents. And Green Chef also offers a Plant-Based meal plan if you are looking for vegetarian or vegan-friendly recipes, or simply want to add more veggies to your diet.
You can also choose from a selection of add-ons, including chicken cutlets, salmon filets, and other protein packs as well as breakfasts, snacks, and 10-minute lunches. The selection of add-ons is not as large as some other services, but the quality is uniformly excellent.
Green Chef is one of the more expensive meal delivery services on my list, but you definitely get what you pay for. I tried Green Chef at home and enjoyed some of the best meals I have ever cooked.
Green Chef's minimum order is 3 recipes for 2 people, and its maximum is 6 servings for 6 people. Prices start at $9.99 per serving and discounts are available for first responders, teachers, nurses, veterans, and active military personnel.
HelloFresh is America's largest meal delivery company, and it runs like a well-oiled engine. The app makes it simple to sign up and manage deliveries, and our reviewer spoke highly of its customer service.
You can choose between 6 plans. HelloFresh uses your selected plan to suggest meals each week, but you can replace any suggestion with another item on the menu:
Meat & Veggies

Family Friendly

Veggie

Pescatarian

Fit & Wholesome

Quick and Easy
Recipes are labeled by difficulty, and most dishes are rated either Easy or Medium. There are many options for novice chefs including dishes labeled as Easy Prep and Easy Cleanup. But don't be afraid to go outside of your culinary comfort zone, as the recipes are clear and will guide you through the whole cooking process.
Fit & Wholesome meals contain 600 calories per serving or less for those watching their weight. You can also look for Carb Smart and Calorie Smart tags. HelloCustom lets you swap out proteins on select recipes and you can also add extra grocery items through The Market.
HelloFresh is committed to sustainability, with a focus on reducing food waste and its carbon footprint. Almost all packaging is recyclable, including the box and ice packs. You can find recycling information and articles about HelloFresh's environmental initiatives on its website.
The most popular recipes return to the menu under the Hall of Fame tag. For example, the Tex-Mex Stuffed Peppers above are a Mexican take on an Italian classic – and a clear customer favorite. HelloFresh replaces mozzarella with melty Mexican cheese and uses lower-fat ground turkey with fluffy rice. It then tops everything with pickled onion and red pepper lime crema.
HelloFresh's range of serving sizes makes it a good choice for couples and families. You can order 2-6 weekly 2-serving or 4-serving meals. Prices start from $3.32 per serving, with discounts available for first responders and other professionals.
Key Features
Wide range of easy-prep meals

30+ meals plus extras on each week's menu

Dietary options include low-carb, low-calorie, and vegetarian
Home Chef has something for almost everybody. Its 30+ weekly recipes include meal kits, Easy Prep dishes, and Oven-Ready meals, so you can make a hot home-cooked dinner even on a busy night. From dinner-party dishes to quick weeknight recipes, Home Chef can help you cook exactly the meal you want.
The user-friendly website and filters help you find meals that suit your dietary needs. You can easily exclude specific ingredients when ordering, but there's a chance of cross-contamination while prepping or packing. Those with serious sensitivities should see our list of the best allergy-friendly meal delivery services.
What sets Home Chef apart from other meal delivery services is its Customize It feature. Many services let you customize a few recipes, but most Home Chef meals offer a customization option. Our reviewer cooked a few Home Chef meals and was very impressed by the flexibility.
The Cream of Broccoli Rigatoni pictured above has multiple Customize It options. You can add diced chicken, Italian sausage, or steak strips to your meal kit if you want to add some meat to your pasta. Or, if you want something extra but want to keep the meal vegetarian, you can throw in some plant-based Impossible Burger when it's available.
For carb- and calorie-conscious dishes, look for the green Fresh Start tomato. There's also a small selection of vegetarian options. And for special occasions, try Home Chef's more complex premium Culinary Collection entrees for a restaurant-quality meal at home.
Home Chef's ordering process is straightforward, with clear timings, difficulty ratings, and spice levels provided for each meal. Most meals are rated Easy or Intermediate, with most Expert dishes appearing in the Culinary Collection. You can also add extras to your weekly box, including protein packs, salads, desserts, breakfasts, snacks, and more.
Home Chef lets you order meals for 2, 4, or 6 people per week, which is great for large households. Prices start at $7.99 per serving.
Key Features
Oven-ready dishes and pre-chopped ingredients

16+ weekly recipes

Dietary options include low-carb and low-calorie
Fresh and Easy, Home Chef's popular quick meals, is now a dedicated line. The recipes are easy to make, but they don't skimp on flavor. My colleague gave Fresh and Easy high marks for making dinnertime easier for busy families.
Many Express kits can be ready in just 10-15 minutes. The Honey Garlic Chicken pictured above comes with chicken diced, vegetables cut, and glaze prepared, giving you and your family a no-fuss dinner.
Fresh and Easy's low-prep meal types include:
Oven-Ready

Express kits

Salads

Fast & Fresh

Extras
For special but busy occasions, Fresh and Easy offers a selection of Plus meals. These meals use the same premium ingredients you find in Home Chef's Culinary Collection. But where the Culinary Collection often requires advanced cooking techniques, Fresh and Easy Plus meals require little prep. You can even add a dessert from the Home Chef Market.
Signing up for Fresh and Easy doesn't mean sacrificing access to the Home Chef menu. You can still order more complicated meal kits when you have the time, and enjoy the convenience of quick and easy options on more hectic evenings.
For the busiest nights, Fast & Fresh meals offer maximum convenience. Put them in the microwave and they are ready in minutes. And while most prepared meals come in single-serving sizes, there are a few Fast & Fresh Family Meals that feed up to four people.
Fresh and Easy also gives you access to Customize It. You can make your Honey Garlic Chicken with pork medallions or shrimp if you prefer. Just follow the instructions on the recipe card to prepare the swapped proteins.
Like Home Chef, Fresh and Easy is not a good choice for niche diets. You can filter for common allergens, but most Fresh and Easy recipes include wheat or dairy. Those who are lactose intolerant should try Green Chef's Vegan plan or take a look at our best dairy-free meal delivery services.
Fresh and Easy's prices start at $7.99 per serving. The minimum Fresh and Easy order is 3 meals of 2 servings, with a maximum order of 6 meals of 6 servings each.
Key Features
Gourmet meal kits and prepared options


70+ menu items each week including add-ons

Diabetes-friendly, vegetarian, and other options
Blue Apron's menu offers a selection of both sophisticated meals and family favorites. Our expert reviewer praised Blue Apron's variety and flavors. The Pork & Ramen Noodles pictured above add a sweet and spicy Korean gochujang sauce for a meal that will please hungry kids and foodie parents alike.
Blue Apron offers clear instructions and helpful online demos to make its recipes easy to follow. This feature is especially useful for those who want to improve their culinary skills, as it provides a great opportunity to refine cooking techniques.
Blue Apron offers 5 plans, but you can order anything on the menu:
Chef Favorites

Wellness

Family Friendly

Fast & Easy

Veggies
Blue Apron's Wellness plan takes its cues from the heart-healthy Mediterranean diet, with lean proteins, fresh vegetables, and healthy plant fats. Many other recipes offer suggestions for lowering calories, like replacing sour cream with nonfat yogurt.
Fast & Easy meals are ready in 25 minutes or less and include offerings like the Pork Ramen Noodles above. Every week Blue Apron also includes a good selection of Veggie meals for vegetarians, though vegans might do better with one of the services on our list of the best vegan meal delivery services.
Blue Apron's Customized feature lets you swap proteins on some select recipes. Vegetarians can order Seared Chicken and Kale Salad with veggie avocado and hard-boiled eggs, while omnivores and pescatarians can add salmon to their vegetarian Couscous-Stuffed Poblano Peppers.
In addition to meals, Blue Apron offers a variety of add-ons to create a one-stop-shopping experience. You can choose from extras like breakfasts, desserts, party bundles, and prepared meals to fill your weekly box. Blue Apron also provides bulk proteins like shrimp and chicken breast pieces.
The Market section also offers kitchen utensils and Blue Apron's spice blends, making it easy to stock up on all your cooking essentials.
Blue Apron prices start from $5.74 per serving. Your minimum order is 2 meals of 2 servings per week, with a maximum weekly order of 5 meals for 4.
Key Features
Physician-designed meals and dietitian support

150+ breakfast, lunch, and dinner items plus snacks

Diabetes-friendly, Gluten-free, Menopause, and other options
BistroMD delivers flash-frozen prepared meals directly to your doorstep. The menu is designed to aid in weight loss and help you develop healthier eating habits. As a result, BistroMD isn't as focused on flavor as other services on my list.
Dr. Caroline Cedarquist, a bariatric physician, established BistroMD in 2005 as an option for her patients who were dissatisfied with the available diet meals. Over time, BistroMD's menus have expanded to include options for various health conditions.
BistroMD offers 7 plans:
Signature

Gluten-Free

Menopause

Keto Flex

Heart-Healthy

Diabetic

Vegan
Each BistroMD meal has fewer than 450 calories. All menus are designed by dietitians to ensure a balanced diet while restricting calories. Professional chefs make sure the meals are as tasty as possible while still being healthy. The Meat Loaf with Honey Bourbon Glaze pictured above is delicious and filling but has just 340 calories.
BistroMD offers separate plans for men and women. The women's plan averages 1,200 calories a day, while the men's plan averages 1,400. Every plan includes counseling with a dietitian on weight and lifestyle goals. Our expert reviewer found BistroMD a good fit for serious dieters.
BistroMD provides a weekly suggested menu, but you can substitute any meal that doesn't strike your fancy. The majority of its plans suit omnivores. Vegetarians and vegans should opt for the Vegan plan for the most choice.
To avoid daytime cravings, BistroMD also provides Essential and Tasty Snacks (EATS). These optional snacks include diet bars and protein shakes, as well as desserts such as cheesecake. The Women's plan recommends 2 EATS per day, while the men's plan recommends 3 EATS.
BistroMD's smallest plan is 5 days of lunch and dinner per week (10 meals). Its maximum plan is 3 meals 7 days per week (21 meals) plus optional (but recommended) EATS. Prices start from $8.24 per serving.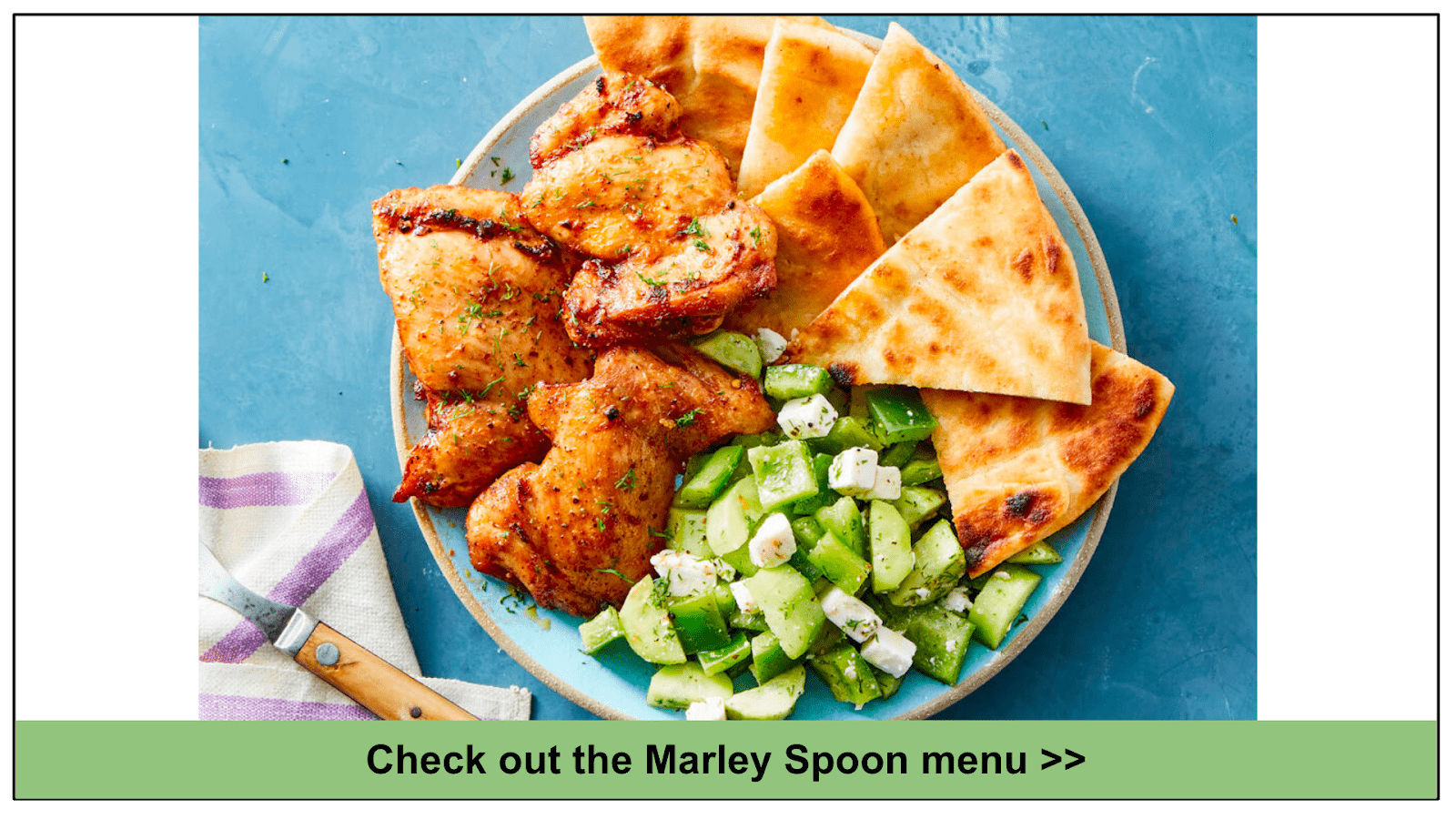 Key Features
Easy-to-follow recipes to improve your cooking skills

100+ meals and add-ons each week,

Vegetarian, vegan, dairy-free, and more dietary options
Marley Spoon meals are curated by celebrity hostess Martha Stewart and can help you cook more sophisticated meals like the Harissa-Rubbed Chicken Thighs pictured above. But you can also find simpler meals suited for picky young eaters like quesadillas and pizza. (Look for meals marked with the Kid Friendly tag.)
Marley Spoon is a great way to learn new culinary techniques while feeding your family meals they'll love. If you find the idea of cooking with Martha a bit intimidating, don't worry. After an in-depth look at Marley Spoon's meals, our reviewer found that the recipe cards made everything clear.
The varied menu includes tags like:
Under 30 Minutes

Dairy Free

One Pot Meals

Kid Friendly

Healthy

Low Calorie
You can check recipes for allergens or problem ingredients on the Ingredient Hub, but Marley Spoon lacks filters to eliminate recipes. And while you can find No Added Gluten recipe tags, all meals are prepared and stored in the same kitchens and warehouses. They may not be suitable for those with severe allergies or intolerances due to cross-contamination risk.
Recipes assume that you have a fully stocked pantry with items like white wine and balsamic vinegar on hand. With this service, it's a good idea to check each week's recipes to make sure you have everything you need before you start cooking.
Marley Spoon is the first meal delivery service to go completely carbon-neutral and is committed to sustainable practices. Its website offers instructions on how to recycle or reuse all packaging. There is even a "Climatarian" tag that points out meals with a low carbon footprint.
Marley Spoon has a minimum order of 2 meals for 2 people per week and a maximum of 6 meals of 4 servings. Meals start at a very reasonable $2.99 per serving.
Key Features
Meal kits and prepared meals available

16 weekly entrees plus breakfast and lunch items

High-protein, nut-free, soy-free and other options
Purple Carrot meal kits celebrate vegetables with a range of international influences. Not only do its kits encourage you to eat more veggies, but they also teach you new vegan recipes and techniques you can use in your own cooking. Plant-based meals like the Sicilian-Style Broccoli pictured above will introduce a world beyond veggie meat substitutes.
For busy vegans, Purple Carrot's prepared meals take just 2-3 minutes in the microwave. Unfortunately, you can't mix and match between meal kits and prepared meals, so you have to choose one or the other when you sign up. Home Chef is a better choice if you want a mix of kits and ready meals.
Purple Carrot's Less Prep meal kits are great if you like cooking but are short on time. These recipes feature premade sauces and pre-chopped veggies for more convenience. Unlike the prepared meals, you can mix and match Less Prep meals with standard meal kits.
You can look for Purple Carrot meals using labels like:
Nut Free

High Protein

Under 600 Calories

Gluten Free

Soy Free
Purple Carrot's Plantry has vegan add-ons like snacks, desserts, meat substitutes, and more. There are also breakfast and lunch entrees available. If you are having difficulty finding vegan food in your neighborhood, Purple Carrot brings it right to your doorstep.
You don't have to be vegan, or even vegetarian, to love Purple Carrot. Our omnivorous reviewer tried Purple Carrot at home and loved it. They found that the service made it easy to try out tasty, healthy vegan meals.
Purple Carrot also participates in The Farmlink Project, which connects farms with surplus produce to communities in need. We all know that plant-based diets are better for the environment, but Purple Carrot also helps make vegetables more accessible to people living in food deserts on a limited income.
Your minimum Purple Carrot weekly order for meal kits is 3 meals of 2 servings each, with a maximum of 4 meals for 4 people. You can order 6, 8, or 10 single-serving prepared meals per week. Purple Carrot prices start at $8.50 per serving.