Home Chef vs Blue Apron 2021: Are There Major Differences?
On the face of it,
there's not much difference
between Home Chef, established in 2013, and Blue Apron, established in 2012.
Both companies seem to offer the same thing: affordable, easy to cook home meals based on varying recipes.
But actually, there's a lot more to it. This Home Chef vs Blue Apron comparison will dive right into what you need to know most about choosing the right meal delivery service for your lifestyle, budget, and dietary needs.
Quick Overview: Home Chef vs Blue Apron
| | | |
| --- | --- | --- |
| | Home Chef | Blue Apron |
| Meals starting from | $6.99 - meals priced separately | $7.49 for 4 meals a week for 4 people |
| Shipping costs | Free over $45, $10 if under | Free for 3 meals + |
| Dietary preference plans? | None | None |
| Meal variety | 21+ options per menu | 9 options per menu |
Home Chef vs Blue Apron: Pricing and Shipping
Here's where things get a little tricky to compare: pricing at Home Chef vs Blue Apron.
Why? Because Home Chef prices each meal separately, with add-ons for extras like gourmet additions or meat/ingredient upgrades.
On the contrary, Blue Apron charges per meal plan - so if you order 2 meals for 2 people, you pay X, but if you order 2 meals for 4 people, you'll pay Y. It doesn't work like that at Home Chef.
At Home Chef, you have a range of meals starting from $6.99. In actual practice, these are mostly salads which - unless you like eating a small dinner - you likely won't be paying. Most meals at Home Chef are actually more like $9.99 (without upgrades, for which you're looking at $2-5 more per serving) and there are even some gourmet options for $17-20.
At Blue Apron, your price per serving really depends on the number of diners and number of servings you order. A Blue Apron 4-person plan with 4 meals a week has servings starting from $7.49 (and free shipping), while a 2-person plan with 3 servings a week starts from $9.99 per serving.
That means, for Home Chef's 4-person plan and 4 meals a week, you would be paying about $160, with free shipping included, while at Blue Apron, it would cost you $120 (with free shipping).
That's a huge difference. In this case, we're going to have to say that Blue Apron wins, as it's definitely the cheaper option.
Winner: Blue Apron
Home Chef vs Blue Apron: Delivery and Packaging
There's not too much difference in Home Chef vs Blue Apron when it comes to delivery, but there is when it comes to packaging.
While both Home Chef and Blue Apron deliver during most of the week - Monday-Friday 8am-8pm for Home Chef, and Tuesday-Saturday with Blue Apron, 8am-9pm, I think Blue Apron just about edges out Home Chef here.
What time and day you want your meal kit delivered is completely dependent on your personal situation, but for me, receiving my ingredients on a Saturday was more convenient. It meant I had more time to cook and enjoy the process and I was able to receive the delivery myself.
Both meal delivery services also deliver to almost all of the continental US which is reassuring, but if in doubt, enter your zip code and you'll soon be told by either of them if you can't receive deliveries in your area.
When it comes to packaging, Home Chef has Blue Apron beat. While Blue Apron tries to be as ecologically-conscious as possible (read:plastic-free), it fails slightly due to an overuse of plastic, especially for loose ingredients and produce.
Home Chef, on the other hand, goes to great lengths to avoid plastic, and only uses recyclable materials. There are some plastic containers included with Home Chef's packaging, but these are easily reusable.
For this reason, I'm declaring the winner to be Home Chef, even though I liked Blue Apron's Saturday delivery option.
Winner: Home Chef
Home Chef vs Blue Apron: Meal Variety
When it comes down to Home Chef vs Blue Apron's meal variety, I think Home Chef wins, hands down.
This is because Home Chef has 20+ meal options, while Blue Apron has about 11 per menu. Also, I couldn't possibly write about Home Chef's menu options without mentioning its innovative "Customize it" button, which allows you to upgrade or switch out the protein in any meal.
Of both of the meal kit delivery services, I'd say that when it comes down to it, the menus on offer were pretty straightforward: both Home Chef and Blue Apron presented both pretty straightforward American fare, with some twists: there were a lot of burgers, fish and pasta, with some added more exciting meals.
I'd even say that Home Chef just pips Blue Apron to the post here, as there was a larger variety of meals. You can see what meals I tried out for myself in my
Winner: Home Chef
Home Chef vs Blue Apron: Dietary Preferences
Here's where things get a little disappointing: while both Home Chef and Blue Apron have vegetarian meals on offer (there's even a Blue Apron vegetarian plan, while Home Chef allows you to select only vegetarian meal preferences) neither of them actually cater to vegans, paleo or other special dietary preferences.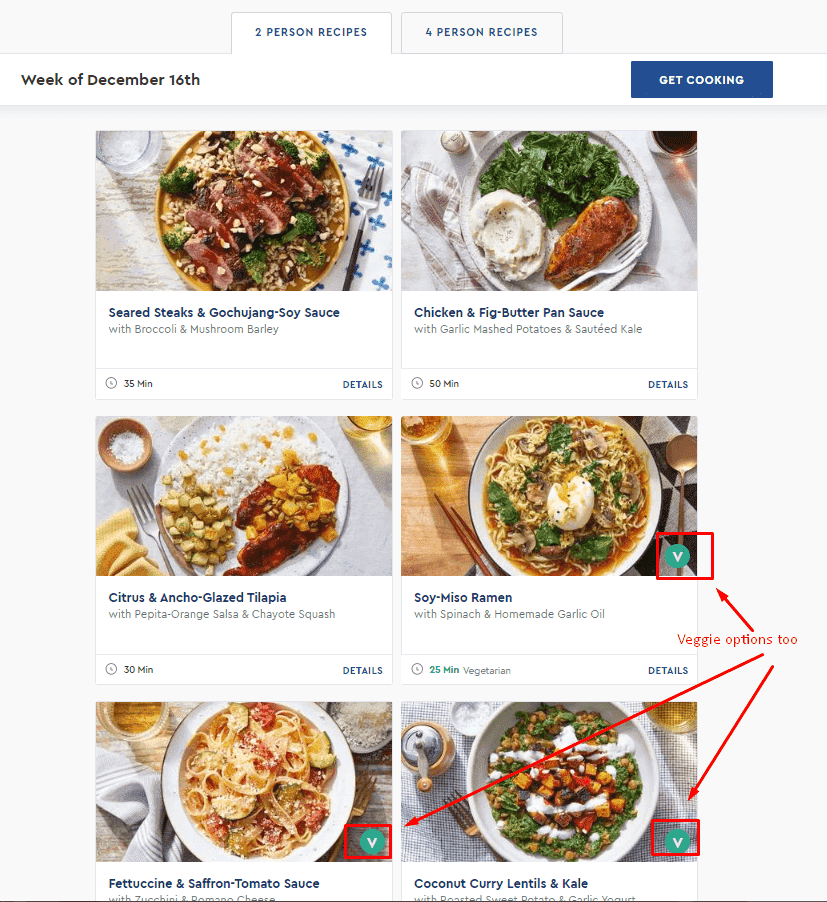 Winner: Neither
Home Chef vs Blue Apron: How Easy Is It to Order?
This is where Home Chef vs Blue Apron gets a bit interesting. Both Home Chef and Blue Apron do things very differently from one another.
At Home Chef, you set your meal preferences and number of meals a week (as well as number of diners), and then select the meals you'd like to eat - all of which cost different prices. While most meals cost around $9.99 per serving, some gourmet-style meals can cost you up to $20 per serving.
At Blue Apron, you select the number of meals and diners a week and then choose from the menu options on offer, which are all a standard plan price.
Both are easy enough to order from - just choose the meals you want, select a delivery day, and voila, your delivery box will turn up magically on your doorstep.
Tied: Home Chef and Blue Apron
Home Chef vs Blue Apron: The Verdict
Both Home Chef and Blue Apron have been around the meal delivery circuit a long time - and both are pretty different in their approaches and execution.
I think it's mostly down to preference, but from my experience, I just had more fun with Home Chef's meal options and meal selection. Blue Apron is a great option for someone trying out a meal kit delivery service on a slightly lower budget, but for me, I really liked that I could pick and choose each meal according to price at Home Chef.
Winner: Home Chef