Home Chef vs. Blue Apron 2022: Get the Best Value For Less
Both Home Chef and Blue Apron are seasoned veterans of the meal kit industry, with plans to satisfy a variety of appetites. But which is better – and which would be better for you?
While both Home Chef and Blue Apron offer excellent meal kits, we believe that Home Chef is, overall, the better service. Blue Apron has a lot of strengths that will appeal to some customers, but Home Chef's Customize It feature and wider variety of meals led us to declare it the winner of this battle.
This Home Chef vs. Blue Apron comparison will tell you all you need to know about choosing the right meal delivery service for your lifestyle, budget, and dietary needs.
Quick Overview: Home Chef vs. Blue Apron
Home Chef vs Blue Apron: Dietary Preferences
Home Chef and Blue Apron offer a sizable selection of balanced meals centered around beef, pork, poultry and seafood. Both will even let you swap out one protein for another on a number of recipes (more on that in the next section below!). But let's take a closer look at the menu options that cater to specific dietary preferences.
Home Chef keeps it straightforward, and simply allows you to select Calorie-Conscious or Carb-Conscious as a dietary preference at the start of signing up. The low-calorie meals have less than 625 calories, and the low-carb meals have up to 35g of carbs. The nice thing here is that you can actually select both if you'd like to see an entire menu of healthier recipes.
Blue Apron breaks the menu up into plans. The Signature and Signature for 4 plans are based on the number of servings you're ordering for (more on that in the pricing section below!). These menus feature the whole gamut of recipes, including diabetes-friendly recipes, which is not featured on Home Chef's menus. Then there's the Wellness for 2 plan that's entirely made up of low-calorie and low-carb meals, similar to Home Chef.
It's a shame that this menu isn't available for more servings, though. You'll still be able to find healthy recipes on the Signature for 4 plan, of course, but you'll have to rely on the tags for each recipe to find the kits that are more aligned with your health goals.
Another interesting menu option is WW-Approved meals. Blue Apron partnered up with WW (formerly known as Weight Watchers) so that you can easily track your WW points with Blue Apron meal kits, and even receive extra tips on how to prep your meal so that it's even healthier.
When it comes to leaving certain ingredients out, Home Chef offers a set list that you can select from so that you only see the recipes that don't contain those ingredients. The list is short, but it does cover most of the basic avoidances:
I think this was a decent attempt at catering to different palates and food sensitivities, but Home Chef is leaving out a sizable portion of the population that's sensitive to dairy. Luckily, the menu does feature very clear "dairy" tags for recipes that contain any cheese, milk, or butter, but it would be nice to be able to see an entire menu without those recipes.
Without speculating too much, I do think it's because lactose-intolerant individuals usually have their own plant-based alternatives lying around anyway. You can easily select a meal that has just a minimal amount of dairy, and just leave that ingredient out or substitute with your own alternative.
Blue Apron's options are even more limited when it comes to curating your menu with recipes that leave out certain ingredients. You check off the proteins that you can eat, and then you won't see recipes that include those proteins. This is the full list:
Pork

Beef

Lamb

Shellfish

Fish

Poultry

Or "We're Vegetarian"
The last option would obviously automatically uncheck the rest of the list.
Blue Apron takes a pretty clear stance when it comes to food allergies. You can feel free to look through the menu for recipes that leave out the ingredients you don't like. If you do have food allergies, this is not a safe option for you.
I get that you can't please everybody, and I appreciate that Blue Apron is so straightforward about not catering to food allergies. I don't think it would be too much to ask, though, to offer a list of ingredients that you'd like to exclude from the menu you ultimately select from. It wouldn't require the recipes to change, it would just mean making a small addition to the ordering process.
That's my two cents. However, given the emphasis on the healthiness of the meal kits, and the quality of the farm-fresh and seasonal ingredients, this meal delivery service might still work for you.
And now we come to the last big question when it comes to dietary preferences: who is better when it comes to offering vegetarian meal kits? The underwhelming answer is that neither offer a huge selection in comparison to the size of their menus. Blue Apron's Vegetarian plan typically offers three to five veggie recipes per week, as does Home Chef.
Neither Home Chef nor Blue Apron is well-suited to vegans, paleo dieters, or those with other specialized dietary preferences. Vegans will do better with a service like Purple Carrot, while paleo and keto dieters will be happier with Sunbasket or Green Chef.
Winner: Tie. Home Chef gets extra points for the optional selection of food avoidances, while Blue Apron has meals that are Diabetes-Friendly and WW Approved menu options.
Home Chef vs. Blue Apron: Menu Variety
In the battle of menu variety, Home Chef scores a decisive victory over Blue Apron. Both services offer mostly straightforward favorites like burgers, pasta, steak, and seafood with a few more adventurous recipes thrown in.
Blue Apron offers more exotic flavors like the Grilled Dukkah-Spiced Pork Chops with Green Beans, Kohlrabi, and Lemon Yogurt.
But Home Chef offers much more customization options on each meal.
In a typical week, Home Chef offers around 20 different recipes. Blue Apron has around 14 for diners on its two-person plan and around six to eight for those on the Signature For 4. But Home Chef's Customize It feature allows you to upgrade, swap, or double-up on protein in many of its meals, giving its customers even more choice.
Take Home Chef's Shrimp Campanelle Primavera with Zucchini and Parmesan Cheese. You can swap the shrimp out for chicken, scallops, or add an extra helping of shrimp.
Likewise, the Butternut Squash Alfredo Penne with spicy walnuts and garlic bread can be ordered with a protein (take your pick of shrimp, diced chicken breast, USDA choice sliced flank steak, or the Impossible Burger) or you can leave out the protein completely.
Blue Apron does offer some customizable meals – you can order its Cheesy Pork Chorizo Enchiladas with ground turkey, or swap chicken for prosciutto in its Prosciutto Fried Rice with Sesame Snow Peas and Bok Choy. But almost all Home Chef recipes offer Customize It, frequently with multiple options.
Blue Apron certainly scores points for its wine offerings, too, and its slightly more sophisticated palate. But Home Chef's Customize It feature and its wider variety of meals is difficult to beat. Blue Apron puts up a good fight, but loses this round.
Winner: Home Chef
Home Chef vs. Blue Apron: Starting Prices
Prices at Blue Apron start from $7.49 per serving when you sign up to its Signature For 4 plan and order four meals per week. If you're on the Signature, Vegetarian, or Wellness For 2 plans, you'll pay $9.99 per serving.
Home Chef works slightly differently in that it charges by the meal. While it does have $6.99 offerings, many of the more substantial dishes cost around $8.99 per serving. If you choose to customize a meal kit by doubling up or upgrading your protein, you should expect to pay anything from $1 to $5 more per serving.
A family on the Blue Apron Signature For 4 plan ordering four meals a week will spend about $120 (shipping is free when you order three or more meals). In comparison, a family of four signed up with Home Chef will spend around $144 per week, plus $7.99 shipping.
The difference of $32 a week adds up quickly. Over the course of a year, the family using Blue Apron would spend around $1,600 less than the Home Chef family.
Winner: Blue Apron
Home Chef vs. Blue Apron: Delivery and Packaging
Blue Apron and Home Chef both offer deliveries at least five days a week. Home Chef delivers Monday through Friday, 8 am to 8 pm. In most areas, Blue Apron delivers Tuesday through Saturday, 8 am to 9 pm. Blue Apron's Saturday delivery is especially convenient for people working business hours or for those who prefer to cook their meals over the weekend.
Home Chef's help center reports that it currently delivers to 98% of the United States. Blue Apron states that it delivers to the continental United States. (Sorry, Hawaii and Alaska – neither service has expanded outside the mainland yet!)
Both services offer a zip code confirmation app on their websites which will confirm whether or not you can receive deliveries in your area. They will also let you know which delivery days are available. The further you are from a processing center, the more limited your choices are.
Home Chef and Blue Apron both do an excellent job of packing your meal kits so they arrive fresh. But what happens to all that packaging when you're done preparing your meal?
Blue Apron's packaging is around 85% recyclable, but Home Chef promises to use only recyclable or reusable materials in its packaging.
While Blue Apron squeaks out a victory in the delivery department thanks to its Saturday service, Home Chef wins by a nose on packaging. Even for our team of experts, this one is too close to call.
Winner: Tie
Home Chef vs. Blue Apron: Meal Prep
Blue Apron only offers meal kits with ingredients that you will need to prep and cook yourself.
The time that takes could be anything from 20 minutes for its basic recipes to 60 minutes for the Premium dishes. An element of skill is required – you'll have to dice your meat and vegetables, boil water for pasta, and follow basic instructions – but the recipe cards are incredibly easy to follow and there are additional photos on the website.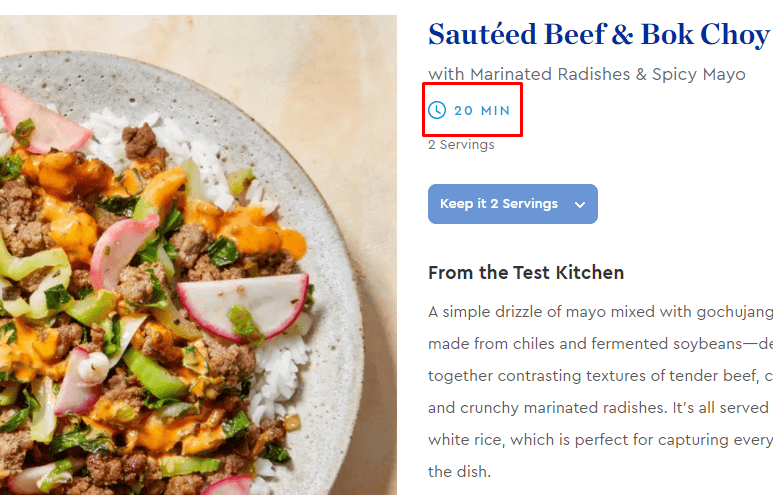 Many of Home Chef's meal kits require a similar degree of food prep knowledge, but it also provides fast 15-Minute Meal Kits and Easy Prep meals that include Oven- and Grill-Ready dishes.
Home Chef's Fast & Fresh menu items are even simpler – all you need to do is throw them in the oven with no prep (and no washing up!).
Winner: Home Chef
Home Chef vs. Blue Apron: The Verdict
Both Home Chef and Blue Apron are meal delivery veterans. If you don't have any specialized dietary needs, you'll likely have a great meal kit delivery experience with either company.
Ultimately, life is about choices. And no meal kit delivery service offers more choices than Home Chef. Blue Apron's meals are excellent, but Home Chef's customization options and range of meal types are unbeatable, especially when you're pushed for time and want to cook up something super quick. With Home Chef you have a better chance of getting the exact type of meals you want.
Winner: Home Chef