At a Glance: SlimFast vs. Nutrisystem
| | | |
| --- | --- | --- |
| | SlimFast | |
| Dietary preferences | Vegan, Gluten-free, Diabetes-Friendly, and Keto options available | High-Protein, Vegetarian, Wheat-Free, Low Glycemic |
| Menu variety | Shakes, savory snacks, and sweet snacks to choose from for two meals per day | Breakfast, lunch, dinner, and snacks, five or seven days per week |
| Starting price | $4.99 per day for the 14-day starter kit; $8.46 per day if you have two shakes and three snacks per day | $8.54 per day |
| Shipping cost | Varies by vendor. Free on orders over $99 at the Slim Fast online shop, and $7.95-$13.95 for smaller orders | Free |
| Prep time | No time, just open and enjoy | 3-5 minutes per meal |
| Special discount | n/a | |
Dietary Preferences
SlimFast is a weight loss program where you'll replace two meals a day with one of its meal replacement shakes and then prepare one meal of about 500 calories. It also includes a selection of snacks to help curb your appetite throughout the day.
You can enjoy SlimFast products even if you follow a restrictive diet. The shakes and snacks are keto-friendly and there are many gluten-free and vegan options available, too. If you're diabetic then you can select the specific diabetic weight-loss plan.
With Nutrisystem, you'll find different plans for men and women. In addition, there's a vegetarian plan and a diabetes-friendly plan to cater to some dietary restrictionss. Get a full breakdown of the plans available in our Nutrisystem review.
Each menu item provides information on the macros and highlights which diets it's suitable for. You'll also find a Q&A section (where you can ask questions about the meal and see what others have asked) and a full breakdown of all ingredients, nutritional facts, and prep information.
Nutrisystem wins this category thanks to its multiple plans and useful menu filters.
Winner: Nutrisystem
SlimFast offers a selection of products that you can mix and match depending on what you feel like each day.
The shakes come in flavors like Creamy Chocolate and Mocha Cappuccino and the bars come in a variety of different flavors. The Keto Fat Bomb bar is available in five flavors including Whipped Triple Chocolate and the Diabetic Weight Loss bars include flavors like Peanut Butter Chocolate.
You can find both sweet and savory snacks like the Strawberry Topped Cheesecake Mini Snack Bars or the Keto Fat Bomb Real Cheddar Cheese Crisps. These low-carb snacks sound decadent and help keep you full while still fitting the SlimFast plan.
Nutrisystem's plans include all of your daily meals and snacks – you can choose if you'd like to cover five or seven days a week. The breakfast menu offers 26 different options with a mix of sweet and savory depending on your preference.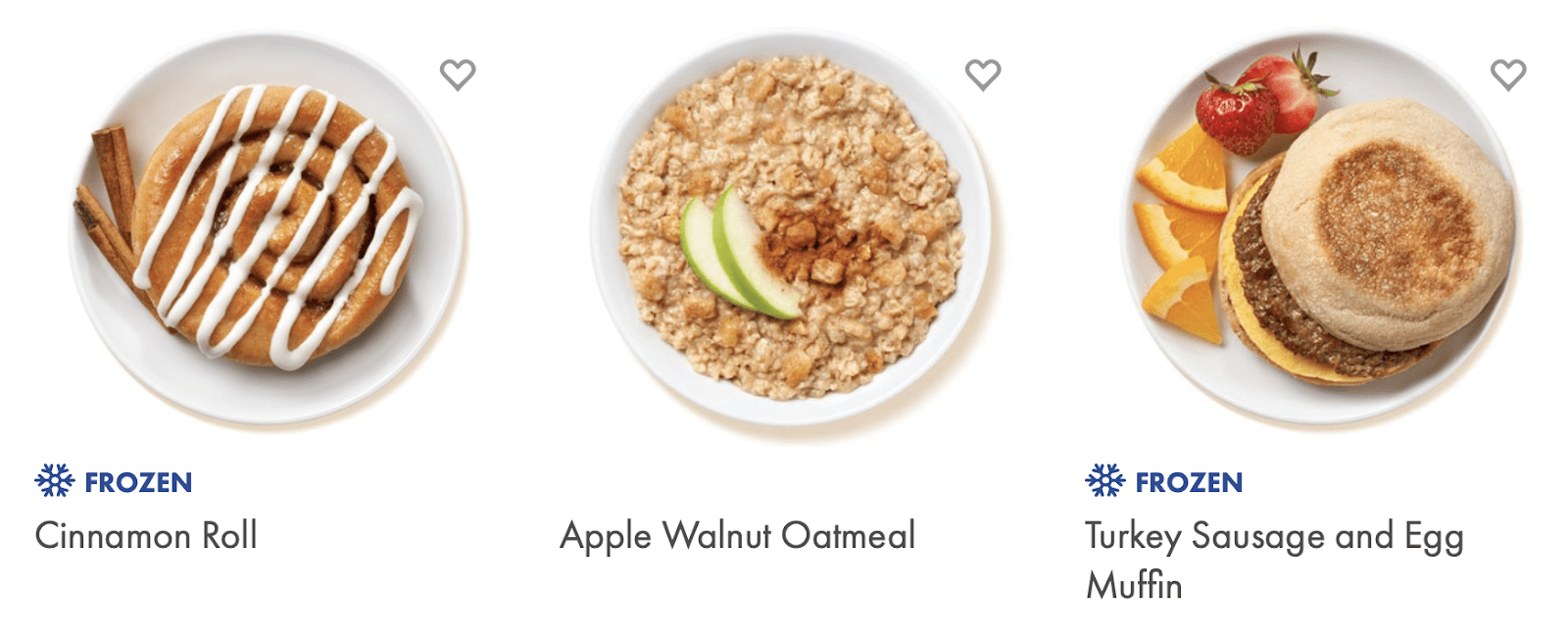 You'll find a similar variety in the lunch and dinner menus. There are soups, sandwiches, salads, pasta, and more. Snacks are also included in the plan and you can order an assortment of salty items like nuts, and some sweet items like cupcakes and cookies. The menus don't change much from week to week, but they're extensive (100+ items) and new items are added often.
Winner: It's a tie!
SlimFast offers a wide selection of buying options, but if you're going to fully commit to the program, I'd recommend investing in one of the starter kits to get the best deal.
The Favorite Foods 14-Day Starter Kit comes with a 14-day supply of meal replacements and snacks for one person. It's $69.99, so $4.99 per day for the necessary supplies. Remember that you'll need to use your own milk to mix the shakes with and you'll be preparing a 500-calorie meal once a day as well, which is an extra expense.
Nutrisystem outlines each plan with a daily price and you can choose between five or seven days worth of food each week. All plans include fully prepared food for breakfast, lunch, dinner, and snacks, weight loss coaching, free shipping, and access to the app with food logging and fun challenges.
The upgraded plans have a wider variety of menu selections including frozen meals. The Uniquely Yours Max+ is the only option that comes with personalized nutrition and access to the premium frozen meals called Hearty Inspirations.
Nutrisystem is more expensive as a daily option, with prices from $8.54, but you'll receive three meals each day and snacks so you won't need to do any additional grocery shopping.
SlimFast comes in at $4.99 per day and includes two meal replacements and snacks. With SlimFast, if you can keep your third meal under $4 worth of groceries, this can work out as the more affordable option.
Winner: SlimFast
Delivery and Packaging
SlimFast offers the full range of products available to order on its website. It's also extremely convenient because you can pick up products at national retailers including Target, Walmart, Kroger, and Amazon (to name just a few.)
These retailers offer delivery if you want it shipped directly to your doorstep, or you can pick up items as you need them throughout the week.
If you're looking to save on the single-serve plastic containers that the premixed shakes come in, you can select the shake mix, which comes in a tub with multiple servings.
Nutrisystem ships every four weeks, so you'll be sent enough meals for a month and shipping is free with all plans.
Each meal is packaged separately, so there's a large amount of waste. Some of the single-serve packaging is recyclable in some municipalities, but not everywhere.
SlimFast comes with some options to cut down on the amount of packaging, plus there's the convenience of being able to pick up products at many local retailers (and with less packaging than an at-home delivery).
Winner: SlimFast
Meal Prep
SlimFast products are extremely easy to prepare. The only items that aren't ready to eat immediately are the shake mixes. Those require a glass of milk and a spoon to mix the powder into the liquid.
The ready-to-drink shakes should be stored in the refrigerator, but everything else can be stored in your pantry or even your desk drawers at the office.
Nutrisystem labels each of the meals with a color-coded label to help you quickly find what you're looking for. Each of the meals is ready to eat in just a few minutes and requires little to no meal prep. The most you'll need to do is heat them in the oven or microwave.
Each menu item has a prep method section with instructions. You'll never be doing any chopping or mincing, so it's perfect for those looking for something easy and simple.
Both services have simple, ready-to-eat meals, but Nutrisystem wins in this category because it includes every meal. With SlimFast, you'll still need to prep and make your single, main meal of the day, which requires planning, shopping, and cooking.
Winner: Nutrisystem