Short on Time? Here Are the Best Carnivore Diet Meal Delivery Services in 2023
The Best Carnivore Diet Meal Delivery Services Reviewed
Factor is one of the top meal delivery services for carnivores and many other restrictive dieters, such as keto. It's one of the rare services offering free nutrition coaching to help you determine what your optimal diet should consist of. As a restrictive dieter, you can take advantage of a free 20-minute session with a certified dietitian to eliminate any doubts about foods you can and can't eat.
Factor is a single-serving meal delivery service typically offering over 30 weekly meals. While it doesn't focus specifically on meat eaters, it has many recipes that feature carnivore-friendly ingredients. Many of its meals' main ingredients are chicken, beef, salmon, and pork.
The service offers a variety of extras that may appeal to passionate meat eaters. Some potential alternatives that may interest you include Smoky Bacon and Cheddar Egg Bites, Tangy BBQ Chicken Wings, and Pan-Seared Salmon.
The service doesn't allow for ingredient customization. So, you'll need to review the selected meal carefully before placing an order. You'll still have to personalize the dishes by removing any unwanted ingredients when you receive your box. But as the meals arrive prepared, this will probably be quite difficult. So consider trying Green Chef, which is a highly-rated meal kit service.

Once you've made the necessary adjustments, you can heat and eat the meal. You'll need up to 5 minutes to warm Factor's meals, as our reviewer stated in their dedicated review.
Factor has 6 dietary plans, 4 of which cater to carnivores:
Keto

Protein Plus

Calorie Smart

Chef's Choice

Vegan & Veggie

Flexitarian
As a carnivore, you should avoid the Vegan & Veggie plan. You can also refer to self-explanatory tags when reviewing the menu to shortlist suitable recipes. Keto, Calorie Smart, and Protein Plus are the ones you should focus on.
Your Factor meals should stay fresh for up to 7 days in the refrigerator. However, make sure to check the "Enjoy by" date printed on the packaging, just in case.
Factor prepares dishes inspired by various international cuisines. It has Thai, Mediterranean, Indian, and Mexican recipes, among others. Of course, you'll find American food on its menu, too.
The price per individual meal depends on the number of weekly servings. The more you order, the lower the price per recipe you'll pay. The price per serving starts at $6.19. This service ships its products to customers residing in the contiguous US.
Key Features
Pre-measured and pre-prepared ingredients

Chef-curated recipes

Meal kits for singles, couples, and families

Current deal: Get $250 off + free shipping
Green Chef is a licensed organic meal kit service. Certified by CCOF (California Certified Organic Farmers), it's the first and, by many, the leading organic meal delivery service in the US. You'll find organic beef, chicken, and seafood options on its menu. Green Chef informs customers through labeling if it's unable to source organic ingredients for a meal. However, its meat is of high quality regardless.
Green Chef typically offers over 45+ dishes on its weekly menu. And some key ingredients of those catering to meat eaters are fish, chicken, and pork.
You can order from 40+ Green Chef add-ons, in addition to main dishes. And at least some of them cater to carnivore dieters. For example, you may find extras such as Bacon, Egg, and Gouda Breakfast Sandwiches, Shrimp, and Wild-Caught Sockeye Salmon Filets.
Tags accompanying Green Chef's meals can help you narrow down the options. Look for meals labeled as Keto, Gluten-Free, Mediterranean, and Protein-Packed as these are more likely to align with your carnivore diet. You may also consider Quick & Easy or Calorie Smart labeled meals for quick and healthy meals.
If any of the ingredients in a recipe don't align with your diet, you can remove them once the kit arrives. The prep time for most recipes is 30 minutes on average. Check our insightful review to learn more about meal prep. As for add-ons, you can prepare most of them in about 5 to 10 minutes.
Green Chef meals usually stay fresh for up to 5 days in the fridge from delivery. But if you have any seafood dishes, consume them within 3 days.
Green Chef publishes its menu for the next 3 weeks, so you can plan your meals in advance. But, if you plan further ahead, consider Home Chef, which publishes its menu for the upcoming 6 weeks.
The price of your order depends on the number of purchased meals. You can start your Green Chef subscription with a minimum of 3 weekly meals for 2 individuals, while the maximum meal kit order includes 4 servings for 6 people. The price per serving starts at $9.99 with the largest box. You'll also have to pay a shipping fee of $9.99.
HelloFresh is among the services offering the widest selection of weekly meals. For this and other reasons, it's one of the best carnivore-diet meal delivery services operating in the USA. It advertises having over 30 weekly meals on the menu. But I've been following the service for some time now and have noticed that it consistently offers more than 70 recipes per week. In such a wide selection, every carnivore is sure to find dishes suiting their needs.
HelloFresh doesn't specifically cater to meat eaters, like most other meal delivery services. Furthermore, it doesn't allow for ingredient customization, so you can't select specific ingredients for your meals. Therefore, you'll likely have to customize your meals by removing ingredients that don't align with your diet.
Use the HelloCustom tool to swap certain proteins in selected meals. Note that the options aren't many, but you might be able to choose between shrimp or chicken in one meal or swap chicken for steak in another.
Most HelloFresh recipes usually take up to 35 minutes to cook, as advertised on the website. Some may require up to 45 minutes. However, you may considerably shorten the prep time listed on the site by customizing the meals according to your needs.
HelloFresh advertises its menu 6 weeks in advance. Thus, you can plan your meal schedule well ahead of time and have more time to make potential adjustments.
HelloFresh has 6 meal categories:
Veggie

Pescatarian

Quick & Easy

Meat & Veggie

Family Friendly

Fit & Wholesome
The meal kit service delivers the food fresh, straight to your doorstep. Store your HelloFresh food in the fridge and consume it within 5 days from the delivery date at the latest. Please ensure to eat seafood within 2 days from delivery.

HelloFresh has a cookbook that you can use to get meal inspiration. It's not just for HelloFresh customers, so anyone can access it. The cookbook has over 2,500 recipes, so you're sure to find some that fit your dietary style. Read a dedicated HelloFresh review to learn more about its meals and recipes.
HelloFresh requires a minimum weekly order of 2 servings for 2 foodies, while the maximum order is 6 recipes for 4 dieters. The cost per meal starts at $3.32, but the price increases for small orders. You'll learn about shipping expenses upon choosing your plan. HelloFresh ships its meal kits across the mainland US and to selected zip codes in Honolulu, Hawaii, and Anchorage, Alaska.
Home Chef caters to eaters seeking to build their meal plans well in advance. This carnivore-diet meal delivery service publishes its menu 6 weeks ahead, giving you ample time to build your meal plan. It has dozens of dishes falling into 4 categories. So, you should have plenty of options to customize to meet your dietary preferences.
The service, however, doesn't specialize in the carnivore diet. Therefore, you'll need to separate unsuitable ingredients upon receiving your delivery. But, you can select some foods you wish to avoid while choosing your plan. The options you can eliminate are tree nuts, mushrooms, sesame, and peanuts.
Home Chef also offers a Customize It feature for protein replacements. Simply look for the View Customize It Options button when selecting your meals. Depending on the dish, you may have the choice between shrimp vs. scallops, filet mignon vs. pork chops, or sirloin steaks vs. chicken breasts, among other alternatives.
The menu consists of the following categories:
Easy Prep Meal Kits

Meal Kits

Bundle and Save

Extras
You may need between 5 and 50 minutes to prepare your meal, depending on the chosen options. If time is a limiting factor for you, choose Bundle and Save and Extras options. Meal Kits suit passionate cooks who have time to experiment in the kitchen. Easy Prep Meal Kits are a middle ground between the other 2 options. Just make sure to reserve your favorite meals in advance since options tend to sell out fast.
Consider taking Home Chef's quick quiz if you're unsure which recipes to choose. It'll ask you a few questions to help determine your preferences and suggest suitable meals. But If you seek expert assistance, Factor offers free nutrition coaching sessions. Some quiz questions are:
Do you enjoy cooking?

Which of these meals would you like the most? (Note that A nice juicy steak and Anything seafood are among the provided answers)

What's your main priority when cooking?
Home Chef's 100% satisfaction guarantee protects you as its customer. If the product you receive dissatisfies you in any way, you can receive compensation for your next order or a same-value product. You can request a credit via your registered Home Chef account. For further details, read our excellent review.
Type your zip code during the signup process to see if the service ships food to you. In general, Home Chef delivers to most of the USA.
Consider purchasing more meals to pay a lower cost per serving. The price per individual dish starts at $7.99 for the biggest box containing 6 meals for 6 eaters. The minimum order is 2 recipes for 2 people.
Key Features
Line of quick-prep Home Chef's dishes

Little to no cleanup after dining

Oven- and grill-ready food
Fresh and Easy, a Home Chef brand, specializes in meals that require little to no prep. You even won't need to clean up after eating with some options. And the service delivers only fresh ingredients of top quality to you, just like Home Chef. You'll find quick-prep meal kits, prepared meals, and salads accompanied by meat on the service's menu.
You can get Fresh and Easy's meal options ready in under 30 minutes. If you enjoy cooking and have a bit of extra time, opt for meal kits. But, if you're short on time or prefer not to cook, choose prepared meals.
You'll likely have to optimize meals to fit your preferences. I found that Fresh and Easy includes various dairy products, meats, and eggs in its dishes. Our reviewer mentioned that most dishes offer up to 5 proteins. Some of the meats may even be pre-cleaned, so you would only need to wash them before preparing them.
I also found that Fresh and Easy thoroughly pre-preps ingredients. This means that you might not have to spend time slicing, chopping, or doing any other preparation. Often, washing the ingredients won't be necessary. Typically, all you'll have to do is choose elements suitable for your diet, heat the food, and serve it.
You can exclude certain ingredients when selecting a Fresh and Easy plan, much like with Home Chef. As a carnivore, you'll want to eliminate tree nuts, mushrooms, sesame, and peanuts. Based on your preferences, you can keep beef, pork, poultry, fish, and shellfish.
Some Fresh and Easy meals require no cooking at all. They can be heated in the microwave or oven and even come with an oven-safe tray, meaning you won't have to do any washing up either. You can grill others in grill-safe bags you'll receive with the recipe.
Note that Fresh and Easy delivers food to most of the continental US. Enter your zip code during the sign-up process to see if you're eligible for delivery. If you live in Honolulu, Hawaii, or Anchorage, Alaska, check out the meal options HelloFresh offers.
Consider purchasing a larger box to benefit from a lower cost per serving. The price per dish begins at $7.99 if you order 6 meals for 6 people. The minimum order consists of 2 recipes for 2 people. Fresh and Easy charges a shipping fee of $10.99 for all orders, regardless of the box size.
Key Features
Over 15 weekly meals

Most ingredients come fresh from producers

Recipes inspired by renowned international cuisines
Blue Apron is a good option for carnivore dieters, as well as for pescatarians and omnivores. It offers dishes featuring high-quality ingredients sourced directly from producers. Many recipes boast various carnivore-friendly elements, including meat, dairy products, and eggs.
You can even personalize vegetarian recipes to fit your carnivore diet. Blue Apron offers you to swap out ingredients in selected dishes to make them carnivore-friendly. In a Cheesy Asparagus Quiche dish, for example, I was able to add diced pancetta to the recipe even though the meal had a vegetarian label. So, always check if there are any opportunities to add meat or other carnivore-friendly ingredients by selecting the recipe.
You may need to further personalize the recipes to fit your carnivore diet completely. You'll have to go through the meal kit upon delivery and remove any ingredients that don't align with your dietary needs. Only then you can start cooking.

Most Blue Apron's recipes typically have a serving time of between 25 and 35 minutes, as our reviewer pointed out in their detailed review, and some require up to 45 minutes to get ready. However, the prep time may be shorter than the listed time on the website since you'll customize the meals to fit your carnivore diet.
You'll find 5 meal kit categories in the Pricing section to choose between. Don't hesitate to opt for those that don't seem to fit your dietary requirements at first. Remember, you may be able to add carnivore-friendly ingredients to dishes falling into those categories. Available options are:
Veggies

Wellness

Fast & Easy

Chef Favorites

Family Friendly
Blue Apron typically has over 15 meals on its weekly menu. Check out Factor's prepared meals if you need a wider variety and aren't much of a cook. But Green Chef may be a better alternative if you prefer to stick to meal kits but want a bigger menu selection.
You can find meals catering to your needs in the Add-Ons section, too. You can prepare these extras in as little as 5 minutes. Some carnivore-friendly options might be sea scallops, boneless chicken breast pieces, and pork chorizo.
The expiration date of ingredients in Blue Apron's meal kits varies. But as a general rule, you need to consume seafood and fish within 2 days of delivery. If you don't plan on eating them within that time frame, put them in the freezer.
The more dishes you order from Blue Apron, the lower cost per serving you pay. The price per meal starts at $5.74 for 5 meals with 4 servings. The flat-rate shipping fee is $10.99. The meal delivery service ships its meal kits to customers in the continental US.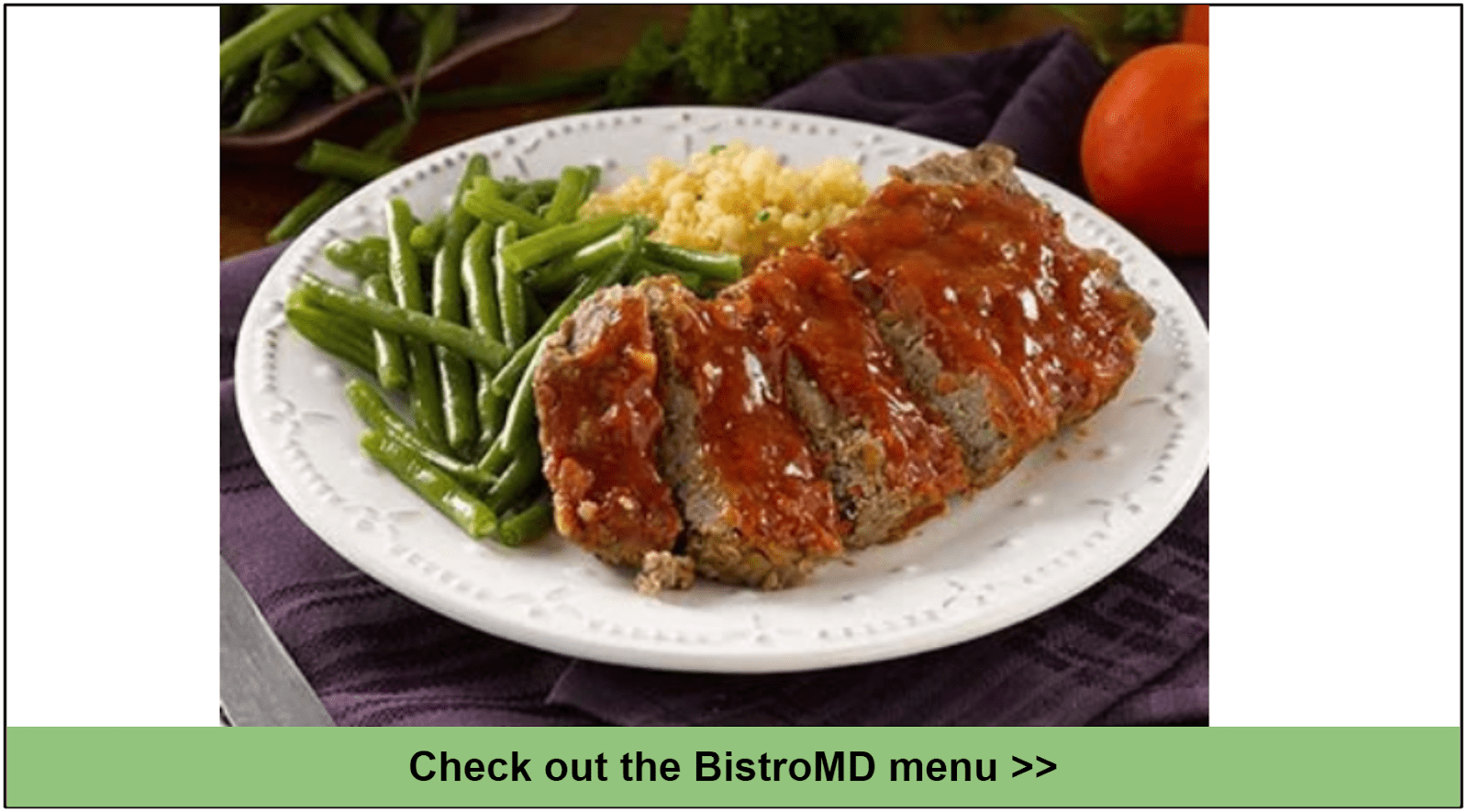 Key Features
Nutritionally-balanced dishes

Over 150 meals to choose from

Custom diet plans
BistroMD is an excellent carnivore-diet meal delivery service. It's a top choice for people seeking to lose weight, too. Plus, expert dietitians design all of the service's recipes. They'll also come up with a personalized diet program once you place an order. Log into the My BistroMD portal to have complete control over the meals you receive every week.
Note that BistroMD is great for meat eaters seeking prepared meals. BistroMD delivers breakfast, lunch, and dinner options, as well as snacks. You'll find plenty of alternatives that could qualify among the main meals. As our reviewer pointed out, meals can contain pork, beef, chicken, and fish, among other ingredients.
I found fewer alternatives that cater specifically to meat eaters among snacks. Some of the available options include Smokehouse Dried Beef and Black Bean Salsa Dried Chicken.
BistroMD has several programs that cater to meat eaters to some extent on its menu, and they are:
Signature

Gluten-Free

Heart-Healthy

Keto Flex

Diabetic

Menopause
BistroMD offers you 4 plans to fit your mealtime preferences. Choose between Full Program, which includes all 3 main daily meals, and Lunches and Dinners. Additionally, you can select whether to receive the custom plan for 5 or 7 days a week. Note that you get My Night with Full Program for 7 days. It replaces 1 dinner and allows you to eat anything you wish as a reward for being consistent with your diet.
The service delivers frozen meals you can heat. If you're not home when your package arrives, the food should remain frozen for hours. However, put the meals in your freezer as soon as possible once you get home.
You'll need to remember to thaw the meal thoroughly in the fridge prior to heating. It may take up to a few days to fully defrost in a standard refrigerator. Once the dish thaws, you can leave it in the fridge for another 2 or 3 days. You can heat most dishes in 5 minutes.
BistroMD only delivers its meals to locations within the contiguous United States. FedEx is its courier. Consider Nutrisystem as an alternative weight-loss service if you reside in Alaska, Hawaii, Puerto Rico, or the US Territories.
By ordering more meals, you reduce the cost per serving. The per-serving price begins at $8.24. The maximum weekly order is 20 meals, which includes 7 breakfasts and lunches and 6 dinners for the Full Week Program. For the Work Week Program, the minimum purchase is 5 lunches and dinners. Besides, you'll have to pay a flat-rate delivery cost of $19.95.
Martha Stewart & Marley Spoon allows you to customize your meals with animal proteins. You can swap ingredients in various recipes that contain meat, poultry, and fish. Check the dishes featuring the Customizable label to choose between various meat types. Once you select the dish, you'll see the alternatives. Those could be turkey, beef, and steaks, among others.
You can choose between traditionally sourced meats and their organic counterparts in selected meals. For example, some options allow you to choose between sirloin steak and organic sirloin steak. Note that opting for the organic version will result in a few-dollar price increase. If you search for a certified-organic meal kit service preparing organic chicken, beef, and seafood, check out Green Chef.
Pay attention to helpful tags on the Martha Stewart & Marley Spoon's menu. As a carnivore, focus on the Meat and Fish tags but don't disregard the Veggie tags either if they're coupled with the Customizable label. Those recipes may include animal-derived proteins as an alternative. Just note that replacing an original ingredient may incur a $1 or $2 surcharge.
You may have to remove unwanted ingredients from your meal upon receiving your meal kit from Martha Stewart & Marley Spoon. Keep in mind that the service doesn't focus on meat eaters per se. So you're likely to have to omit plant-based ingredients before starting cooking.
You should consume fish within 2 days and meat within 3 days following delivery. If you don't plan on eating certain meals in that time frame, freeze them. Frozen meals can last up to 2 months.
There are 2 plans on offer. One is for 2 foodies, and the other is for 4 eaters. You can choose to receive between 2 and 6 meals per week with either plan. You'll find Martha Stewart & Marley Spoon's menu published 4 weeks in advance so you can plan ahead.

Martha Stewart & Marley Spoon prioritizes the environment as a meal delivery service. It promotes sustainable recipes and offsets direct carbon emissions related to packaging. Plus, its pre-portioned servings reduce food waste. For these reasons, their products feature the Climate Friendly label.
You can receive a delivery to most mainland US locations. Consult our dedicated review to learn how to check whether it delivers to your area. Some of its carriers are FedEx, UPS, and Lasership. Delivery times vary depending on the location.
The number of servings determines the cost per meal. As you order more dishes, the price per serving decreases. You can order meals for as low as $2.99 per recipe. Keep in mind that per-serving costs are lower for 4 individuals than for 2. Additionally, Martha Stewart & Marley Spoon charges a shipping fee of $11.99.
Key Features
Partner plans

Packages for people over 55

Dietitian-designed recipes
Nutrisystem is a meal delivery service that offers men and women various plans to suit their dietary needs. It focuses on weight-loss programs that can align with a carnivore diet. The service has meals containing meat, dairy products, and other ingredients. Meat eaters can personalize their meal plans to align with their preferences upon delivery.
The meal delivery service has 3 plans for women and men:
Uniquely Yours

Uniquely Yours Max+

Complete 55
Nutrisystem also has Partner Plans designed for couples. Carnivores suffering from diabetes should opt for Diabetes Plans.

You can choose between 130+ menu options. The service offers a variety of breakfasts, lunches, dinners, and snacks. Its food doesn't contain any sweeteners or artificial flavors, so you can be sure that you're consuming real food.
Nutrisystem delivers fully prepared and ready-to-eat meals that only require heating before consumption. Note that you'll receive 2 separate shipments from Nutrisystem, depending on your selected options. One will contain frozen food while another will contain fresh food.
Frozen food arrives packed with dry ice, keeping it frozen for up to 6 hours after delivery. These meals have a long shelf life, typically lasting anywhere from 6 to 18 months, as our reviewer corroborated in his detailed review. As for fresh food, check the Enjoy by date to learn by when to eat these recipes.
Nutrisystem delivers meals to customers throughout the continental US. But you can order from this service even if you live in Hawaii, Alaska, Puerto Rico, or other US territories and possessions. The service even ships packages to APO and PO Boxes and military addresses, which is a rarity among meal delivery services. Note that only customers from the contiguous US qualify for frozen food shipments.
Delivery times vary based on the customer's location. If you live in the mainland US, your orders should typically arrive between 1 and 5 days after you place them, barring any carrier delays. If you reside in Alaska, Hawaii, and Puerto Rico, you may have to wait up to 7 days. APO and PO Boxes and military addresses generally have a longer delivery time of around 4 to 6 weeks.
The Uniquely Yours Nutrisystem plan is the most affordable option, while other plans are pricier. The cost per day starts from $8.54 and varies based on the selected plan. With the Uniquely Yours plan, you receive 5 days of breakfasts, lunches, and dinners. With Uniquely Yours Max+ and Complete 55, you can choose to receive meals and add-ons for either 5 or 7 days a week.
Nutrisystem offers you a money-back guarantee for all its plans. This guarantee allows you to try its food for 7 days without any commitment. If you dislike the meals for any reason, request a refund, and Nutrisystem will reimburse you in full, excluding shipping costs.
Key Features
Low-calorie recipes

2 portion sizes

Heat-and-eat meals
Eat Clean to Go stands out as a top meal provider offering personalized portion sizes. Unlike other services, it allows you to choose between Regular Portions and Large Portions. Although the Large Portions option will cost you slightly more, you'll get a higher value for money.
Note that the portion size determines the available number of servings. If you choose Regular Portions, you can select from 6, 10, 12, or 14 dishes. If you opt for Large Portions, you can order 4, 6, 10, or 12 dishes.
Eat Clean to Go is a great option if you're looking for prepared meals. If you're unsure whether Eat Clean to Go is right for you, Factor is another service to consider because it offers free nutrition sessions to help you achieve your dietary goals. If you prefer cooking your meals from scratch, check out Green Chef, an organic meal kit service.
As a carnivore, you may be interested in 3 out of the 4 diets offered by Eat Clean to Go. These are Traditional, Paleo, and Keto. You should clearly avoid the Plant Based option. As our reviewer noted in his detailed overview of the service, the 3 plans catering to meat eaters feature various proteins. Some of them are pork, chicken, beef, and shrimp. You can also find cheese in some meals.
You can't personalize meals when ordering from Eat Clean to Go, and all meals arrive fully prepared. As a carnivore, you'll need to review the ingredients for each dish to ensure it contains animal-based proteins.
Use either a microwave or a conventional oven to heat up Eat Clean's meals. In general, microwave heating can take between 3 and 5 minutes, while conventional oven heating usually lasts between 25 and 35 minutes.
The cost of each meal depends on the portion size and the number of servings. The more dishes you order, the lower the cost per recipe, which starts at $8.60. The shipping fee ranges from $9.99 to $17.99, depending on the number of dishes. Note that the size of the portion doesn't affect the delivery cost. You can enjoy Eat Clean to Go's meals if you live in the contiguous United States.
Quick Comparison Table