Freshly vs. HelloFresh 2023: Which One is Left Standing?
Freshly and HelloFresh are 2 of America's most popular meal delivery services. HelloFresh offers a wide selection of meal kits, while Freshly sends fresh prepared meals you simply heat and eat. But which is better for you?
I've done a close comparison of both services, examining everything from prices and shipping fees to ingredient lists and allergen filters. I've matched the 2 services against each other so you can determine which is a good fit for you. And after careful consideration, I'm ready to declare a victor.
HelloFresh wins this competition for its customer service and wide-ranging menu. Freshly is a worthy competitor with a good selection of meals at very reasonable prices, but it faced an uphill battle against HelloFresh, one of the oldest and biggest meal delivery services in the game. Read on to find out more!

At a Glance: Who Won Each Category?
| | |
| --- | --- |
| 💲 Price: | Freshly (from $6.90 per serving) |
| 🍔 Menu Variety: | HelloFresh (30+ choices per week) |
| ⏰ Prep Time: | Freshly (3 minutes) |
| 🍴 Customization: | |
| 👍 Ordering and Delivery: | It's a tie |
| 🙋 Customer Support: | |
Winner: HelloFresh
HelloFresh wins this round for its extensive menu offerings and the HelloFresh Market. Freshly offers a good selection of prepared meals, but HelloFresh's meal kits are suitable for a wider range of customers, and the online marketplace provides even more meals and ingredients.
Freshly offers a fixed menu of around 35-39 prepared meals that you can choose from each week, as well as a small selection of proteins and breakfast items.
The Freshly menu is pretty diverse. It has familiar options like pork chops and burgers, burritos, and pasta, but you can also order Indian-inspired meals like curries and dal, as well as European dishes like the Oven-Baked Chicken Florentine (pictured). The menu is divided up into the following categories, but you can always mix and match from the range:

Signature Collection – Freshly's most popular meals

Freshly Fit – meals less than 550 calories per serving

Takeout Twists – healthier versions of popular takeout dishes

Purely Plant – vegan meals and sides

Proteins & Sides – add-ons like cooked chicken breast and cauli-rice

Shrimp & Chorizo Paella with Peas, Bell Peppers, and Garlic Aioli by HelloFresh

HelloFresh's website states that it offers 30+ choices on the menu each week, but there are often far more recipes than that. The number is usually closer to 50 or 60, particularly when you factor in its HelloCustom feature.
The menu is divided up into 6 plans (but similarly to how Freshly works, you'll always have access to every dish):
Meat & Veggies – classic omnivorous dishes

Veggie – vegetarian and vegan meals

Family Friendly – kid-approved recipes

Fit & Wholesome – healthy meals with around 600 calories per serving

Quick and Easy – easy-prep options ready in less than 30 minutes

Pescatarian – meals with seafood and veggies
HelloFresh's menu boasts cuisines from around the world. While you'll have lots of American-style offerings, like burgers, chicken, and tacos, you'll also find meals like Szechuan Beef Noodles with Scallions and Sesame Seeds, or Shrimp and Chorizo Paella with Peas, Bell Peppers, and Garlic Aioli (pictured).
The HelloFresh Market allows subscribers to order extras like fresh produce, proteins, breakfast entrees, sides, quick meals, desserts, and spices. Although it doesn't offer prepared meals, it does have an assortment of oven-ready options that require next-to-no prep or washing up.
Winner: HelloFresh
HelloFresh's HelloCustom feature takes this round. Freshly is naturally at a disadvantage because customizing prepared meals is more challenging than swapping ingredients in a meal kit. But all of its meals are gluten- and peanut-free, and it accommodates those who are looking for dairy-free, soy-free, and low-calorie options, too.
HelloCustom allows subscribers to swap or upgrade proteins and sides on 12+ entrees every week. You can add meat to an otherwise-vegetarian dish, swap chicken for shrimp, and even change the vegetables in your side dish.
HelloFresh offers around 14-17 vegetarian meals each week, including 2-4 plant-based options. These promise to feature a variety of fresh fruits and vegetables, healthy grains, and meatless proteins. Selecting the Veggie plan when you sign up is a great way to narrow down your choices, but those looking for just vegan options will probably be happier choosing from our list of the best vegan meal delivery services.

HelloFresh also lets you omit beef, pork, or seafood when you sign up. And while it always offers transparent nutritional info so you can scan each recipe for problem ingredients, it's not suited to customers with severe allergies, since zero cross-contamination can't be guaranteed.
On the other hand, Freshly offers a great selection of certified gluten-free meals that are prepared in a gluten-free facility to avoid cross-contamination. Gluten-free meals can be difficult to find, so if you have celiac disease or a gluten sensitivity, be sure to check out our list of the best gluten free meal delivery services.
There are 4 or 5 plant-based meals and around 10 lower-calorie meal choices per week. While it's not specifically a weight loss service, Freshly's meals are marketed as healthy and nutritious, with reasonable calorie counts.
Neither HelloFresh or Freshly have meals suitable for diets like keto or paleo. If you're specifically looking for keto-friendly meals, check out the specialist providers on our list of the best keto meal delivery services.
You can find some low-carb recipes on the HelloFresh menu, although they aren't specifically labeled as such. Instead, look out for tags such as Protein Smart and Dietitian Win if you're looking for nutrient-dense, high-protein meals.
Winner: It's a tie
Both HelloFresh and Freshly use recyclable packaging that keeps food cool in transit. Both services also give you an excellent choice of delivery days with the option to track your package – so I declare this round a tie.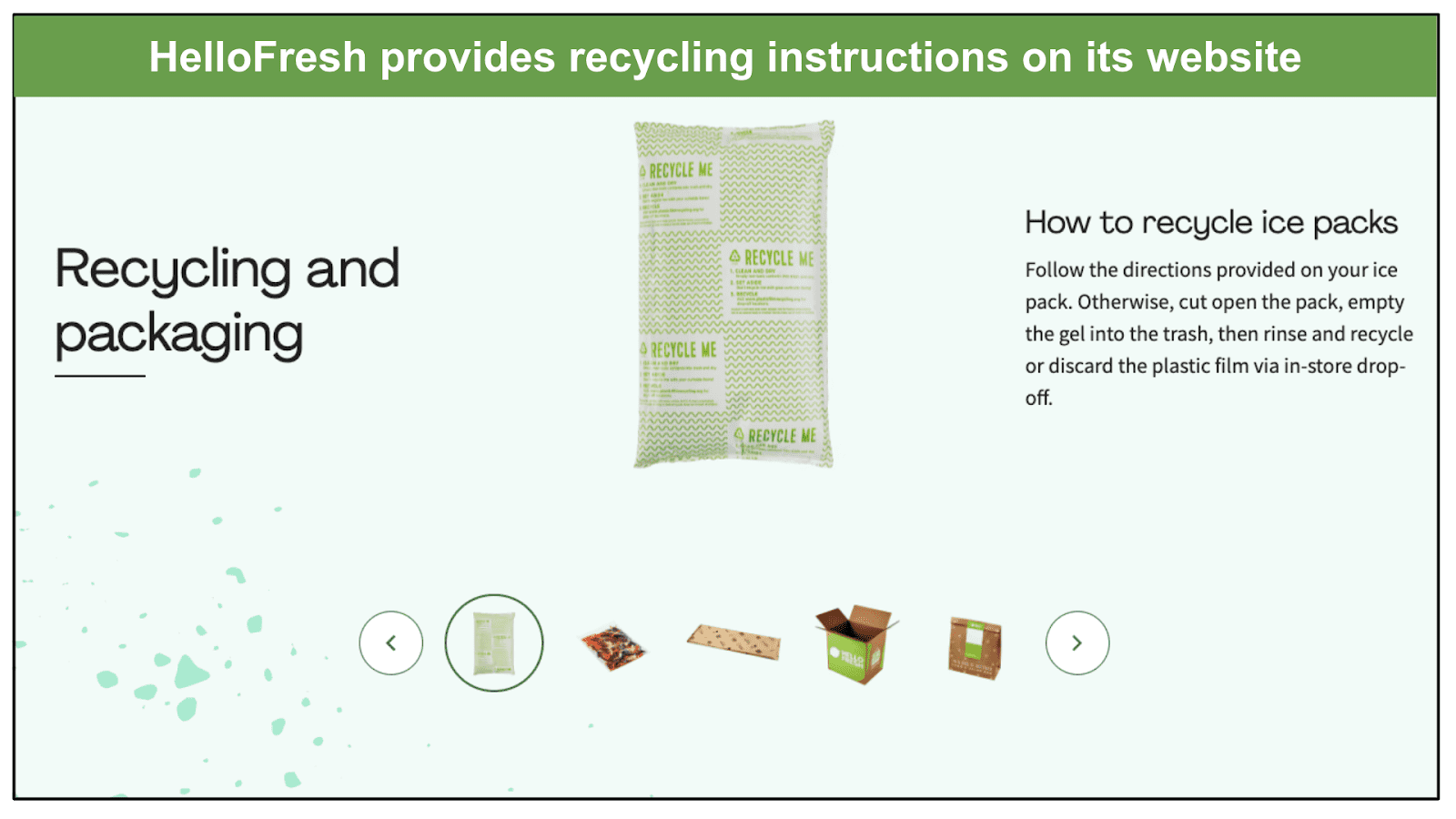 HelloFresh provides a number of delivery options to choose from at checkout. The exact delivery days you'll be offered depend on your zip code. The HelloFresh app and website also offer tracking information so you can stay informed of your order's status.
HelloFresh has a minimum order of 2 recipes for 2 people per week and a maximum order of 6 recipes for 4. The 6-meal plan is great if you want to make sure your family has healthy suppers throughout the week. This is also where you'll get the best value for money.
When your box arrives, you'll find that many ingredients are neatly packaged in brown paper bags and sorted by recipe, with insulated liners and cooling gel packs to keep everything cold.
There's a whole section dedicated to sustainability on HelloFresh's website, so you can find instructions on how to recycle all the packaging in your box, including the pans for its oven-ready meals. HelloFresh also provides info about how it limits its carbon footprint and discusses some of its projects which address food insecurity in the United States.
Freshly also offers multiple delivery options, and you can order up to 3 weeks in advance. The app and online portal makes it easy to skip, reschedule, or postpone orders online, and it even lets you do so up to 2 days before your scheduled delivery date!
Freshly has a minimum order of 4 single-serving meals per week, and a maximum order of 12. All the dishes arrive prepared in microwave-safe trays, so storing them is as easy as cooking them – all you have to do is stack them in your refrigerator until it's time to eat.
The packaging isn't just convenient, it's also environmentally friendly. The cardboard box, cardboard sleeves, and trays are recyclable, and Freshly uses biodegradable recycled denim to insulate your meals.
Meal Prep
Winner: Freshly
Nothing beats prepared meals for convenience, so Freshly takes this round. All you have to do is open the box, slide the plastic tray into the microwave, and in around 3 minutes dinner is served.
While HelloFresh offers some oven-ready meals in the HelloFresh Market, you'll always need to do some kind of prep and cooking to turn your HelloFresh meal kit into a complete dish.
Freshly meals stay fresh in the refrigerator for 4-5 days.
If you want to store them for longer, they can be frozen and need just a few more minutes in the microwave when you are ready to enjoy them.
HelloFresh meal kits supply all the ingredients you'll need, plus a recipe card to follow. You'll also spot that the recipes have different difficulty ratings – though almost all are either rated "Easy" or "Medium", which means even novice cooks shouldn't have a problem getting to grips with them.
That being said, don't be afraid to test your limits! Our reviewer found HelloFresh's recipes to be foolproof, claiming that everything they cooked turned out looking and tasting delicious.
For busier nights, HelloFresh's Quick and Easy meals are ready in 30 minutes or less. You can also look for recipes with Easy Prep, Easy Cleanup, and Quick labels. They're not as convenient as Freshly's prepared meals, but they're undoubtedly an easy and healthy way to get dinner on the table.
Customer Support
Winner: HelloFresh
HelloFresh is known for its customer service, so it's not surprising it took this round. However, it was a very close matchup. Though Freshly only offers 18-hour customer support compared to HelloFresh's 24 hours, the two services are in most other ways running neck and neck.
Freshly has a clear and detailed FAQ, as does HelloFresh.
Here, you can find the answers to most questions you might have about shipping, delivery, recycling, ingredients, and more. In my opinion, a good FAQ page makes for happier customers.
You can always contact HelloFresh customer support if you can't find answers in its FAQ. Brie, HelloFresh's virtual assistant, answered my questions in seconds flat. And if your request leaves Brie stumped, you can speak to an agent at (646) 846-FOOD (3663).
Both the HelloFresh chatbot and phone line are available 24/7, which is rare in the meal delivery service industry. This service also makes it easy to skip weeks, cancel your subscription, or make other changes to your order, as long as you do so by 11.59 pm PST, five days before your next scheduled order.
Freshly also provides a high level of support to its customers. The team is available from 6 am to midnight ET, 7 days a week via email or phone.
Winner: Freshly
Freshly isn't just cheaper than HelloFresh – it's also one of the cheapest prepared meal delivery services. Prepared meals are generally more expensive than meal kits because of their convenience and the extra level of work involved in making and shipping them, which makes Freshly's pricing even more impressive.
Freshly meals start at $8.49 per serving when you select the largest plan of 12 meals per week. The fewer meals you order, however, the higher the price per dish, with meals going up to $11.49 each when you order just 4 per week.
To put those numbers into perspective, Freshly's most expensive meals are only 50 cents higher per serving than prepared-meal competitor Factor's lowest price.
Freshly also charges a weekly shipping fee, which ranges from $3.99 to $12.99, depending on the size of your order.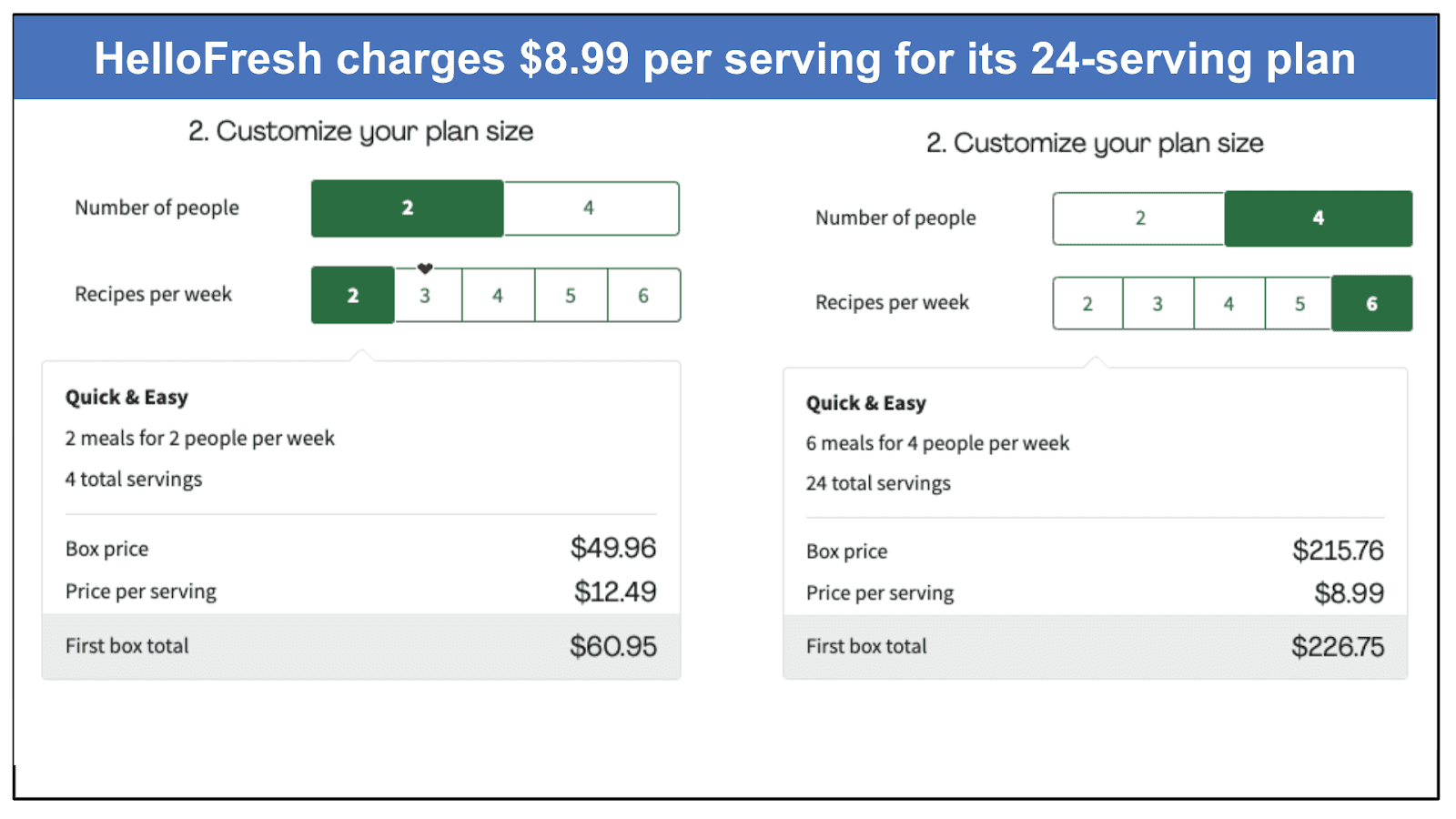 HelloFresh's portions start from $3.32 per serving. To get that price, you'll need to sign up to receive 6 meal kits each week that serve 4 people, while the smallest plan of 2 meals for 2 people per week hikes the price up to $12.49 per serving.
That $12.49 price tag is already $1 more than Freshly's most expensive prepared options, so no matter how you do the math, Freshly always comes up cheaper. HelloFresh also has a flat shipping fee of $10.99, no matter the size of your order.
Certainly, if you are feeding a smaller household, Freshly is the more budget-friendly choice. That said, HelloFresh is still considered one of the most competitively priced meal delivery services out there right now.
Freshly vs HelloFresh — Quick Overview

| | | |
| --- | --- | --- |
| | Freshly | |
| Best for | Busy singles on a budget | Couples and families |
| Starting price | $6.90 per serving | $3.32 per serving |
| Shipping cost | $3.99 to $12.99 per week | $10.99 per week |
| Minimum order | 4 meals per week | 2 meals for 2 people per week |
| Menu variety | 35-39 choices (fixed menu) | 30+ choices per week |
| Prep time | 3 minutes | 25-50 minutes |
| Low-prep options | Prepared meals (microwave-ready) | Easy Prep, Easy Cleanup, Quick, oven-ready |
| Allergies catered to | Certified gluten-free | None |
| Special diets | Gluten-free, dairy-free, soy-free, low-sodium, low-calorie, low-carb, high-protein, plant-based | Vegetarian, pescaterian, calorie-smart, carb-smart, high-protein |
| Customer support | Phone, live chat, FAQ | 24/7 live chat, phone |
| Promotions | | 18 free meals + first box ships free + 3 surprise gifts with code DR18HF |
While HelloFresh takes our top spot, this was a very close matchup. HelloFresh's top-notch customer support and superb selection of meal kits won the day, but Freshly's prepared meals are an excellent choice for those looking for fast, tasty, and nutritious meals.
Our best meal delivery services list always has HelloFresh high up. HelloFresh works really well. It's a great pick if you want a meal delivery service you can trust, that gives you a mix of meals that are good for families and comfort food, plus some more exciting foods.
FAQ
What happened to Freshly?
Freshly's prepared meals were reasonably priced, but the profit margins were too slim to keep the company in business. In late December 2022, Freshly announced it was shutting down operations, though it has plans to offer Freshly meals in several retail outlets.
Can you lose weight with HelloFresh?
Yes. If you're on a calorie-controlled diet, HelloFresh offers a number of meals that have 600 calories or less per serving.
While it's not a dedicated weight loss service, HelloFresh can help you get into the habit of eating healthier, home-cooked meals instead of junk food and takeout.
The Fit & Wholesome plan could help you stay on track, but look out for menu tags such as Protein Smart and Dietitian Win, too.
Is HelloFresh good for families?
Yes, HelloFresh is great for families. The dedicated Family-Friendly plan offers tons of comfort-food favorites and kid-approved meals. And because HelloFresh offers up to 6 meals for 4 people per week, you can relax knowing your household has a steady supply of nutritious and tasty meals every day.