| | |
| --- | --- |
| Pros | Cons |
| À la carte ordering is easy | No rating system in the online store |
| Organic and sulfite-free options | You only get limited info on your wines |
| Quite affordable compared to competitors | You can only cancel over the phone |
I really enjoyed Tour Guide Wines' streamlined subscription process. The thing I love most about wine subscriptions is the mystery element: I want to give some indicators of what I like in wine, and then I want to receive a box of six bottles I've never tried before. Tour Guide Wines is perfect for this.
Subscribing (or "joining the club," as Tour Guide Wines puts it) takes seconds. As the handy infographic below says, it takes just five steps. Each step just consists of putting in your preferences: Do you want organic or sulfite-free wine? Do you like whites, reds, or both? How many bottles do you want per shipment? How often do you want to receive shipments?
Once you answer these easy questions, all that's left to do is put in your payment and shipment information. It's that easy – and I really like the simplicity of the process.
Before you check out, you'll be able to see a list of the wines coming in your next box which actually removes some of the mystery element of the order but can also leave you feeling excited about receiving it. You'll also see tasting notes, pairing ideas, and other info (see below), but unfortunately you don't have the option to swap out any of the bottles unless you contact customer service directly.
As I said, this is the sort of wine club I prefer: I like to let the company choose the bottles for me. If you're the type of person who wants the final say over exactly what wines are coming in the box, Tour Guide Wines may not be the one for you.
Tour Guide Wines' pricing structure is pretty simple. When you sign up, you get the option to choose whether you'd like four, six, or 12 bottles in each shipment. Each tier has its own price, and you save a little bit more on larger orders, ranging from $12-13/bottle. Tour Guide Wines even highlights how much you're saving, so you don't have to work it out yourself.
The highest tier, 12 bottles per shipment, also comes with free shipping – saving you an extra $10. The screenshot below displays these different levels.
Curiously, choosing to receive a shipment of only organic wines actually lowers the overall cost to a flat $9/bottle. While it's nice to see an organic option that's relatively affordable, I thought the pricing structure was a little misleading. If you do the math, you're paying the same price per bottle whether you get four, six, or 12 bottles in your shipment. Again, it's not a bad deal, but a little odd. The screenshot here shows what I mean:
Overall, I'd say Tour Guide Wines' prices are pretty solid for what the service is. An average price of about $12 is right in the sweet spot for an everyday wine: not so expensive that you feel you need to wait for a special occasion, but not so cheap that you question its quality!

In addition to the subscription model, you can order bottles à la carte from the Tour Guide Wines online store. Pricewise, the range is mostly the same as what you get in your regular shipments, but there are a few more premium bottles here which could be saved for a special occasion.
The least expensive bottles in the online store are in the $7-$10 range, on par with the per bottle price of the subscription boxes. There are several options in the $20 range and even a few in the $50+ range. You don't have to be a subscriber to order from the online shop, but subscribers do get a "club" discount.
Something which makes Tour Guide Wines stand out is that it doesn't appear to put a threshold on how many bottles you have to buy to place an order. Some other services require you to order in quantities of six or 12 bottles, which can be cost-prohibitive if you just want to try a couple of wines. Being able to place an order for just one or two bottles is a big plus!
Tour Guide Wines Wine Selection
The relatively limited selection of wines is Tour Guide Wines' biggest weakness. Like pretty much every wine delivery service I've seen, Tour Guide Wines has a bountiful supply of Cabernet and Chardonnay but beyond that, your options are quite limited.
For example, when I searched for my favorite varietal, Petite Sirah, I was disappointed to find a single, lonely bottle. Other fans of slightly-less-popular wines will, unfortunately, have similar experiences: at the time of this review, the store's selection included no more than a single bottle of varietals like Malbec, Moscato, and Pinot Gris.
The screenshot below shows the fairly limited selection I found. For fans of popular grapes like the ever-present Cabernet Sauvignon, Tour Guide Wines isn't likely to disappoint. Unfortunately, fans of Merlot, Syrah, and many other varietals may want to look elsewhere for their wine delivery.
Another downside to Tour Guide Wines streamlined site construction is that very few of the wines have received any sort of review or rating. This isn't an issue for those of us who simply want a surprise box of wines every month or two, but it makes it difficult to make an informed decision when purchasing a single bottle.
To be fair, you could view this as a plus: after all, just because a bottle of wine doesn't have great ratings doesn't necessarily mean you won't like it. The small selection also means there isn't much point in reviewing some wines as there's not much to choose between. For example, I usually try to pick out the best-rated Petite Sirah… At Tour Guide Wines, it was an easy choice because there was just one option!
You'll also see that the solitary Petite Sirah offering is designated as an "Award Winner," which brings me to another critique. Tour Guide Wines does highlight which of its offerings have won awards. Clicking on the wine brings up more information on exactly what honors it's received.
I have to be honest here, though: I've never paid much attention to "award-winning" designations on wines and spirits because it seems like just about every bottle has some sort of award. The offerings from Tour Guide Wines are no exception: as you can see below, the majority have some sort of award. While it's good that the wines have gotten recognition, it doesn't make it any easier to pick one out.
Sending A Tour Guide Wines Box As A Gift
A wine subscription alone can be a good gift, but I appreciated the pre-selected offerings under the "Gifts" heading of the store. If I wanted to send some wine as a gift, the Perfectly Pink, Winter Reds, and other bundles make it easy to create a thoughtful gift for your wine-drinking friend without committing to a subscription.
There's also the option to purchase a gift card if you're not sure what bottles to choose.
Here's a quick summary of Tour Guide Wines pricing and who it's best for:
| | |
| --- | --- |
| Pricing | From $9 per bottle |
| Ideal for | Someone who likes popular varietals like Cabernet Sauvignon and Chardonnay, and people who don't mind not being able to swap out bottles in each shipment |
| Shipping costs | $10 or free with shipments of 12 bottles |
| Special deals | |
Tour Guide Wines Delivery
Tour Guide Wines shipping process, like the rest of the service, is pretty straightforward. On the checkout screen, you're given a reminder that someone over the age of 21 has to be able to sign for the package. It also recommends that you select your place of work as a delivery location since most deliveries are during business hours (this is a common recommendation from wine subscription companies).
The shipping rates are a flat $10 no matter where you are in the contiguous US, but the minimum shipping rate is $35 for Alaska and Hawaii, which increases with the order size. I found it interesting that there was also an option for expedited shipping ranging from $20-$100 depending on the number of bottles being shipped and the location – a good option to have in case you have to host a gathering on short notice.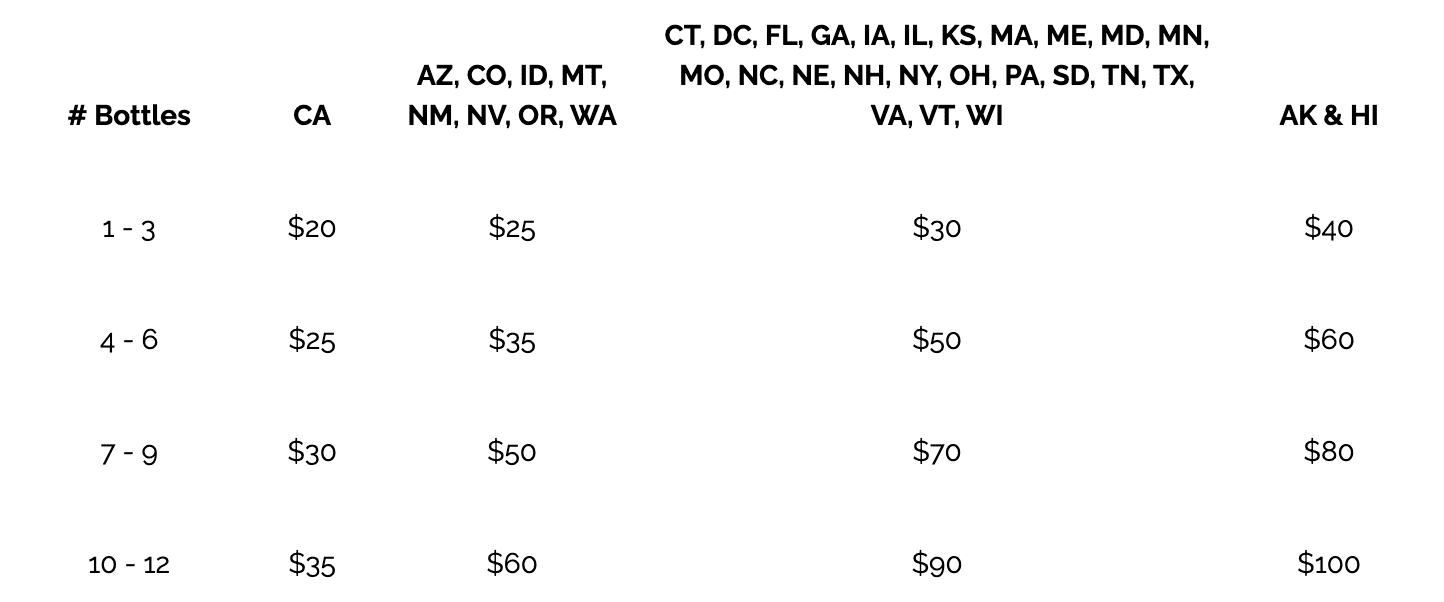 Tour Guide Wines uses solid, secure, state-of-the-art packaging in its shipments. This helps ensure that bottles won't be damaged during shipment. As a bonus, the packing material is made from recyclable cardboard. If anything goes wrong with your shipment, Tour Guide Wines also offers a 30-day window for you to report issues and get them resolved.
Tour Guide Wines Delivery Locations
As with pretty much all alcohol delivery companies, Tour Guide Wines has restrictions on which states it can deliver to. If you live in one of these states, you're probably used to not being able to have alcohol delivered. If you're unsure, however, Tour Guide Wines makes it clear which 15 states restrict alcohol delivery:
Tour Guide Wines can't deliver to these 15 states: AL, AR, DE, IN, KY, LA, MS, NJ, ND, OK, RI, SC, UT, WV, WY
Tour Guide Wines Customer Service
Tour Guide Wines has a few ways you can get in touch with them, whether you prefer to talk on the phone or write. The easiest ways are through the Tour Guide Wines email address or by filling out a contact form on the website. However, it seems like they prefer you to call them.
It's good that Tour Guide Wines offers a few different avenues of contact, but I can't help but feel the whole setup is a little old-fashioned. Tour Guide Wines' phone number seems to be the preferred method of contact is easier to find than its email address, and there's no live chat option at all. If you don't mind calling the number whenever you have a question or concern, then this isn't much of an issue at all.
How to Cancel Tour Guide Wines
One of my biggest complaints about Tour Guide Wines is the dated cancellation process. The only way to cancel your Tour Guide Wines subscription is by calling directly. On the plus side, there's no cancellation fee or any other penalty. In this day and age, though, there's no reason you shouldn't be able to cancel online.
By forcing you to call, Tour Guide Wines is also implying that you'll have to explain your reason for canceling. This adds another unnecessary barrier to an already over-complicated process. If you decide to subscribe to Tour Guide Wines, be aware of the steps you'll have to take if you eventually decide to cancel.
Alternatives to Tour Guide Wines
Bright Cellars is a well-known wine subscription service, and it may prove to be a more comprehensive experience than Tour Guide Wines. Discover the real perks of this service in our Bright Cellars review. Bright Cellars provides a wine quiz to pick out your preferred tasting notes to offer optimum matches. From there, it's a quick and easy process to check out.
Bright Cellars also seems to have a much broader selection of unique wines from around the world, and the overall experience feels much more tailored to your individual preferences. These additional perks, however, come at a higher price: $80 for four bottles before tax and shipping.
With an average price of about $15 per bottle, Firstleaf is a good choice for those of you who may be impressed with Tour Guide Wines' low prices but would prefer a slightly broader variety of wine options.
As an added bonus, Firstleaf typically offers quite a steep discount on your first order, so you can try out the service for as little as $7/bottle. You can learn more about how Firstleaf works in our expert review.
Bottom Line: Is Tour Guide Wines a Good Deal?
Tour Guide Wines is perfect for those of us who don't want to save our wine for special occasions. The service's biggest selling points are its reasonable prices and its selection of organic and sulfite-free wines. If you enjoy a glass or two on weeknights, then Tour Guide Wines fits right in the sweet spot of quality versus affordability.
However, Tour Guide Wines isn't without its issues. For me, the biggest complaint is that unique varietals are few and far between. Cab Sav and Chardonnay make up the bulk of Tour Guide Wines offerings. If you're just in search of some solid quality daily wines, these crowd-pleasing options may be just the ticket.
But if you're looking for a wine box to introduce you to new and exciting wines, one of our other top wine delivery services might be a better fit for you.
FAQ
What is the cheapest wine club?
Wine club costs can vary a lot based on the size of your shipments, whether you can buy individual bottles, and how frequently your shipments come. We get into this more in our explanation of this wine delivery's prices. Tour Guide Wines is easily near the lower end of the cost spectrum, with subscription prices as low as $12/bottle.
Are wine clubs worth the money?
Wine clubs can be an excellent way to get good deals on high-quality wines which you won't easily find in stores. Thanks to exclusive deals with vineyards across the world, many wine clubs are able to provide unique and high-quality wines at a much lower price than what you may find in your local wine store.
For people who enjoy wine and drink it on a regular basis, wine clubs like Tour Guide Wines are a perfect way to get bulk deals on wine by subscribing for regular shipments, as described in our close look at how the membership works. So not only are you saving money, but you're also saving yourself the time and effort of going to the store and picking out your wines one by one.
Which wine club is the best to join?
The beautiful thing about wine clubs is that each one has a slightly different approach to the business model. The best wine club for you depends on your personal preferences.
Do you want a selection of inexpensive, crowd-pleasing wines to drink on weekdays? If so, then Tour Guide Wines may be a good choice for you. If you're more interested in higher-end wines from diverse regions, then Bright Cellars could be just the ticket.
How much does Tour Guide Wines cost?
Tour Guide Wines' model allows you to pick between four-, six-, and 12-bottle shipments. The more bottles you order per shipment, the less expensive your per-bottle price becomes. For example, a 12-bottle shipment is $144 or $12/bottle with shipping included. A four-bottle shipment will cost you $52, or $13/bottle plus a flat fee of $10 for shipping.