Home Chef vs. Green Chef 2023: The Best of the Best Compete
You can spend countless hours researching different meal delivery services. There are so many factors at play, including food preferences, dietary restrictions, pricing, and more. This is why I've done the heavy lifting for you and have produced an in-depth analysis of two highly ranked meal delivery services: Home Chef vs. Green Chef.
Home Chef and Green Chef look very similar at first glance – they even have a similar name. While both have a comparable pricing structure, some nuances set them apart from one another.
Through all of my research, I found Home Chef to rise above. This was due to the variety of dietary preferences to choose from as well as the ability to highly customize your meals, not to mention the excellent price tag attached. That's not to say that Green Chef wasn't a great contender, though, and in some instances, it might be the right choice for you.
Let's take a closer look at what differentiates Home Chef and Green Chef and how they compare.
At a Glance: Home Chef vs. Green Chef
| | | |
| --- | --- | --- |
| | | |
| Dietary preferences | Carb-conscious, calorie-conscious, vegetarian | Keto + Paleo, Balanced Living, Plant-Powered |
| Menu variety | 13 options per meal kit menu and six options per prepared meal menu | 27 options (Nine per menu) |
| Starting price | $7.99 per serving | $5.99 per serving |
| Shipping cost | $7.99 for orders over $45, $13.99 if under | $8.99 –$26.97 per box, depending on the size of the order |
| Prep time | 15 minutes or less for 15 Minute Meal Kits and Home Chef Express, 20-50 minutes for standard meal kits | 35 minutes or less |
| Special Discount | | |
| Learn more | | |
Dietary Preferences
When doing my research on both Home Chef and Green Chef, I was happy to see that both offered a variety of meals for a range of dietary preferences.
Home Chef lets you choose from calorie-conscious, carb-conscious, and vegetarian meals, which you can mix and match each week. I was a little disappointed to see that Home Chef only offers three vegetarian dishes per week and doesn't have options for vegan diets.
Green Chef does a great job at accommodating dietary preferences, including three menu plans: Keto + Paleo, Balanced Living, and Plant-Powered, which has a great range of veggie and vegan meals. Unlike Home Chef, Green Chef offers nine different vegetarian dishes weekly, with more than half of them being vegan.
In terms of sourcing ingredients, Home Chef has a pretty standard level across its meal kits. It does source some organic ingredients, but this isn't guaranteed with every meal kit.
However,the Home Chef Customize it option ensures its customers do have access to organic ingredients. You can swap out the poultry in a recipe for organic boneless skinless chicken breast instead.
Green Chef does a better job of focusing on cleanly sourced ingredients. Green Chef guarantees that all produce and eggs are certified organic but cannot claim all organic components because there are certification restrictions on some, such as sea salt and wild salmon. Who knew?
Green Chef opts for certified organic produce as much as possible and prioritizes sourcing the highest quality ingredients whenever organic isn't available. All animal proteins used in Green Chef meals are raised with high welfare standards.
While both accommodate different dietary preferences, I feel that Green Chef is a step ahead of Home Chef in this regard.
Winner: Green Chef
Menu Variety
Right off the bat, I was very impressed by the variety Home Chef offers in its weekly menu options. Currently, Home Chef has 13 meal kit menu options per week, two of which fall under the 15 Minute Meal Kit category.
Although 13 meals doesn't sound like a huge variety, what sets Home Chef apart is its additional offerings. In addition to meal kits, Home Chef offers six Easy Prep Meal Kits, which are prepared meals requiring minimal to no prep, and quick cook times.
Choose from delicious oven-ready meals like Chicken and Alfredo Sauce with Roasted Broccoli and Tomatoes, or Beef Meatloaf Marinara with Red Pepper Pesto Cauliflower.
Besides easy prep meals, Home Chef also offers extra protein packs to add to any weekly order. You can easily add a variety of proteins, including chicken, ground turkey, ground beef, salmon, or tuna.
Green Chef also does a great job of offering a wide assortment of meals within its menus. There are three menu plans; Keto + Paleo, Plant-Powered, and Balanced Living giving a total of 27 recipe options per week to choose from.
I've already mentioned that the vegetarian and vegan menu is especially stellar from Green Chef and I was particularly excited about the types of recipes in this menu. Anyone following a plant-based protein diet knows it can be tricky to find variety in your meals.
Green Chef does an exemplary job of making sure that the recipes stay fun and refreshing each week, no matter the diet. Some mouth-watering examples are the Mediterranean Turkey Patties, Sausage and Zucchini Peperonata, and the Chicken Stuffed with Herb Cream (and a side of roasted acorn squash, brown butter, and chard).
Needless to say, I can't imagine getting bored with Green Chef with its 27 options to choose from each week, each of which is equally as appetizing as the next.
Although Green Chef has a brag-worthy menu variety from week to week, I still think that Home Chef reigns supreme. Home Chef's added features like 15 Minute Meal Kits, Easy Prep Meal Kits, and extra protein packs are unique to most meal delivery services.
Winner: Home Chef
Starting Prices
Home Chef and Green Chef are both well-established companies within the meal delivery industry. As a result, they've been able to keep prices highly competitive. While that's great news for us, it's essential to look at the pricing in closer detail to see which is more cost-effective.
Home Chef currently lets you pick two, four, or six servings per meal with anywhere from two to six recipes per week. That means you can have up to 36 servings of Home Chef meals per week. This is an excellent option for families or anyone looking for extra meals throughout the week.
Green Chef prices start at $5.99 per serving and go up to $12.99, depending on the meal plan, number of people, and frequency of meals. You can choose two, four, or six servings per meal and three to four meals per week so you can have up to 24 servings of Green Chef meals per week.
To compare the two services' pricing, let's look at the smallest box (serving two people, three meals per week) and the largest box (serving six people, four meals per week) that both have to offer, without any discounts or promotions.
A small box, that serves two people, three meals per week, is $61.93 from Home Chef (including $7.99 shipping), while the same number of servings in the Balanced Living box from Green Chef costs $80.93 (including $8.99 shipping).
A larger box, serving six people, four meals per week, is $223.75 from Home Chef (including $7.99 shipping). The same number of servings in the Balanced Living box from Green Chef costs $278.73 per week (including $26.97 shipping).
It's pretty clear who the winner is in terms of the pricing here. Between the average cost per serving and the shipping costs, Home Chef is the more affordable option.
Winner: Home Chef
Delivery and Packaging
Home Chef does an incredible job of keeping everything organized, including your weekly boxes. All ingredients come divided up by meal into separate, labeled bags, making it easier than ever to put them straight from the container into your refrigerator.
The separately packaged ingredients do result in more waste. Luckily, all of the packaging materials included in the Home Chef boxes are recyclable or reusable, including the insulated liners.
Home Chef has also recently partnered up with Kroger, with meal kits now available across the country in a Kroger store near you. If you're concerned about packaging waste, you can opt to purchase meal kits from Kroger as an alternative solution.
Unsurprisingly, Green Chef has a bit more focus on being environmentally friendly. As a result, the packaging is less plastic-heavy compared to Home Chef. Unfortunately, having more loose items does mean it will take you more time to organize things in your refrigerator and when you're getting ready to cook your recipes.
As a commitment to reducing its carbon footprint and that of its customers, Green Chef has an entire YouTube video posted about exactly how to recycle all of the contents within your box.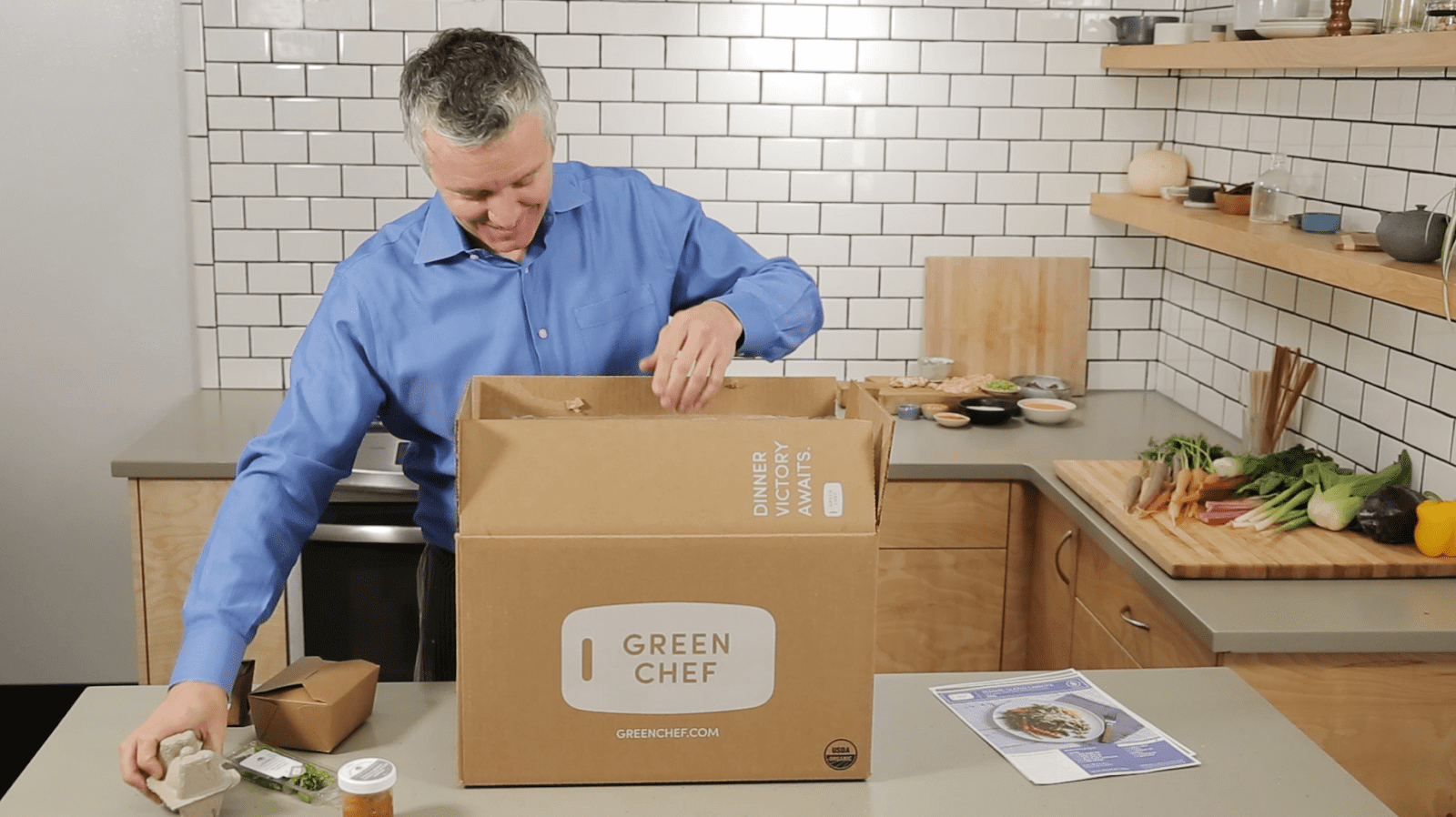 Although Green Chef's efforts to stay as environmentally friendly as possible are admirable, I'm looking for overall convenience at the end of the day (which is why we're looking at meal delivery services to begin with). Because of this, Home Chef wins in terms of packaging.
Bonus for Home Chef is the added option of picking up meal kits from your local Kroger.
Winner: Home Chef
Meal Prep
The whole purpose of a meal kit subscription service is to provide you with convenience and so the time involved in meal prep is really important when trying to figure out the best option for you.
Home Chef has an average prep and cook time of 30 minutes for standard meals. But, if you're in a hurry, you can opt for the 15 Minute Meal Kits. Not only is this a useful option, but these meals also sound just as delicious as the more time-consuming recipes, with choices like Crispy Prosciutto and Pesto Penne with Tomatoes and Parmesan, or Chicken and Tuscan Herb Sauce with Garlic Green Beans.
Green Chef also has pretty excellent prep and cook times, considering the artisanal recipes it has to offer each week. Most Green Chef recipes can be prepared in 25 - 35 minutes such as this Honey-Mustard Chicken Salad.
It's also important to remember the packing when it comes to prep time. Since Home Chef has its ingredients packaged together, this saves some prep time.
Because of the average meal prep and cook time, the quick meal options, and the little time involved in prepping ingredients, Home Chef is the winner.
Winner: Home Chef
The Bottom Line
There's no denying that Home Chef and Green Chef are both excellent options in terms of meal kit delivery services. You can find both companies listed here in our Best Meal Delivery Services of 2023.
When deciding on the better meal kit, consider several factors. If you need to feed many people or want leftovers for lunches throughout the week, Home Chef is an excellent choice. It's not only cost-effective across all plan options, but also provides up to 36 servings per week.
If you're vegetarian or vegan, Green Chef will likely be a better choice for you. With nine different vegetarian meals to choose from each week and over half of them vegan, you'll get more options than Home Chef. It's also the best choice if you prioritize eco-friendliness and organic ingredients.
Winner: Home Chef – thanks to its menu variety, customization options, and better price point.